Continuing our theme of making Take Paws a showcase for people having fun traveling with their pets (that means you!), today we're excited to have a guest post from Sheley Revis, who – along with her fabulous, deaf dog, McGrady – does amazing work for homeless pets. Sheley, McGrady, Haiku, and Sydney, drove down to South Carolina to take us on a dog friendly hike around Landsford Canal State Park. This looks like a super place to spend a dog friendly day – thanks so much for the tour, y'all!
***
Landsford Canal State Park
Travel Back in Time
About an hour south of Charlotte, NC, Landsford Canal State Park in Catawba, SC, is much more than just a quaint riverside walk with your dogs. It is a trip back in time and – during late May/early June – a flower lover's paradise! History buffs will find an extremely well-preserved section of a lock-and-canal system that used to run along part of the Catawba River.
Now, well-placed signage educates the walker about how the system allowed shipping to traverse this shallow point of the river and exactly which part they are seeing. Built in the early 1800s, the lock-and-canal system is not only a feat of engineering, the stonemasonry is a thing of beauty … and a fantastic backdrop for fabulous pictures of your pooch! The Park also has historical ties to the Revolutionary War and contains a section of the Great Philadelphia Wagon Road.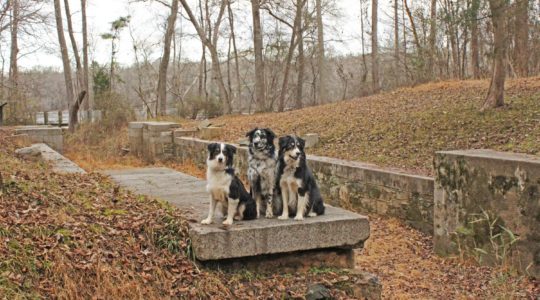 Where the Rocky Shoals Lilies Bloom
Flower lovers will want to visit during the latter part of May and early June when one of the last remaining – yet largest of all – colonies of Rocky Shoals Spider Lillies in the USA is in full bloom! These endangered flower colonies bloom on rocks across the Catawba River and there is a "Lily Observation Deck" for flower-gazers.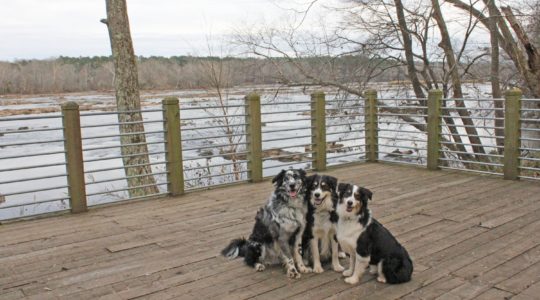 In Summer 2012, there was also a company offering kayak rentals so gazers could get an even closer view of the flowers. Not surprisingly, this is also the most popular time of year for the public to visit the park, and the rather small parking lot quickly becomes overwhelmed during the 2-week peak season. However, it is truly a unique phenomenon and well worth the trouble to find a parking spot; parking is not an issue during other times of the year.
Shutterbug's Delight
Photographers, both amateur and professional, will find plenty of subjects for their lenses as this section of the Catawba River is also host to Bald Eagles, herons, and large colorful Garden Spiders who spin their webs on the stonework of the canal walls in the summer.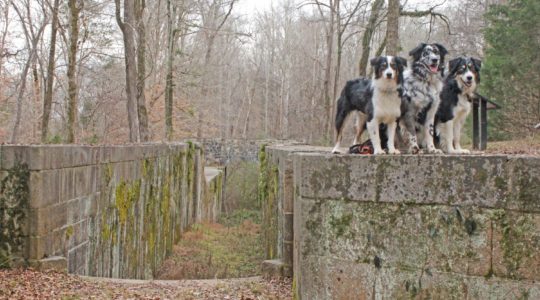 The Park offers two different trail sections, The Nature Trail (beside the River) and The Canal Trail, which link together to form a nice loop. There is little elevation change in the trails, but they are earthen trails so one should watch out for tree roots and rocks. However, the trails are easily navigable even for novice hikers.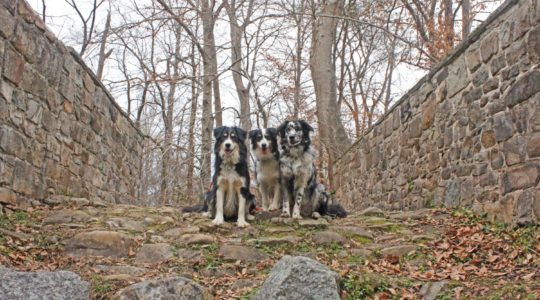 Make A Day Of It!
Visitors may want to pack a picnic lunch and make a day of the trip. The Park offers a large number of picnic tables under large shade trees as well as a playground area for the kids. There are covered picnic/gathering facilities available by reservation or first-come/first-serve.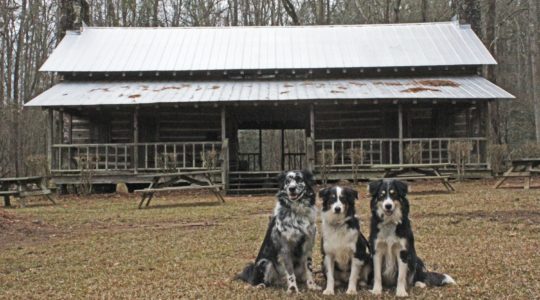 Helpful Hints for Hounds & Humans
Landsford Road is a residential road leading to the park entrance and the signage showing the turnoff is very small so watch for it carefully! Driving directions and hours can be found at the park's website.
If visiting during the summer or spending the day, be sure to bring plenty of water, food and snacks from home as the park does not have a concession /vending area and the only convenience stores are off the Interstate exit. During summers in the Carolinas, mosquito repellant is a much-carry item. Be sure to pack insect repellant for your dog as well.
Admission to the Park is $2/vehicle. You will need exact change as there is no cashier.
Parking is at a premium during the 2 weeks when the Rocky Shoals Lilies are is in full bloom. Plan to arrive early.
There are public restroom facilities for your use.
Bring your camera and plenty of memory cards! Be it stonemasonry or flora and fauna, there are many photo-worthy subjects!
Bring your leash! The park requires that all dogs be maintained on a leash no longer than six feet in length. (Our leashes were carefully moved out of camera view for the photos.)
Author bio: Sheley Revis, MD, is a General Internist physician in Charlotte, NC. She is the proud guardian of 8 dogs, including 5 Aussie boys. Hiking with her dogs is her way of combining her passions for the great outdoors, photography, staying fit and (of course) DOGS! When not working or hiking, Sheley helps rural animal shelters in need in NC/SC via 2 groups that she founded, Fabulous McGrady & Friends Foundation and Friends of Ashe County (NC) Animals.
Good news for our readers!
Landsford Canal State Park was recently added to the Carolina Thread Trail System, a regional trail network that will ultimately reach 15 counties and more than 2.3 million people. Sheley and her dogs have agreed to check out more of the parks included in system and report back in future posts on Take Paws!
Planning a pet friendly trip of your own? We'll make it easy:
Pet Friendly Hotels | Pet Friendly Destinations | Pet Friendly Activities
Amazon Affiliate Disclosure: GoPetFriendly.com LLC is a participant in the Amazon Services LLC Associates Program, an affiliate advertising program designed to provide a means for website owners to earn advertising fees by advertising and linking to amazon.com, audible.com, and any other website that may be affiliated with Amazon Service LLC Associates Program. As an Amazon Associate, the owner of this site earns a commission from qualifying purchases.
(Visited 1,855 times, 1 visits today)