Calgary had its first moment in the international spotlight in 1988 when it became the first Canadian city to host the Winter Olympics. Earlier this year it was back in the news for a more unfortunate reason – the devastating floods that hit downtown. We all saw the sobering images of residents being evacuated by boat as the Bow and Elbow Rivers spilled into the main thoroughfares, and we all held our breath hoping that the animals at the zoo were going to be safe. The damage was unspeakable and it looked like it could take years for things to get back to normal.
Those images were still lingering in the back of our minds as we planned our late-summer trip to Alberta … still, we were going to be so close. We decided to take a chance and spend a couple of days exploring Calgary – and I'm so glad we did!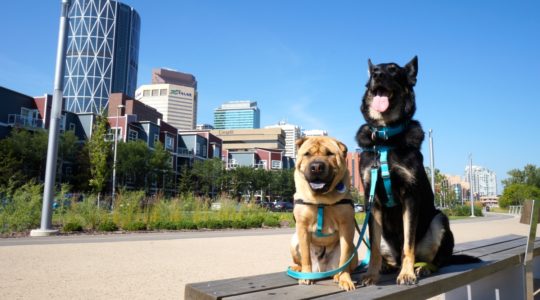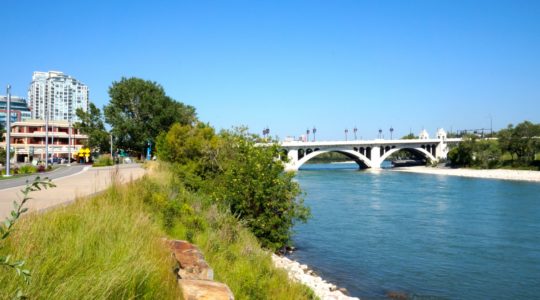 More than a million people call Calgary home, and yet it's an extremely walkable city. We parked the car in the Historic Inglewood District, just east of downtown, and jumped on the walking path that follows the Bow River. We meandered through Fort Calgary Historic Park and then made our way toward Calgary Tower.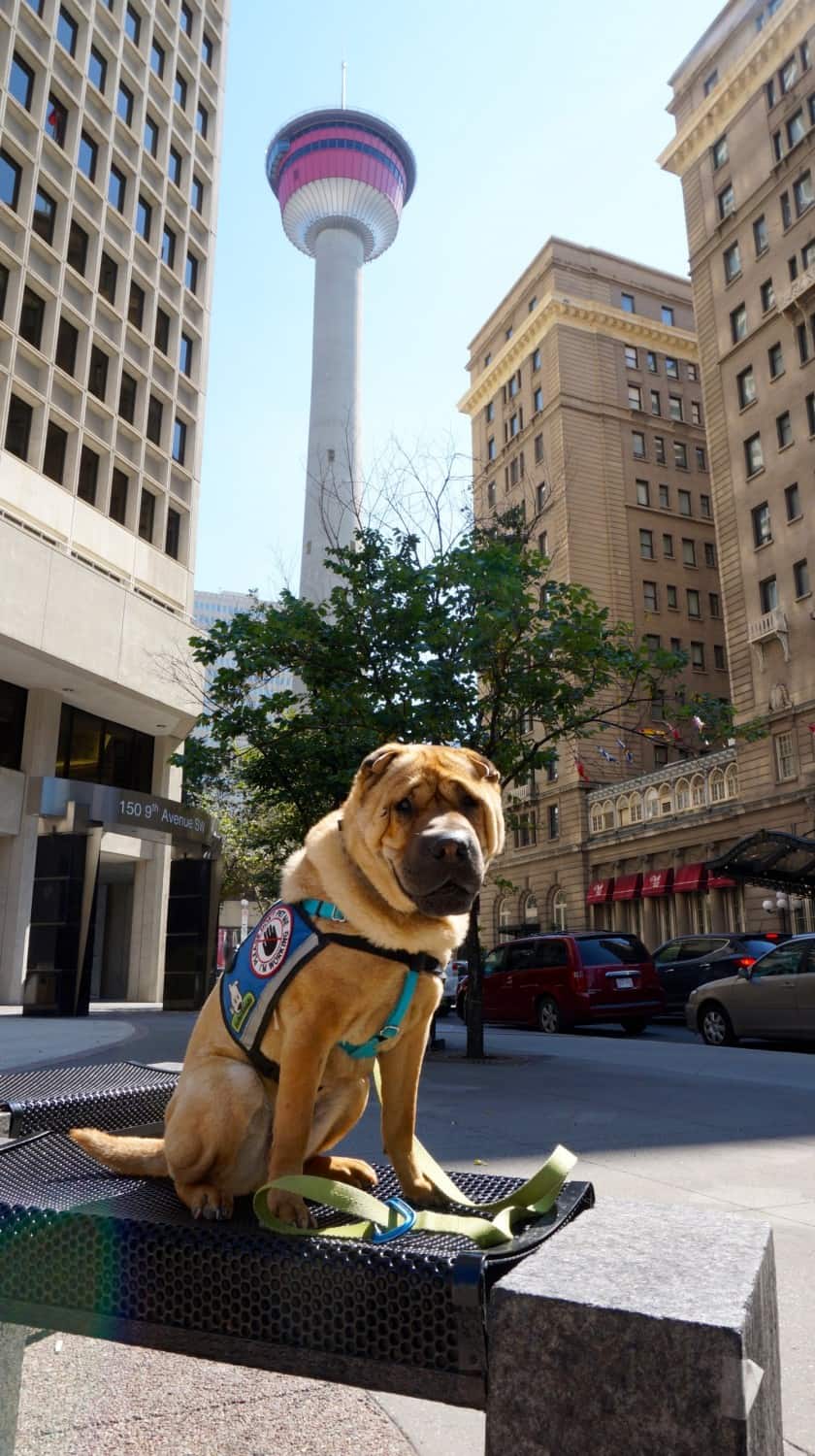 Some evidence of the flooding remains – like a bridge across the river that was washed out and is being reconstructed – but, for the most part, things are back to normal. Downtown Calgary is a lovely mosaic of unique neighborhoods, and we spent the whole day wandering from one to the next. Just a couple of blocks from Calgary Tower we happened upon the Stephen Avenue Walk, several city blocks where the street is closed to vehicle traffic and people can mosey along window shopping and people watching.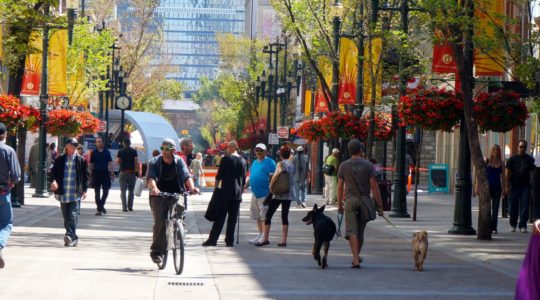 A significant event in Calgary's history was the arrival of the Canadian Pacific Railway in 1883, which spurred the city's growth. In 1996, the CPR relocated their headquarters from Montreal to Calgary and a stroll over to their building to see the restored locomotive is worth your time.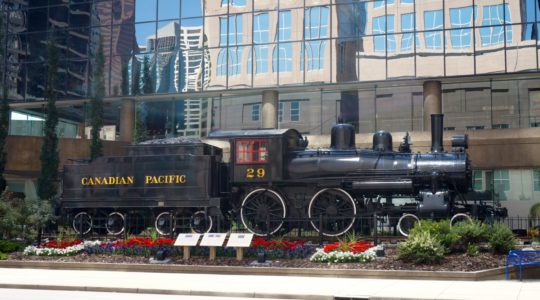 Finding Pet Friendly Restaurants
When lunchtime rolled around, we figured out that Calgary is one of those cities that doesn't allow pets to join you at a restaurant's outdoor seating area if it's enclosed, which many of them are. However, if you keep a lookout for cafés that have a few tables on the sidewalk with no barrier restricting access, like these …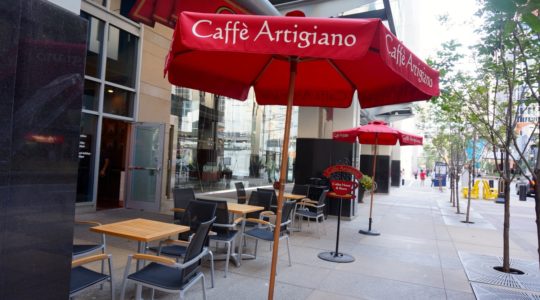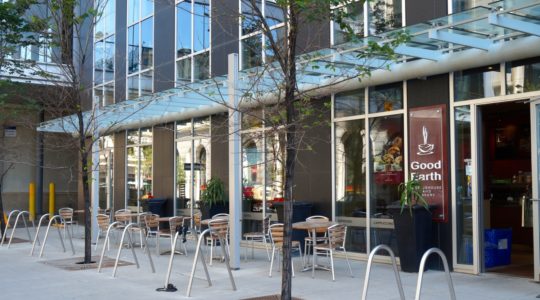 … they're more than happy to allow your pet to join you at the table. Woof!
Back to the River
When the boys were tired of the sidewalks and ready for a little grass between their toes, we made our way back to the river. The entire shore line, on both sides, plus a couple of islands in between, is green space and Ty and Buster found the sniffing opportunities to be plentiful. It's a wonderful spot to find a bench in the sunshine and admire the skyline.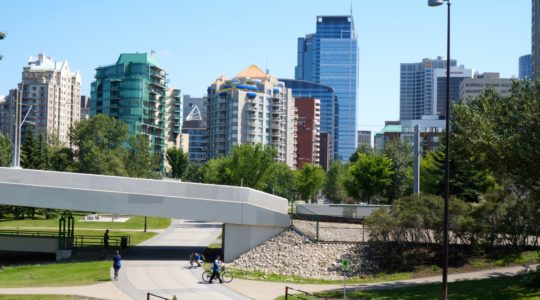 And, when it was time to hit the road, we crossed one of the bridges and found the walking path on the other side of the river along Memorial Drive, which took us down by the zoo, across another bridge, and back to the car.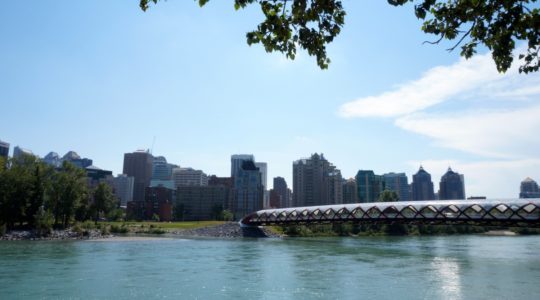 Pet Friendly Calgary
If you're looking for pet friendly hotels in Calgary, you'll find a nice selection. If you're on a budget, consider staying in a suburb near the train line – the rates will be lower and pets can ride Calgary's public transit system for free! The only rule that you need to be aware of is that dogs must be on leash and other pets must be in a carrier.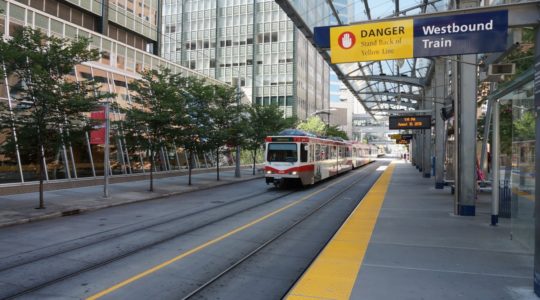 This trip to Calgary was short, but sweet, and we easily could have spent several more days exploring the area. We'll look forward to spending more time here on our next visit!
Amazon Affiliate Disclosure: GoPetFriendly.com LLC is a participant in the Amazon Services LLC Associates Program, an affiliate advertising program designed to provide a means for website owners to earn advertising fees by advertising and linking to amazon.com, audible.com, and any other website that may be affiliated with Amazon Service LLC Associates Program. As an Amazon Associate, the owner of this site earns a commission from qualifying purchases.
(Visited 2,150 times, 1 visits today)