Remember all the fabulous scenery of Sedona? Take that, combine it with an immense lake, and you've got Lake Powell, Arizona. Just 139 miles northeast of the South Rim of the Grand Canyon lies the city of Page, Arizona – home to the Glen Canyon Dam and paradise for anyone who loves the water. Completed in 1966, the dam took ten years to build and created Lake Powell, the second largest man-made reservoir in the country.  At 186 miles long, Lake Powell's jagged 2,000-mile shoreline includes 90 major canyons and is a spectacular study in desert and water.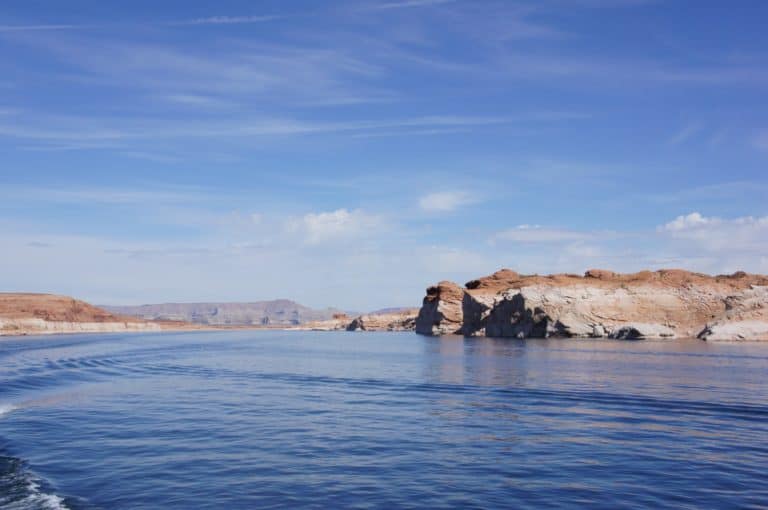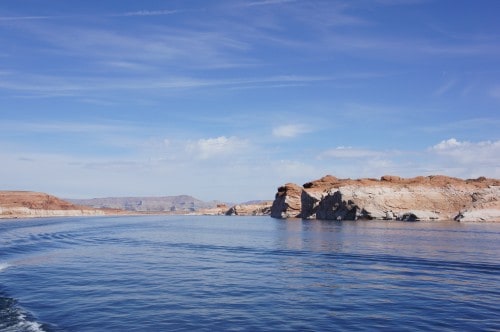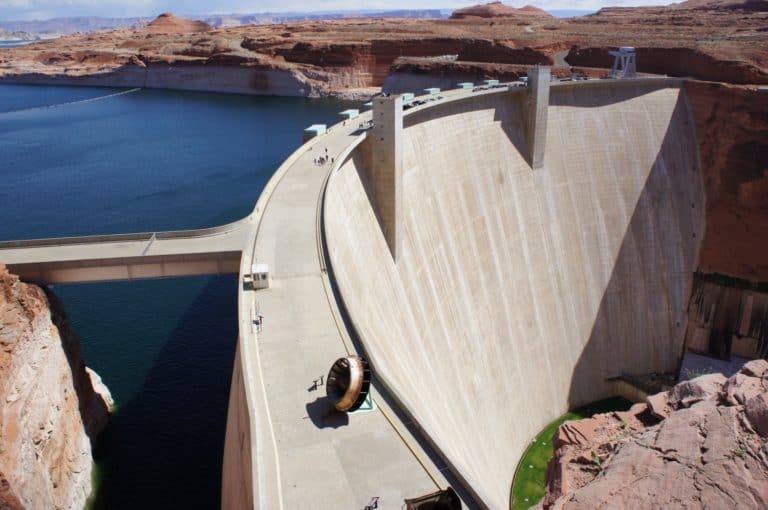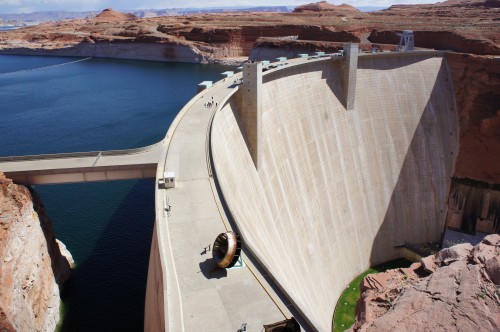 When we pulled into Page, we were just planning to spend the night and head on to Kanab the next morning. Out of curiosity, I pulled out a copy of Arizona for Dummies, authored by and a gift from Edie Jarolim, and discovered there were things I wanted to do here – this was going to take a few days!
The next morning we took the dogs to Horseshoe Bend. A few miles south of town on Hwy 89 you'll see a sign and parking area at the trail head. Though it's only 1.5 miles round-trip, there is no shade and going uphill in the sand can be tough. We went early in the morning, and the Colorado River's 270 degree turn, viewed from cliffs 1,000 feet above, was definitely worth the breathlessness.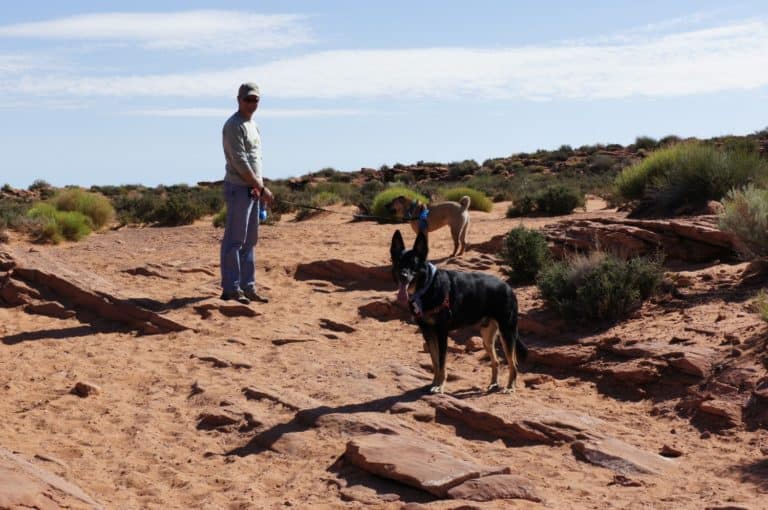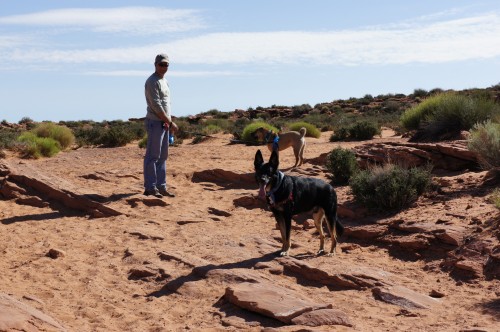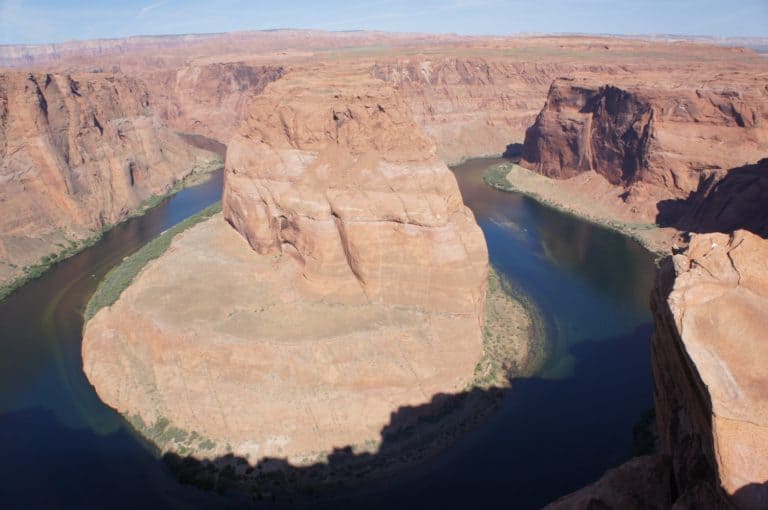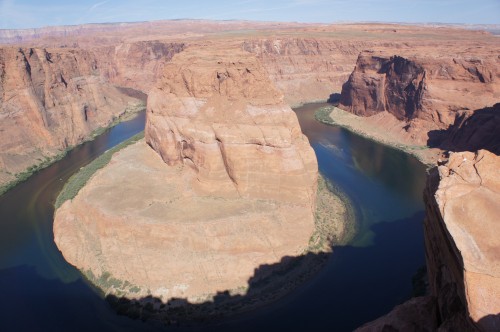 The boys were so patient, laying down next to Rod while I took the camera and climbed on the rocks looking for the perfect angle. As a reward, we took them to the floating, pet friendly restaurant at Antelope Point Marina for lunch.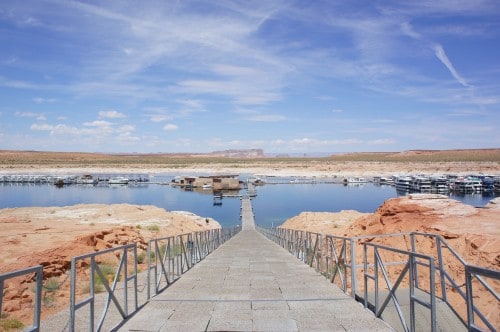 From the parking lot, you'd never guess that there is a restaurant here – but follow the walkway and you'll be pleasantly surprised!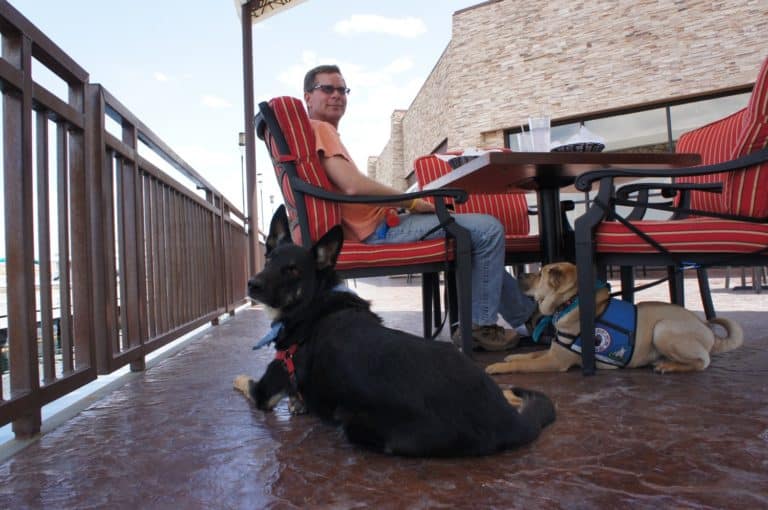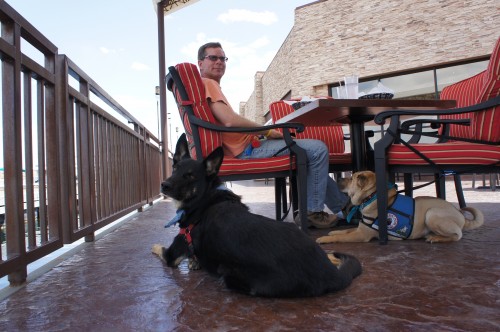 The food is good, and the restaurant was quiet when we were there. If your dog doesn't have a lot of experience with dining out, this would be a great place to practice. They even have a feathered welcome committee!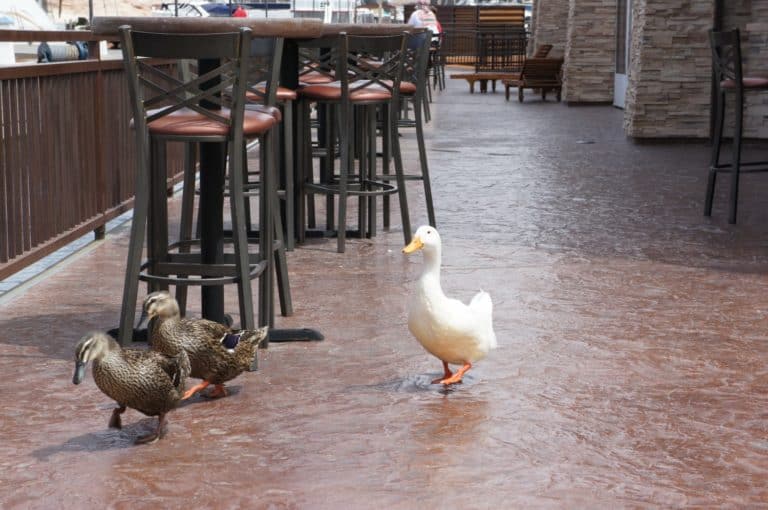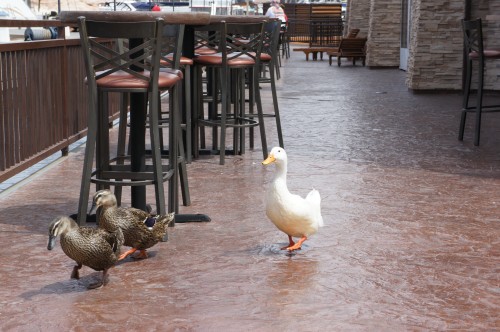 After lunch, we walked around the marina admiring the houseboats docked here. The image of cruising the lake on one of these beauties must have gotten to me, because we decided to go to the boat rental office for some information. We were happy to find out that the houseboat rentals are pet friendly! However, both area marinas require a pet fee: $100 per trip out of Antelope and $10 per day at Wahweap.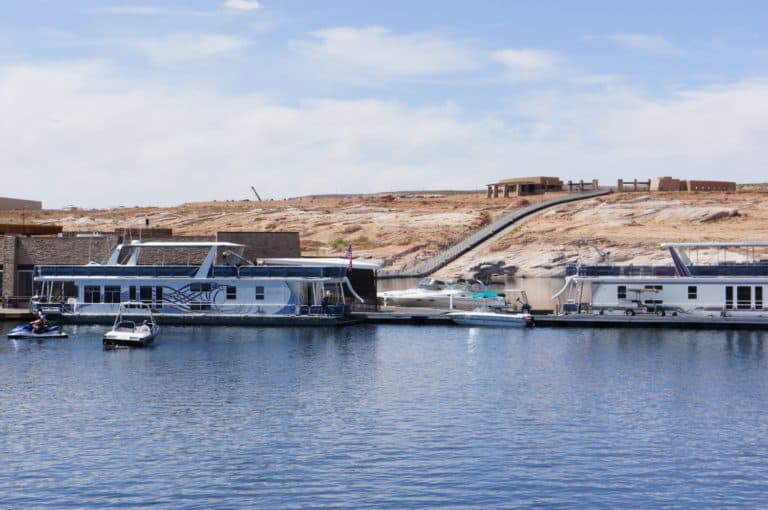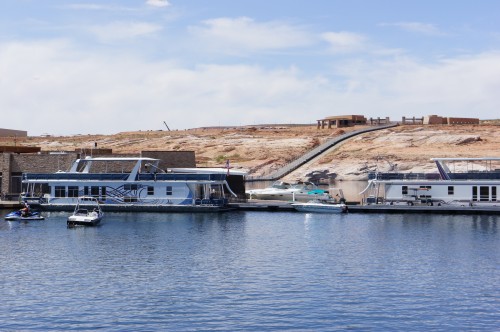 Though there are plans to expand Antelope Marina, currently the Lake Powell Resort at Wahweap Marina provides the area's best lake-side accommodations. With more than 100 sites, many overlooking the lake, we were happy to make their RV Park & Campground our home for a few days. The sites are paved with gravel patios, and there were plenty of pet friendly trails for exercising the dogs.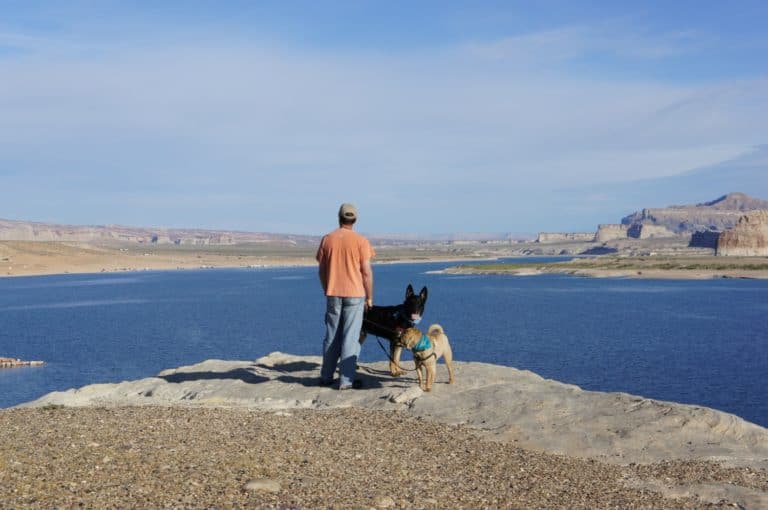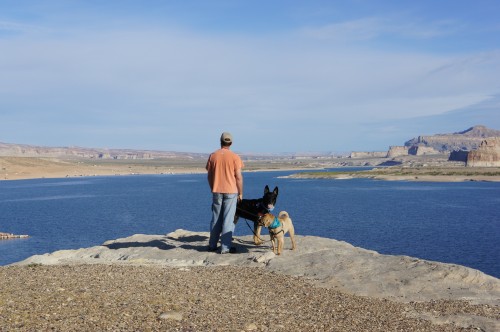 For those of you that don't drive around in your home –  they also have a lodge consisting of seven or eight individual buildings. The more economical "Traditional Rooms" are pet friendly, though they don't come with a view of the lake. You will, however, find three eateries on the premises (none pet friendly, unfortunately), boat tours of the lake leaving from the docks, and water toy rentals – from houseboats and powerboats, to kayaks and jet skis.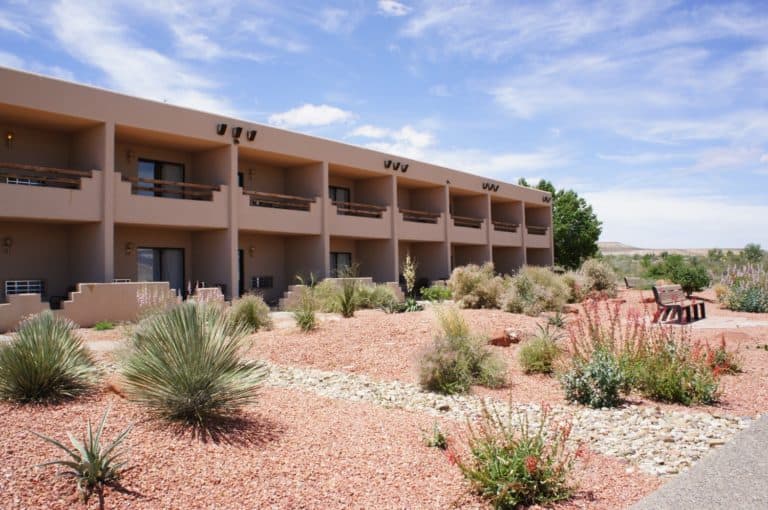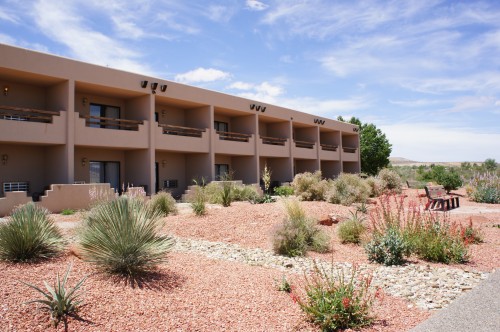 Generally, we forgo activities that the dogs cannot join us for, but the pull of Lower Antelope Canyon was too much for us to resist. On the left side of the road, just after the turn into Antelope Marina is a parking area and small building. This is the trail head for Lower Antelope – a slot canyon that has been featured in National Geographic.
On Navajo land, the tribe operates the one-hour tours of the canyon, and, though it is not pet friendly, it is well worth the $26 price of admission (cash only). Our guide, Reuben, led us past a memorial for thirteen people who were killed in a flash flood in the canyon a few years ago. Beyond honoring their memory, he made this point: If you hear thunder, it's time to go.
Shortly thereafter, we stepped down into a crack in the earth and entered a sandstone world sculpted by wind and rain.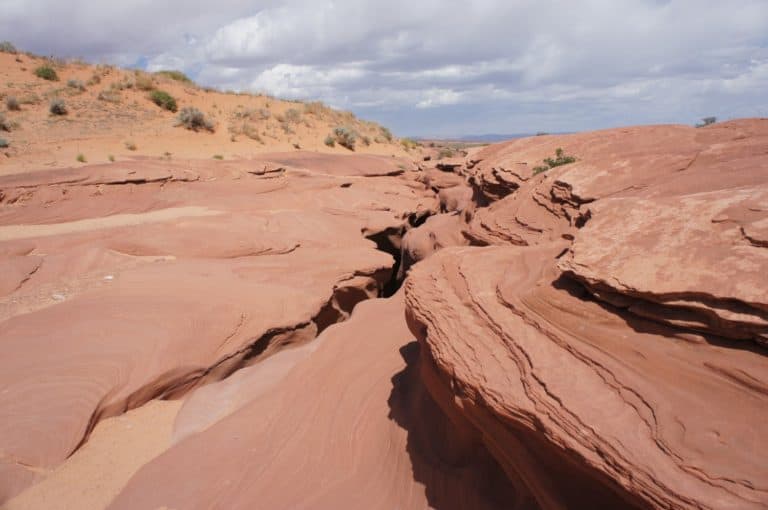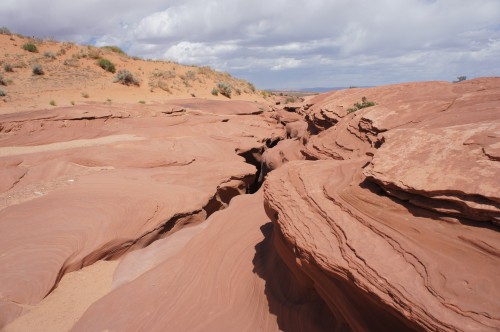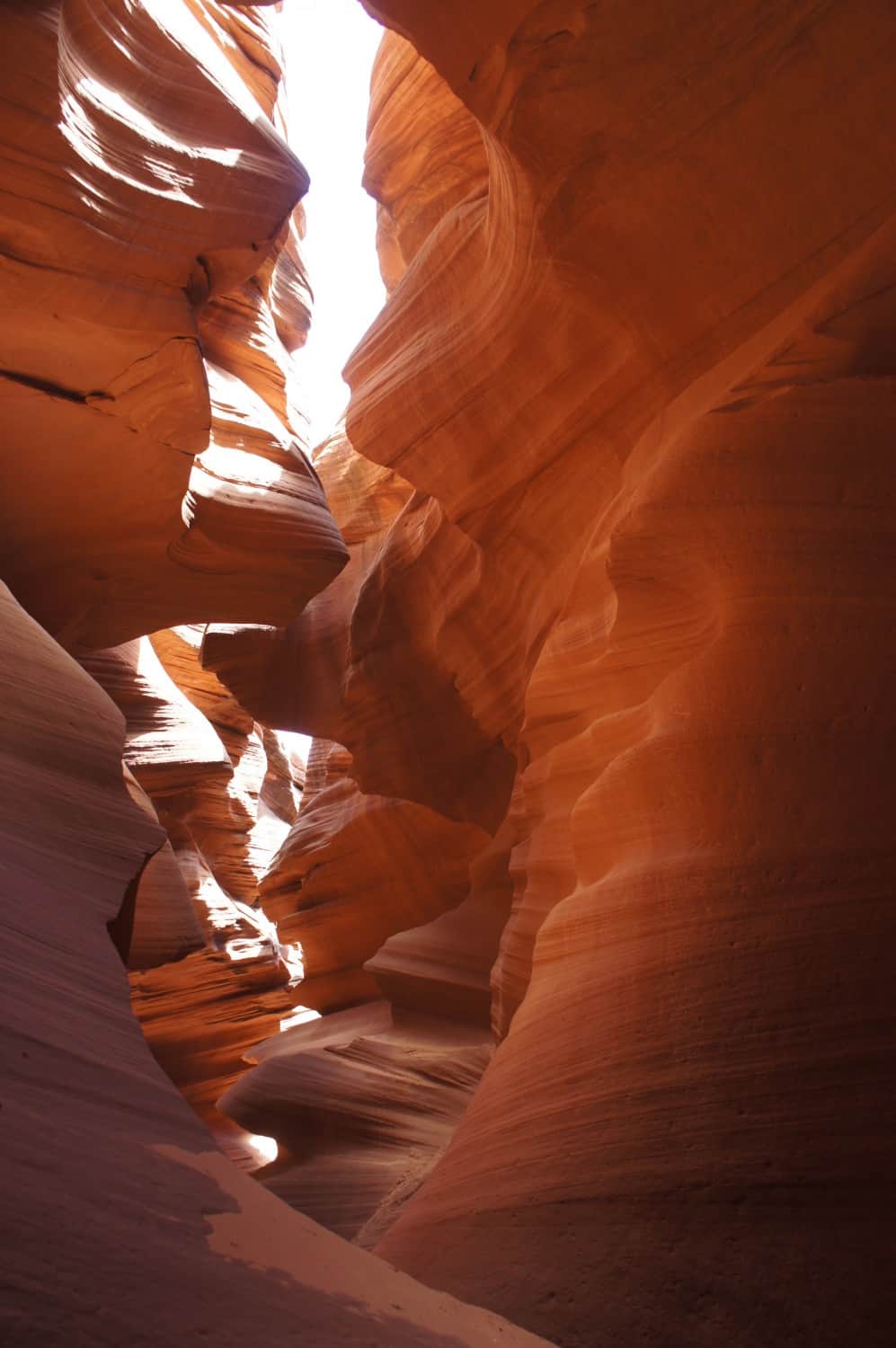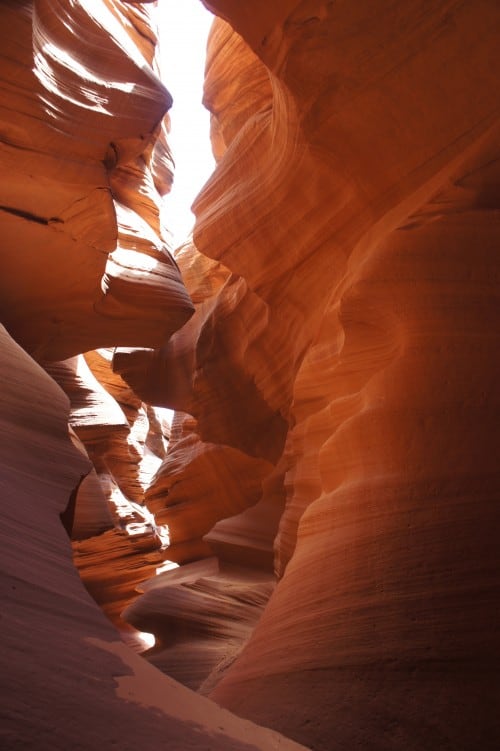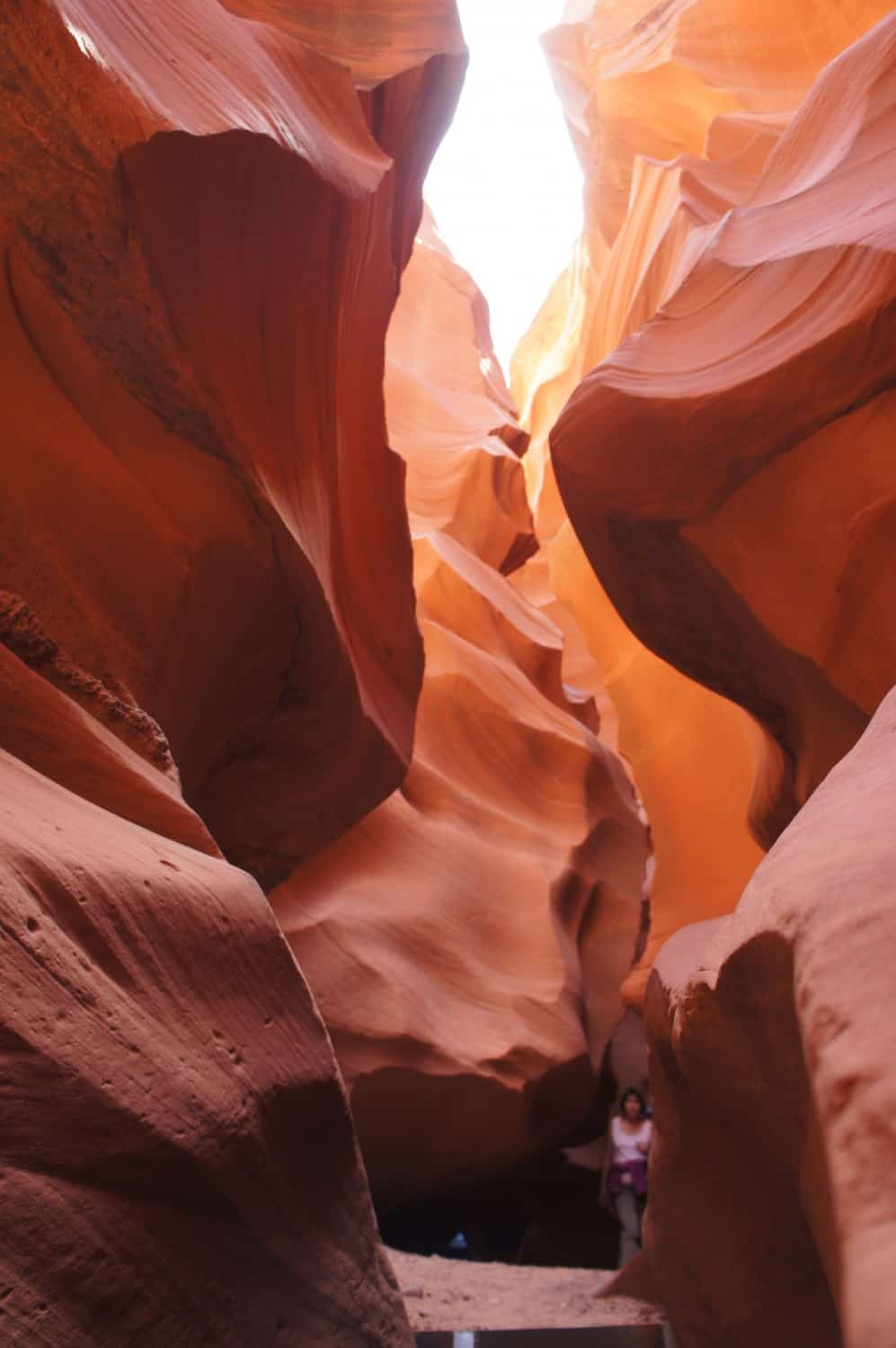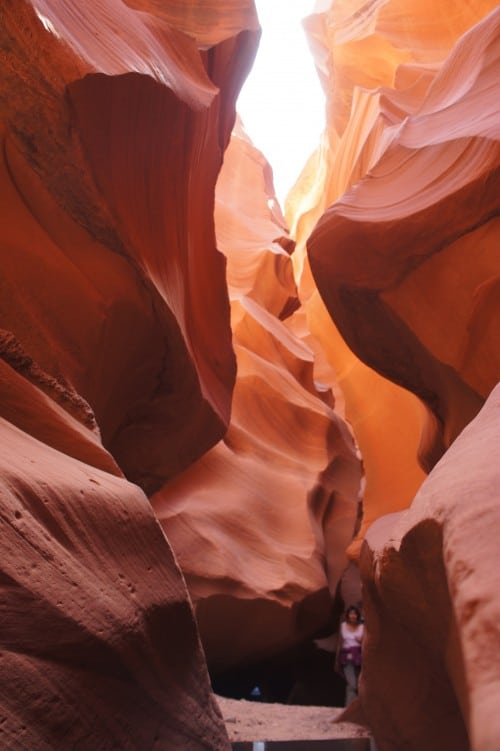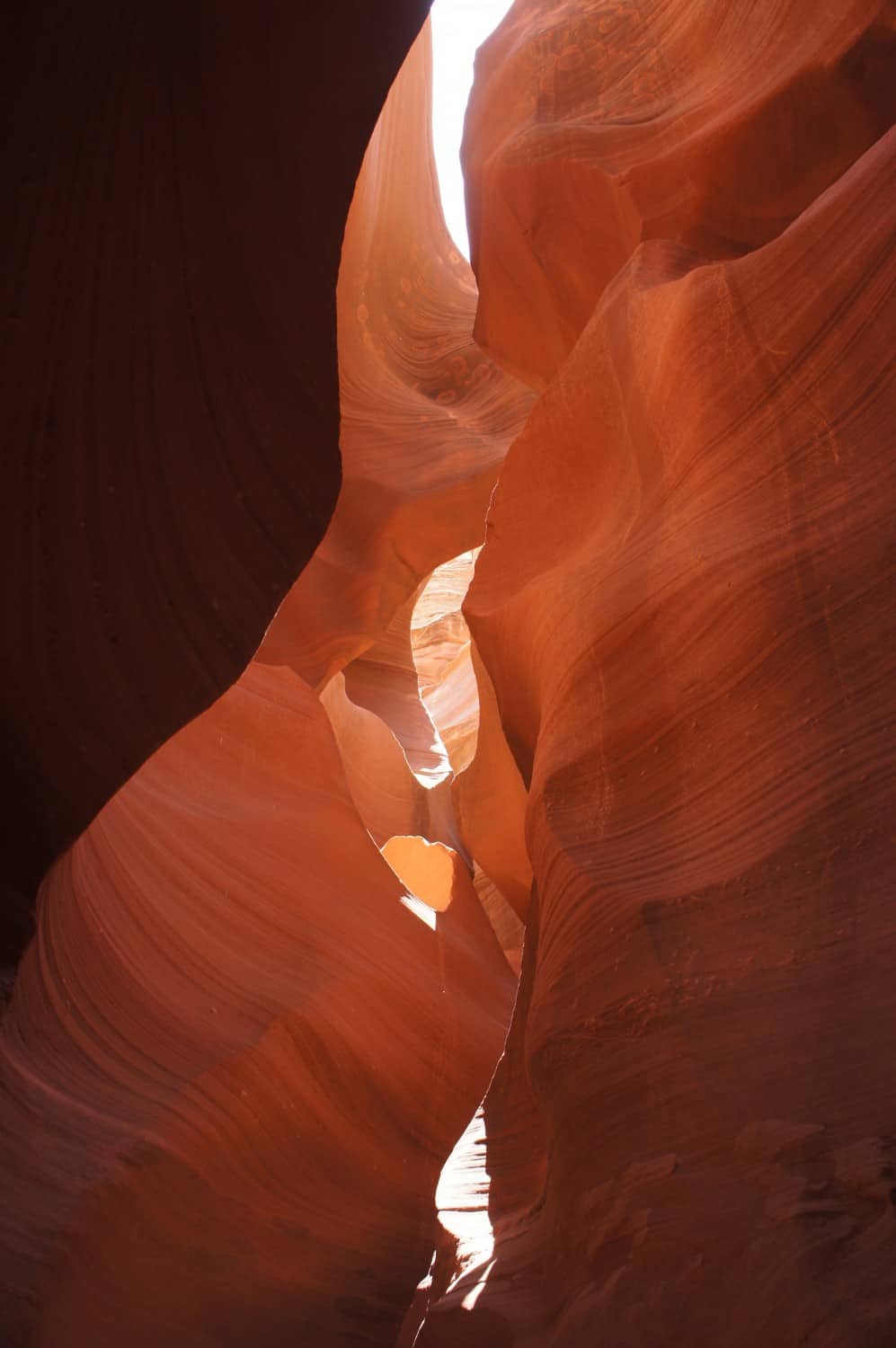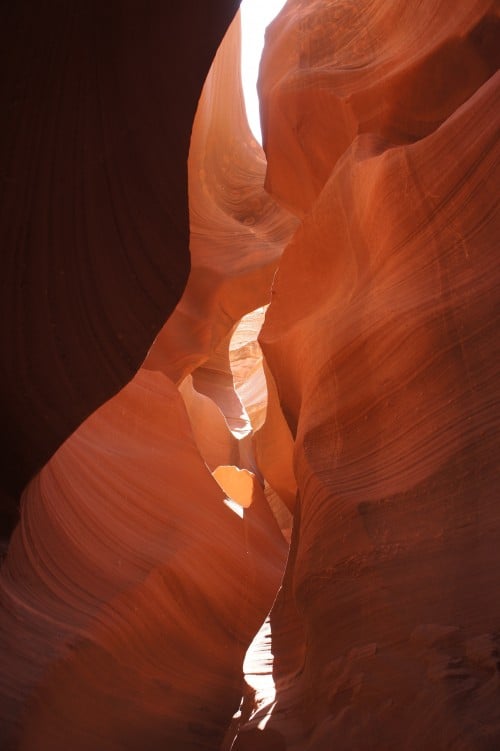 Lake Powell, I promise we will be back to see you again. I am captivated by your canyons, excited at the thought of exploring in kayaks places power boat cannot go, and dying to hike the trails that begin where the water ends.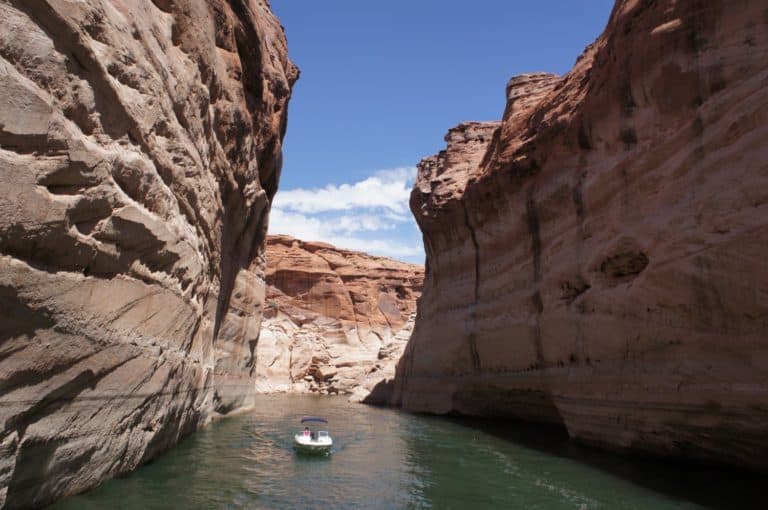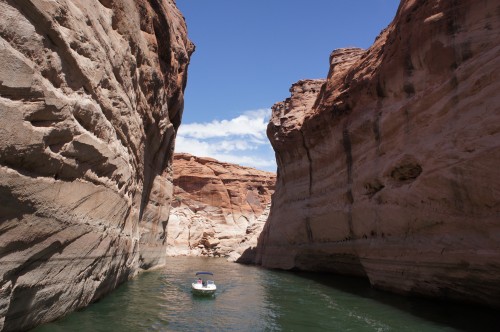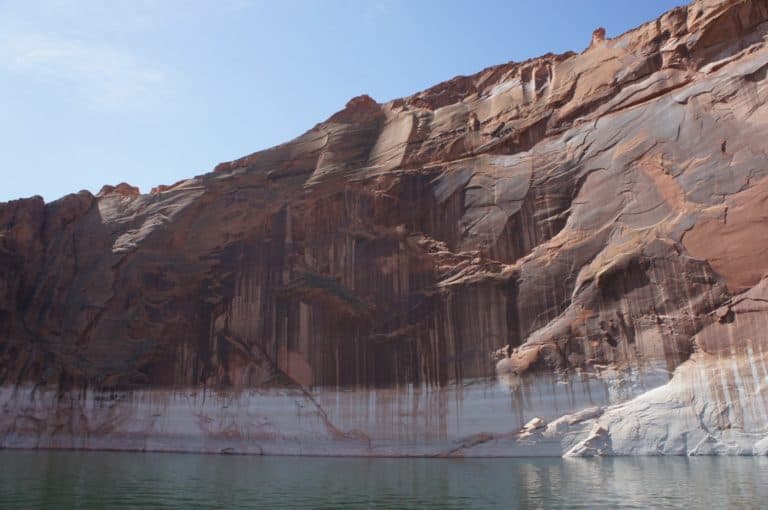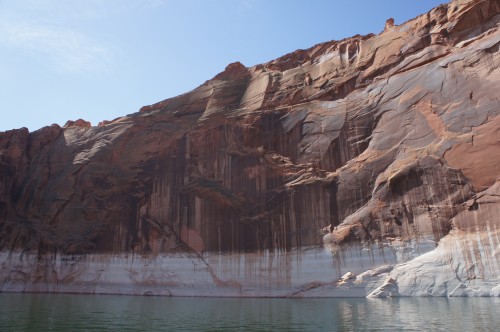 Planning a pet friendly trip of your own? We'll make it easy:
Pet Friendly Hotels | Pet Friendly Destinations | Pet Friendly Activities
Amazon Affiliate Disclosure: GoPetFriendly.com LLC is a participant in the Amazon Services LLC Associates Program, an affiliate advertising program designed to provide a means for website owners to earn advertising fees by advertising and linking to amazon.com, audible.com, and any other website that may be affiliated with Amazon Service LLC Associates Program. As an Amazon Associate, the owner of this site earns a commission from qualifying purchases.
(Visited 16,171 times, 1 visits today)