Really, does life get any better than this? For three days in March thousands of manufacturers show up in Orlando to flaunt the latest and greatest pet products available … and I get to go! For three whole days I get to wander the floor, stumbling on new companies I've never hear of, and stopping by and see what's new with some of our tried-and-true favorites. Honestly, if only I could take the boys along, it would be my version of heaven.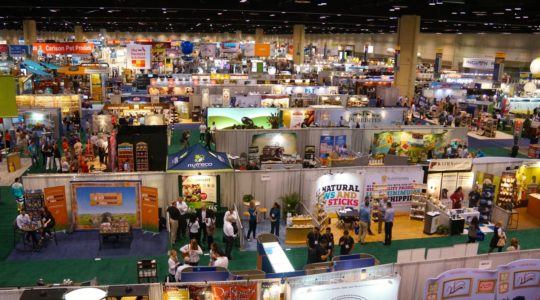 It's booth after booth, as far as the eye can see. In fact, someone calculated that to visit each both in the three days, you'd have to spend less than a minute in each one to see them all! But tracking down products that will make pet travel easier is my mission for three days, and I enjoy the challenge.
Focus on Technology
One of the major themes of this year's show was wearable technology. That includes Fitbit-esque activity monitors, GPS tracking systems, a health band that allows you to share your dog's vital data with your veterinarian, and a soothing music player.
Pod GPS Trackers
One of the more than 3,000 new products launched at Global was the Pod GPS Tracker. These real-time GPS devices, are specifically designed to track and locate your cat or dog anywhere in the world. We've been testing them with Ty and Buster and have found them to be simple to use, small and light-weight, and durable. They're completely waterproof and built to withstand the toughest of pet adventures.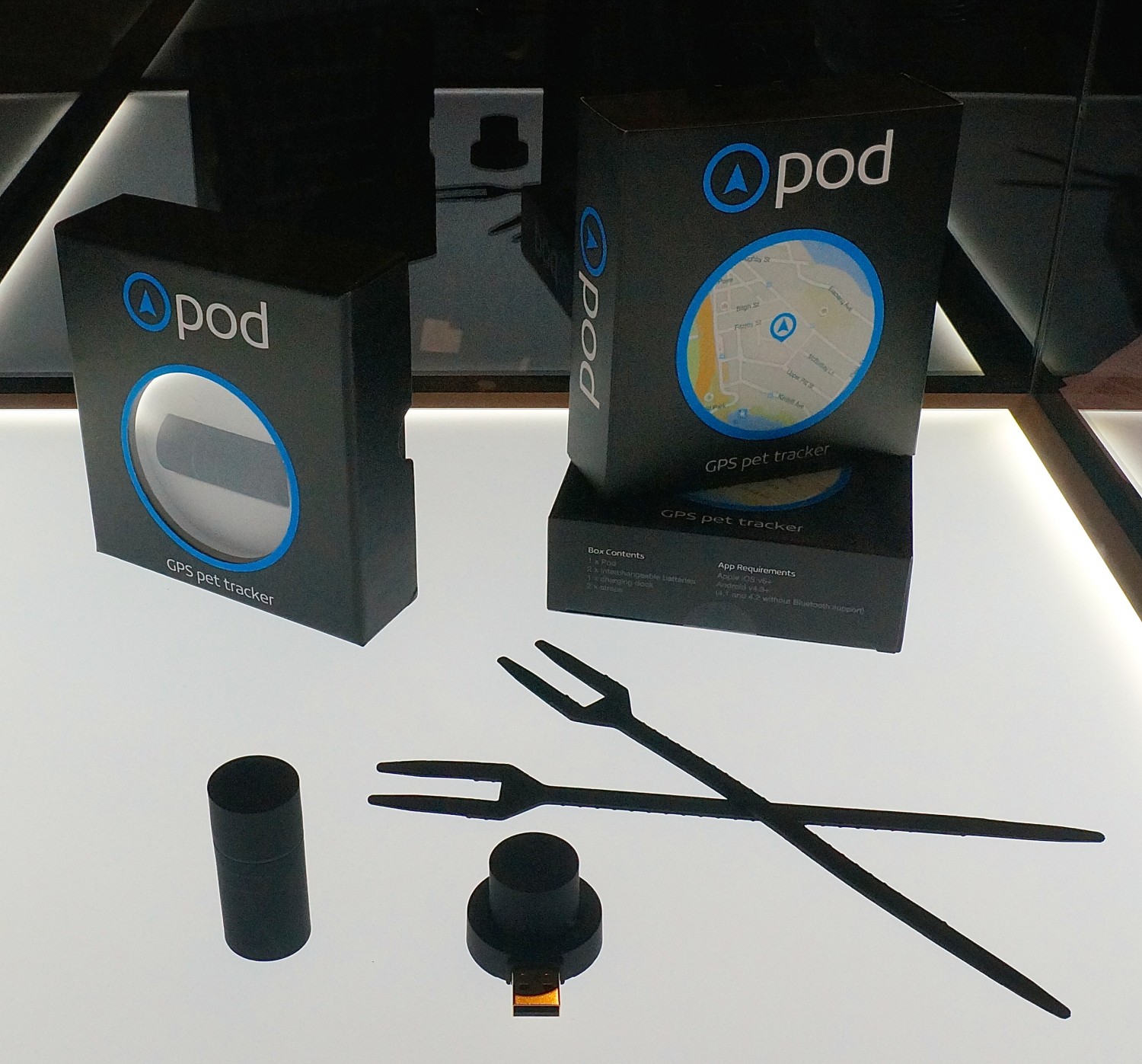 Pod's custom rubber strapping mechanism allows you to attach the unit to any collar, and each one comes with two interchangeable batteries so you don't have to remove it while charging. The trackers retail at just under $200 and come with the first 12 months of mobile / cellular data and SMS included. Annual renewals will be around $49 per year for most countries.
Incredibly light, and a little larger than their regular id tags, PetHub's new Signal tag combines PetHub's previous benefits (24-hour found pet hotline, free online pet profile, QR scanability) with a motion tracking device, "crowdsourcing" app to find lost pets, and flashing light to locate pets at night.  Signal uses Bluetooth technology to locate your pets anytime they pass within 150 feet of a device that has the PetHub app installed, and also allows you to set up a virtual fence for your pet and receive notifications if he strays beyond the borders. The Signal tag retails at $75.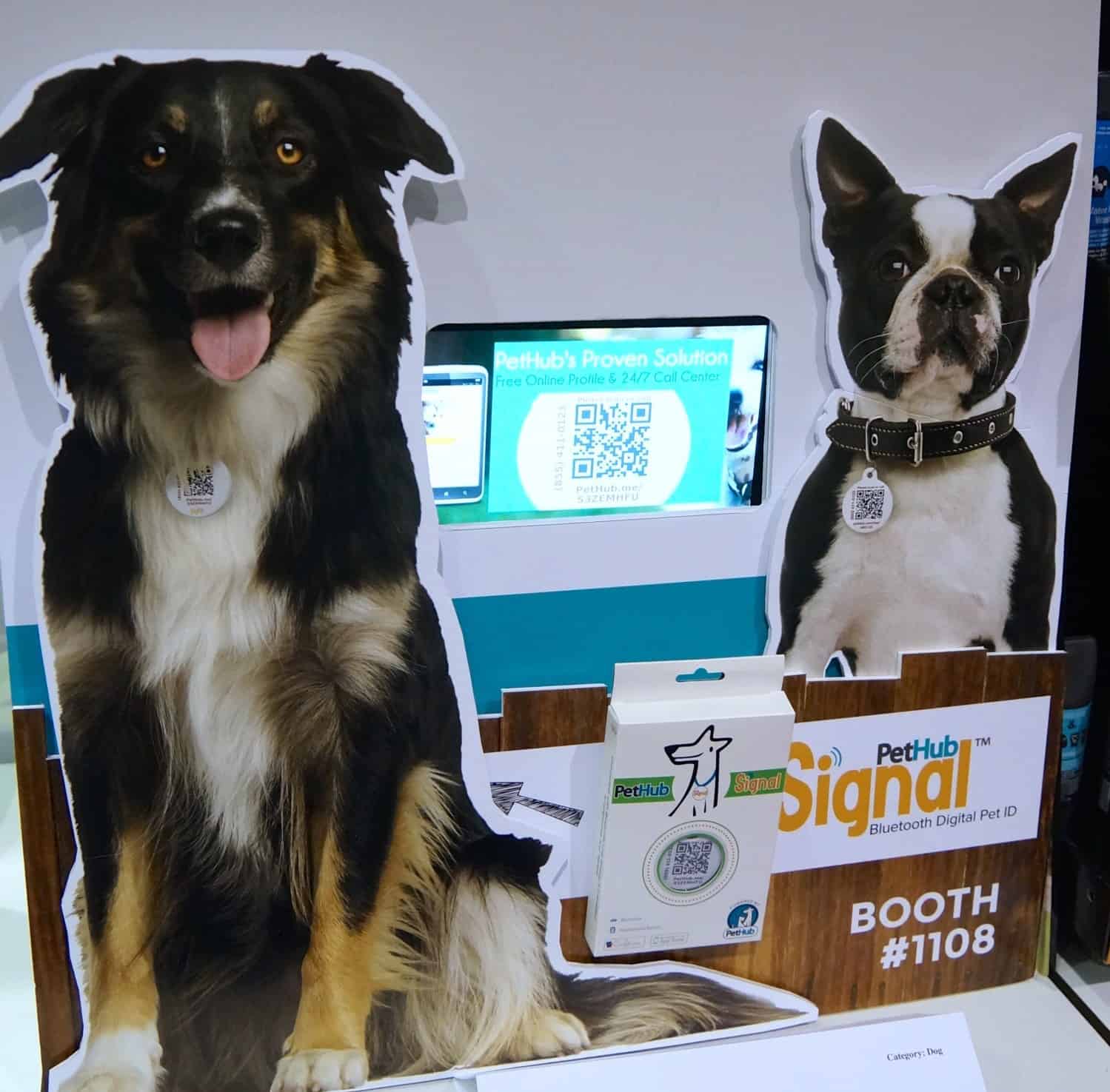 Ty's recent health challenges give me new insights into the benefits of Voyce's new band! We have no way of knowing how long Ty was experiencing back pain before he finally let us know about it, but if we'd been using the Voyce band we might have gotten some earlier clues.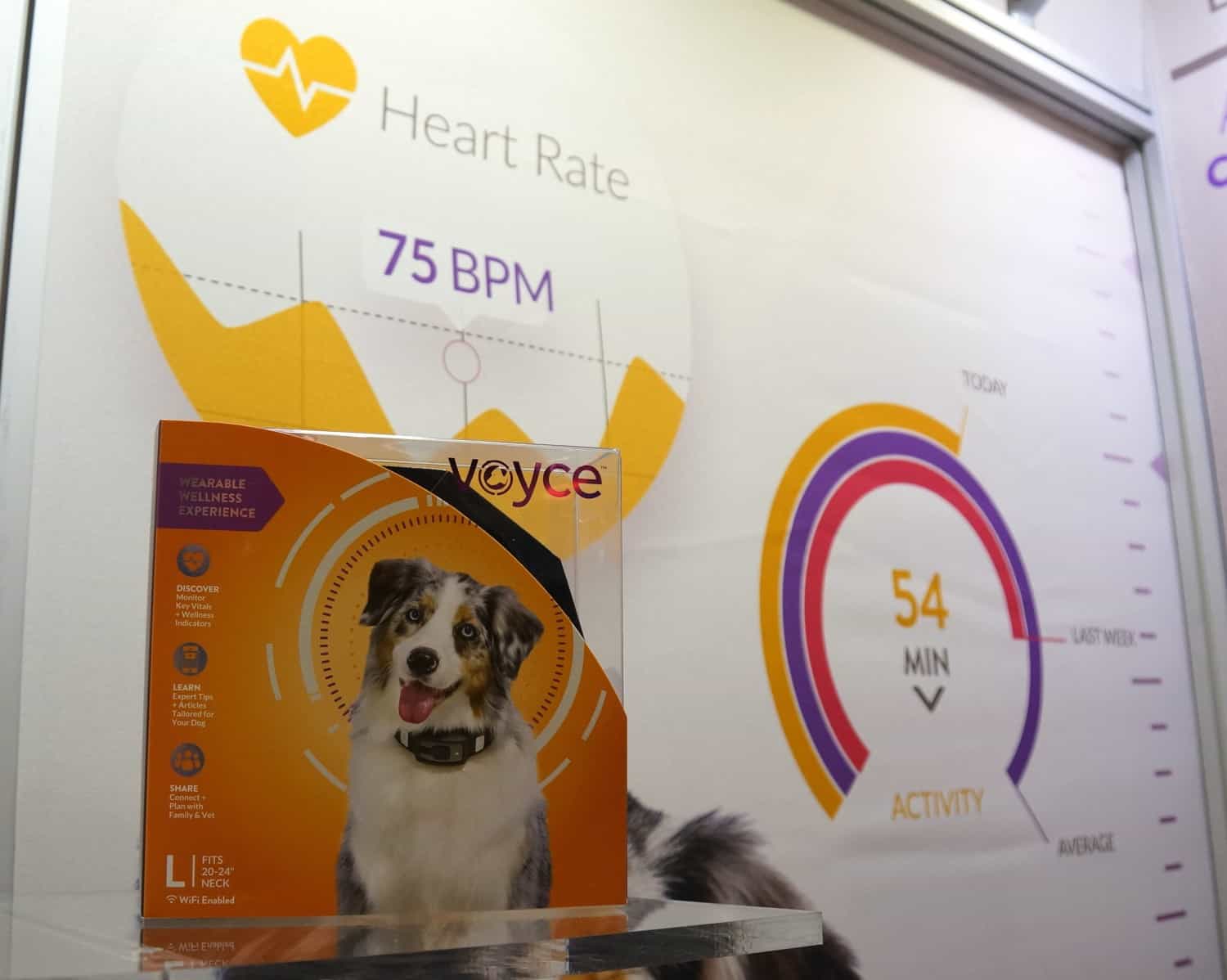 Dogs wear the Voyce band like a collar and its sensors, which do not require skin contact or prongs, collect important health data like heart rate, respiratory rate, quality of rest, and level of activity. Watching trends in the data over time could help you recognize that your dog has become less active, is more restless during the night, or has an increased heart rate. Easy sharing of that information with your veterinarian may lead to earlier diagnosis of diseases, or adjustments to your pet's care plan. The Voyce system also allows you to set activity goals, schedule reminders, check symptoms, and utilize the resource center with articles on everything from puppy training to geriatric conditions. The Voyce band retails at $299 plus $99 per year membership fee.
Tractive is making small, light GPS trackers that can be fixed to your pet's collar with convenient attachment clips. Their units give you live tracking, provide a 24-hour history of where your pet's been, and have an integrated light to help make your pet easier to spot in the dark. The GPS 2 and GPS 3G models (retailing for $179 and $199, respectively) also have a heat alarm included, and all of their GPS locators operate on a $7 monthly service plan subscription.
Tractive's MOTION device allows you to track your pet's daily, weekly, or monthly activity results. You can set your daily goal of "pet points" and check your progress, compete against other pets, and collect information on ambient temperature and light where your pet is. The Tractive Motion retails for $99 and has no monthly fees.
Using music to reduce Ty and Buster's anxiety in hotel rooms or when we need to leave them on their own for a bit is something we've been doing for years, but now there's a new way to help the boys relax. Pet Acoustics has developed a wearable music player for dogs that attaches like a collar and transmits the frequency-modified, ultra-calming music currently available in Pet Acoustics' Pet Tunes Bluetooth speaker.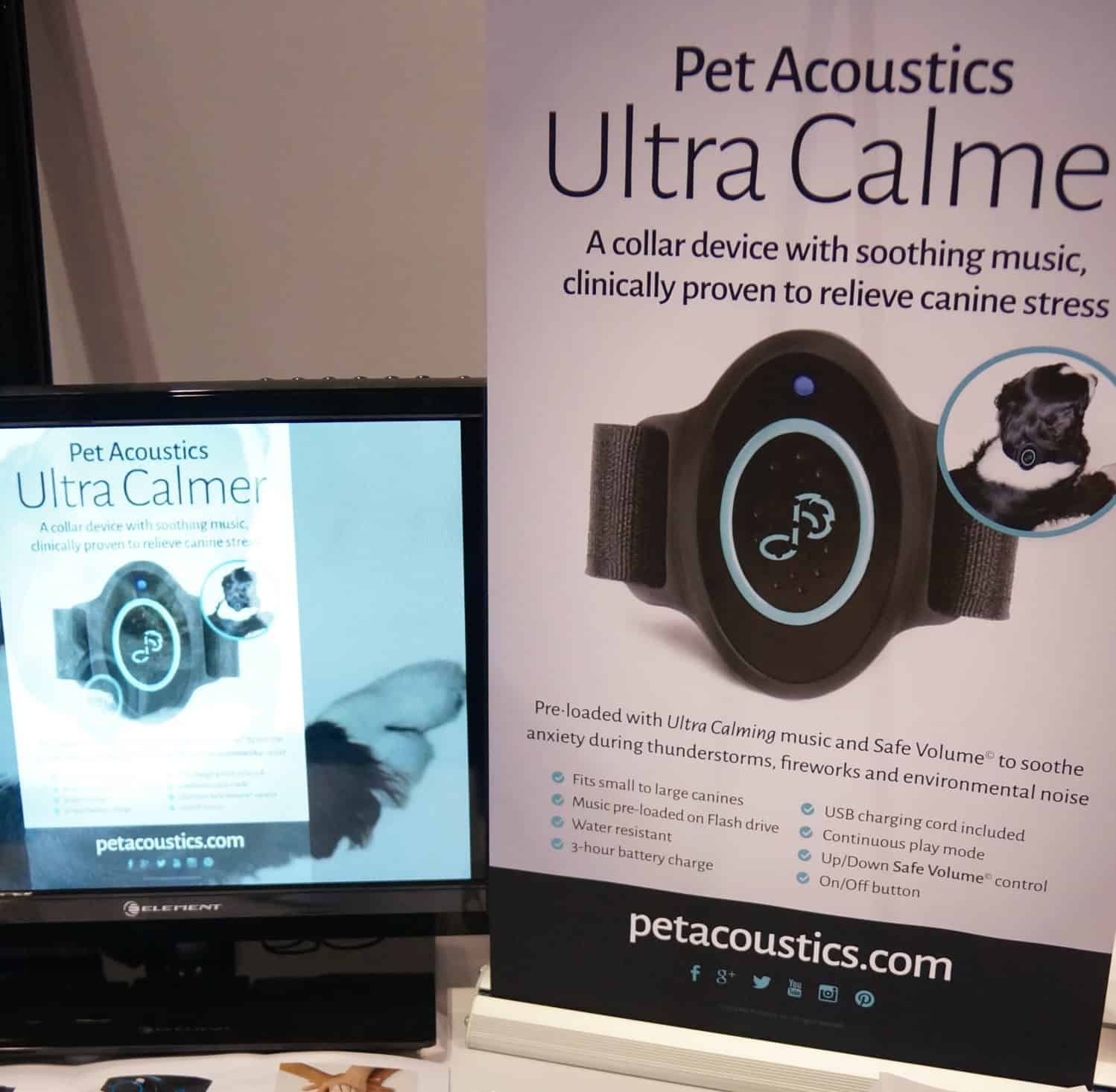 For dogs that experience anxiety on walks, at the veterinarian, or when you have guests, this is a great solution! The Ultra Calmer retails for $70, comes pre-loaded with music, and will play continuously for up to three hours.
Tagg GPS Plus
Though they didn't have a booth at Global this year, I want to give you a quick update on a product we've mentioned before –  Tagg's new GPS Plus collar. The Tagg GPS Plus collar is a combination GPS tracker, activity monitor, and ambient temperature sensor. Pet owners can now receive live tracking, monitor their pet's activity, and receive a notification if the temperature their pet is exposed to is outside the desired range. The Tagg GPS Plus collar retails for $119 and requires a service plan costing $7-10 per month.
Around the Show
It's always fun to visit Ruffwear and see what artistry these masters of pet gear are turning out. Dog coats, including the Cloud Chaser and Quinzee, new leash colors, the Highlands bed with new accessories, the new Dirt Bag seat cover, and the Haul Bag – nicer luggage for the dogs than my own – were all on display.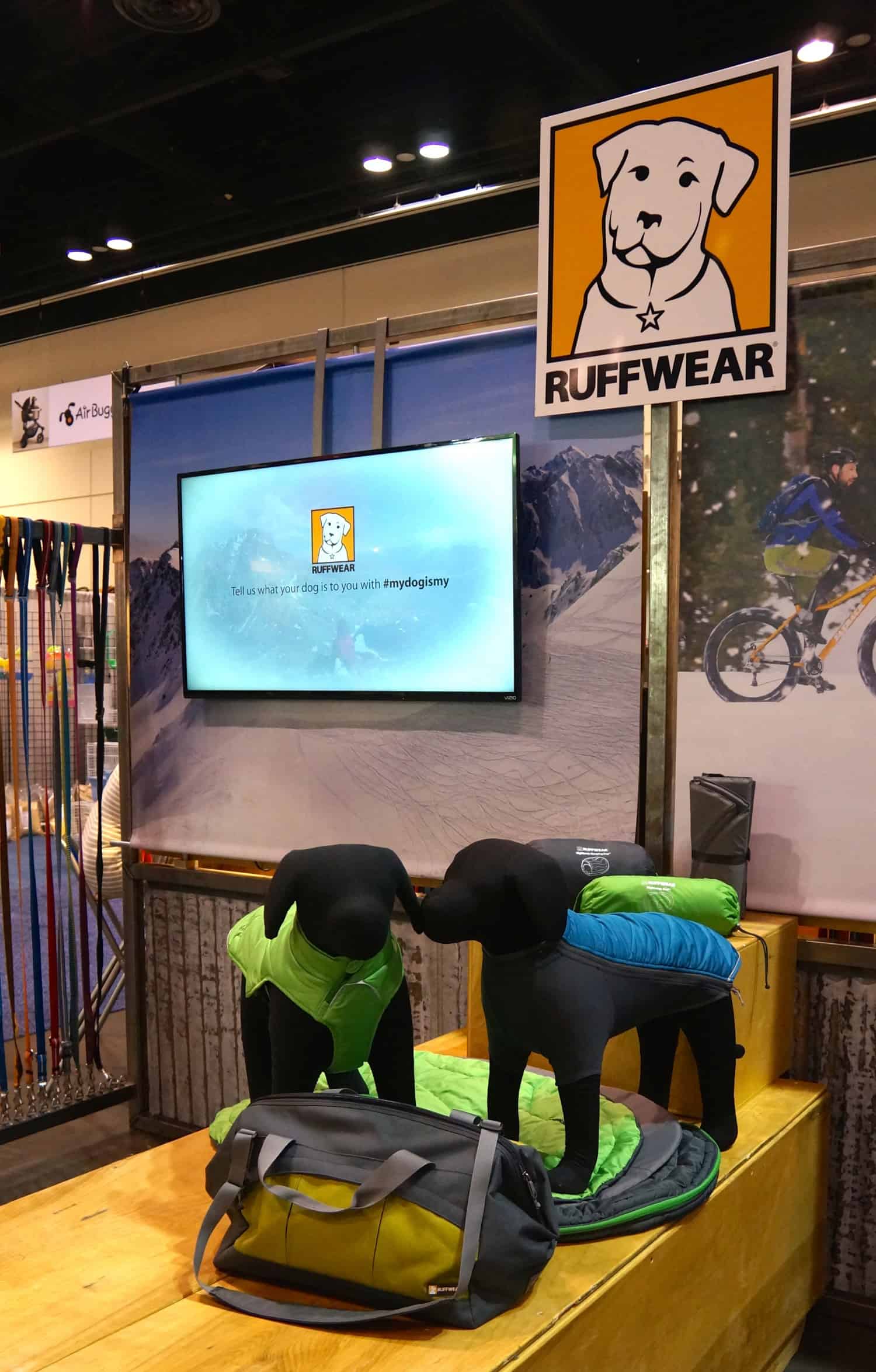 But the thing that really caught my eye is the new, low-profile Approach Pack. A cross between a harness and a backpack, this pack is perfect for shorter hikes, or for older dogs who won't be carrying much weight.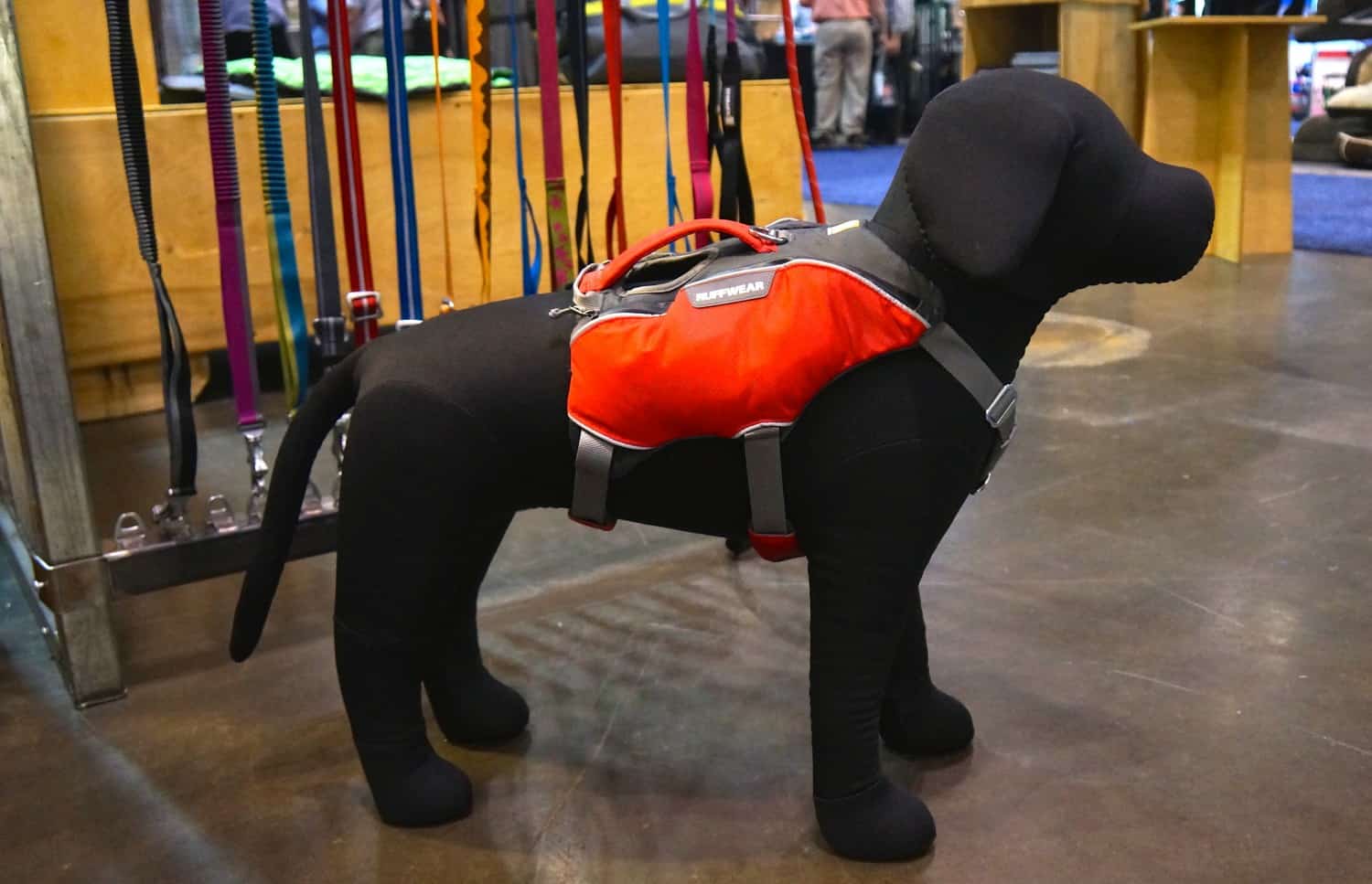 Speaking of outdoor gear … there was no missing the massive launch of the InsectShield pet line! From bandanas and t-shirts, to cots, beds, and seat covers – all kinds of pet gear has been created to repel mosquitoes, ticks, flies, and fleas. The technology is pretty extraordinary – the fabric is treated with insect repellant as part of the manufacturing process, and it binds so tightly to the fabric fibers that it offers effective, odorless, built-in insect protection – even after multiple washings! InsectShield garments for humans have been around for some time, and it's exciting to see them entering the pet market.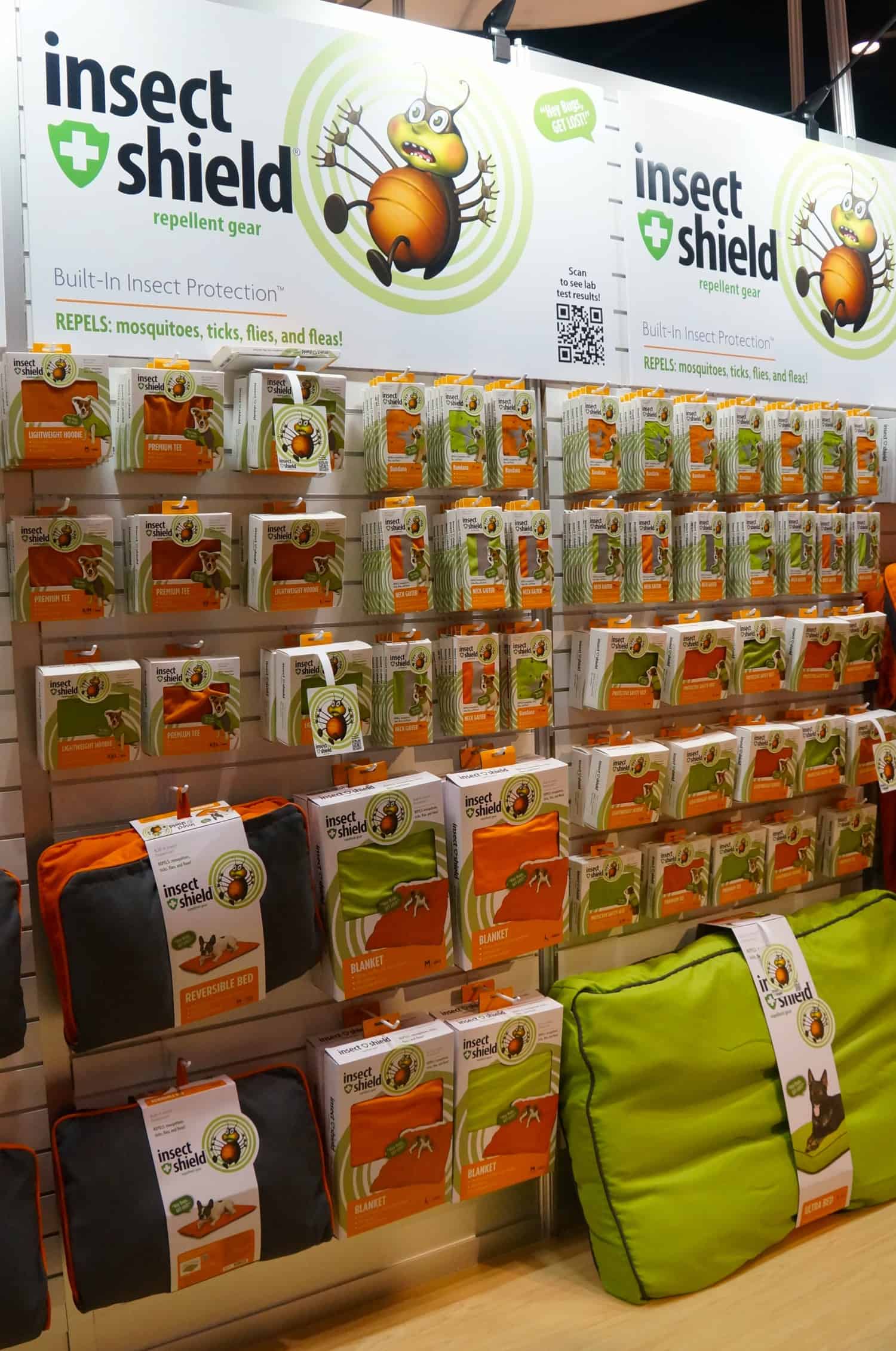 Of course, Ty and Buster are always drooling to know what's on the burner at The Honest Kitchen. They got a nose full with the introduction of the new dog food formula, Revel! Made with dehydrated wholesome ingredients like free range chicken, organic barley, flaxseeds, carrots and bananas, Revel is human grade dog food that's ideal for all stages of a dog's life, and it's at a more affordable price point. A 10 pound box of Revel retails at $60 and will make approximately 40 pounds of food, once rehydrated.
Dogs are happiest when they have something to squeak and, like the rest of the goDog line, with the Chew Guard technology, these little guys are durable – but the woodland animal collection from Quaker Pet Group is almost too cute to be slobbered on!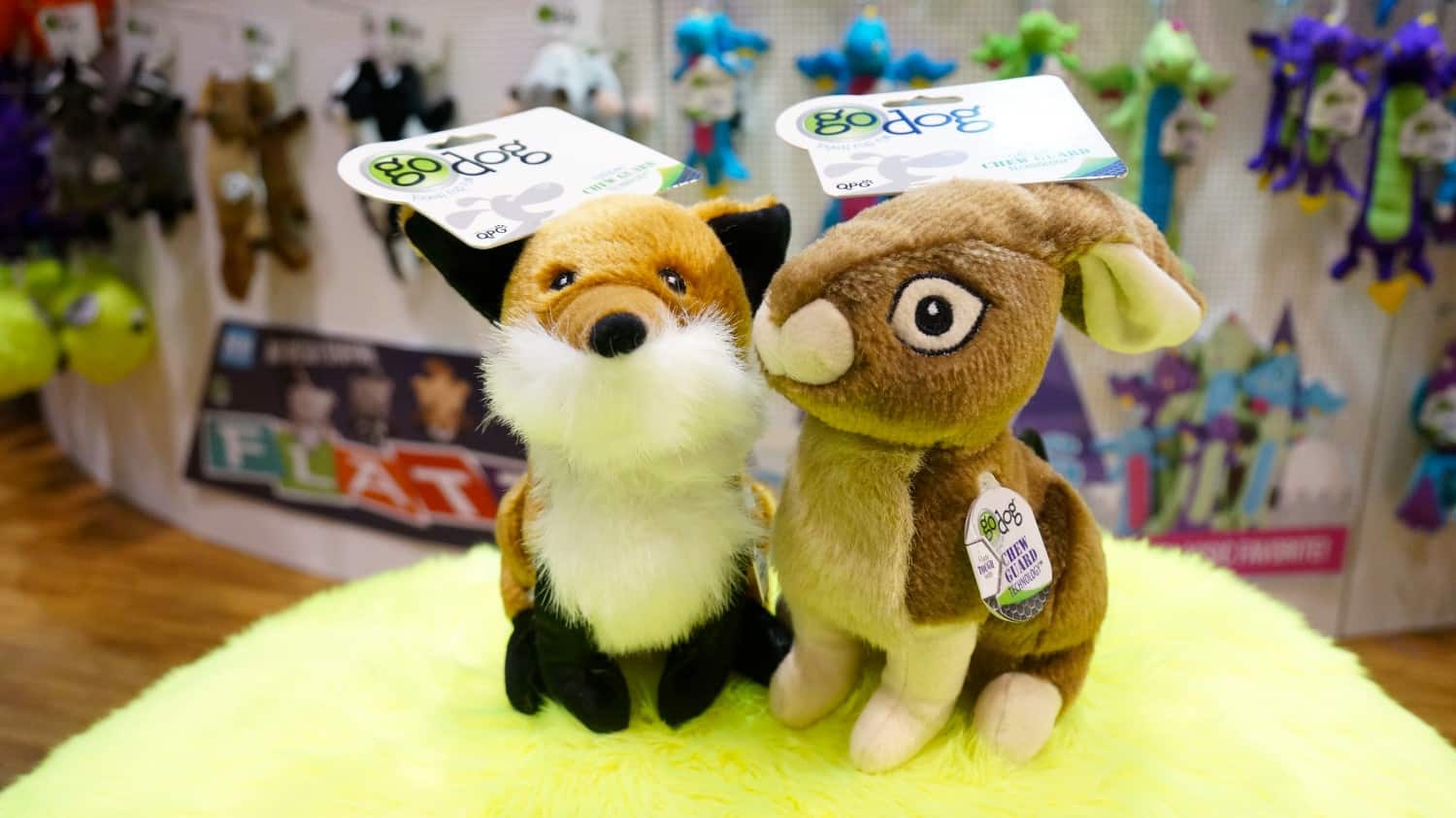 For those of you traveling with cats, I came across and exciting find. Made by TheGreenPetShop from recycled paper and biodegradable with normal trash, the Katpak Litter House is everything you need in a traveling litter box with none of the hassle. The box fold flat for easy travel and storage – simply cover the bottom with litter, and when it's soiled … throw it out! A four-pack retails for $17.50.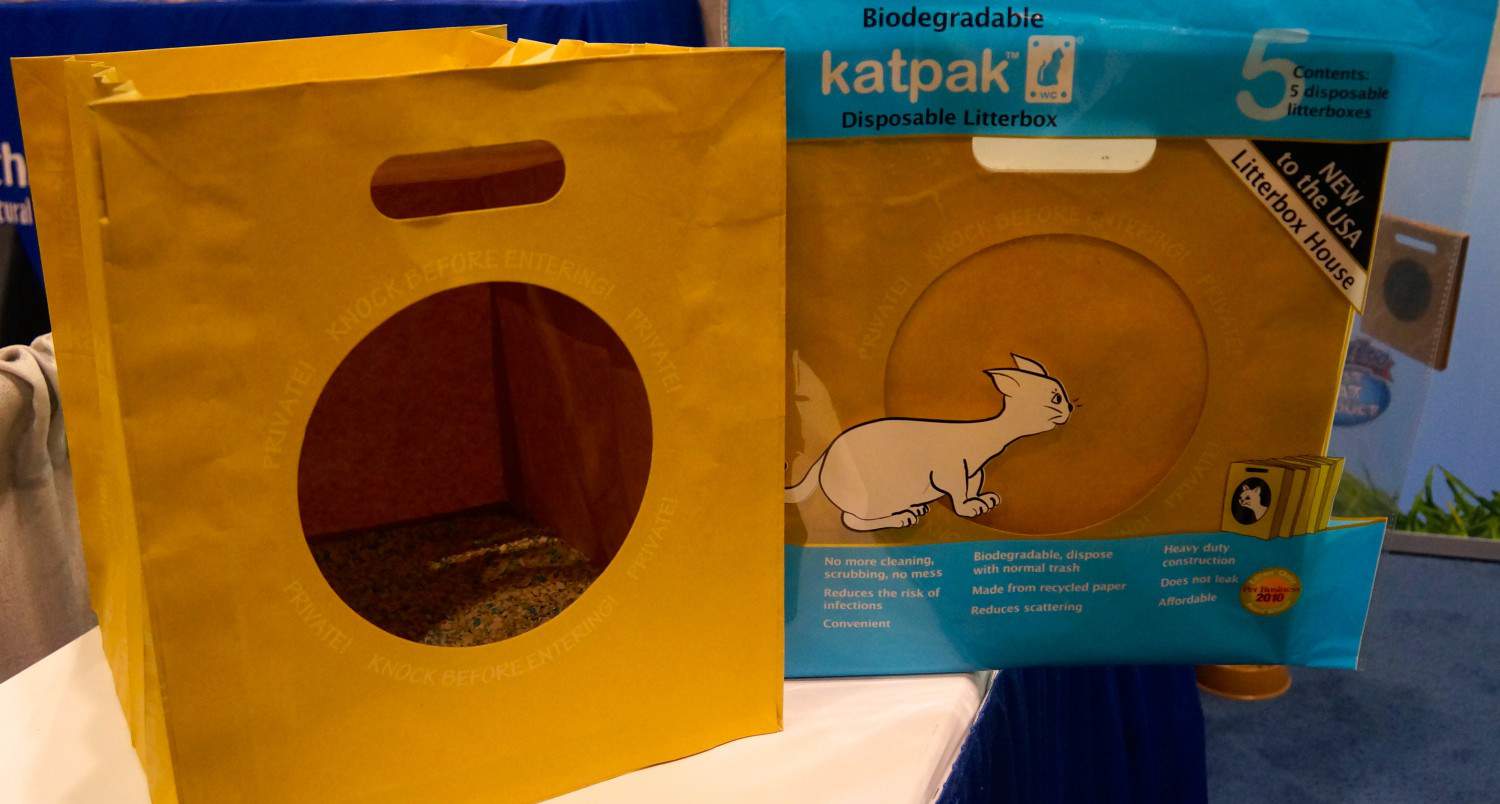 From kitty litter to puppy litter … we were interested to see that Healthy Pet is making Puppy Go Potty, a line of 100% natural dog litter for indoor dogs, pooches living in high-rise buildings, adult dogs with special needs … or perhaps a certain Shar-pei we all know and love, who can't stand to get his paws wet when it's raining!
The dog litter is composed of large nuggets that won't get caught in paws and absorbs 4x it's weight. It's made with no harmful chemicals, is sustainable, biodegradable, and compostable, and contains a natural pheromone attractant to encourage pups to go in the right place. A 14 pound bag of litter retails for $20, and the dog litter tray is sold separately for $27.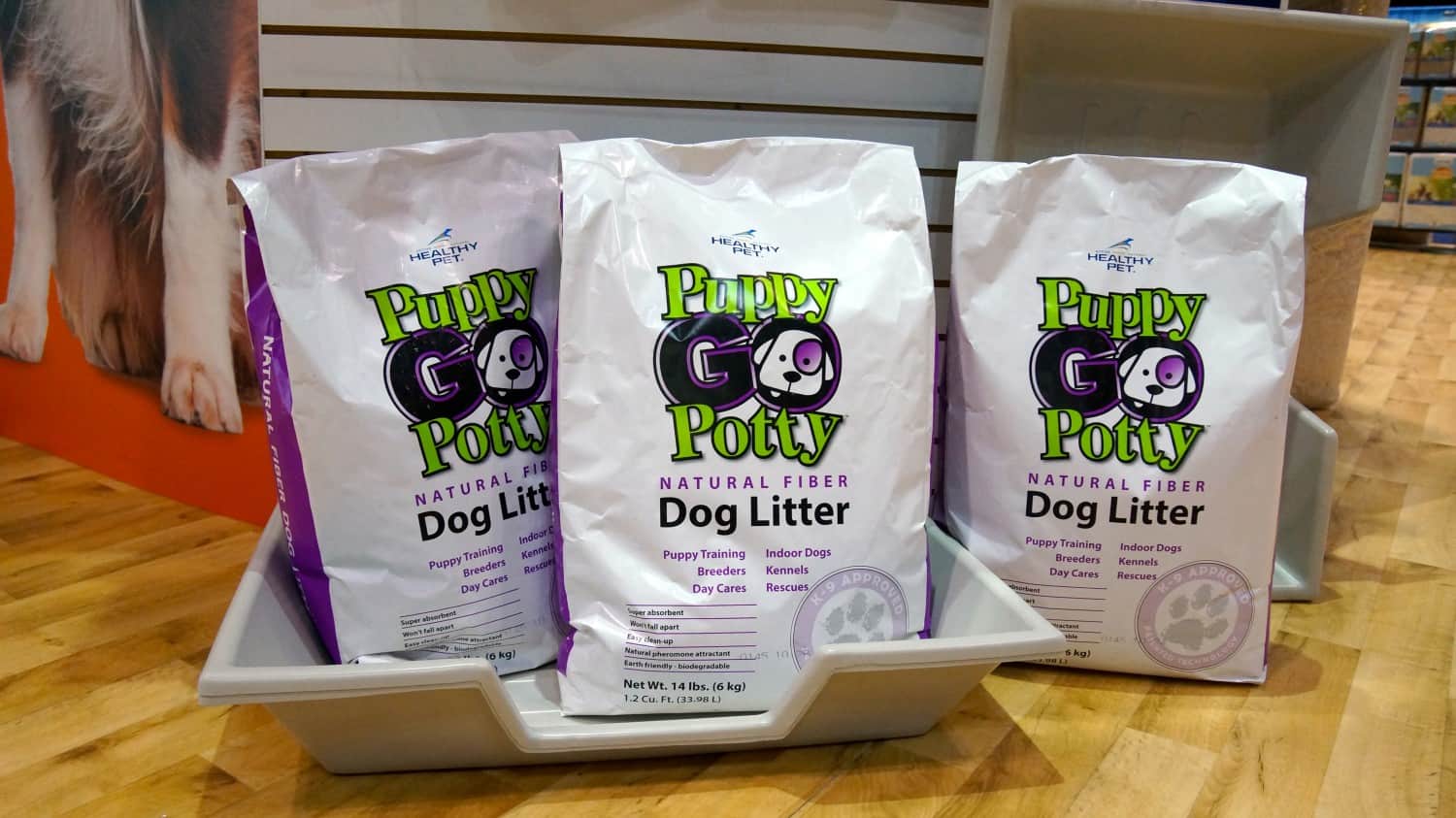 One of Ty and Buster's other must-sniffs is the Cloud Star booth, and they had lots of exciting news. It's been a long time coming … but Buddy has finally gotten his own line of treats! They come in a variety of flavors, have grain free options, and having offerings for dogs and cats.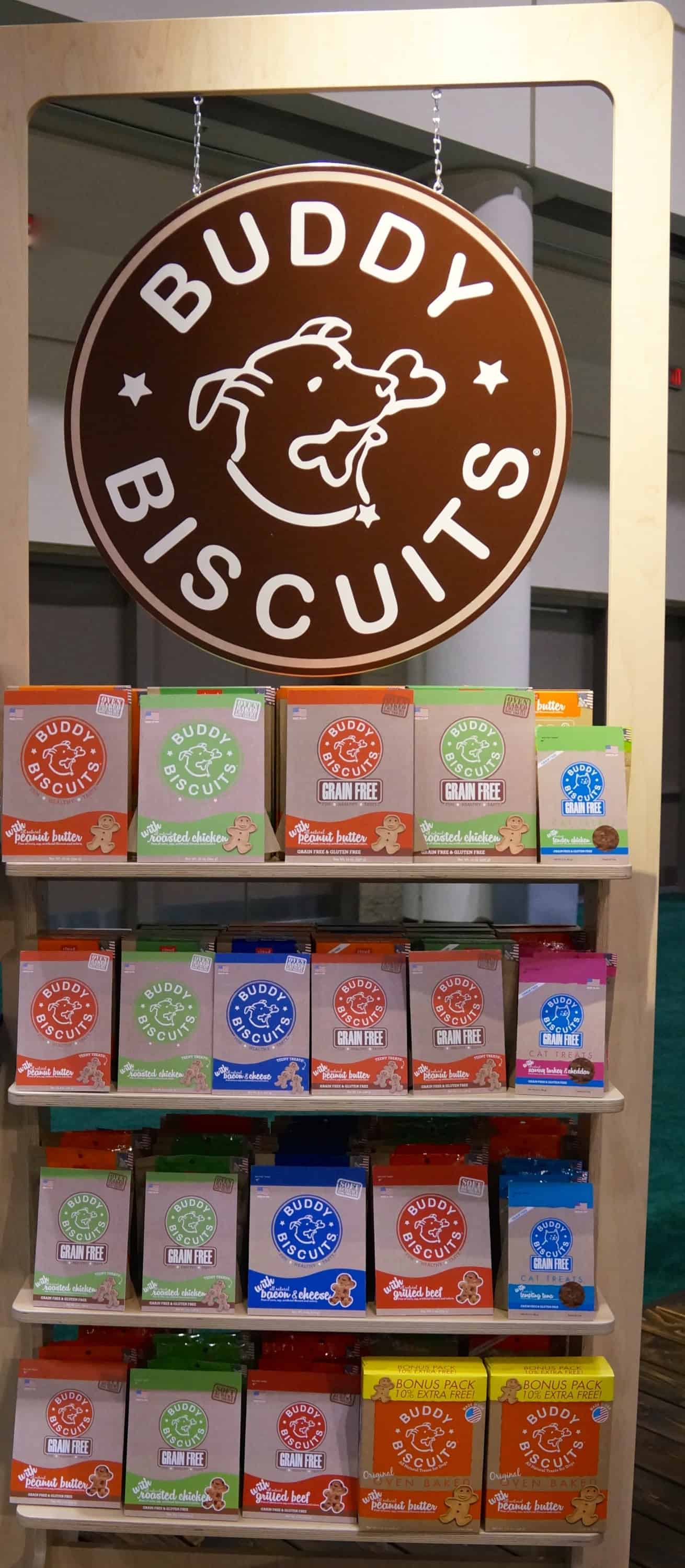 Not only that, but the famous Cloud Star motto, "Wag More, Bark Less" is now its own line of treats as well!  It's fun to see these well-known Cloud Star icons elevated to a new level.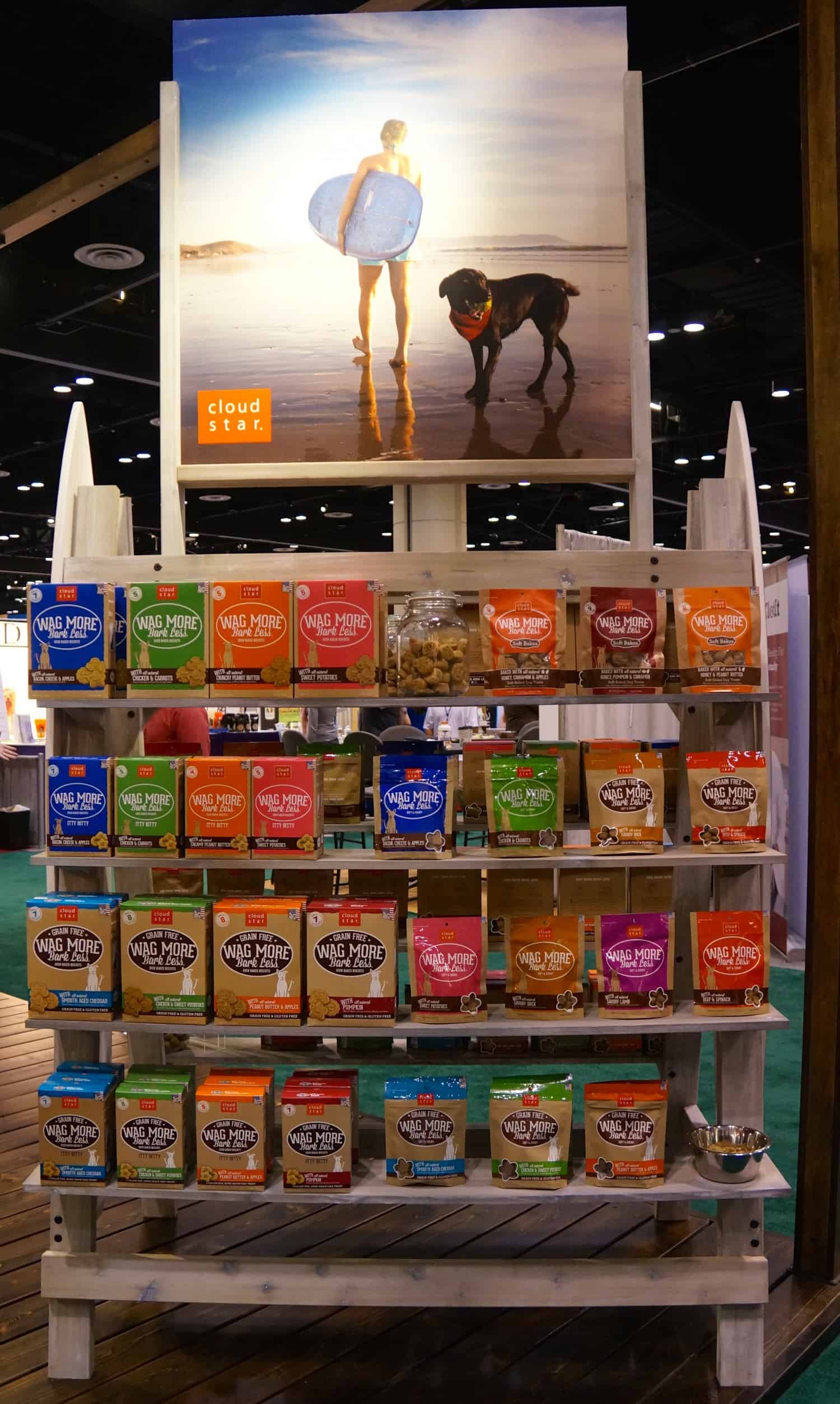 Living with pets means sometimes you compromise on style to find durable decor that's easy to clean. At least that's what I thought until I came across the Trans-Ocean booth at Global. These indoor/outdoor mats, rugs, and pillows are far to pretty to survive in a pet friendly household, right? WRONG! All the rugs can be hosed off with water and the pillows can be cleaned with mild soap and water.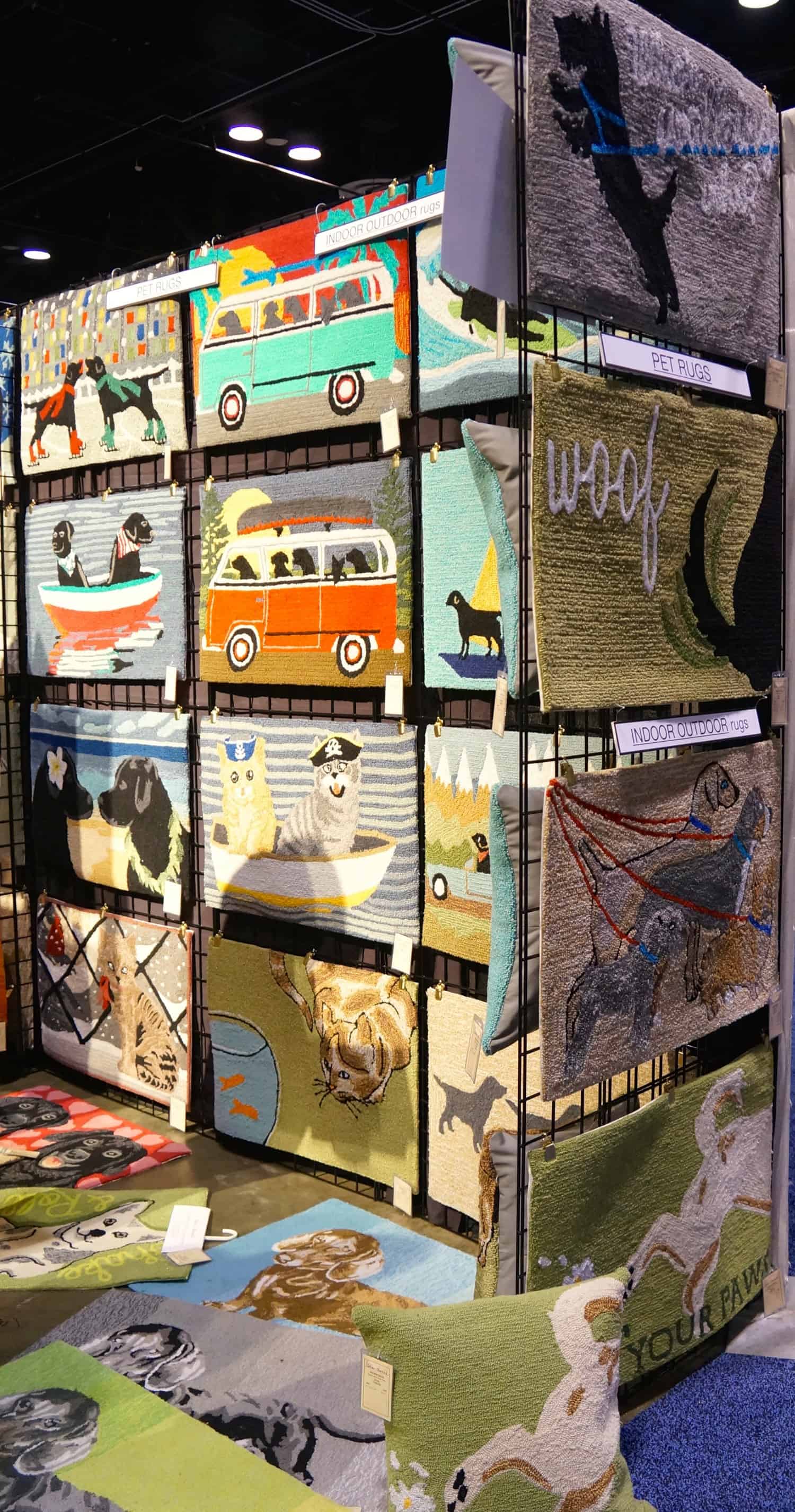 Trans-Ocean was founded in 1908, and is one of the most respected rug importers in the country. This is their first foray into the pet industry, and I think they've hit the nail on the head. Rug prices vary depending on size from $30 to $400.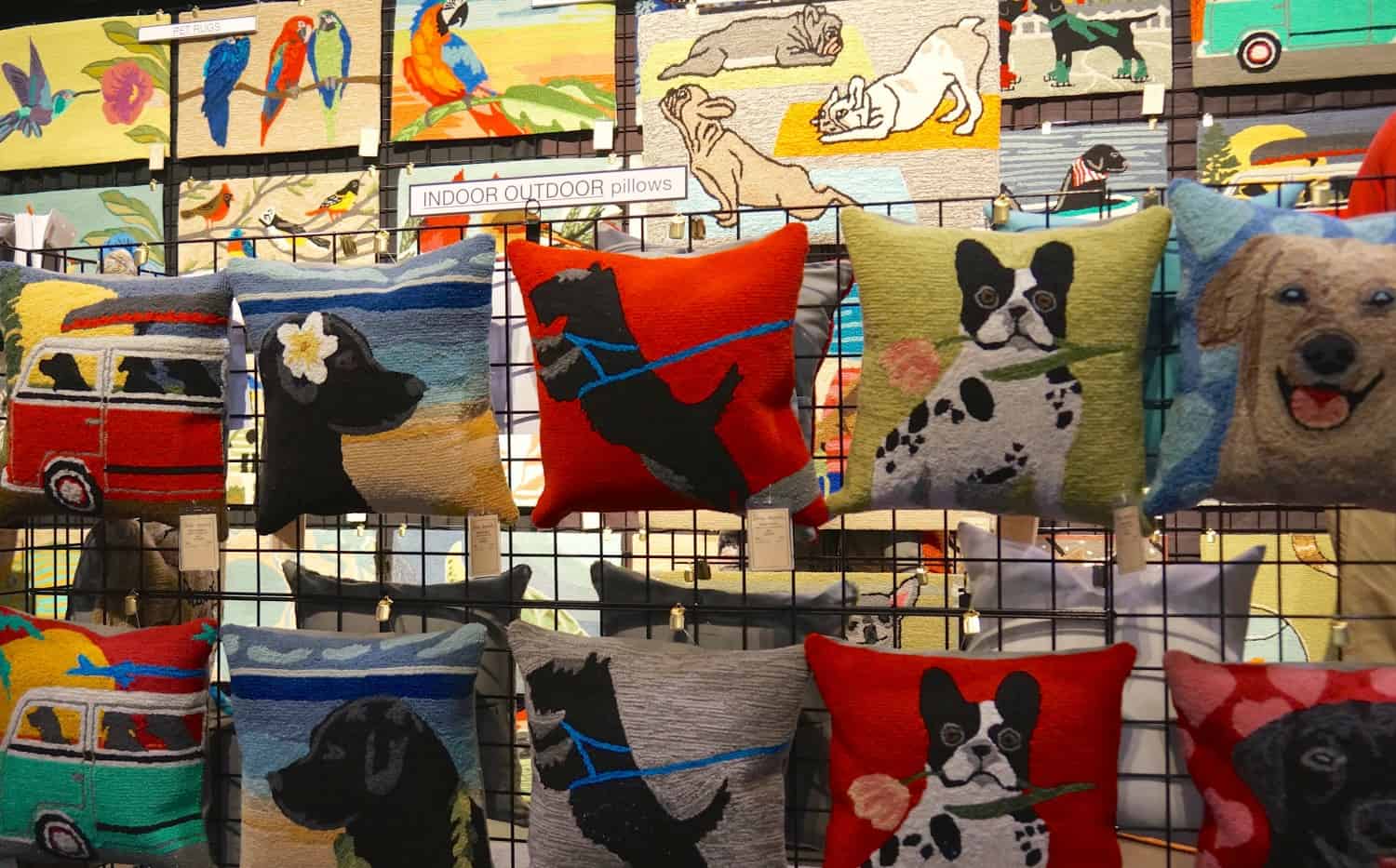 We were excited to learn that Sleepypod's Clickit Sport harness earned a 5-Star safety rating from the Center For Pet Safety – the highest possible rating, in all three size categories: small, medium, and large. The Clickit Sport is the first product to meet the new critical guidelines set by the Center for Pet Safety in its new Harness Certification Program, which measure the performance of pet safety harnesses using crash simulations.
Keeping our pets safe in the car while we're traveling needs to be a top priority for all pet travelers, and it's good to see strides being made in this area.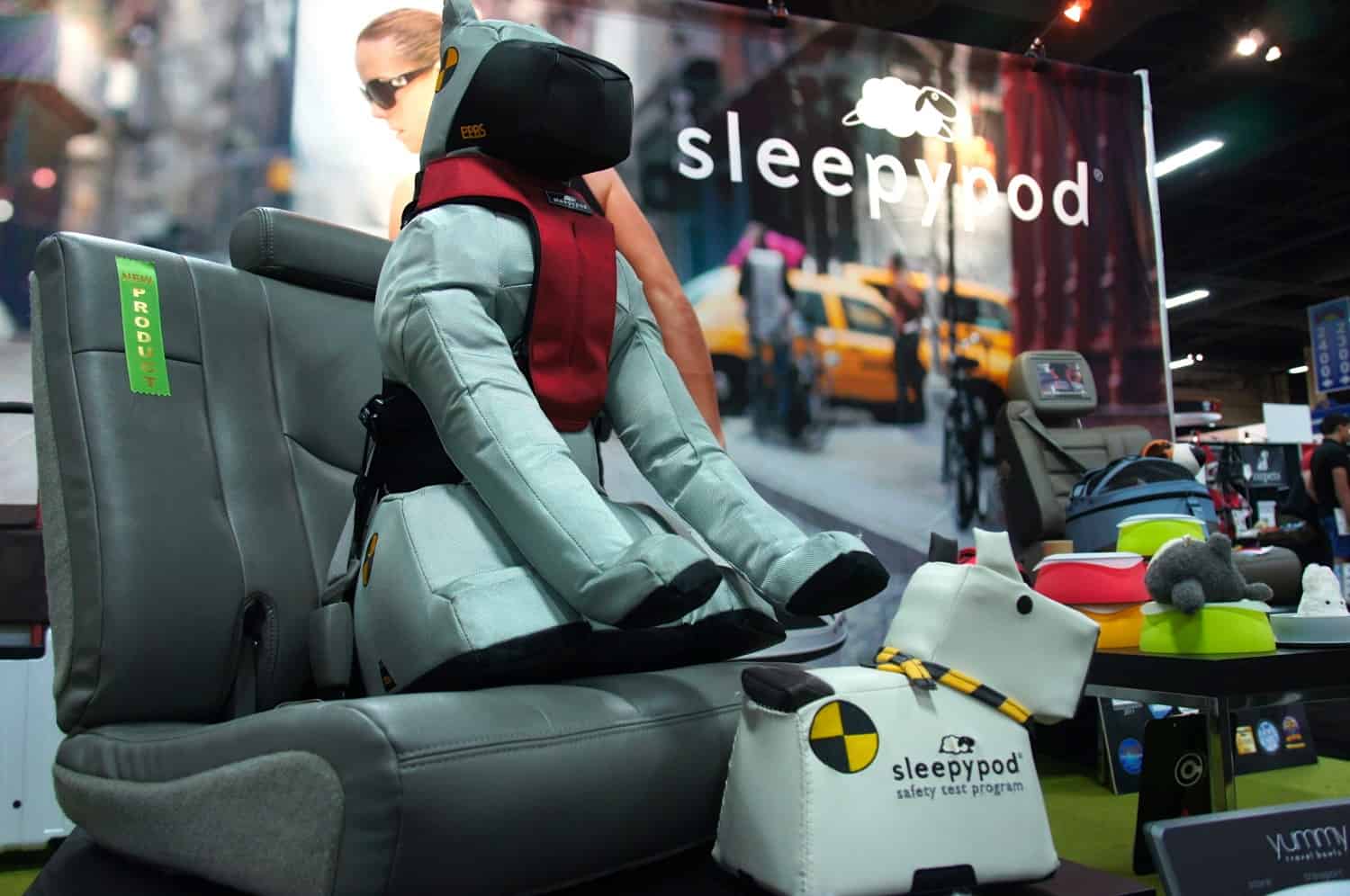 One thing you never have enough of when you travel with pets is space, so finding gear that gets a little smaller helps. Solvit launched an improved version of their telescoping ramp (rear), making it a tri-scope ramp (front), which is 30% smaller when collapsed. It's a great improvement for those who have limited cargo space!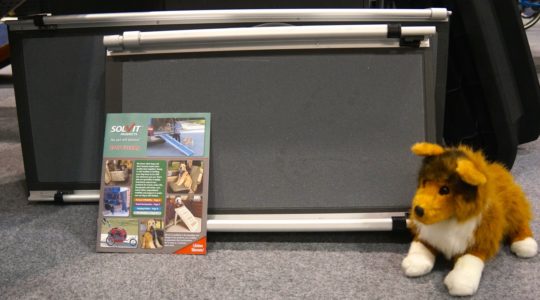 One of Ty and Buster's favorite things in the whole wide world is a bully stick. And I do my best to makes sure that the treats the boys get are safe and healthy. A few months ago we came across the Barkworthies brand, and began ordering our bully sticks from them – after visiting with Michelle in their booth, I'm glad I did!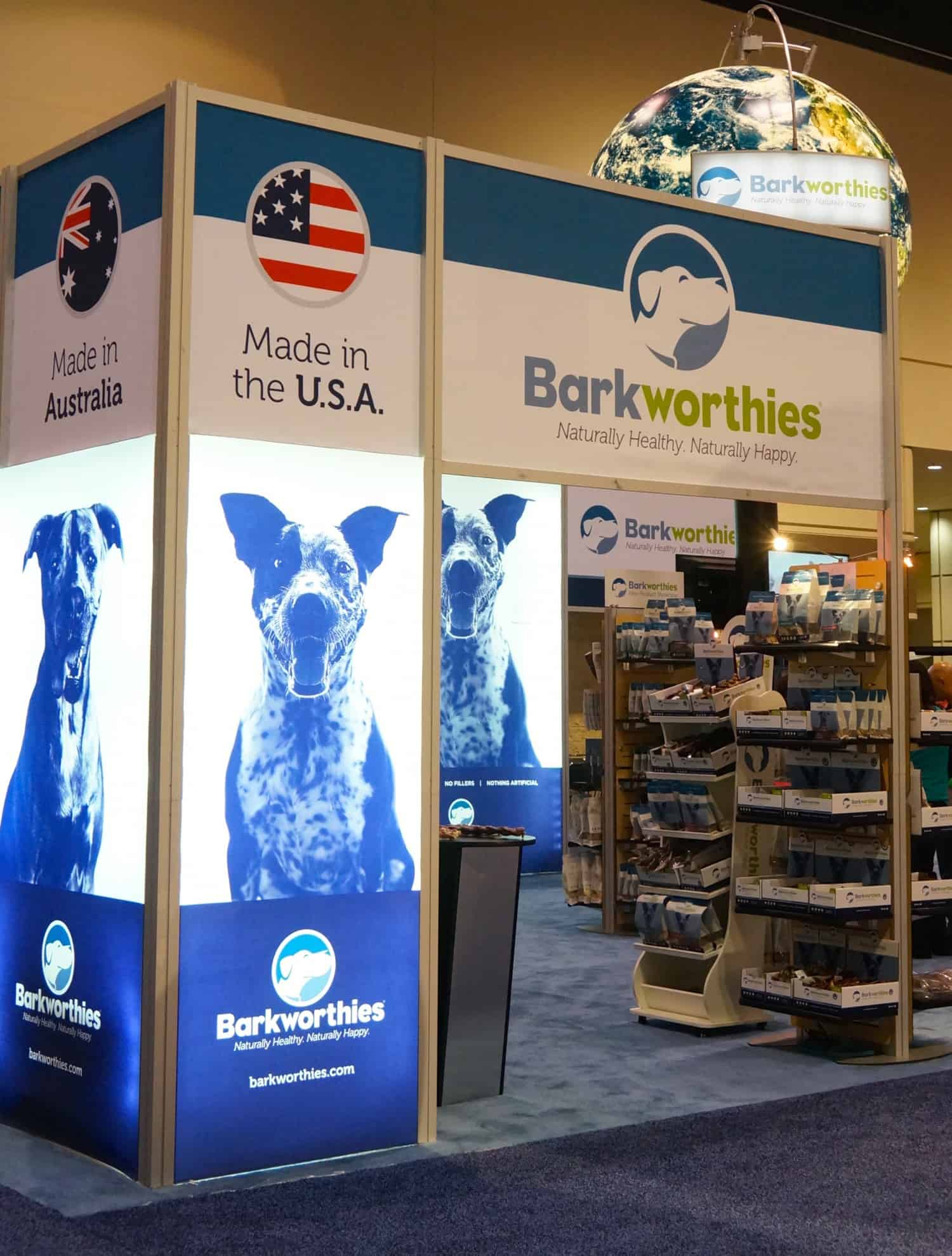 Barkworthies is dedicated to providing treats and chews are completely digestible, and contain no preservatives, chemicals, or additives. They source the best ingredients from all over the world and most of their products contain only one ingredient. What I didn't know is the extensive product line they offer! From the recognizable chicken jerky – made with 100% American meat – to the truly unusual kangaroo ribs. There's something here that every dog will love.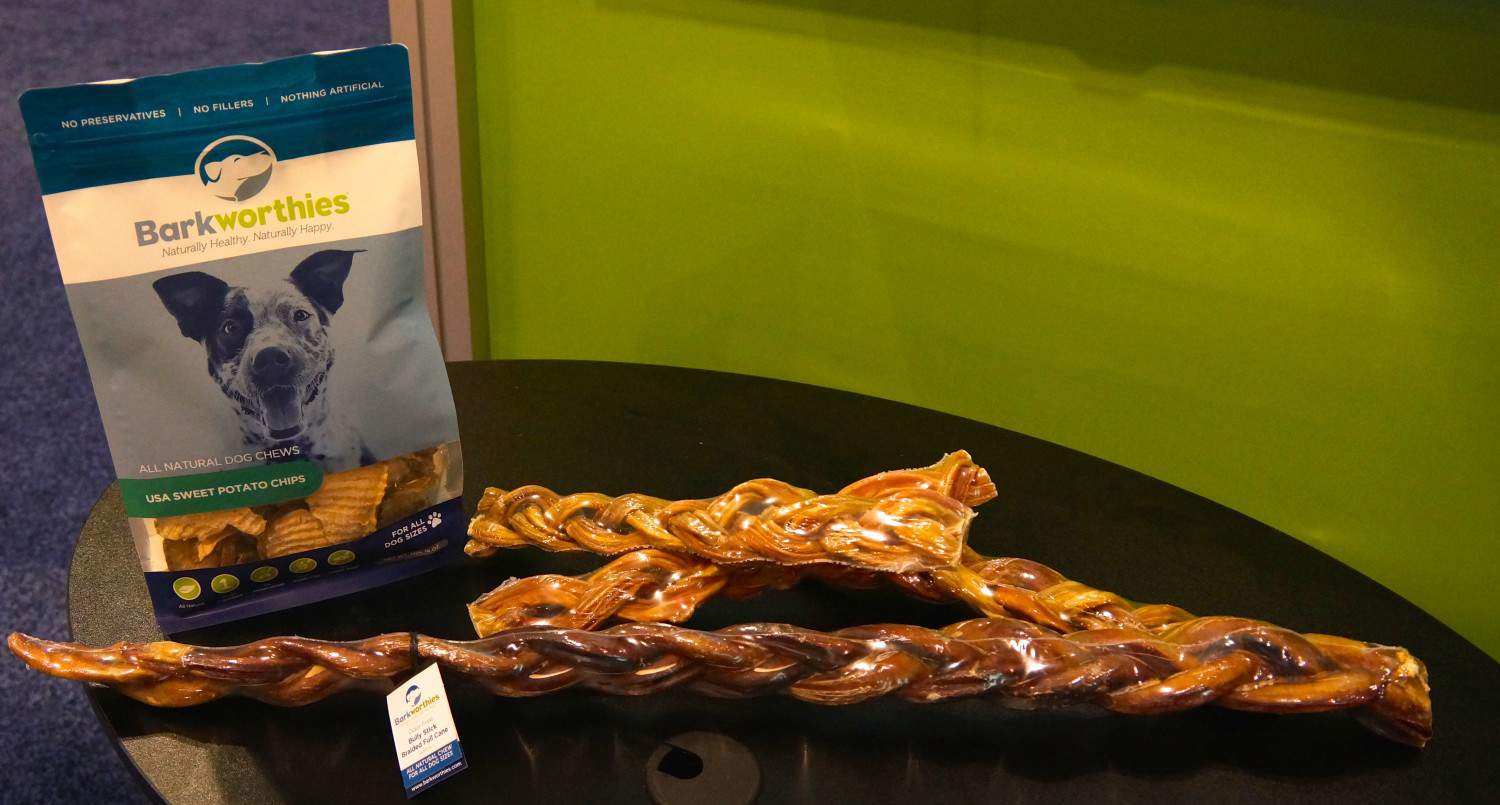 Shopping for cats can be tough. I remember shopping for my kitty niece a while back, and deciding on a new scratcher for her birthday. Not being a cat owner myself, I had no idea that cat scratching apparatus were so ugly! Certainly my sister was not going to allow a cardboard box into her decorated-to-the-nines living room! Now, thanks to the folks at P.L.A.Y., no kitty aunt will ever have to face the same dilemma!
The new Leeloo and Arty cat scratchers will be perfect in even the swankiest cat homes (or motorhomes), and at $49 and $69 will give kitty hours of scratching joy.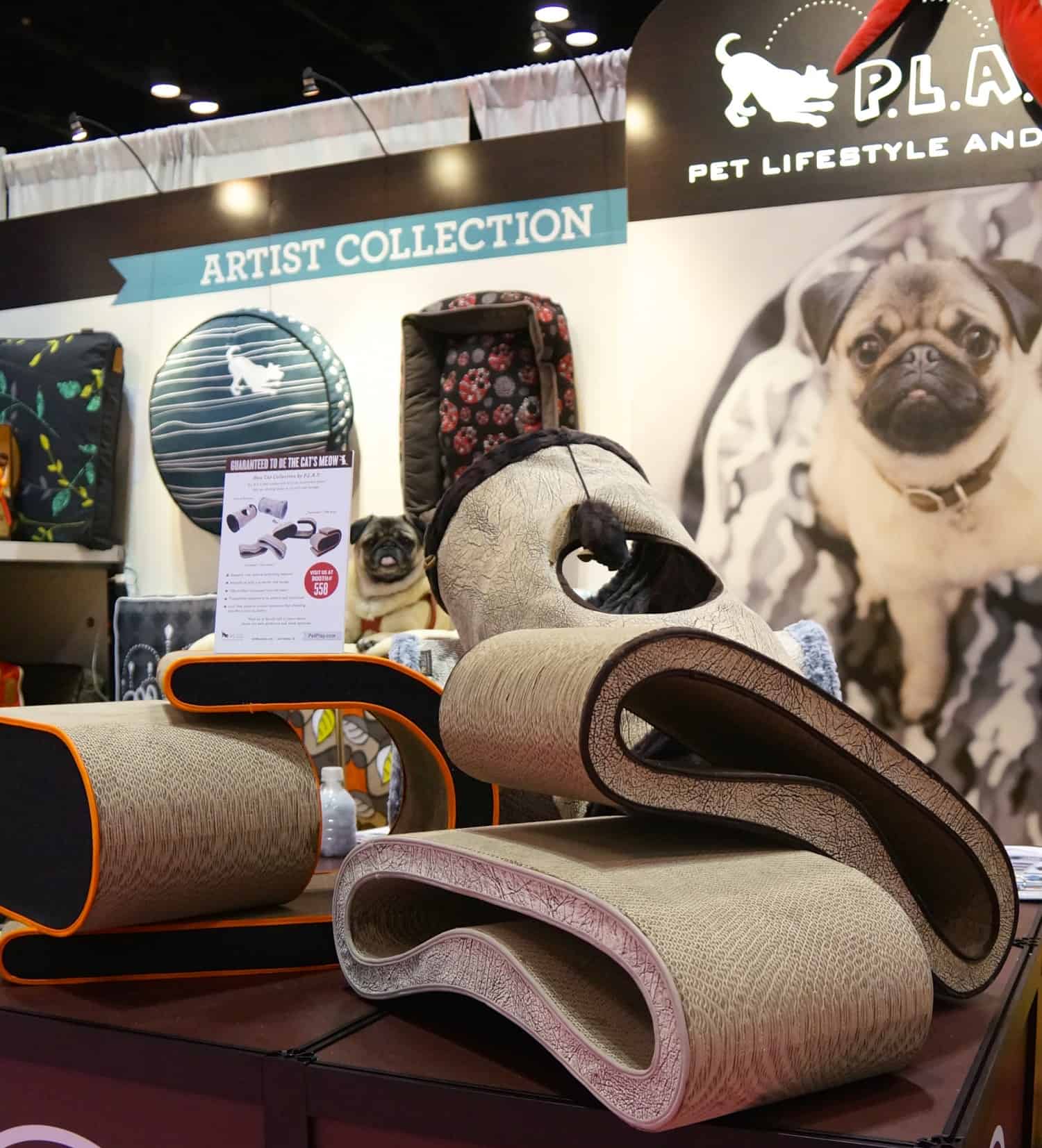 Being comfortable is important for any traveler – including your dog! A little fleece jacket may be just what he needs to take off the chill in the morning, and these jackets from Gold Paw Series will keep him toasty and looking great! And the prices are so reasonable, you pup can pick several designs and colors to suit every mood! Single and double layer jackets cost between $10 and $45, depending on size and style.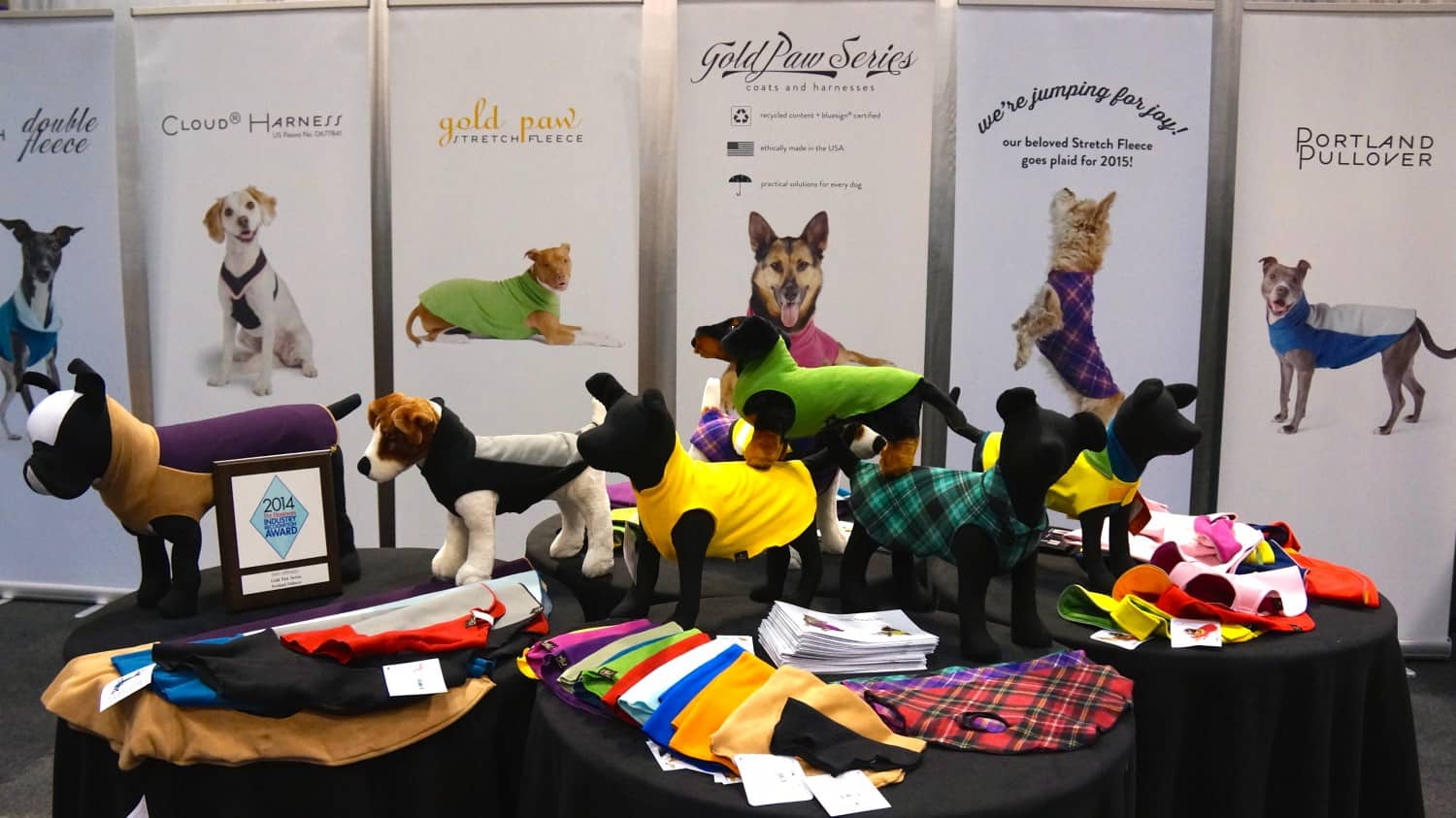 So, that's a wrap on Global Pet Expo 2015! A few things from this post have already made it to Ty and Buster's birthday lists, and I hope you and your pets enjoyed the tempting gear we found.
Amazon Affiliate Disclosure: GoPetFriendly.com LLC is a participant in the Amazon Services LLC Associates Program, an affiliate advertising program designed to provide a means for website owners to earn advertising fees by advertising and linking to amazon.com, audible.com, and any other website that may be affiliated with Amazon Service LLC Associates Program. As an Amazon Associate, the owner of this site earns a commission from qualifying purchases.
(Visited 692 times, 1 visits today)