Guest post by Roxanne Hawn of Champion of My Heart.
Colorado is the kind of place people move to. When people find out that I'm a native, born and raised Coloradoan, they're always surprised. These days, my family lives in an unincorporated, rural, mountain community just west of Golden. So, we pretty much consider Golden our "home town."
Golden City, as it was originally known, served as the Colorado Territory capital for several years before Denver grabbed that honor. I'm actually kind of glad because I'd hate to see a modern city clogging such a beautiful area.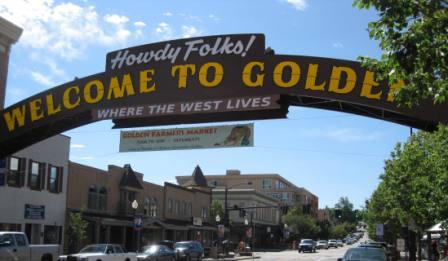 Local Events
These days Golden is a small-ish town, with lots of local history and many local, pet friendly events throughout the year, including the big summertime festival known as Buffalo Bill Days. (His grave is up on the nearby Lookout Mountain, if that's your kind of thing.)
Shopping
Many of the shops along "main street" (Washington Avenue) allow dogs. While not all the shops sport a paw print on the window to announce that fact, I take my border collie Lilly into stores all the time. I usually just poke my head inside the door and ask if it's OK that she comes inside with me.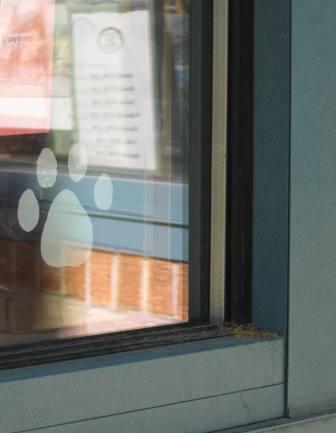 Lilly is the heroine on our blog, Champion of My Heart, and once during the holidays she unwittingly cheered someone up while shopping with me in town. So, you just never know how having your dog along for even simple errands might help someone.
Noise Factor
My only warning about bringing your dog into the historic downtown area of Golden is that, especially on weekends, there are LOTS of loud motorcycles as biker types pack into the Buffalo Rose Saloon. (Think "Wild Hogs," not real biker gangs.) So, if you have a sound-sensitive dog, these rumbling bikes can be a real issue.
Restaurants
Many of the restaurants along the main street feature little outdoor seating areas along the sidewalk, which welcome dogs – if your canine pals can handle lots of pedestrians, strollers and other dogs passing by in such close quarters.
There is even one covered patio option, along Clear Creek and on the backside of the Golden History Center. It's staffed by D'Deli, which has a location along main street as well, but since the patio railing holds a huge box of dog treats, I'm pretty sure dogs are allowed. It's much shadier and much more secluded, if you have a sensitive dog.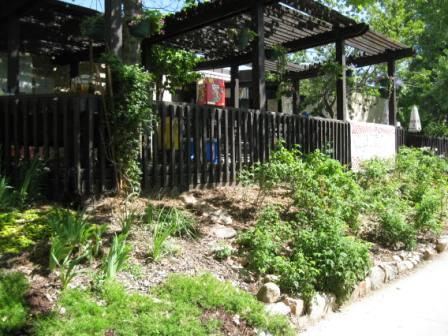 If you find food you want, but they don't allow dogs, then consider these seating areas on the bridge right inside town. There is NO shade, but it can be a nice spot to relax and enjoy the view for a short time.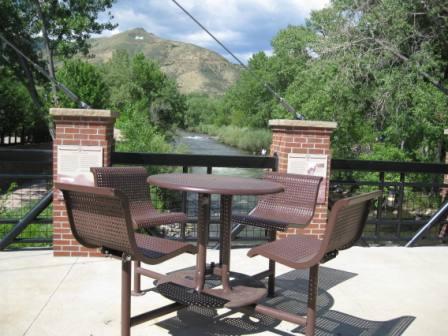 Otherwise, there are MANY picnic tables in the shade along the creek and in parks around town.
Trails
The best part of Golden, as far as Lilly and I are concerned? The miles and miles of great walking trails along Clear Creek, which runs right through town. It even boasts a white water park, where kayakers practice and compete.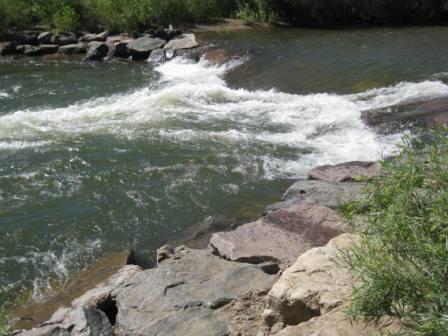 You'll want to keep your dogs out of the fast moving water found in most areas, but there are several spots where dogs can wade in a little bit and where the water is calmer.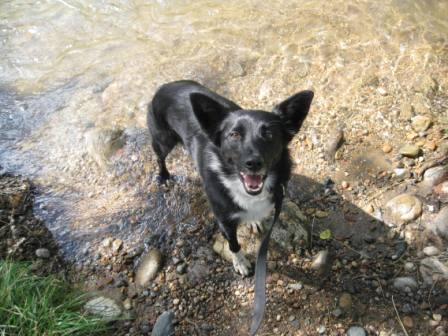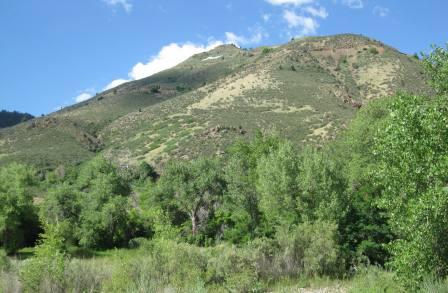 The views from the creekside trails really do get you away from most of the bustle of the town, including the farmer's market held on Saturdays in the summer. If you go, be sure to check out our favorite dog treat vendor – Four Legger Cookie Factory. Tell them Lilly and Roxanne sent you.
There is even a working historic park along the trail, with old houses, workshops and living history guides.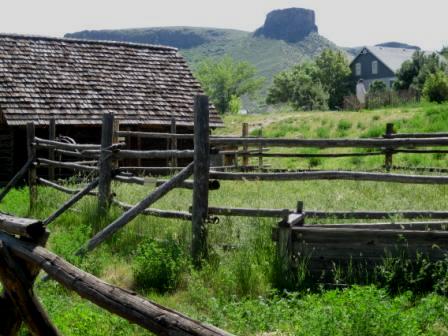 If, like our friends here at GoPetFriendly, you have an RV, then seriously consider the Clear Creek RV Park, which is right along the creek. Call ahead for reservations, though, because it always looks full when Lilly and I walk by.
Roxanne Hawn is a dog lover and guardian to Lilly, a fearful border collie. You can find Roxanne at Champion of My Heart, a dog blog where everything is an work in progress.
Amazon Affiliate Disclosure: GoPetFriendly.com LLC is a participant in the Amazon Services LLC Associates Program, an affiliate advertising program designed to provide a means for website owners to earn advertising fees by advertising and linking to amazon.com, audible.com, and any other website that may be affiliated with Amazon Service LLC Associates Program. As an Amazon Associate, the owner of this site earns a commission from qualifying purchases.
(Visited 2,527 times, 1 visits today)