How can an inexpensive shower curtain and a door mat save you hundreds of bucks? Simple! You just need to use them to protect the upholstery of your rental car from pet hair.
Occasionally your pet friendly travels may require the use of a rental car. There are a number of pet friendly rental car companies out there, and one thing they all have in common is a directive to charge additional cleaning fees – up to $200 – if the vehicle isn't returned free of pet hair.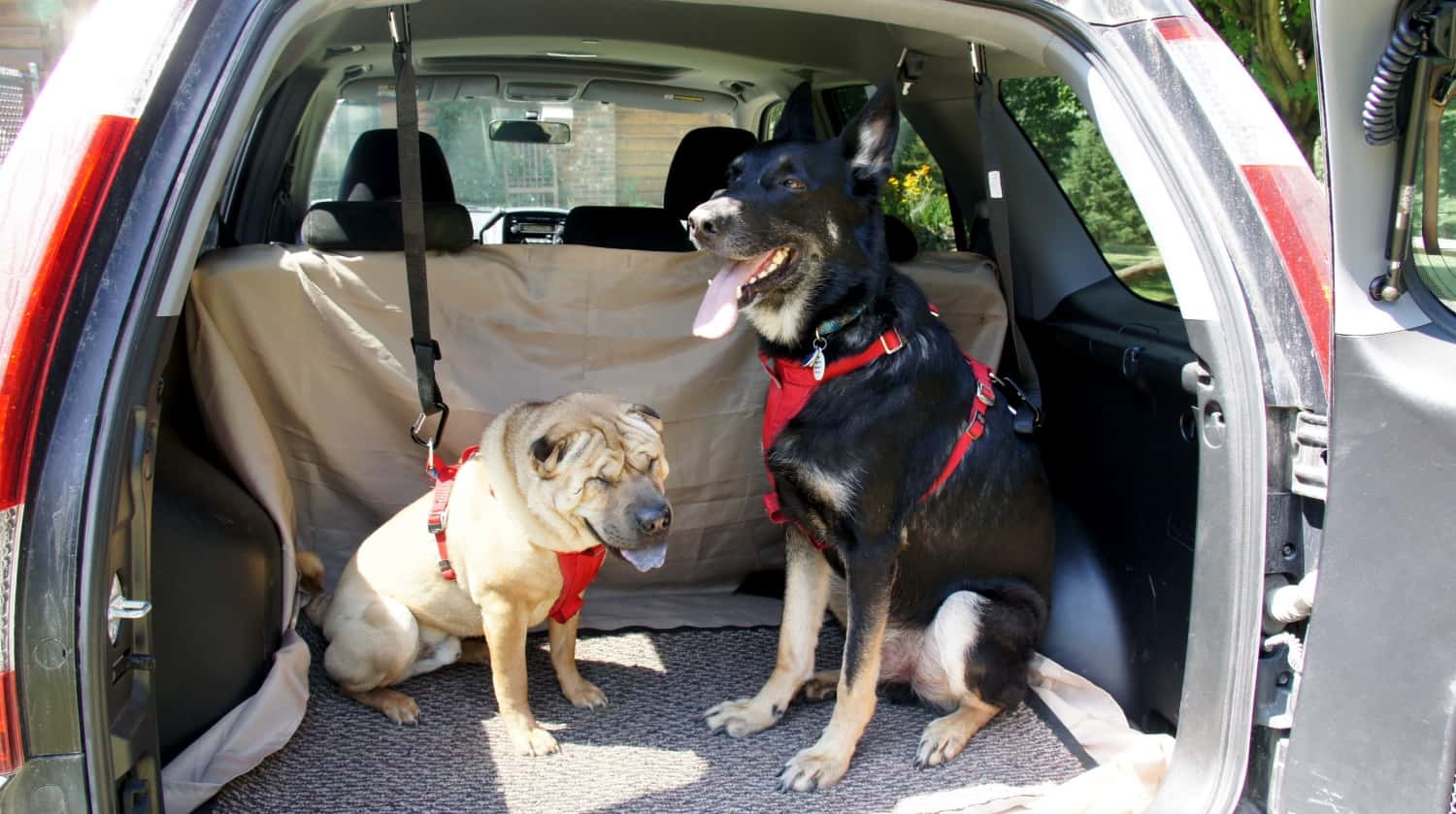 I completely understand their position. With shedding monsters like Ty and Buster, keeping my toothbrush free of dog hair is a colossal challenge – not to mention the interior of a vehicle! I've spent rolls of quarters and hours of my life at the car wash vacuum trying to suck up enough of Ty's insidious, self-weaving fur to avoid being slapped with a penalty.
And then I had an idea …
Why not prevent the hair from attaching to the upholstery in the first place?
An inexpensive shower curtain has two desirable qualities:
It's made of a nylon fabric that generates static cling … meaning the loose fur is attracted to the curtain, rather than the car's seats.
It's made with reinforced slits meant for shower curtain rings, which work perfectly for securing it in the car.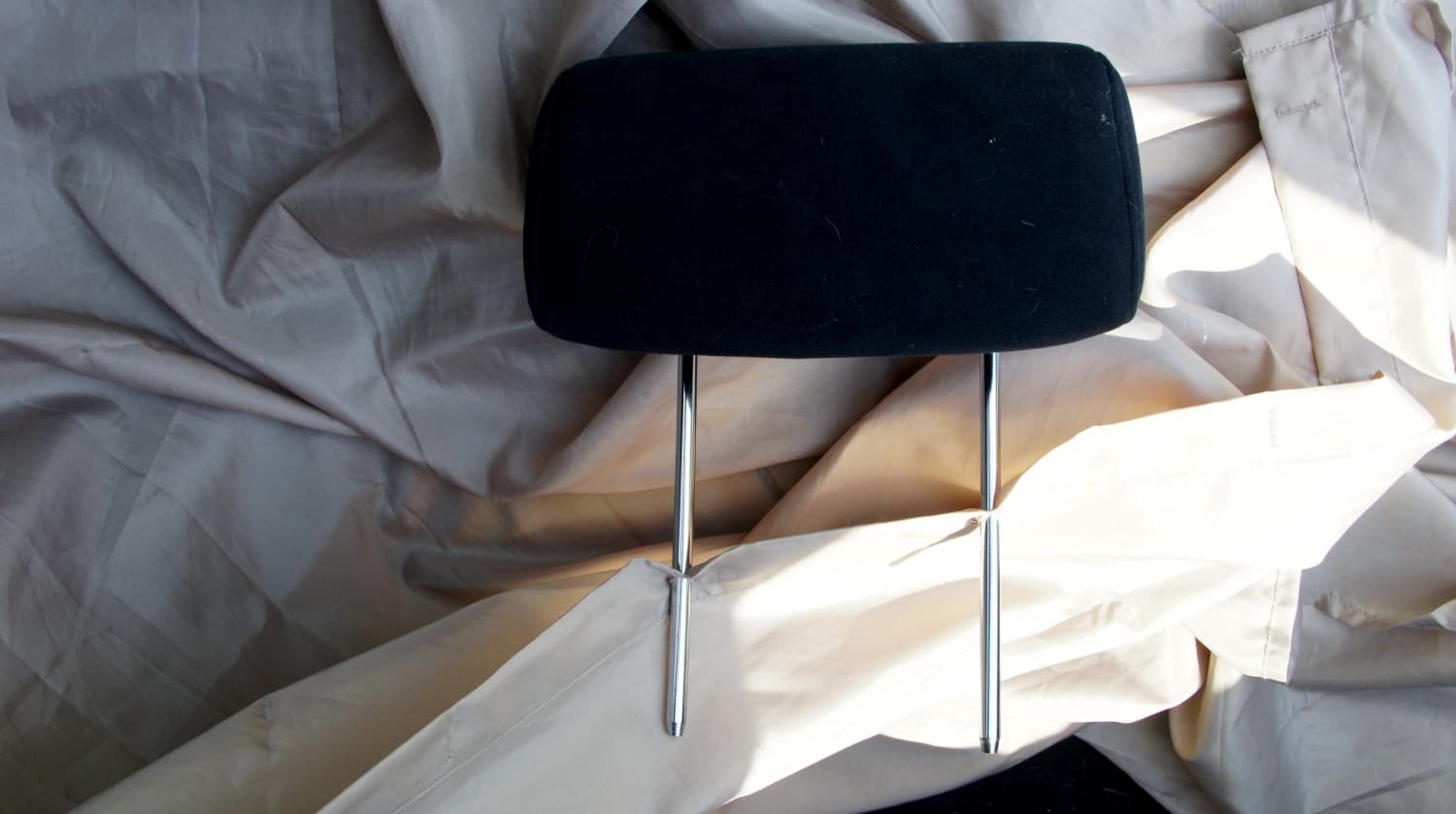 We usually opt for rentals with a cargo area where Buster and Ty can ride comfortably. If your pet needs to ride in the back seat and sheds like our dogs do, you may need two shower curtains: one on the back seat and one to cover the back of the front seats.
In the cargo area, we removed both back seat headrests and slid the legs of the headrests through the slits in the curtain. Slipping the headrests back into place secured the shower curtain perfectly. If you don't want to mess with the headrests, it's also easy to slide carabiners through the curtain slits and use them to attach the curtain.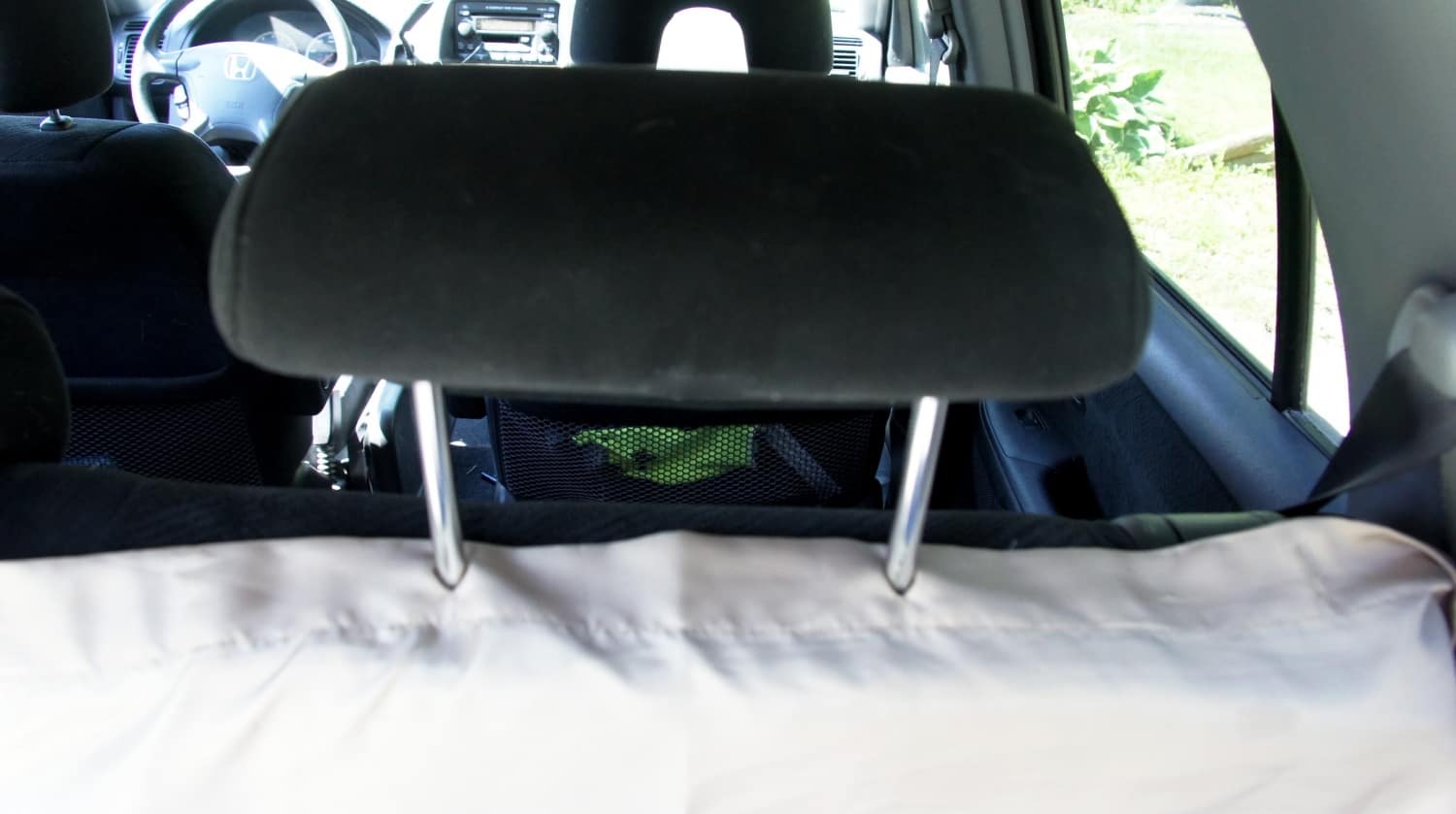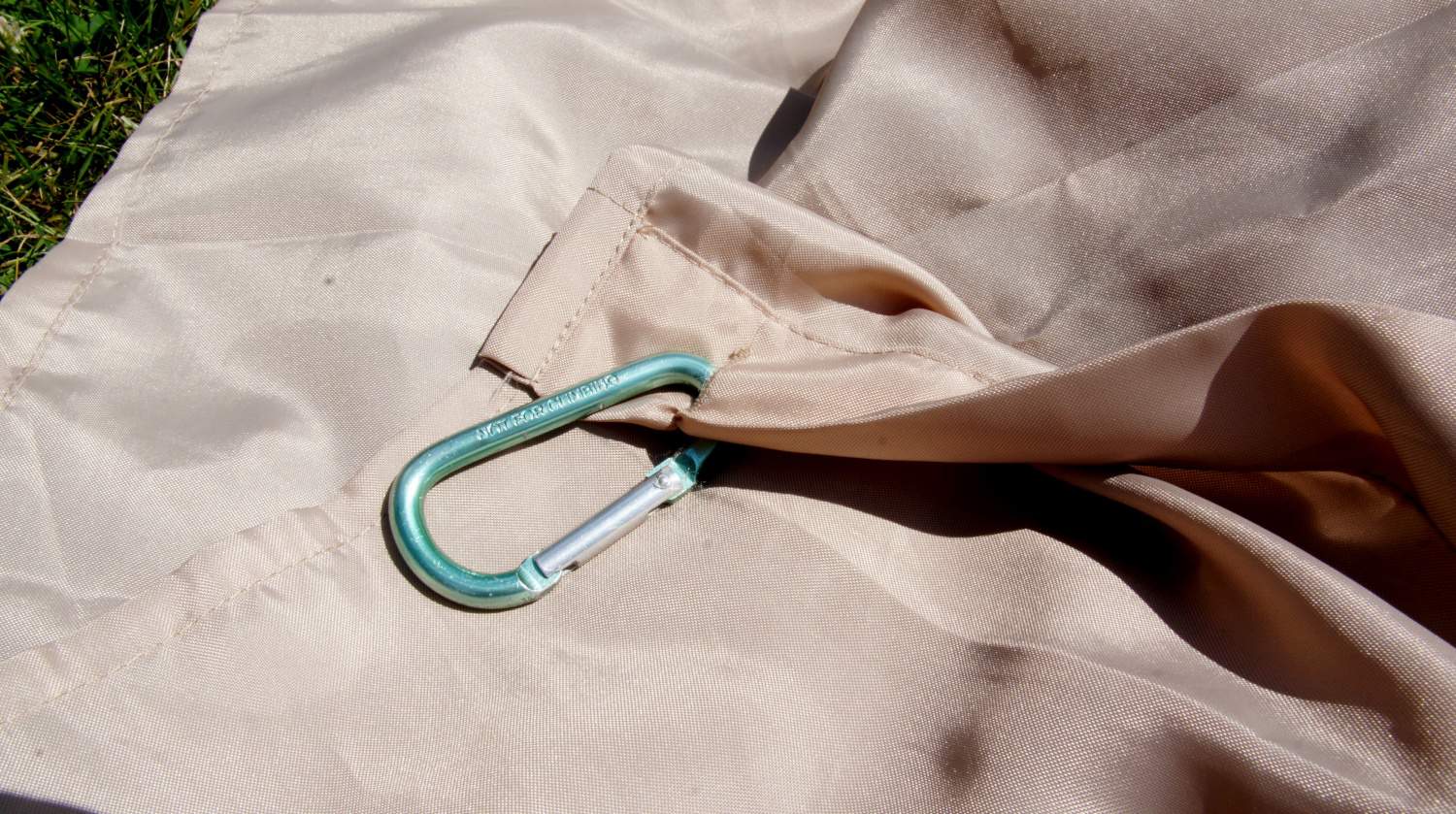 Once the curtain is attached, spread it out to cover as much of the upholstery as possible.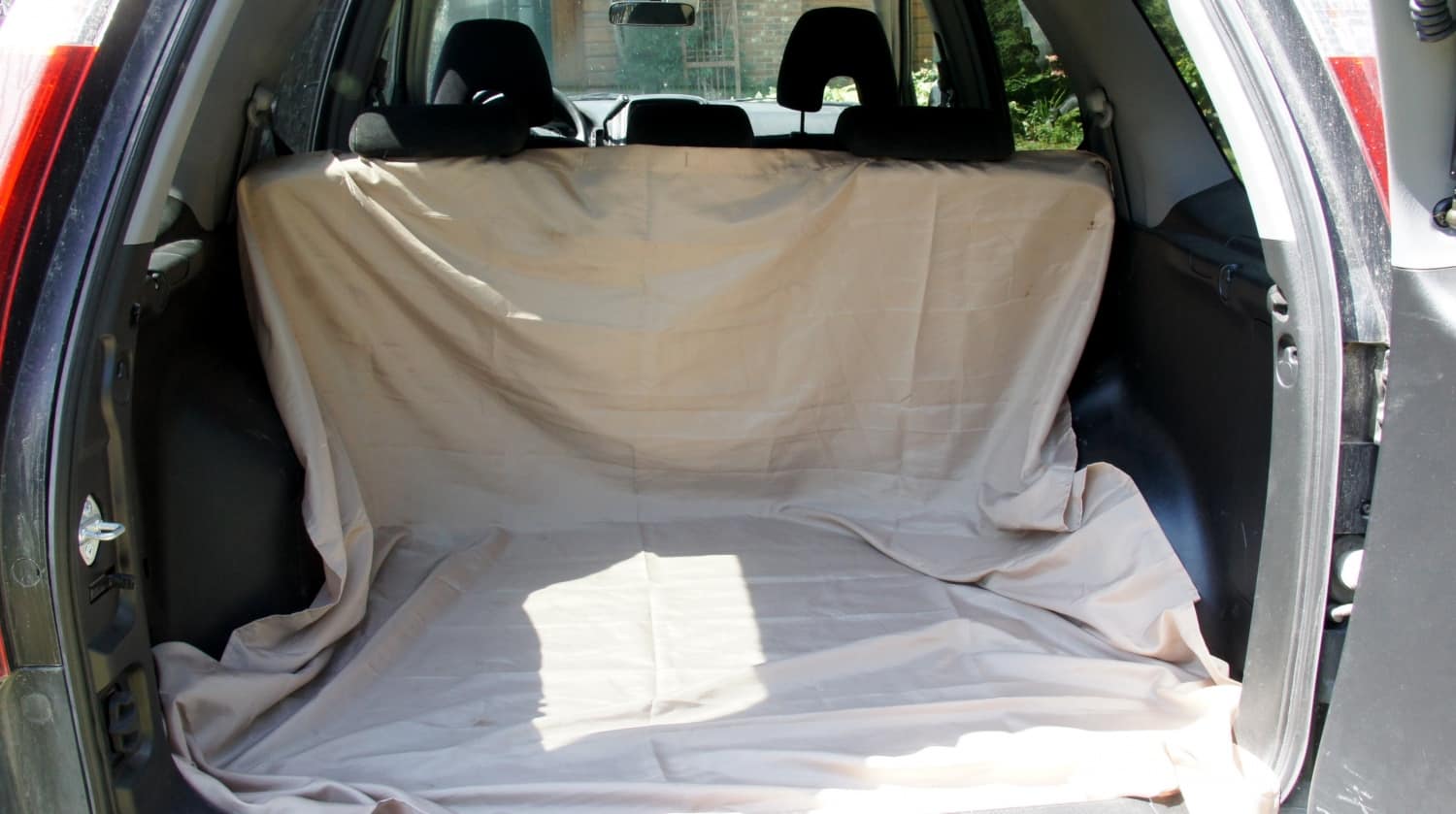 To keep the fabric in place, and give your dogs a firm place to stand, grab your rubber-backed door mat and put that on top of the shower curtain.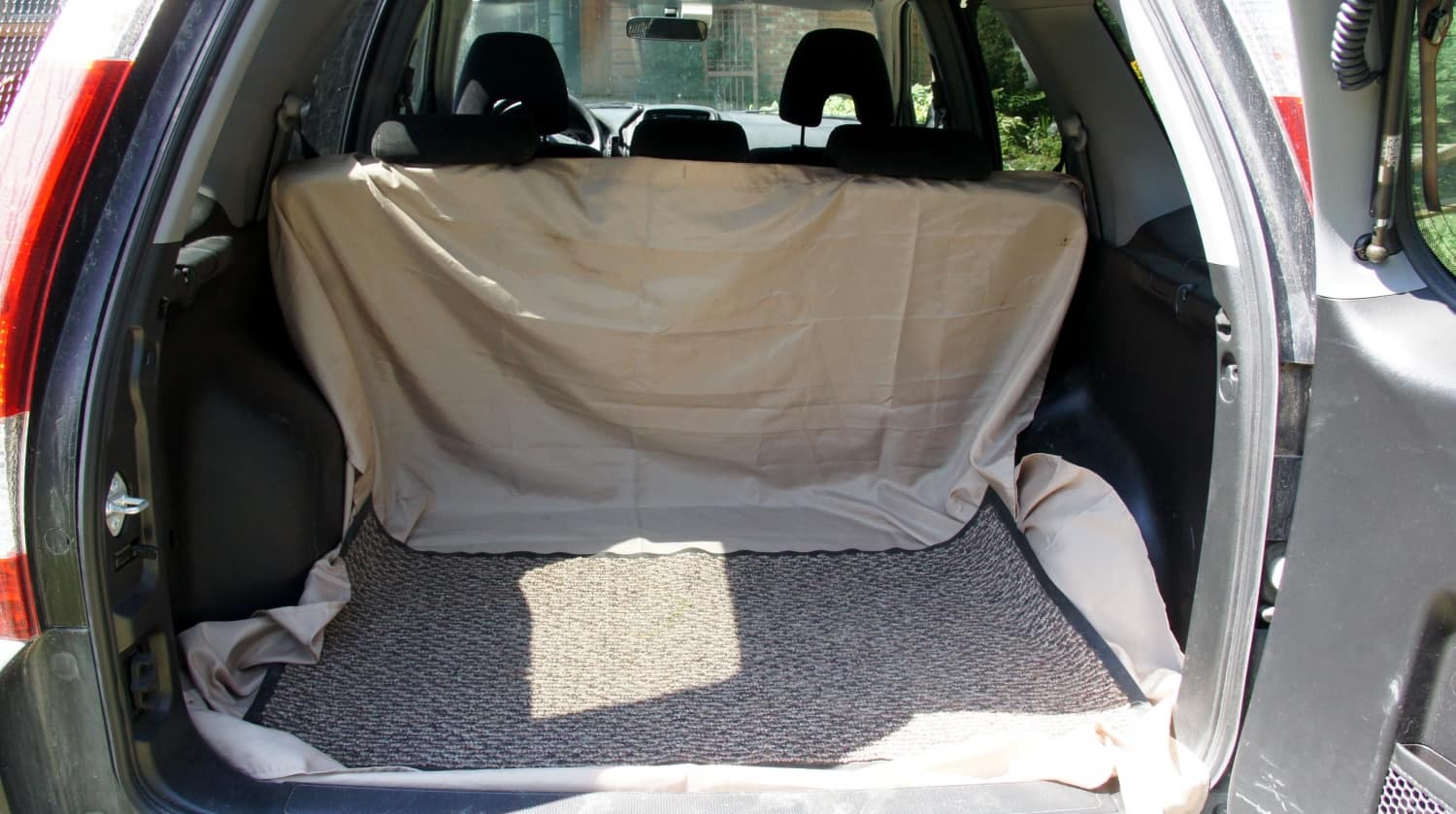 The next step is to determine the best place to attach your dog's car harness. Check the ceiling and floor for anchor points for a child's car seat.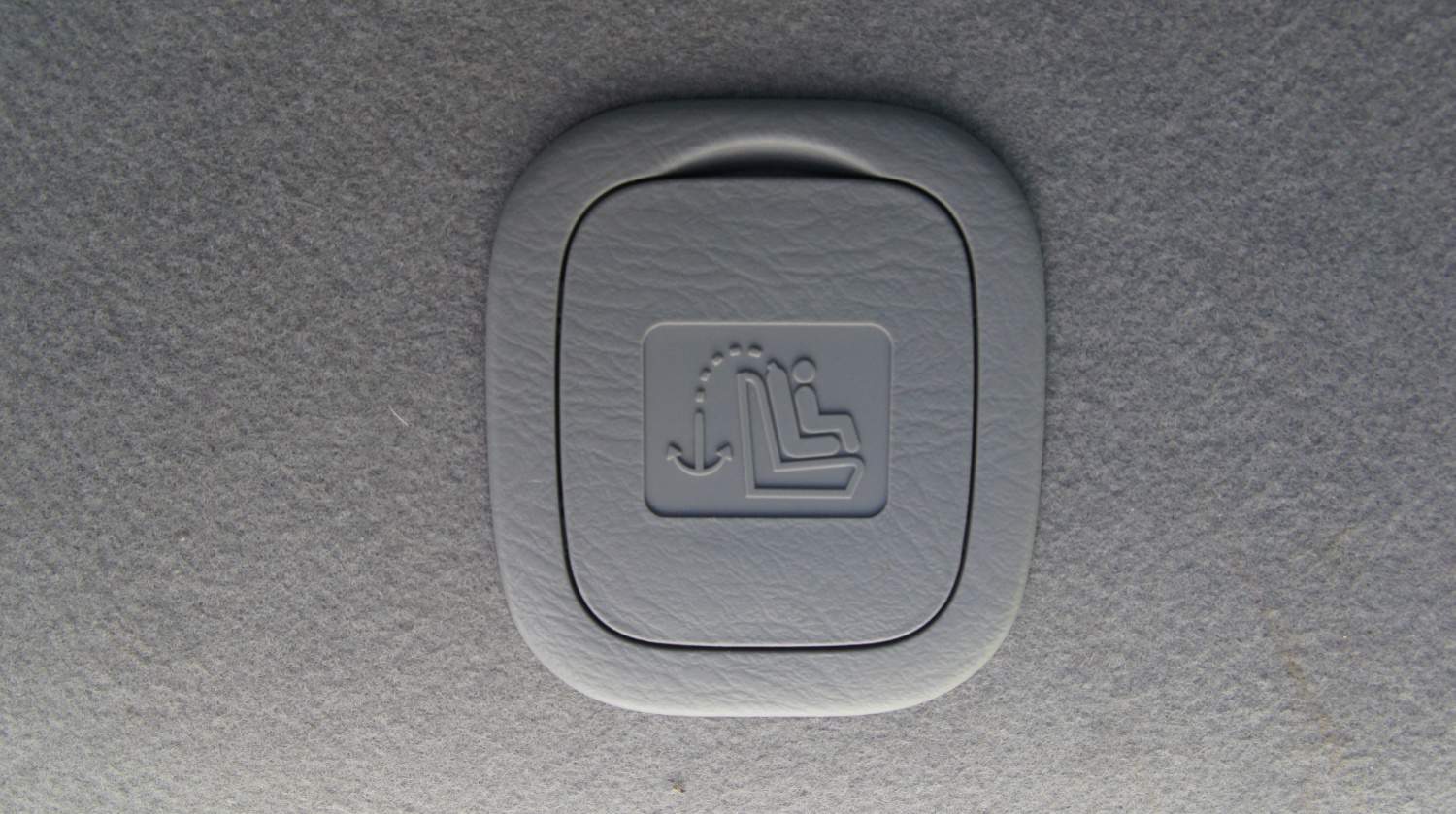 Pop the cover off and you'll find the perfect spot to attach the tether for your dog's car harness.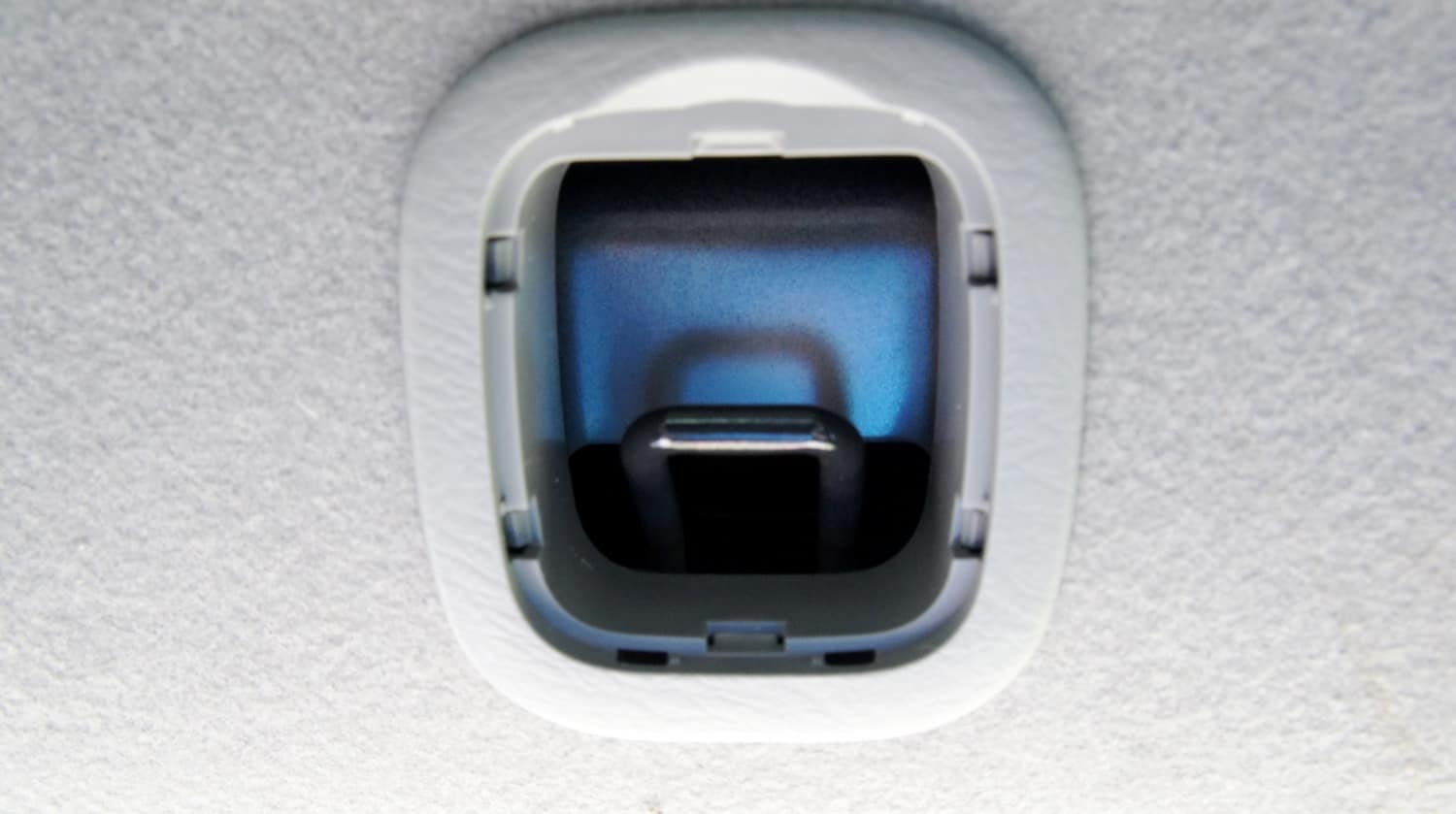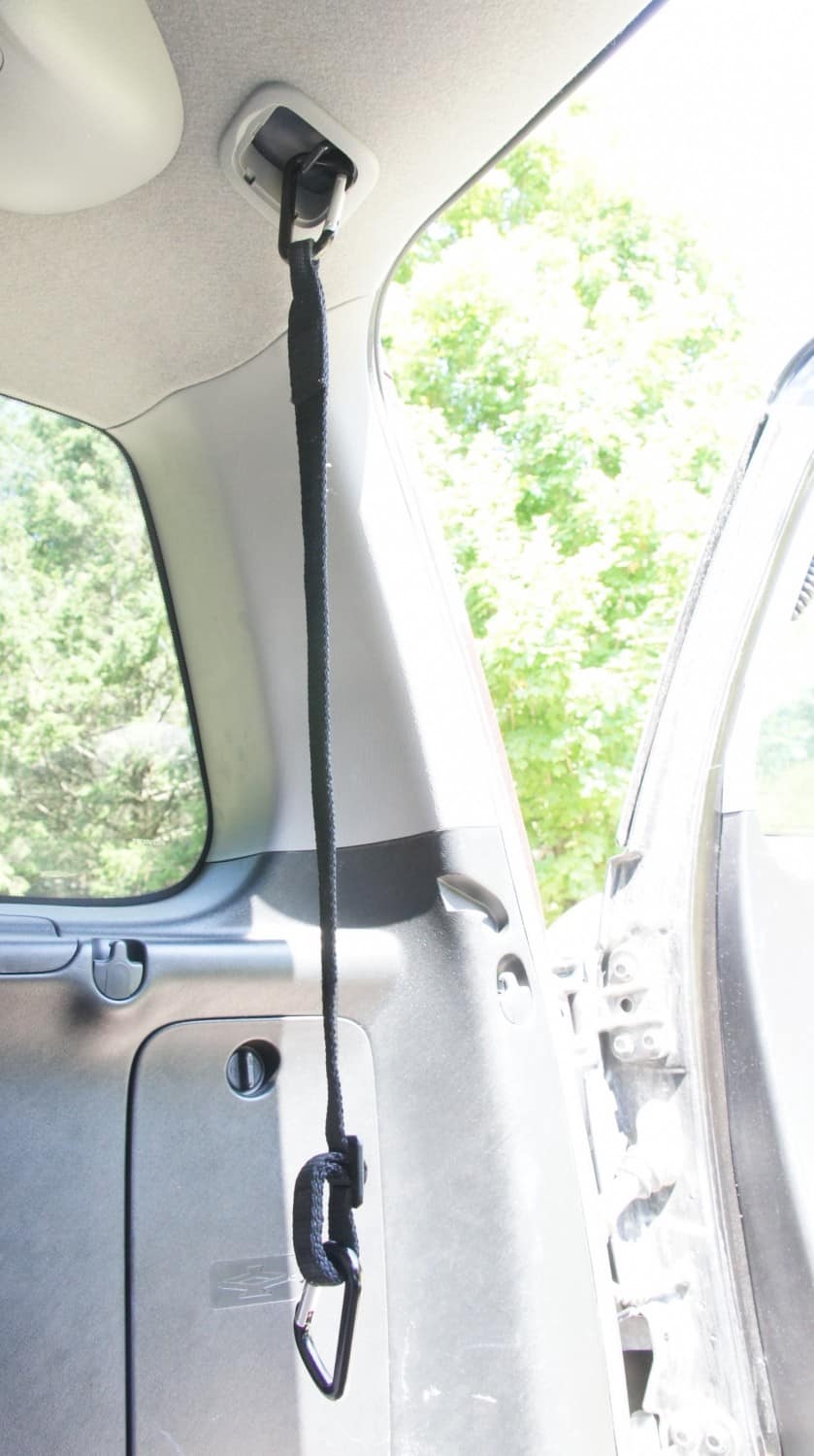 All we need now are a couple of good looking doggy models in their harnesses. Lucky for me, I happen to have some willing participants right here!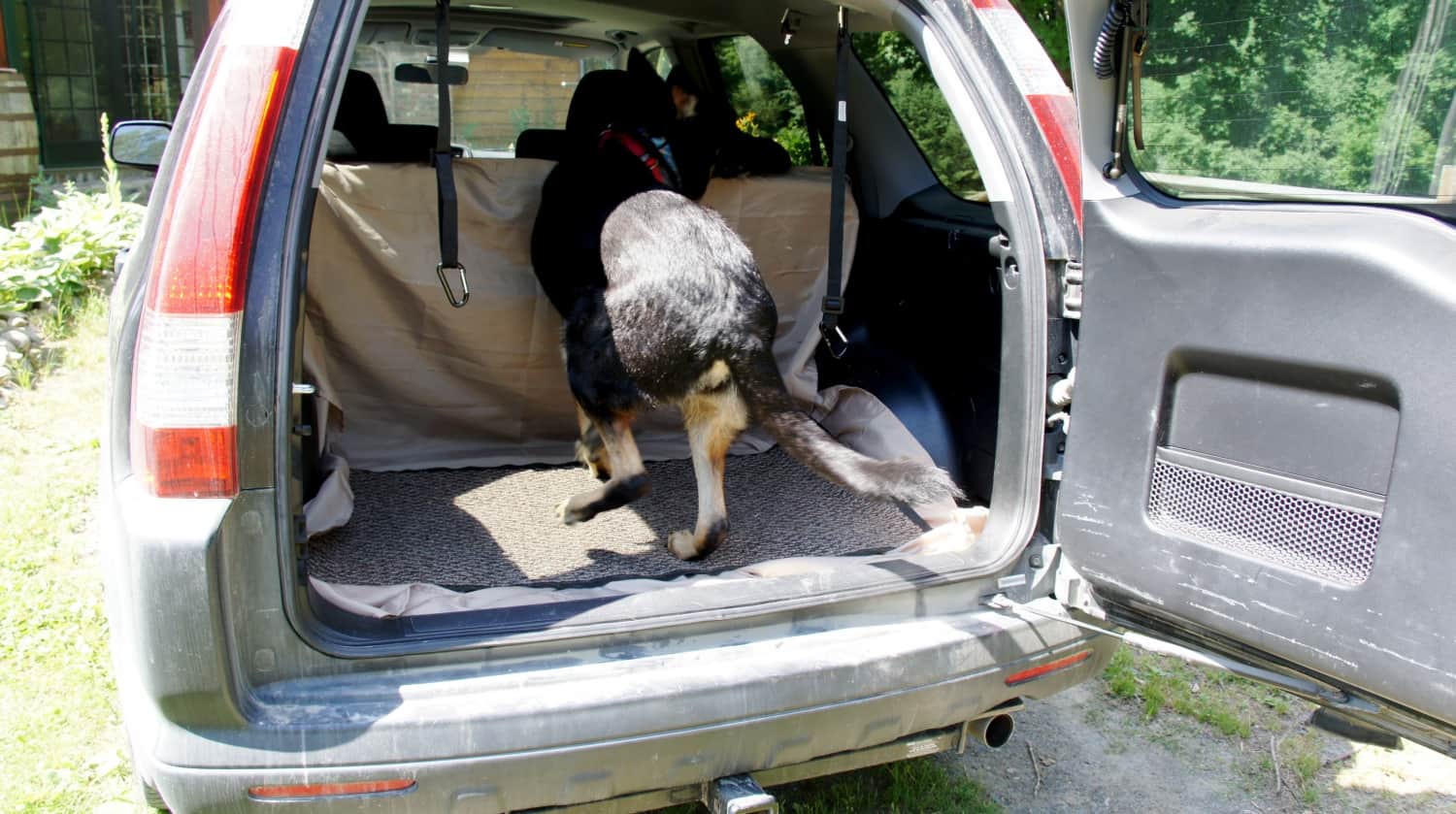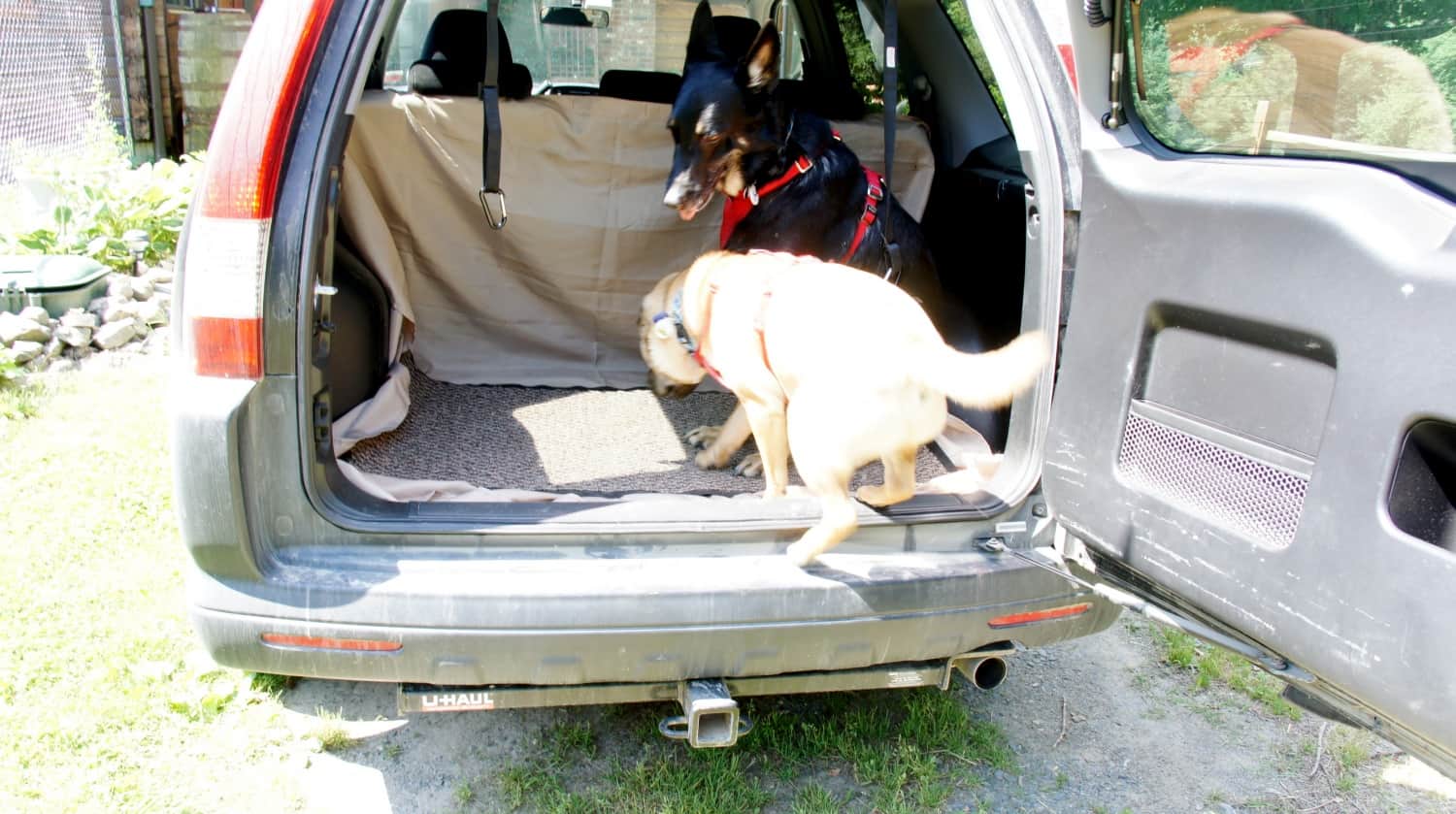 Just buckle them in, and they're ready to go for a ride!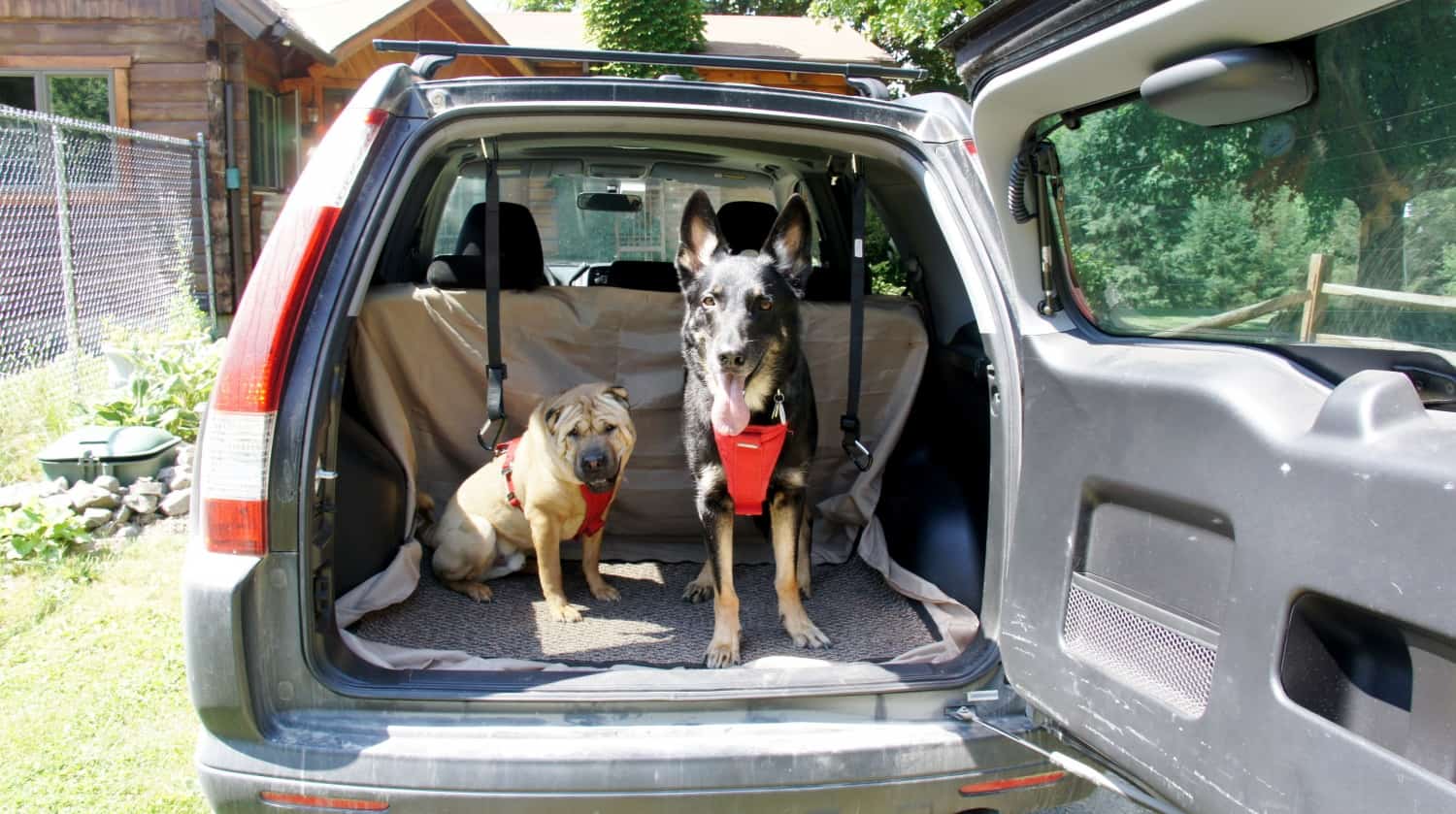 When it's time to return the car, carefully remove the shower curtain and shake out the fur outside. If you do it right, you should be able to clean up any stray hairs in just a few minutes with a lint roller.
Okay, everybody out!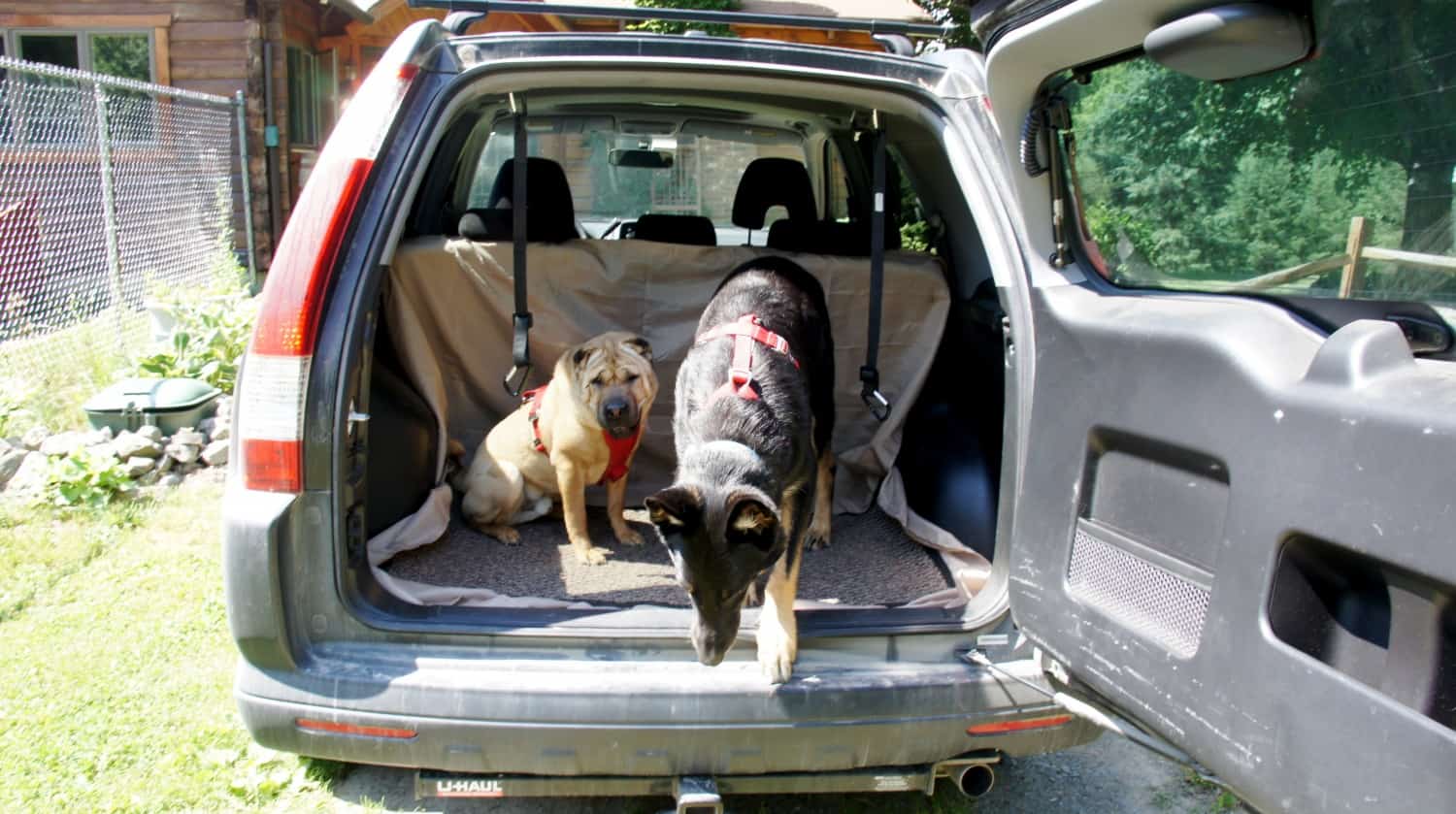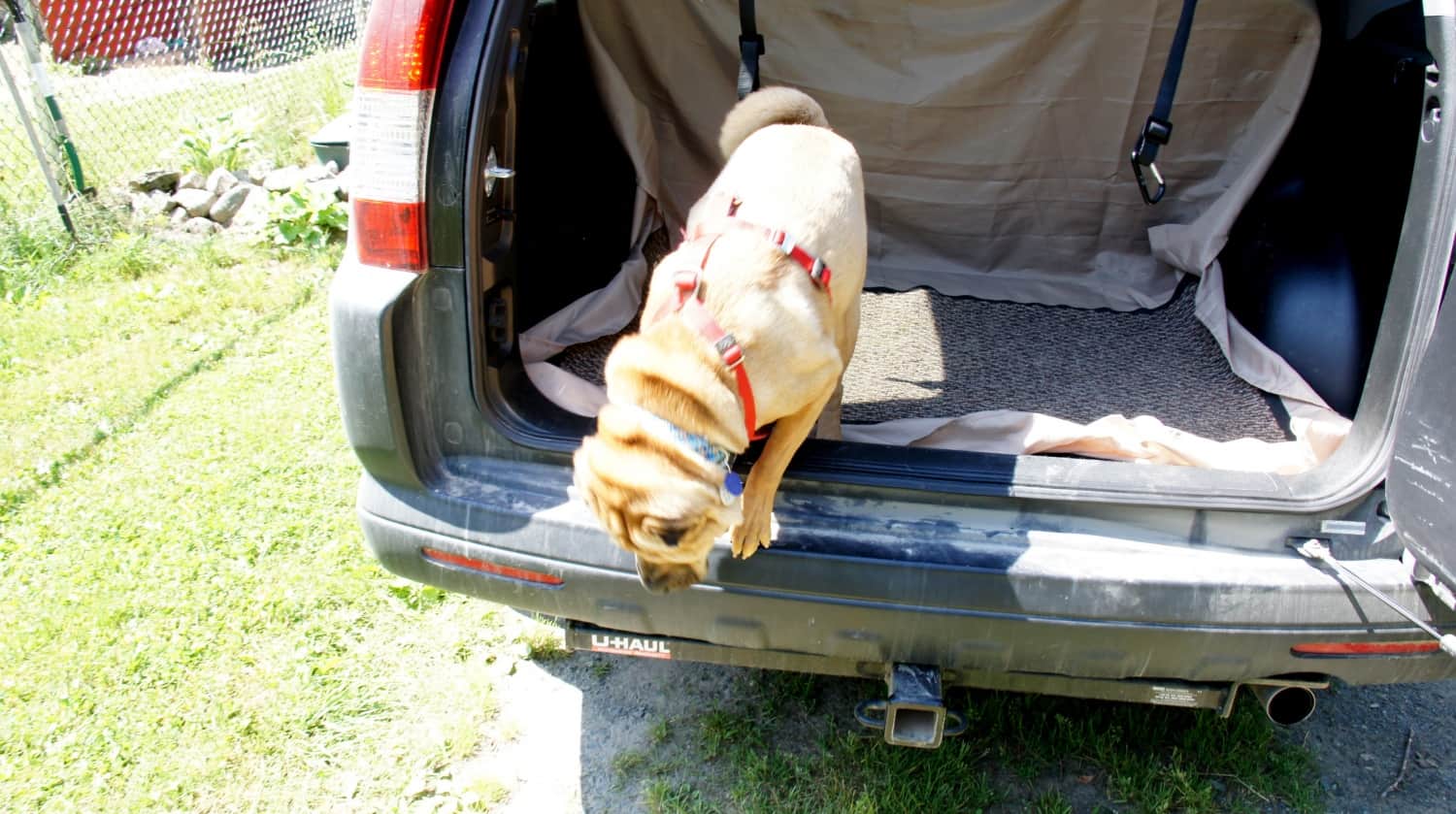 Do you have any tips to make pet travel easier? Please share them in the comments below!
Planning a pet friendly trip of your own? We'll make it easy:
Pet Friendly Hotels | Pet Friendly Destinations | Pet Friendly Activities
Amazon Affiliate Disclosure: GoPetFriendly.com LLC is a participant in the Amazon Services LLC Associates Program, an affiliate advertising program designed to provide a means for website owners to earn advertising fees by advertising and linking to amazon.com, audible.com, and any other website that may be affiliated with Amazon Service LLC Associates Program. As an Amazon Associate, the owner of this site earns a commission from qualifying purchases.
(Visited 1,232 times, 1 visits today)