Annapolis is one of those romantic, waterfront towns that people flock to for long weekends away from the hustle and bustle – and for good reason! It's a town steeped in history, with brick-paved streets and more 18th-century brick buildings than any other city in the country.
Losing track of time is easy when you're wandering through manicured neighborhoods, window shopping at the boutiques and galleries, and sitting at the harbor watching the boats go by.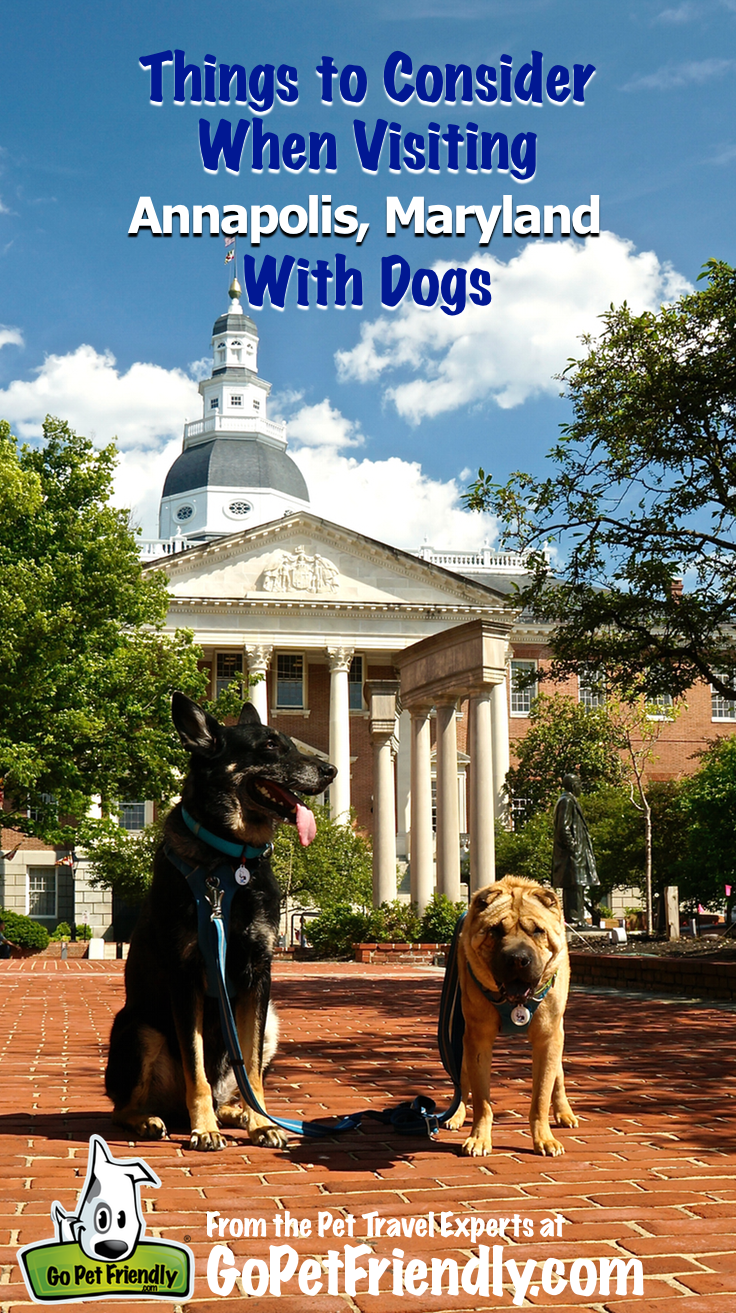 Experiencing the city with dogs is a little different, though. We're big on including them in our activities, and we found Annapolis to be a mixed bag when it came to pet friendly things to do. Of the 33 Sights to See listed in the Annapolis visitor guide, we found few to be pet friendly.
Seeing the Sights with Dogs is "Ruff" in Annapolis
Of course, the most famous attraction in Annapolis is the U.S. Naval Academy, and we were hoping to take a walk around the grounds, like we did at West Point when we visited New York's Hudson Valley. Normally dogs are allowed on the grounds of the Naval Academy, as long as you stay along the perimeter of their property.
Unfortunately we planned poorly and arrived for our visit during graduation week. With larger than normal crowds to manage, we were told dogs were not being allowed beyond the gates.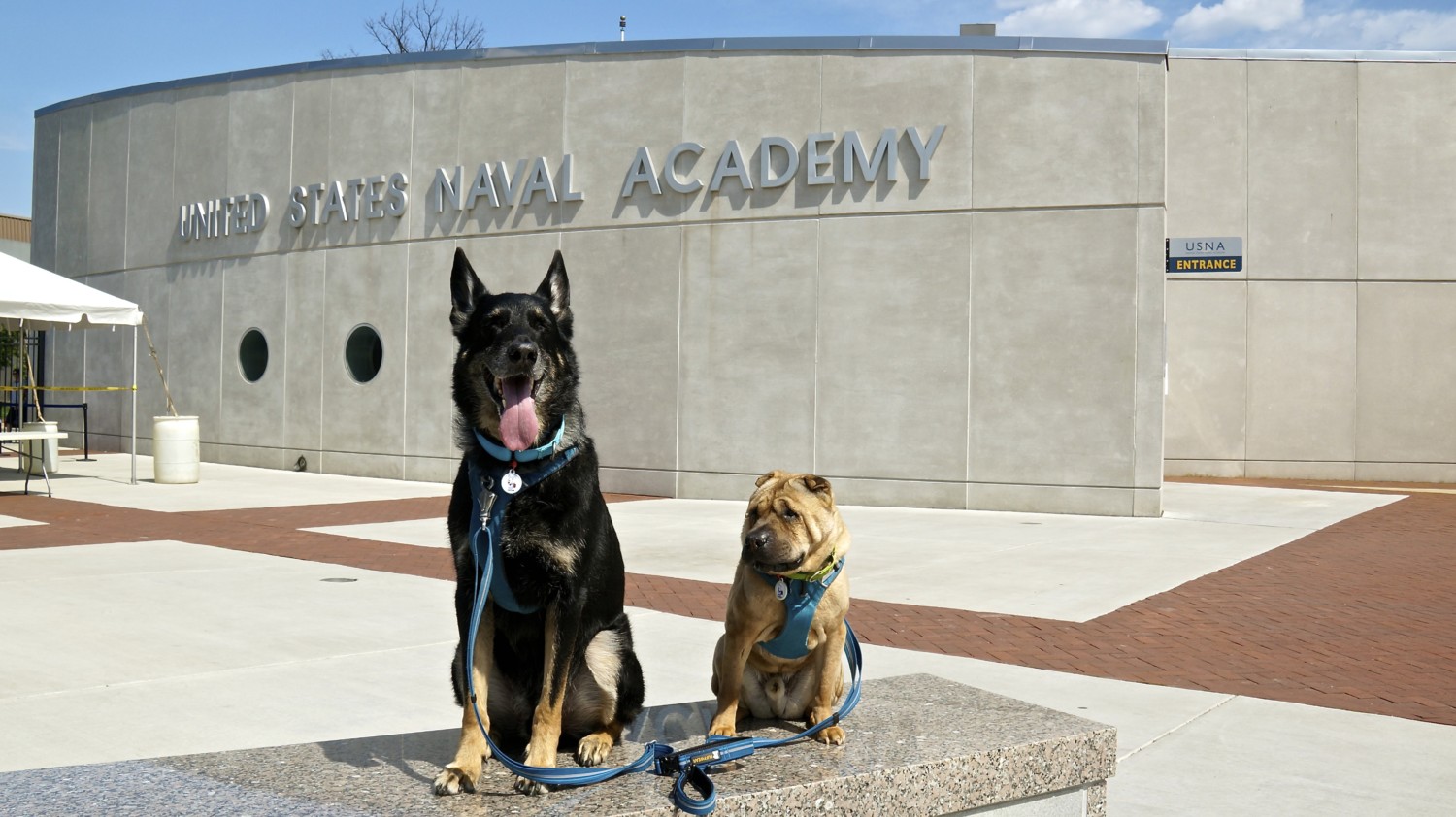 Our next stop was up the street at the William Paca House and Garden. The picture and description of the two-acre, reconstructed 18th-century pleasure garden had us all drooling! Ty and Buster have explored the gardens around many historic homes, including the Biltmore Estate in Asheville, North Carolina and many of the lavish mansions in Newport, Rhode Island – but at the William Paca House we were informed that dogs are not allowed.
Undeterred, we made our way to St. John's College campus for a stroll. Again, the boys have toured Harvard, Notre Dame, and my alma mater, Marquette University in Milwaukee, Wisconsin. Being greeted by the "pet not permitted" sign was beyond disappointing.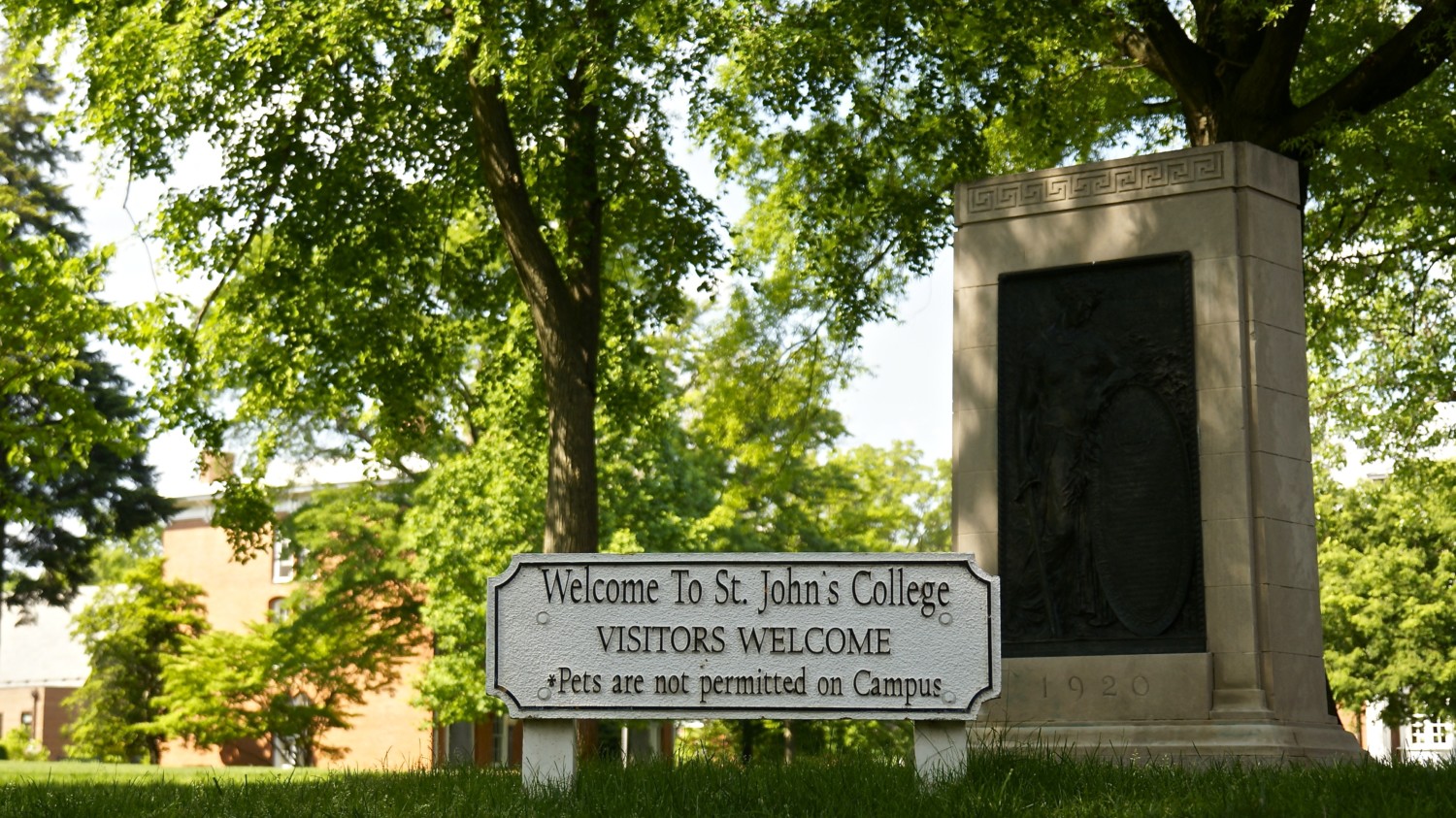 From there we swung over to the Maryland State House for some pictures of the oldest state capitol in continuous legislative use, and the only state capitol to ever serve as the capitol of the United States. It's an impressive building, featuring the largest wooden dome in the country, but dogs are not welcome on the grounds.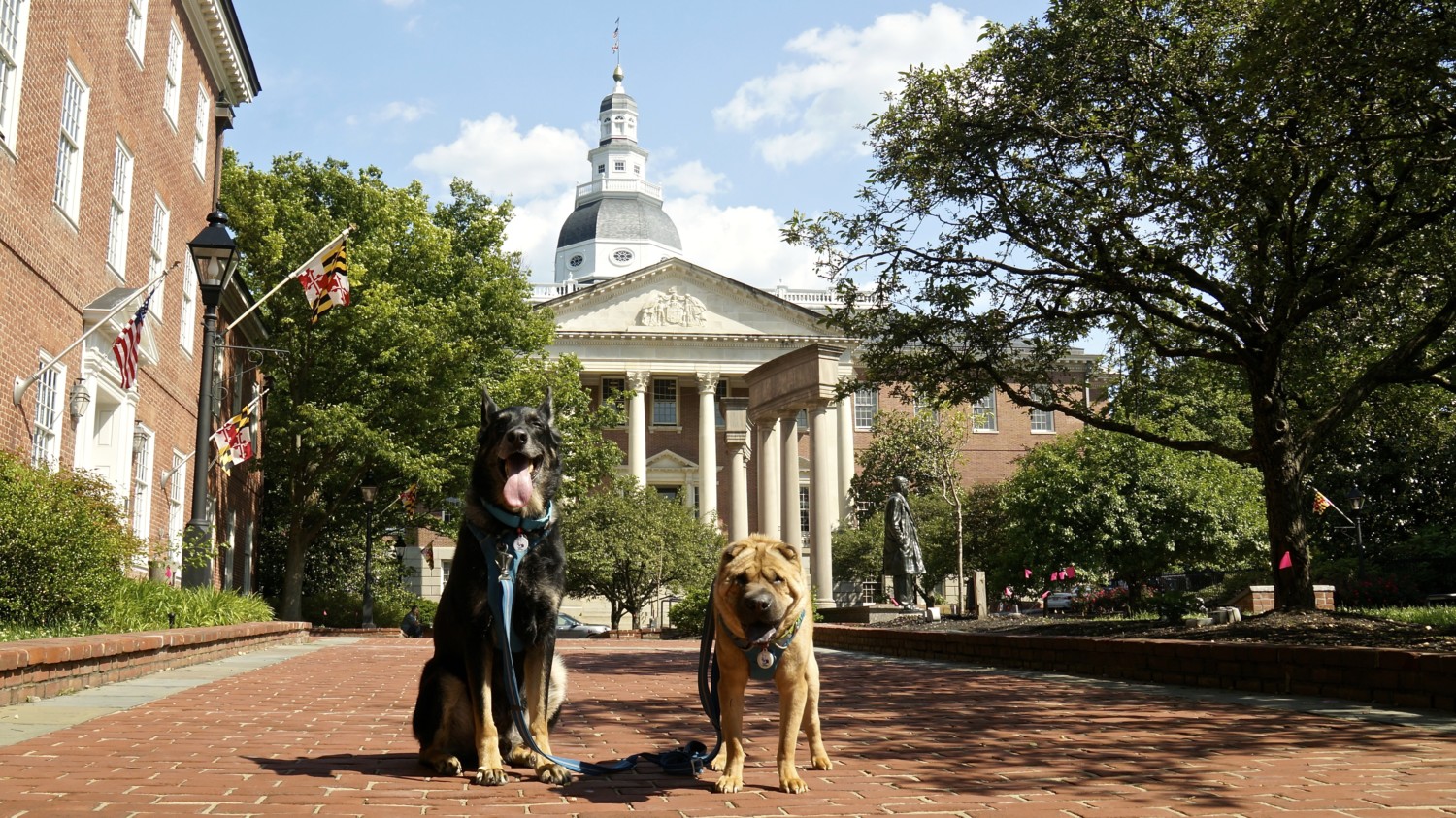 What To Do With Dogs?
The city was packed for graduation weekend at the Naval Academy, so we scooted down Main Street, weaving though the crowds, and made our way to the harbor. Ty and Buster were happy to find a spot in the sunshine to share an ice cream and do a little people and boat watching.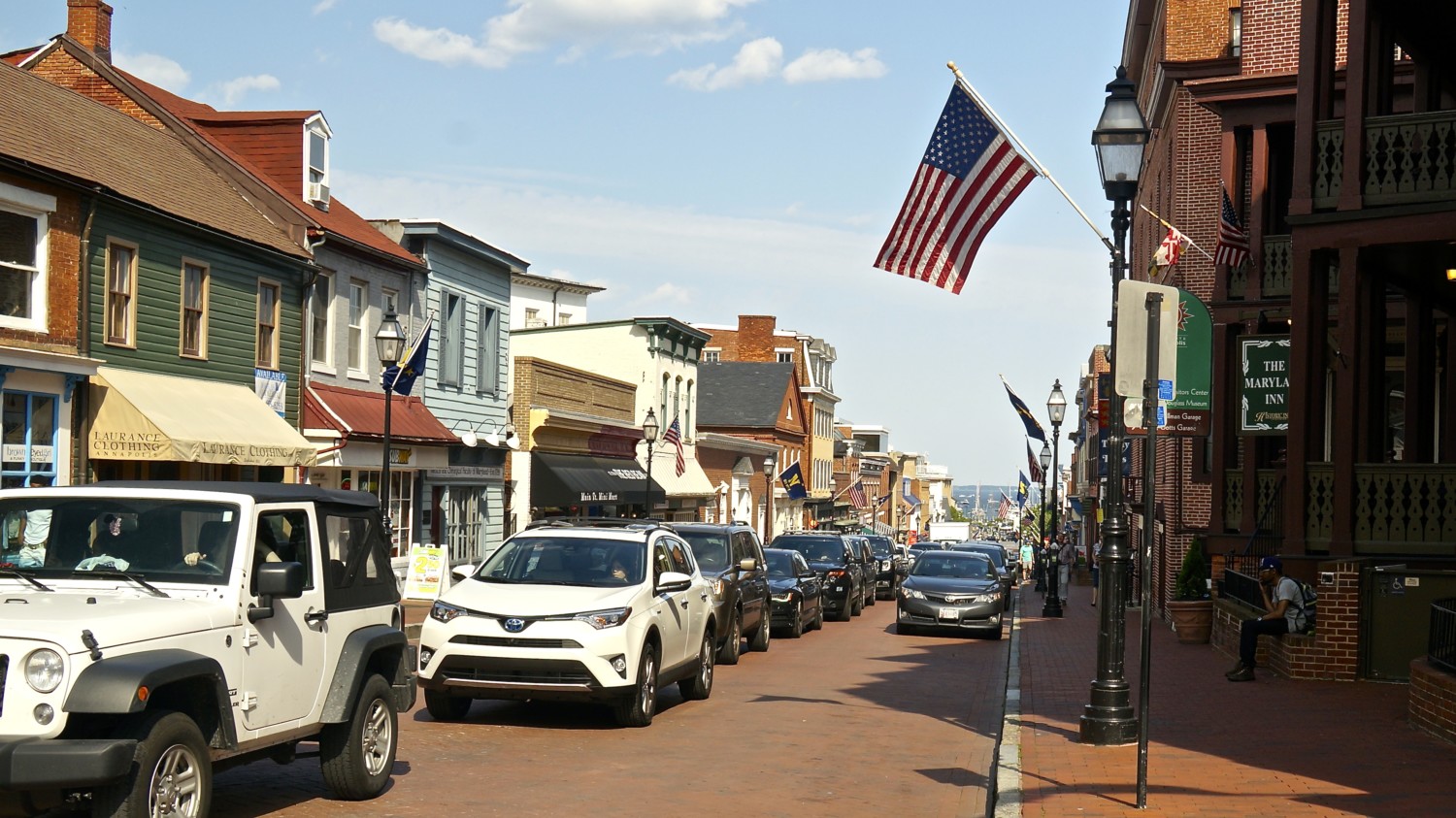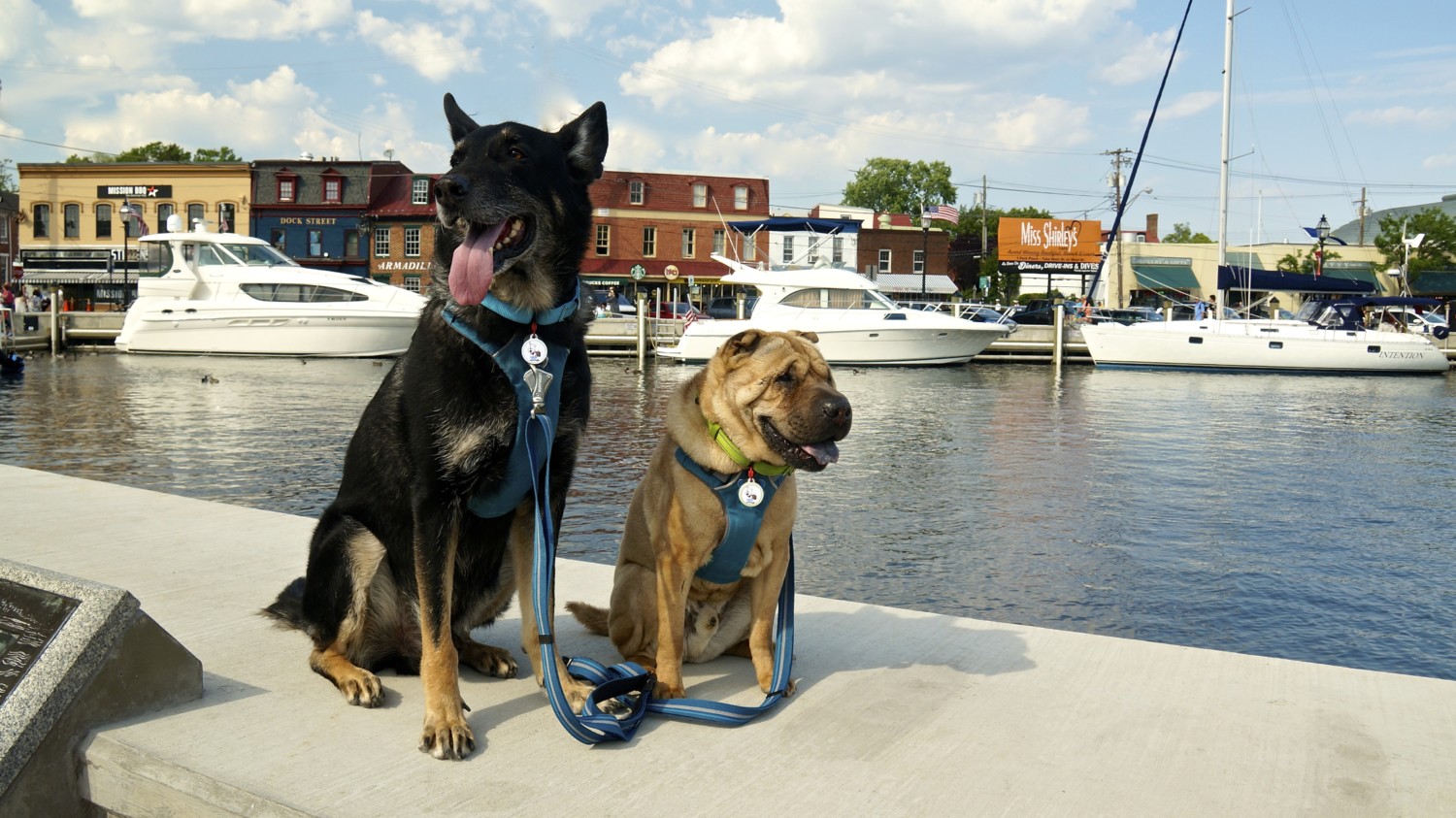 The water taxis leaving from Dock Street give a unique perspective on Annapolis Harbor, and well-behaved, leashed pets are welcome aboard. Instead, we decided to jump back in the car and take a drive to St. Michaels, on the opposite shore of the Chesapeake.
Discovering St. Michaels
Maryland has some of the best scenic byways we've experienced, so if you enjoy a lovely drive on a beautiful afternoon, this place is for you! Pick up a "Maryland Scenic Byways" guide for a detailed description of 18 possible routes throughout the state. We opted for St. Michaels based on a friend's recommendation, and it was a hit!
St. Michaels is a sleepy town compared to Annapolis, and when you're traveling with pets, that's sometimes exactly what you need! We found a lovely park where the boys could stretch and sniff, and then got a bite at one of the pet friendly patios overlooking the marina.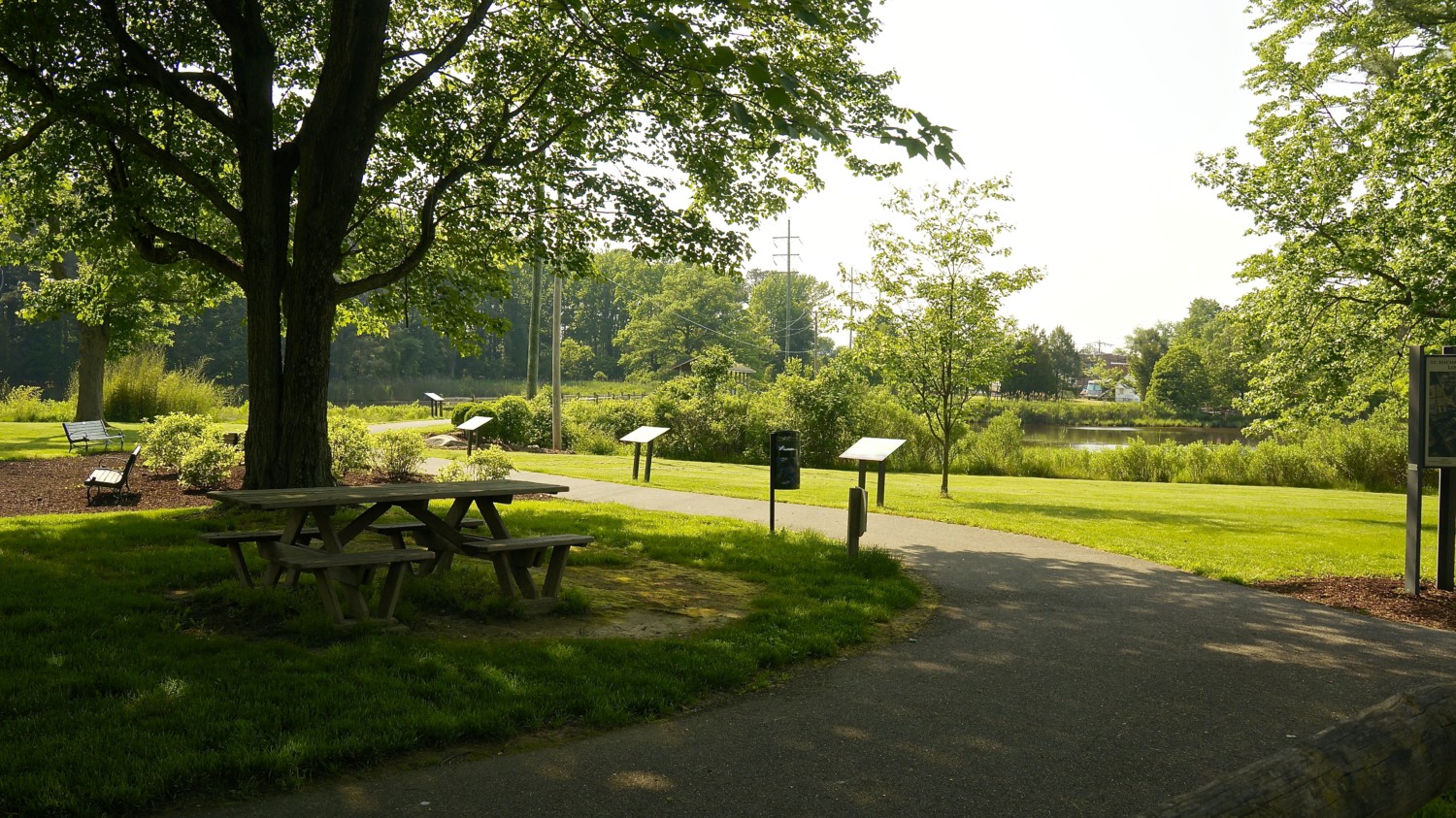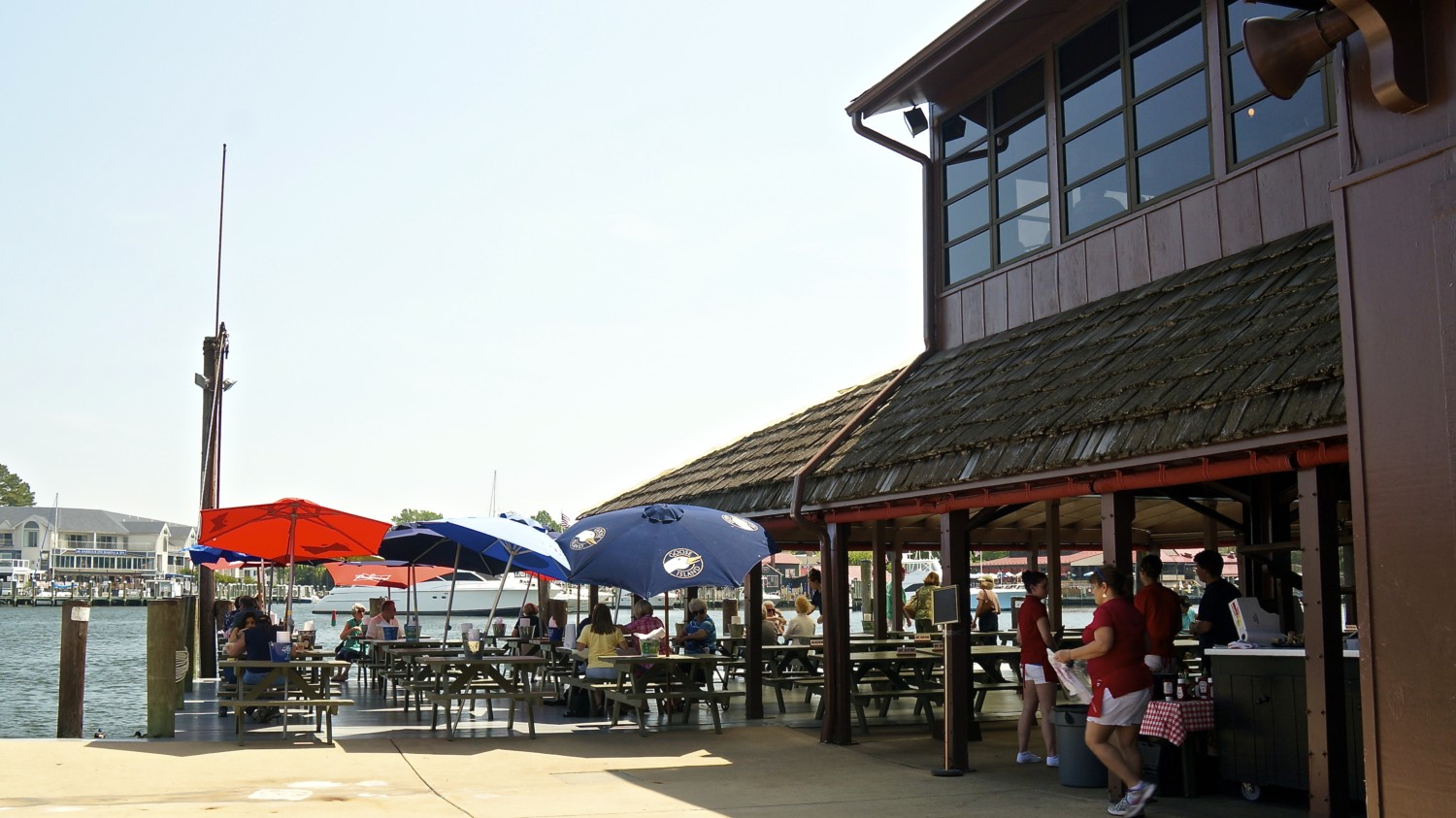 St. Michaels has it's own unique history as "the town that fooled the British" thanks to some quick-thinking early settlers. On the morning of August 10th, 1813, British barges set out to attack the town and a harbor fort, but the people of St. Michaels got wind of the plan and hoisted lanterns high up onto the masts of their sailboats and into the tops of trees.
The high lights caused the attacking British to overshoot the town and only one house in St. Michaels was hit by cannon fire. That house still stands as a private residence and is affectionately known as the "Cannonball House." The cannon ball that fell through the roof and rolled down the stairs is now located on Mulberry Street, adjacent to St. Mary's Square.
From St. Michaels, you can also take a cruise on The Patriot, for a historic tour of the Chesapeake Bay. They welcome small dogs on their narrated tours (dogs must be less than12 pounds and remain on your lap during the cruise).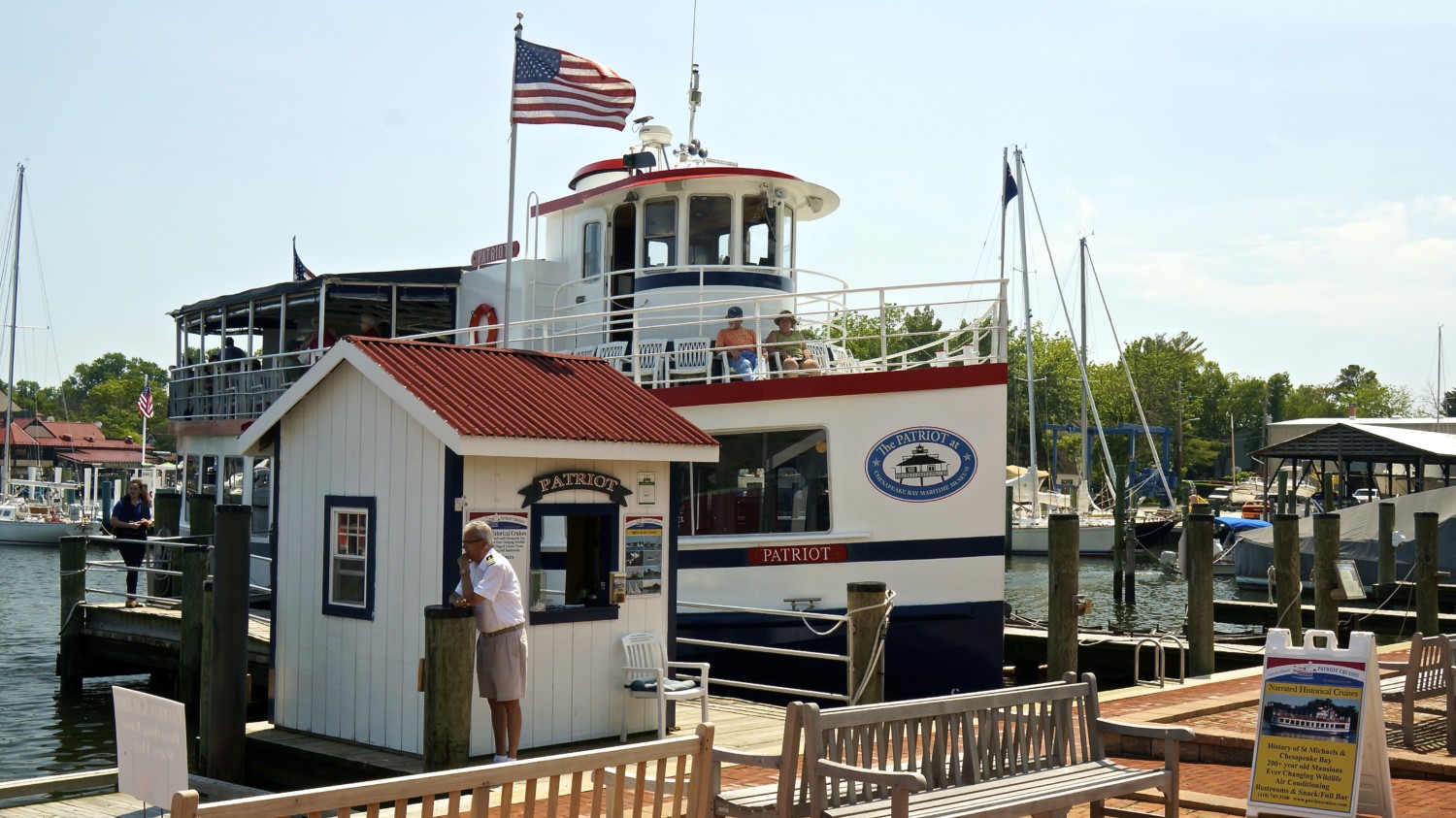 Next time: One thing we didn't have time to see was Historic London Town and Gardens in Edgewater, Maryland. The description of this 23-acre, dog friendly park and museum on the South River sounded captivating, with ten acres of woodland gardens. When we get back this way, we'll be sure not to miss it! If you've been there, leave a note below and let us know how you liked it.
Amazon Affiliate Disclosure: GoPetFriendly.com LLC is a participant in the Amazon Services LLC Associates Program, an affiliate advertising program designed to provide a means for website owners to earn advertising fees by advertising and linking to amazon.com, audible.com, and any other website that may be affiliated with Amazon Service LLC Associates Program. As an Amazon Associate, the owner of this site earns a commission from qualifying purchases.
(Visited 9,831 times, 1 visits today)