This summer, Maricela and Jose packed the car to the brim, settled their English Bulldog, Toby, in the backseat, and embarked on the pet-friendly cross-country road trip of a lifetime! Today Maricela is sharing their 10 favorite stops on along their route.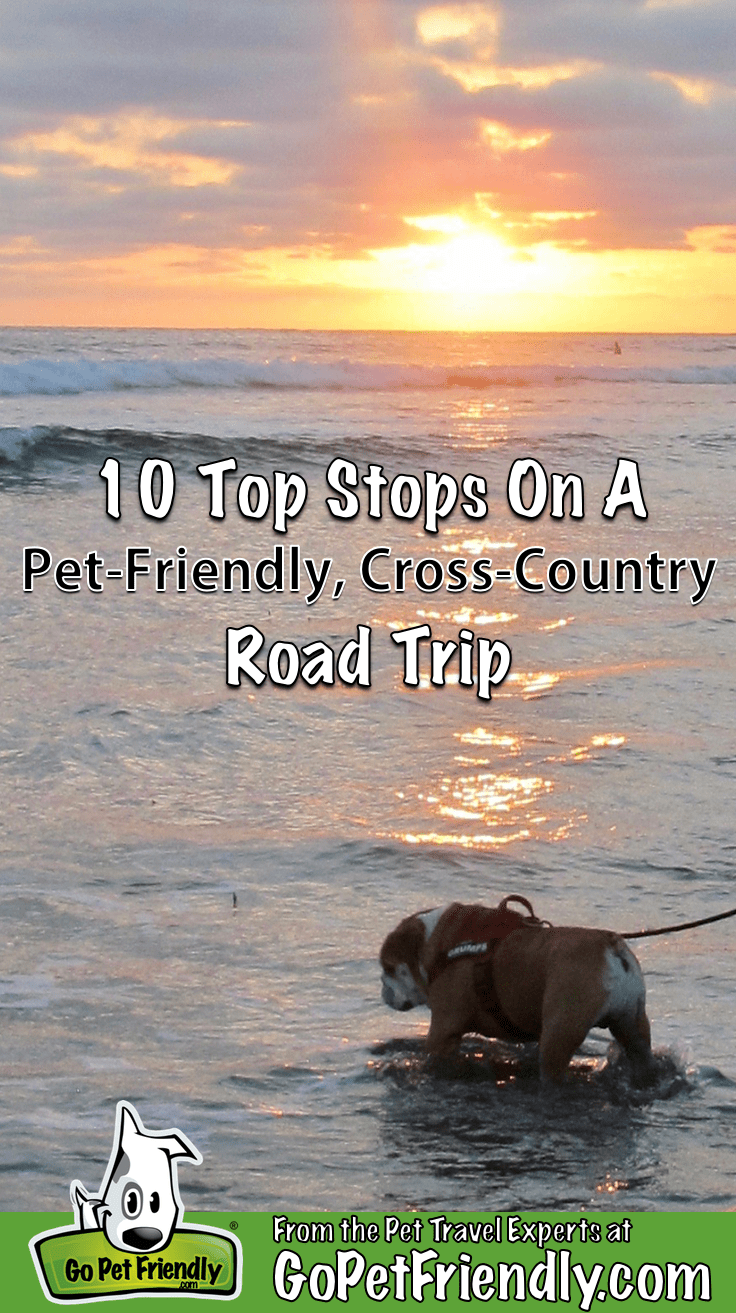 Planning A Cross-Country Road Trip with Pets
When we began planning our cross-country road trip, we knew we'd be taking Toby with us as we discovered America. By building the trip around our senior bulldog, we hoped to show how much life, joy, and adventure old dogs like Toby still have left in them.
We spent six weeks exploring 18 states, and these were our top 10, Toby-approved, favorite stops:
1. Bass Pro Shops at the Pyramid – Memphis, Tennessee
Imagine a giant glass pyramid worthy of the Las Vegas strip on the banks of the Mississippi River. With a hotel and multiple restaurants on the upper levels, the floor of this outdoor retailer looks and feels like a dog-friendly amusement park!
Carnival-style hunting games, a giant aquarium, and catfish, alligators, and ducks swimming in their respective ponds, were incredibly entertaining. And this was a wonderful pet-friendly place to walk Toby out the Southern heat and humidity.
READ MORE ⇒  Tips for Traveling Cross-Country with Pets
2. Lazy Dog Restaurant & Bar – Various Locations
In addition to having dog-friendly outdoor seating, Lazy Dog goes offers dogs their own menu! Toby skipped his usual kibble for the evening so he could try their grilled chicken with peas and carrots over brown rice.
We think he was pretty pleased with his meal (and the human food was excellent too!). We dined at the Euless, Texas location, but Lazy Dog has several locations in California and others scattered across the Southwest and Chicago.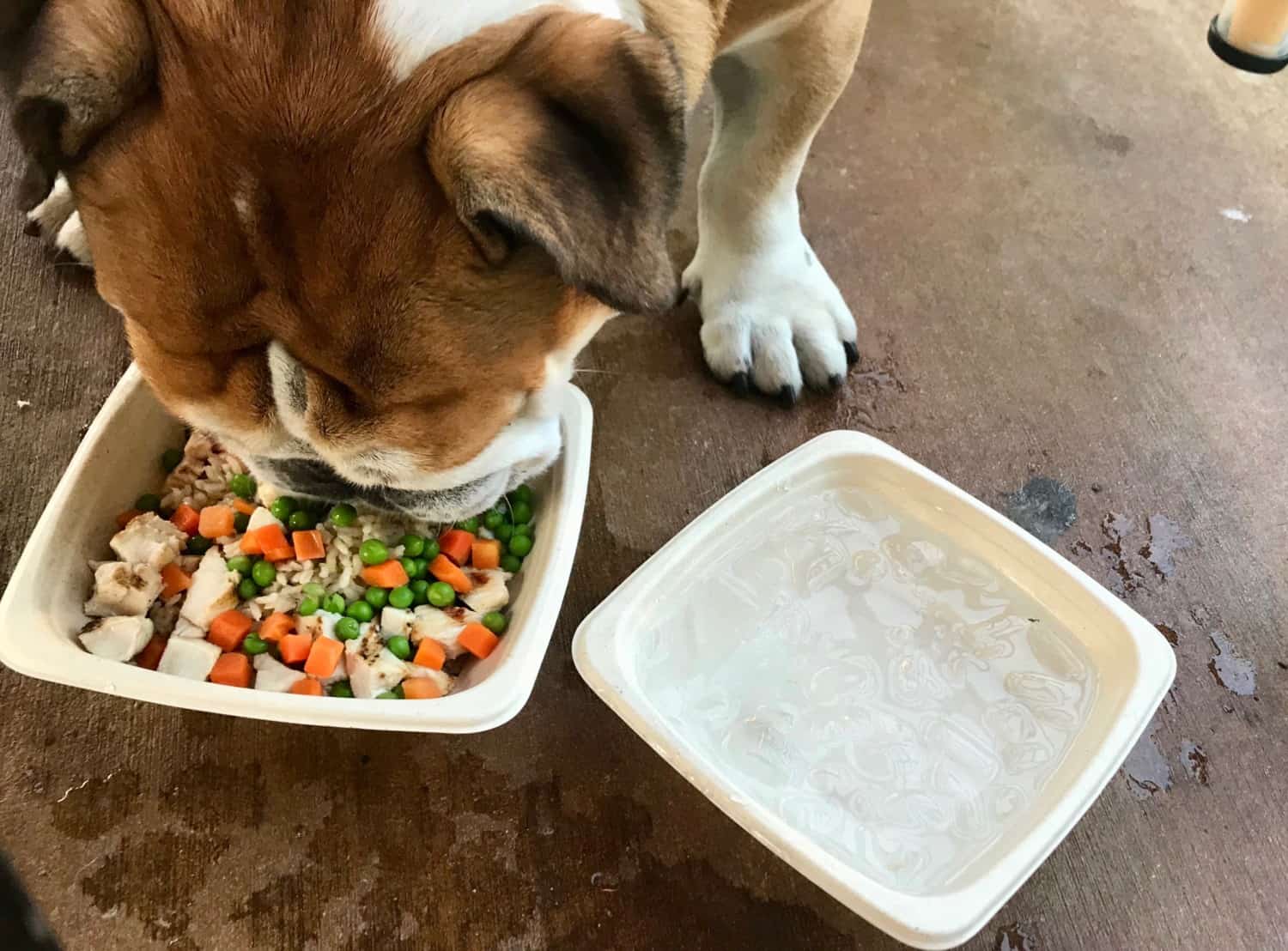 3. International UFO Museum & Research Center – Roswell, New Mexico
This museum, supposedly dedicated to the infamous "Roswell Incident," receives over 2 million visitors from around the world every year. Fortunately, many happen to be four-legged and furry! While the museum is small, we loved the novelty of being able to walk around inside with Toby.
Roswell's locals also have an excellent sense of humor about their alien association. Be on the lookout for the little green cartoon aliens that appear all around town!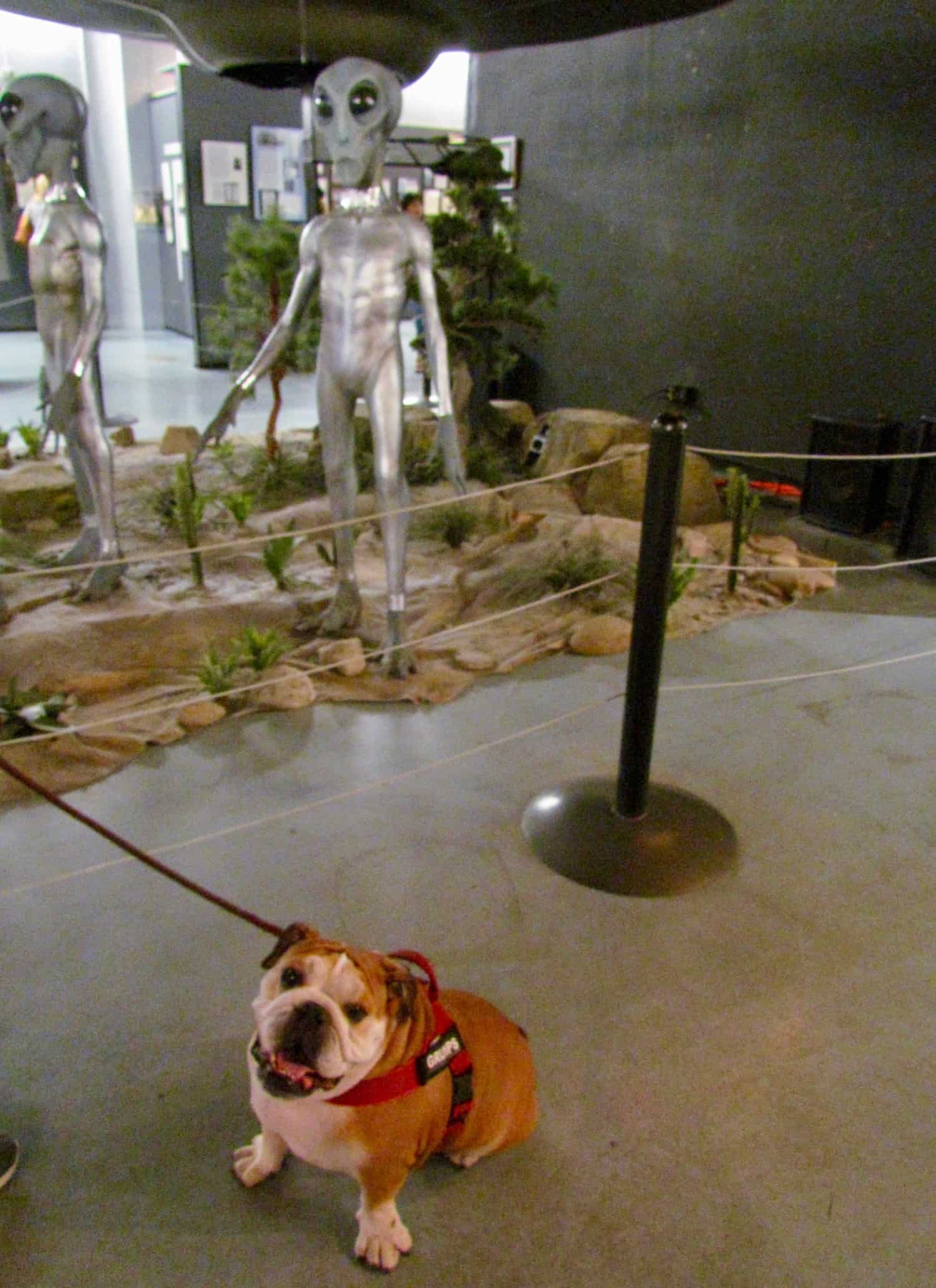 4. Old Town Albuquerque – Albuquerque, New Mexico
Unfortunately, we arrived after the majority of the businesses in Old Town Albuquerque had closed for the night. But Toby still enjoyed a good trot around the maze of restaurants, landmarks, and boutiques!
Though we were limited to window shopping, many of the stores displayed signs proudly welcoming dogs inside. When we return to Albuquerque, exploring Old Town properly is at the top of the to-do list!
5. Cardiff State Beach – Cardiff-by-the-Sea, California
This may be a somewhat controversial choice since this beach requires that dogs remain on-leash at all times. However, Toby does not play well with other dogs, so this beach was the perfect for us!
Relatively empty in the evenings with surfers dotting the horizon, Toby was free to jump in the waves and bark at the ocean to his heart's content. And we didn't have to worry that other dogs would approach him. For visitors with more dogs, Coronado Beach and Fiesta Island came highly recommended by locals we met.
READ MORE ⇒ Top Dog Beaches in San Diego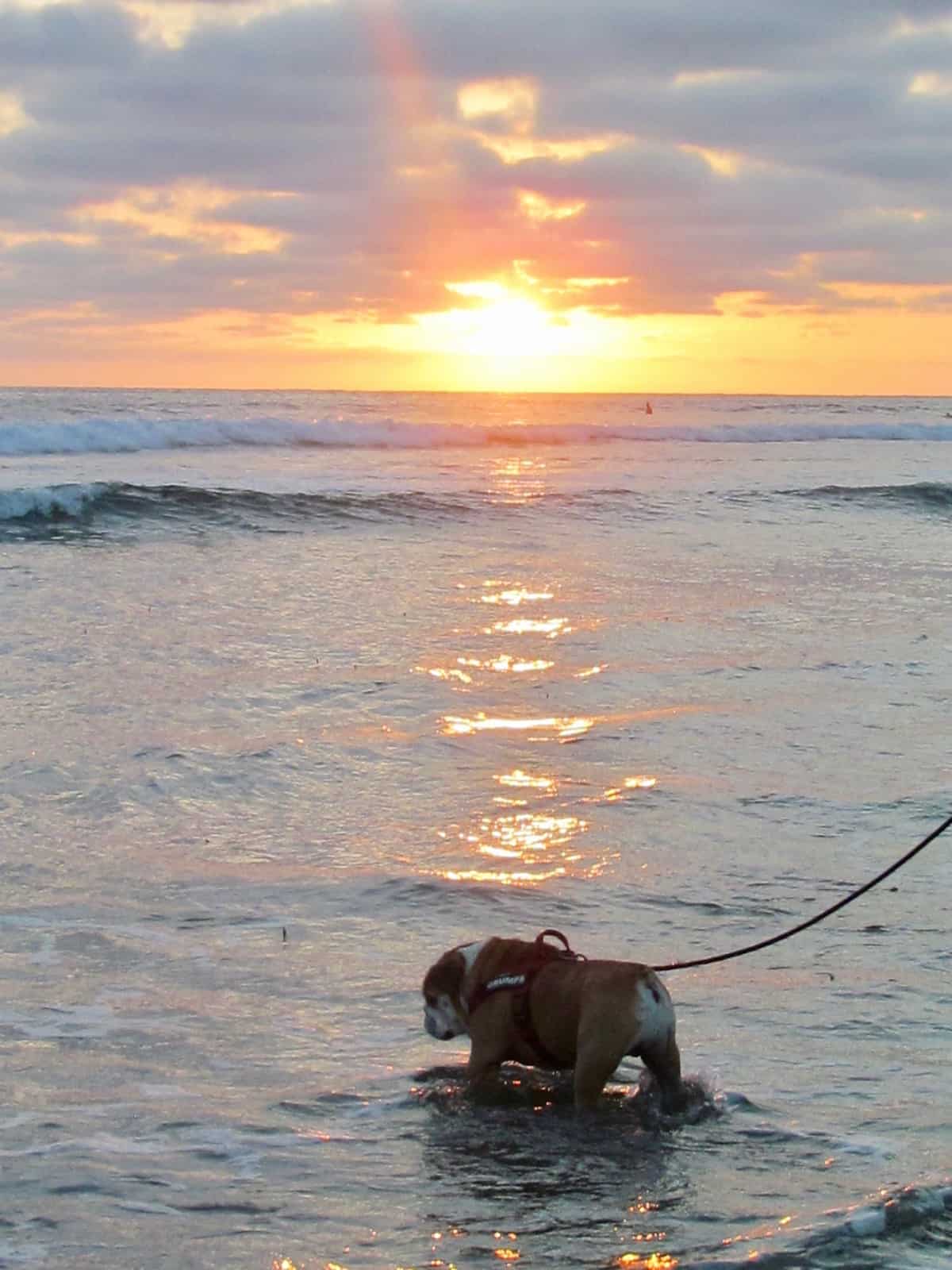 6. Space Needle – Seattle, Washington
Of course, Toby couldn't go inside the actual Space Needle. But this Seattle icon is surrounded by a beautiful park for picnicking or a game of catch. (Toby – being a bulldog – opted for a nap).
We loved the relaxed vibe of the Space Needle's green space. It was quite different from walking through Pike Place Market, which we found too crowded and overwhelming for Toby.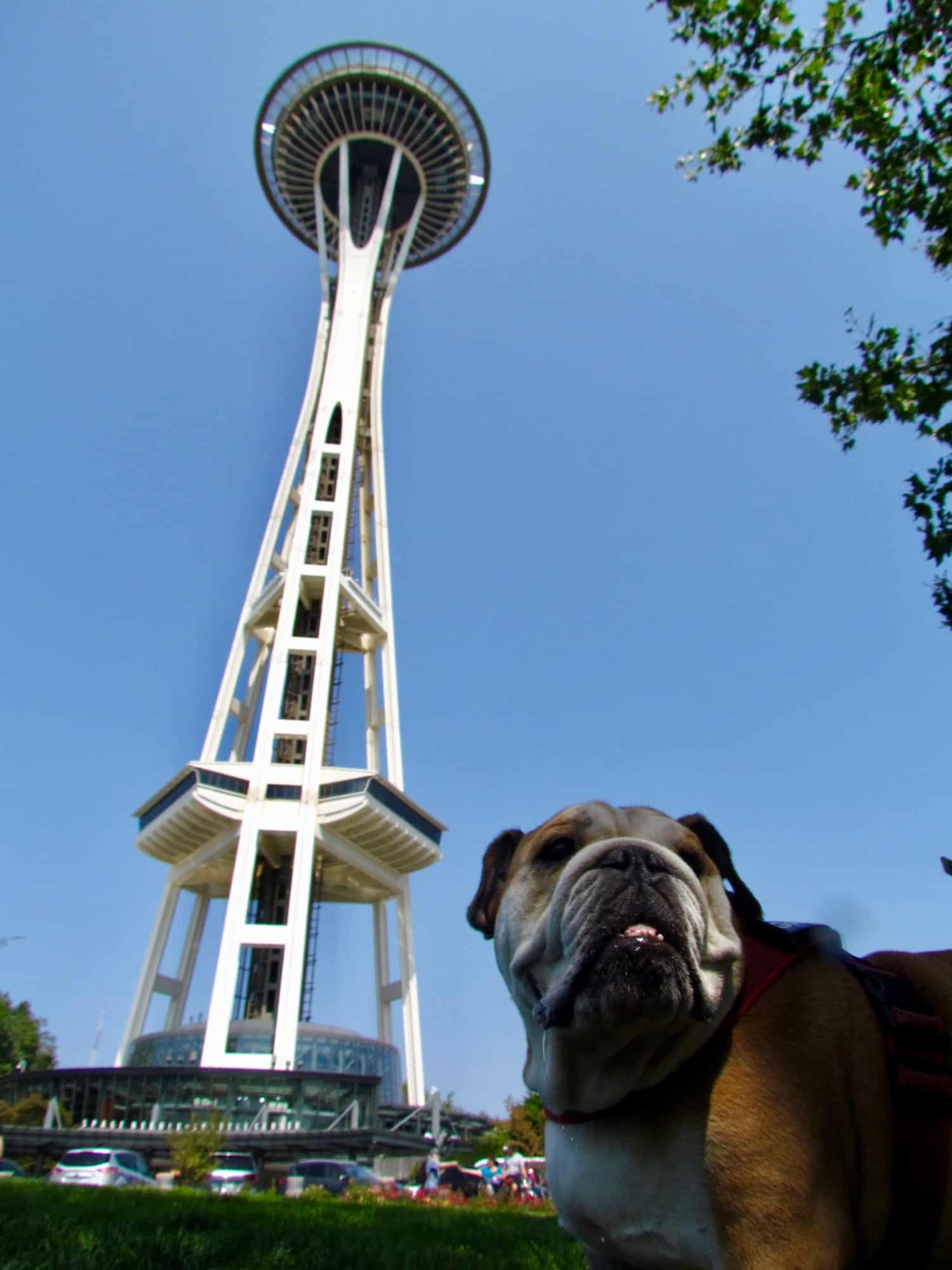 7. Montana Grizzly Encounter – Bozeman, Montana
After seeing a billboard for this bear sanctuary on the highway, we decided to check it out on a whim. Fortunately, the sanctuary allowed dogs and Toby got to meet some bears!
More accurately, we kept Toby a safe distance from the bear enclosure, and he didn't realize that the giant animals were only a few hundred feet away. But still! He met some bears!
We humans enjoyed watching the bears play and learned a lot about brown and grizzly bears. The volunteers' ongoing presentations also provided information on bear safety.
8. Deadwood, South Dakota
Serendipitously, we arrived in the Black Hills region of South Dakota during the famous Sturgis Motorcycle Rally. The Old West town of Deadwood seemed to take on new life when populated by bikers – and they all loved Toby.
Even outside rally-season, Deadwood is a great place to walk a dog and feel transported back in time. Saloon No. 10, a bar, casino, and restaurant adorned with Old West memorabilia on Main Street. And it welcomes pets inside. We stopped for lunch with Toby – it was the only time he was allowed inside a restaurant on our entire trip!
READ MORE ⇒  Pet friendly Breweries and Wineries in the Black Hills
9. Lincoln Park – Chicago, Illinois
Unbeknownst to us until we were confronted by park security, Millennium Park and the famous Chicago Bean are actually not dog-friendly public parks!
We opted for the much more pet friendly Lincoln Park, further north on Lake Michigan. There we had plenty of green space to spread out, Toby could play, and we could admire the Chicago skyline.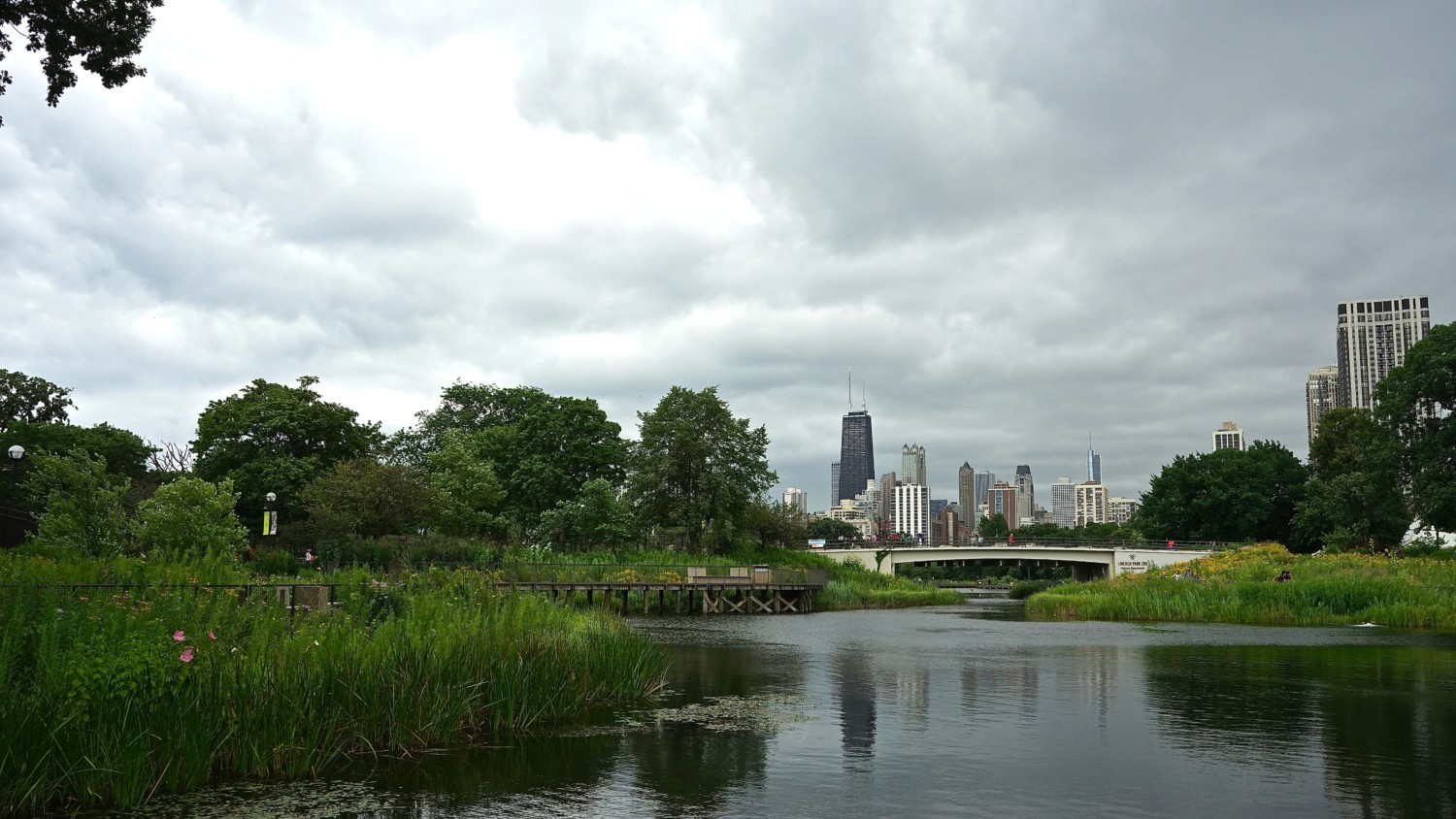 10. Frick Park – Pittsburgh, Pennsylvania
Though rain kept us from exploring this park as much as we would have liked, we always appreciate an urban park that feels like the wilderness. With many branching trails, walking along the tree-covered pathways felt like a choose-your-own-adventure game.
The neighborhood surrounding Frick Park is also beautiful! We enjoyed browsing the century-old homes of Squirrel Hill.
We hope our experience helps you plan a fun cross-country road trip with your pet! Happy travels!
About the Author: Maricela and Jose adopted their senior English bulldog Toby Grumps from Long Island Bulldog Rescue in August of 2017. Maricela and Jose love to travel, and Toby loves to ride the car, take long naps, and sniff new places. Right now, this little bulldog family lives in Queens, New York, and shares their adventures on Instagram (@TobyGrumps).
Guest Posts on GoPetFriendly.com: We love sharing stories from people having fun traveling with their pets! And reading your pet travel experiences may be just the nudge someone else needs to pack up and head out with their own best friend. If you're interested in writing a guest post for Take Paws, let us know!
Amazon Affiliate Disclosure: GoPetFriendly.com LLC is a participant in the Amazon Services LLC Associates Program, an affiliate advertising program designed to provide a means for website owners to earn advertising fees by advertising and linking to amazon.com, audible.com, and any other website that may be affiliated with Amazon Service LLC Associates Program. As an Amazon Associate, the owner of this site earns a commission from qualifying purchases.
(Visited 11,260 times, 1 visits today)