We love sharing stories from people having fun traveling with their pets – especially when they do things a little differently than us. So we're delighted to have today's post from Nicole Stinn of VanDoggo. She and her dog, Tikka, have traveled in Europe, and today they're giving us a dog friendly tour of one of their favorite places … Florence, Italy!
Sharing YOUR pet travel experiences may be just the encouragement someone else needs to pack up and head out with their own best friend. If you're interested in writing a guest post for Take Paws, let us know!
---
While the famous red tiled Cathedral of Santa Maria del Fiore in the middle of Florence is not to be missed, it's just the beginning of fantastic places to visit in this pet friendly Tuscan city. Using the Piazza del Duomo as a centre point, here are five places to explore with your dog.
1. Piazzale Michelangelo at Sunrise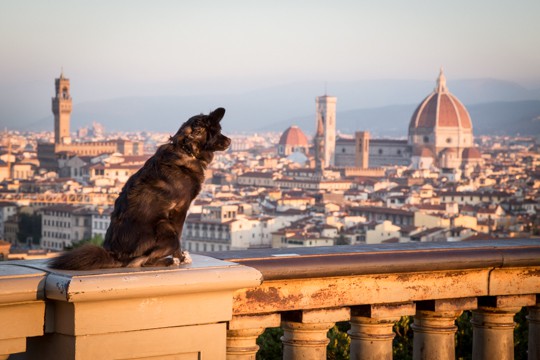 Witness the gorgeous view of Florence from the terrace at Piazza Michelangelo, only a 30-minute walk from Piazza del Duomo. Built in 1869 there is a huge lookout with a replica of the statue of David for your dog appreciate for free (the original is now in La Accademia Gallery and dogs aren't allowed).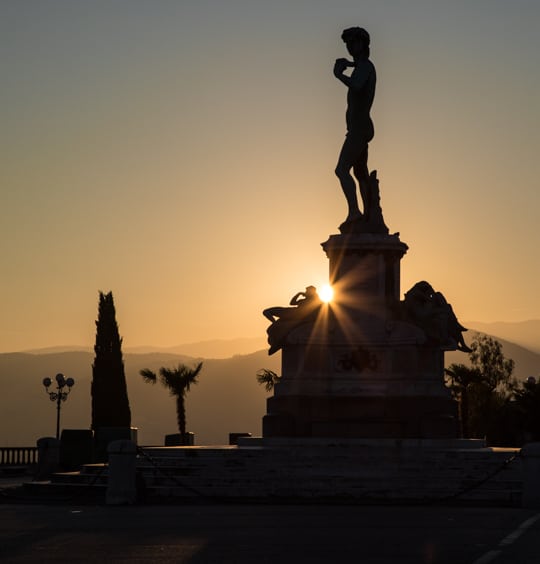 It can get very crowded and hot mid-day, so to take your pooch early in the morning for some spectacular photos and to get your bearings of Florence. You'll beat the tourists and see the warm glow of sunrise blanketing the city. On your walk back, stop in at Café Rifrullo at the bottom of the hill on Via di Niccolo St for an espresso and pastry with the locals and their pups.
2. Mercato Centrale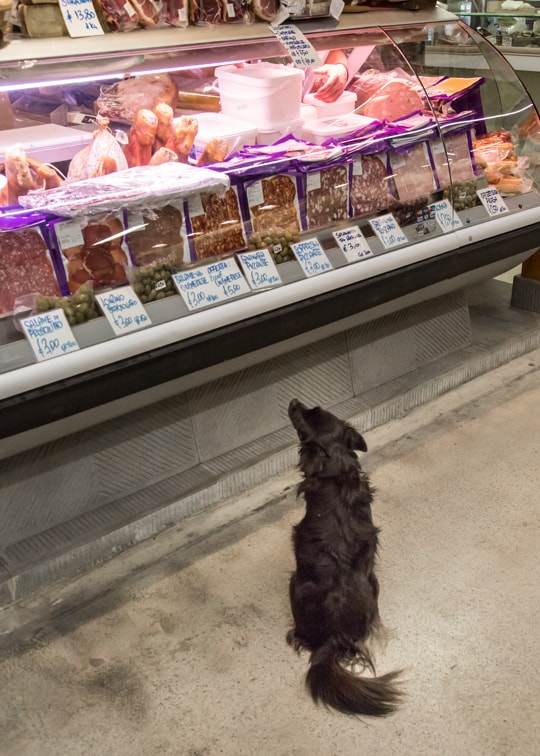 Florence is a place for falling in love with food, enjoying new tastes and languishing over long lunches, all with your dog by your side. The Mercato Centrale is an indoor market with two floors; the bottom a selection of grocers and butchers for all your cooking needs, and the top is a collection of 20+ restaurant counters serving snacks and street food.
You won't go wrong with a huge charcuterie board of local prosciutto and cheese, and I'm sure there will be ever hopeful eyes staring back up to you from under the table for a taste of salami. The market is only a five-minute walk from the Piazza Duomo.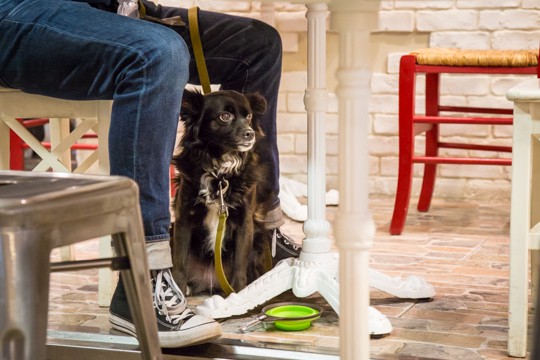 3. Arno River Bridges Loop Walk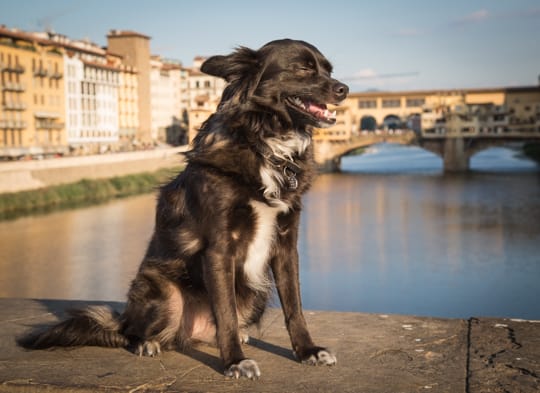 This walk is about the journey, not the destination. With so many museums to visit (not all dog friendly), your dog will appreciate a solid walk where you can still take in the sights and admire the architecture. Starting at one of the most famous bridges in Italy, the Ponte Vecchio, head East along the river to the bridge at Vittorio Veneto St, then cross over towards the Piazza Taddeo Gaddi. Follow the river, heading back to Ponte Vecchio through a narrow but quaint park frequented by locals with their dogs.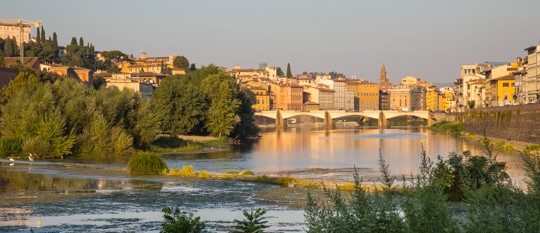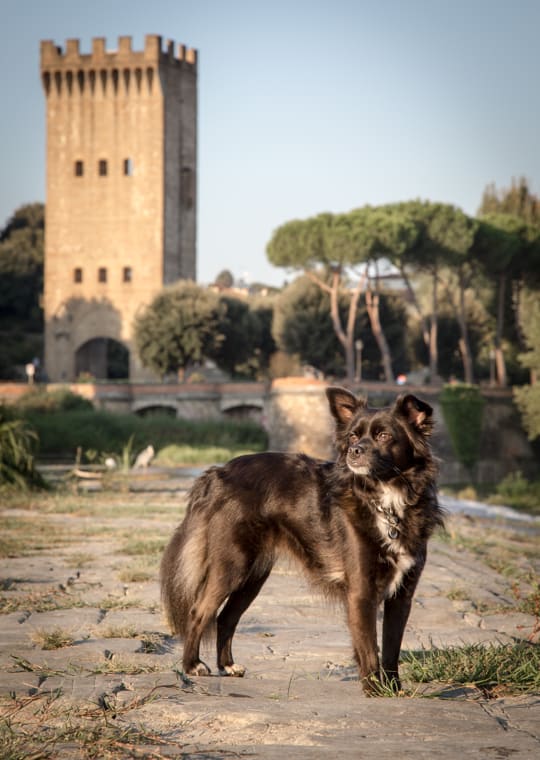 Keeping the river on your left you pass through the San Niccolo area and come to the Ponte S. Niccolo. Cross over and your dog will be rewarded with a shady off-leash park with green grass and lots of room to have a game of fetch on the river edge. From here you get a fabulous view across the river of Torre di San Niccolo. After balls have been thrown and grass has been rolled in, it's a 20 minute walk back to your starting point. There are bridges between the ones suggested, so you can make this walk as long or as short as you like. The full loop takes about 2 hours.
4. Santo Spirito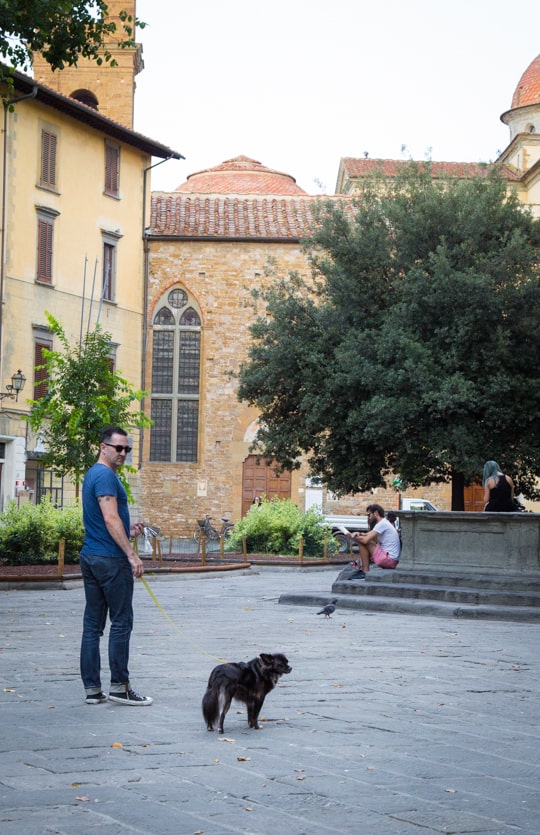 Just over the Ponte Vecchio bridge is a wonderful area of quaint artisan shops, little cafés, and bakeries – perfect for a leisurely stroll with your dog. The street of Santo Spirito is narrow with high buildings and weathered old wooden doors, and walking along the cobbled pavement takes you back hundreds of years.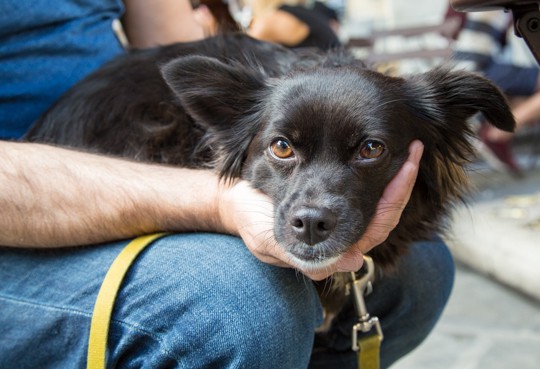 This area is a treasure of Florence and less crowded than the more central main squares. After exploring, take an hour or two to relax in front of the Basilica di Santo Spirito in the square of the same name. There are a lot of little restaurants and bars with sidewalk seating, so soak in the real Florence – just a 20-minute walk from Piazza del Duomo.
5. Trip to a Winery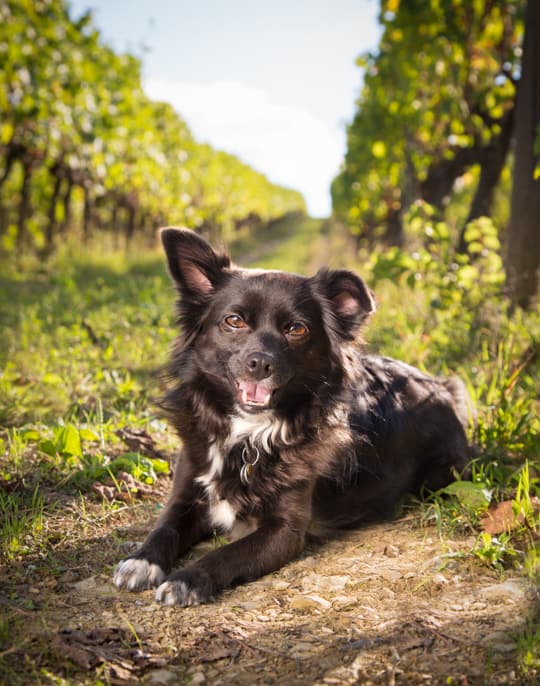 Although it's not walking distance, visiting a winery outside Florence is easy to do, as so many in the Tuscan countryside welcome dogs. You can travel as little as 20 minutes outside the city core or head further for a grand day out. If you don't have your own car, private cars and organized tours usually allow dogs, so just let them know when you book that you have a furry companion with you so they are aware ahead of time.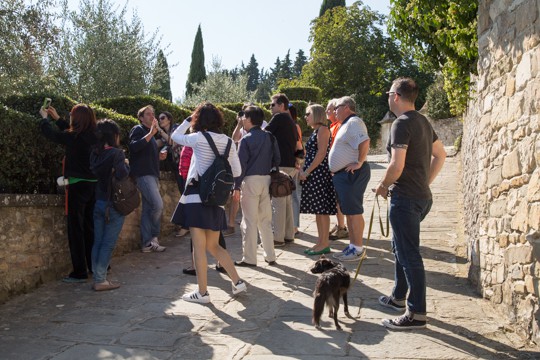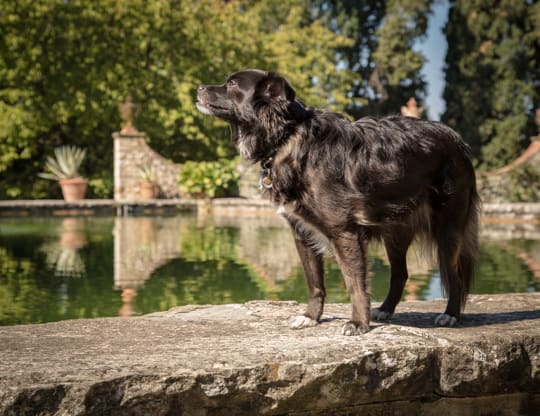 Find a winery that also has lunch or dinner and you'll be in for a real treat! We visited Castello di Verrazzano (The Castle of Verrazzano), an hour outside of Florence in the Chianti region. It was an incredible afternoon, learning the history of the Castle, hearing what makes the wine of this region truly 'Classico' and wandering the property and vineyard with Tikka. She happily snoozed under the table after the one-hour tour while we sampled the wine, filled ourselves with food, and chatted about how wonderful Italy is for making travel memories with our dog.
About the Author:  Nicole Stinn is an avid photographer and blogger with a passion for all things canine, especially dog friendly travel wither her rescue, Tikka. You can read about Tikka's latest adventures at VanDoggo and follow her on Facebook.
Planning a pet friendly trip of your own? We'll make it easy:
Pet Friendly Hotels | Pet Friendly Destinations | Pet Friendly Activities
Amazon Affiliate Disclosure: GoPetFriendly.com LLC is a participant in the Amazon Services LLC Associates Program, an affiliate advertising program designed to provide a means for website owners to earn advertising fees by advertising and linking to amazon.com, audible.com, and any other website that may be affiliated with Amazon Service LLC Associates Program. As an Amazon Associate, the owner of this site earns a commission from qualifying purchases.
(Visited 4,575 times, 1 visits today)