Located in the Netherlands, about an hour from Amsterdam, you will find Keukenhof Gardens. "Keukenhof" roughly translates to "kitchen garden" which gives you an idea of how the gardens were originally used.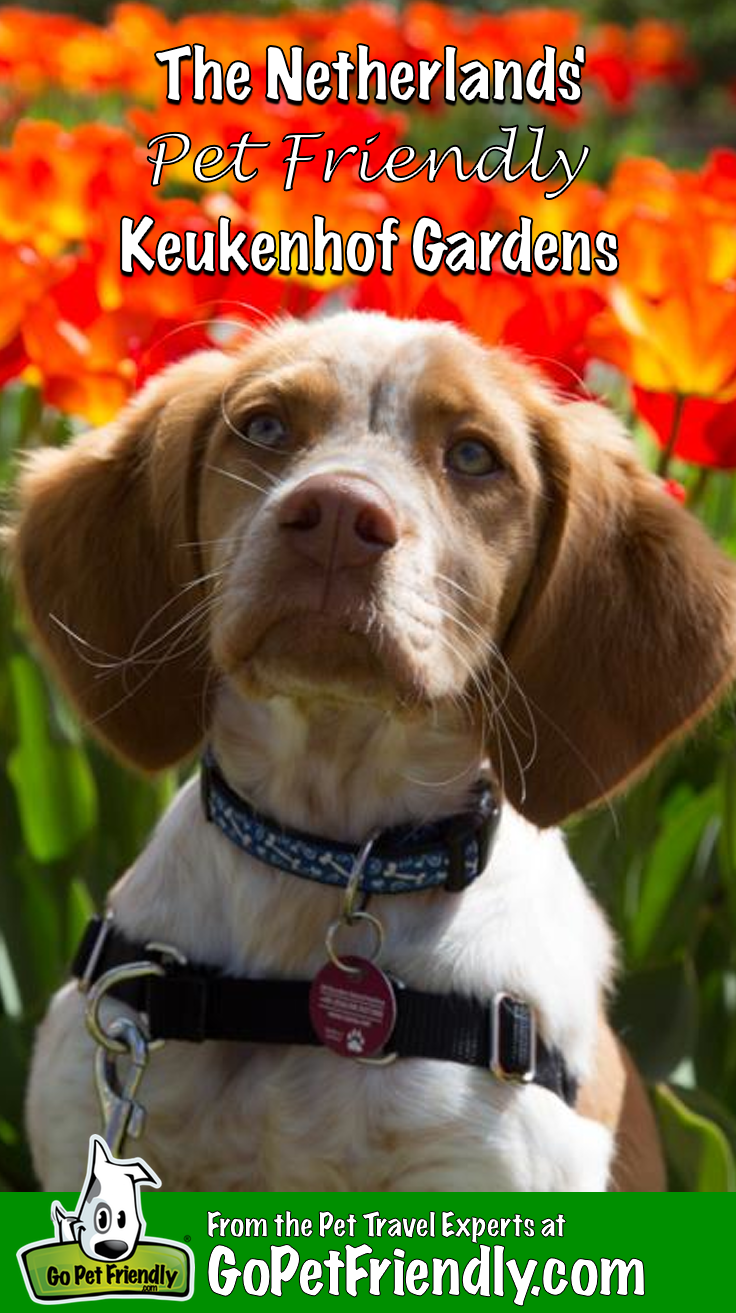 Pet Friendly Keukenhof Gardens
Pet friendly Keukenhof Gardens, near the shore of the North Sea, have a long history in Holland. In the early 1400's, the people of the nearby Teylingen Castle gathered food from this area. In the 1600's, a new castle – the Keukenhof Castle, was built adjacent to the gardens and claimed the almost 500 acres of land.
The gardens were primarily used for foraging and planting food crops until the mid 1800's when the garden was redesigned. The area was turned into an "English Landscape" style garden and its footprint is still conserved today.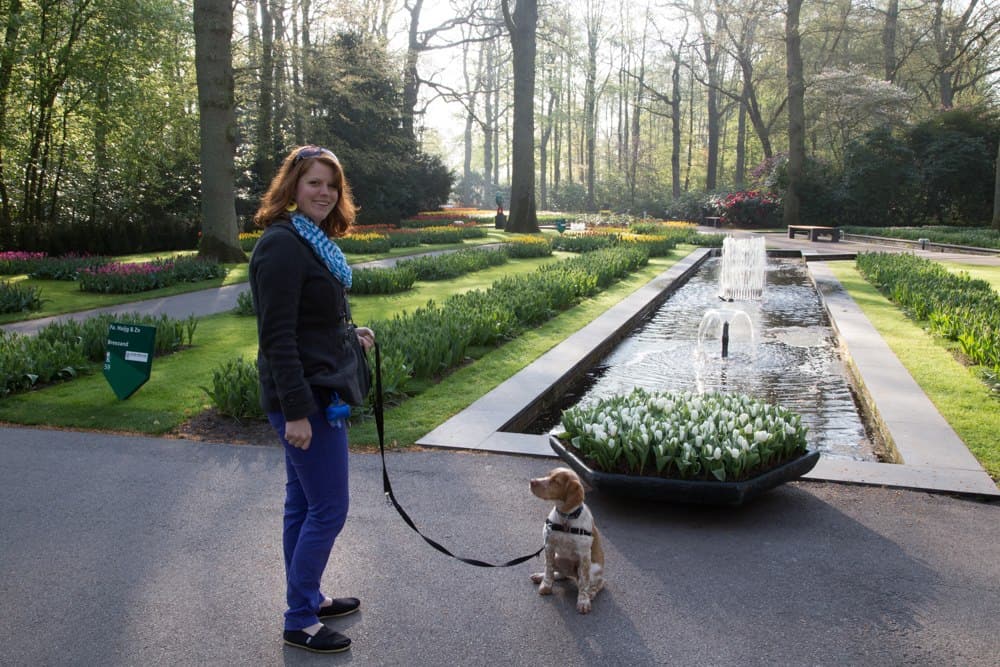 Tulips Are the Highlight
Despite its interesting past, the pet friendly Keukenhof Gardens is now best known for the tulips! Along with the tulips, you will find many varieties of flowers and plants. The gardeners strive for the best quality flowers and produce them in massive numbers.
Be sure not to miss the expansive tulip fields on the outer edge of the property. There are a few viewing points to see the fields. The vibrant colors stretching as far as the eye can see are absolutely spectacular.
READ MORE ⇒ The Ultimate Pet Friendly American Road Trip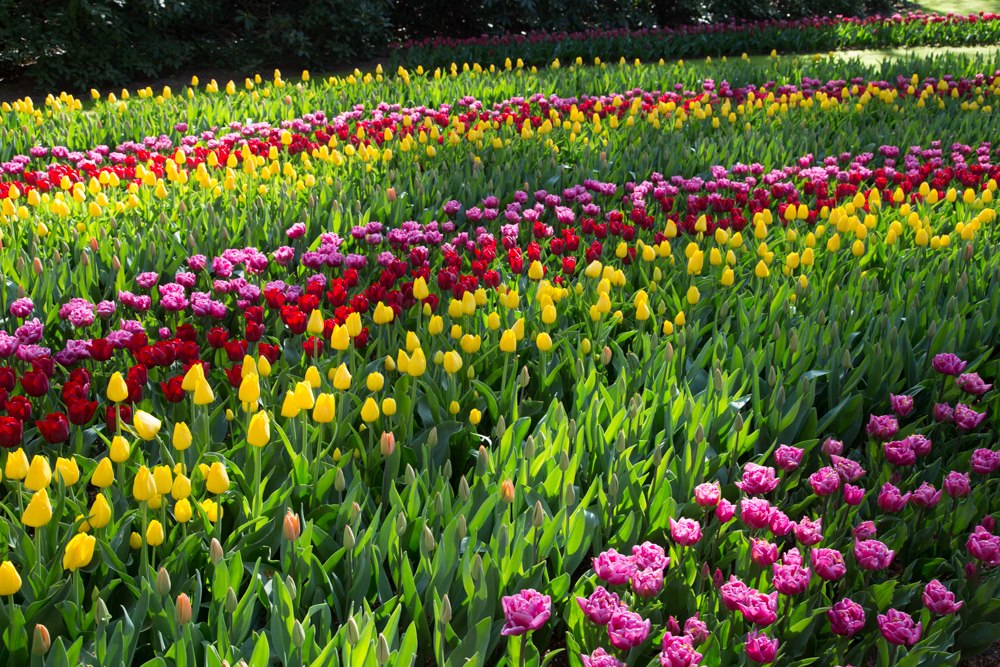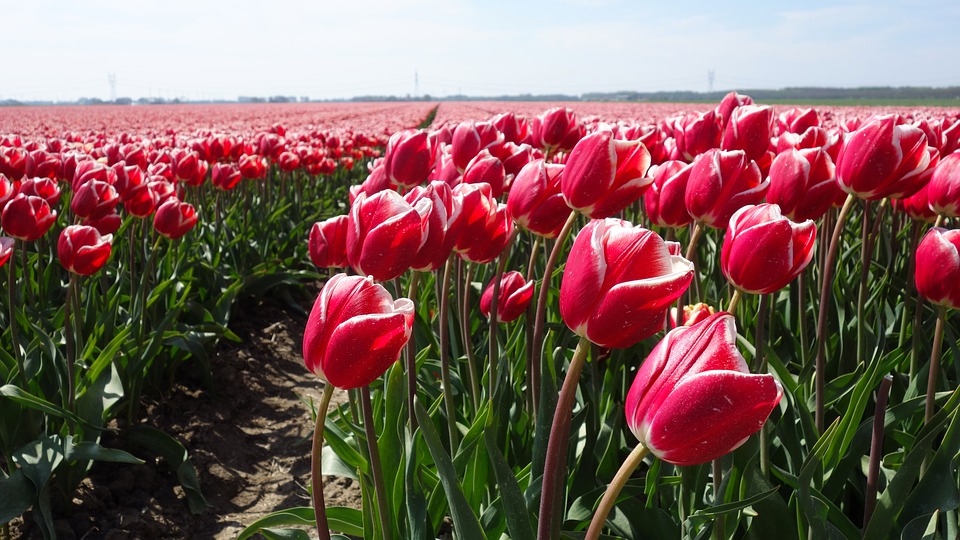 When To Go
The park is only open to the public from the end of March until mid-May while the flowers are in bloom. My best advice for visitors: arrive at the gardens 10 or 15 minutes before they open. You want to be one of the first people through the gates. Get familiar with the map ahead of time, and decide what your priority is going to be. Once the gates open, make a beeline for that part of the park.
The park fills up fairly quickly. So your best photos, with fewer people in them, will be your first photos. When the park is full, it is still very peaceful and enjoyable. But those first 30 minutes when you have it almost to yourself has a completely different feel.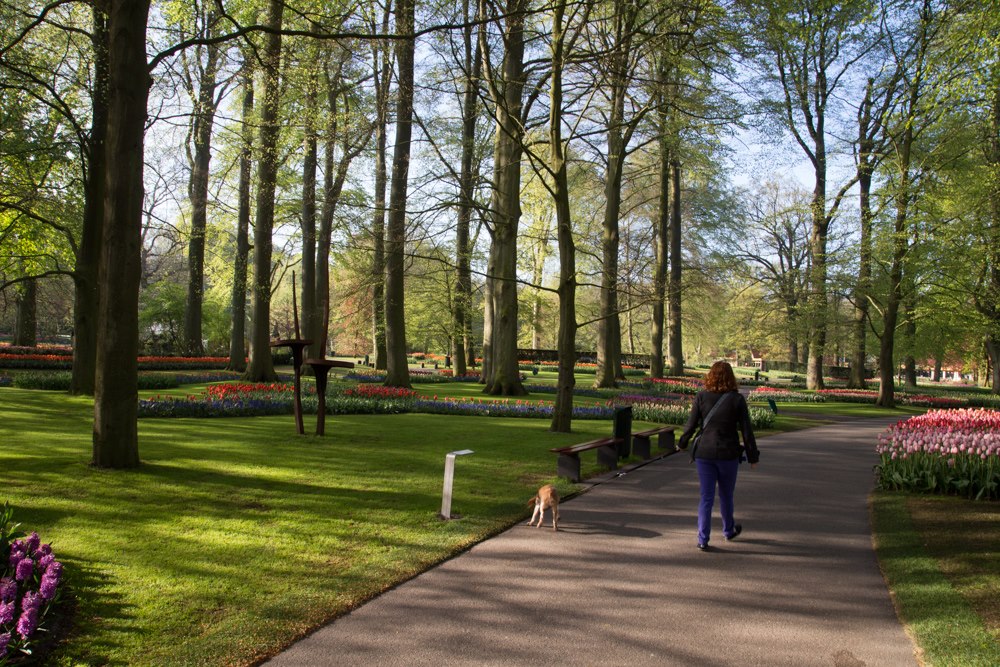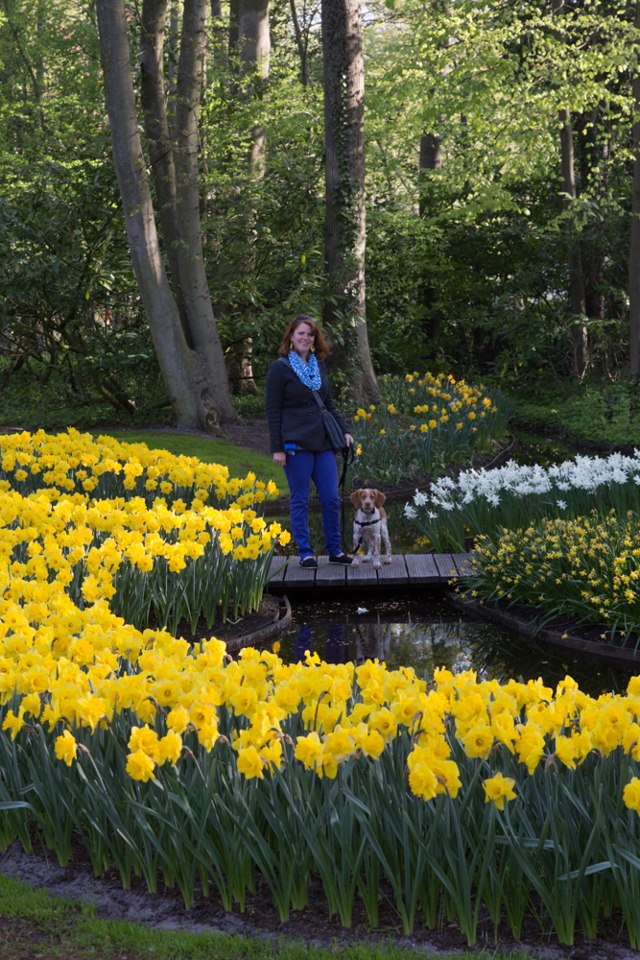 Pet Rules
The rules at pet friendly Keukenhof Gardens are very simple:
Dogs must be leashed at all times.
Pets cannot go into any buildings.
Pick up your pet's waste.
If there are two or more people in your group you can take turns looking at indoor exhibits. But if not, most of the things to see are outside anyway!
There is a large pond with swans and a "lily pad" crossing. The swans were surprisingly friendly and curious, though we didn't take any chances and still kept a distance between us.
READ MORE ⇒ Pet Friendly Magnolia Plantation and Gardens Near Charleston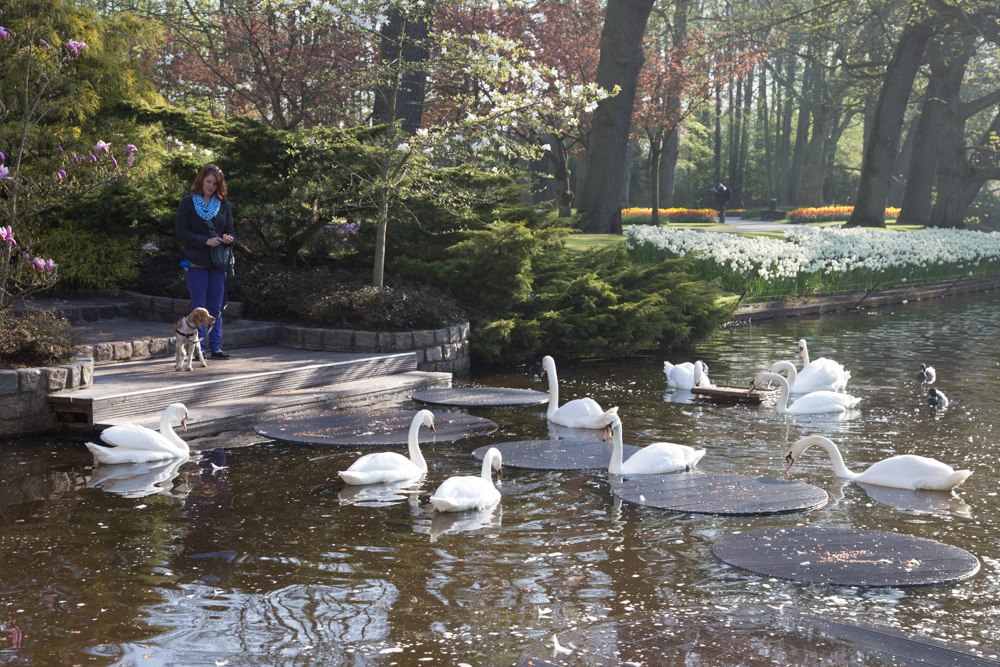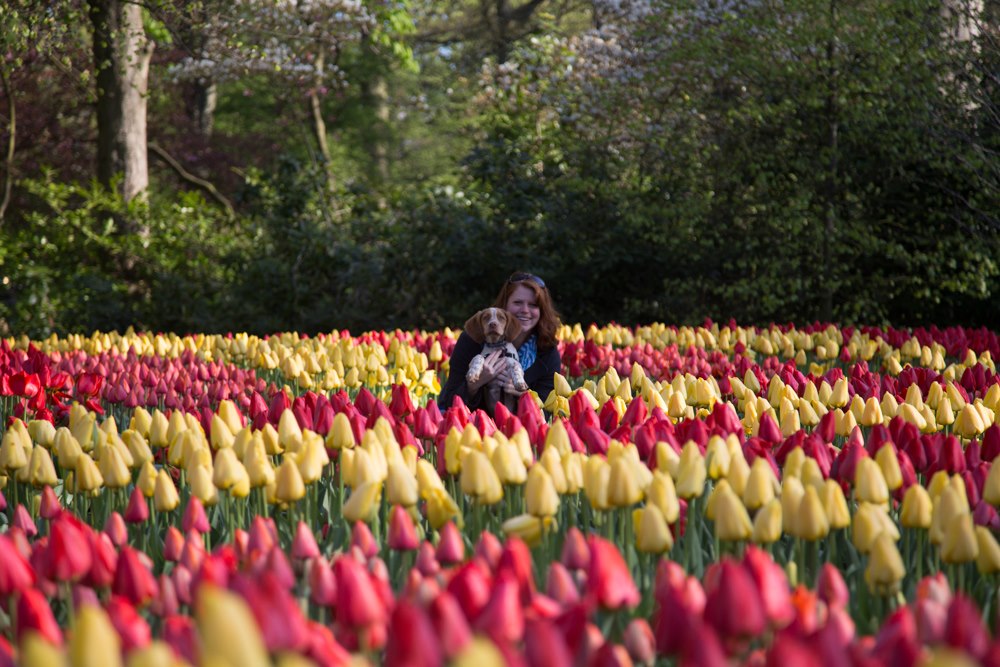 More to See
A few playgrounds for the kids are scattered throughout, as well as restaurants with tons of outdoor seating. We enjoyed some lunch out on the patio of a restaurant while admiring the view.
Photo opportunities are at every turn in the park. Beautiful scenery surrounds you. They even have many giant pairs of wooden shoes throughout the garden for you to try on.
We had a great time trying to get our puppy, Sherlock, into the shoes for a photo. Other visitors stopped to watch and laugh because, as a young puppy, he thought this was a hilariously fun game.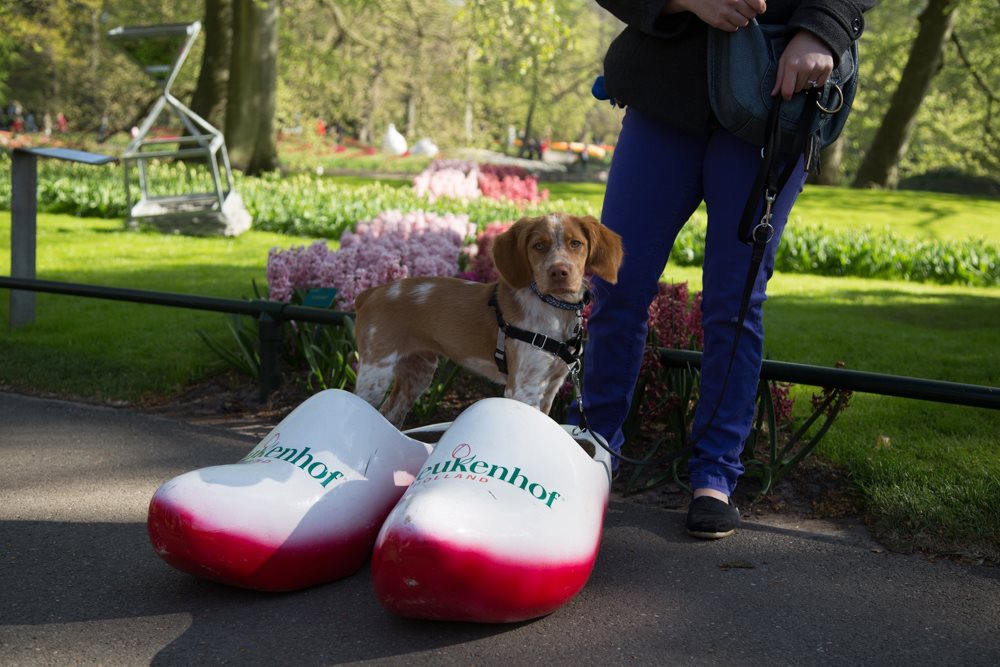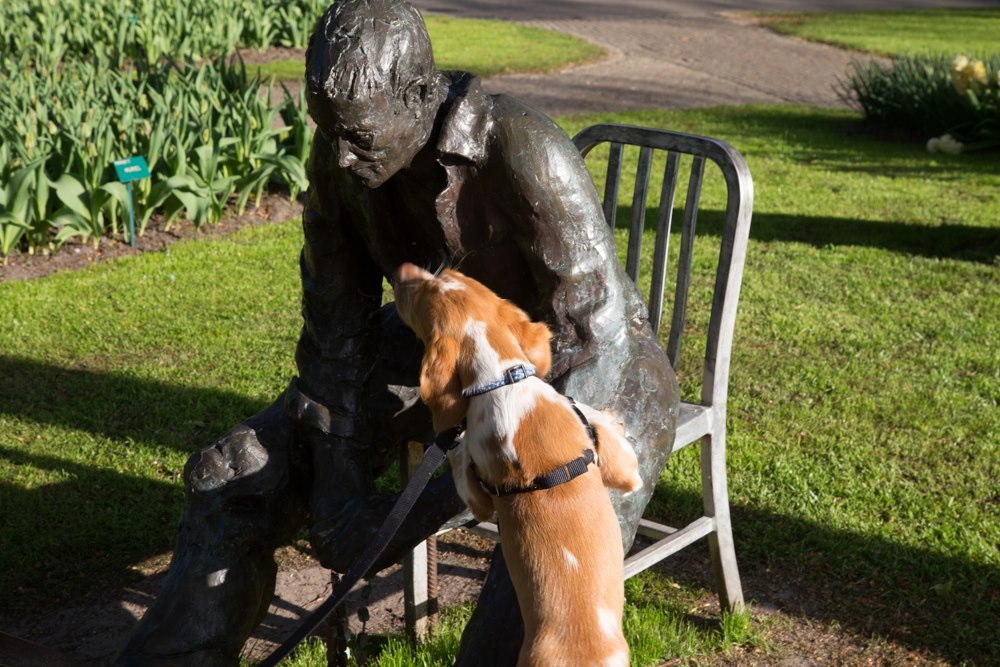 We really enjoyed our trip to Keukenhof with our puppy, Sherlock. The gardens are highly recommended for people and pets alike. We enjoyed the beauty and he had a great time walking around and smelling everything. He even made a few new dog, human, and statue friends.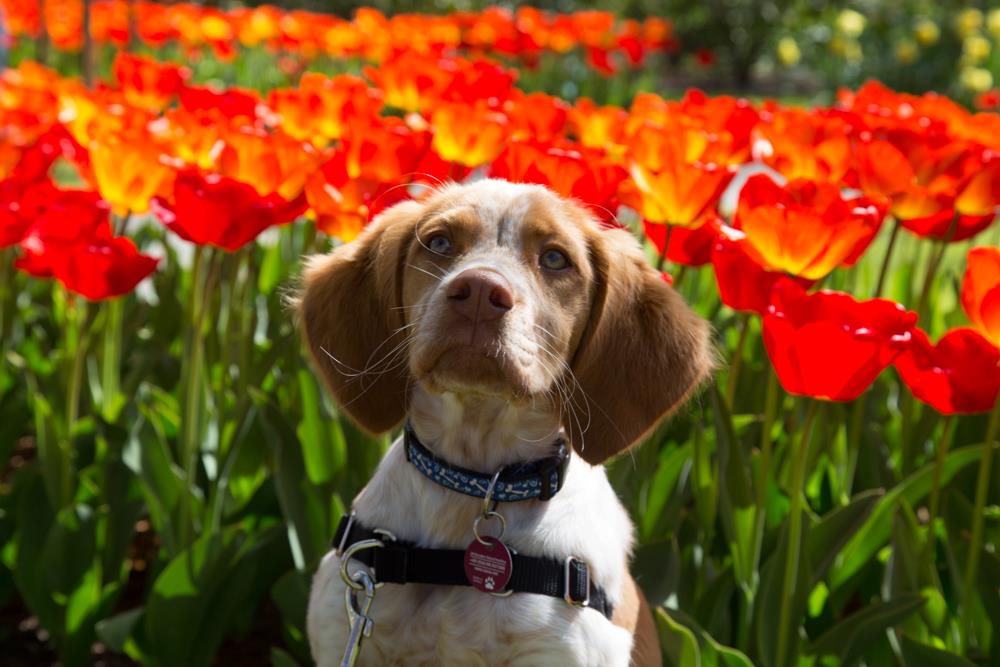 About the author: Melissa Bigler enjoys traveling and has been to 26 countries herself, as well as 6 countries with her dog, Sherlock Ian. In their down time, Melissa and Sherlock also enjoy dock diving and agility.
Amazon Affiliate Disclosure: GoPetFriendly.com LLC is a participant in the Amazon Services LLC Associates Program, an affiliate advertising program designed to provide a means for website owners to earn advertising fees by advertising and linking to amazon.com, audible.com, and any other website that may be affiliated with Amazon Service LLC Associates Program. As an Amazon Associate, the owner of this site earns a commission from qualifying purchases.
(Visited 4,206 times, 1 visits today)