If you visit Rome, Italy, with your dog, you'll find that some of the most popular sightseeing options are not pet friendly. Naturally, no dogs are allowed inside St. Peter's Basilica or the Vatican Museum, and the Colosseum and Roman Forum are two of the only archaeological sites that I visited in Italy that didn't allow dogs. But don't despair – just take a short (pet friendly) train trip, and you'll find a magnificent villa and garden where your dog will be welcome!
About Villa d'Este
The Villa d'Este is a Renaissance villa in the town of Tivoli, less than an hour inland from Rome. During the 16th century, under the ownership of the Governor of Tivoli, after his failed bid to become pope, one of the most magnificent Italian Renaissance gardens anywhere in the world was built adjacent to the villa. Due to the steep slope of the land, a series of terraces were created, along with many cascades and fountains, taking advantage of the natural landscape. Today these gardens still exist, have been beautifully restored, and are so renown that this is a UNESCO World Heritage site.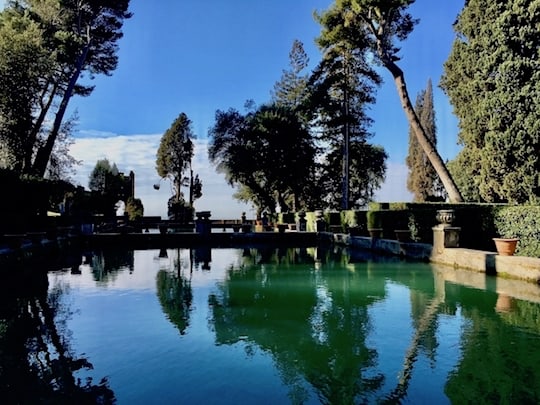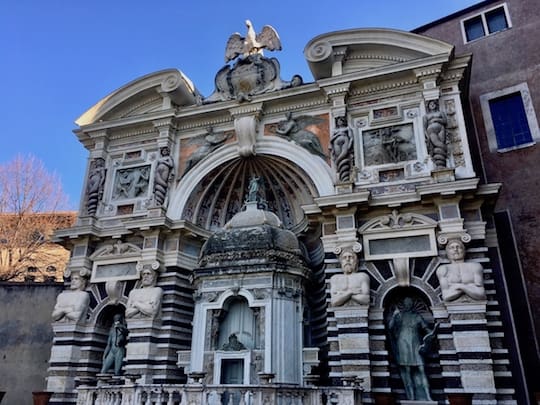 While researching my visit to Villa d'Este (my husband and I have a goal to visit every UNESCO World Heritage site in the world), I was delighted to find that dogs are allowed at Villa d'Este – both in the garden and in the villa itself! While this information isn't listed on the official website, there were mentions of dogs being allowed on TripAdvisor and some Italian dog websites.
PRO TIP: Information on whether dogs are allowed is rarely published on the official website of Italian attractions, it's best found by searching for "cani" and the name of the attraction.
Traveling to Villa d'Este
The easiest way to reach Villa d'Este is on one of the frequent trains from Rome's Stazione Termini, along the Roma-Pescara line. The length of the trip varies from 30 minutes to 1 hour, averaging around 45 minutes. From Stazione Tivoli, it's a 10 minute walk to Villa d'Este. Buses are also available.
Our Visit to Villa d'Este
Despite the multiple mentions that dogs are allowed, while walking to the villa, I had some last minute doubts, and was worried that we'd be turned away at the entrance with our dog. But that was not at all the case! No mention was made of our dog at the ticket counter, and when we haltingly asked in Italian whether he was allowed, we were assured he was.
Pro Tip: Make sure you have cash for your tickets, as credit cards are not accepted.
At Villa d'Este the only rule for dogs is that they need to be on a leash. Surprisingly, dogs are even allowed inside the villa, probably partially because you need to walk through the villa to enter the gardens. While the gardens are definitely the highlight, it's also worthwhile strolling through the villa. There are countless rooms over 2 floors, with many rooms decorated with beautiful frescoes on the walls and ceilings. The rooms are not the most pristine, and could do with some restoration, a common feature in Italy that is so overloaded with historic treasures.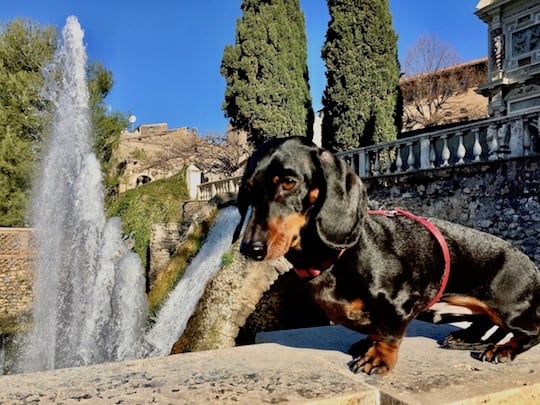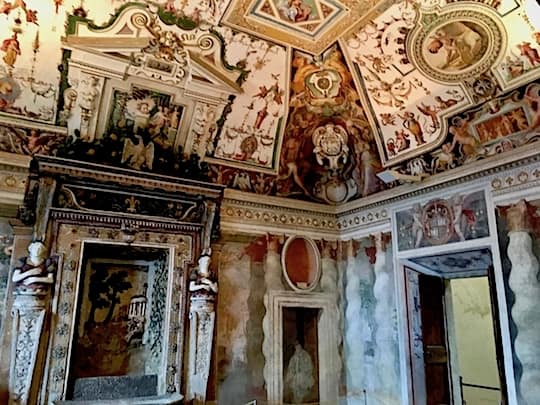 The gardens are huge. It's best to allow about 90 minutes to stroll around them, heading up and down the terraces. A suggested itinerary with map is provided with your tickets, and it's a good idea to follow it, so you don't miss anything. There are countless fountains, statues and grottoes tucked away into every part of the garden. Be sure not to miss the Organ Fountain in action. This hydraulic organ, powered solely by water, plays every 2 hours, starting at 10:30am.
Practical Information
Villa d'Este is open Tuesday through Sunday, except on January 1st, May 1st, and December 25th. Adult entry is €10, as of 1st May 2018. Check the website for the opening hours (which vary depending on the month). While we visited Tivoli on a warm winter's day, I'm sure the gardens would also be delightful year-round, as they are shaded by many trees.
About the Author: Shandos Cleaver is an Australian blogger who is currently traveling around Europe with her Miniature Dachshund, Schnitzel. She blogs about dog-friendly travel at Travelnuity, including more recommendations for dog-friendly things to do in Italy.
Guest Posts on GoPetFriendly.com: We love sharing stories from people having fun traveling with their pets – especially when they do things a little differently than us! Sharing your pet travel experiences may be just the nudge someone else needs to pack up and head out with their own best friend. If you're interested in writing a guest post for Take Paws, let us know!
Amazon Affiliate Disclosure: GoPetFriendly.com LLC is a participant in the Amazon Services LLC Associates Program, an affiliate advertising program designed to provide a means for website owners to earn advertising fees by advertising and linking to amazon.com, audible.com, and any other website that may be affiliated with Amazon Service LLC Associates Program. As an Amazon Associate, the owner of this site earns a commission from qualifying purchases.
(Visited 2,821 times, 1 visits today)