We visited Victoria two years ago and the city left me speechless – which, you likely know, is not an easy thing to do! The harbor walking path, Dallas Road and Arbutus Cove off-leash beaches, the hike up Mount Douglas … there were so many dog friendly things to do that we ran out of time and didn't get to one of Victoria's most famous attractions, Butchart Gardens. So, on this trip to Vancouver Island, seeing The Gardens was on the top of my priority list, and we were absolutely tickled to find out that Buster and Ty were welcome to join us for the tour!
How The Gardens Got Started
When Robert and Jennie Butchart moved to this barren limestone quarry in 1904, Jennie started her garden with sweet pea seeds, a rose bush, boundless passion, and a magnificent vision. More than 100 years later, Butchart Gardens is still family owned, stretches over 55 acres, has been named a National Historic Site of Canada, and delights nearly a million visitors per year.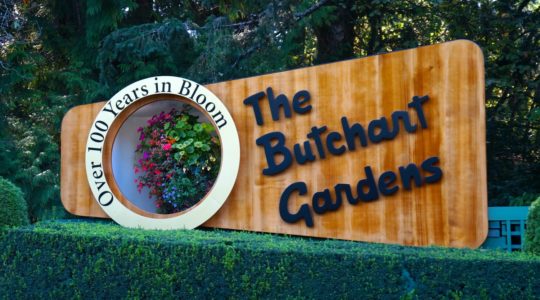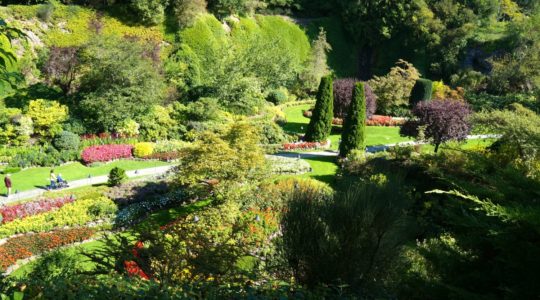 Divided into multiple sections, the paved walking paths meander though and around the Sunken Garden, the Rose Garden, the Japanese Garden, the Star Pond, the Italian Garden, the Piazza, and the Mediterranean Garden. A leisurely stroll will allow you to see the entire property in half a day, but if you're interested in the specific plant species grown here, you could easily spend several days studying their origins and optimal growing conditions.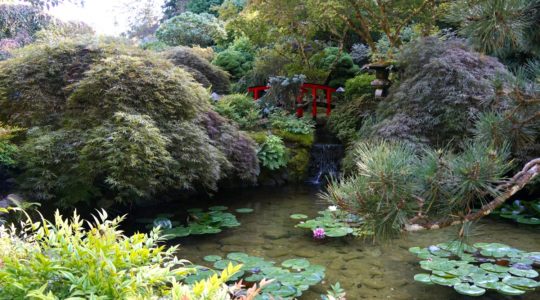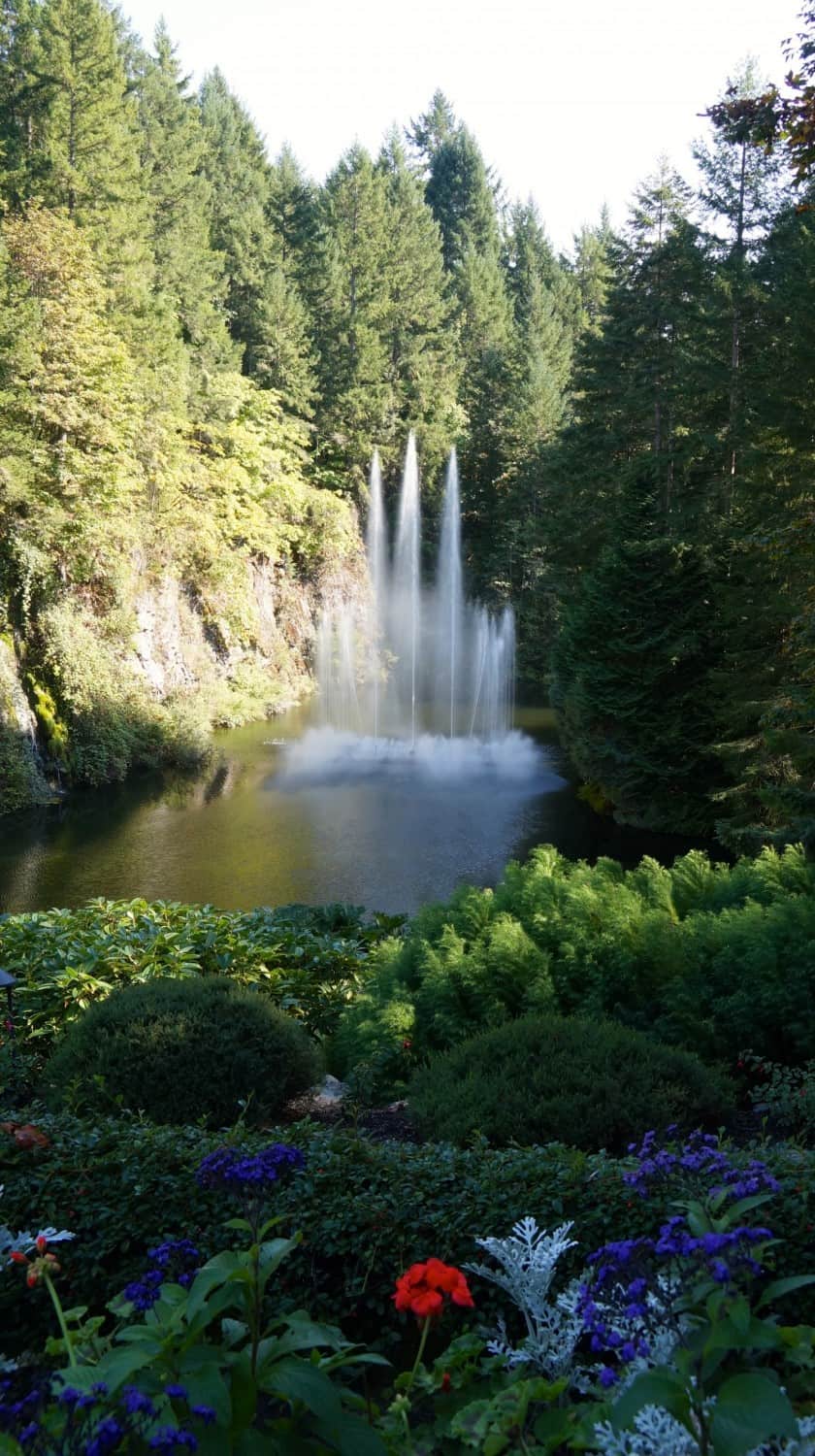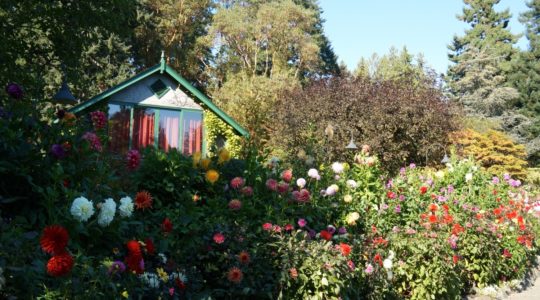 Making Our Visit A Dog Friendly Success
We make no bones about the fact that our dogs have issues, so how do we take them to an attraction like this and ensure their success?
First, we plan our visit at a time of the day that will be less crowded. We went in the late afternoon, just when most people were heading out to catch dinner.
Second, since both of our boys behave quite well when they're not in close proximity to other dogs, we quickly change directions if we see a dog approaching. It made for a zig-zag course around the gardens, but we got to appreciate the design from every perspective.
Third, we pack our treat bags full of tasty tidbits from Zuke's that Ty and Buster just can't resist. That way, when we needed a reliable distraction it was literally in our hip pocket!
Lastly, when we come to a tight spot or want to check out an area where the dogs can't go, we take turns waiting with both dogs while the other one explores. Sometimes the tag-team approach is the best option.
It turned out that our strategy was successful and Buster and Ty were on their best behavior – good boys!!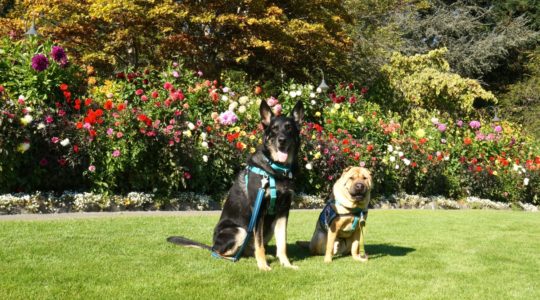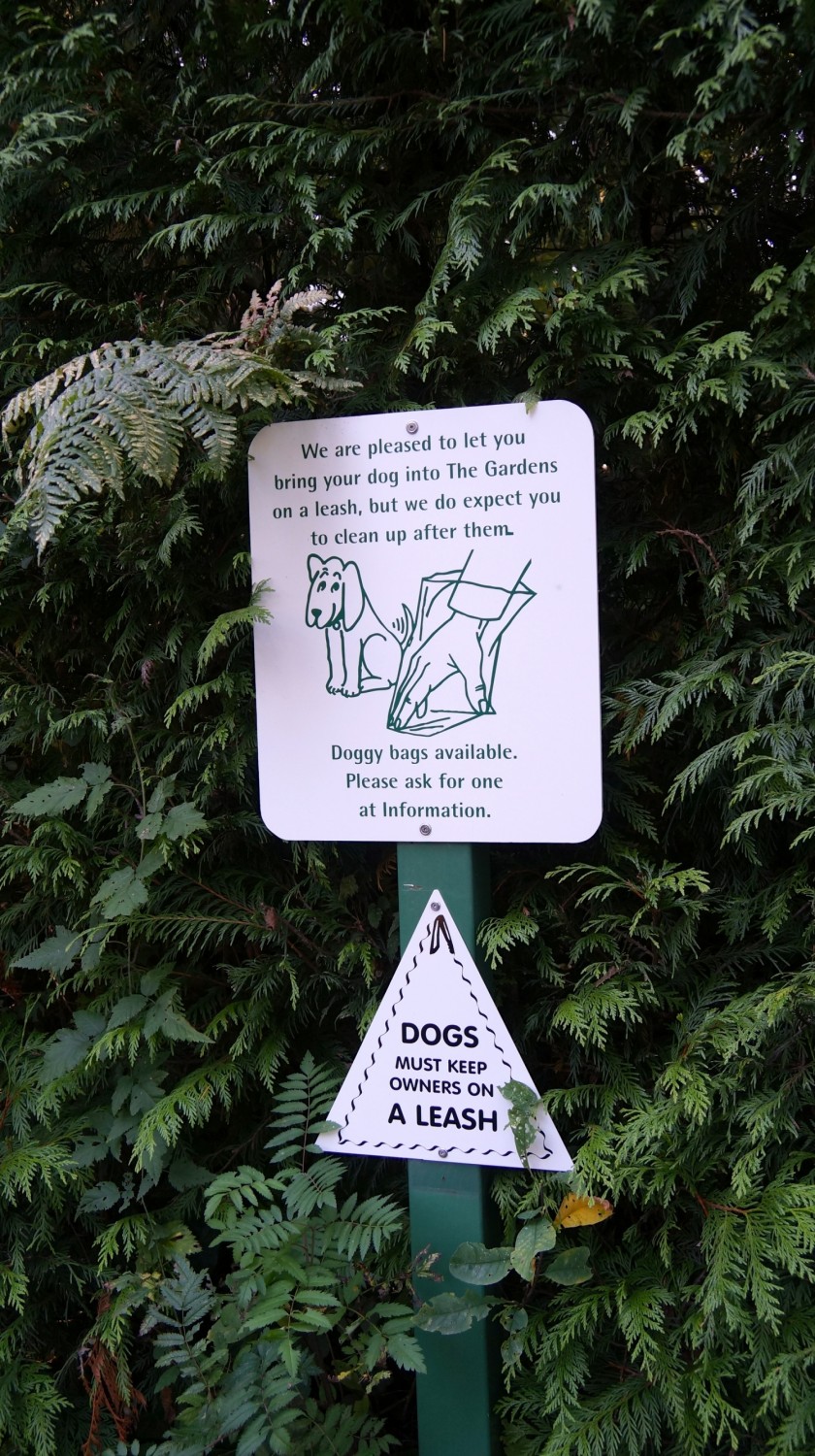 Beyond The Gardens
With an admission price of $32 per person, you'll want to make the most of your day … so after your tour, get a bite to eat at the cafe and enjoy the outdoor seating area with your pup. If you've been bitten by the bug and are anxious to get started on your own landscaping project, be sure to head over to the seed and gift store – though, understandably, dogs aren't allowed inside. Another option to keep in mind from mid-May through mid-September are the boat tours of the inlet. Unfortunately, however, pets are not allowed to join you for the cruise.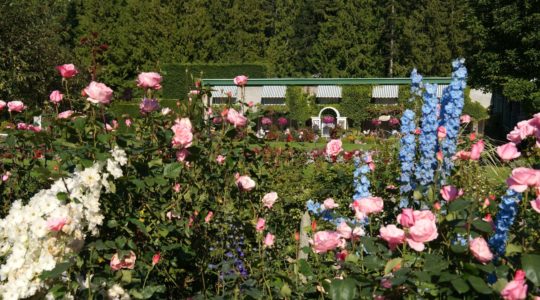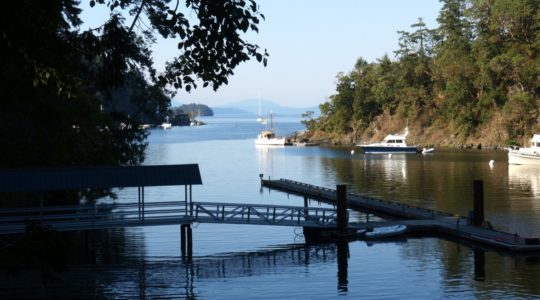 Planning a pet friendly trip of your own? We'll make it easy:
Pet Friendly Hotels | Pet Friendly Destinations | Pet Friendly Activities
Amazon Affiliate Disclosure: GoPetFriendly.com LLC is a participant in the Amazon Services LLC Associates Program, an affiliate advertising program designed to provide a means for website owners to earn advertising fees by advertising and linking to amazon.com, audible.com, and any other website that may be affiliated with Amazon Service LLC Associates Program. As an Amazon Associate, the owner of this site earns a commission from qualifying purchases.
(Visited 3,209 times, 1 visits today)