What could be more fun than a dog friendly beach vacation to North Carolina's Outer Banks? It's one of the best places in the country for history and beauty. Where else can you enjoy both beautiful sunrises and sunsets over the water? And nearly everyone you'll meet is a dog lover!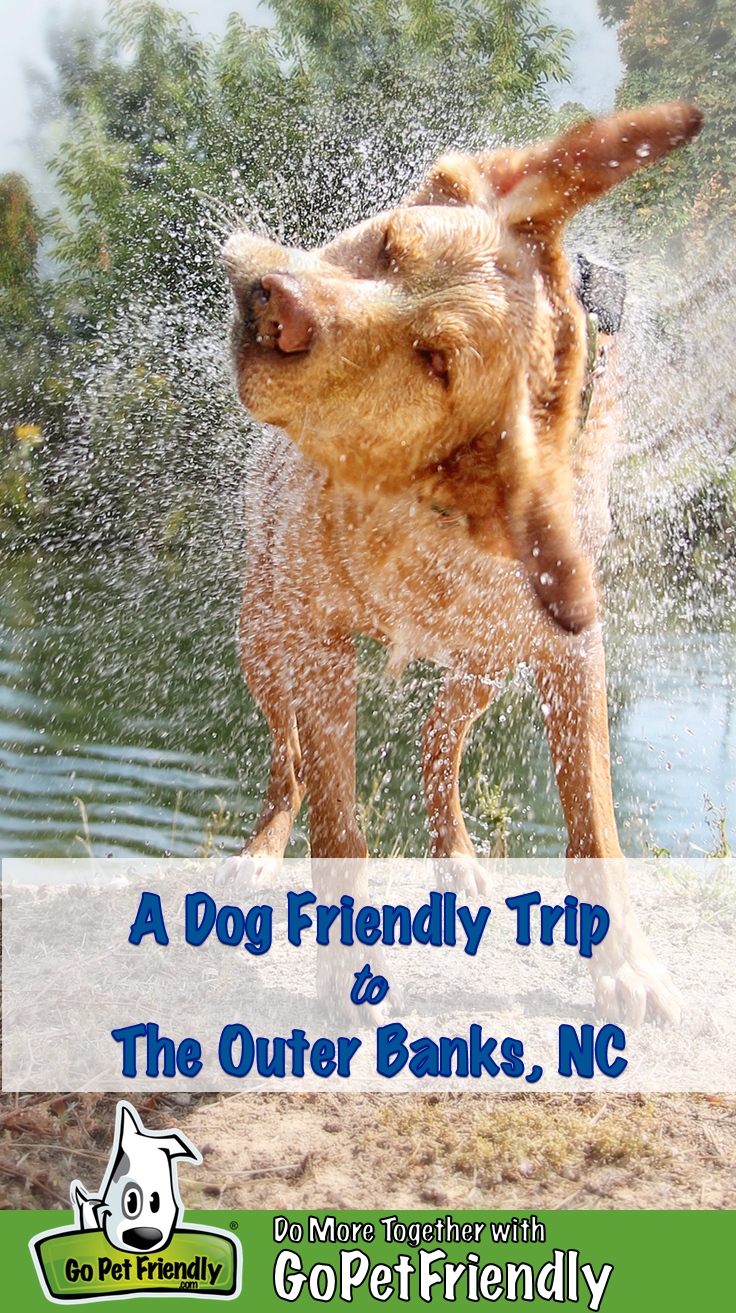 Dog Friendly Outer Banks
We got a tiny taste of what the Outer Banks offers when a mechanical issue on our boat (also our home) caused us to hunker down in the nearby Albemarle Sound for repairs. Since we weren't going to be sailing for a while, we rented a car and did a whirlwind tour of the Outer Banks with our dog, Honey.
Outer Banks History and Mystery
What would we find when we arrived in the Outer Banks? Our travels through Beaufort, North Carolina had exposed us to tales of the state's most famous pirate, Blackbeard (or Edward Teach, as his mother called him). His spirit (or at least his name) appeared everywhere in the Outer Banks.
Aviation enthusiasts will remember the Outer Banks as the site of the Wright Brothers' first flight.
And I remember being fascinated in middle school with tales of the lost English colony of Roanoke Island. The only clue to the disappearance of more than 100 colonists was the word "Croatoan" carved into the rock. Even today, there isn't enough archaeological evidence to know what happened.
Some argue that the colonists assimilated into the indigenous Algonquin community. Others point to the poor relations the first colonists had with the original inhabitants in arguing that the colonists were killed or simply starved without outside support.
Four hundred years later, it's possible we'll never know.
Would the modern Outer Banks show any signs of its historical and mysterious past? Or would it look like other beach communities we had visited? It was time to find out!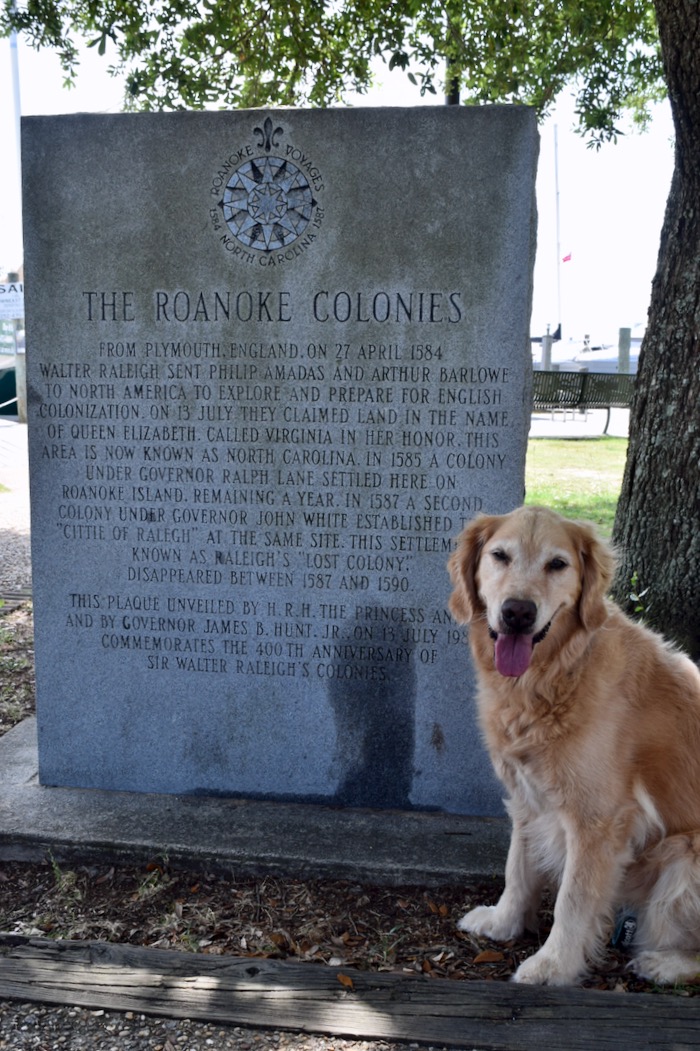 Navigating the Outer Banks
The Outer Banks (or OBX as it's often called) is a series of barrier islands. Well, not entirely islands. The Northern Outer Banks now connect to the mainland after years of storm damage. The northernmost peninsula lies just south of Virginia Beach and near the more-interesting-than-it-sounds Dismal Swamp. 
North Carolina Route 12 connects most of the island settlements. It ends at the inlets where ferry service pick up until the road starts again on the next island. And yes, North Carolina ferries are all pet friendly!
Until 1930s no bridges reached the Outer Banks. The only access was by boat. As a result, the accent of some of the natives is quite peculiar, sounding more like the British Isles than the rest of North Carolina.
One thing the Outer Banks does share with the rest of the South is a welcoming hospitality, especially if you're accompanied by a furry friend.
Things to Do with Your Dog In the Outer Banks
There's something for everyone in the Outer Banks. Let's start with what draws most people to the area … the beaches!
Beaches
Most beaches in the Outer Banks are dog friendly at some point during the day with only a few restrictions. Of course, all beaches require you to clean up after your pet—bagged and removed, not buried in the sand. 
Any restrictions mentioned below do not apply to service dogs who are trained to provide assistance to a disabled person.
Also note that there may be wild horses in the northernmost Outer Banks. So disobeying leash laws can be dangerous if your pup is curious about large creatures.
The Outer Banks beaches from the north to the south:
Corolla – Corolla beaches are pet friendly year round at all times of the day. But you must keep pets leashed at all times. Use the town's handy guide to find all the public access points and amenities.
Duck – Your dog may frolic on Duck beach without a leash, as long as she is under your voice control and doesn't harass wildlife or other beach goers. However, you won't find any public beach access points in Duck. Stay in a pet friendly rental property here and you'll have a great time on your nearly private beach.
Southern Shores – Sorry, you can't take your dog on the beach from May 15 – September 15. At all other times, you must keep them on leash.
Kitty Hawk – From the Friday before Memorial Day until the day after Labor Day, restrain your dog on a 6-foot leash between 10am and 6pm. At all other times, your dog may be off-leash under your voice control as long as they are within 30 feet of you and not harassing others.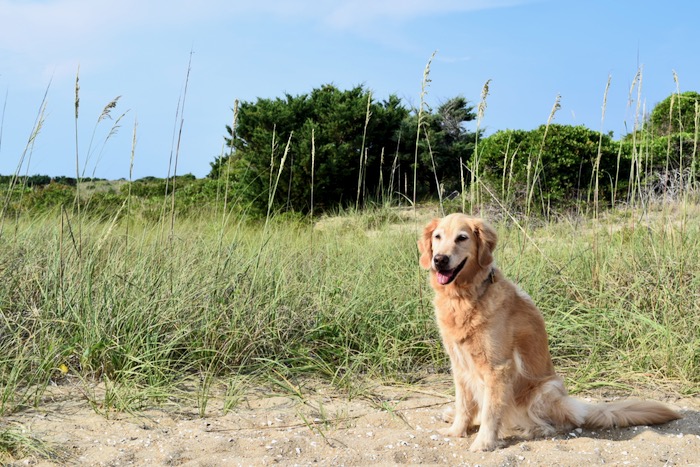 Kill Devil Hills – Between May 1 and September 30, dogs can go on the beach before 9am and after 6:00pm. When your dog is on the beach, he must be leashed.
Nags Head – Your dog is welcome on the beach at any time, all year long. But pets must be leashed at all times. Horseback riding is allowed on Nags Head beach from October 1st through April 30th.
Rodanthe – Dogs are allowed on the beach year-round. But you must restrain them with a six-foot leash.
Cape Hatteras National Seashore – Dogs are allowed on the beach year-round if they are restrained on a six-foot leash. But they cannot go on designated swimming beaches. The same rules apply for all towns on Hatteras Island which comprise Rodanthe, Waves, Salvo, Avon, Buxton, Frisco, and Ocracoke.
During the middle of the day, the sand is scorching to naked paws. So maybe you want to visit a grassy spot instead. How about visiting the lighthouses or touring one of the area's historic sites?
Historic Sites
Although not technically part of the Outer Banks, Roanoke Island lies between the barrier islands and the mainland. It's well worth visiting, especially if you love history.
You can learn about the first English settlements in the Fort Raleigh Historic Site. While you're there, explore the beautiful Elizabethan Gardens. There is an entrance fee for the gardens and a small fee for your dog as well. 
While you're on the island, the Victorian town of Manteo is a charming place to stop for lunch. The Lost Colony Brewery and the more upscale Avenue Waterfront Grille both have pet friendly outdoor seating. 
Both eateries are a short walk from the Roanoke Marshes Lighthouse. The current building is a replica of the more unusual screw-pile form of signal light in this area. You're free to have a look inside, although your pet must wait for you outside.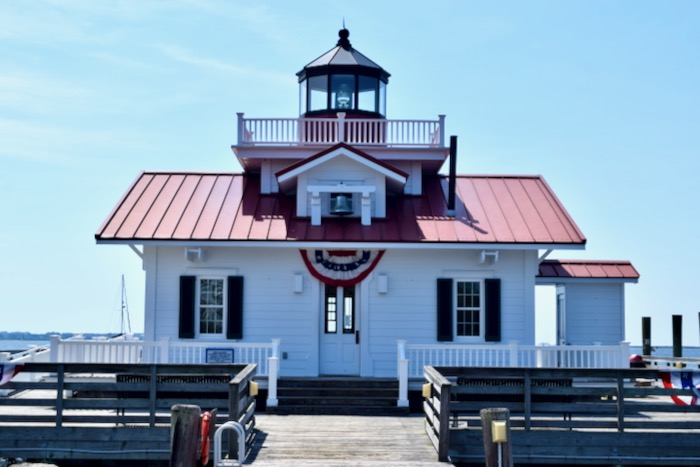 Another great dog friendly Outer Banks site is the Wright Brothers National Monument. Markers point out the starting and ending place of the most famous 12-second flight ever. 
Ocracoke is the most remote of the islands, reachable only by ferry, private boat, or small plane. For many years, it served only as a pirate hideout. What is now Ocrocoke's Springer Point Nature Preserve was formerly known as Blackbeard's Plantation. Watch for gold bullion while you're searching for shells on the shores of the Pamlico Sound!
Outdoor Fun
The Currituck Sound on the northern side of the Outer Banks is very shallow. In fact, it's perfect for kayaking. And the historic Corolla Town Park has an excellent boat ramp from which to launch. 
If you don't have your own kayak, Outer Banks Kayak Adventure of Nags Head will allow you to bring your dog on a private, guided tour. Just be sure to call ahead to make the arrangements.
Jockey's Ridge State Park has the tallest living sand dunes on the Atlantic coast. You must keep your dog on leash, but you will both get quite a workout. The sand gets hot, so plan your dune explorations for early or late in the day during the summer. But you can enjoy the shady hiking trails through the sound side of the park any time of the day.
Obviously, there no shortage of dog friendly outdoor fun in the Outer Banks!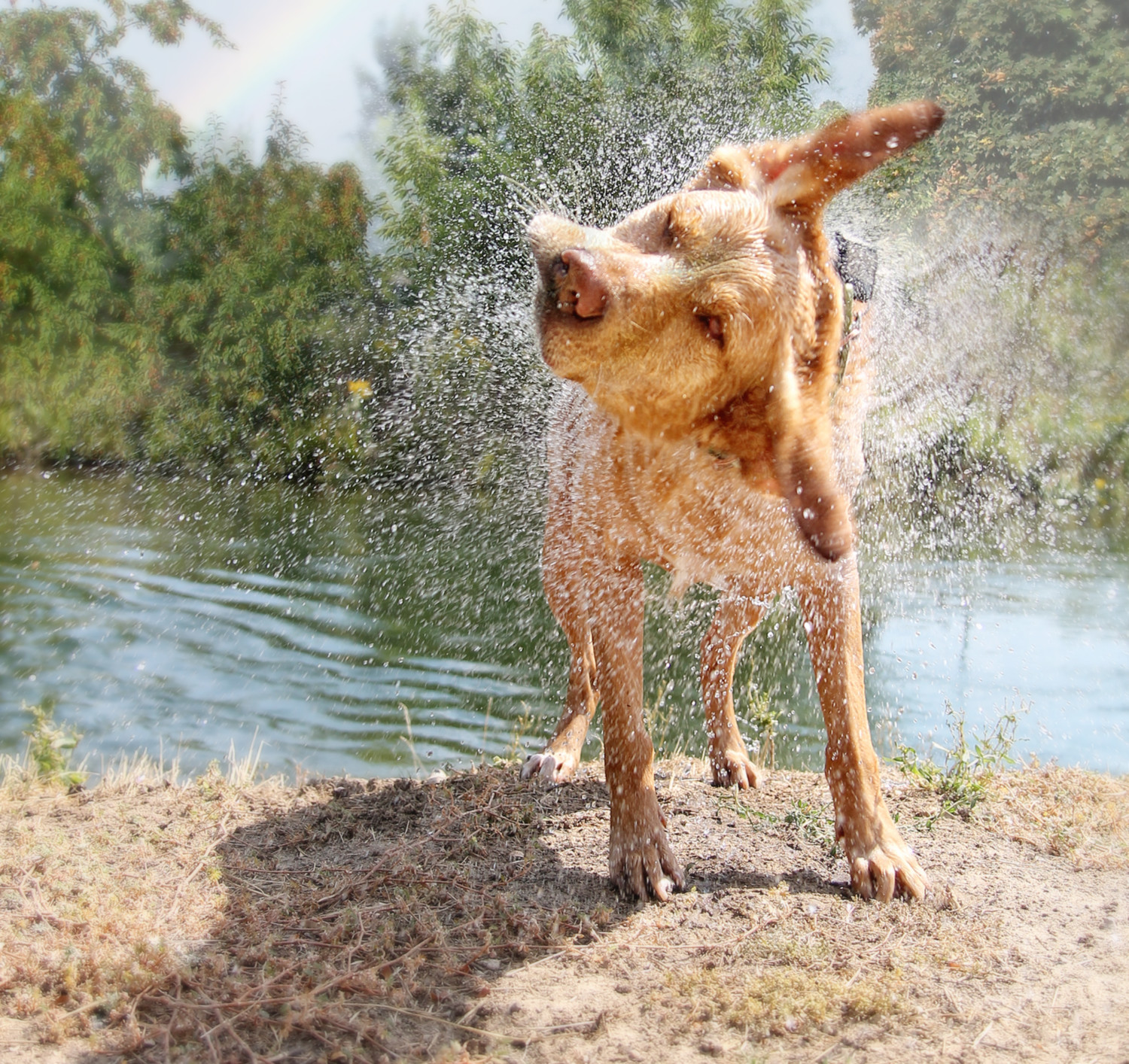 Planning Your Outer Banks Visit
The Outer Banks are beautiful all year round with mild winters. But it's worth thinking about the weather before planning your vacation.
The Outer Banks is called the Graveyard of the Atlantic for a reason. It is highly subject to hurricane damage. And it is where most Nor'easters get their start before dumping inches of rain and snow on the northern Atlantic coast.
Fall is a lovely time to see the Outer Banks but get travel insurance and have a good back-up plan in case a hurricane is predicted to strike nearby. Even hurricanes out at sea can cause damage to these fragile islands.
Summer is definitely the most popular time to visit. But keep in mind that although you can take your dog with you onto the beach year round in some towns, you might not want to. Honey and I learned the hard way just how hot the sand gets at midday in June. I left my shoes with my husband, and Honey and I ran for the surf to cool our burning feet!
You'll find no shortage of pet friendly accommodations, from family-owned beach motels to elegant inns. There are both private and public campgrounds where you can sleep right on the beach. And there are many pet friendly vacation homes for rent.
We discovered that most restaurants have outdoor seating. And in our short visit, we didn't find a single restaurant that turned us away with Honey. Fresh seafood is a huge draw and you can find it everywhere, from the modest ice cream and fried shrimp joint to high-end restaurants. 
In a very short visit, we got a tantalizing taste of a fascinating area. I've already started planning our next trip there on our boat. If you haven't been there yet, add it to your future vacation plans. Your dog will thank you!
DO MORE TOGETHER
Amazon Affiliate Disclosure: GoPetFriendly.com LLC is a participant in the Amazon Services LLC Associates Program, an affiliate advertising program designed to provide a means for website owners to earn advertising fees by advertising and linking to amazon.com, audible.com, and any other website that may be affiliated with Amazon Service LLC Associates Program. As an Amazon Associate, the owner of this site earns a commission from qualifying purchases.
(Visited 6,949 times, 1 visits today)