Visiting Cincinnati with your pet? With this great itinerary you'll have a fantastic weekend exploring the top pet friendly places in the Queen City. Or use it as a starting point for a longer stay!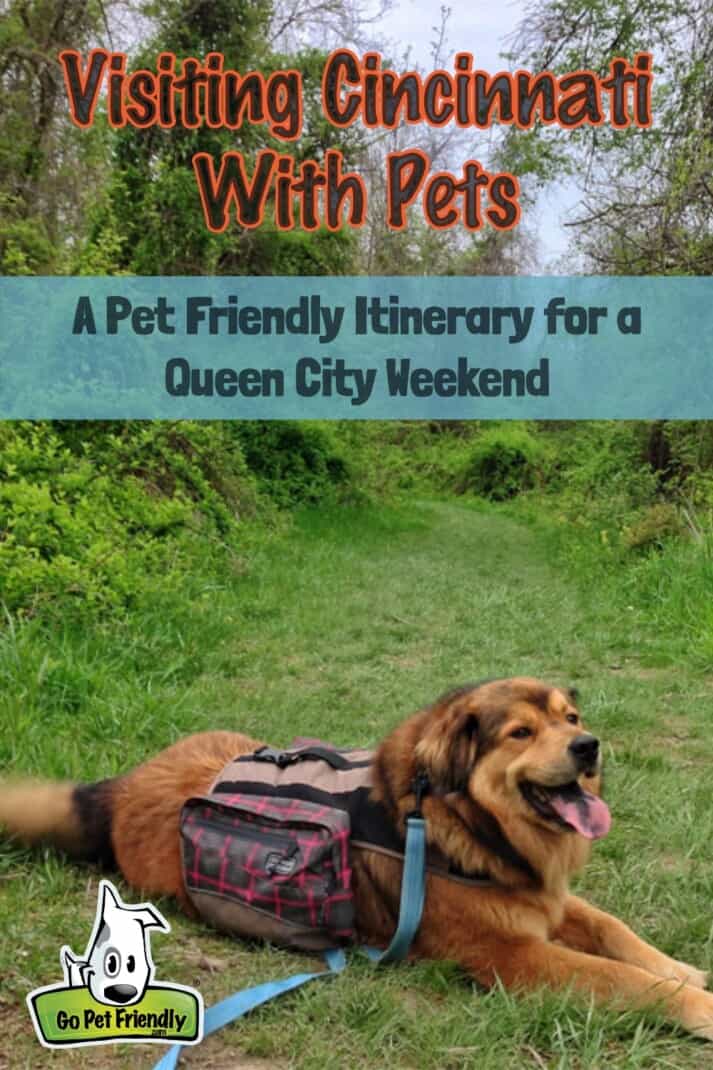 Kelly Schroder, a Cincinnati local, suggested a weekend itinerary for a PET-tacular intro to her home town. And she tested out every spot with her adorable Golden/Chow mix, Romeo. Here are her "must visit" destinations for dogs who have a weekend to spend in the Queen City!
Pet Friendly Cincinnati – Day One
The best way to start a visit to any city is by walking around. You will get your bearings. Your dog will burn off some pet up energy from your drive. And you just might find some cool things to return to later.
Take A Walking Tour
Get acquainted with downtown Cincinnati by strolling along the color-coded walking routes. The paths range from 1 to 3 miles, and all you have to do is follow the signs.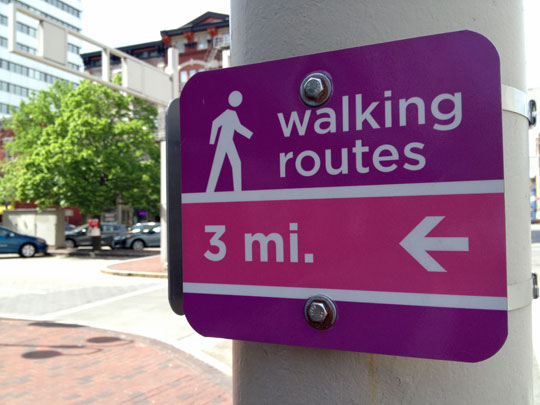 You and your dog will explore the heart of downtown, walking past Fountain Square, City Hall, the main library, Government Square, the Taft Art Museum, and several parks. The pink route loops through Sawyer Point, a riverside park where there's almost always something happening!
If you still have some energy left, take the Smale Park walking tour for additional views of the riverfront and the stunning fountains.
Findlay Market
Findlay Market is Ohio's oldest continuously operating public market, and the perfect spot to take a break and get a bite to eat. From April to November the market features special events, street performers, and dozens of additional outdoor vendors.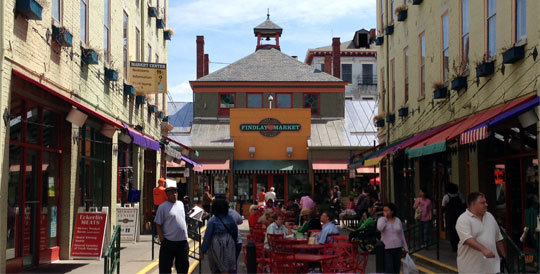 Make sure to stop and get your pooch a snack at Pet Wants, a local pet food company where you can pick up individual treats for pups who want something to nibble on at the market. Romeo recommends the sprinkle doggy doughnut!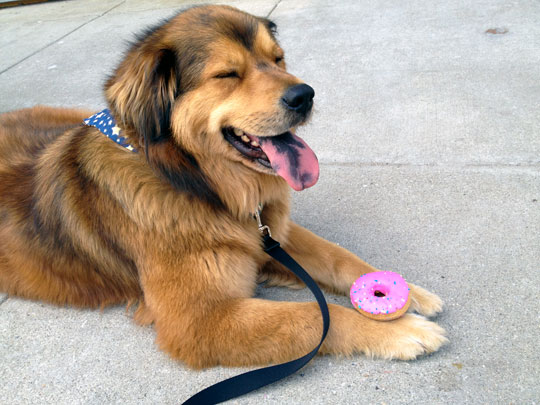 Washington Park
Just a few blocks from Findlay Market is Washington Park. Right across from the picturesque Music Hall, this park features a small off-leash dog run that is perfect for relaxing, sniffing a few rocks, splashing in the water feature, and hanging with the locals.
After your romp, settle in for a flick. Saturdays in June, July, August, and the beginning of September are movie nights on the Civic Lawn. They could be showing anything from a classic romance story to a modern comedy.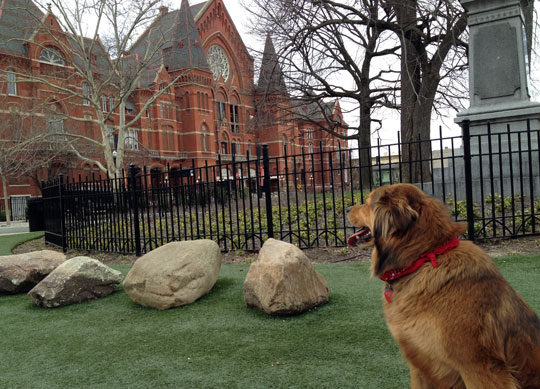 Pet Friendly Cincinnati – Day Two
After spend a day exploring downtown, you'll probably be ready for a bit of nature. There are a number of beautiful parks to hike around Cincinnati. But if can only choose one, we have a great one for you!
Cincinnati Nature Center / Rowe Woods
Rowe Woods is home to almost every nature lover's favorite habitat. Take your pick of deciduous forests, lakes, streams, wetlands, glacial outcrops, prairies, and wildflower fields. There are over 16 miles of trails to guide you through it all, with benches and shelters sprinkled along the way for picnic breaks.
While you are generally asked to discourage dogs from wading in water, a few trails pass right through streams (like the Redwing trail and the Far Ridge trail). Romeo loved having the chance to splash as we made our way through, getting himself (and ultimately, me) wet!
Head's Up: The Visitor Center serves only coffee, so pack a lunch.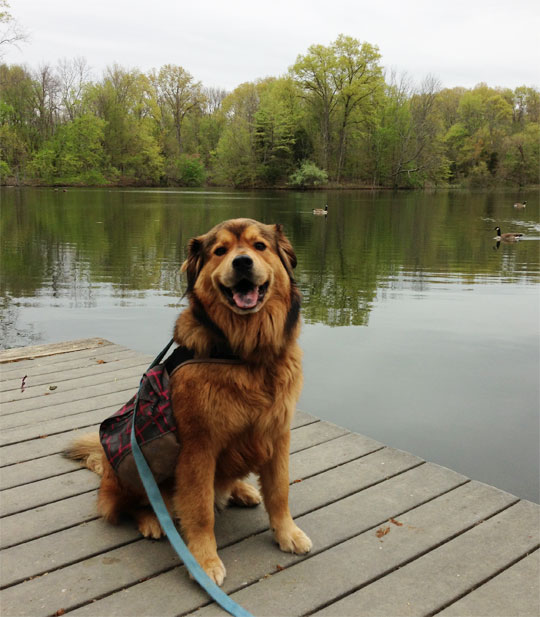 Pin's Mechanical
Leashed dogs are welcome to join you at Pin's Mechanical, a bar with games that is just the place for unwinding with a post-hike toast to your weekend. They offer lots of fun activities, including duck pin bowling–which could be endlessly entertaining (or frustrating) for your ball-chasing dog. And you can spend time with your dog both inside and outside.
In addition to the delicious shaved ice cocktails and beer specials, they also host local food trucks offering eats for hungry humans.
If the scene is too busy for your pup, you can choose from one of Cincinnati's many other pet friendly breweries.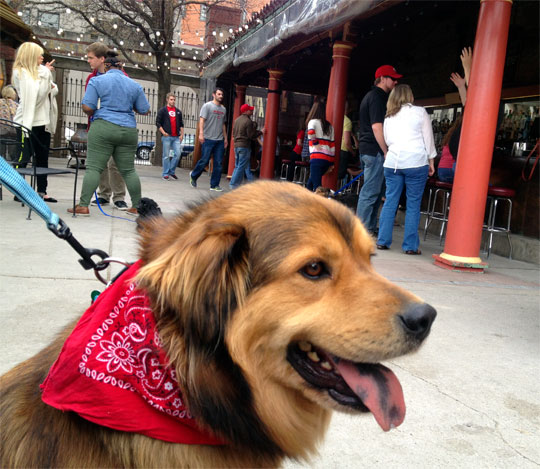 Where To Stay
If you're coming in from out of town, GoPetFriendly.com has listings for a nice selection of pet friendly hotels in Cincinnati (the Residence Inn is downtown). Or stay just a little farther out at the Red Roof Inn in Sharonville for an affordable but still convenient stay. And best of all, pets stay free!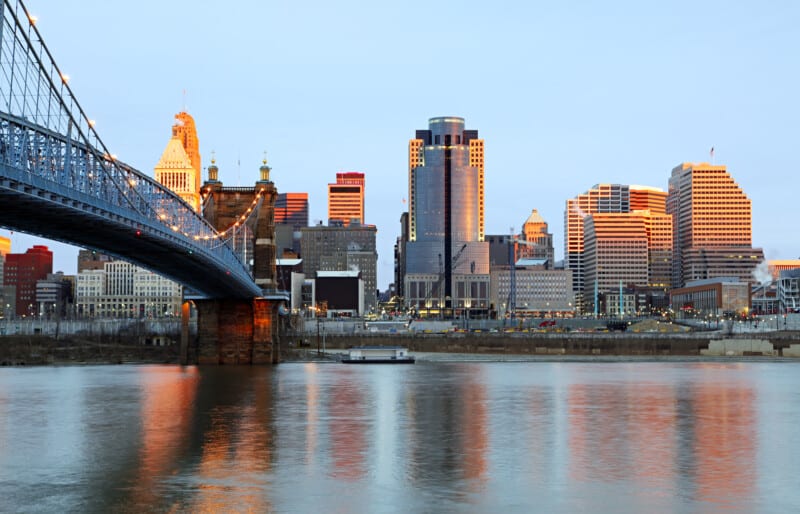 Visiting Cincinnati with your pet is an easy and fun stay. Or use it as a jumping off point for a trip farther west or heading south to nearby Louisville, Kentucky!
Author Bio: Kelly Schroder has a weakness for furry faces and muddy paws. She writes for a software development company by day, then scooters home and rubs Romeo's belly by night.
(Visited 8,761 times, 1 visits today)