Guest post by Karen Friesecke of DoggieStylish.
The recent spate of cold weather has had me fondly thinking of the warmer days of Summer. This past Labour Day, some friends and I decided to head up to Wasaga for a day of beach fun.
Wasaga Beach is an Ontario Provincial Park that is located on Georgian Bay, which is part of Lake Huron. At 14 kilometers, it is the longest freshwater beach in the world and is split up into eight sections.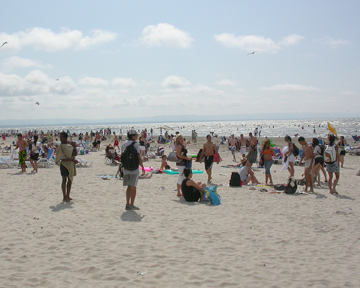 Wasaga boasts beautiful white sandy beaches and shallow, warm water which makes it an ideal family destination. The fee for day use is modest – I think that is was $10 or $12 per carload – but I can't remember. At an easy 1 1/2 hour drive from Toronto, it is a popular summer destination for most Southern Ontarians.
As a child, I used to visit Wasaga Beach yearly. Since I haven't been back for about 16 years, a lot has changed. In November 2007, 20 buildings of the main drag were ravaged by fire. There are plans to rebuild this area, but nothing had been done when I visited. Also, all the beaches were dog friendly, but now dogs are restricted to Beach 1. On a happier note, the old bathrooms were upgraded to cleaner, more modern facilities.
The main drag is okay and has the typical tourist trappings of food and souvenir vendors. It's no Daytona or Myrtle Beach, but it is acceptable. There is a small waterslide park and midway rides for the kiddies and most of the food vendors don't mind if your dog sits with you on the patio.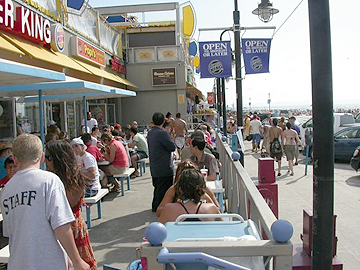 The accommodations in the beach area leave something to be desired.  I stayed in Wasaga Beach twice when I was a kid and my memories of the accommodations are less than warm and fuzzy. Most of the hotels and motels were built in the 60s and 70s and are in dire need of upgrades.
The hotels that are decent, and I use this term loosely, have very basic amenities. Most do not have internet connections, in-room coffee makers or housekeeping services. Some places don't even have telephones in the rooms. Almost all hotels have a 30 day cancellation policy, which I find absolutely ridiculous, and upfront payment upon check-in. For what you get, the rooms are expensive. Most rooms start at $100 per night and double the price on the long weekends. About half the hotels allow pets, but take it from me, keep Wasaga as a day trip. Booking a hotel in Wasaga will more than likely result in disappointment.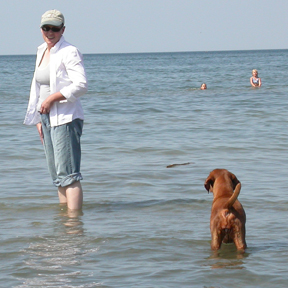 As for my day at the beach? It was really a lot of fun! The sun was warm and the wind was almost non-existant. We had a good time swimming in the warm water and Jersey enjoyed many a game of fetch. There are a lot of trees near the dunes so we had no problem finding shade. Picnic tables are available, but you have to get there early to get one. Some folks even brought little hibachis to the beach for a barbecue.
==> Updated Information on Wasaga Beach!
Karen Friesecke is a dog lover and guardian to a Vizsla named Jersey. You can find Karen at Doggie Stylish, which features DIY pet projects and pet product reviews.
Planning a pet friendly trip of your own? We'll make it easy:
Pet Friendly Hotels | Pet Friendly Destinations | Pet Friendly Activities
Amazon Affiliate Disclosure: GoPetFriendly.com LLC is a participant in the Amazon Services LLC Associates Program, an affiliate advertising program designed to provide a means for website owners to earn advertising fees by advertising and linking to amazon.com, audible.com, and any other website that may be affiliated with Amazon Service LLC Associates Program. As an Amazon Associate, the owner of this site earns a commission from qualifying purchases.
(Visited 1,670 times, 1 visits today)