Just for the record, we're not really bourbon drinkers – but when you find yourself in bourbon country, touring the distilleries has a certain appeal. Not to mention the bourbon balls … those delightful little chocolate-covered confections that took hold of Rod's heart and refused to let go. For those of you who are unfamiliar, bourbon is made in Kentucky, in the pastoral area south of Louisville and east to Lexington. Six of the distilleries form the Kentucky Bourbon Trail, and having your "passport" stamped at all six will get you a free t-shirt! (Ours are on the way.)
Always on the look-out for things the dogs will enjoy, our first stop in bourbon country was Bernheim Forest – thanks to a suggestion we got on our Facebook page. This 14,000 acre arboretum, forest, and nature preserve was founded in 1929 by Isaac Wolfe Bernheim, a German immigrant and successful brewer whose whiskey distillery business established the I.W. Harper brand. The Frederick Law Olmsted landscape architecture firm started work on designing the park in 1931 and it opened in 1950. Divided into two areas  – the arboretum and the natural area – the park now offers more than 35 miles of pet friendly hiking trails, and Ty and Buster were more than happy to explore.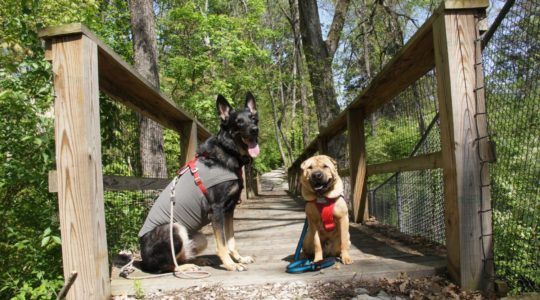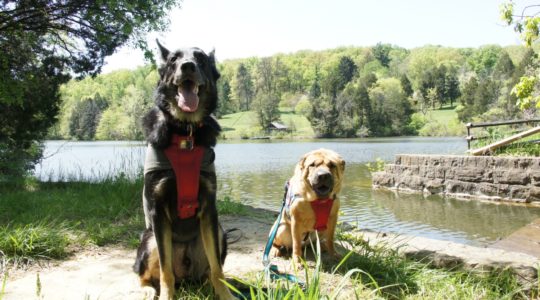 The Kentucky Bourbon Trail
Touring all six bourbon distilleries on the Kentucky Bourbon Trail isn't something you'd want to do in a day. Spread over about 70 miles, each of the distilleries offers an approximately one-hour tour, and they're generally open from around 9 or 10am until around 3 or 3:30 in the afternoon. Tucked away on little back roads, their locations encourage a leisurely pace and we spread our visits over three days. Pets are not invited to join you on the tours, for reasons that will become obvious momentarily. However, we were invited to walk the dogs around the grounds at the distilleries we visited. (Leaving your pet in a vehicle can be deadly – especially in the hot, humid Kentucky summers. Be sure to take proper precautions to protect your pet, or take along a buddy who will alternate pet-sitting and touring with you.)
Jim Beam
The Jim Beam distillery makes the #1 selling bourbon in the world, and the tour provides the history of the seven generations of the Beam family that have crafted this well-known whiskey.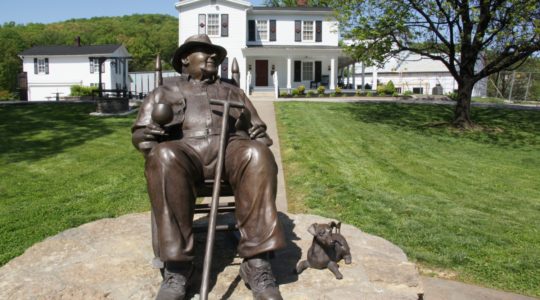 On your way into the distillery, just across from the post office, there is a parking area with access to a beautiful, paved hike and bike path. It's the perfect place for your dogs to stretch their legs!
Woodford Reserve Distillery
Our tour of Woodford gave us a good understanding of the bourbon-making process. At this small distillery, they treat you like family and show you every step in the process. One of the things we learned is that as bourbon ages, alcohol evaporates and it's the alcohol vapor that turns the buildings and the trees so black. During prohibition the authorities would look for this tell-tale sign when hunting down moonshiners.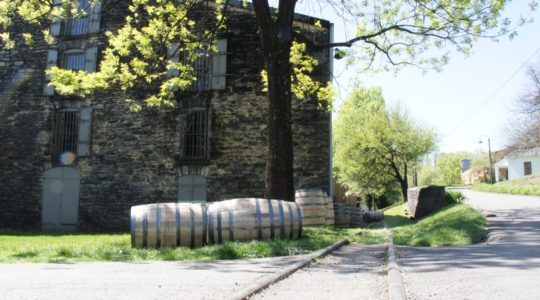 Ground corn and other grains are cooked and allowed to ferment in these two-story open tubs – which is why pets cannot be allowed on the tours. Hair of the dog is something you drink the next day … not something the distillers want to find in the fermenting mash!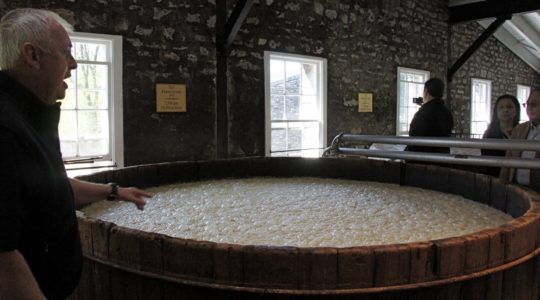 When the mash is finished fermenting, it's pumped to the still … at Woodford, their stills are these unique creations made of copper.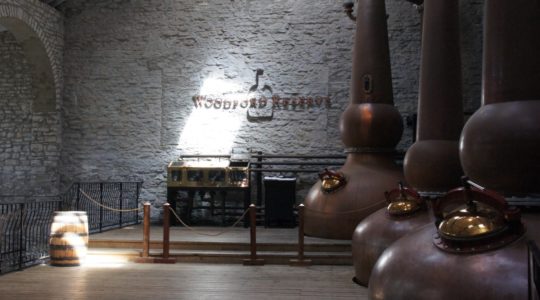 After a double distillation, the bourbon-to-be is placed in new, charred oak barrels and aged in huge warehouses.
When the time is right (usually between 4 and 8 years) the barrels are tapped and the bourbon is bottled.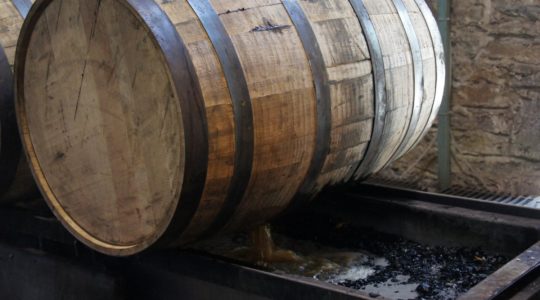 Maker's Mark
The tour of Maker's Mark was equally educational and just edged out Woodford as our favorite because of their gorgeous grounds.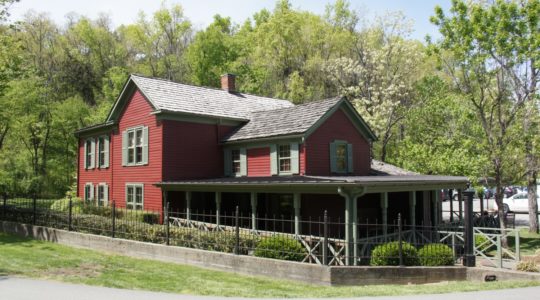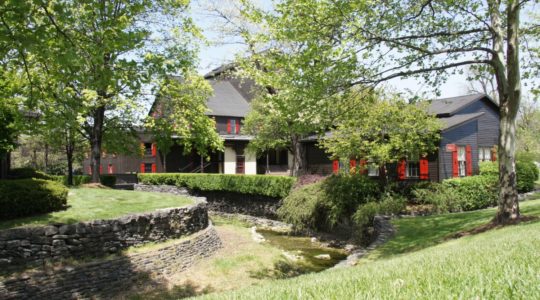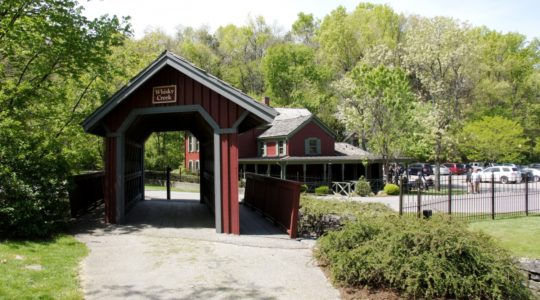 Wild Turkey
The tour of the Wild Turkey distillery was impressive because of it's size and level of automation. I should also mention that I've fallen in love with their American Honey – a honey and bourbon liqueur – which is delicious in Ginger Ale on warm days and toe-tingling when combined with hot tea on cold days. Plus, the boys were welcome to run to their heart's content in the grassy area behind the tasting room … and we had fun taking pictures …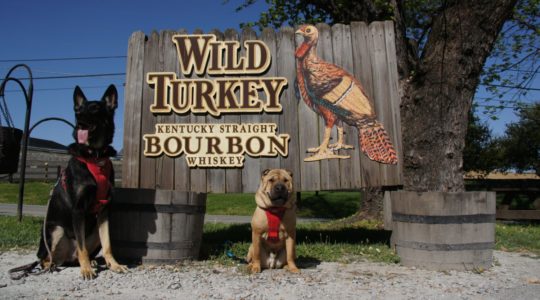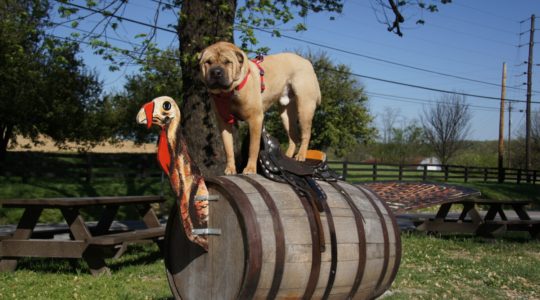 We found the tours at Four Roses and Heaven Hill to be less entertaining. Four Roses is just a quick walk through the distillery, which we'd seen plenty of by that point. They don't barrel or age any of the bourbon on the site, so there wasn't a lot to see. And, Heaven Hill's distillery was almost completely destroyed by fire in 1996. They've since moved their production facility to Louisville, and opened a Bourbon Heritage Center on the old distillery grounds in 2004. The displays and diagrams they offer left a little to be desired after getting the hands-on experience at the other distilleries.
Planning a pet friendly trip of your own? We'll make it easy:
Pet Friendly Hotels | Pet Friendly Destinations | Pet Friendly Activities
Amazon Affiliate Disclosure: GoPetFriendly.com LLC is a participant in the Amazon Services LLC Associates Program, an affiliate advertising program designed to provide a means for website owners to earn advertising fees by advertising and linking to amazon.com, audible.com, and any other website that may be affiliated with Amazon Service LLC Associates Program. As an Amazon Associate, the owner of this site earns a commission from qualifying purchases.
(Visited 20,437 times, 1 visits today)