I'm not sure when it happened, but somewhere along the way I seem to have become an old biddy.
It was painfully obvious during the ten days we spent on Mustang Island, just north of Padre Island off the coast of Corpus Christy … at Pioneer Beach Resort RV park, walking distance of the dog friendly beach. You'd think there'd be nothing to complain about, right? Well, I found plenty and (much to Rod's chagrin) I covered them in spades. Here are the prime offenders:
Spring Break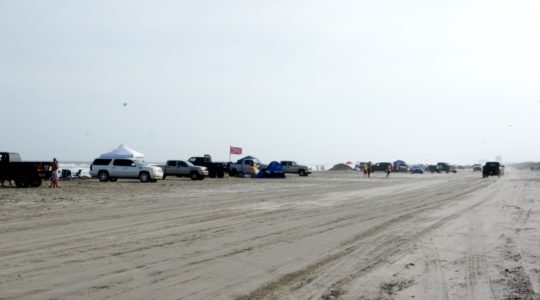 We inadvertently scheduled our stay during Spring Break. The crowds, no doubt, exacerbated the degree to which I was agitated. In addition, my impression that our young people are concerned about the environment was seriously challenged. The evidence I saw was that many college co-eds are happy to drink themselves silly and leave their trash strewn all over the beach.
Humidity
I have no idea how people stand the humidity. I mean some humidity is fine, and even makes breathing more comfortable … but this was ridiculous. Limited visibility as a result of the mist on your eye glasses is where I draw the line. Your clothes are damp, your towels stay soggy, and even your bedding gets clammy with such a high dew point. I find it oppressive and it makes me crabby.
Driving On The Beach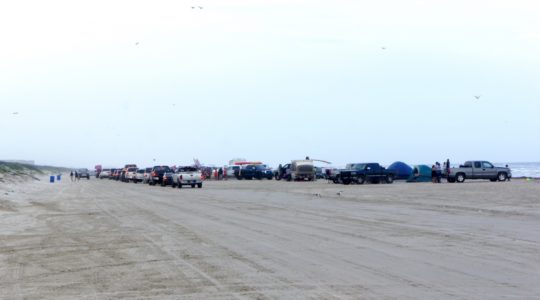 In some places (like Mustang Island) people are allowed to drive on the beach. Yes, right on the beach. There are a whole litany of reasons I find this irritating. First, there's the constant concern of being run over by one of those college kids who may have had a few too many. Second, rather than a peaceful place, the beach resembles a parking lot during a tail gate party with the music blaring and the footballs being thrown around. Third, the sand kicked up when vehicles whip by ends up in your hair, nose, eyes, and mouth. Yuck.
Wind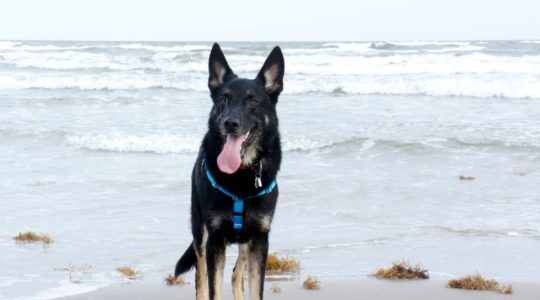 This may sound silly, but I hate the wind. Riding in a car with the windows rolled down is akin to fingernails on a chalkboard for me – and the wind while we were on the Gulf was fierce.
Rebel Flags
Having been raised far north of the Mason-Dixon, I'm hoping someone can explain to me the point of flying of a Confederate flag. Looking down the beach, you'd see half a dozen at any given time. Is it an endorsement for the politics of the South during Civil War times? Are you harkening back to the good old days? Why is the losing side of that confrontation so popular? If you want to show your chosen affiliations, why not fly the American flag, the flag of Texas, or your college of choice. I find the rebel flag to be an insensitive and offensive choice.
Bitey Face
To put the icing on the cake … one day during our walk on the beach we passed a parked car with a dog tethered to the other side. Before we even saw him coming he was on top of Ty, biting him in the face. Buster bravely defended his brother and we were able to get away with some superficial injuries around Ty's eye. Luckily it wasn't any worse because the owner of the other dog was intoxicated and unapologetic.
It's My Problem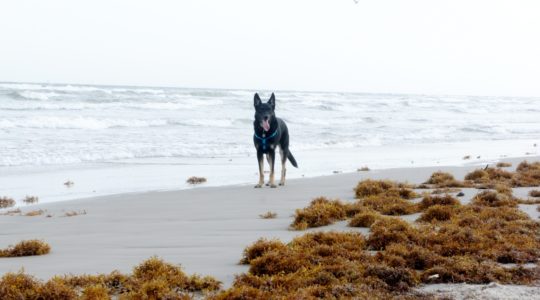 The boys thought the beach was just fine – even Ty didn't hold a grudge and was ready to hit the sand again the next day. One rainy day the beach was quiet and Buster got to play off-leash for a bit. If misery loves company, I was a lonely curmudgeon … both within our four walls and amongst our cheerful neighbors. Everyone has their preferences and this place just didn't tick my boxes. I won't fall in love with every place we visit, but that doesn't mean I won't go find out!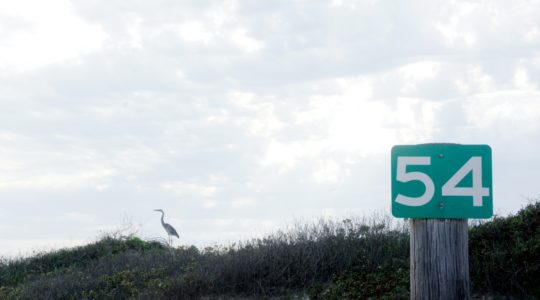 Don't forget … you can vote now to determine which cities are in the Final Four of the Best City for Pet Travelers tournament!
Planning a pet friendly trip of your own? We'll make it easy:
Pet Friendly Hotels | Pet Friendly Destinations | Pet Friendly Activities
Amazon Affiliate Disclosure: GoPetFriendly.com LLC is a participant in the Amazon Services LLC Associates Program, an affiliate advertising program designed to provide a means for website owners to earn advertising fees by advertising and linking to amazon.com, audible.com, and any other website that may be affiliated with Amazon Service LLC Associates Program. As an Amazon Associate, the owner of this site earns a commission from qualifying purchases.
(Visited 1,087 times, 1 visits today)