A few weeks back we spent a weekend getting to know the pet friendly aspects of Boston. What a great place to hang out with your dogs! A bright patchwork of 21 neighborhoods, the city celebrates its dynamic history and its marriage to the water. The Charles River not only gives Boston access to the Atlantic, but also ensures the city remains compact and walkable. Entertaining the dogs for a couple of days was no problem – in fact, we didn't get to see it all!
The Freedom Trail
We started with The Freedom Trail, a 2.5 mile red brick trail through the city that leads you past 16 Colonial and Revolutionary historical sites like Boston Common, Paul Revere's house, the Old North Church and Faneuil Hall. We thought it would be a good way to get an overview of downtown while checking an item off our bucket list … apparently, hundreds of other tourists felt the same way. My suggestion for those of you touring with dogs: go on a weekday – or at least walk on the opposite side of the street from the red brick path to avoid the hoards.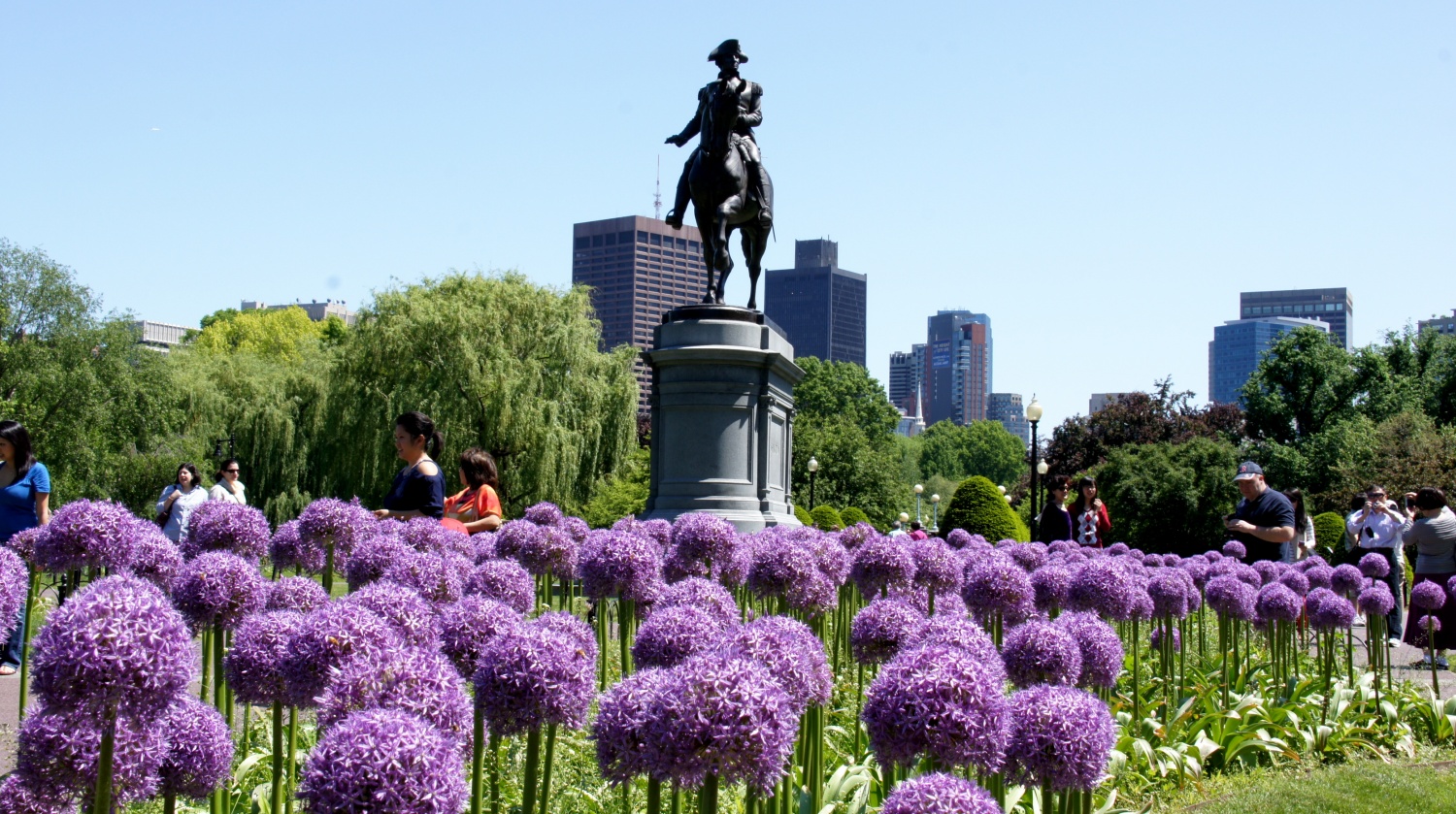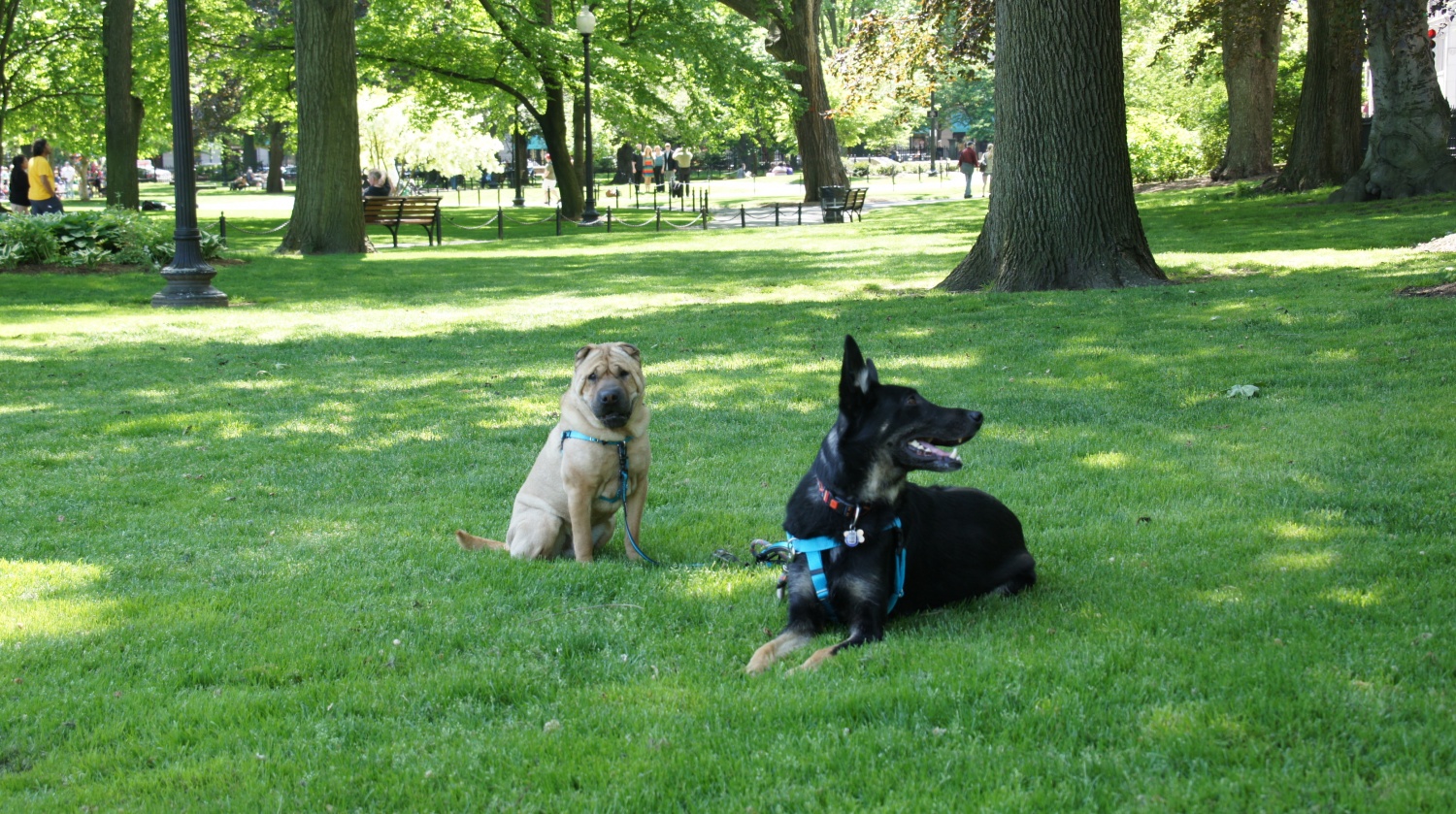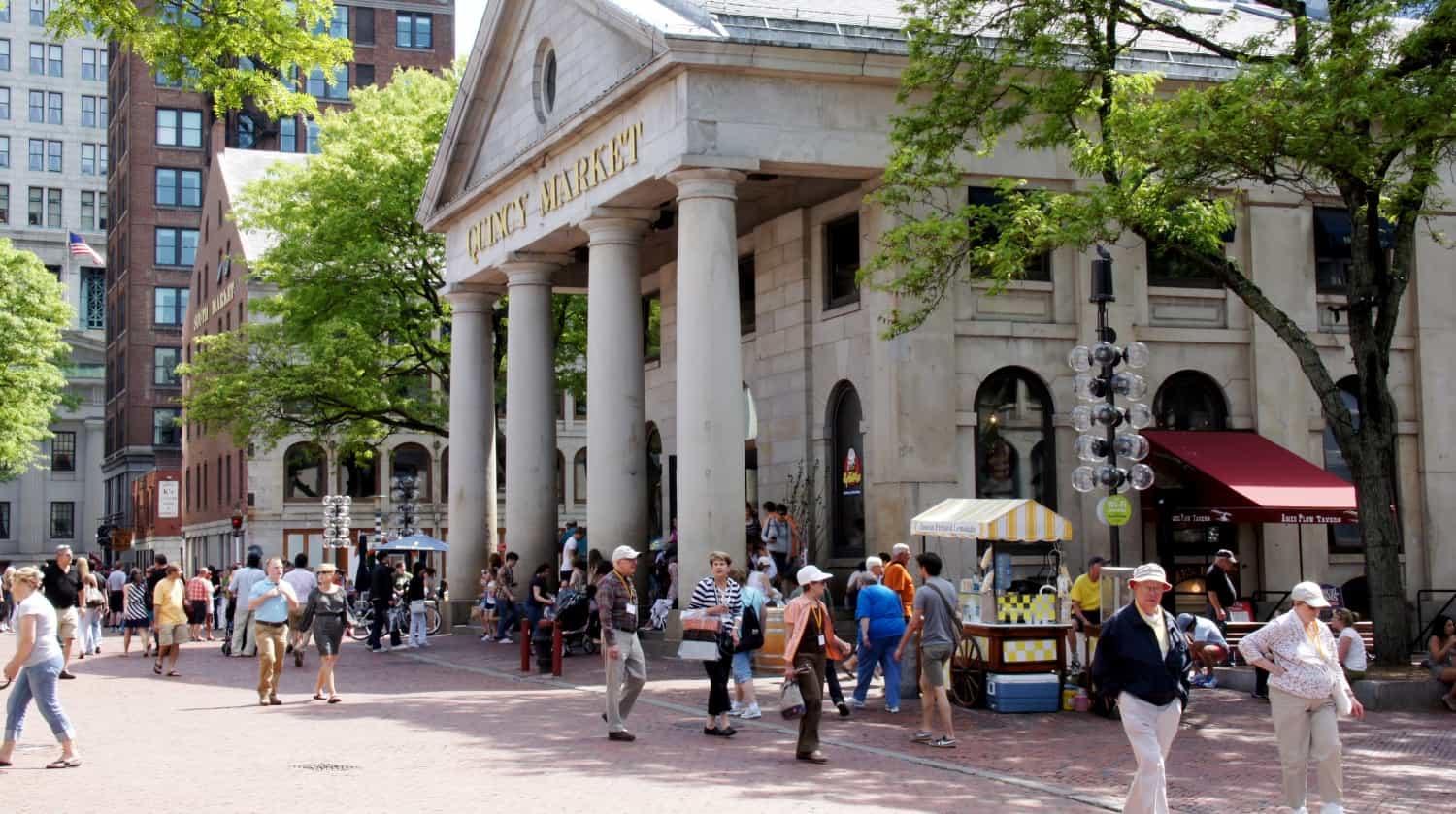 Rose Kennedy Greenway
Getting off the trail and jumping on the Rose Kennedy Greenway was much more relaxing. This series of parks and green spaces stretches for about 1.5 miles from New Sudbury Street to Summer Street. With plenty of space to maneuver and things to sniff, we were all relieved to find this oasis in the city.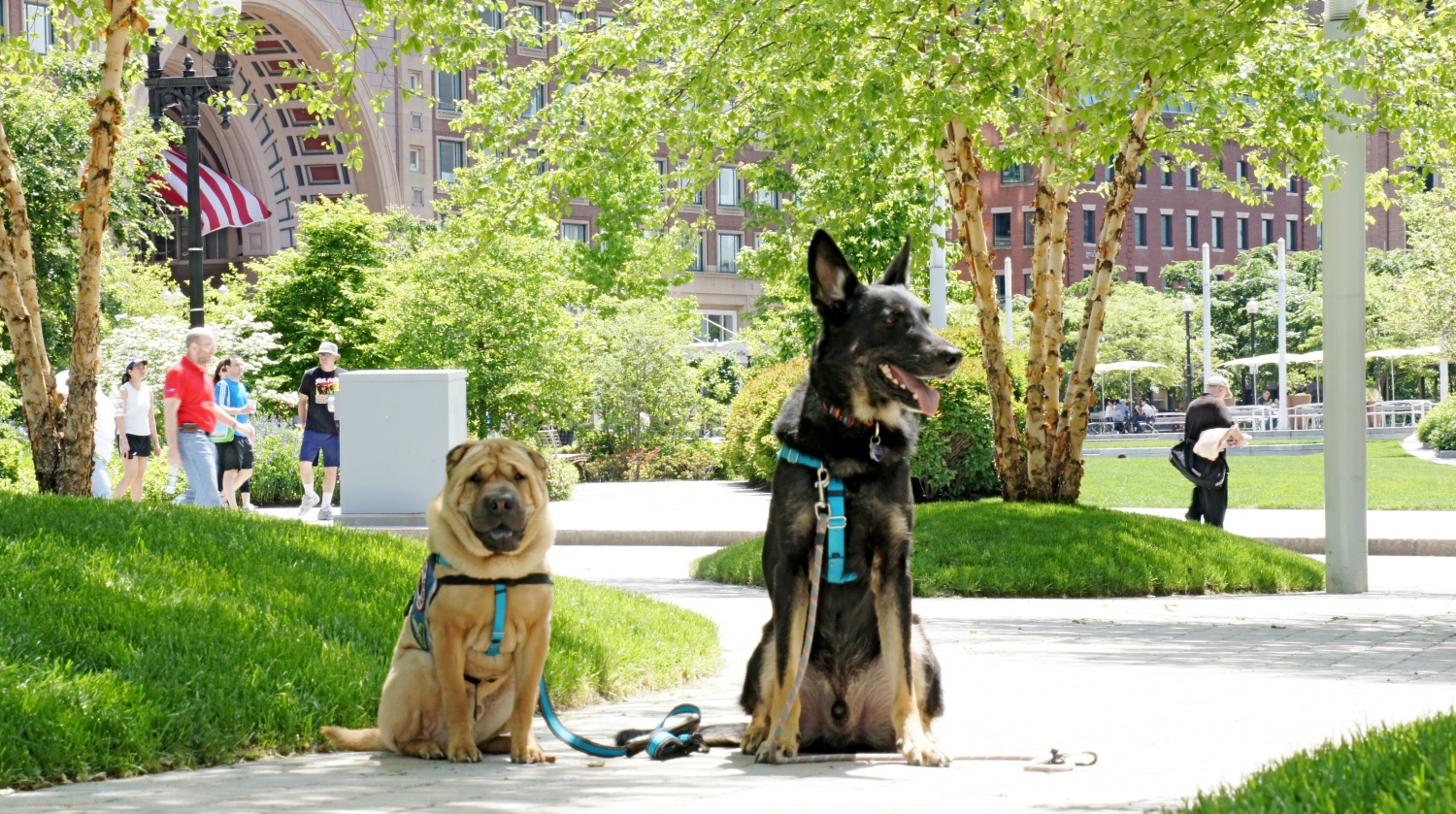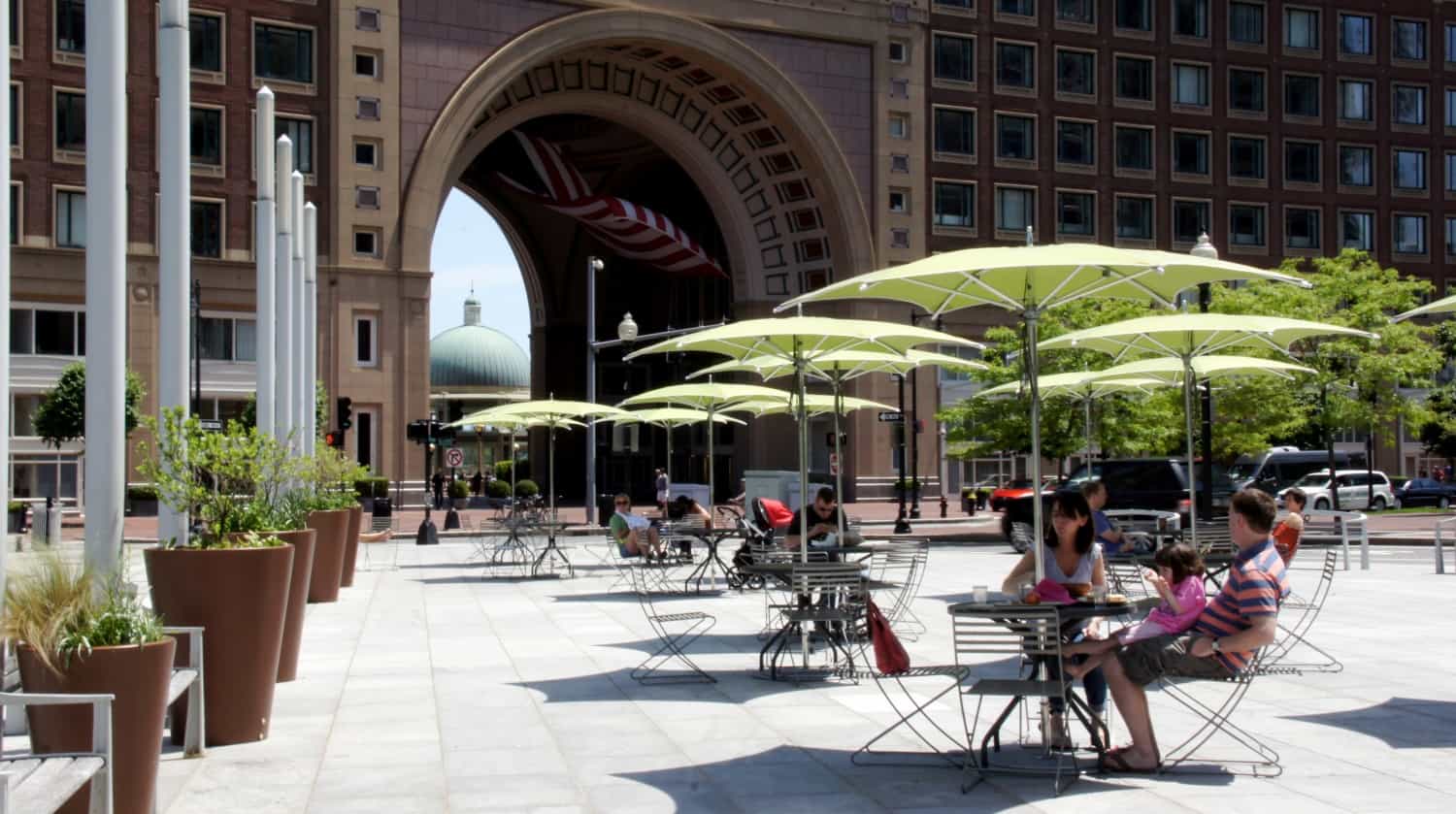 Harbor Walk
From the end of the greenway it was only steps to the Harbor Walk, a public walkway that runs along the harbor for 38 miles. Winding by parks, public art installations, and seating areas, it's the perfect space to soak up the ambiance of the waterfront.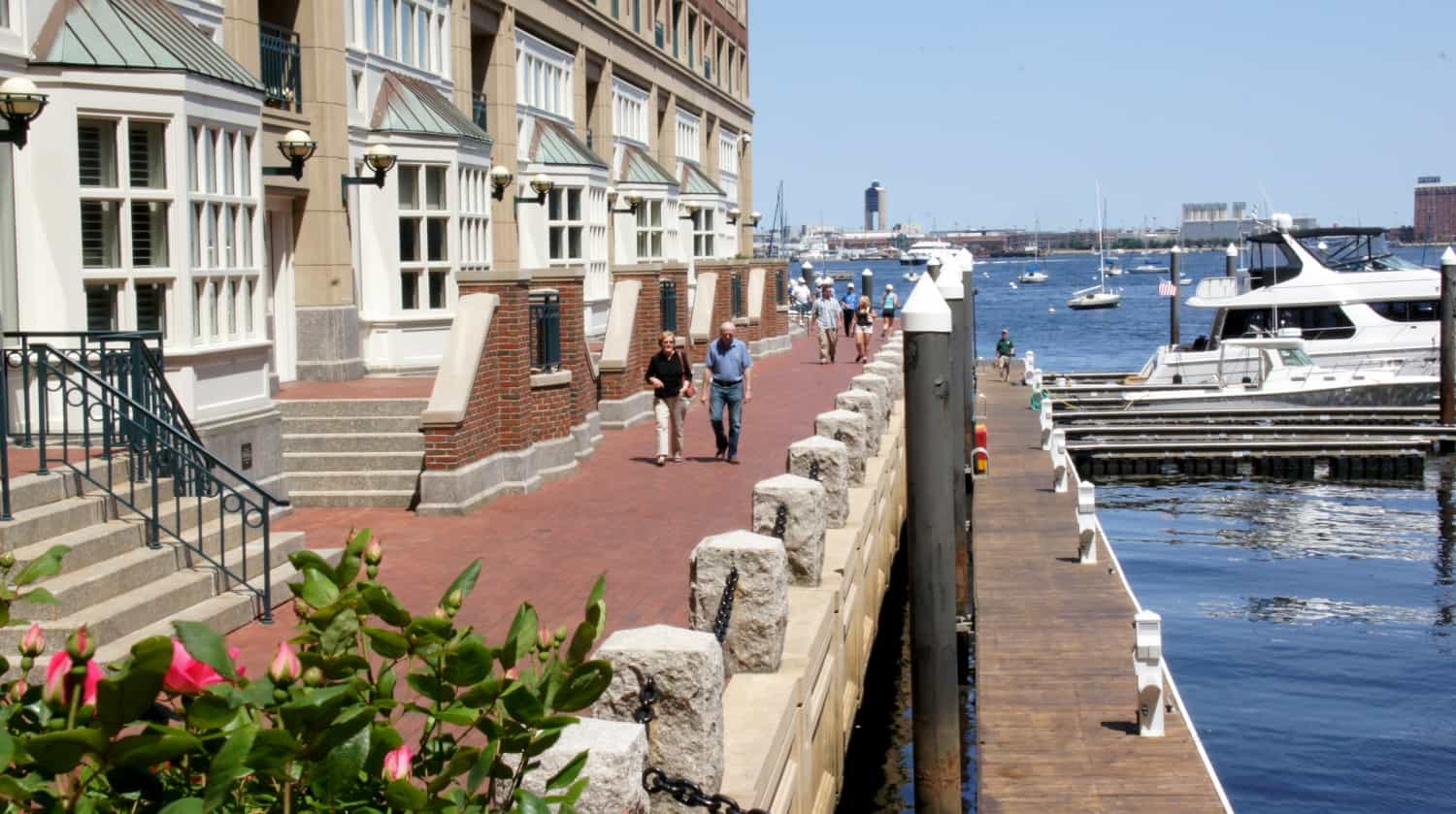 Beacon Hill
Of course, no trip to Boston would be complete without a stroll around the Beacon Hill neighborhood. Just off Boston Common, this residential area is named for the beacon that once stood here at the highest point in central Boston. Now folks come to admire the distinguished row homes, narrow brick streets, and working gas lamps. It's like stepping back in time.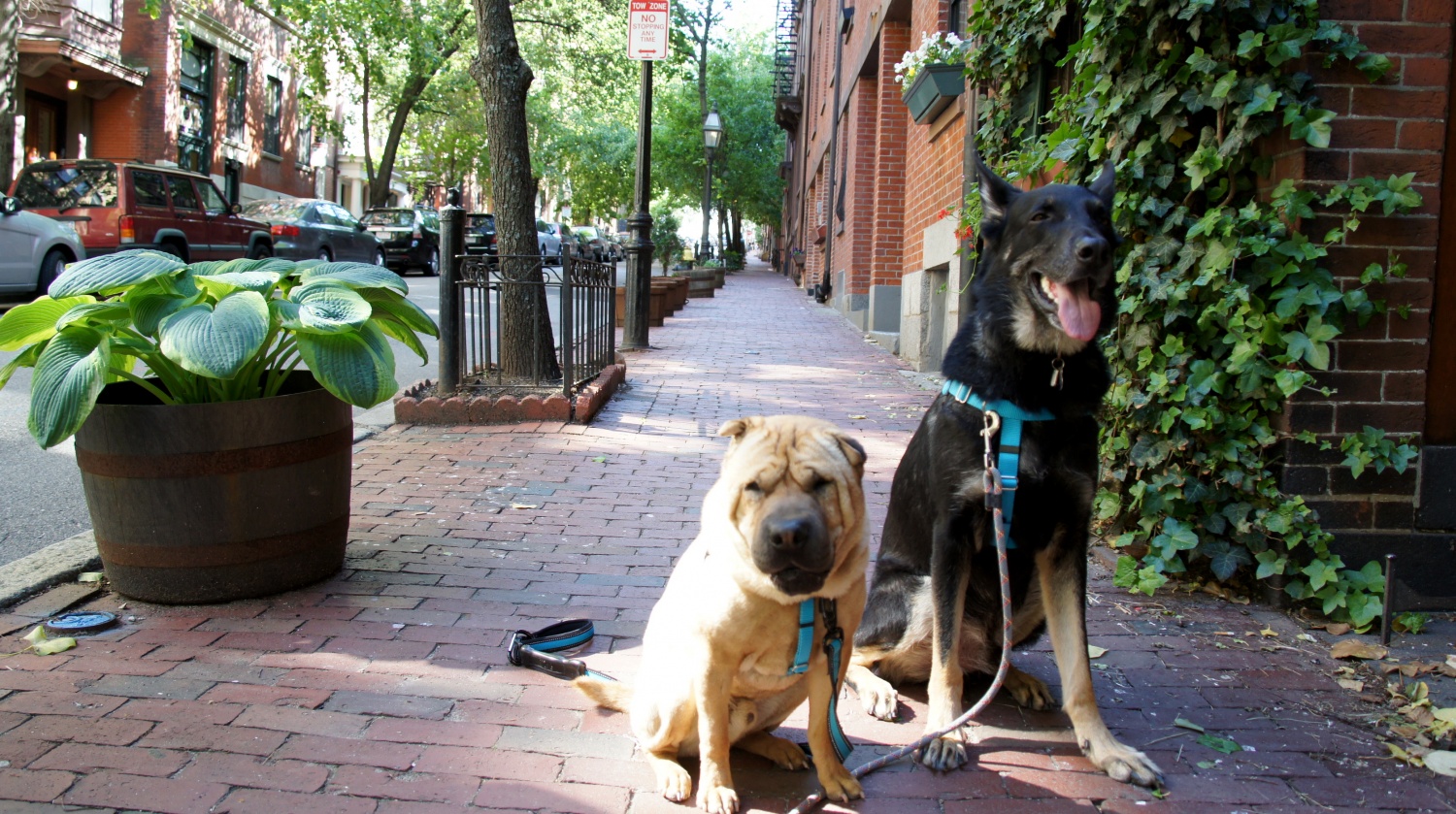 Not far from Beacon Hill is the Boston Bruins hockey arena where Ty posed with this statue of Bobby Orr, commemorating one of hockey's most famous goals scored in 1970, giving Boston their first Stanley Cup since 1941. Ty looks thoroughly impressed, don't you think?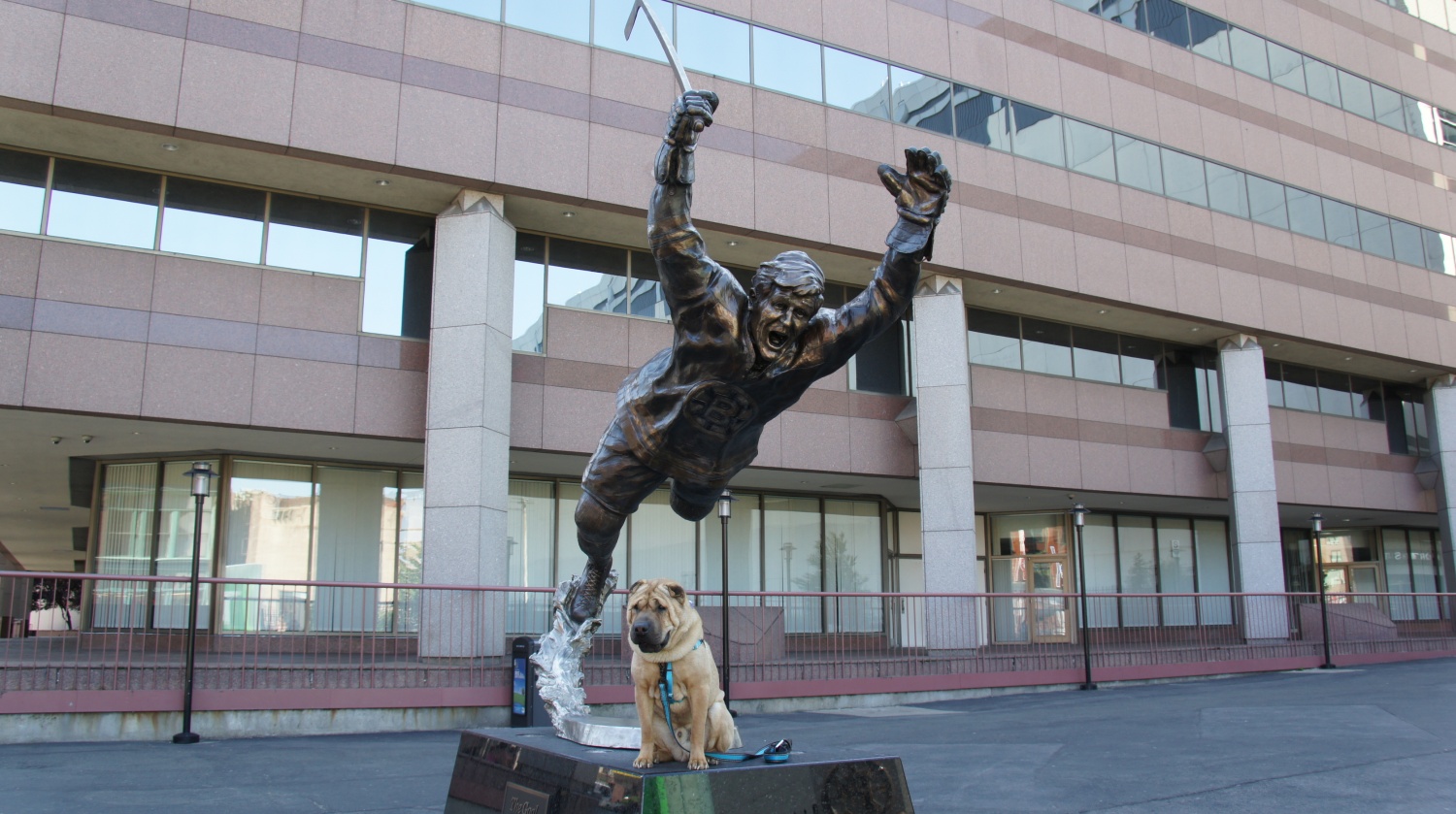 Charles River Esplanade
You could easily spend a whole day basking in the Esplanade. This park, on the banks of the Charles River, is like the city's back yard. Sun bathers, kayakers, runners, bench warmers, and lots and lots of dogs come here to savor the scenery and sprawl in the grass.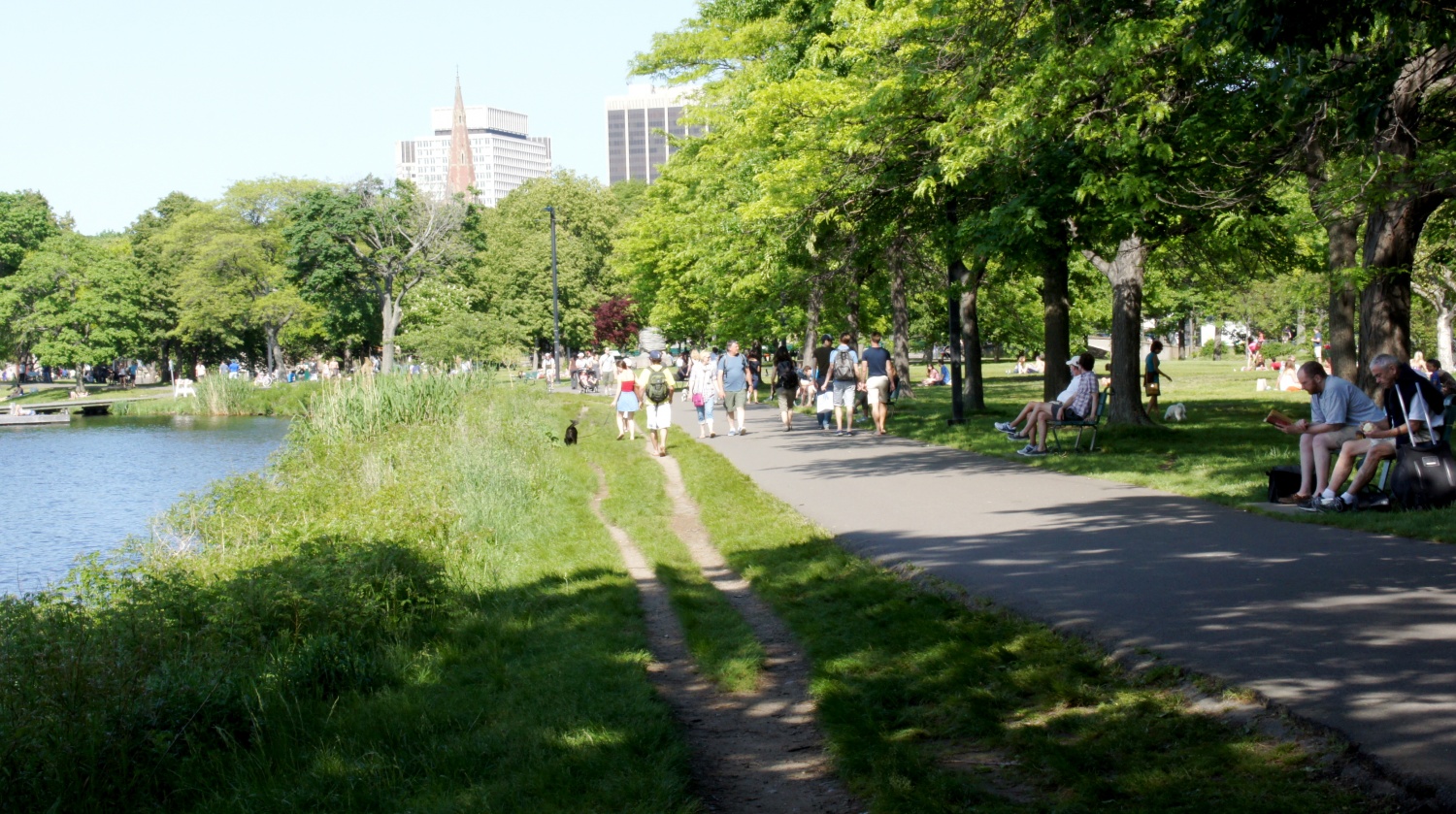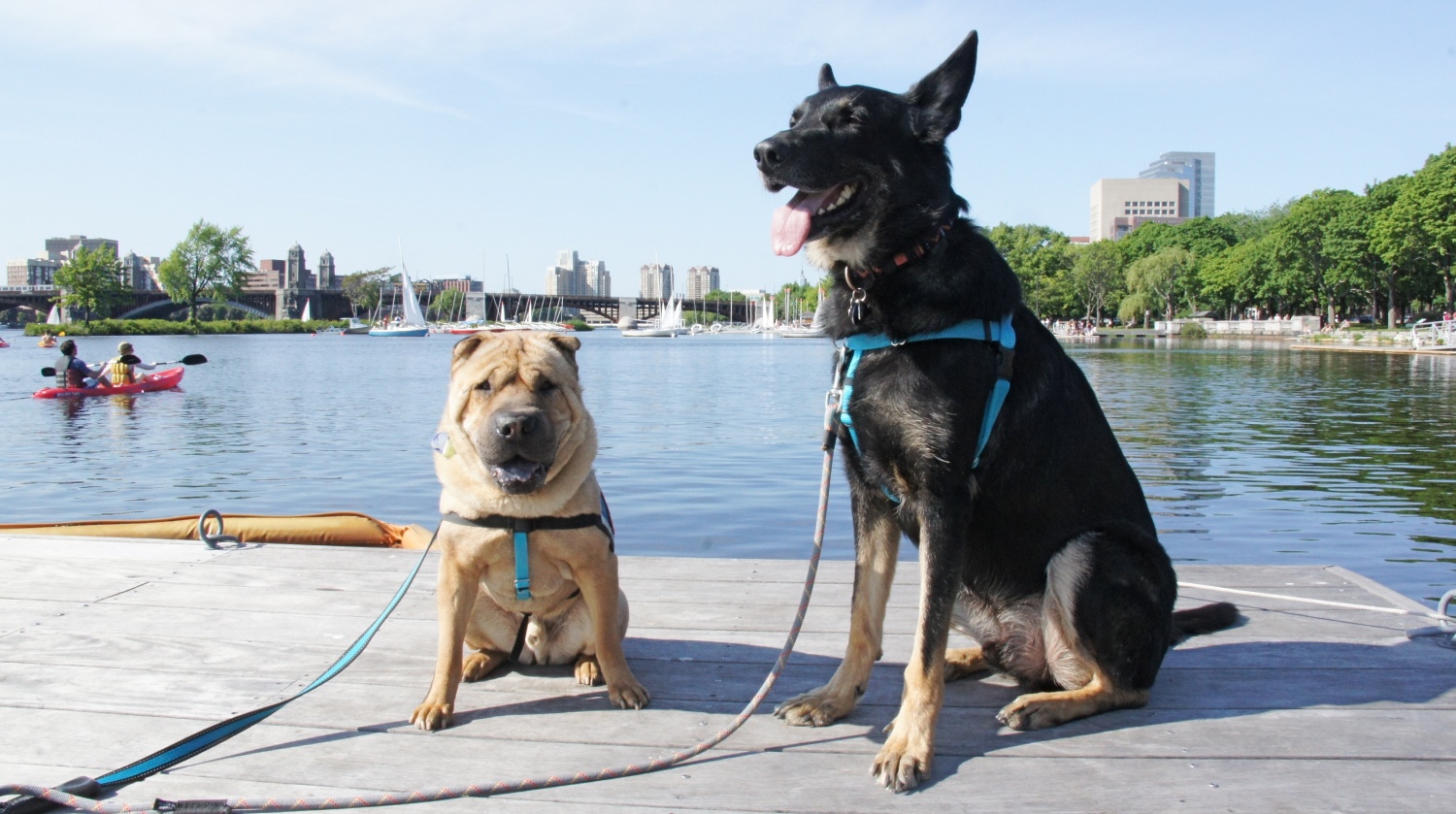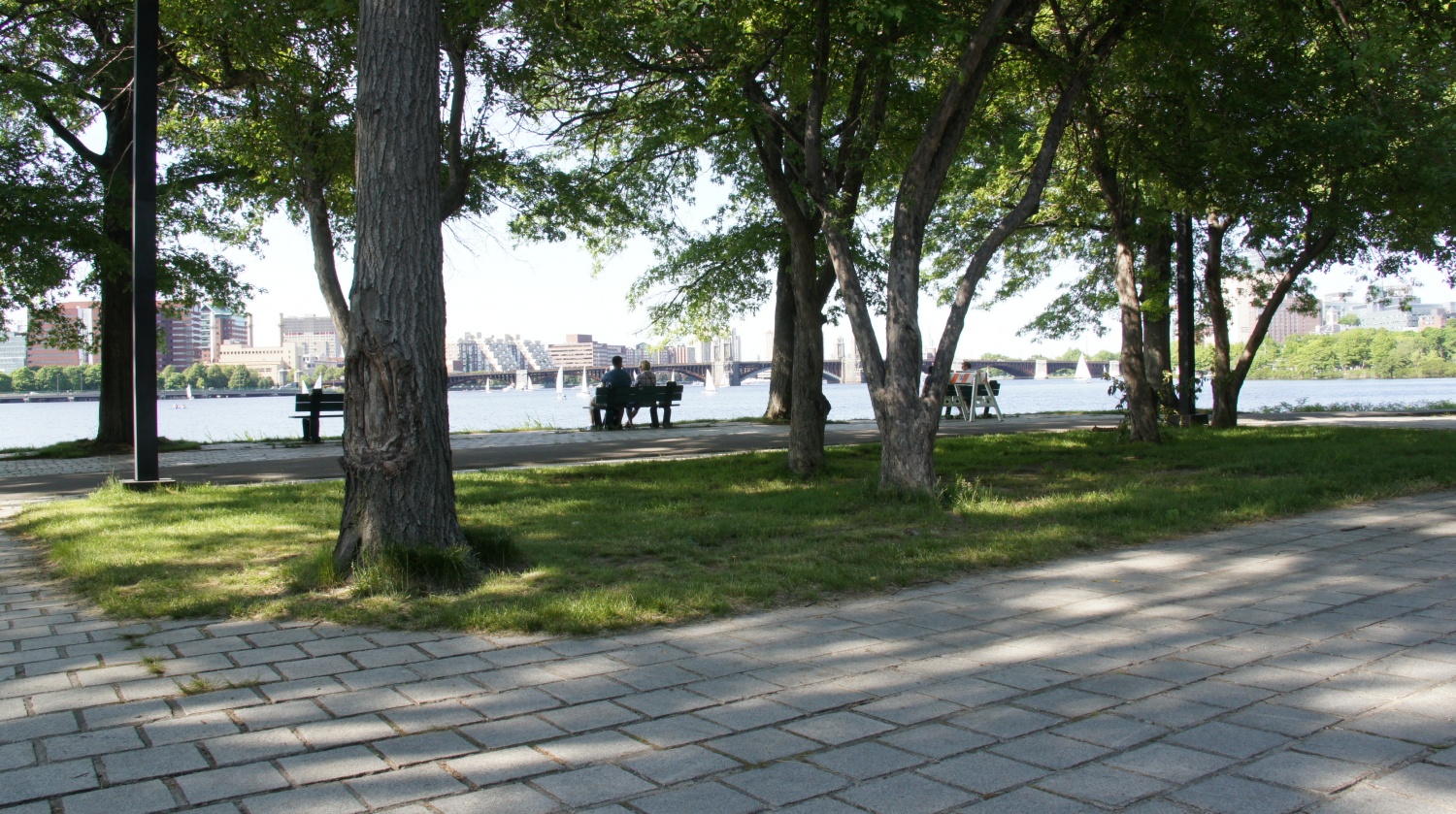 Where to Stay
There is a great selection of pet friendly hotels in Boston, but your options don't end there! We learned that pets are welcome on the "T" – Boston's public transit train system – during off-peak hours as long as they are leashed or crated and do not annoy fellow passengers or sit on the seats. There are a bunch of train lines, so it's simple to breeze into the city from places like Providence, Worcester, Plymouth, and Rockport.
Next Time
We didn't make it down to the Back Bay neighborhood. I pictured us strolling down Newbury street, window shopping or people watching from the patio of a coffee shop, but it didn't happen on this trip. That just gives us a reason to go back!
Update
We finally made it back to Boston. Read our most recent paws-on-the-ground research now!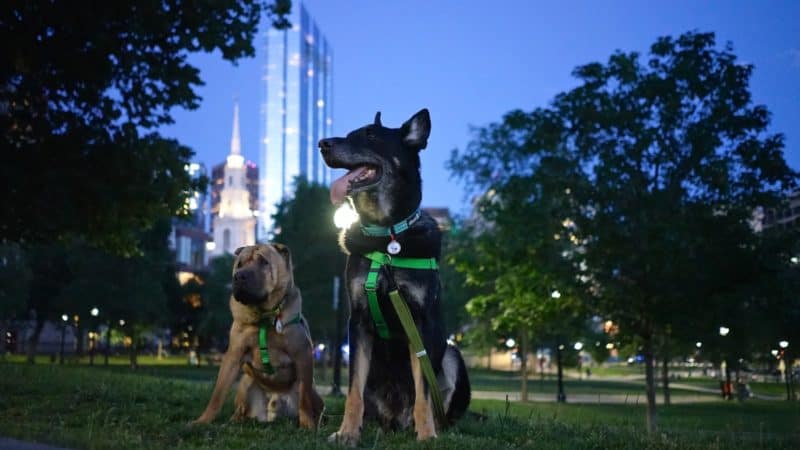 Amazon Affiliate Disclosure: GoPetFriendly.com LLC is a participant in the Amazon Services LLC Associates Program, an affiliate advertising program designed to provide a means for website owners to earn advertising fees by advertising and linking to amazon.com, audible.com, and any other website that may be affiliated with Amazon Service LLC Associates Program. As an Amazon Associate, the owner of this site earns a commission from qualifying purchases.
(Visited 1,581 times, 1 visits today)