Visions of dogs being left behind in dog carriers – that's what drives us. We started GoPetFriendly.com to make it easy for you to travel with your furry friends. And that's why we're thrilled to have Hairy Putter guest posting today! Hairy is the official Director of Barketing for Mendocino County, California and a dog after our own hearts. Hairy sniffs out all the best dog friendly venues in Mendocino and supports the growth of pet friendly businesses in the county. Woof!
***
Pet Friendly Mendocino
Lots of tail wagging greetings from pet friendly Mendocino County: Hairy Putter, the County's official Director of Barketing here. Ty and Buster asked me to share with you several unique itineraries that encompass the diversity and beauty of this area. It is my pleasure to extend the paws of hospitality to you.  May I say one visit is never enough as Mendocino County is so big that we have several tantalizing areas to explore – first let's talk about the Coast.
Dogs on the Coast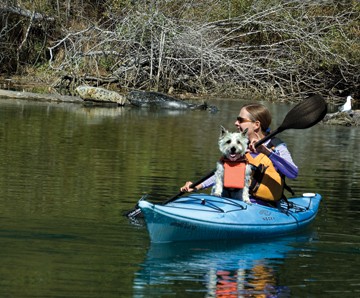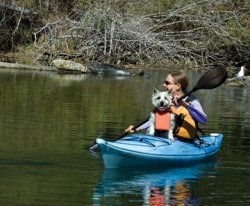 No matter what time of year, the weather is perfect on the Coast. Winter's storm-swept days set up dramatic beach walking and relaxation at an inn in front of the fireplace. Summer time is cool enough that we can stay in the car for short periods of time – but why when there are so many places that we pups can enjoy?
Dogs can enjoy beaches – both off-leash and on-leash – from Gualala to Westport. We're welcome in the Mendocino Coast Botanical Gardens for free. And kayaking companies like Adventure Rents in Gualala and Liquid Fusion in Fort Bragg even provide us with our own life jacket!
Some retail stores and art galleries makes us feel welcome with treats or a drink of water. And during the summer months, we can have lunch or dinner at restaurants like Herons By the Sea in Fort Bragg, Moosse Café (with its own canine menu!), or Trinks in Gualala. You will also find numerous pet friendly hotels, inns, and motels.
Sniffing Inland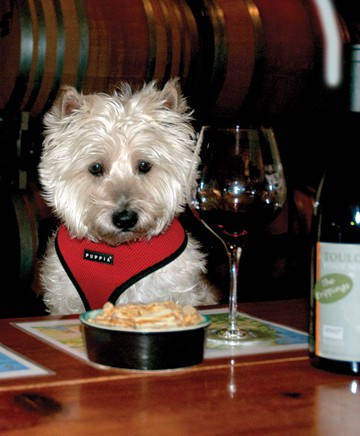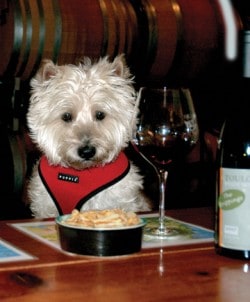 Inland Mendocino County follows Highway 101 from Hopland north through Ukiah, Willits, and Leggett. Two features stand out in this area: redwoods and wineries. Willits is known as the "Gateway to the Redwoods" and Ukiah has the Montgomery Woods State Reserve – both great for walks among the redwoods. In Willits, consider the Baechtel Creek Inn for overnight accommodations and the funky Loose Caboose or Buster's Burger and Brew for a bite to eat.
Lapping Up Wine Country
Mendocino County is also about wines … and over ninety of our wineries are pet friendly! Dogs are welcome in most tasting rooms, and some wineries even allow us to have a leash-free romp with the vineyard pooches. The County has two wine regions. The first is the Upper Russian River Valley, running from Hopland north almost to Willits. This area includes Redwood Valley and Potter Valley, and the wine tasting experiences range from the large campus of Campovida to small tasting rooms like McFadden Farm & Vineyard in Hopland.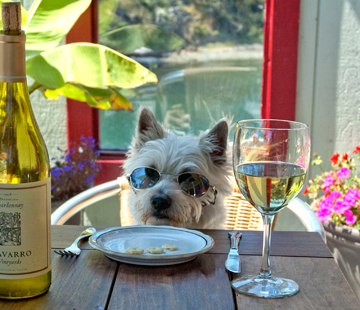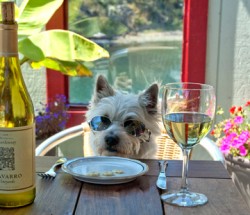 Mendocino County's other wine area is Anderson Valley, which is well known for its Pinot Noir. Anderson Valley can be accessed from Highway 101 on Highway 128 at Cloverdale or via Highway 253 from Ukiah. If your route takes you through Yorkville, stop by Maple Creek Winery and say "hello" to Sheriff, a black and white Collie and Lucy if they are around. Yorkville Cellars tasting room is sometimes hosted by Shadow, a black Lab. And, a little further north on Hwy 128 at Toulouse Vineyards you can play with Emma, a Havanese, or Tess, a yellow Lab – they're there most of the time. Navarro Vineyards has a fenced in pet-area so we can run, and we are also invited to sit in the picnic area or visit the tasting room.
Although I have not had an opportunity to stay there, several of my four legged friends recommend Sheep Dung Properties in Anderson Valley. And many cafés in Boonville, such as the Moosewood or Lauren's, have pet friendly outdoor seating.
I have just given you a taste of the many things that we can do together in Mendocino County. For full listings of activities in Mendocino County, please go to www.visitmendocino.com.
Safe travels and who knows, I may run into you, so please come on over and sniff "hello."
Woof Woof,
Hairy Putter.
Planning a pet friendly trip of your own? We'll make it easy:
Pet Friendly Hotels | Pet Friendly Destinations | Pet Friendly Activities
Amazon Affiliate Disclosure: GoPetFriendly.com LLC is a participant in the Amazon Services LLC Associates Program, an affiliate advertising program designed to provide a means for website owners to earn advertising fees by advertising and linking to amazon.com, audible.com, and any other website that may be affiliated with Amazon Service LLC Associates Program. As an Amazon Associate, the owner of this site earns a commission from qualifying purchases.
(Visited 2,585 times, 1 visits today)