Guest post by Karen Friesecke.

Previously, I wrote a post for GoPetFriendly about the dog friendly beach at Wasaga Beach, Ontario. Then, blog comments poured in announcing that beach one (the only dog friendly beach at Wasaga) was closed to dogs for the 2010 season.
I called the park to confirm this information. The park ranger I spoke to said that endangered Piping Plovers were nesting in the dunes very close to the dog beach and, until further notice, the dog beach is closed. You still can bring your dog to Wasaga Beach, but dogs are restricted to the riverside beach of beach one, which is small and unattractive. ==> Update on Wasaga Beach!
It's my mission to scout out the next great Ontario dog friendly beach.
The candidates are:
Craigleith Provincial Park – a short drive north of Wasaga beach, and on the shores of Georgian Bay. The beach here isn't a typical sandy beach, instead it has broad patches of shale leading up to the water. I visited there once as a kid and remember it being pretty nice.
Sibbald Point Provincial Park – on the shores of Lake Simcoe and less than an hour's drive north of Toronto. The beaches are sandy and have lots of shady picnic sites, so it sounds perfect!
Awenda Provincial Park – also on the shores of Georgian Bay and about a 1 1/2 hour drive north of Toronto. The ecology of Awenda is diverse, ranging from beach to old growth forest. I have never visited this park, so I'm eager to go.
I've already covered the dog friendly beach at Craigleith Provincial Park.
Here is my second report from Sibbald Point.
Sibbald Point Provincial Park is located on the south shores of Lake Simcoe. At an easy one hour drive northeast of Toronto, it's a very popular day trip destination. In addition to the beach area, there are about 300 campsites that can accommodate RV and tent campers. There are many excellent facilities, including comfort stations with showers and toilets, playgrounds for the kids, a well-equipped shop for food, a hiking trail and a boat launch. The day use fee for this park is $20.00 per carload.
There are two beach areas where dogs are allowed, and we visited the main area. The boundary between the dog beach and "human" beach is a long stone jetty. The dog beach is made up of small round pebbles, which are okay to walk on even if you have bare feet. The water is fairly shallow and warm so swimming was comfortable. Despite the very windy day when we were there, there were lots of dogs and kids frolicking in the waves.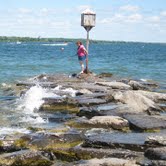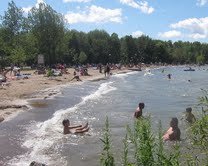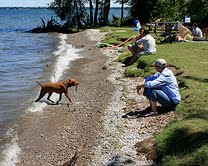 With lots of trees in the beach area, finding shade is not a problem. Getting a picnic table IS a problem. If you aren't there at the crack of dawn you're not going to get one, so bring your own chairs because you're going to need them.
I really enjoyed visiting Sibbald Point and I'm even considering doing a long weekend camp there in 2011. For those that don't like a busy beach, Sibbald Point is not for you, but we didn't mind the throngs of people. Being at the dog beach was a little less busy than the "human" beach so that was a bonus. I would totally go there again with Jersey.
Stay tuned for my report on Awenda … Doggie Stylish is on the road!
Karen Friesecke is a dog lover and guardian to a Vizsla named Jersey. You can find Karen at Doggie Stylish, which features DIY pet projects, pet news, and pet product reviews.
Planning a pet friendly trip of your own? We'll make it easy:
Pet Friendly Hotels | Pet Friendly Destinations | Pet Friendly Activities
Amazon Affiliate Disclosure: GoPetFriendly.com LLC is a participant in the Amazon Services LLC Associates Program, an affiliate advertising program designed to provide a means for website owners to earn advertising fees by advertising and linking to amazon.com, audible.com, and any other website that may be affiliated with Amazon Service LLC Associates Program. As an Amazon Associate, the owner of this site earns a commission from qualifying purchases.
(Visited 10,942 times, 1 visits today)