The number of dog friendly restaurants in Chicago has exploded from when I first moved there in 1999. Back then, I had to smuggle my dog in and out of our high-rise apartment building in a pet carrier three times a day! Now, Chicago is the new Paris when it comes to dogs out and about on the streets.
With apartment buildings luring pet owners to move in with amenities like on-site dog parks, washing stations, and walking services, and pet friendly Chicago hotels in all price ranges welcoming dogs, it's no surprise this foodie haven has an amazing number of dog friendly restaurants!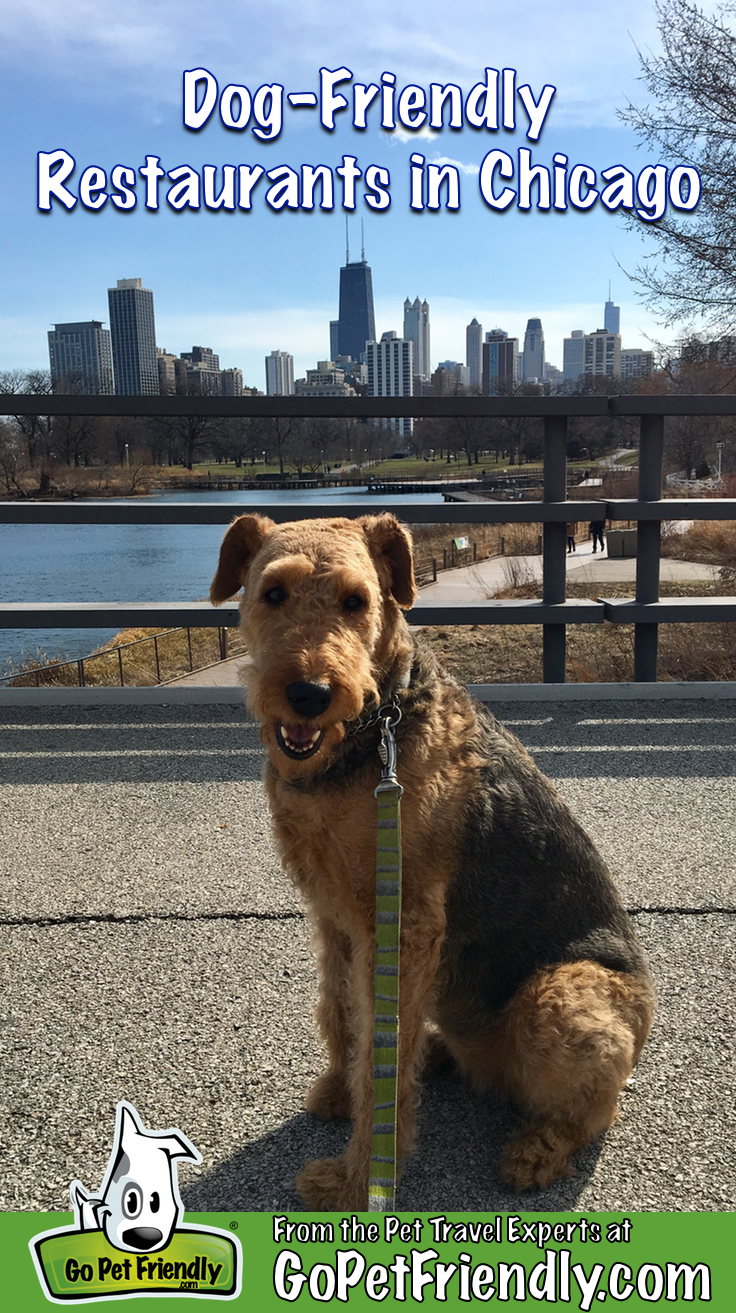 Each spring, Chicagoans (and their pups) stumble out of their winter hibernation to find sidewalk dining spots popping up all over the Windy City. Today I'm happy to share my favorite dog-friendly restaurants in some of Chicago's most popular neighborhoods with you! (Always call ahead to confirm rules regarding pets as they can change frequently.)
A word of caution: when walking your dog around the city, be on high alert for random tasty objects on the sidewalk, and make sure your dog knows "drop it." I've never seen so many chicken bones in my life!
READ MORE ⇒  Don't Miss Chicago's Pet Friendly Lakefront Trail and Navy Pier
Dog Friendly Restaurants in Chicago
Public House Chicago – River North
Public House Chicago (sadly, Public House is now closed) may be the most dog-friendly restaurant in Chicago. This sports bar in the trendy River North neighborhood goes out of their way to welcome dogs with their own menu, the Pup-lic House Puppy Menu.
A friend brought me here to try the "Insta-Famous" cake shakes, and I can also vouch for their burgers and sweet potato tater tots. If the puppy menu is even half as tasty as the human menu, this spot will have your pup drooling!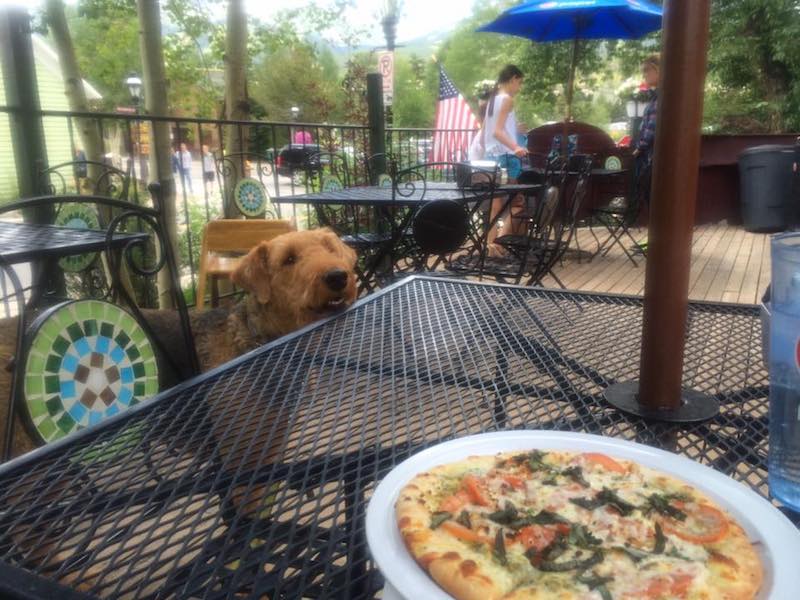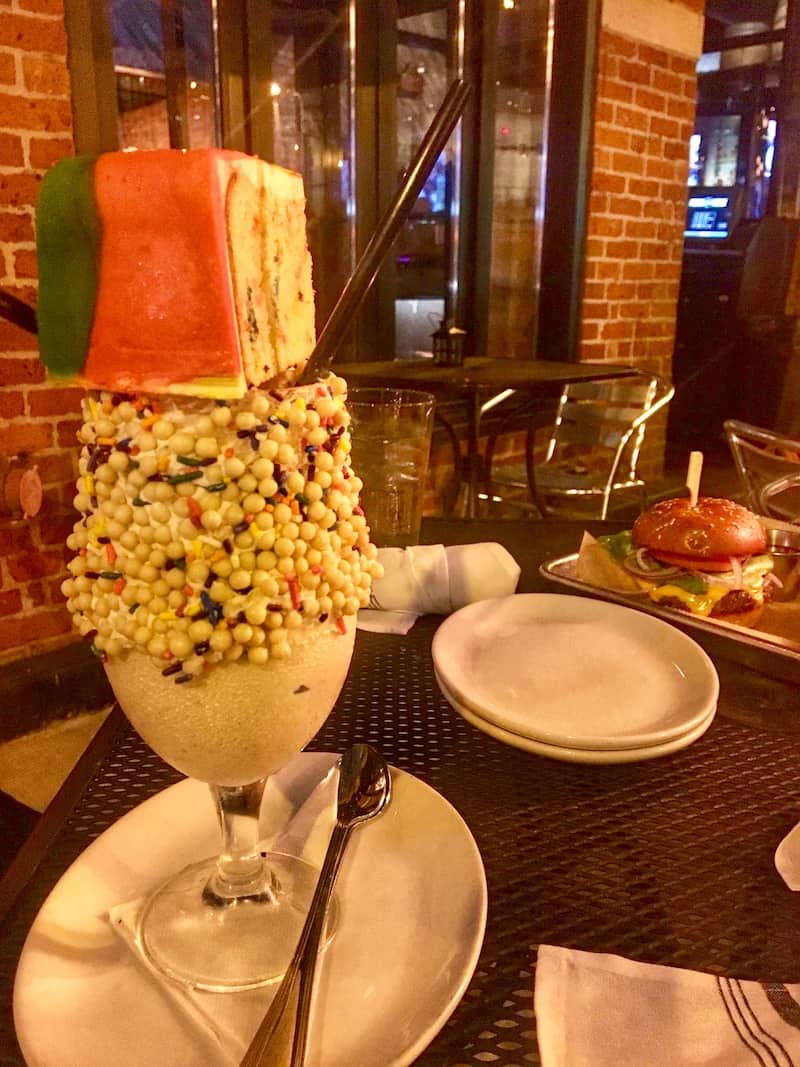 Chicago French Market – The Loop
This is one of my favorite spots in all of Chicago! The Chicago French Market is in the Ogilvie Transportation Center, so it's super convenient if you're in the Loop, or if you have a layover on Amtrak at nearby Union Station. While dogs aren't allowed inside the market, they have outside seating available, so you can take turns grabbing a meal at one of over 30 food vendors inside.
My personal favorites are Da Lobsta for their amazing lobster rolls, and The Dapper Doughnut. With so many options to choose from, the Chicago French Market has something for everyone – and your dog will love people-watching from the sidewalk seating!
As an added bonus, the French Market will validate one hour of parking with a $20 purchase. Free parking in the Loop is practically unheard of!
Budweiser Brickhouse Tavern – Wrigleyville
If you haven't visited to Wrigleyville in a while, you'll hardly recognize this neighborhood! Right next to Wrigley Field is a brand new park and entertainment center, and the Brickhouse Tavern is about as close as you can get to Wrigley Field without buying a ticket to the stadium.
The lower patio is not only dog-friendly, but they even have dog dishes waiting for your pup. The menu at Brickhouse features "refined sports-bar fare" with burgers, pizzas, salads and a pretty wicked dessert menu of cake shakes and sundaes!
If your dog doesn't love crowds, check the Cubs schedule and come on a day when they're not playing.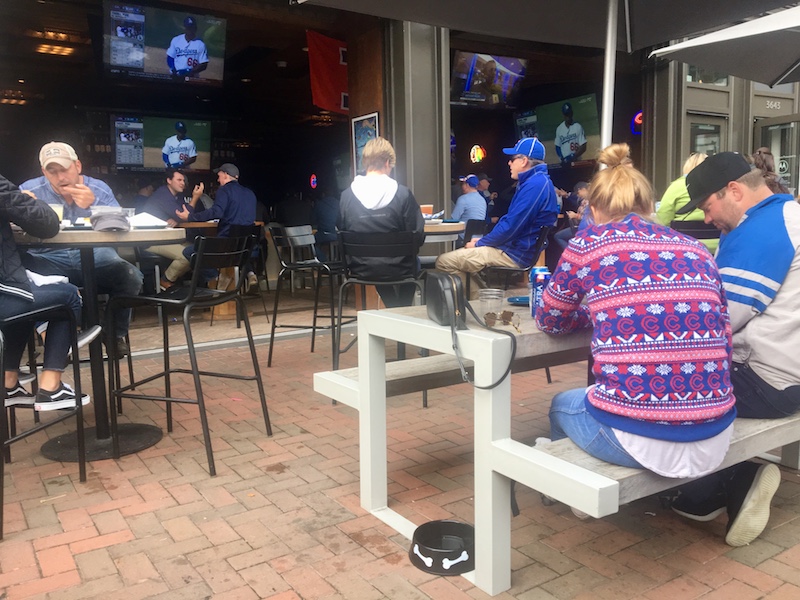 Erie Cafe – River North
For a classic Chicago steakhouse experience, don't miss Erie Café in River North. In the summer, they roll out a cozy patio right on the Chicago River where you and your dog can watch boats float by.
While the food at Erie Café is outstanding, the real perk for dogs is its location. Located next door to the Larrabee Dog Park, your pup can enjoy a bit of socializing and track down the Fido To Go "gourmutt food truck" parked nearby.
It's only fair to indulge your pooch before they watch you devour a delicious steak!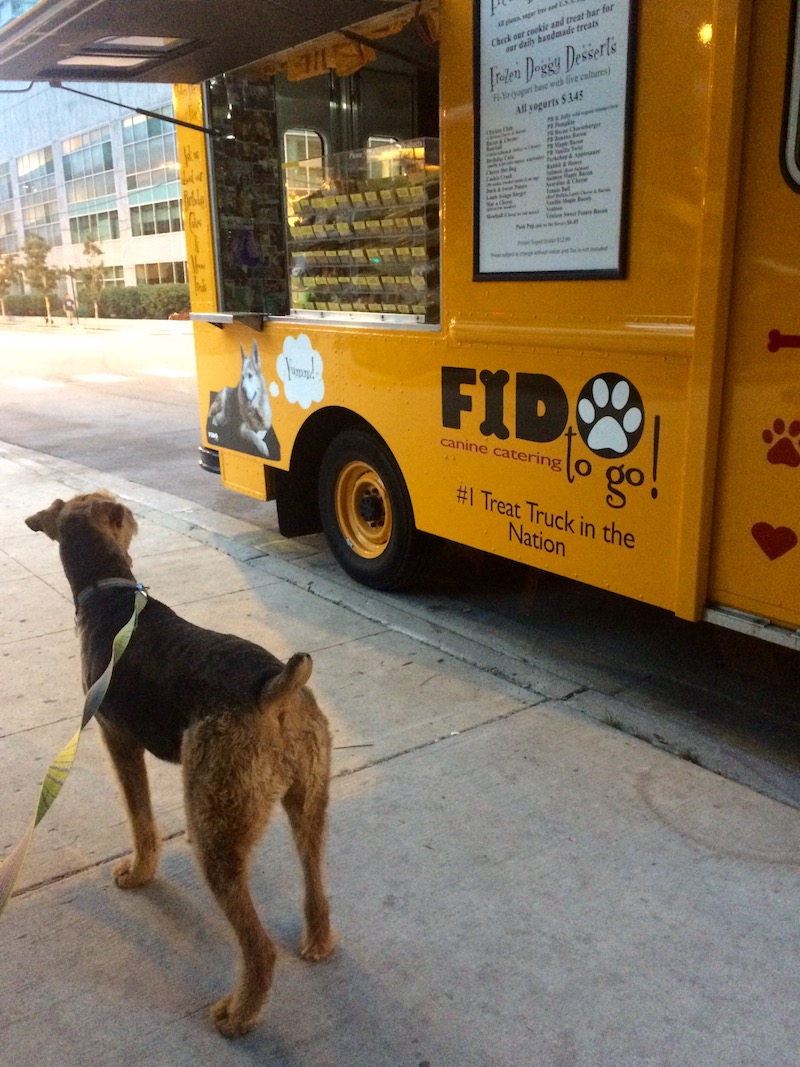 Chicago Hot Dogs – Everywhere!
Looking for a more casual, on-the-go option? You can't come to Chicago without trying a Chicago hot dog!
My favorite thing to do is to grab some street food and have a picnic lunch at one of the lakeshore parks. You'll find hot dog carts all over the city, but especially along the lakeshore and near the museums. You can't get more "dog-friendly" than that! And this is probably the most budget-friendly meal you'll find in Chicago, too.
READ MORE ⇒  The Best Dog Friendly Hikes near Chicago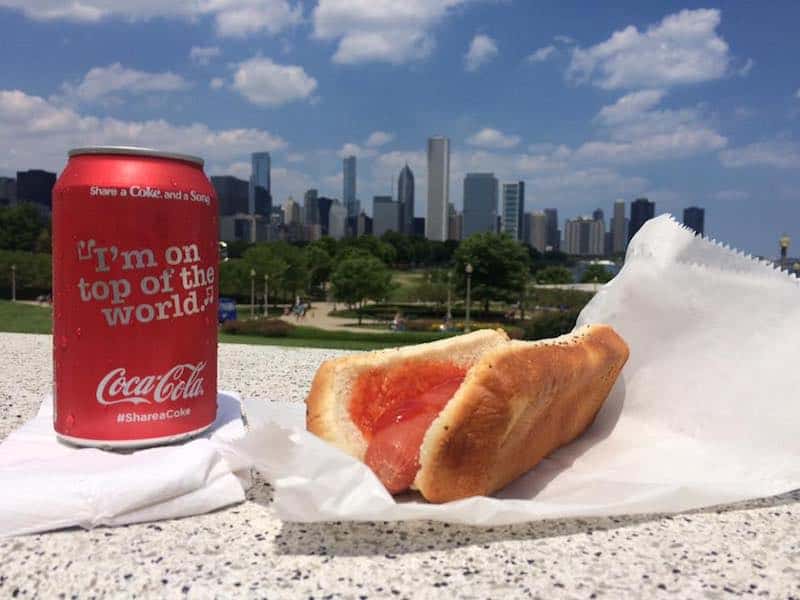 (Yes, I put ketchup on my hot dogs. And yes, I realize this is blasphemy in Chicago!)
You'll find many more amazing dog-friendly restaurants in Chicago listed on GoPetFriendly.com. Tell us about your pup's favorite patio in the comments below!
Amazon Affiliate Disclosure: GoPetFriendly.com LLC is a participant in the Amazon Services LLC Associates Program, an affiliate advertising program designed to provide a means for website owners to earn advertising fees by advertising and linking to amazon.com, audible.com, and any other website that may be affiliated with Amazon Service LLC Associates Program. As an Amazon Associate, the owner of this site earns a commission from qualifying purchases.
(Visited 3,961 times, 1 visits today)