The warm crackle of a fire is an integral part of the camping experience. It's the perfect gathering place at the end of a day. A place to watch the flames dance, visit with friends, and toast a marshmallow or two. But campfires can also be a lot of work. Hauling the wood, building a nice blaze, and poking it until it's completely out requires a significant commitment of time. And then there's the smoke! It gets in your clothes, your hair, and your lungs. What if you could enjoy a campfire without smoke?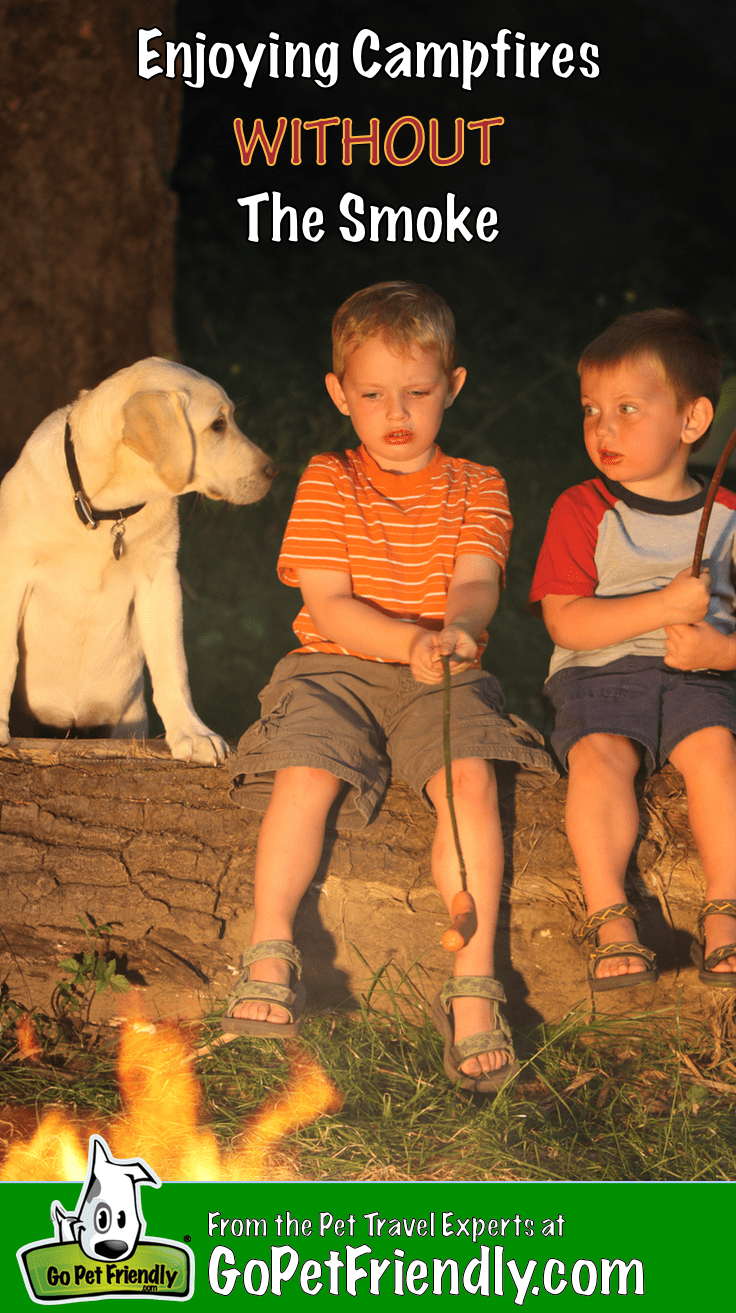 *This post contains affiliate links. Thank you!*
Build A Campfire Without Smoke
Most of us go out of our way to make sure we have a clean, smoke free environment to live in, and those efforts are useful for our campfires, too. Some types of wood burn cleaner than others, and by "seasoning" the wood, we can further reduce the smoke it creates. Done properly, you can build a traditional campfire that is virtually smoke-free, and this video gives you the tips you'll need:
Portable Propane Firepits
If you're willing to forgo the snap and pop of a wood campfire, a portable propane fire pit is an excellent alternative. These provide all the ambiance, all the heat, with none of the effort or smoke of a traditional campfire. They're also allowed in many campgrounds that don't permit open fires, and they can be turned on and off easily, so you can enjoy the fire for short periods of time.
These fire pits are made to work with a 20 pound propane tank – the same size used with outdoor grills. They can be purchased and refilled at most hardware stores. Or you can do a simple conversion that will allow you to connect your fire pit to the low-pressure quick connect outlet on your RV.
READ MORE ⇒  Hooking Up Your Propane Fire Pit to an RV Quick-Connect
Here are a couple of great propane fire pit options available on Amazon:
Outland Firebowl 870 Premium Fire Pit with Cover & Carry Kit
This 19-inch diameter fire pit includes auto-ignition, decorative lava rocks, a cover/carry kit, and a 10-foot hose to attach to your propane tank. It weighs 24.5 pounds and a convenient travel bag is sold separately.
Price: $124
Aurora Steel Firebowl in Rubbed Bronze
This 18.5-inch diameter fire bowl comes with a locking lid, pumice stones, tank holder, and 10-foot hose with regulator. It weighs 18 pounds and is 19.7 inches tall.
Price: $82
Convert-A-Ball Fire Dancer Portable Patio Fire Pit
This 14-inch diameter fire pit comes with a weather-proof lid, pellets, and 10-foot hose with regulator. It is 14 inches tall and weighs just nine pounds.
Price: $142
Use Camping Etiquette
With any fire, it's important to consider the campers around you. Make sure the smoke from your campfire isn't engulfing their site, observe the campground quiet hours, and douse or move your fire if asked. Smoke can be a serious hazard to those who have allergies or health issues. Learning how to build a clean, smokeless campfire may make your next camping trip more enjoyable for everyone!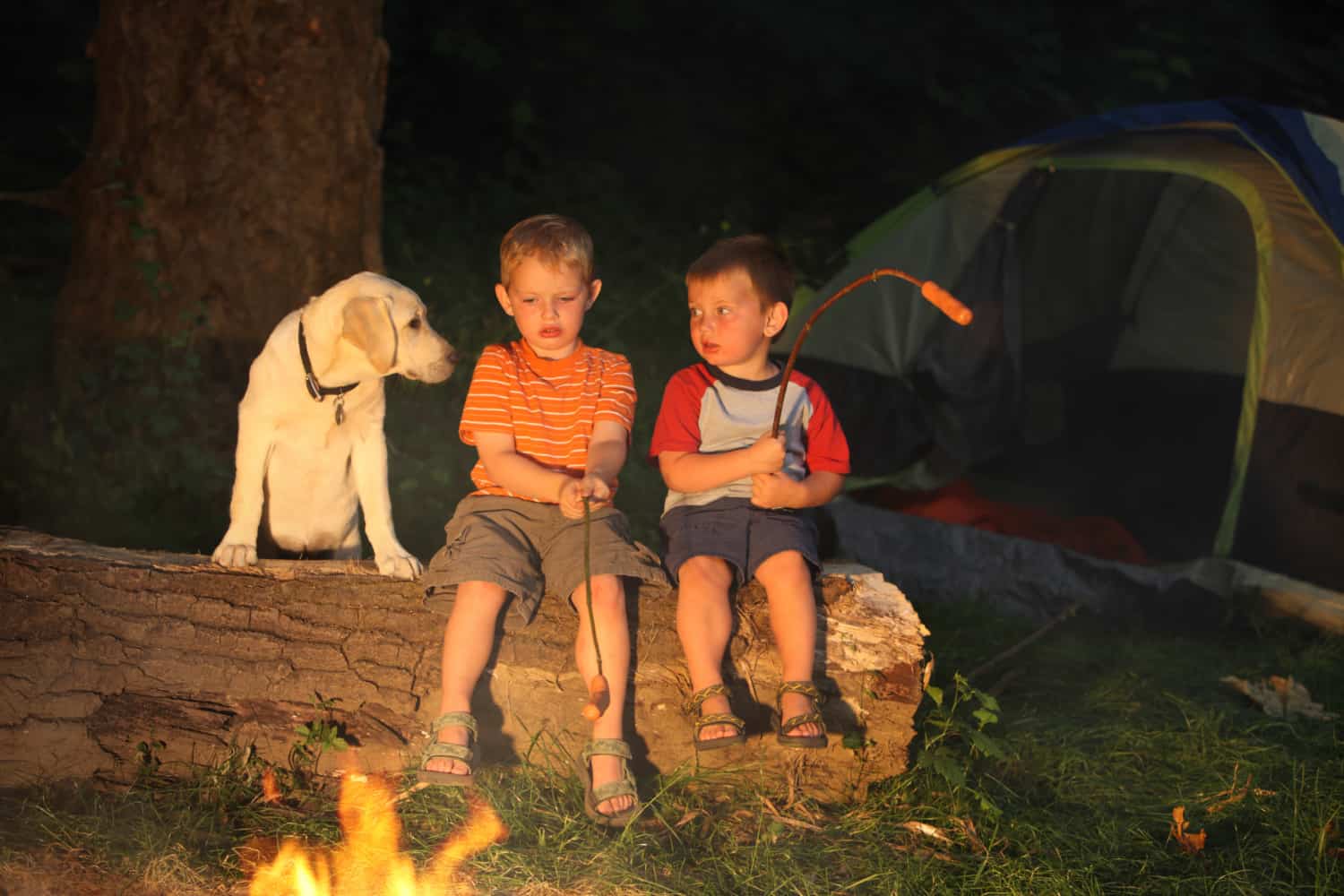 About the Author: Denise Rolen is a retired holistic health practitioner, devoted animal lover, die-hard Raider fan, political & animal activist and RV traveler. She, her husband,  and their two dogs have traveled throughout the country and parts of Canada and especially enjoy the Pacific Northwest region.
Guest Posts on GoPetFriendly.com: We love sharing stories from people having fun traveling with their pets – especially when they do things a little differently than us! Sharing your pet travel experiences may be just the nudge someone else needs to pack up and head out with their own best friend. If you're interested in writing a guest post for Take Paws, let us know!
Amazon Affiliate Disclosure: GoPetFriendly.com LLC is a participant in the Amazon Services LLC Associates Program, an affiliate advertising program designed to provide a means for website owners to earn advertising fees by advertising and linking to amazon.com, audible.com, and any other website that may be affiliated with Amazon Service LLC Associates Program. As an Amazon Associate, the owner of this site earns a commission from qualifying purchases.
(Visited 2,497 times, 1 visits today)