When you're planning a weekend trip out of Boise, the hardest part is picking which direction to go. We've already sniffed out a spectacular drive to the north and abundant dog friendly things to do in McCall. Today we're scouting another fantastic option to the east, up through Stanley, and then down to Ketchum and Sun Valley.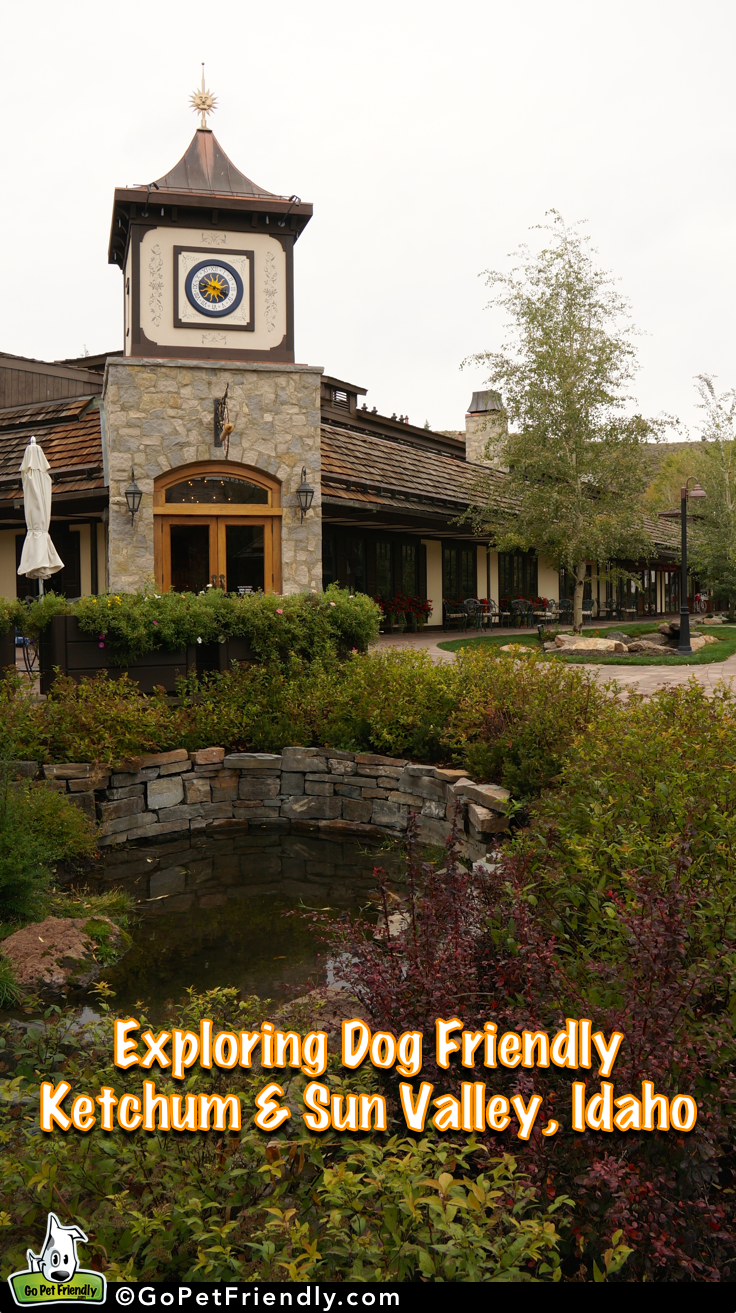 There are two routes you can take to get from Boise to Ketchum. The one your GPS will advocate for is shorter and faster, and therefore deemed "better" by the latest technology. Let me assure you, unless you're responding to an emergency, the shorter, faster way is definitely not better!
The route you want is Hwy 21 to Hwy 75 … through the Boise National Forest, skirting the edge of the Salmon-Challis National Forest, and cutting though the heart of the Sawtooth National Forest. This course has the panoramic views of ragged mountain peaks and spectacular vistas across deep, wide valleys that you don't want to miss. Breathe deep, relax, and relish the chance to take it all in.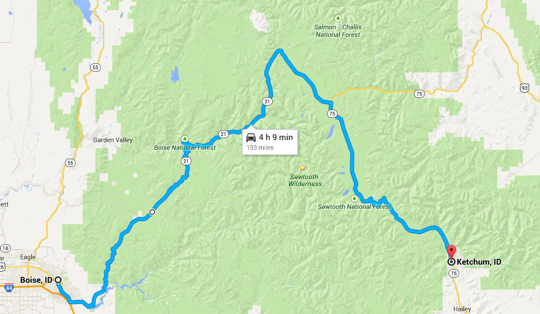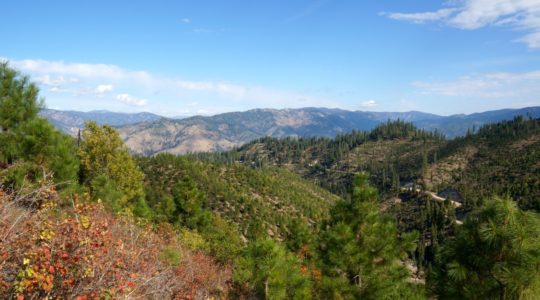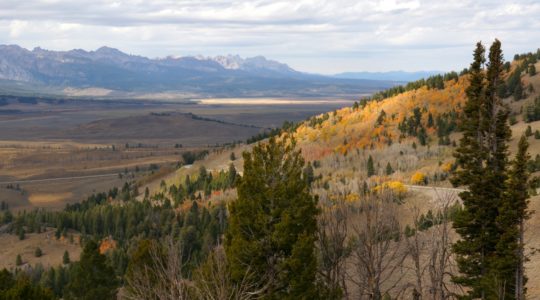 After a leisurely breakfast, we loaded up the boys and headed out of Boise. My compulsive need to stop for photos slowed us down a bit, and we still managed to pull into Stanley in time to mosey around town and track down lunch. It's a taste of the wild west … raw, simple, and friendly. There are no sidewalks and the local dogs roam free, though they seemed well-mannered, and gave our reactive pups the space they needed.
With views like these, it's easy to understand how people could spend a lifetime in this small town. And I'm sure the mouth-watering strombolis at the pizza shop don't hurt, either!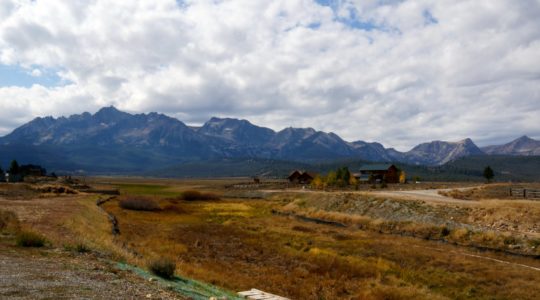 Arriving in Ketchum, you'll notice a distinctly different vibe. The "ski town" atmosphere permeates, complete with all the baubles required by the tourists and winter residents, who flock to their vacation homes when the flakes start to fly. High end restaurants, shabby chic coffee houses, and swanky boutiques line the streets, all within view of the ski runs.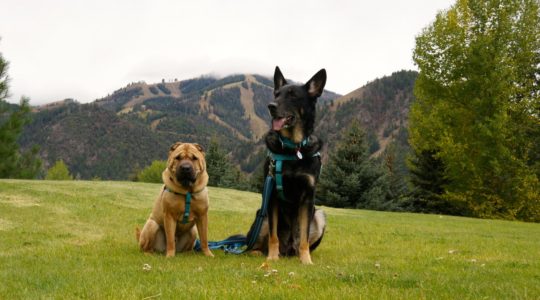 Rather than running free, the local dogs in Ketchum while away their days perched on balconies, ready to sound the alarm as a stranger passes by.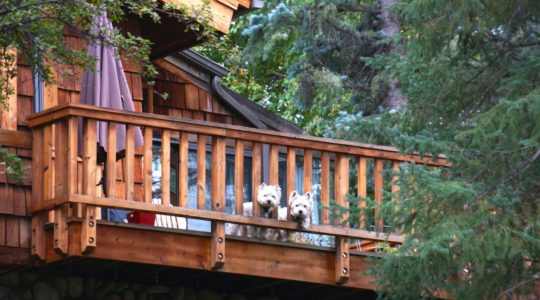 Though Ketchum is a bigger town, we found more restaurants with pet friendly patios in McCall than we did here, and the shops were so classy that they seemed more appropriate for pocketbook-sized dogs – if dogs were allowed at all.
For pet travelers like us, the real draw here is the outdoors … the multitudes of trails, the nearby national forests, and seclusion right at your fingertips. On this trip we stayed at a pet friendly hotel downtown, but next time I'd find a quiet vacation property with a remarkable view, a fireplace, and a back yard for the boys. I'll stock up on groceries, pack a few books, and really get away from it all for a few days.
If I happened to get itchy for a little human interaction, spending an afternoon in Sun Valley would be the perfect cure. It's an adorable little ski village, and in the off-season, it's wonderfully free from the hustle and bustle.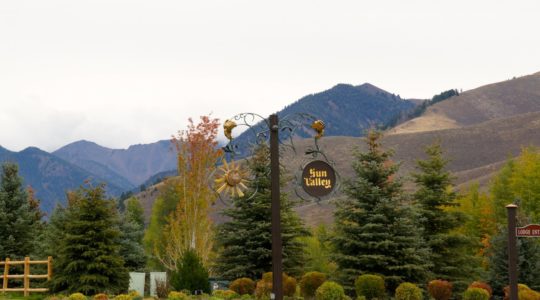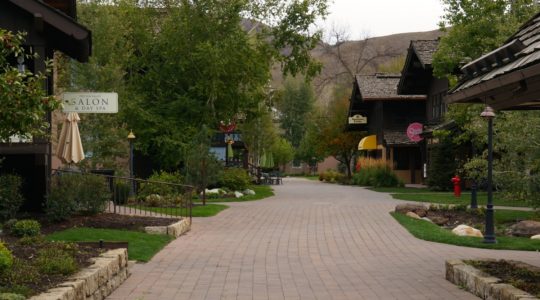 It's a lovely spot to spend a couple of hours strolling around, surveying the ducks in the pond, posing for a picture with the local celebrities, and (for the humans) donning a pair of skates for a twirl … or, if you're like me, a tumble … across the ice rink.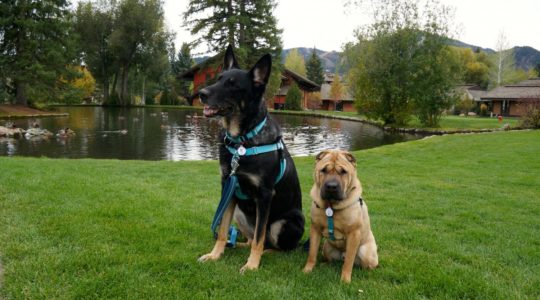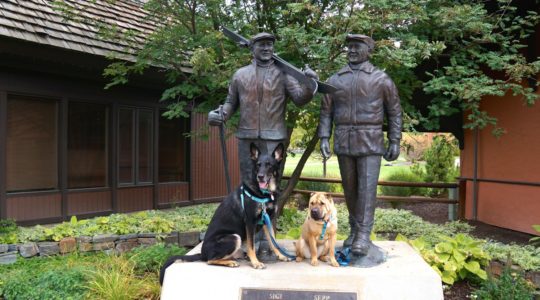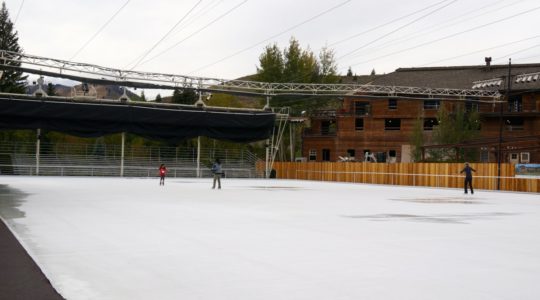 You'll also find more trails here, nicely outfitted with pet waste stations and kiosks with maps highlighting the trekking options and their level of difficulty.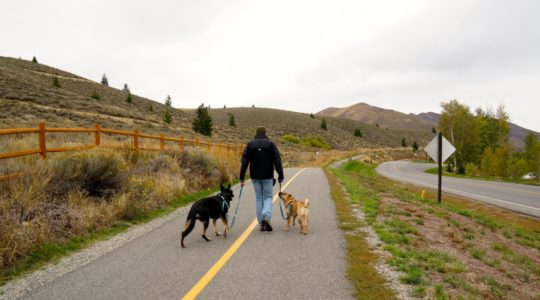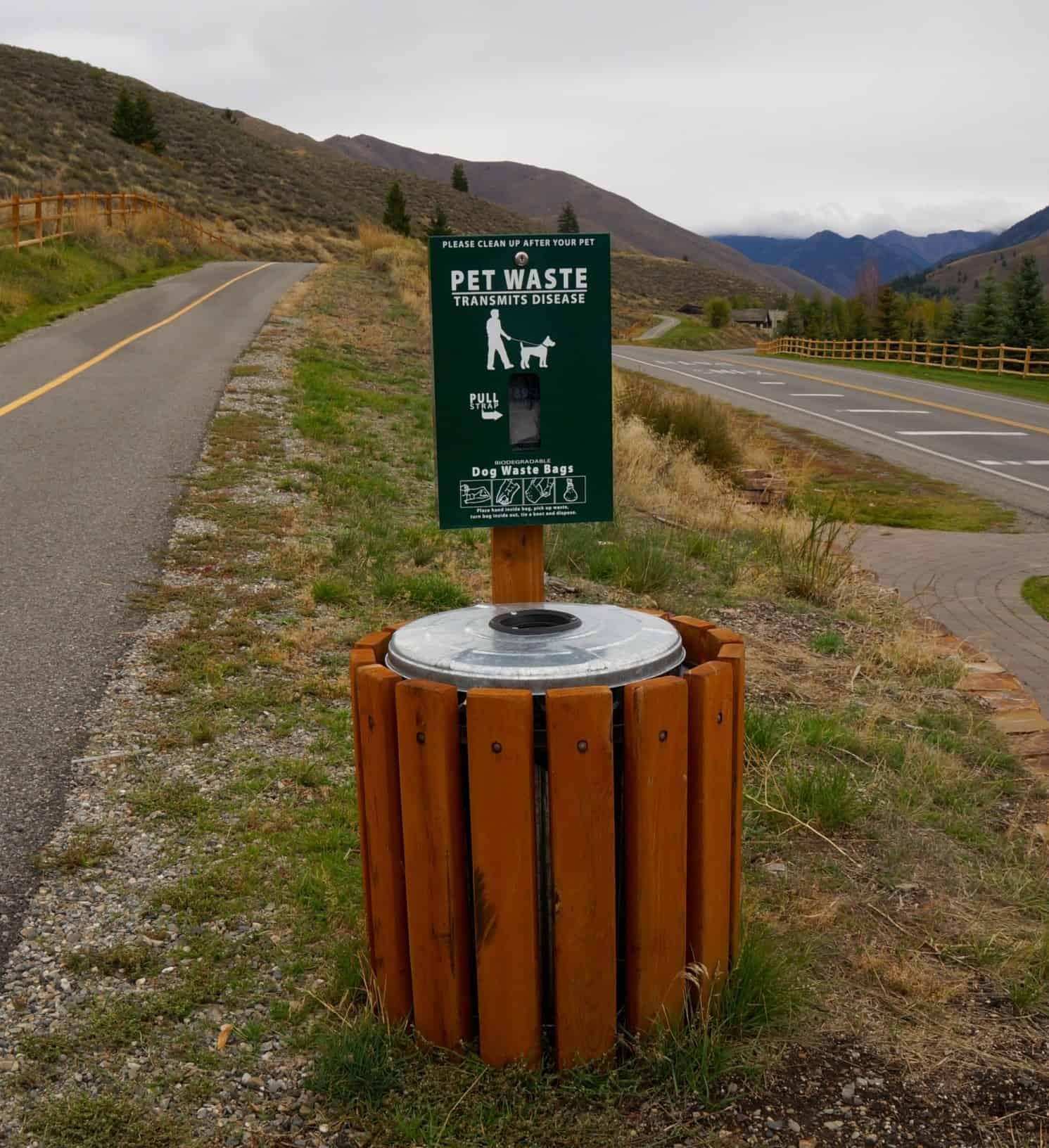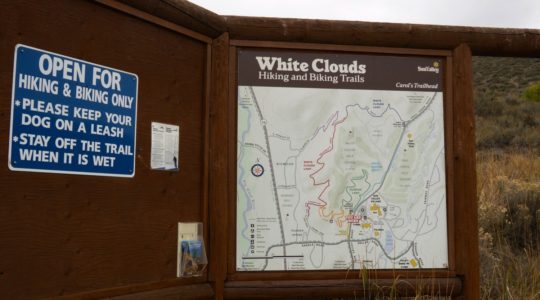 If you find yourself in the area, don't miss the spectacular scenery of the Sawtooth Mountains and spend a little time exploring Ketchum and Sun Valley. It will surely be a memorable stop on your trip!
Planning a pet friendly trip of your own? We'll make it easy:
Pet Friendly Hotels | Pet Friendly Destinations | Pet Friendly Activities
Amazon Affiliate Disclosure: GoPetFriendly.com LLC is a participant in the Amazon Services LLC Associates Program, an affiliate advertising program designed to provide a means for website owners to earn advertising fees by advertising and linking to amazon.com, audible.com, and any other website that may be affiliated with Amazon Service LLC Associates Program. As an Amazon Associate, the owner of this site earns a commission from qualifying purchases.
(Visited 2,965 times, 1 visits today)