As more vacationers opt to include their beloved pets in their travel plans, more attractions are embracing the pet friendly concept. More than 75 cities and towns in Ohio feature pet friendly attractions and accommodations that welcome four-legged family members. But one of the most beautiful places to visit in the Buckeye State is dog friendly Hocking Hills State Park!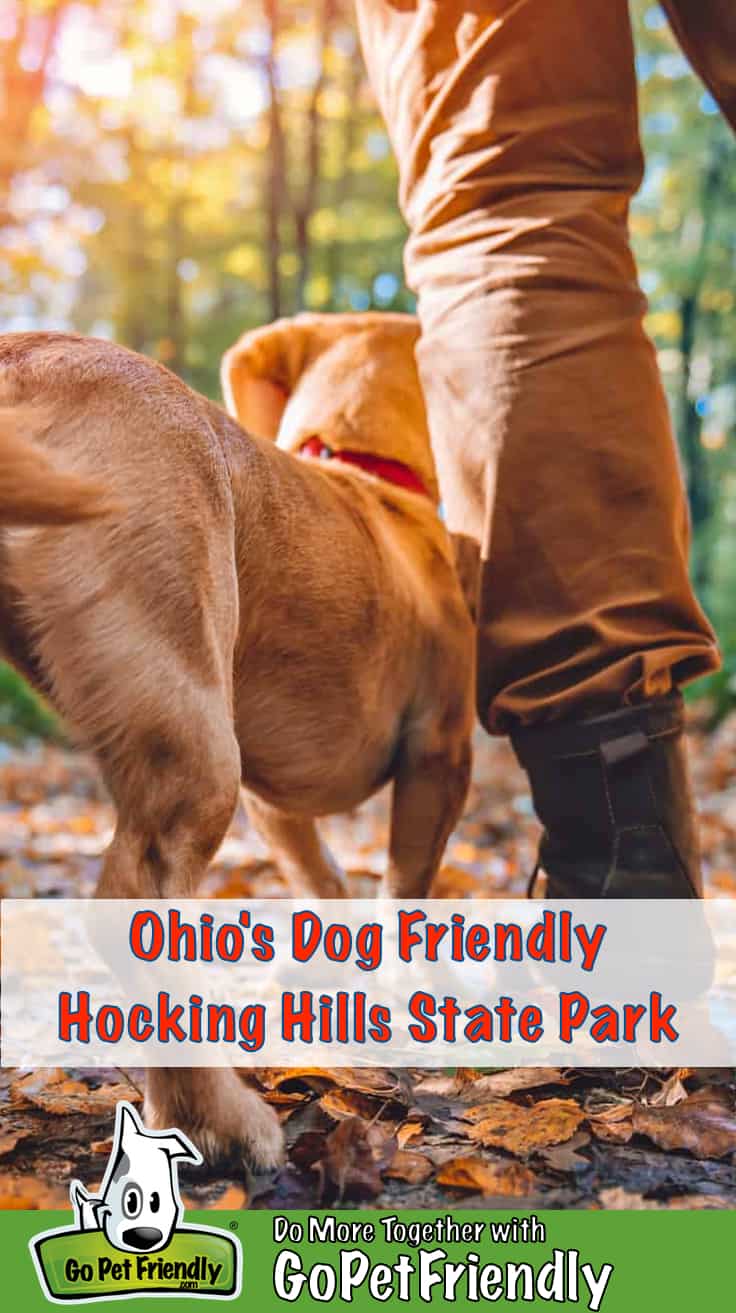 Hocking Hills State Park Is Dog Friendly
One of the most interesting, dog friendly vacation spots we've found in Ohio is Hocking Hills State Park. Situated southeast of Columbus near the town of Logan, Hocking Hills offers numerous hiking trails and breathtaking sites. There are cascading waterfalls, towering cliffs, and sandstone caves just begging to be explored. And pets are welcome in most areas of the park, including the campgrounds.
READ MORE ⇒ Beginner's Guide to Camping With Dogs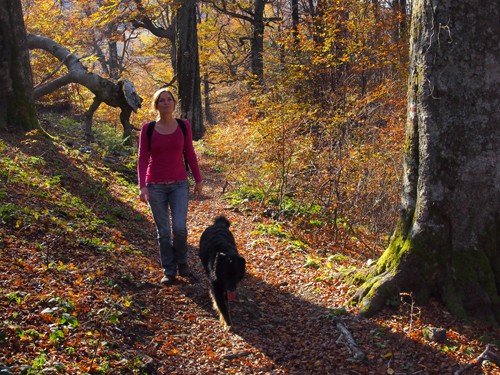 Scenes to Explore with Your Pet
Hocking Hills State Park's wooded trails take hikers through 26 miles of picturesque vistas. All are steeped in history and geological wonders, and pets are welcome to accompany their owners on all the hiking expeditions!
Ash Cave, the largest in the state, is accessed through a narrow gorge bordered by hemlock, beech trees, hardwood trees, and wildflowers. The area of Old Man's Cave boasts scenes for any photography buff – gorges, cliffs, rapids, streams, waterfalls, and tunnels. Cedar Falls rewards hikers with views of a remote, rock-walled chasm highlighted by grottos and waterfalls.
Other sites that warrant exploration include Cantwell Cliffs and Rock House.
As a safety precaution, please keep pets leashed and bring enough drinking water for you and your pet. Picnic areas provide attractive rest spots along the way.
The Other Creatures of Hocking Hills
Hocking Hills is home to a variety of wildlife, from raccoons, deer, and turkey to groundhogs, fox, and hummingbirds. Many of the park's cottages are pet friendly and provide stations for vacationers to feed the animals for closer viewing.
More Hocking Hills Activities 
Though they're not allowed at the swimming beaches, there are plenty of ponds and streams to please water-loving pups. Dogs also love canoeing down the Hocking River, stopping for a picnic and a splash, and supervising the fishing endeavors. Ice fishing is an option during winter months – perfect for the Newfies and Huskies in the crowd.
READ MORE ⇒ Which Dog Boots Are Best For Your Dog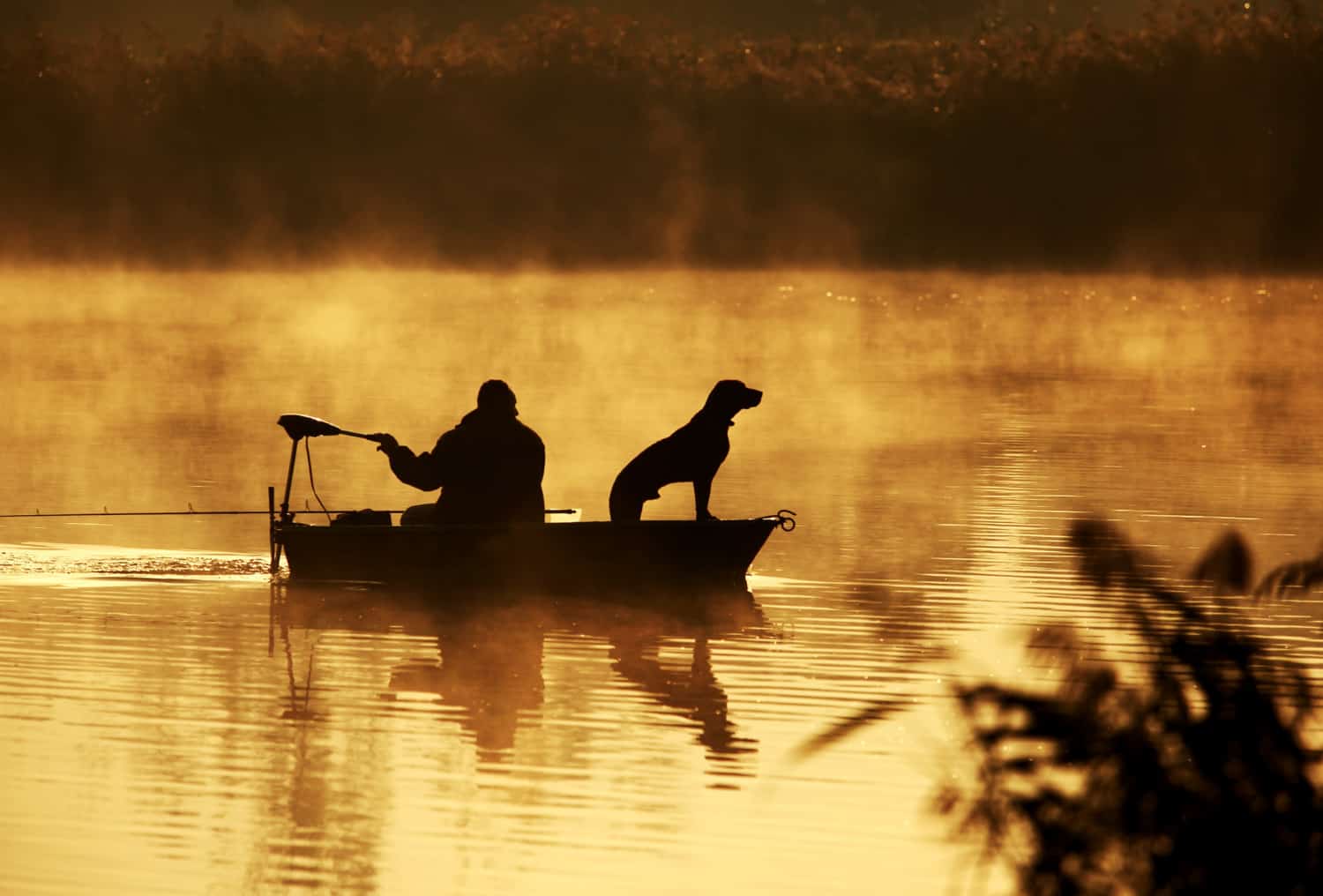 Pet Friendly Accommodations
We chose to stay in the charming and rustic cabins of Getaway Cabins in Hocking Hills. Staying here put all the recreational opportunities right at our fingertips.
Guests have access to an extensive free library of films, giving you and your canine couch potato an indoor option for winding down at the end of an active day. If you prefer to eat in, The Traveling Chef offers personal chef services and will prepare an entire meal in your cabin. There is also a photography service available if you'd like to capture the memories of your trip.
Pet Friendly Eats
During a stay in Hocking Hills, Great Expectations Bookstore and Café (Note: Sadly Great Expectations has closed) and Millstone BBQ, both located in Logan, provide pet friendly dining options. Also in Logan, dogs can assist with grocery shopping at Grandma Faye's Grocery. And they can join you at Tractor Supply Company, where pet foods and supplies can be found.
It's a winter wonderland of snow-covered trails and cabins. A lush landscape in spring and summer. And an explosion of color in autumn. Every season at dog friendly Hocking Hills State Park in Ohio provides a spectacular backdrop to reconnect with nature. And the pet friendly atmosphere makes this the perfect choice for pet travelers who include the whole family in their adventures.
About the Author: Brian Hawkins works as part of the internet development team at Dave Arbogast RV Depot in Troy, Ohio, where he writes about the travel industry daily. He also enjoys camping, fishing, and traveling with his wife, two children and their Black Lab, Izzy. 
(Visited 15,618 times, 1 visits today)