If you're looking for pet friendly camping near Phoenix, you'll be hard pressed to do better than Maricopa County's Regional Parks. A while back I wrote about our stay at White Tank Mountain Regional Park, about 30 miles west of Phoenix. This time I want to share our experience at McDowell Mountain Regional Park, which is about 40 miles northeast of Phoenix in the Verde River Basin.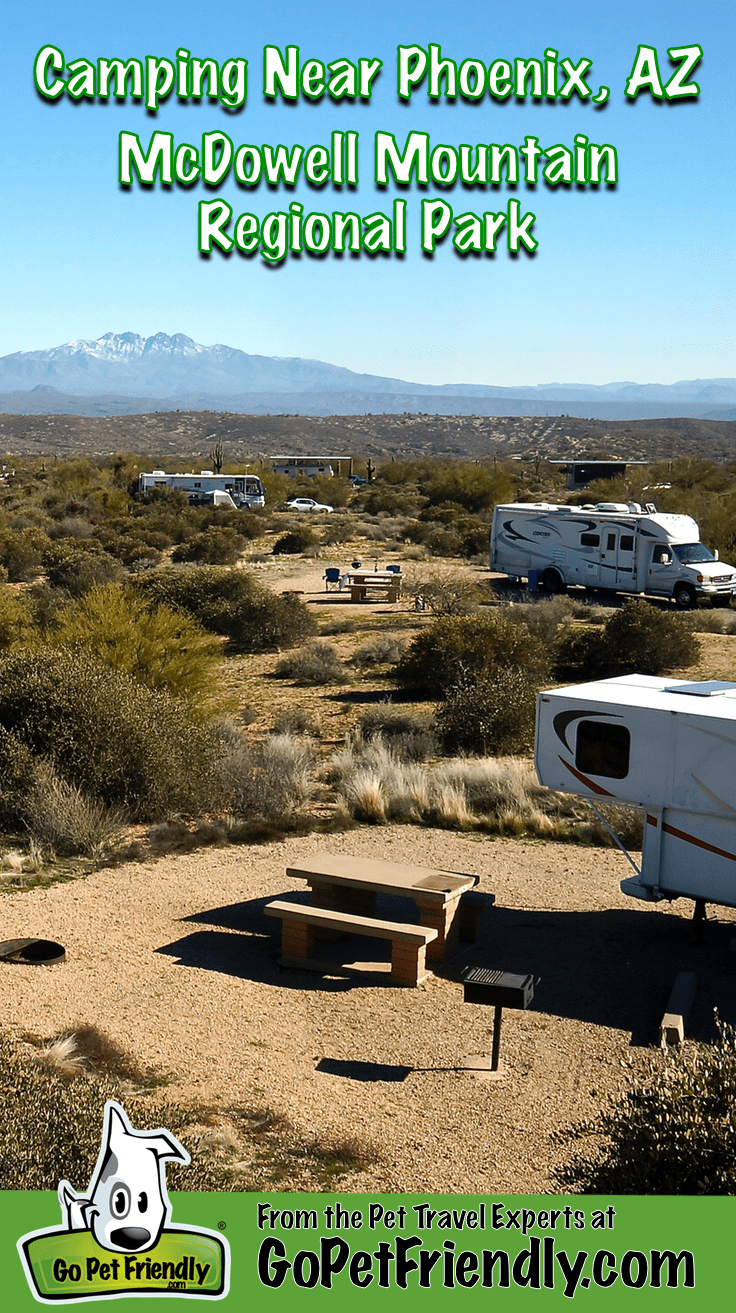 McDowell Mountain – Pet Friendly Camping Near Phoenix
The campground at McDowell is every bit as nice as White Tank and has nearly twice as many sites. Like White Tank, the camp hosts take meticulous care of the grounds and rake the sites in preparation for each new arrival. All sites have a picnic table, fire ring, grill, and fantastic views.
Although this campground is bigger than White Tank, getting a reservation isn't easy! You can reserve a campsite six months in advance and, if you're planning to visit during the winter, you won't want to wait. Reservations at all Maricopa County parks are limited to 14 nights. But many people book back-to-back reservations in different sites within the park, stitching together a longer stay.
When you arrive, be sure to stop at the visitors center for a list of the ranger's monthly programs. From interpretive hikes to sessions on the park's flora and fauna, there's something of interest several days a week.
READ MORE ⇒ Which Dog Boots Are Best?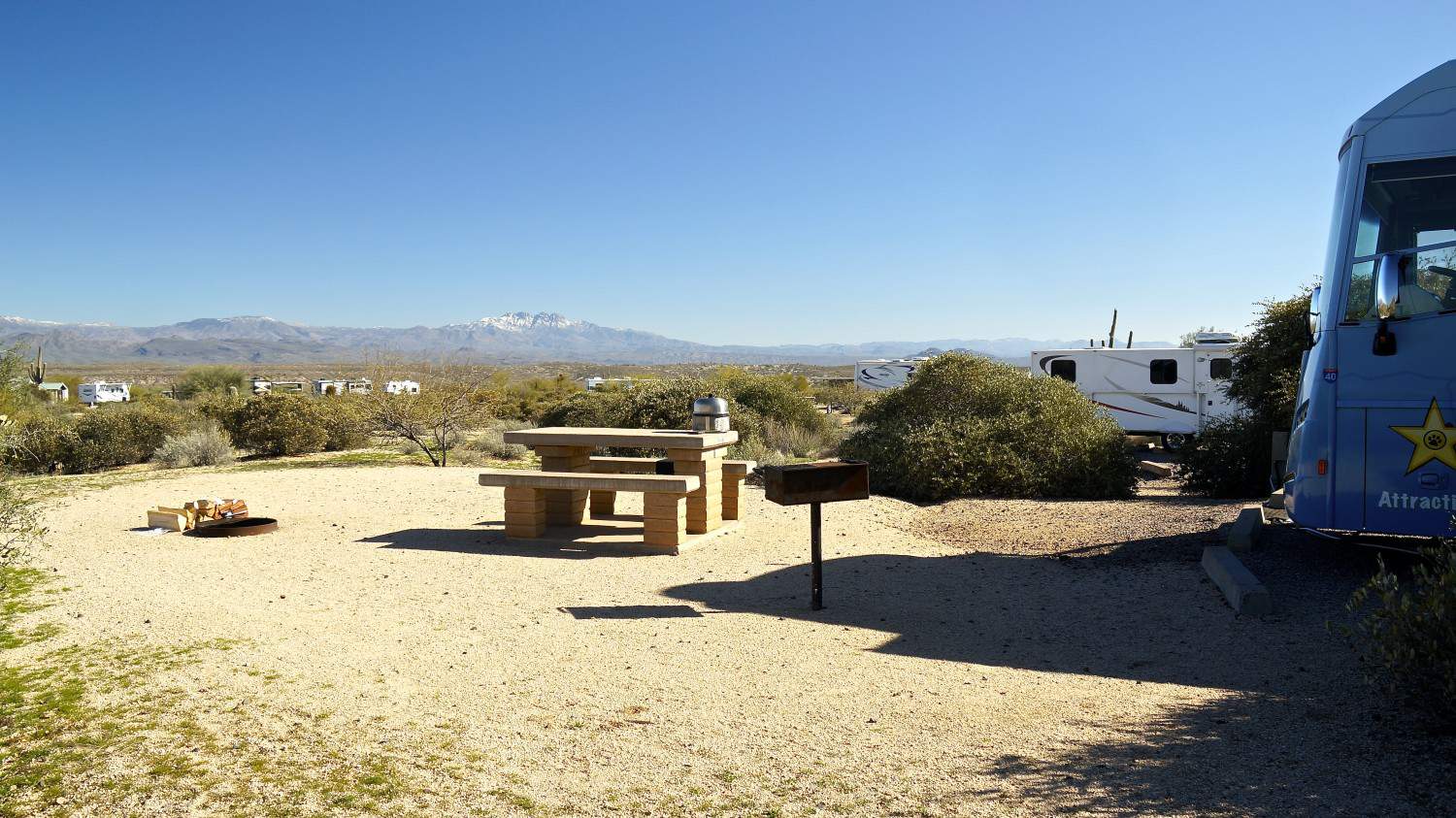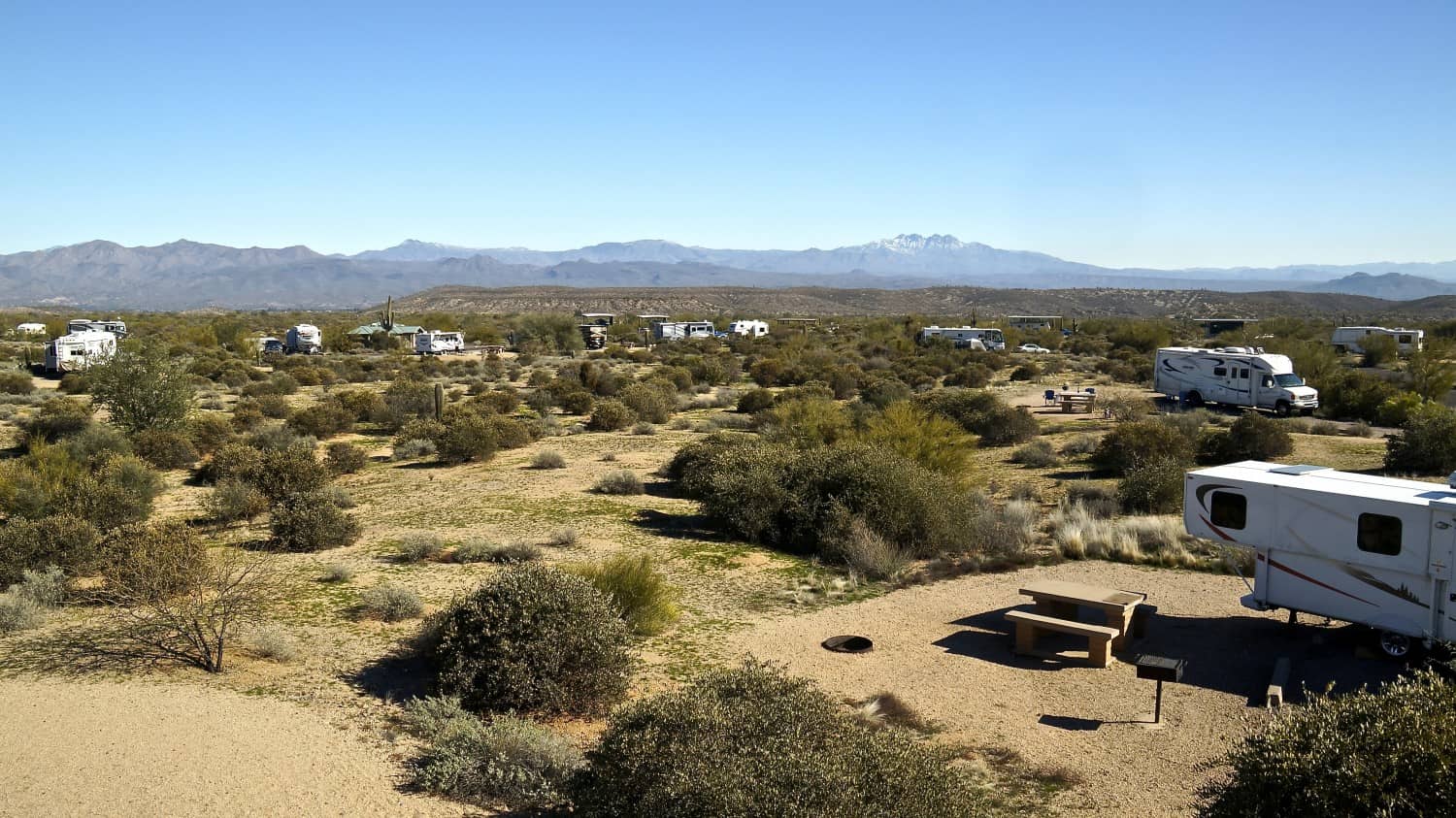 One way McDowell differs from White Tank is that there are washes running through the campground with lots of bushes and vegetation. This gives the coyotes plenty of cover, and we saw several walking around the campground – though I wasn't quick enough to get any pictures!
As uninvited guests in their habitat, we humans can minimize our impact by not leaving food or garbage out at night, and never leaving our pets tethered outside unattended.
Hiking at McDowell Mountain Regional Park
Covering nearly 22,000 acres, McDowell is best known for its mountain biking. People come from all over the country to hit the 67 miles of trails! Fortunately, all of those trails are also pet friendly, so you and your pup will have plenty of options to explore.
From the parking area or campground, trails take you in every direction. You can explore the Sonoran Preserve, hike or bike into the town of Fountain Hills, or head for Scottsdale and beyond.
As with all desert hiking, it's best to keep your distance from the teddy bear cholla. People seem to work together to keep the trail clear of any segments of this cactus that have fallen, but those of us hiking with dogs need to be especially vigilant. The spines of the cholla have barbed ends, so they're particularly good at latching on. Carrying a pliers or hair comb will allow you to easily remove any that sneak up on you or your pup.
READ MORE ⇒ 7 Essentials for Desert Hiking With Dogs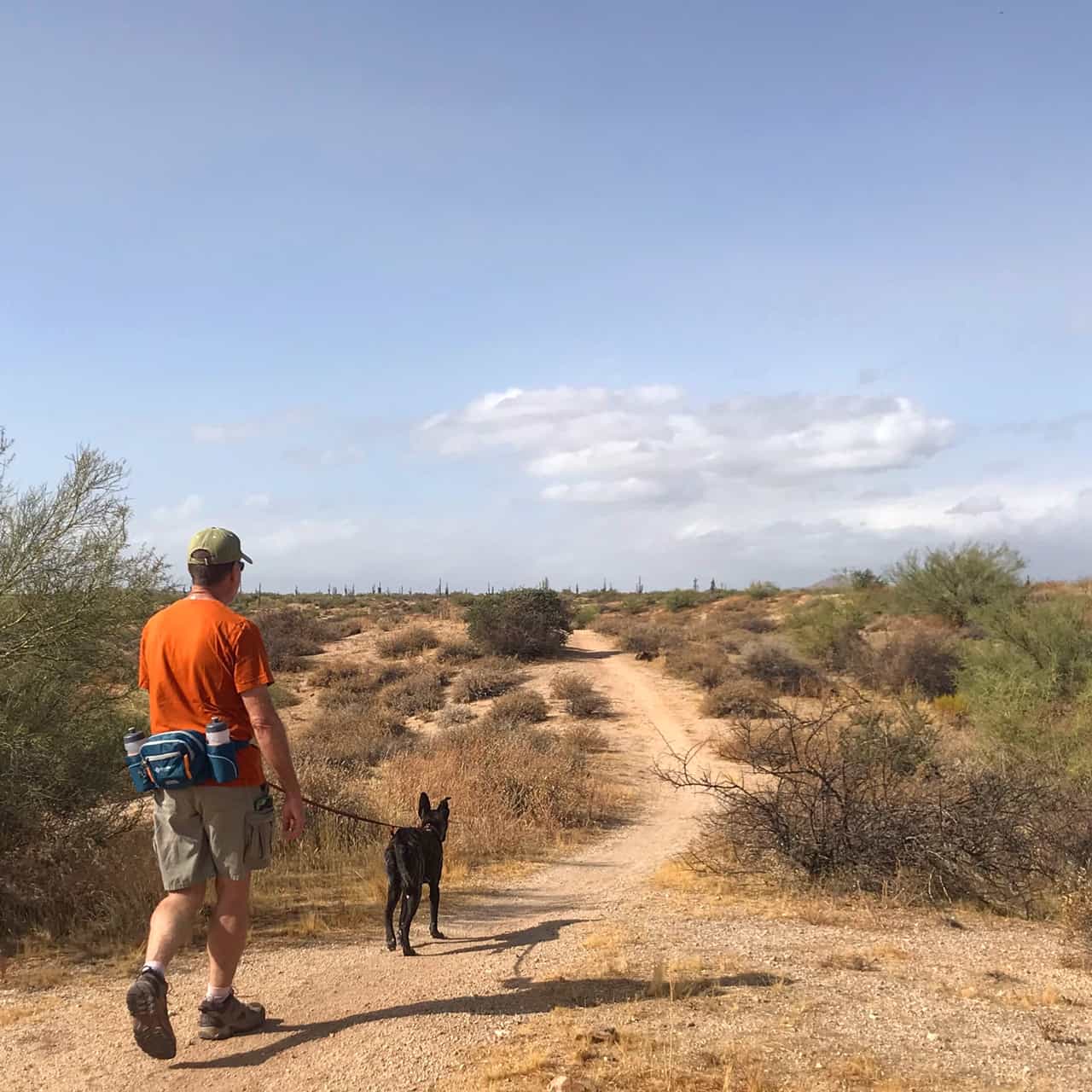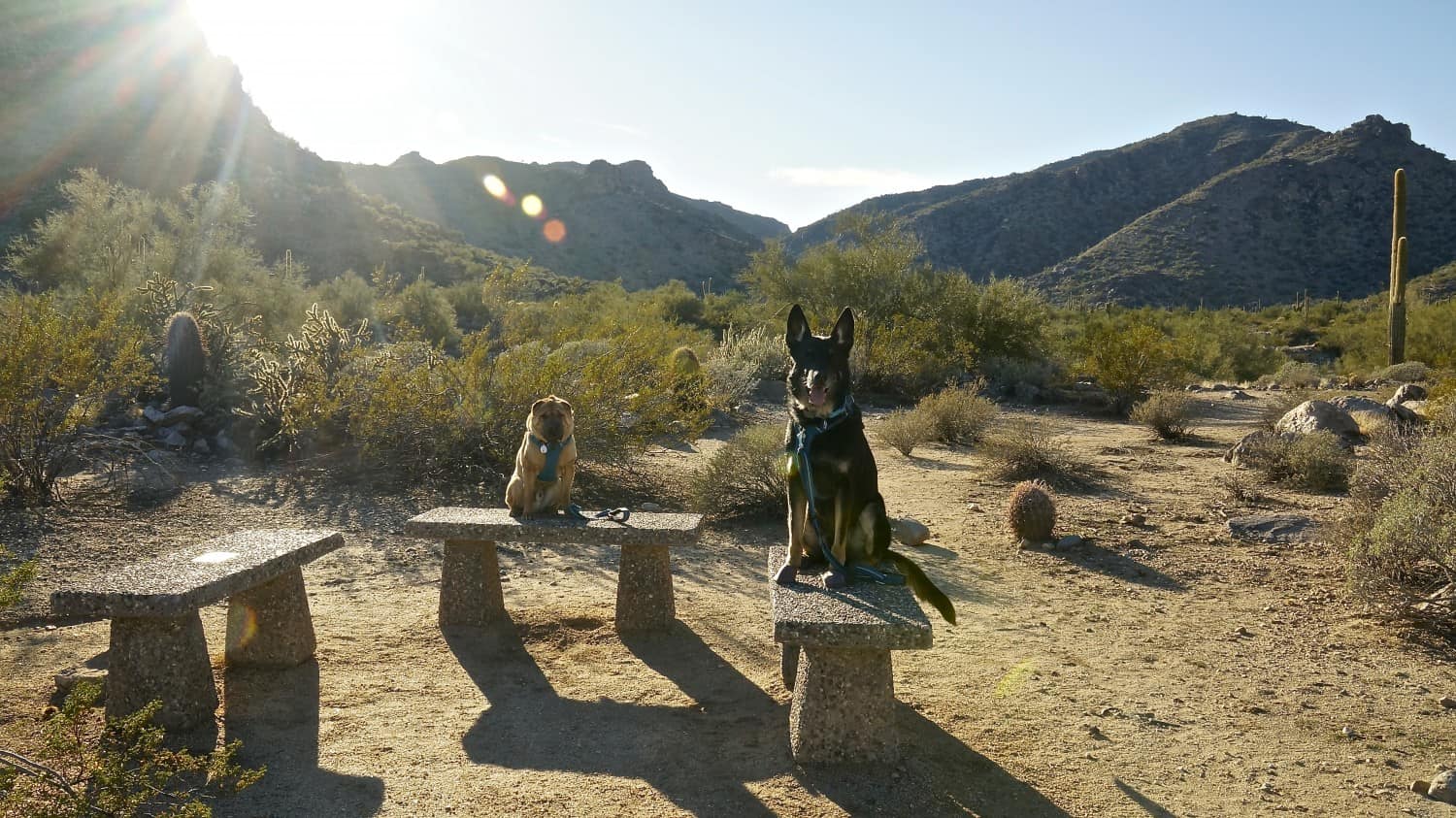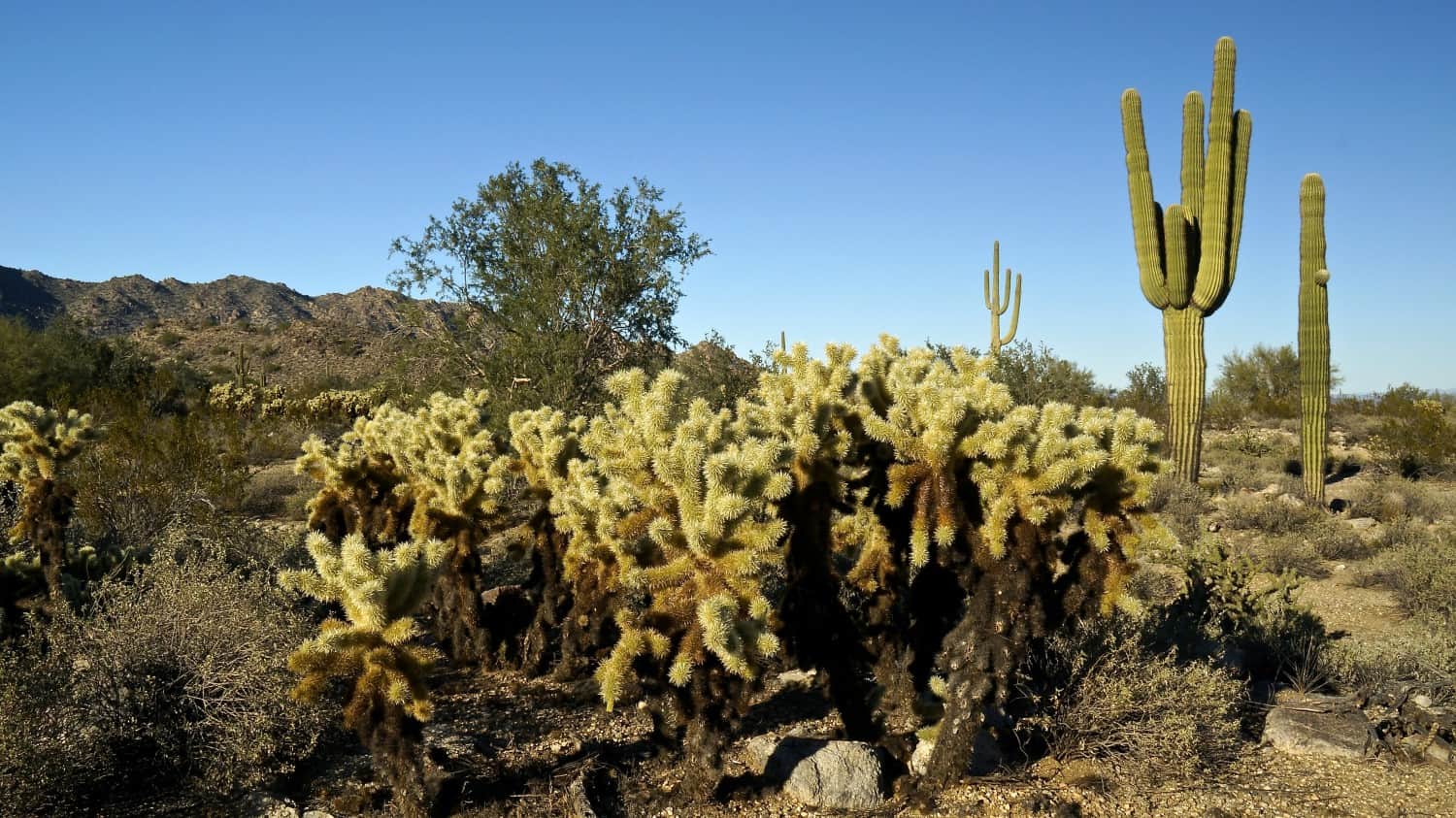 Nearby Fountain Hills
Though it's 40 miles from Phoenix, McDowell is only four miles from Fountain Hills, which has all the services you need. At the center of town is the fountain and park, including a disc golf course and paved trail. It's a nice place to grab a cup of coffee and take a stroll or pack a picnic lunch.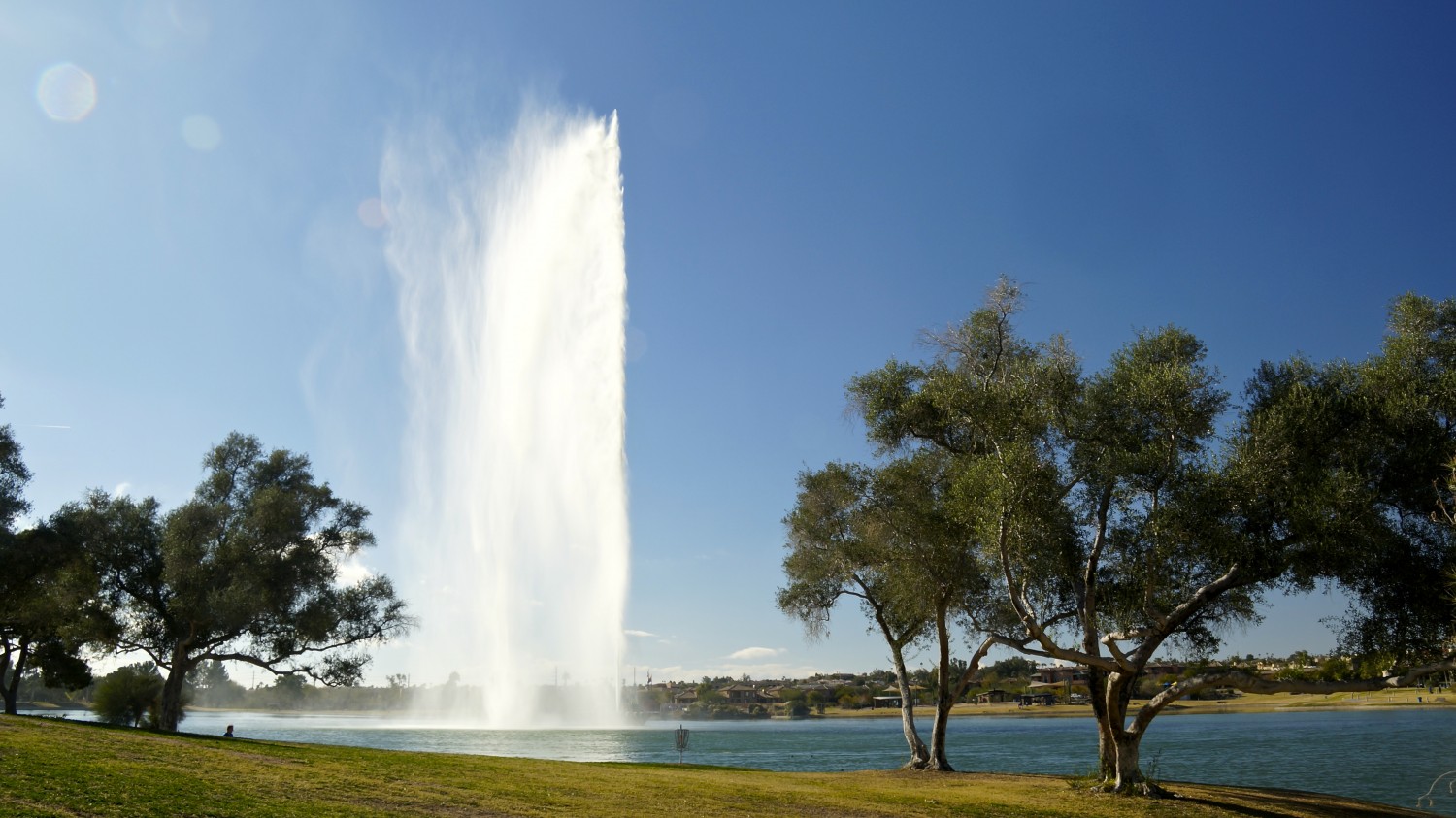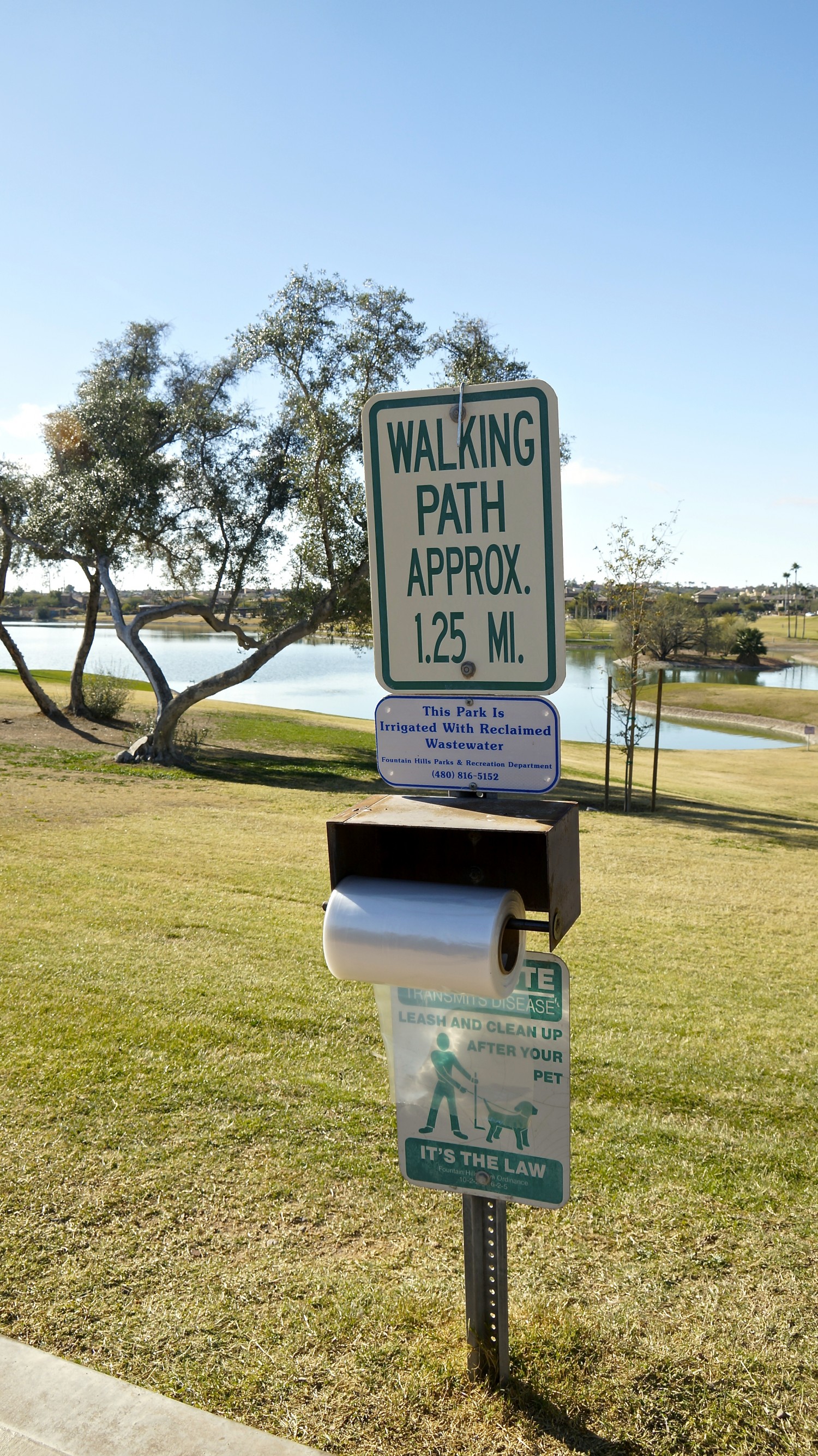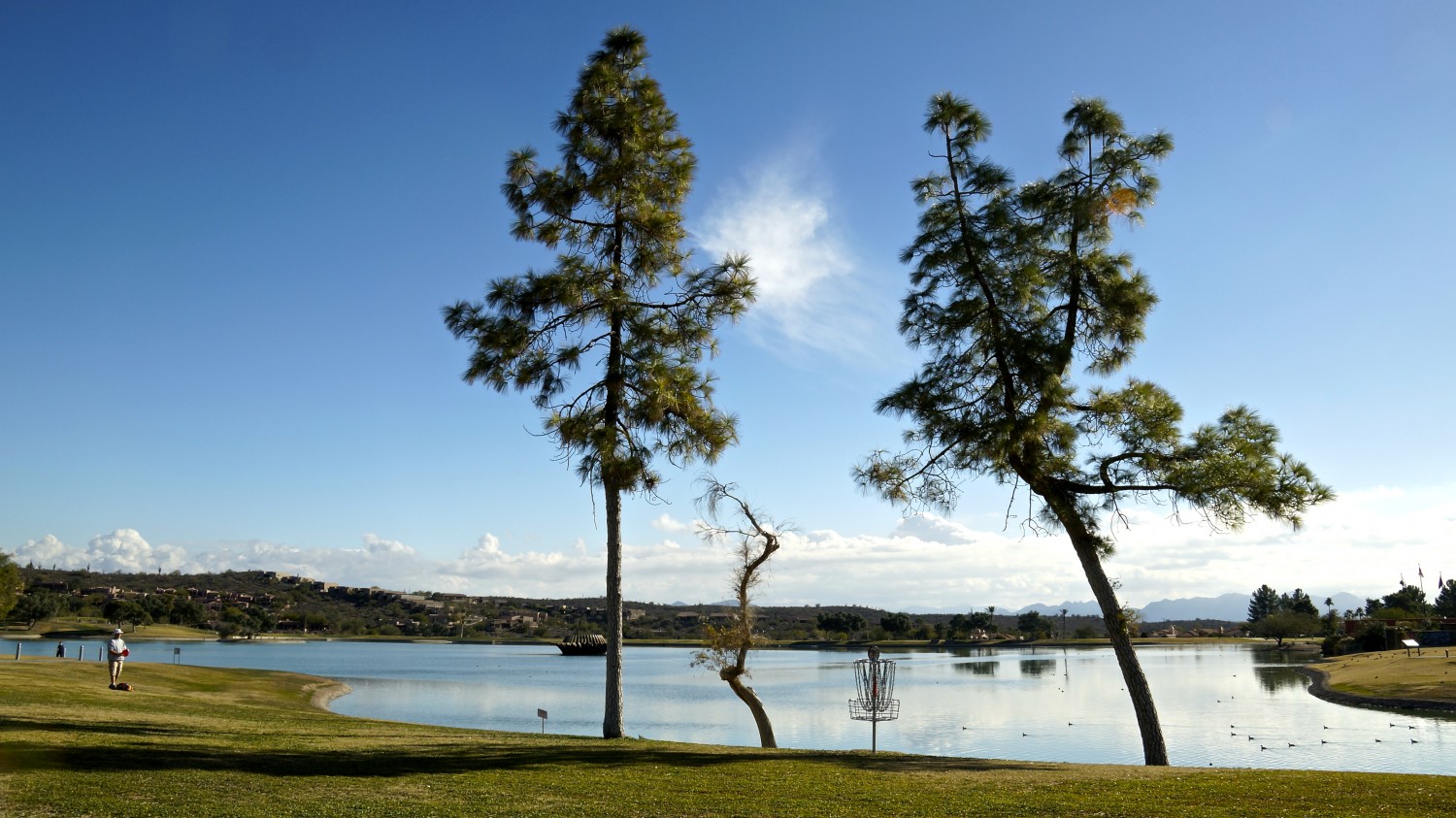 Comparing White Tank Mountain and McDowell Mountain Parks
If you're trying to decide between the pet friendly camping options near Phoenix at McDowell Mountain and White Tank, there are a few factors to consider. Admiring downtown Phoenix from White Tank feels more like a getaway – safely outside the reach of the daily grind, while still being able to observe it from a distance.
McDowell has a completely different atmosphere. It's popularity with local Arizonians as well as mountain bikers from around the country give it more energy. People are always coming and going, so it feels less remote. Spending two weeks in each would be the perfect balance.
Of course, the scenery at both parks is spectacular. At McDowell we especially enjoyed watching the light play on the mountains at different times of the day. And, seeing a bit of snow on Four Peaks is always a special treat!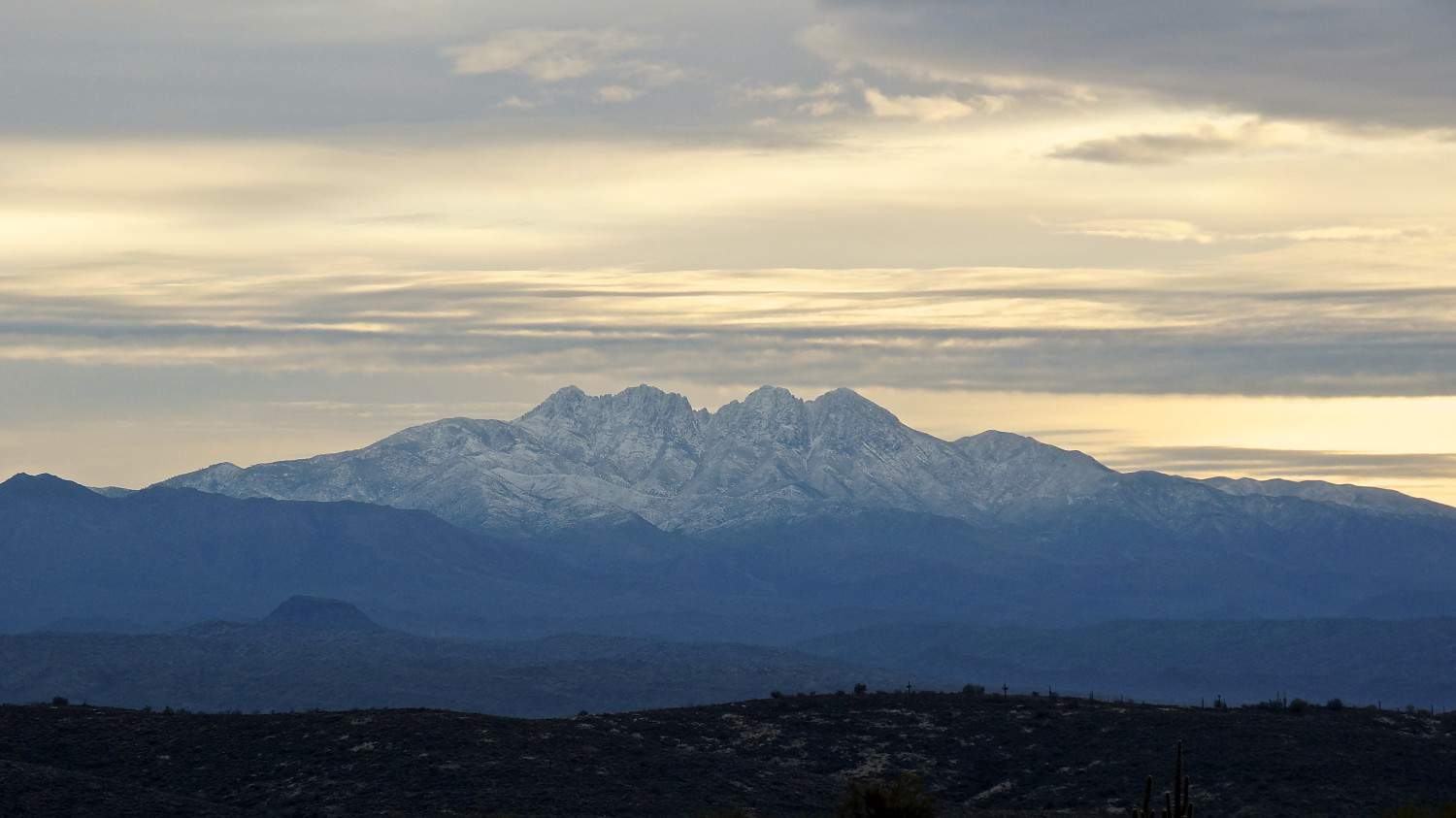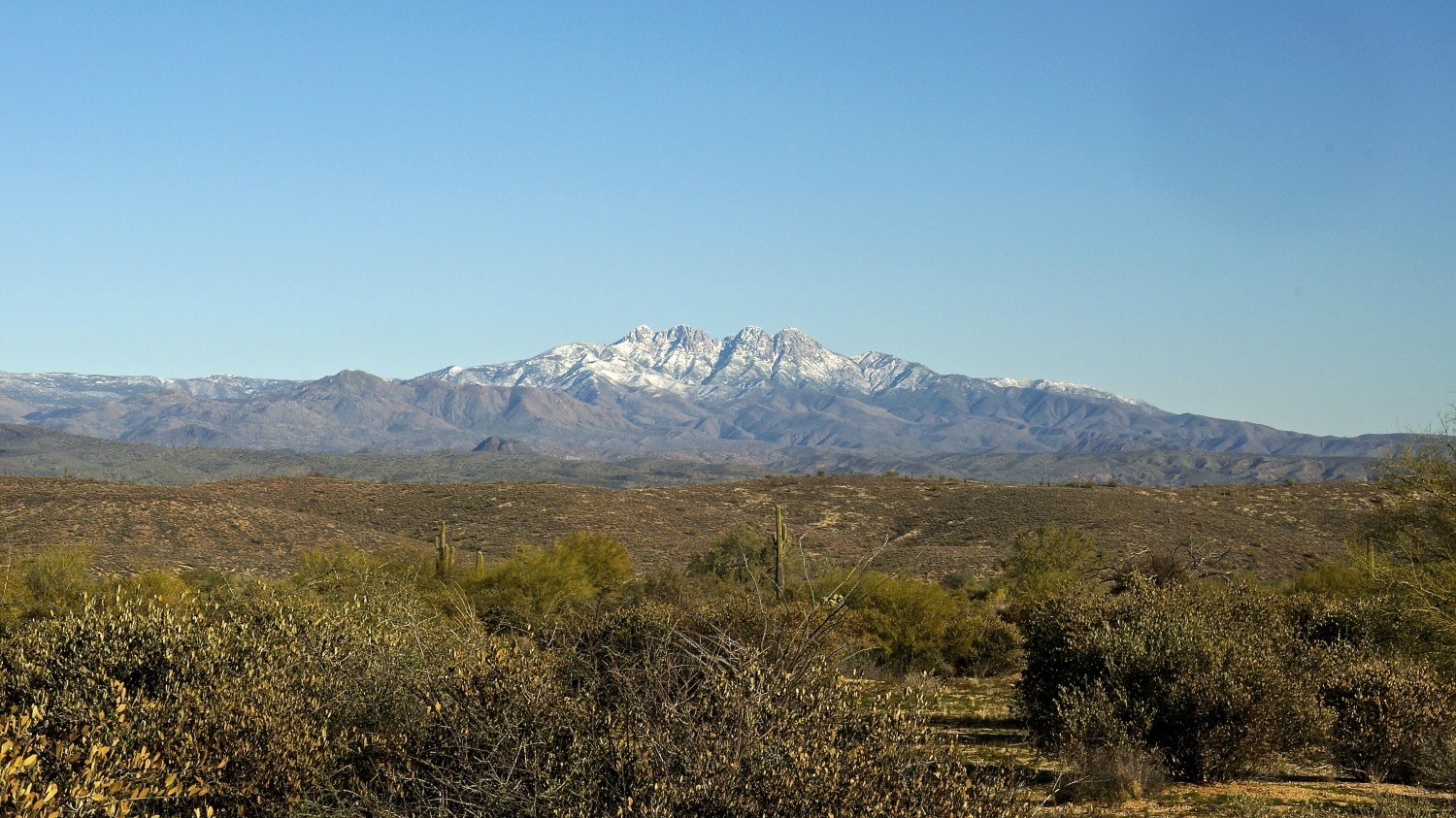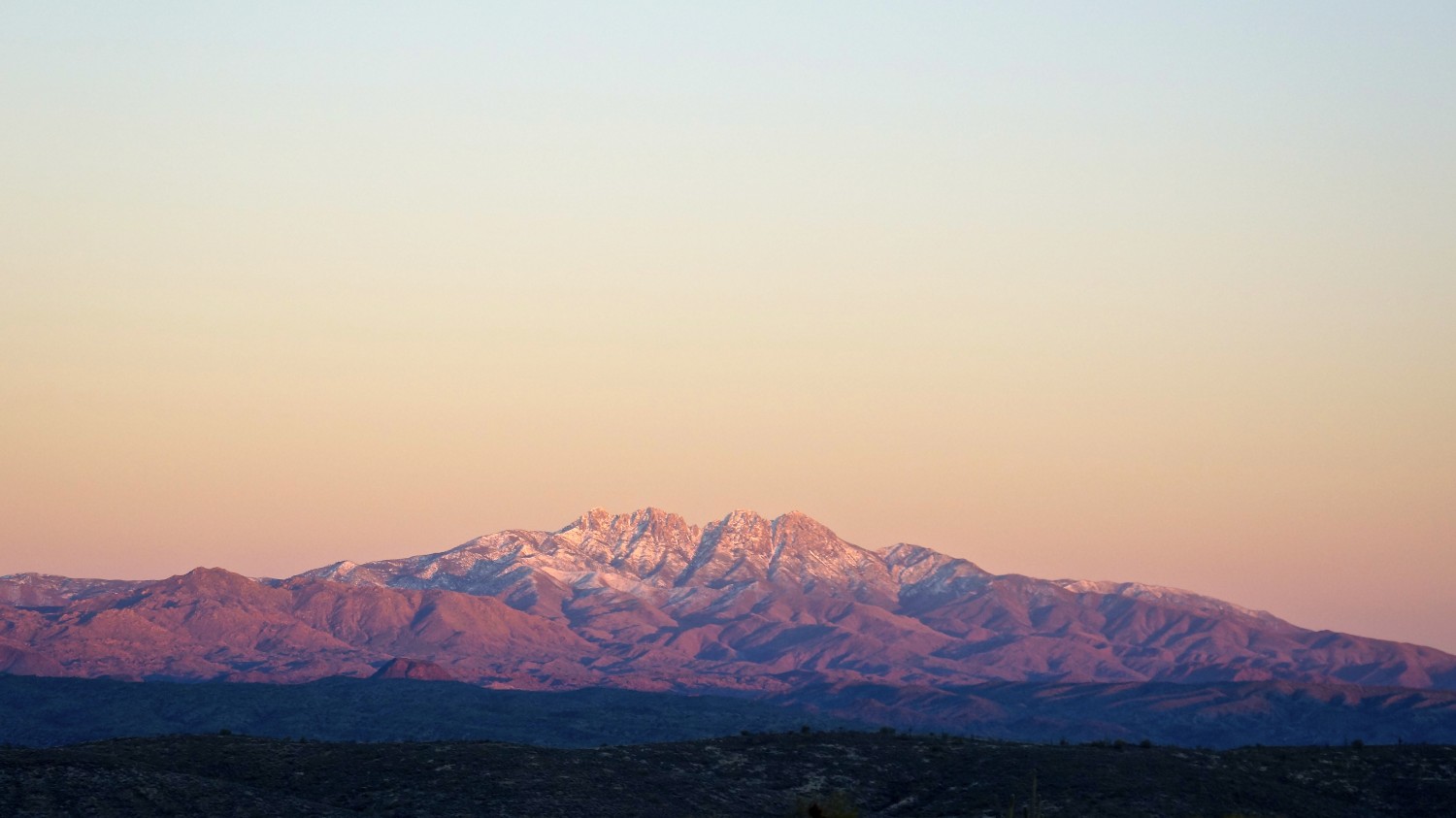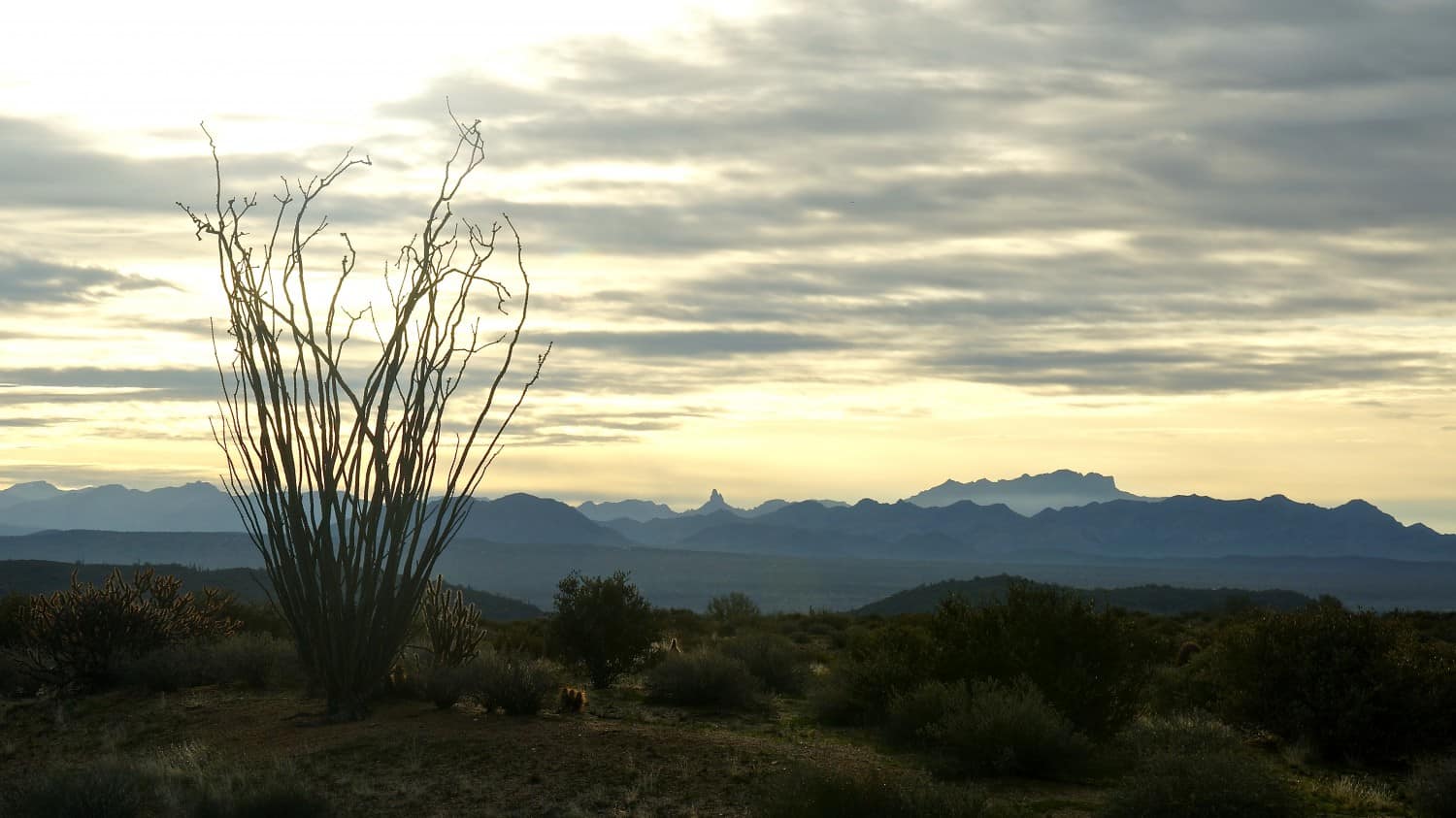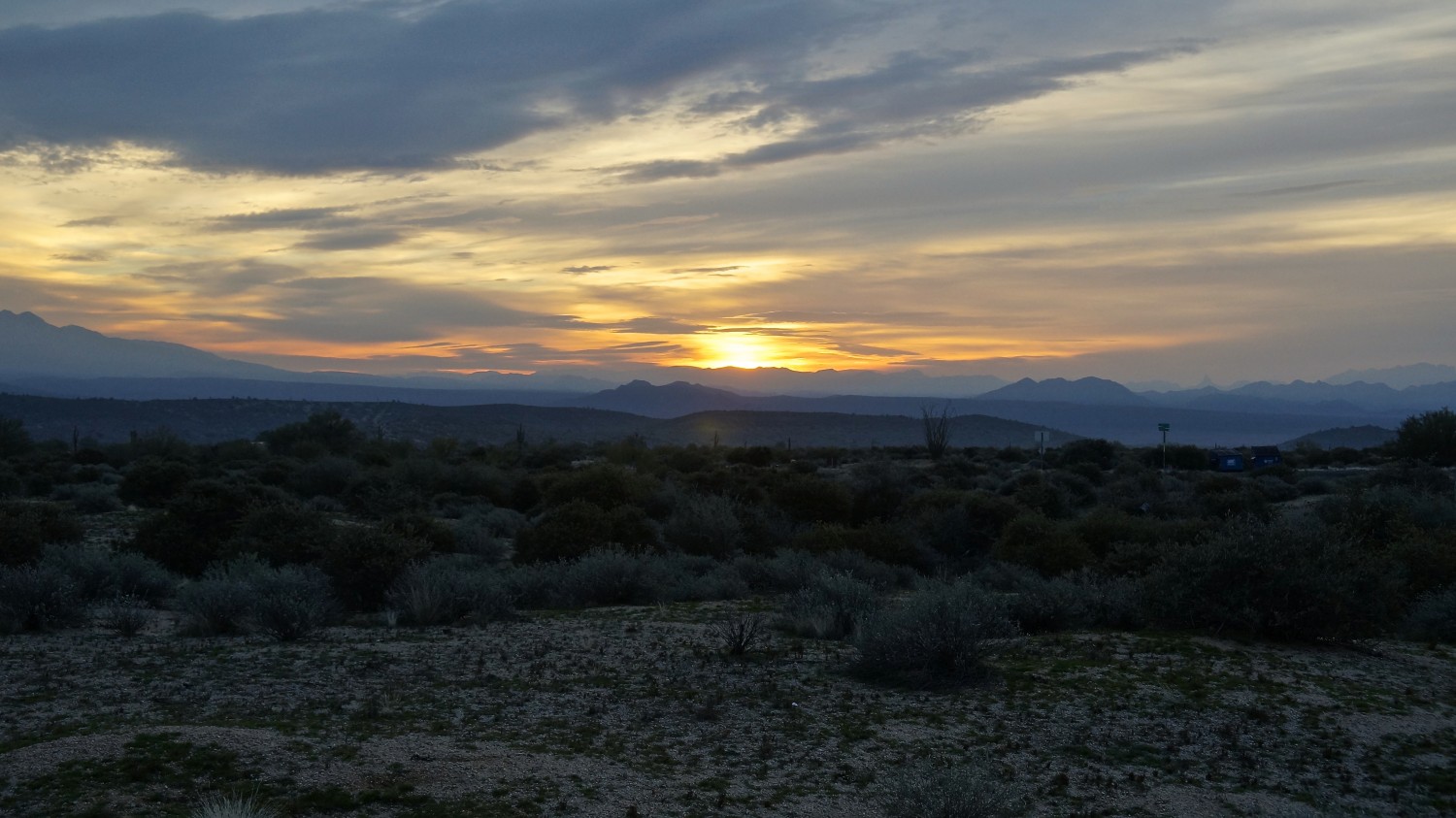 Pet Friendly Camping Near Phoenix – A Difficult Choice
If you have to choose between McDowell and White Tank, it's a tough call. They're both beautiful, and the key factor would likely be my mood rather than the parks themselves.
Of course, these are only two of the parks in the Maricopa County Regional Park System! I've heard great things about the RV parks at Cave Creek, Lake Pleasant, and Usery Mountain, as well. Passing a winter hopping between all the parks sounds like great fun to me!
(Visited 3,022 times, 1 visits today)