We decided to mix things up this winter, and rather than return to our annual hibernation spot in Austin, we've been exploring the possibilities in Arizona. Shorter stays have been the name of the game, giving us the chance to visit many places we hadn't seen before. One of our best finds thus far has been the Maricopa County Regional Park System around Phoenix.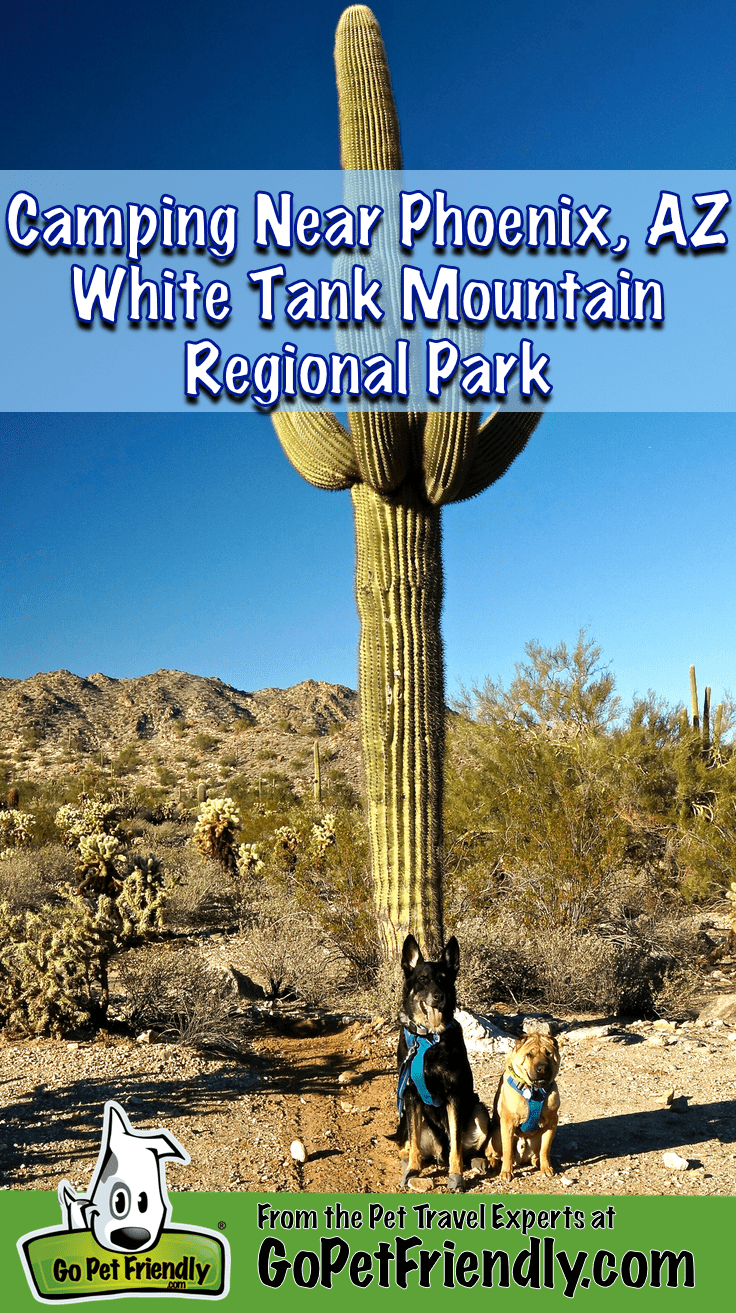 In the mid-1900s, the wise people of Maricopa County anticipated that the growing city of Phoenix would eventually gobble up everything around it. So they began setting aside huge regional parks where the community could access the desert for recreational use.
Estrella Mountain Regional Park opened in 1954 – the first park in the system, it preserved 19,800 acres of pristine desert and mountains where the Gila and Agua Fria Rivers meet. Now the Park System includes 11 parks, eight of which have developed, semi-developed, or primitive camping available. We visited White Tank Mountain and McDowell Mountain Regional Parks this winter, and very much enjoyed them both.
White Tank Mountain Regional Park
Over the years, we've visited the Phoenix area many times and always stayed in  privately owned RV parks. These parks generally cater to "snow birds" arriving from the colder climates to enjoy the Arizona sun in the winter. They're usually very large – one we stayed in had 2,000 sites! Keeping their guests entertained is a primary focus so there are all kinds of amenities and activities offered, which can drive up the cost for us "short-timers" who don't take advantage of these conveniences.
If you prefer spacious campsites with gorgeous views and find that the great outdoors is all the entertainment you need, camping at a regional park may be more your speed!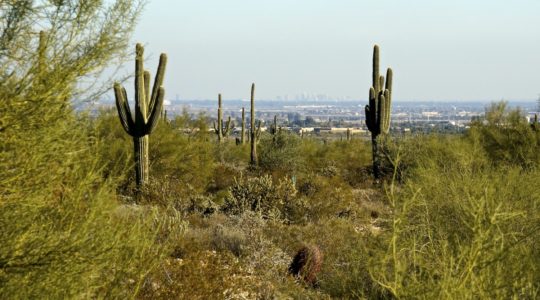 Our first stop was at White Tank Mountain – about 30 miles west of downtown Phoenix. Spread over nearly 30,000 acres, this is the largest of Maricopa Counties' regional parks, and it is situated in the rugged White Tank Mountains. The park gets it's name from the "tanks" created in the white granite rock when torrential rains plunge over ledges, scouring depressions in the stone.  And with 28 miles of pet-friendly trails to choose from, you'll have plenty of options to get your best friend out in the middle of it all!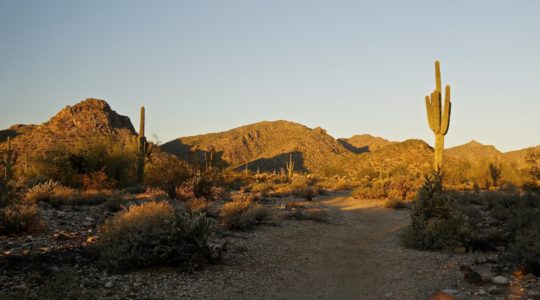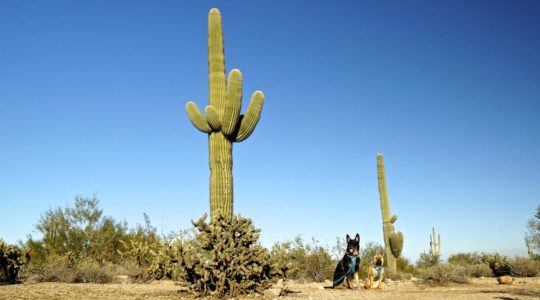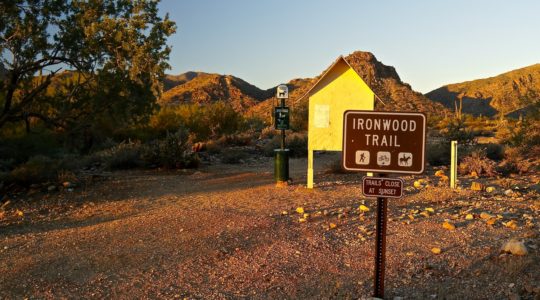 The campground is equally impressive. The 40 sites are well-spaced and immaculately maintained, with a host raking each one before the next camper arrives. They come complete with grill, picnic table, fire ring, and water and electric hookups, and a dump station is available near the campground entrance.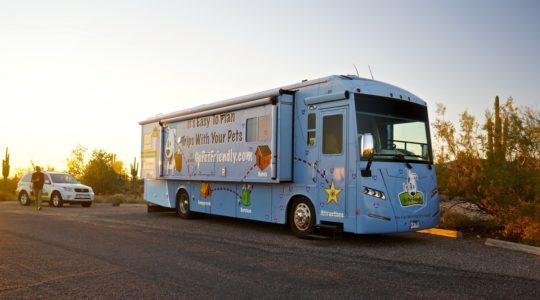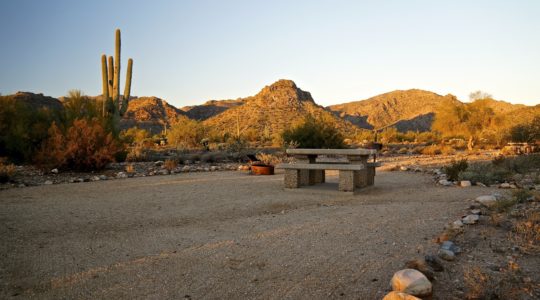 The only thing better than a day at White Tank Mountain, is the night! The sunsets are spectacular, and watching Phoenix light up in the distance is lovely.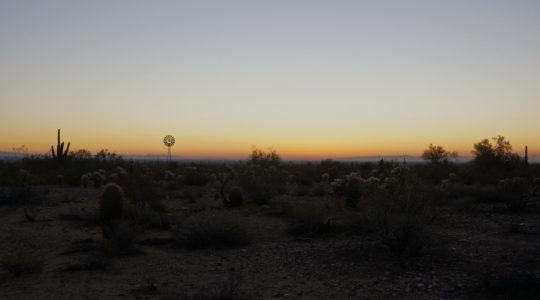 The only caution I have for you is to watch out for the teddy bear cholla cactus – often referred to as "the "jumping cholla." These guys are not as snuggly as they sound! Small segments of this cactus fall off and sprout to grow a new plant, and we saw a few that had landed on the trail while we were out for hikes. The spines of this cactus are barbed, making them difficult to remove completely from your skin or a dog's paw – so it's best to give them a wide berth.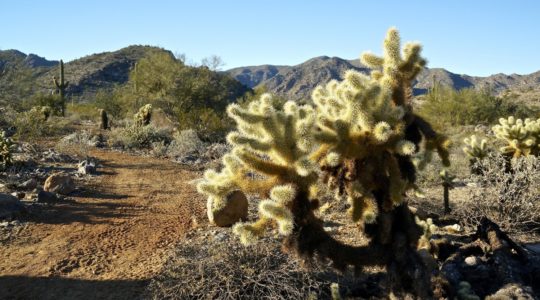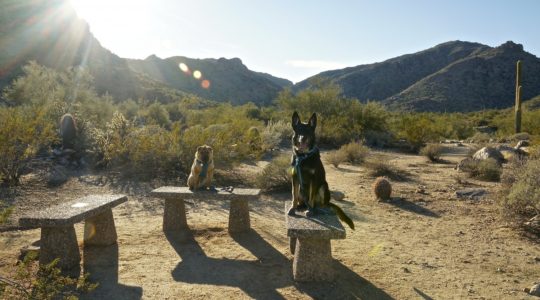 Our next stop was at McDowell Mountain Regional Park, about 30 miles northeast of Phoenix. It's every bit as nice as White Tank, but with a completely different vibe. Read about our stay at McDowell Mountain.
Planning a pet friendly trip of your own? We'll make it easy:
Pet Friendly Hotels | Pet Friendly Destinations | Pet Friendly Activities
Amazon Affiliate Disclosure: GoPetFriendly.com LLC is a participant in the Amazon Services LLC Associates Program, an affiliate advertising program designed to provide a means for website owners to earn advertising fees by advertising and linking to amazon.com, audible.com, and any other website that may be affiliated with Amazon Service LLC Associates Program. As an Amazon Associate, the owner of this site earns a commission from qualifying purchases.
(Visited 2,155 times, 1 visits today)