Seattle is one of those cities that's famous for being pet friendly, so any reason to visit is a good one. This summer my family traveled from far and wide to West Seattle for my uncle's wedding, and we got the chance to spend some time in a part of the city we'd never explored before. It only took a couple of days for this neighborhood to steal our hearts – we found a great pet friendly hotel, plenty of things to do, and a nice selection of places to eat.
Discovering West Seattle
There is so much to do downtown, it's really no surprise we hadn't ventured over to explore West Seattle. Requiring either a short stint on I-5 in the car, or a quest for the correct ferry to usher you across Elliott Bay, we always chose to see the sites that were more easy to come by. Chalk it up to a learning experience, because all these years we've been missing out on Seattle's coolest neighborhood. One of the challenges of staying in West Seattle is that there is a distinct lack of hotels. In fact, compared with all the pet friendly hotels in downtown Seattle, there is only one in West Seattle – but it only takes one!
The Grove – West Seattle Inn
Rental properties are a popular accommodation choice in this part of town, and that's the route my relatives decided to go. But putting our excitable dogs in a house full of well-intentioned, but overly-indulgent, family would have been asking for trouble … so I started looking for a small rental nearby that would work for us. During the search, I came across The Grove – West Seattle Inn …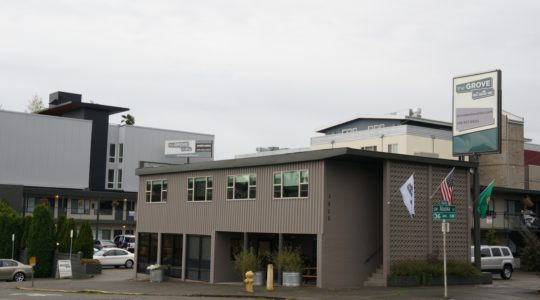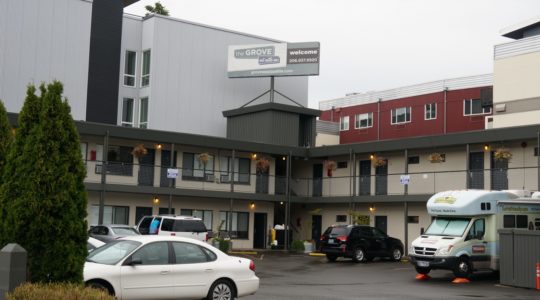 It's an old motor inn, with all 46 rooms having been recently renovated, and it was only a couple miles from where my family was staying. The only glitch: the policy on their website said that they only allowed dogs up to 40 pounds. Considering Buster weights approximately twice that, even if he sucked in his tummy, he wasn't going to pass for 40 pounds – however, hotels will often make an exception to their weight limit if you ask politely. So, I sent off an email with a picture of Buster giving his best "puppy eyes" and a promise to be a good boy if they would, please, allow us to stay. It must have been our lucky day, because the hotel manager said yes! We opted for a suite, so the dogs would have plenty of space to stretch out, but we didn't expect to find this much space!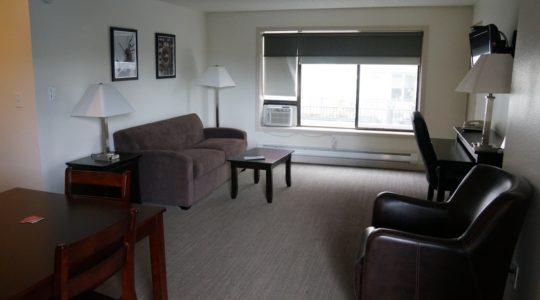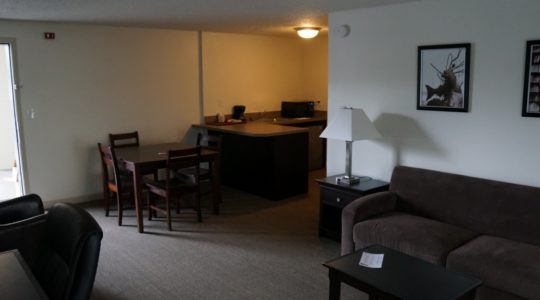 We had a separate living room with a desk, a nice dining area, and a good sized kitchenette – complete with refrigerator and microwave. Down the hall was the bedroom and bathroom. All this, plus continental breakfast, and they only charge a pet fee of $35 per stay. Just across the street is a park with plenty of grass and bushes for sniffing … plus a totem pole and view of the Seattle skyline in the background.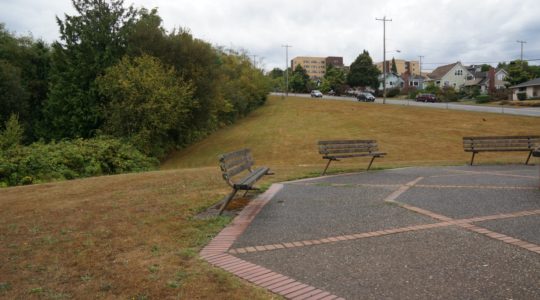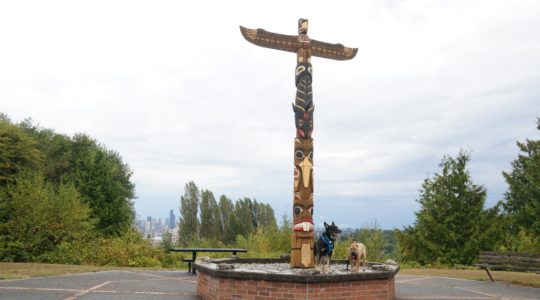 And right down the way is a cozy little organic café that has dog friendly outdoor seating when the weather's nice.
Walk a few blocks over to California Street and you'll find all kinds of restaurants, coffee shops, and boutiques. There are a couple of pet supply stores to keep your pooch happy, an ice cream shop that was always busy, and one of the best bakeries known to man. You'll be tempted to pile on the calories, so from there, head down the hill a mile or two to Alki Beach. Though dogs aren't allowed on the sand, you'll find a paved path along the water with benches and killer views. There are more enticing eateries here, though at many of them pets had to wait outside the fence at the patio seating area – which I don't consider very pet friendly.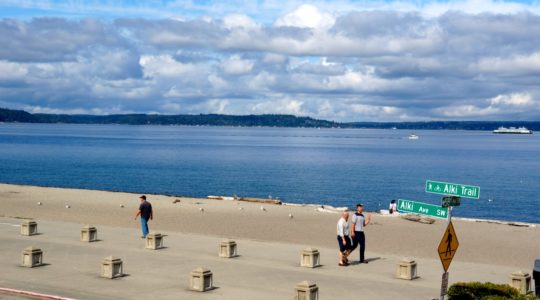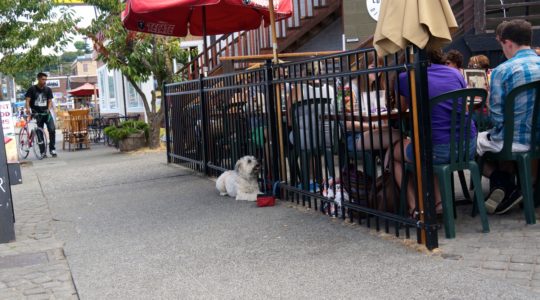 Visiting Pet Friendly Pike Place Market
One of Seattle's best known landmarks is Pike Place Market, and it's pet friendly! Unfortunately, the water taxi between West Seattle and downtown isn't pet friendly, so if you want to see this site with your pup, you'll have to take your car. Still, it's absolutely worth the drive, and it's easy to spend the day sniffing around Seattle.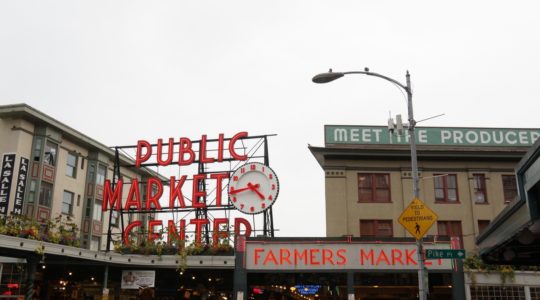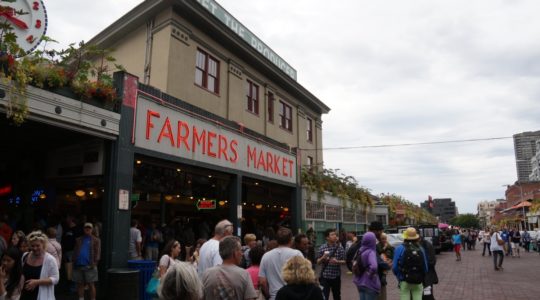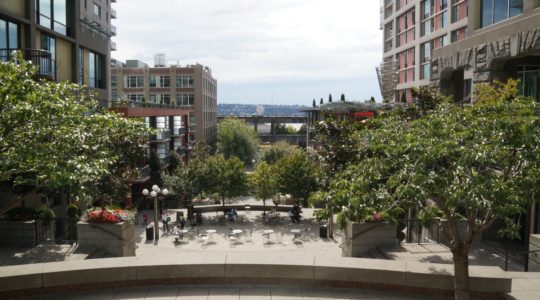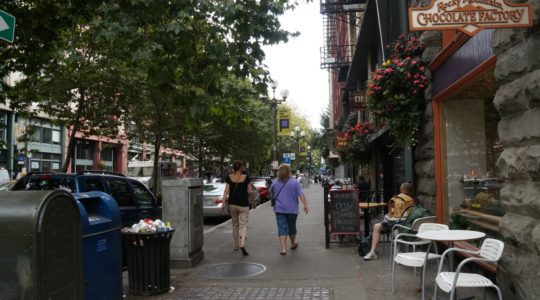 And, it's nice to head back across to the less crowed, quieter neighborhood of West Seattle to relax and unwind at the end of the day. The Grove will be our regular spot in Seattle from now on!
Amazon Affiliate Disclosure: GoPetFriendly.com LLC is a participant in the Amazon Services LLC Associates Program, an affiliate advertising program designed to provide a means for website owners to earn advertising fees by advertising and linking to amazon.com, audible.com, and any other website that may be affiliated with Amazon Service LLC Associates Program. As an Amazon Associate, the owner of this site earns a commission from qualifying purchases.
(Visited 2,124 times, 1 visits today)