Try as we might, Rod, Buster, Ty and I simply can't get to every pet friendly destination in the US and Canada. That's why we're so excited when our readers offer to write guest posts about their pet friendly trips! Beach weather will be here before you know it, so we gladly accepted when Renee volunteered to tell you about her recent visit to Wilmington and Wrightsville Beach, NC with her dog, "Hank."
***
Just the thought of leaving my dog Hank at home breaks my heart, so I always try to take him with me on my travels. When I recently traveled to the Wilmington/Wrightsville Beach area to visit a friend, Hank went too. From a quick bite at the Trolley Stop to a stroll on the beach, our Wilmington jaunt was simply unforgettable!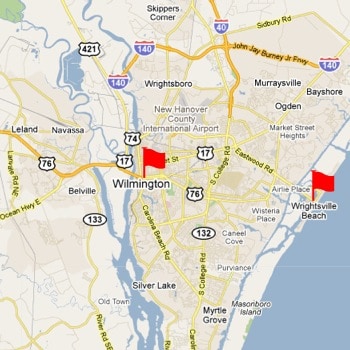 If you and your dog are considering a trip to Wilmington, here are the must-see places and top dog-friendly things to do while you're there:
Trolly Stop
Just a hop, skip, and a jump from the beach (near the north pier), the Trolly Stop is a must for anyone vacationing in Wilmington. The restaurant, located on the first stop on the trolley line in Wrightsville Beach, is small, but you can't miss it. They serve a variety of custom hot dogs for every taste at very reasonable prices. In fact, there are even vegetarian and vegan-style hot dog offerings.
This dog-friendly joint throws in an extra hot dog (without a bun) for your pooch when you buy one. In addition to giving free food to visiting pets, Trolly Stop also collects pictures of pooch and owner and pins them to their walls. You'll definitely want to join the wall of fame!
I typically don't like fast food, but I am glad to eat one of the Trolly Stop's flavorful concoctions! I didn't get a hot dog at first, but after taking a bite of my friend's, I immediately placed my order. I tried "The Surfer" and absolutely loved its melted cheese, mustard, and bacon bits. Hank also seemed to enjoy his freebie, and I'm quite sure I heard him woof for more.
Wrightsville Beach
"The Loop," as it's known in Wrightsville Beach, is 2.45 mile circular paved walking trail around a public park, sports fields, scenic marshes, and the Inter-Coastal Waterway. It's a great way to see downtown Wrightsville Beach and the beautiful beachfront homes.
Hank enjoyed strolling around the Loop, as there were plenty of things for him to stop and smell. His advice: watch for the dog-friendly water station near the real estate agency and immediately after the Inter-Coastal Waterway Bridge.
Dogs are allowed on the beach from October through March, but they must be leashed and pet waste must be cleaned up island-wide. The fine for not abiding by these rules is $250.00 on first offense (no first warnings!).  The Wrightsville Beach Board of Alderman moved to this fine structure when they found that town officials were issuing hundreds of warnings, and violations kept increasing. As long as your dog is on its leash and you pick up after it (which I think of as a common courtesy) you'll get along just fine.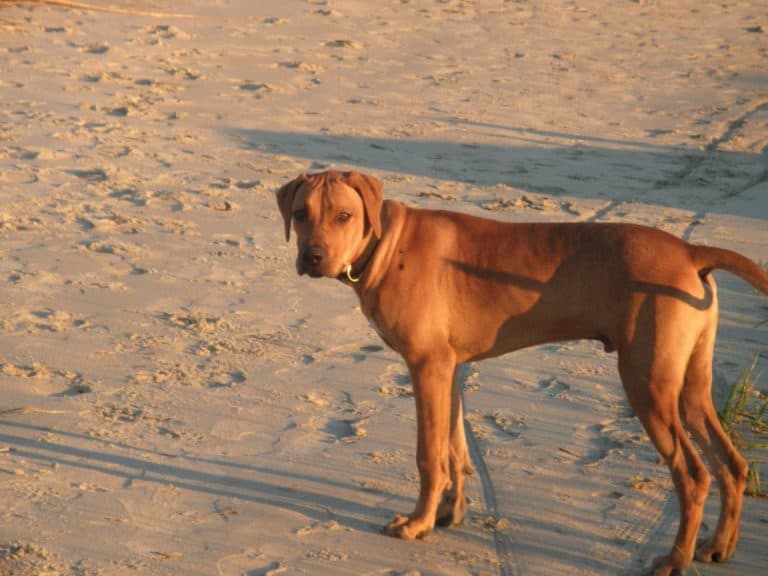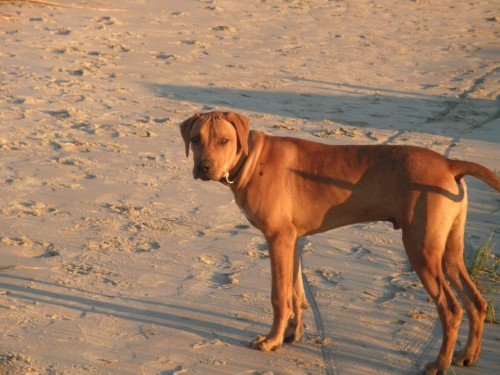 Note that during high season (April 1- September 30), pets are not allowed on Wrightsville Beach and there are no hotels on the island that allow pets. Therefore, it's best to plan your pet-friendly visit for the off-season.
Port City Java
Port City Java has been Wilmington's number one choice for locally roasted coffee since 1995. The cafe offers a wide variety of Fair Trade and organic-certified coffees, hot and cold espresso-based beverages, pure fruit smoothies, milkshakes, breakfast sandwiches, lunch fare and baked goods that are prepared daily.
What Hank and I especially liked about this place is its wonderful dog-friendly patio. Port City Java has small tables in front of the store where you can enjoy free Wi-Fi and a bite to eat with your dogs. When we arrived, some of the locals were already sipping their morning coffee outside with their pets at their sides.
We visited this cafe several times and tried their blueberry muffin, banana nut muffin, and chocolate chip muffin, as well as one of their egg/cheese/bacon wraps.  Everything was tasty and fresh! While waiting for your coffee, you can also flip through some local pet/dog magazines, which highlight the dog-friendly best of the Outer Banks area.
Greenfield Lake
Greenfield Lake is a historic treasure located near downtown Wilmington. There is a 5-mile walking/biking path around the 90 acre lake. The paved sidewalk circle around the lake is a great place to walk your dog – just remember that dogs must be leashed at all times and their waste picked up and disposed of properly. Some of the attractions at the lake include beautiful gardens, an amphitheater, boat ramp, food concession, and a skate park.
We took Hank out for a day walk at Greenfield Lake. Even though we weren't able to play fetch or let him run loose, he loved sniffing the flowers and adored the attention the kids gave him when we walked by the playground. From a tourist's point of view, I definitely recommend taking a walk at Greenfield Lake – not only for the exercise but for the scenery.
Taking your dog on vacation makes it more fun! If you plan a trip to North Carolina's Outer Banks, I hope you'll make a stop in Wilmington.
Renee Bedford is a mom, wife and animal lover. She enjoys traveling and her favorite trips are those on which she can bring her dog.  Besides being a committed mother and dog owner, she also works for the Christmas Tree Market, where they sell an array of classic and unique artificial Christmas trees.
So, who's up for a trip to the beach?
Planning a pet friendly trip of your own? We'll make it easy:
Pet Friendly Hotels | Pet Friendly Destinations | Pet Friendly Activities
Amazon Affiliate Disclosure: GoPetFriendly.com LLC is a participant in the Amazon Services LLC Associates Program, an affiliate advertising program designed to provide a means for website owners to earn advertising fees by advertising and linking to amazon.com, audible.com, and any other website that may be affiliated with Amazon Service LLC Associates Program. As an Amazon Associate, the owner of this site earns a commission from qualifying purchases.
(Visited 2,857 times, 1 visits today)