South of Denver about 75 miles, and just west of Colorado Springs, you'll find the community of Manitou Springs. We spent a day here and explored a couple of attractions that were very pet friendly!
Sniffing Around
Manitou Springs was named for the nearly two dozen natural mineral springs in the area, many of which have drinking spigots for the public. It's said that the combination of chemicals varies by spring and gives each one a different taste. We didn't get out and sample them, but we did learn that they contain carbonic acid, which created the first carbonated drink!
The main street through town was one of the direct routes to Pikes Peak and that, along with the purported healing power of the mineral springs drew many visitors over the years. The primary route has moved, but the downtown area is still popular for its dining and shopping options.
Pet Friendly Perspective
Garden of the Gods – Colorado Springs, CO
We started the day with Linda, one of our Facebook friends, at Garden of the Gods. This park, stretching over 1,350 acres, was dedicated in 1909 as a free city park. The huge red sandstone rock formations set against Pikes Peak in the background is a sight not to be missed. All of the 15 miles of trails are open to pets, as long as their leashes are no more than six feet long. They also have a designated off-leash area if your pup needs to burn off some energy! There were a lot of dogs around when we were there, checking the pee-mail and catching up with their pals, which gave us the opportunity to practice Ty and Buster's new game, "Where's the Doggy?"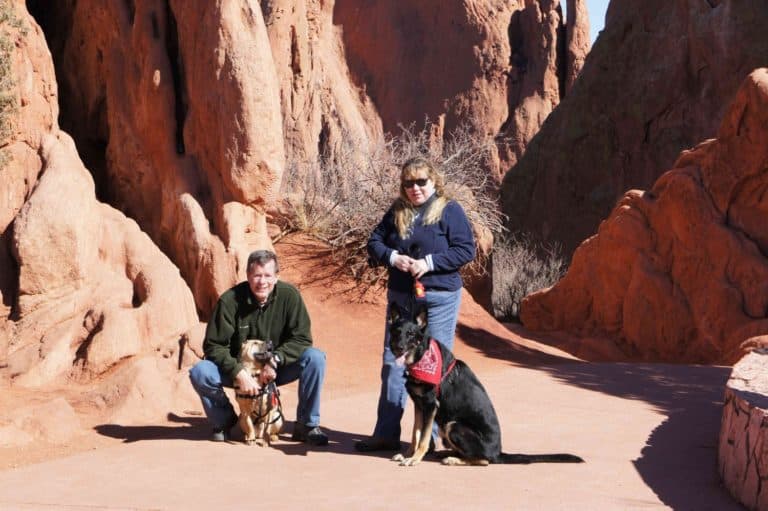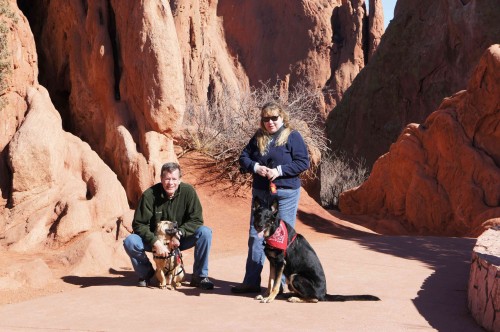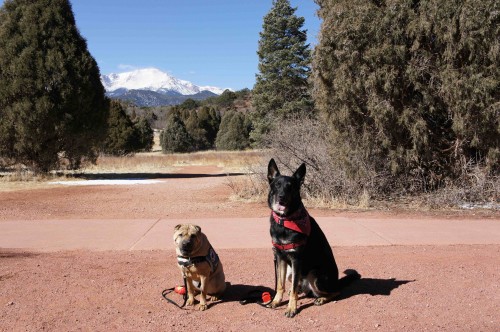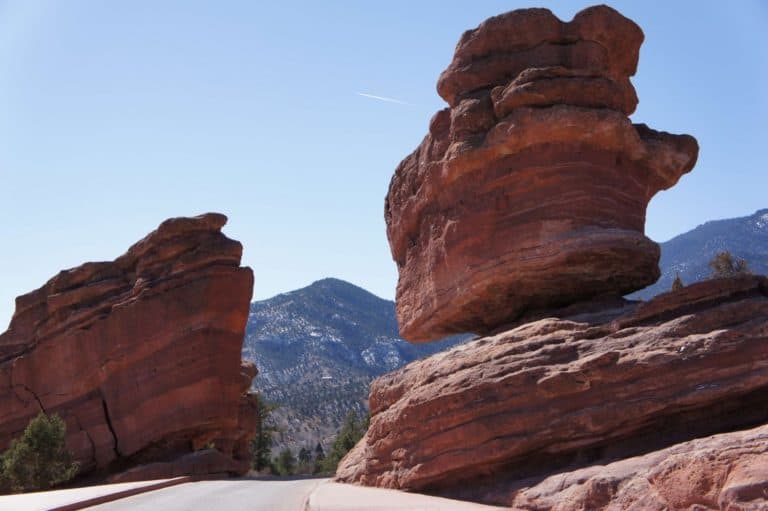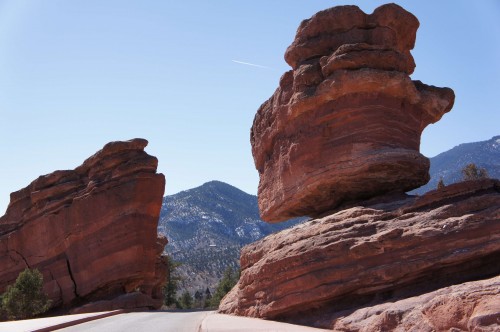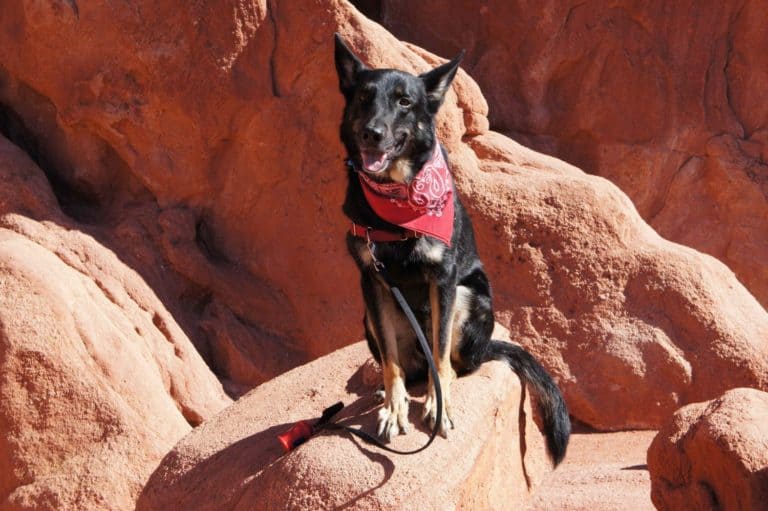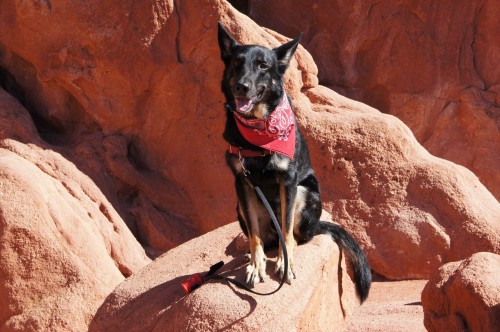 On our way out of the park we drove by the Garden of the Gods Trading Post. This is Colorado's largest gift shop and gallery and, though leashed pets are allowed inside, we didn't take the boys in. (Glass shelves full of expensive items and our dogs do not mix!) For lunch, stop into the cafe – seating on the outdoor patio is pet friendly.
Manitou Springs Cliff Dwellings – Manitou Springs, CO
The map we picked up at Garden of the Gods showed that Manitou Springs Cliff Dwellings were just up the road, so we decided to check that out after lunch. We were surprised to find out that the dogs were welcome to explore the dwellings with us, room by room.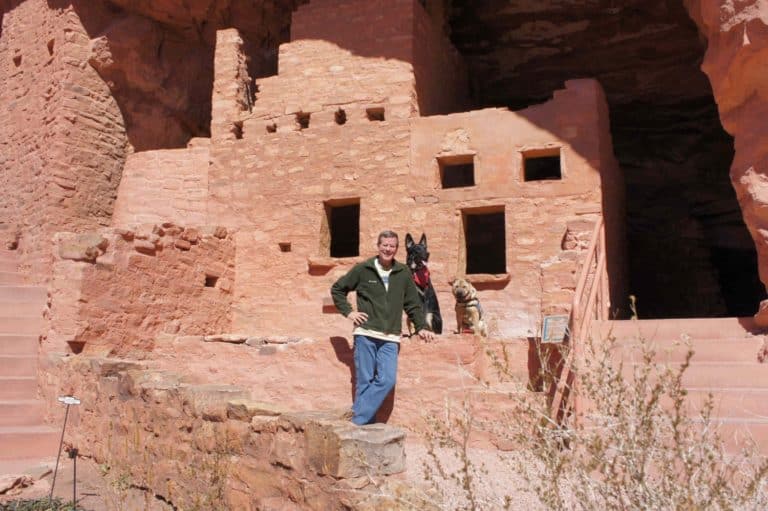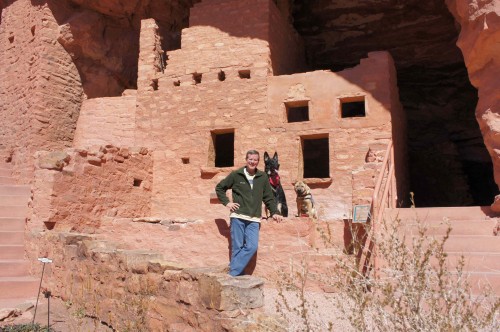 The Anasazi never actually lived here. These building stones were taken from a collapsed site in southwest Colorado and assembled here in the early 1900's. Though they were not actually inhabited by the Ancient Ones, the construction replicates well-known buildings in Mesa Verde National Park.
After exploring the dwellings, we took a look inside the three-story Pueblo-style museum and gift shop.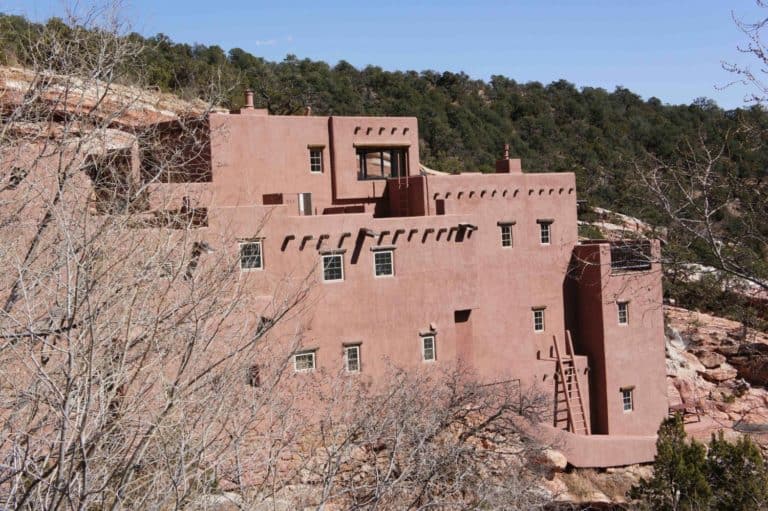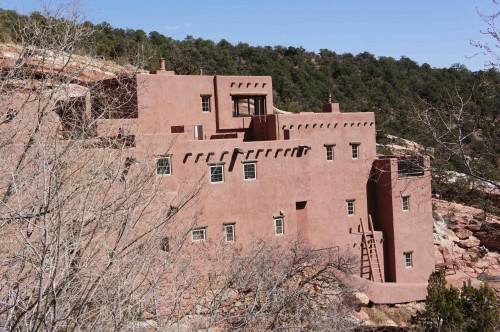 Dioramas depicting the daily life of the Anasazi people, exhibits of tools, pottery and weapons are all on display. Buster was exhausted by the time we were ready to go.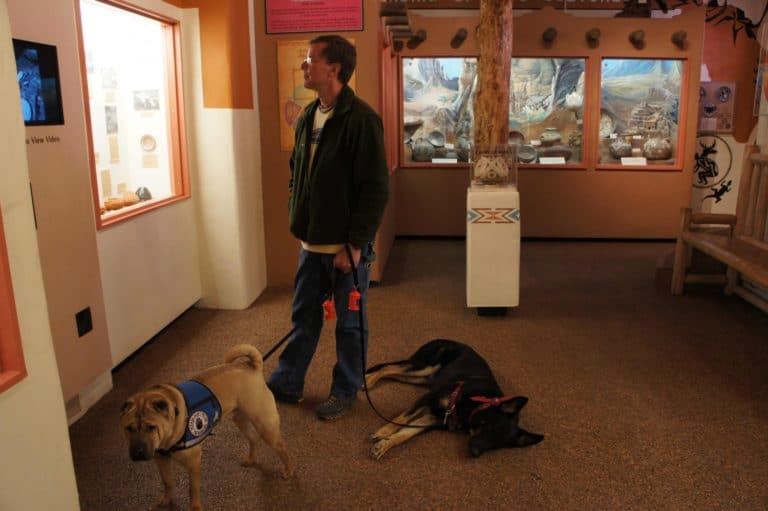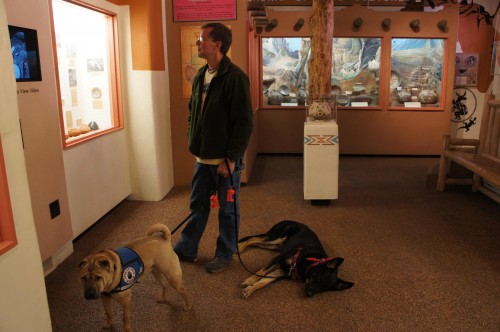 Pet Friendly Accommodations and Attractions
There are plenty of pet friendly hotels and campgrounds to choose from in the Colorado Springs area.  You'll also find plenty of dog friendly activities. In addition to the attractions we saw, you can visit Pikes Peak, stroll around the outdoor mall, or take a drive out to Royal Gorge Bridge and Park.  The only thing the area is lacking is a better selection of pet friendly restaurants. Taking that into consideration, we give Manitou Springs 3 out of 4 paws for pet friendliness.
Amazon Affiliate Disclosure: GoPetFriendly.com LLC is a participant in the Amazon Services LLC Associates Program, an affiliate advertising program designed to provide a means for website owners to earn advertising fees by advertising and linking to amazon.com, audible.com, and any other website that may be affiliated with Amazon Service LLC Associates Program. As an Amazon Associate, the owner of this site earns a commission from qualifying purchases.
(Visited 5,084 times, 1 visits today)