Consider a pet friendly scenic train ride on your next trip. You can appreciate the local scenery while making wonderful memories with your furry travel buddy!
Of all the amazing things we've done with our dogs, among the most memorable was taking them on a pet friendly scenic train ride in Pennsylvania. It was completely unique experience, and we all had so much fun!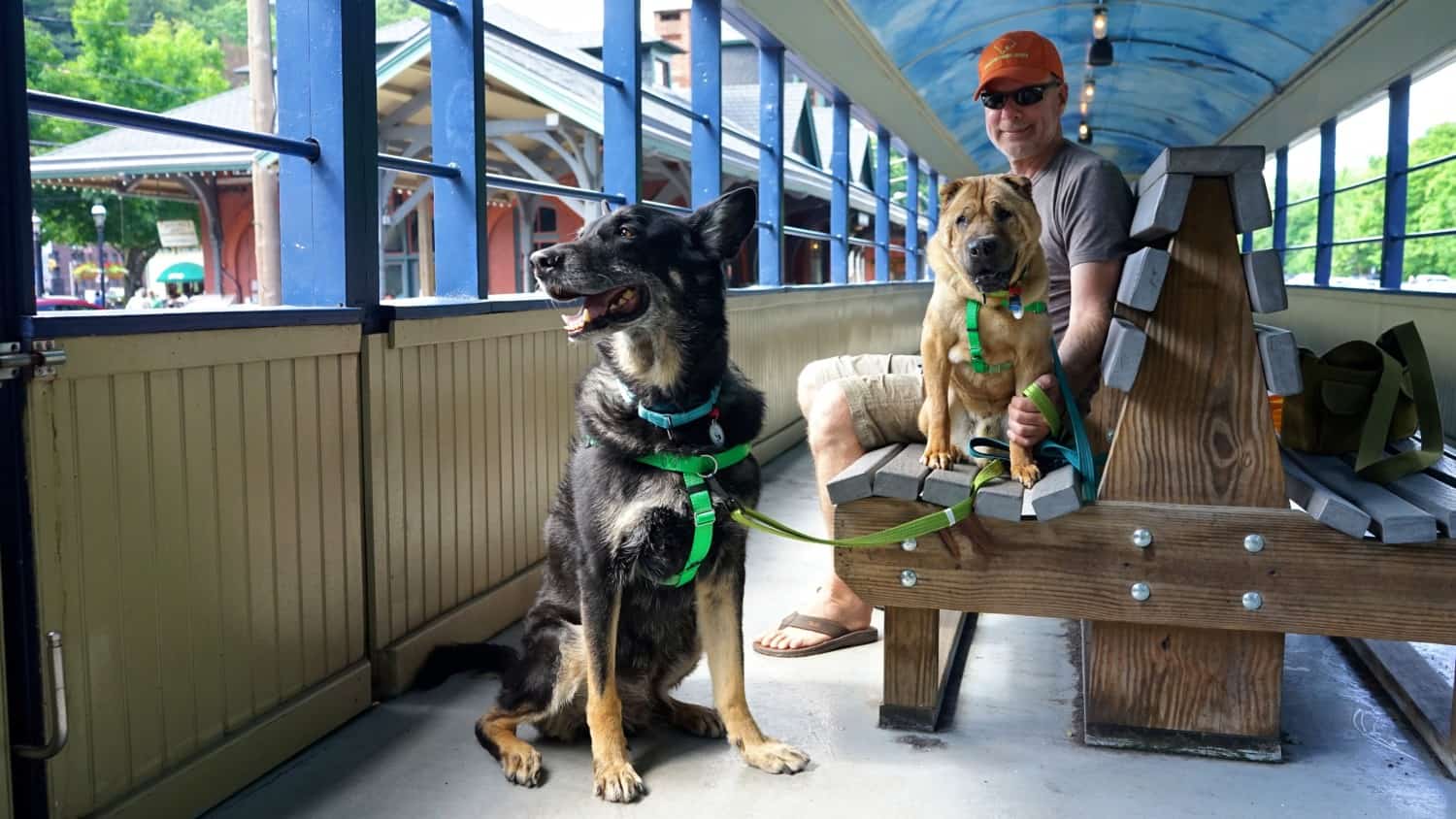 It got me thinking about how many more pet friendly train rides might be available across the country. So we did a little digging and found quite a few! I hope there's one near you on this list, and that you and your pup have the joy of experiencing it together.
Pet Friendly Train Rides In The United States
Western USA
Oregon Coast Scenic Railroad – Oregon
Locations:
306 American Avenue, Garibaldi, OR 97118
125 Oregon Coast Hwy, Rockaway Beach, OR 97136
580 Marine Drive, Wheeler, OR 97147
The Oregon Coast Scenic Railroad runs daily coastal excursions between Garibaldi and Rockaway Beach from mid-June through Labor Day. Weekend service extends the season from late May to the end of September. During the fall, the railroad also offers a "Fall Splendor" tour departing from the Wheeler station and running along the Nehalem River in September and October. Check their website for available dates.
Pet Policy: Well-behaved dogs are welcome. The staff asks that families with dogs sit in the open cars, which offer more space for four-legged friends.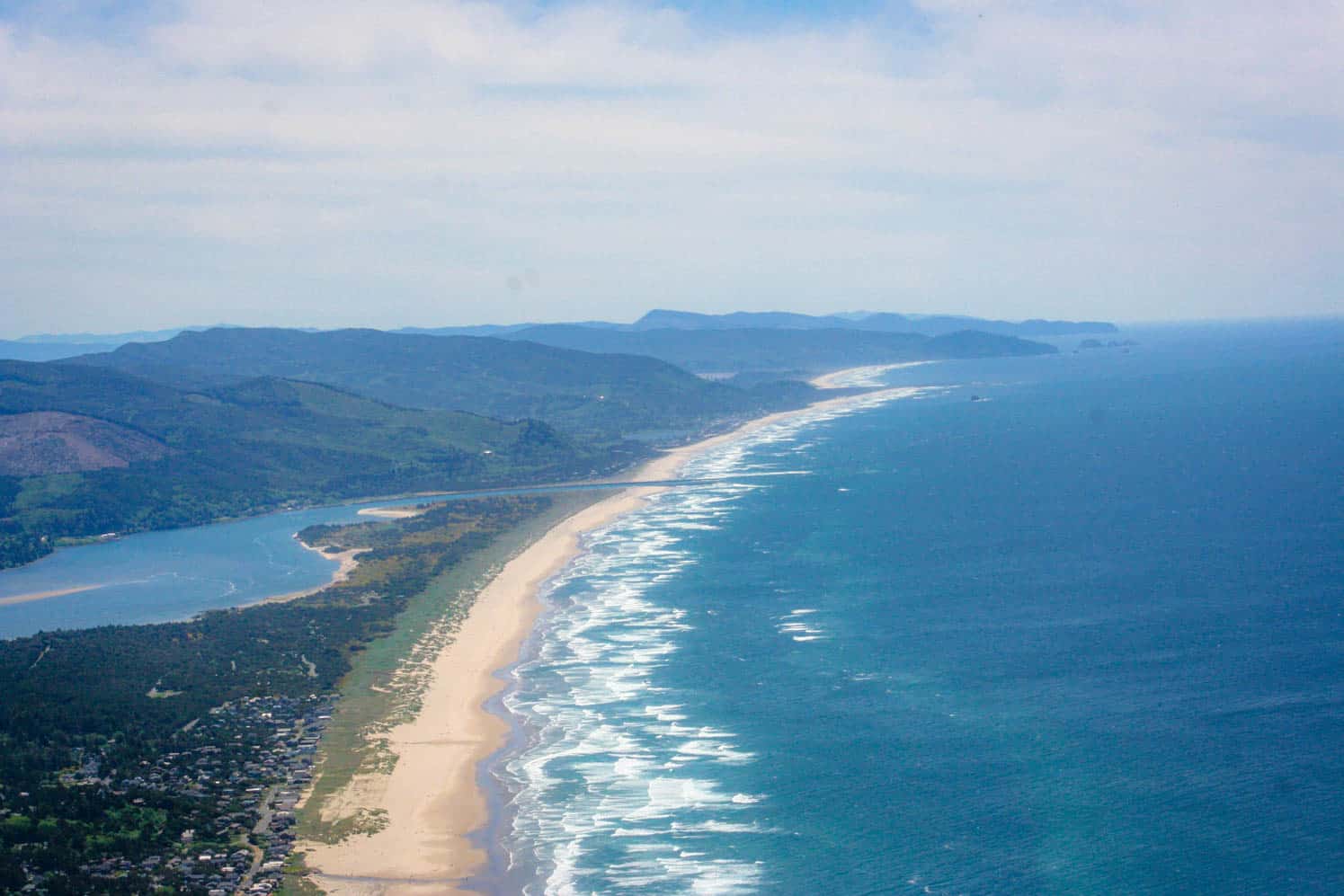 Roaring Camp Railroads – California
Locations:
5401 Graham Hill Road, Felton, CA 95018
Santa Cruz Boardwalk, 400 Beach Street, Santa Cruz, CA 95060
The Roaring Camp Railroad offers two route options on trains running daily in the summer and on weekends only in the spring and fall.
Redwood Forest Steam Train – A one-hour round trip with steam engines dating from 1890. These are among the oldest and most authentically preserved narrow-gauge steam engines providing regularly scheduled passenger service in America. This excursion passes through towering redwood groves and climbs to the summit of Bear Mountain, while conductors narrate the history of Roaring Camp, the railroad, and the forest.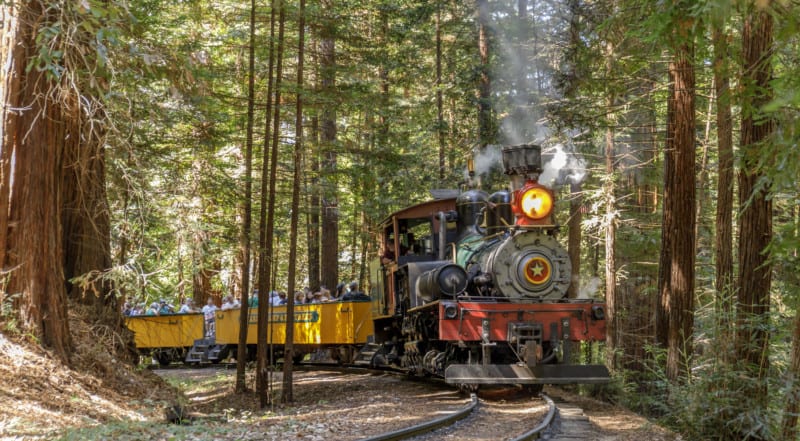 Santa Cruz Beach Train – Departing from the Santa Cruz Mountains, this route travels through Henry Cowell Redwoods State Park, down the scenic San Lorenzo River Gorge, across a 1909 steel truss bridge, and through a tunnel dug in 1875 before arriving at the Santa Cruz Beach Boardwalk. Purchase reverse roundtrips (departing from the beach in Santa Cruz to Roaring Camp and back) from the conductor on the train departing from Santa Cruz.
Pet Policy: Well-behaved and leashed pets can ride the train when space is available. Please check with the ticket agent on the day of your visit. The conductor may ask some dogs to wear a muzzle. Muzzles can be borrowed at no charge at the Roaring Camp Ticket Office.
Note that pets are not allowed on the boardwalk or main city beach in Santa Cruz. A "doggie" beach is available next to the lighthouse on West Cliff Drive, but hours are restricted.
Skunk Train – California
Locations:
100 W Laurel Street, Fort Bragg, CA 95437
299 East Commercial, Willits, CA 95488
Located in Northern California's Mendocino County, the 131-year-old Skunk Train travels through meadows and mountains. They offer two route options and two departure sites.
Noyo River Canyon – Departing from Fort Bragg, the first few miles of this trip run alongside the Pudding Creek estuary, where you might spot blue heron, egrets, osprey, and ducks. After passing through Tunnel No. 1, the Skunk Train snakes along the Noyo River, traveling through the redwoods of Noyo River Canyon.
Coastal Range and Redwoods – Departing from Willits and traveling to Northspur, this train climbs the Eastern slope of the California Coast Range, cutting through at Tunnel No. 2 before descending into the Noyo River Canyon. This mountainous route travels 8.5 miles of track, but covers a straight-line distance of less than one mile.
Pet Policy: Dogs are the only pets permitted on board, and there is a $10 fee for dogs to ride the train. Please bring whatever they need to be comfortable (food, water, dishes, etc.).
Yosemite Mountain Sugar Pine Railroad – California
Location: 56001 Hwy 41, Fish Camp, CA 93623
The Yosemite Mountain Sugar Pine Railroad is located on Highway 41, just four miles from the South Entrance of Yosemite National Park.
This steam train travels four miles on a one-hour narrated excursion through the beautiful Sierra National Forest. There is time for a brief stopover in Lewis Creek Canyon to see the locomotive up close, or explore the outdoors before your return trip to the station.
Pet Policy: Well-behaved dogs on leash are allowed to ride with their people for no charge.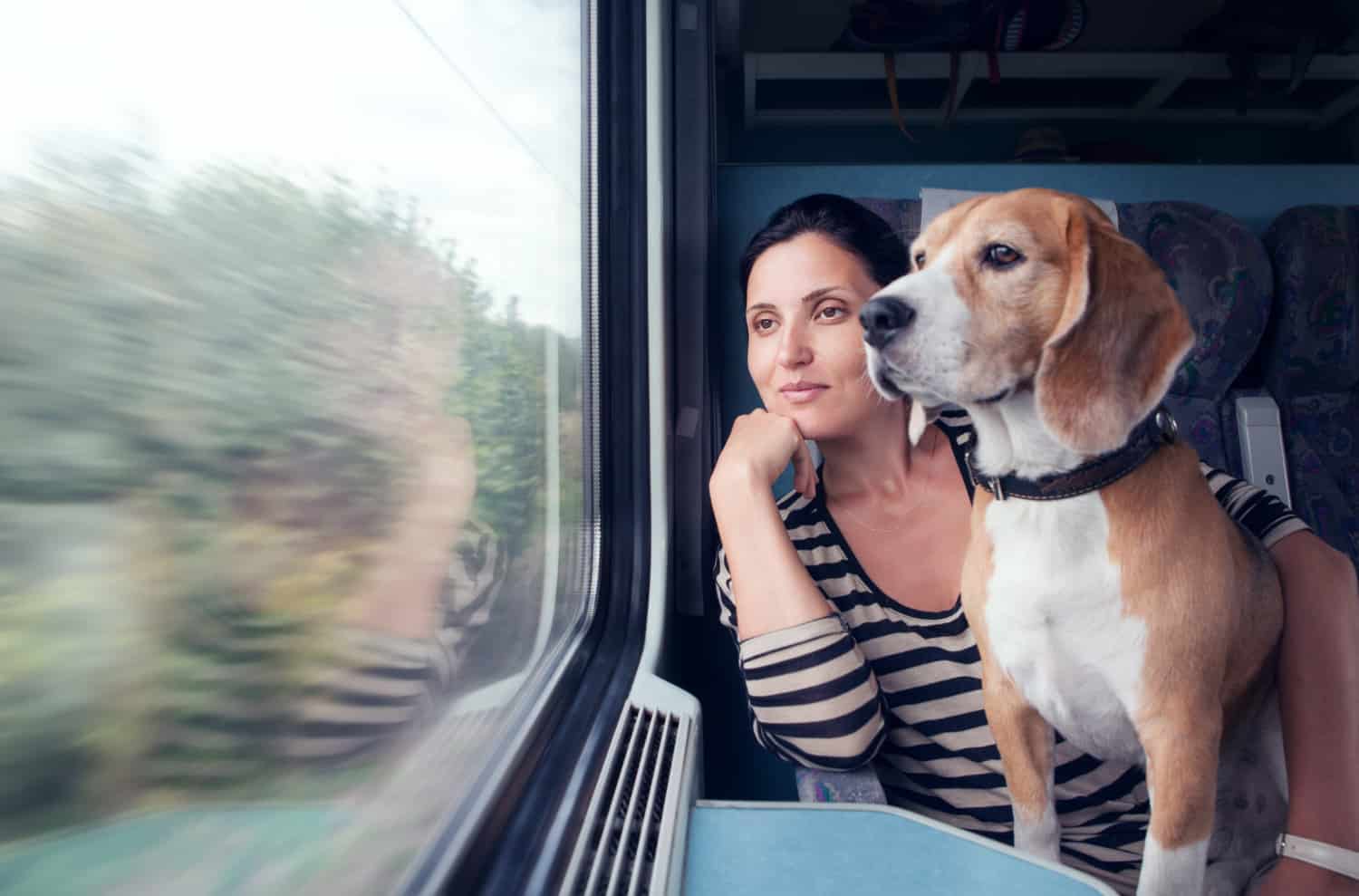 Central USA
Big South Fork Scenic Railway – Kentucky
Location: 66 Henderson Street, Stearns, KY 42647
From April through October, the Big South Fork Scenic Railway offers a 3-hour, 14-mile round-trip into the Daniel Boone National Forest and Big South Fork National River & Recreation Area. The trip descends 600 feet into the gorge before stopping at the Blue Heron Coal Mining Camp, a National Park Service outdoor interpretive site. Tickets also includes admission to the McCreary County Museum in Stearns.
Pet Policy: Pets on leash are allowed. (Regular trips only.)
Cripple Creek & Victor Narrow Gauge Railroad – Colorado
Location: 520 E Carr Avenue, Cripple Creek, CO 80813
The Cripple Creek & Victor Railroad runs from the 1894 depot and gift shop at the head of historic Bennett Avenue every 40 minutes from mid-May thru mid-October. The four-mile, 45-minute round trip route includes narration on the rich history of this historic gold town and stops for special points of interest, impressive photo spots, and Echo Valley.
Pet Policy: From the railroad website: "We are pet friendly!"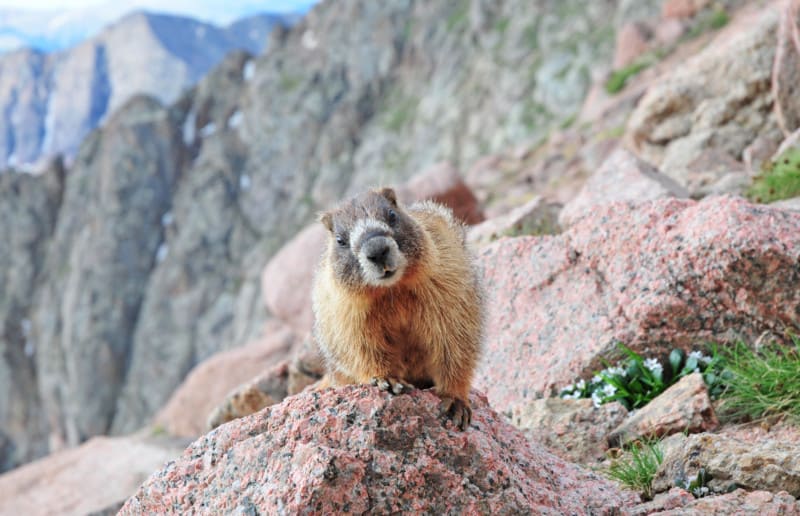 Eureka Springs & Northern Arkansas Railway – Arkansas
Location: 299 North Main Street, Eureka Springs, AR 72632
The Eureka Springs & Northern Arkansas Railway offers a 4.5-mile, narrated ride that lasts approximately an hour to "Junction" Arkansas and back. Drinks and snacks are available in the Baggage Room Gift Shop prior to boarding.
Pet Policy: Leashed pets can join you on excursion trains, but not in cars where lunch or dinner is served.
Leadville Colorado & Southern Railroad – Colorado
Location: 326 E 7th Street, Leadville, CO 80461
Originating in "the highest incorporated city in North America," the LC&S takes passengers across the spectacular Arkansas River Valley to the Continental Divide. The 2½ hour trip through the San Isabel National Forest offers spectacular views of Freemont Pass and the two tallest peaks in Colorado, Mt. Massive and Mt. Elbert.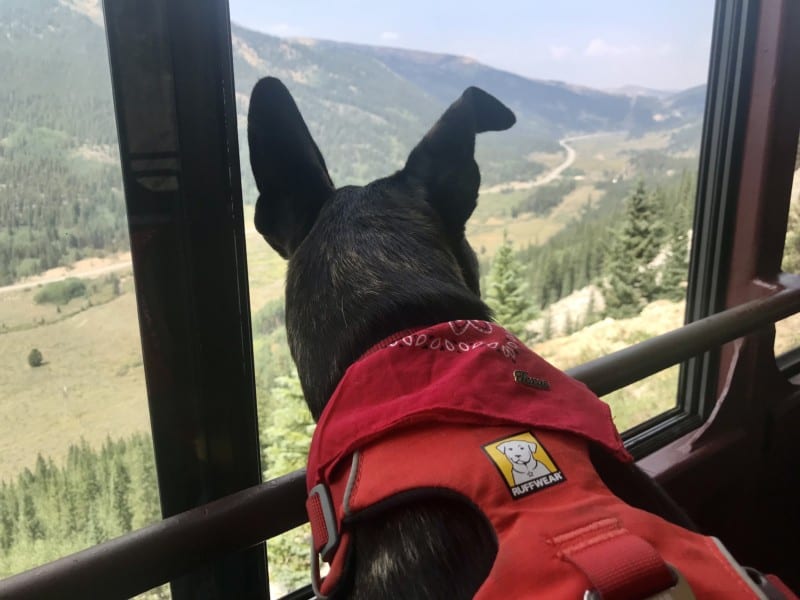 Pet Policy: Friendly, leashed dogs are welcome in general seating during the summer and fall season. Pets cannot ride in the lounge car (unless special accommodations are required). You will be asked to sign a liability waiver once you board the train.
Monticello Railway Museum – Illinois
Location: 992 Iron Horse Place, Monticello, IL 61856
While not quite a scenic train, the Monticello Railway Museum is open for train rides on Saturdays and Sundays from May through October as part of the museum's educational mission. Visitors may board the train at the Nelson Crossing depot (the main museum site) or at the Wabash Depot in downtown Monticello.
You're welcome to take a layover at either depot, walk through the cars and view the many pieces of rolling stock at the museum site, and visit the museum gift shop.
Pet Policy: Pets can ride the train for free, as long as they are well-mannered and leashed. All types of pets are welcome, the staff just asks that you know your pet and whether he or she is likely to be comfortable on a noisy train.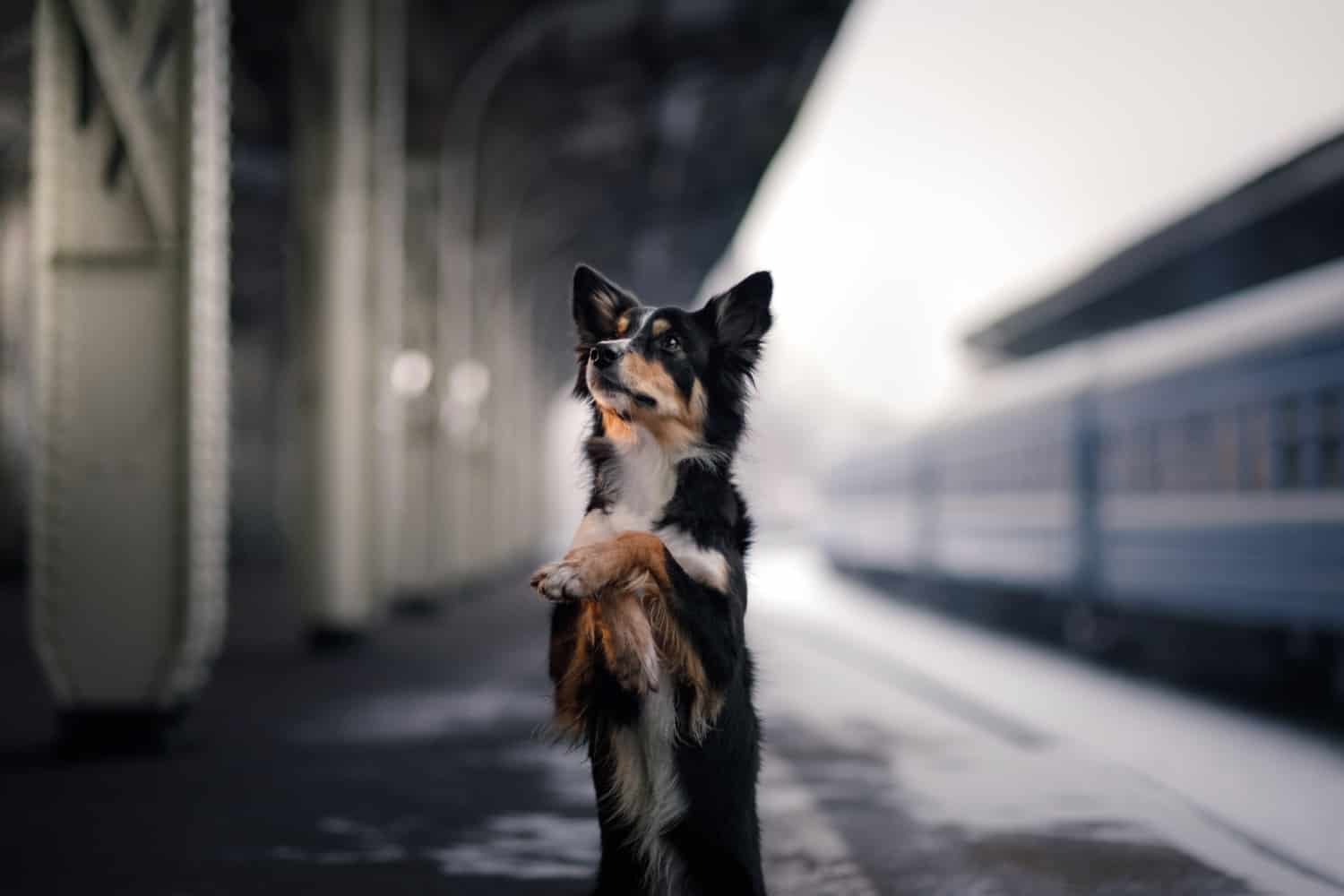 Texas Transportation Museum – Texas
Location: 11731 Wetmore Road, San Antonio, TX 78247
The Texas Transportation Museum is open three days a week and offers scheduled train rides on Saturday and Sunday afternoons. The rides are short, not scenic, and are offered as part of the educational mission of the museum.
Pet Policy: Well-behaved, leashed pets are allowed on the grounds and welcome to ride the train.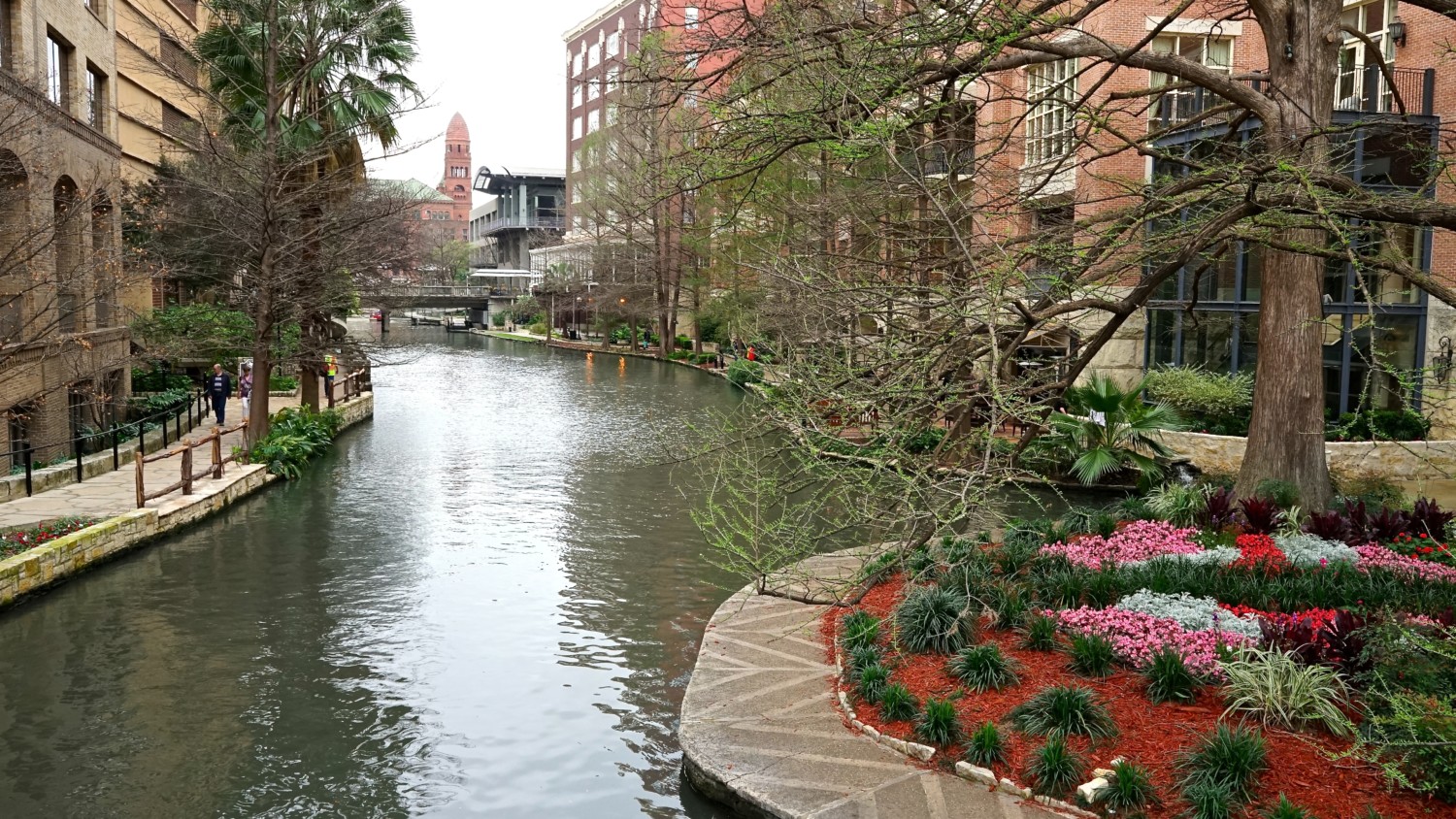 Eastern USA
Boothbay Railway Village – Maine
Location: 586 Wiscasset Road, Boothbay, ME 04537
Boothbay Railway Village offers short pet friendly train rides to enhance their educational programs, which include demonstrations and hands-on activities. Visit their website to check the schedule and determine which trains are running.
Pet Policy: Dogs are welcome on the grounds, in the exhibits, and on the train. For the train ride they ask that dogs and their owners enjoy the open coaches or caboose (if operating.) Some of the enclosed coaches are okay for very small pets on laps, but the aisles have little room for larger dogs.
Pets are not allowed on the North Pole Express train, or in the first class coach (which only goes out for special events) because of its remarkable velvet seats.
Catskill Mountain Railroad – New York
Location: 55 Plaza Road, Kingston, NY 12401
The Catskill Mountain Railroad departs from the Kingston depot and travels to Hurly Mountain. Pre-paid reservations are available online until the day before the excursion or by calling a representative. You can also purchase tickets at the station on a first-come, first-served basis on the day of the excursion until they are sold out.
Pet Policy: Small, well-behaved pets can sit on your lap during the trail ride. Larger pets are not allowed.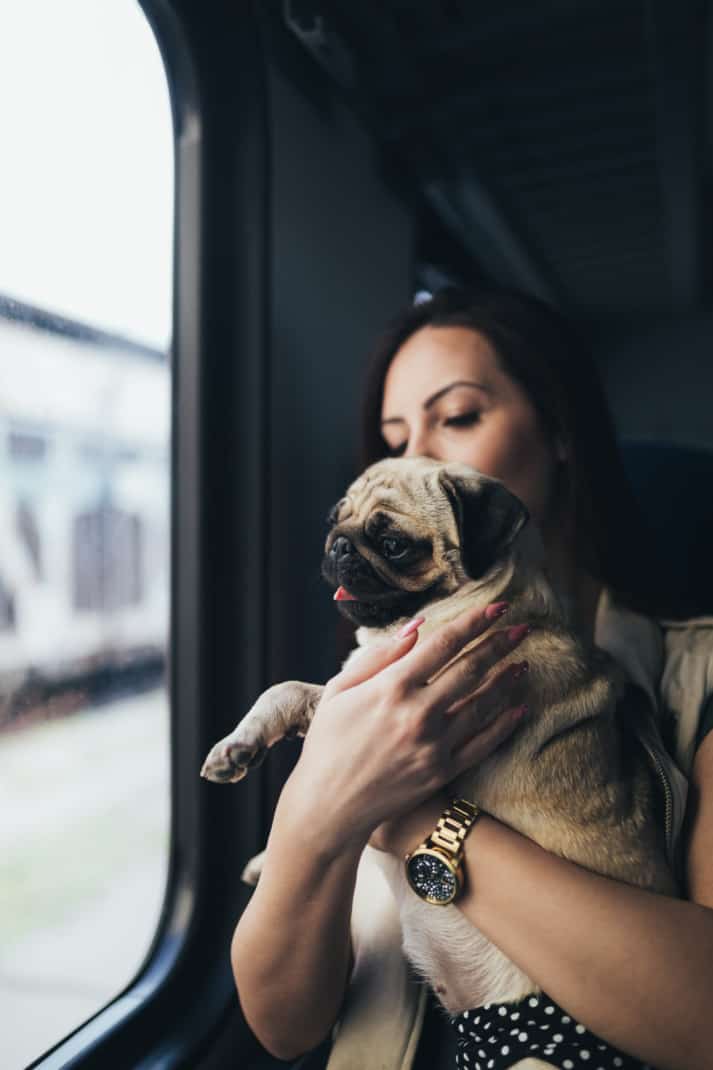 Conway Scenic Railroad – New Hampshire
Location: 38 Norcross Circle, North Conway, NH 03860
You'll find the Conway Scenic Railroad where New Hampshire and Maine meet in the magnificent White Mountain. Small dogs (under 20 pounds) are welcome on the pet friendly train rides which run from mid-April until December 31st, and you can choose from two routes.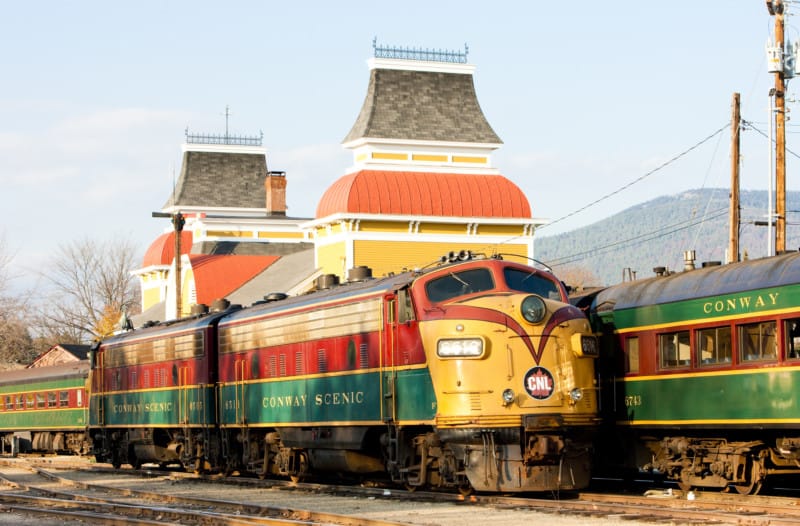 Valley Train – Follow historic rail routes in vintage passenger cars, most dating from the 1920s. Starting at the 1874 train station in North Conway Village, you can take a round-trip ride to either Conway (11 miles / 55 minutes) or Bartlett (21 miles / 105 minutes).
Notch Train – This route winds through the mountains for the most dramatic scenery and allows for a layover at Crawford Station where you can enjoy short nature walks or talks.
Both trains have an onboard snack bar that offers a limited selection sandwiches, snacks, and drinks for sale. You can also pre-order box lunches when you make your reservation.
Pet Policy: Well-behaved dogs can travel in Coach on any train, provided they wear a leash or ride in a carrier.
Cooperstown & Charlotte Railroad – New York
Location: 136 East Main Street, Milford, NY 13807
The Cooperstown & Charlotte trains depart from the Milford depot and travel to the Cooperstown Dream Park, and Cooperstown – home of the Baseball Hall of Fame. The round-trip ride is three hours, with layovers at the Dream Park and in Cooperstown. Reservations are not required for regularly scheduled trains, and food and drinks are available for purchase on board.
Pet Policy: Dogs and cats are allowed on leash. Pets should not be included on train robbery excursions (black powder guns) or the Blues Express Train (loud music & alcohol).
Delaware & Ulster Railroad – New York
Location: 43510 State Highway 28, Arkville, NY 12406
The Delaware & Ulster pet friendly train rides travel through the scenic Catskill Mountains on a 24-mile route between Arkville and Roxbury, New York. The trip takes approximately two hours to complete, and railroad staff point out highlights along the trip. Summer trains run on Wednesdays, Saturdays, and Sundays.
Pet Policy: The Delaware and Ulster Railroad loves dogs, and they ride for free (even getting a special ticket). They must be well-behaved and feel comfortable on trains. Cats are also welcome, although none have visited yet.
Lehigh Gorge Scenic Railway – Pennsylvania
Location: 1 Susquehanna Street, Jim Thorpe, PA 18229
Located 90 minutes from Philadelphia, and two hours from New York the Lehigh Gorge Scenic Railway offers a narrated, 70 minute, round trip route that follows the majestic Lehigh River into the Lehigh Gorge State Park. Trains run from May through December and depart from historic Jim Thorpe Station.
Pet Policy: Well behaved dogs are welcome to ride the train free-of-charge.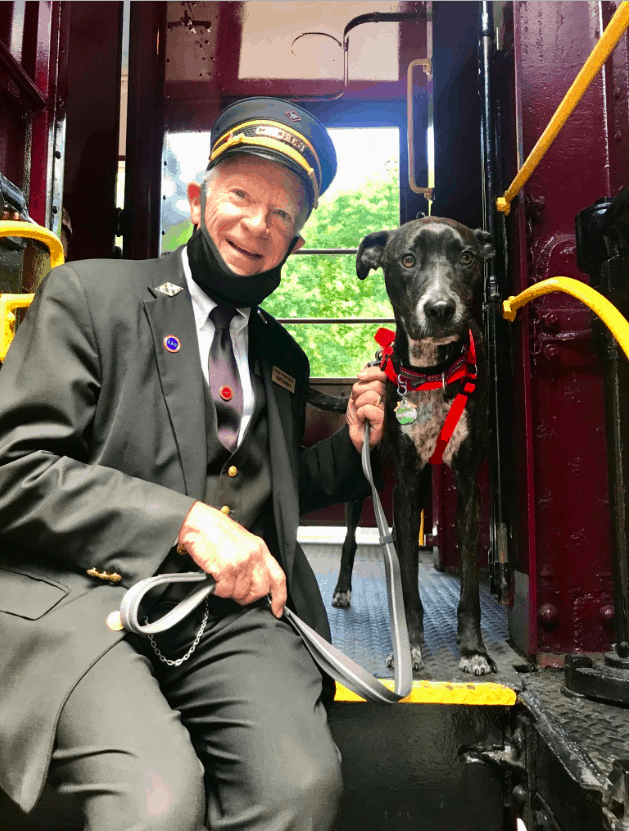 Maine Narrow Gauge Railroad – Maine
Location: 58 Fore Street, Portland, ME 04101
The Maine Narrow Gauge Railroad operates as part of a museum dedicated to the preservation and operation of Maine's two foot gauge railway equipment. Their small museum features exhibits relating to Maine's narrow gauge railway history, several historic rail cars, activities for children, and a unique gift shop.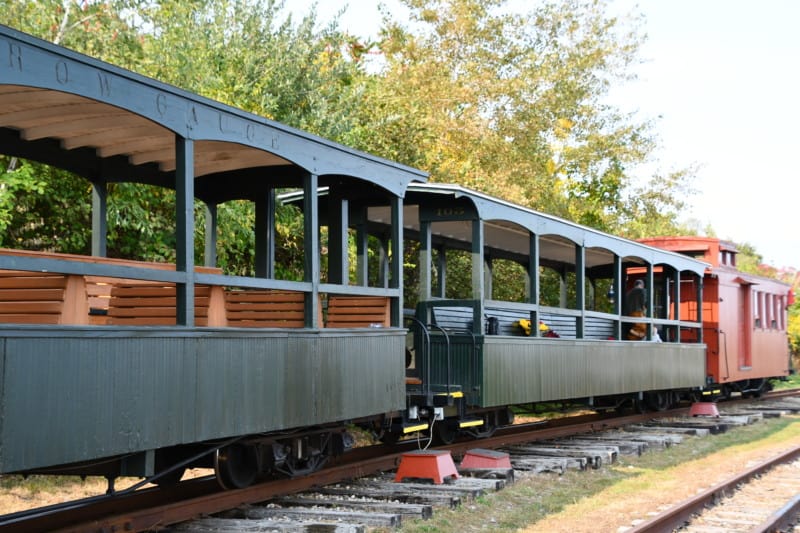 Train tickets include both a self-guided tour of the museum and the scenic waterfront train ride, a 3-mile round trip route along the Eastern Promenade of Casco Bay that lasts approximately 35 minutes. Both open air cars and enclosed cars are available depending on the season, and the train crew and/or museum docents provide historical information aboard the ride.
Pet Policy: Pets can join you on regular-service train rides provided they are on a leash and well-behaved. They are also welcome on the grounds, but not allowed in the buildings.
Oil Creek & Titusville Railroad – Pennsylvania
Location: 409 S Perry Street, Titusville, PA 16354
Pet friendly train rides on the Oil Creek & Titusville Railroad depart Perry Street Station in Titusville, Pennsylvania. It is less than a half day's drive from Buffalo, Cleveland, Pittsburgh, and Youngstown, and only an hour from Erie, Pennsylvania.
On this 3-hour round-trip ride, you'll learn about the history of Pennsylvania's oil industry while you watch for bald eagles, ducks, deer, and possibly a black bear.
Pet Policy: Dogs can ride the train for a $5.00 fee. An 'On-Train Pet Policy' waiver must be signed, and someone must stay with the dog at your seat; you cannot walk around the train with your dog. Pets cannot accompany you for any of the Special Events or during the month of October due to space limitations.
Reading Blue Mountain & Northern Railroad – Pennsylvania
Locations:
3501 Pottsville Pike, Reading, PA 19605
1 Railroad Boulevard, Port Clinton, PA 19549
Just 60 miles from Philadelphia, the Reading Blue Mountain & Northern Railroad runs between Reading, Port Clinton, and Jim Thorpe, in what is known as "The Switzerland of America." With an approximately 3 hour layover, you'll have time to explore the attractions in historic downtown Jim Thorpe. You can also coordinate an excursion on the Lehigh Gorge Scenic Railway through the magnificent Lehigh Gorge.
These are full-day trips, departing Reading at 8:30am, and returning at 6pm. For a slightly shorter day, board the train in Port Clinton at 9:40am, and return at 5:30pm.
Pet Policy: Dogs are welcome on trains with the exception of Pullman or Parlor cars which have food service.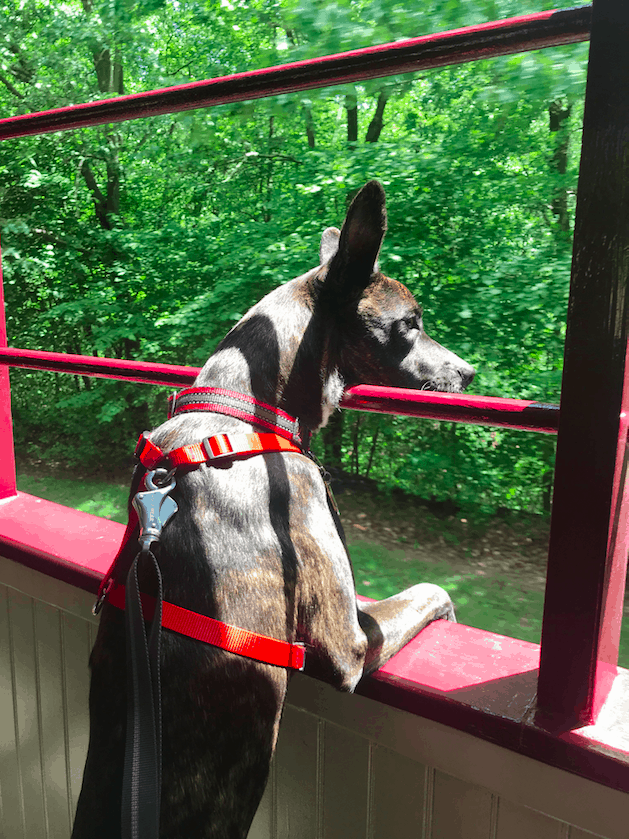 We hope that you've found several pet friendly train rides you want to take with your pets. Be sure to let us know in the comments how much you enjoyed the trip!
(Visited 66,727 times, 20 visits today)