In our travels, we're constantly meeting retirees who are living the dream. They've raised their families, reached the pinnacles of their careers, and now they're packing up their four-legged family members to see the country. Today's post is dedicated to the spunky seniors in our pet travel community.
Why Travel With Pets?
Pets Keep You Healthy. According to the Centers for Disease Control and Prevention, having a pet has many health benefits, including: reduced blood pressure, cholesterol levels, triglyceride levels, and feelings of loneliness. Pets also provide us more opportunities for exercise and socialization, which help us stay active and connected as we age.
Share their love. Often traveling includes visiting friends and family along the way, and there's nothing better than being able to share your pet's love with people you call on, or strangers you meet along the way. Of course, it's important to consider whether your host and your pet will enjoy each other's company. A young pup with boundless energy may love spending the day with your grandchildren, but find a visit with your elderly relative stifling.
Reduce your stress. Many seniors, especially those who didn't travel much during their working years, find some aspects of being away from home stressful. Having your furry travel companion at your side can help reduce anxiety.
Tips To Make Travel Easier
Secure your pets while driving. No matter your age, having your pet climb into your lap while you're driving is hazardous. Make yourself familiar with the options, including seat belt harnesses, and carriers and crates that will keep your pet safe if you're involved in an accident. Also, it's important to remember how quickly a pet can slip out of an open car door. Be sure to keep leashes handy and secure them before opening the door.
Consider your destination options. There is a pet friendly travel destination to fit every person and furry travel companion, no matter their preferences. When deciding on where to take your next trip, consider the kinds of activities you enjoy, the availability of pet friendly accommodations, and how crowded the location may be. One of the benefits of being retired is that your schedule is more flexible – take advantage of that by visiting more popular destination in the off-season.
Do your research and plan ahead. You may be used to traveling with paper maps and books, but when it comes to planning a pet friendly trip, the Internet is a powerful resource. Finding pet friendly hotels, campgrounds restaurants, beaches and dog parks, is fast and easy using online searches. You can even map your trip and find pet friendly locations along the way with a pet friendly road trip planner. Most hotels and campgrounds offer free Internet connections, or you can locate a pet friendly café where you can jump online and enjoy a snack with your pup at the same time.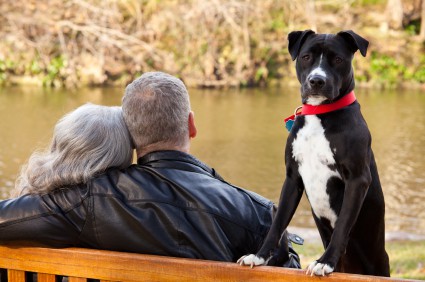 Pack any medications separately. This may seem like a no-brainer, but at home you probably keep your pet's medication and yours in different locations. When you're living out of a suitcase or an RV, it can be easy to get the bottles confused, so keep them separate and make sure the containers are clearly marked.
Make arrangements for pet care. During your trip, you may want to see a performance or take a tour that isn't pet friendly. Plan ahead by contacting your hotel or RV park to get recommendations for pet sitters or pet daycare facilities in the area so that your pet's care isn't a concern during any day trips you might plan.
Don't over-extend. It's tempting to try to squeeze in as many activities as possible during your trip, but you and your pet will both enjoy yourselves more if you adopt a more leisurely pace. Scheduling too many activities can cause stress, especially if Mother Nature doesn't cooperate – so keep your plans tentative and choose from your list of possible options day by day, depending on the weather and everyone's energy level.
Whether you'll be spending your Golden Years seeing the world, visiting friends across the country, or simply taking in the sights along the road, don't hesitate to take your pets with you. They are part of your family, and deserve the experience as well! You can find more general tips on traveling with pets on our Tips & Resources page.
Are you or someone you know sharing their retirement travels with a pet? What tips can you share for traveling with a furry companion?
Amazon Affiliate Disclosure: GoPetFriendly.com LLC is a participant in the Amazon Services LLC Associates Program, an affiliate advertising program designed to provide a means for website owners to earn advertising fees by advertising and linking to amazon.com, audible.com, and any other website that may be affiliated with Amazon Service LLC Associates Program. As an Amazon Associate, the owner of this site earns a commission from qualifying purchases.
(Visited 1,649 times, 1 visits today)