If you imagine the state of Wisconsin as a left-handed mitten, Door County is the thumb. And with more than 300 miles of shoreline, it's a fantastic destination for anyone who loves the outdoors. During the summer, the peninsula's population explodes from 28,000 to 250,000 with tourists coming to hike, camp, swim, and fish in the clear, blue waters. So, when planning your pet friendly trip to Door County, shoot for late summer or early fall when the crowds begin to thin.
Pet Friendly Door County
Door county is dotted with spiffy clean, quaint shore towns with names like Algoma, Egg Harbor, Fish Creek, Ephraim and Sister Bay. The peninsula also prides itself on its cherry orchards, and has a history of cherry growing that dates back to the 1800s. All those cherries have to be made into something, and you'll find mouth-watering fresh jams, jellies, tarts, and pies for sale at countless roadside stands and stores.
At the end of Door County, you can take a car ferry to Washington Island, and from there a passenger-only ferry will take you to Rock Island State Park.
On The Way
On our way to Door County from Milwaukee, we stopped in Cedarburg. Wandering Main Street, we window-shopped at stores and boutiques selling all kinds of goodies. Eateries and cafés with pet friendly outdoor seating were in abundance. And the Stonewall Pub allowed dogs inside! There was definitely a down-home feeling to this place that made our brief visit worthwhile.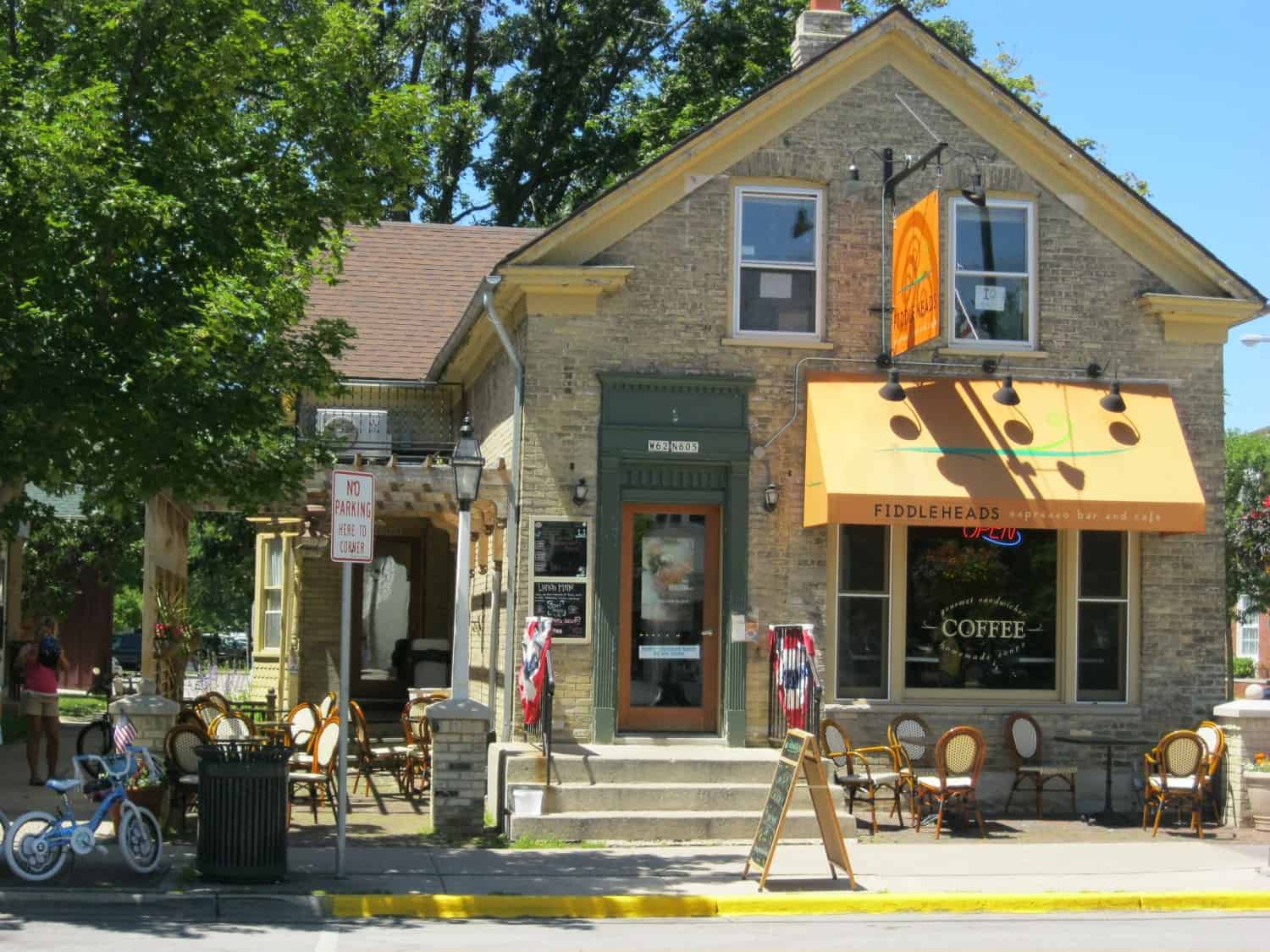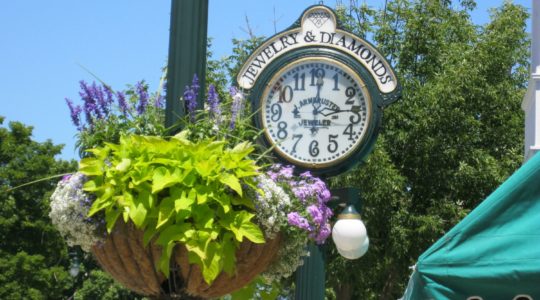 Our run of good weather followed us onto the peninsula. We spent most of the time driving the RV along Route 42 from one town to another taking in the views … it's just one of the things we like to do. And just to be clear, Door County could be an easy going day trip if you wanted it to be.
Shortly after Amy told me that Door County was known for its cherries, one of our first stops was Sweetie Pies in Fish Creek. This place serves up all sorts of pies, crust cookies, and handmade chocolates. And the outdoor patio is pet friendly. Here we are with our "mini" cherry pie (we don't work off enough calories driving an RV to merit a whole pie!).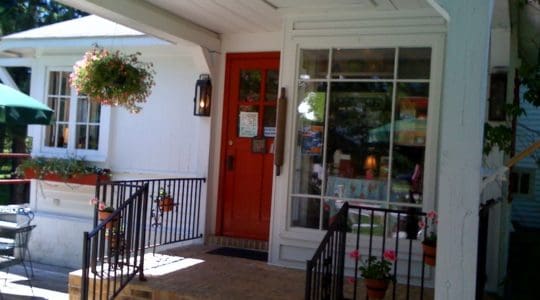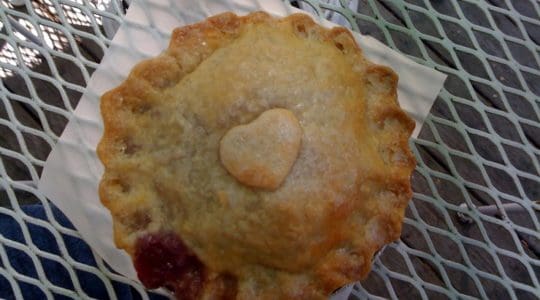 Route 42 ends at the ferry to Washington Island. If you don't take the ferry, get out of the car and stretch your legs on the pet friendly shell-strewn beach.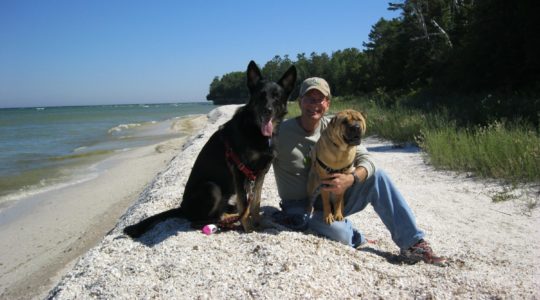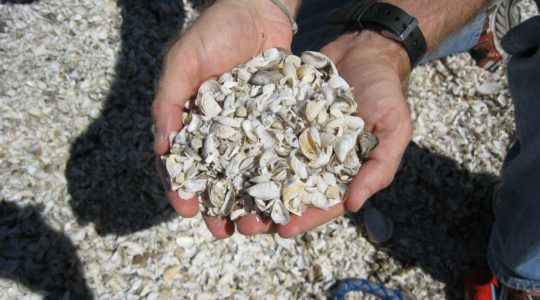 The 30-minute ferry ride to Washington Island was a hoot. The round trip fare for a car, driver, and passenger is $48. Our oversized vehicle cost us $79.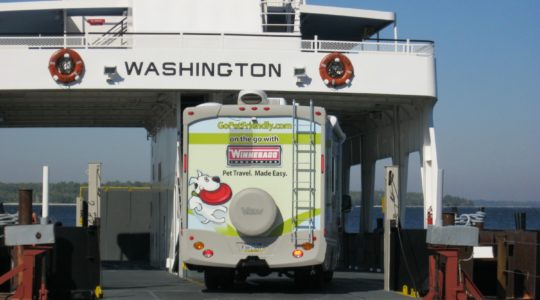 The island is small – only 35 square miles – and it's truly a place to get away from it all. The scenery is beautiful and calming – and every public access beach is pet friendly except for Schoolhouse Beach.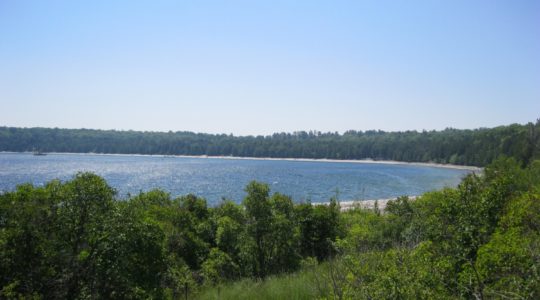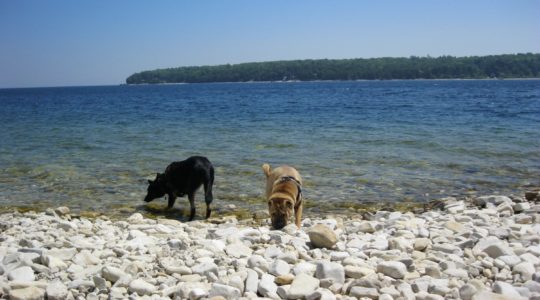 Where We Stayed
On our first night, we stayed in Algoma at the Big Lake Campground. While the facility met minimum standards, the great feature was the large community park along Lake Michigan that was just a couple of hundred yards past the campground.
The second night stay was complete serendipity. We had no set plans and no reservations. But when we got to the end of the peninsula we saw the ferry to Washington Island. Before long, we had a choice spot at the Washington Island Camping Retreat. Life is good!
Next Time
We saw many signs for community "fish boils" that we'd like to try. The standard recipe calls for cooking potatoes, onions, and locally caught whitefish in a large pot over a wood fire. Then add kerosene to the fire, which creates a flame up and causes the water to boil over. Serve with melted butter. The meal is traditionally followed by cherry pie. Mmmmm!
Amazon Affiliate Disclosure: GoPetFriendly.com LLC is a participant in the Amazon Services LLC Associates Program, an affiliate advertising program designed to provide a means for website owners to earn advertising fees by advertising and linking to amazon.com, audible.com, and any other website that may be affiliated with Amazon Service LLC Associates Program. As an Amazon Associate, the owner of this site earns a commission from qualifying purchases.
(Visited 2,857 times, 1 visits today)