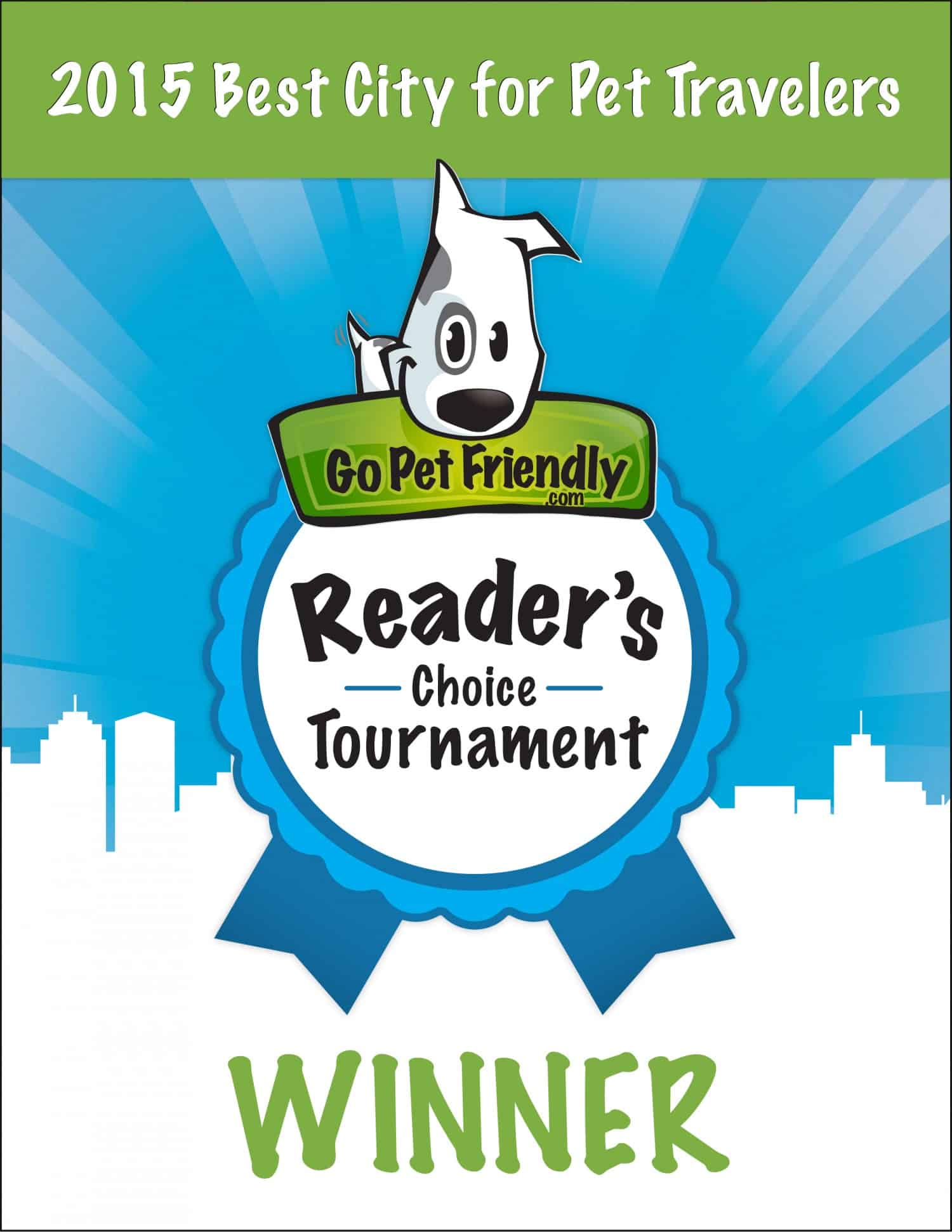 Congratulations Port St. Joe, Florida (Sue B.) – you've been voted the 2015 Best City for Pet Travelers by GoPetFriendly.com's readers, your doting fans, and pet lovers around the country! It's a title we know you'll carry proudly, and that you'll continue to make your city a welcoming destination for pet travelers.
Tournament Overview
Our pet friendly version of March Madness has every bit the excitement and suspense of any great competition, and this year was no exception. One hundred cities were nominated by their loyal fans, and your votes determined the winner after seven rounds of head-to-head match ups.
The theme of this year's tournament was the success of the small cities. Early in the tournament Jackson, Wyoming knocked out Chicago, and Golden, Colorado beat New York City! Small town upsets continued though out the competition, and it will be interesting to see if that trend continues in the future.
Smaller cities may have an advantage in attracting pet travelers – they're more nimble and can bring their communities together to implement more pet friendly policies. Pet travelers are looking for pet friendly hotels and vacation rentals, pet friendly dining on restaurant patios, off-leash areas where pets can play, and activities that the whole family can enjoy together. Smaller cities may be better equipped to meet and promote those needs.
Another trend that was front-and-center this year was the incredible accomplishment of Colorado's cities in the tournament. Boulder, Breckenridge, Colorado Springs, and Telluride comprised one-half of the final eight cities, and Telluride made it all the way to the championship round. There's no doubt these cities will be back with force in next year's competition.
Tournament Champion: Port St. Joe, Florida
After a second place finish last year, Port St. Joe, Florida charged into this year's Best City for Pet Travelers tournament on a mission! Even coming up against great competitors like Stowe, Vermont, and neighboring Dunedin, Florida didn't slow Port St. Joe down. The fans of Florida's Forgotten Coast had their eye on the prize, and they refused to lose.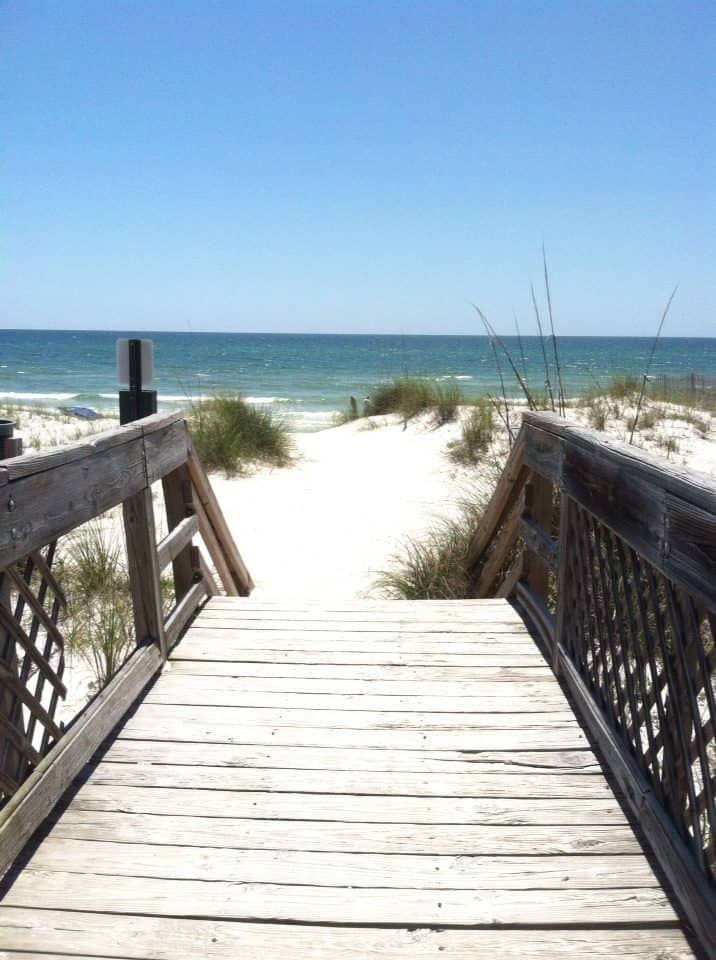 Port St. Joe gazes across sparkling St. Joseph Bay at the 17-mile barrier peninsula known as Cape San Blas on Florida's panhandle. Famous for it's stunning white beaches, gentle surf, and crystal clear water, the Cape is a soothing sanctuary for anyone looking to escape the hustle and bustle. Their pet friendly beaches stretch for miles, and when you're tired of lounging you can rent a kayak, canoe, paddleboard, or bike to do some exploring with the Gulf as your backdrop. The paved Loggerhead Bike Trail runs the length of the Cape and is great for walking, jogging, or biking, and the Port City Trail takes you for a nearly 4-mile stroll through Port St. Joe.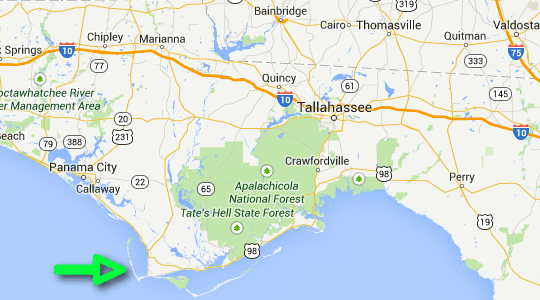 Pet friendly accommodations in Port St. Joe include hotel, B&B, and cottages options, and Cape San Blas provides a variety of cabins, rental properties, and camping or RVing at St. Joseph Peninsula State Park. Everything you need to plan your trip is at the VisitGulf.com website.
Runner-Up: Telluride, Colorado
Imagine the absolutely perfect location for a Victorian village … and Telluride is even better. Nestled deep in a box canyon at 8,750 feet, surrounded by massive peaks on three sides, the road into Telluride ends just beyond town – because when you've found paradise, why would you want to go any further?
At the head of the canyon, Ingram Falls plunges over the cliff into the San Miguel River, which rushes cold and clear right through downtown. Finding pet friendly things to do in Telluride doesn't take much effort. The paved Idarado Trail trail takes you out to a great view of Bridal Veil Falls, downtown many of the boutiques and galleries welcome furry shoppers, as does the Galloping Goose – Telluride's free downtown shuttle, and the free gondola ride to Mountain Village has pet friendly cars and breathtaking views.
There are a nice selection of pet friendly hotels and vacation rentals in Telluride, and you'll find all the information you need to plan your trip at VisitTelluride.com.
The Post Game Show
I'd like to say thank you everyone that supported their favorite pet friendly destinations in this year's tournament. The posts, pictures, and articles that you shared about the things you love most in your cities has helped other pet travelers more than you know!
I'd also like thank our co-sponsors of this event: Quaker Pet Group,  Ruffwear Performance Dog Gear, Kimpton Hotels, CERENIA, and Sleepypod. Without them we'd just be woof, woof, woofing … they provide the treats at the end that make the competition more fun for the participants. Thank you all!
Planning a pet friendly trip of your own? We'll make it easy:
Pet Friendly Hotels | Pet Friendly Destinations | Pet Friendly Activities
Amazon Affiliate Disclosure: GoPetFriendly.com LLC is a participant in the Amazon Services LLC Associates Program, an affiliate advertising program designed to provide a means for website owners to earn advertising fees by advertising and linking to amazon.com, audible.com, and any other website that may be affiliated with Amazon Service LLC Associates Program. As an Amazon Associate, the owner of this site earns a commission from qualifying purchases.
(Visited 2,029 times, 1 visits today)