It occurs to me that in our scurry across the country to attend my sister's wedding, I forgot to fill you in on the last few places we toured in New England. Well, let it never be said that I'm not thorough! Here's what we thought of our visit to Portland, Maine …
When you're heading into a city like Portland – which is known for being pet friendly – with dogs like ours (meaning Dogs with Issues), it's best to get a bit of exercise before diving headlong into any place that could pose a challenge. The trail around Portland's Back Cove was the perfect spot for Buster and Ty to burn off some energy before we faced the traffic of  the city streets.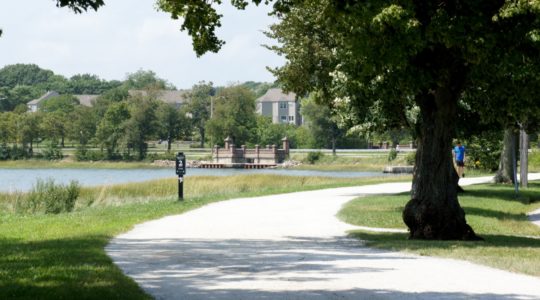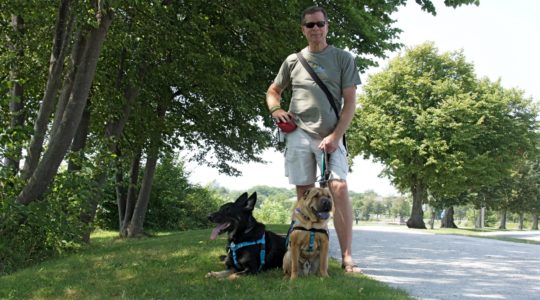 This 4-mile circular trail around the estuary offers great views of Portland's skyline, is super-convenient to downtown, and was just the right distance for Buster and Ty to take the edge off.
When we hit the city our first stop was the Planet Dog company store to stock up on treats. What a great place!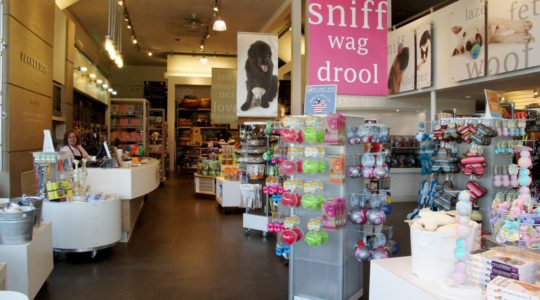 They even have their own dogs "working" there. Sadly, I didn't get any pictures of them because I was too busy scratching their ears. Priorities people!
Naturally, with other dogs inside … Buster and Ty needed to wait outside. They took the opportunity to perfect a little self-directed performance art piece that they'll probably never do again. We call it "Dogs on Block."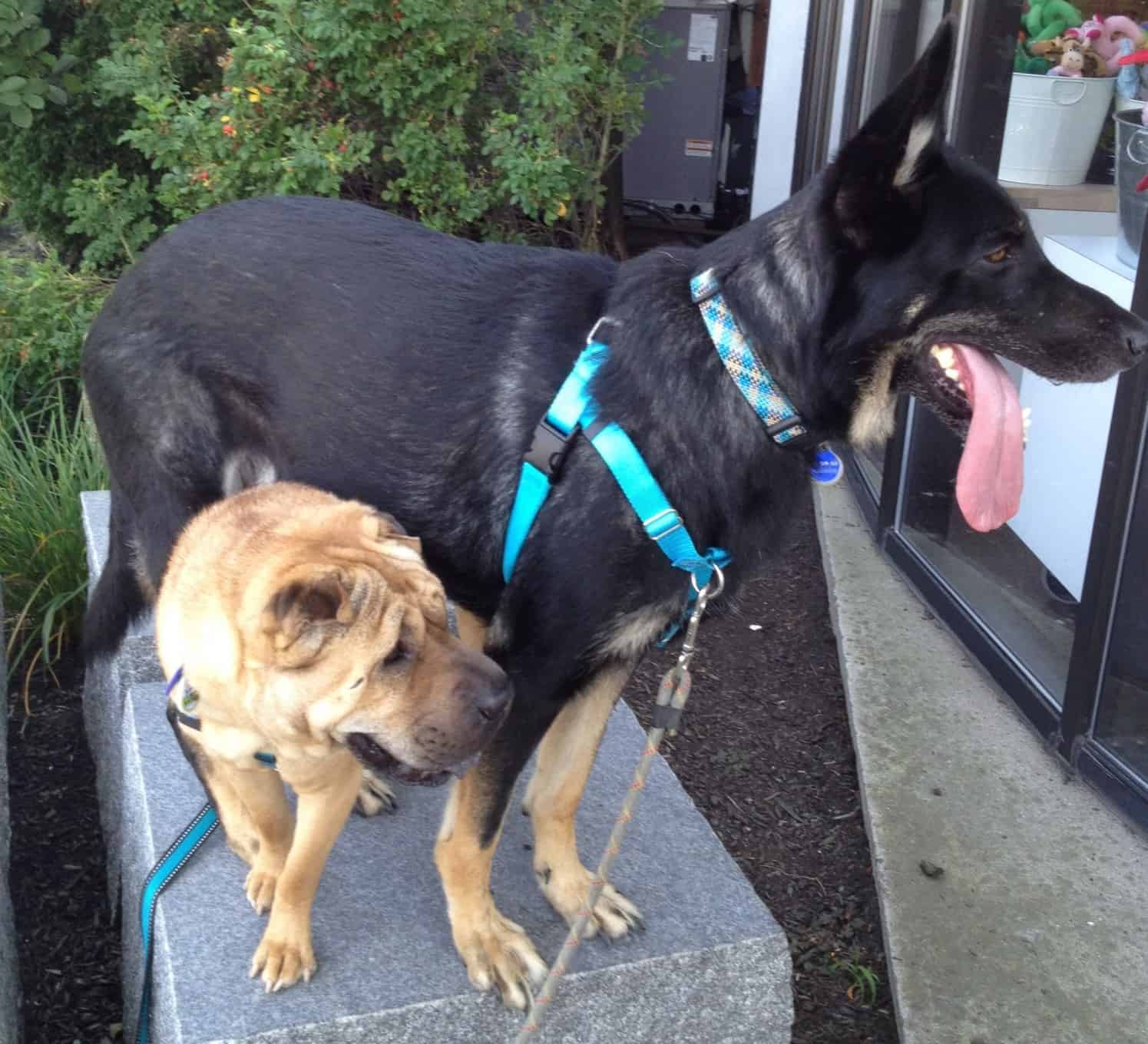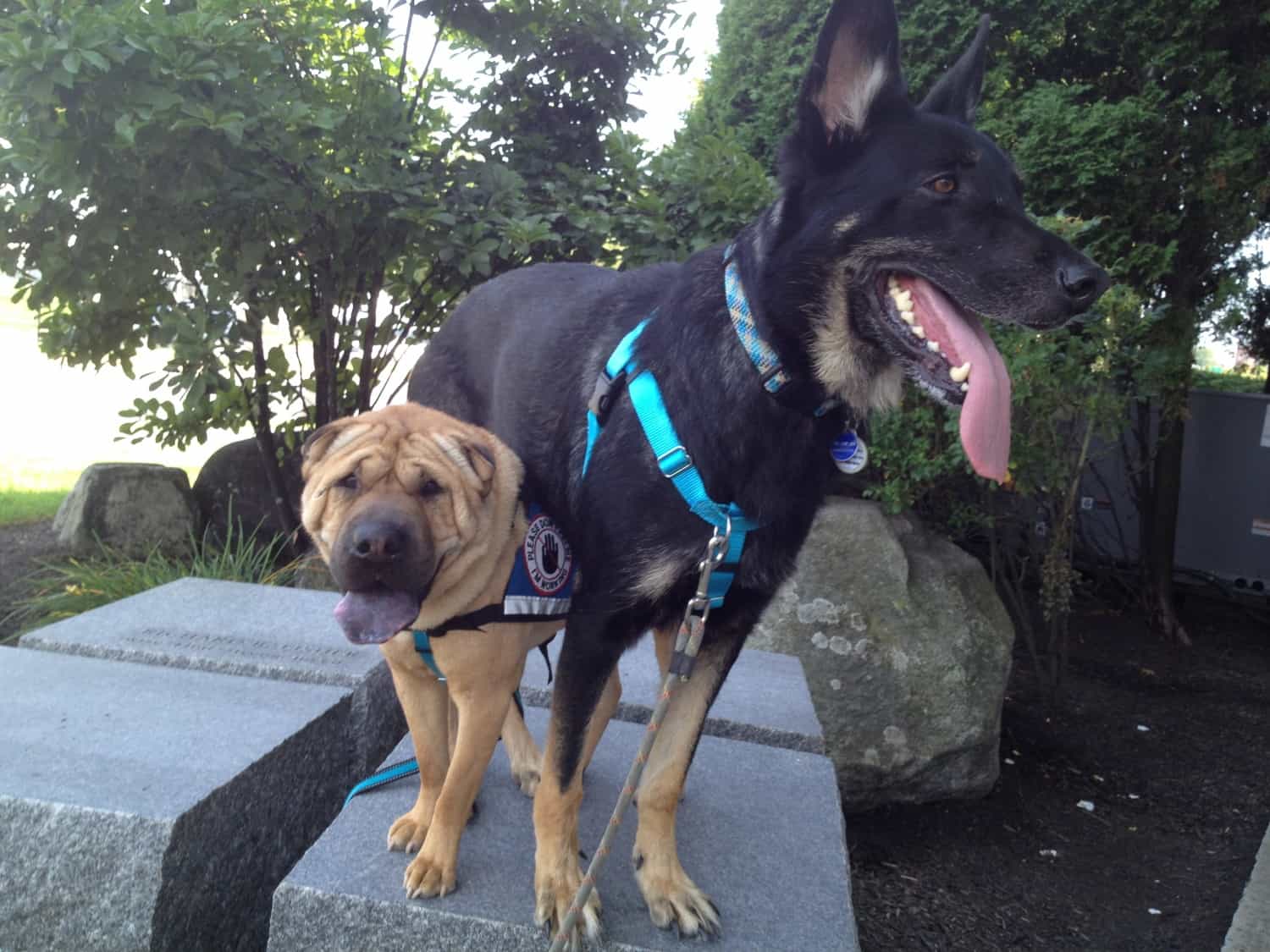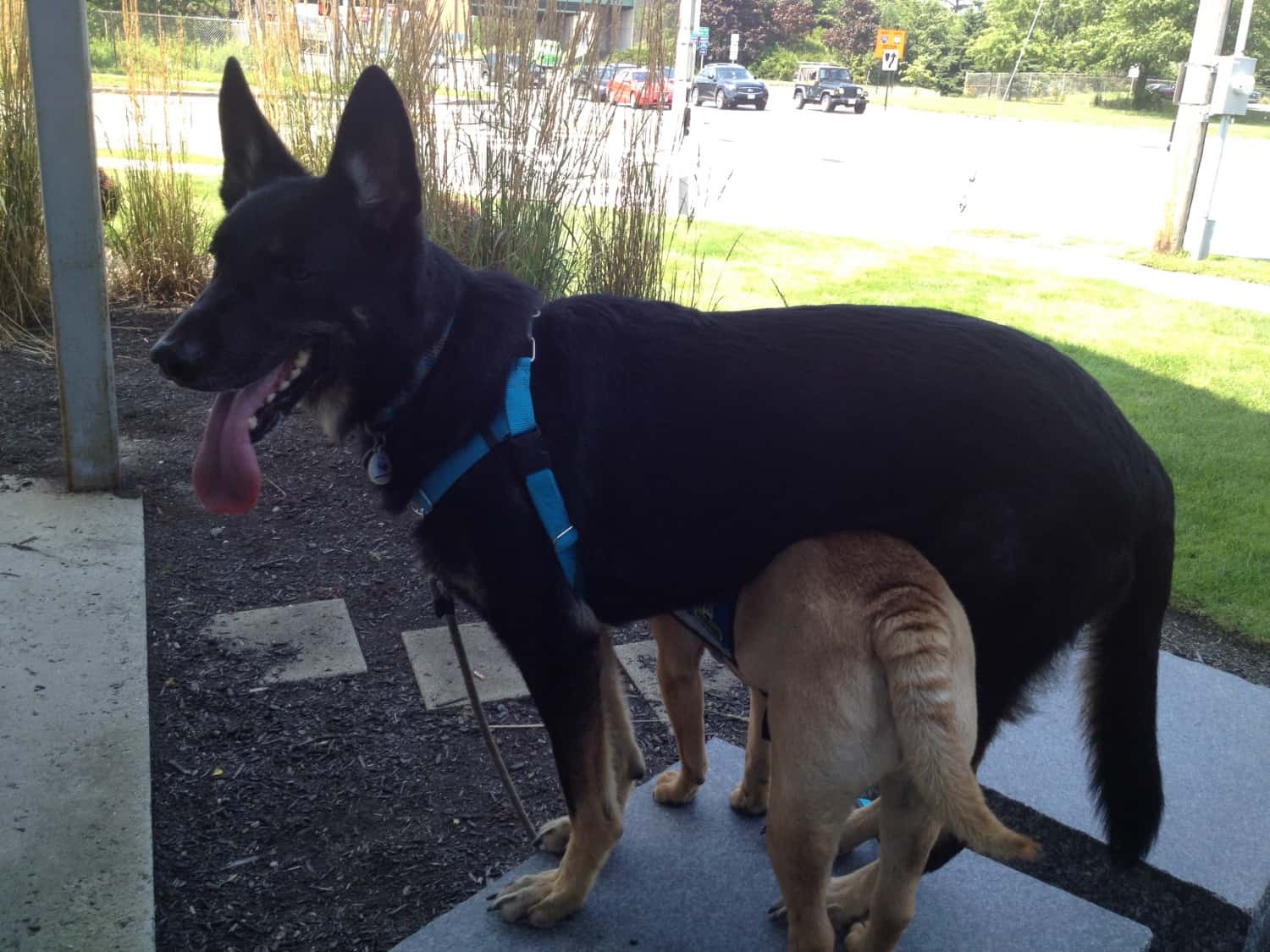 Newly flush with treats and peckish from the walk, we decided to see about lunch. Every once in a while the boys surprise us, and they behaved like perfect gentlemen while we dined at the beautiful Garden Cafe at the Portland Regency hotel. Though this isn't one of the pet friendly hotels in Portland, the setting is gorgeous.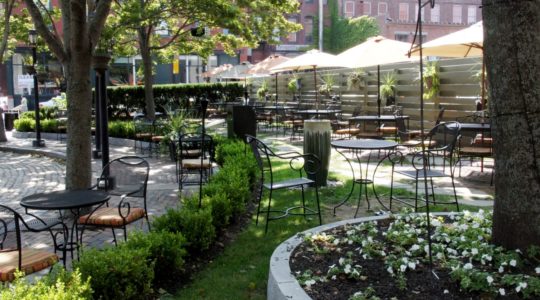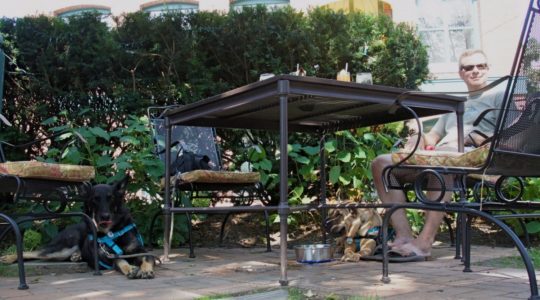 And, I love this cafe's approach to dog friendly dining! They seated us at a table that was a bit apart from the other tables –  it was one of two "people with pets' tables." Buster and Ty had plenty of space to stretch out without having to worry about being stepped on, and they weren't constantly jumping up every time someone walked by. It also gave people who might not enjoy sitting near our pooches (Inconceivable, I know!) plenty of distance. The setting is perfectly romantic – even at lunch – and it made for possibly the most enjoyable meal we've ever had with the boys.
From there we walked down to the waterfront for a little window shopping and a quick snap with a section of the Berlin Wall.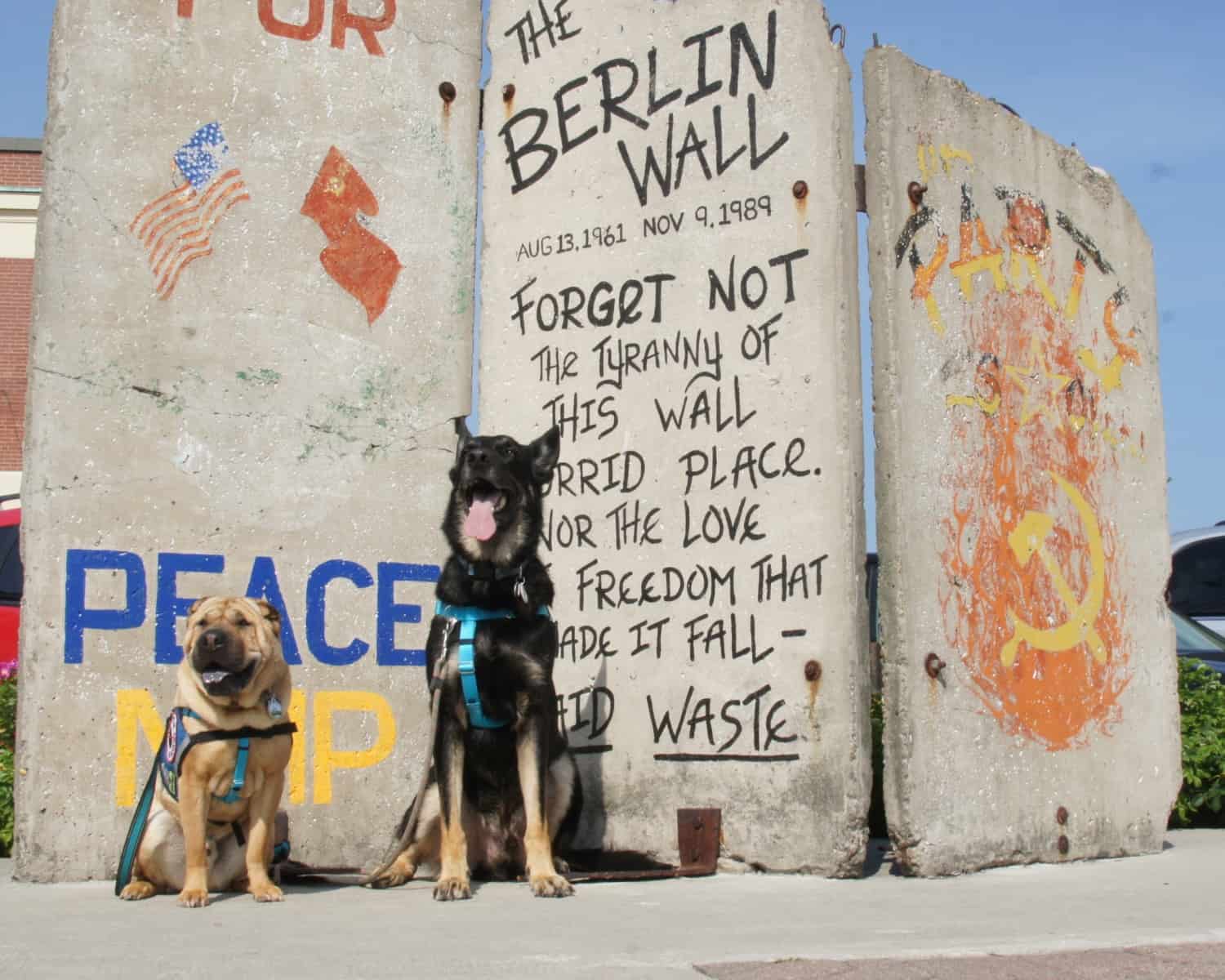 Then we loaded the boys back in the Winnebago and made our way out to the Portland Head Light House and Fort Williams park. The grounds are huge and the views are unreal! Next time we'll pack a picnic, a hammock, and a book … and delight in a whole day melting away.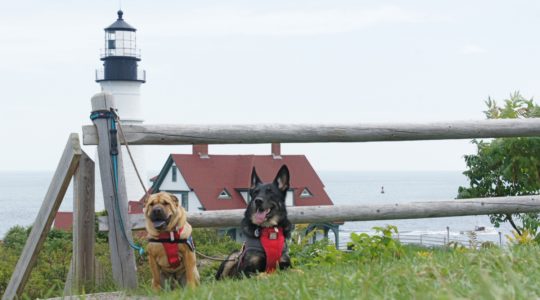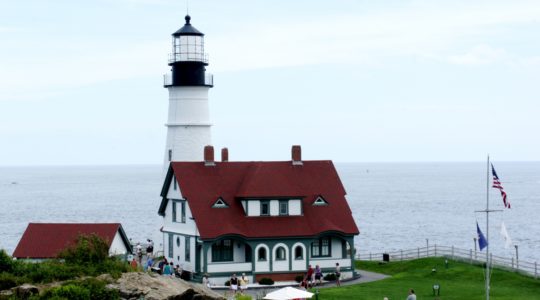 Planning a pet friendly trip of your own? We'll make it easy:
Pet Friendly Hotels | Pet Friendly Destinations | Pet Friendly Activities
Amazon Affiliate Disclosure: GoPetFriendly.com LLC is a participant in the Amazon Services LLC Associates Program, an affiliate advertising program designed to provide a means for website owners to earn advertising fees by advertising and linking to amazon.com, audible.com, and any other website that may be affiliated with Amazon Service LLC Associates Program. As an Amazon Associate, the owner of this site earns a commission from qualifying purchases.
(Visited 4,915 times, 1 visits today)