Ask your dog and he'll tell you, without question, that the very best vacation is a pet friendly road trip.
And we all feel that draw to see our country's most spectacular national parks. But pet travelers know that finding a national park where their dogs can have fun too is ruff!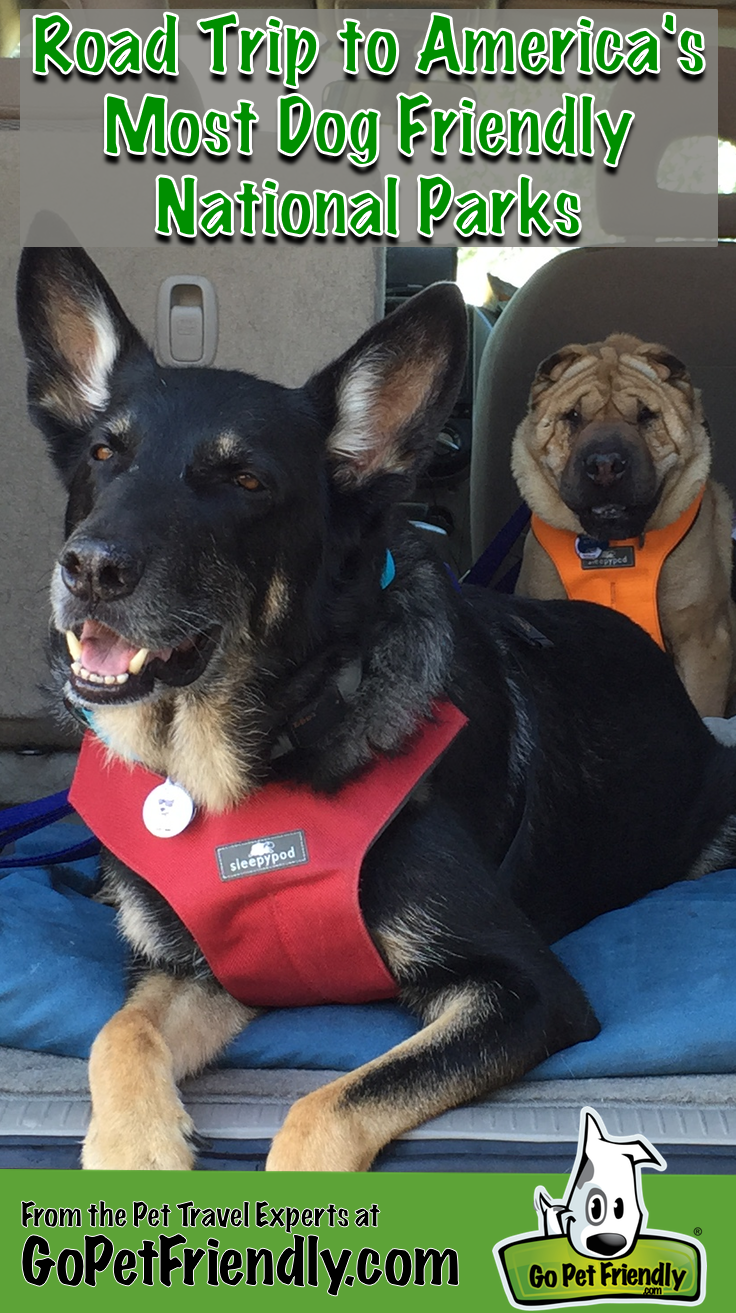 What if your next road trip were to visit seven of our country's most dog friendly national parks? Places where you pup isn't confined to the backseat of the car, but is welcome to marinate in the natural beauty, ramble over the trails, and inhale the perfectly blue sky along with you? We couldn't thing of anything better! So give your furry travel companion the good news, pack the car, and get ready to hit the road – this is going to be the trip of a lifetime!
Road Trip to America's Most Pet Friendly National Parks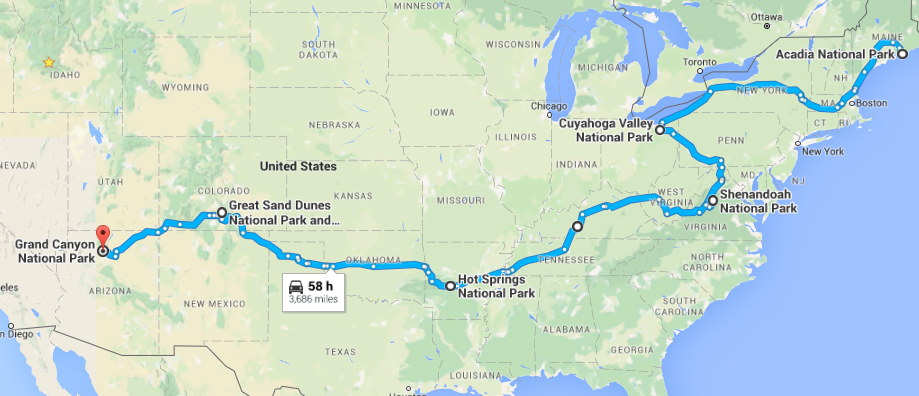 The trip starts at Acadia National Park, on the spectacular, rugged Maine coast. Encompassing 47,000 acres, dogs are welcome on all 120 miles of hiking trails and 45 miles of carriage roads in the park – with the exception of a few trails that require iron rungs or ladders. Dogs are also allowed in all the pubic areas, except Duck Harbor Campground, Wild Gardens of Acadia, and on Echo Lake Beach and Sand Beach during high season (mid-May to mid-Sept). Anywhere else you want to go in the park, your dog is welcome, too!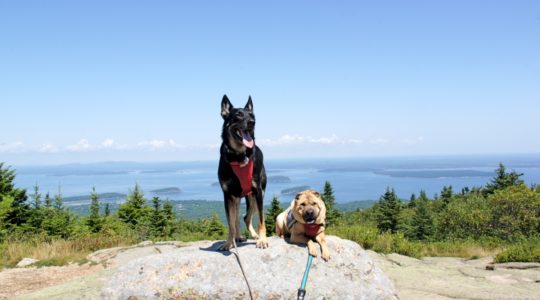 From Acadia, it's a 14 hour, 900 mile drive to Cuyahoga Valley National Park in Cleveland, Ohio. Following the "crooked" Cuyahoga River, dogs are welcome on all of the 125 miles of trails though woodlands, wetlands, and old fields. For the best scenery, head for Bradford Reservation. This five-mile all-purpose trail crosses the Tinkers Creek Gorge area, Ohio's most magnificent canyon, known for its hemlock forests. Short spurs off the main trail will also take you to Bridal Veil Falls and the Hemlock Creek Loop Trail.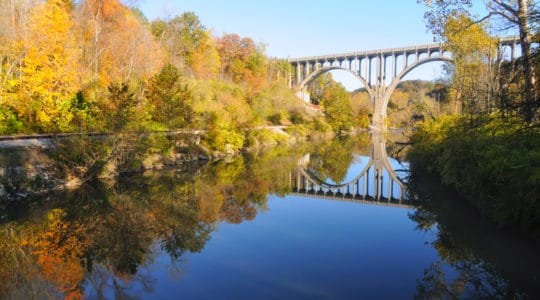 Hop back in the car at Cuyahoga and head 4 hours and 400 miles southeast to Skyline Drive at Shenandoah National Park in Virginia. Of the more than 500 miles of trails in the park, only 20 miles are off-limits to dogs because they require rock climbs or have difficult passages. The stunning views, peaceful wilderness, and cascading waterfalls are all accessible to your pup – it's the picture of serenity!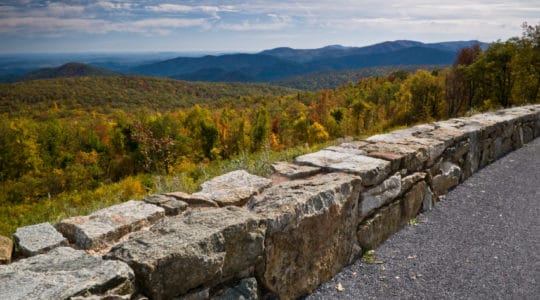 From Shenandoah, drive 8 hours and 540 miles west to Mammoth Cave National Park in Kentucky. Though the main attraction here is the 336 miles of underground passages, the 70 miles of pet friendly trails, past waterfalls and through one of the last remaining old growth forests in Kentucky, are not to be missed. Be sure to see the Green River Bluffs Trail, which winds through the hardwood forest to a nice overlook of the Green River, and check out the North Side Trails for some longer hikes.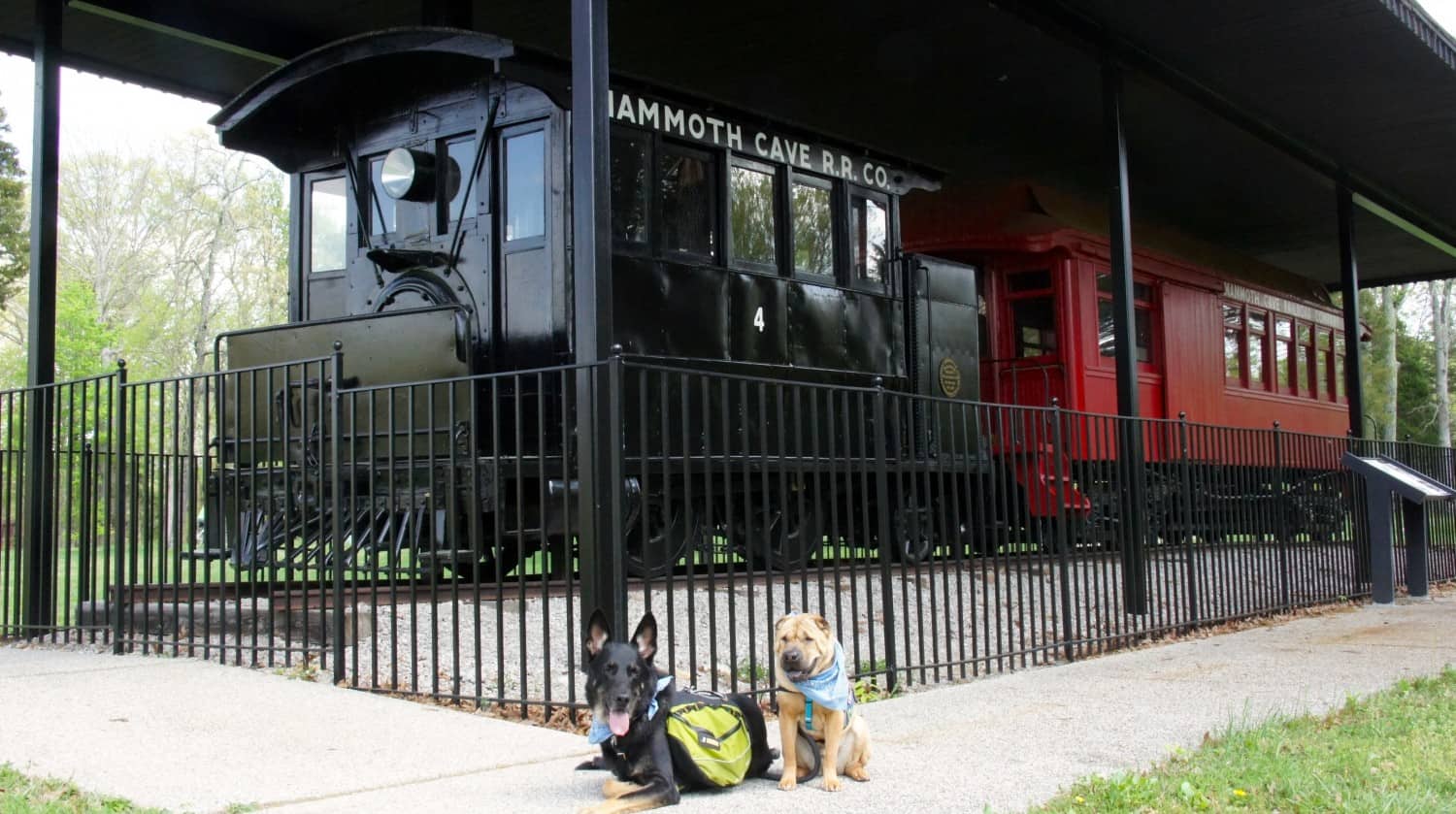 The next stop on the trip is 7 hours and nearly 500 miles west at Hot Springs National Park in Arkansas' Ouachita Mountains. Popular for the steaming water that seeps from the west slope of Hot Springs Mountain, indigenous people visited this location for 8,000 years before European settlers discovered it 200 years ago. Bath houses sprung up to allow visitors to take advantage of the "healing waters" and this unique national park protects the geothermic spring water and historic structures of this early resort town.
Your dog is welcome to join you for a half-mile stroll down Bathhouse Row and along the Grand Promenade. From there, hit the 26-miles of inter-connected trails flanking the city, many of which were originally created for spa guests who were encouraged to exercise daily to maximize the health benefits of the baths.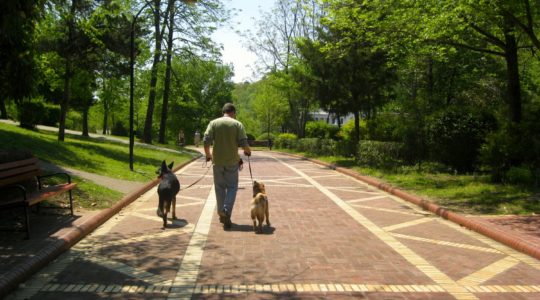 Continuing west from Hot Springs, it's 14 hours and 880 miles to Great Sand Dunes National Park in southern Colorado. Here you and your pup can explore the tallest dunes in North America – though you'll be nowhere near the ocean! Dogs are welcome up to the top of the first tall ridge of dunes, between High Dune and Castle Creek Picnic Area, and throughout the adjoining Great Sand Dunes National Preserve. Remember that the sand can be hot, so bring paw protection for your pal, and have splash in Medano Creek before you go.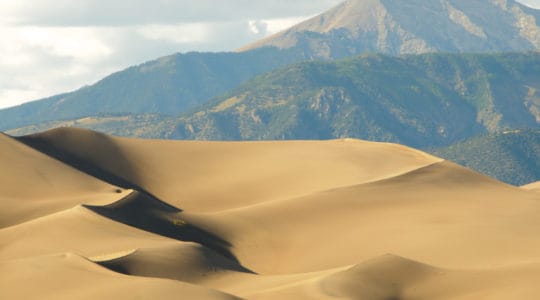 Finally, it's 8 hours and 450 miles to the western point of the trip – Grand Canyon National Park in northern Arizona. Here you and your pup are welcome to enjoy all 13 breathtaking miles of the South Rim Trail as it skirts the edge of the canyon. The path is easy to navigate, and remember to bring plenty of water and a collapsible bowl for your buddy – the high elevation and dry climate can quickly lead to dehydration.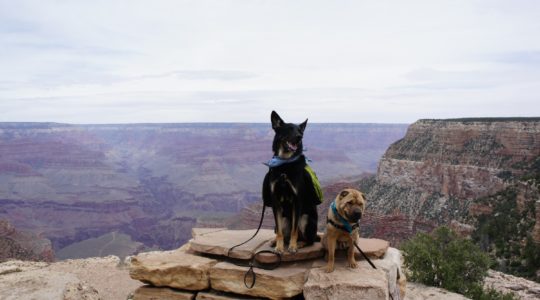 In all, you'll cover 3,700 miles with an estimated 58 hours of driving, and the memories you'll collect along the way will be priceless. Be sure to use our pet friendly road trip planner to help locate hotels, restaurants, campgrounds, and attractions along the way, and waggin' trails!
Amazon Affiliate Disclosure: GoPetFriendly.com LLC is a participant in the Amazon Services LLC Associates Program, an affiliate advertising program designed to provide a means for website owners to earn advertising fees by advertising and linking to amazon.com, audible.com, and any other website that may be affiliated with Amazon Service LLC Associates Program. As an Amazon Associate, the owner of this site earns a commission from qualifying purchases.
(Visited 3,688 times, 1 visits today)