Try as we might, it's just not possible for us to cover every dog friendly destination in the country. That's why we love getting guest posts from our readers as they travel with their pets! This post from Christopher Johnson gives you an insider's look at the very pet friendly city of Seattle, WA.
***
Visiting the Emerald City
With a beautiful cityscape nestled on the coast of Puget Sound at the feet of the majestic Cascade Mountains, Seattle is an attractive travel destination for everyone from city-hoppers to hiking enthusiasts. But did you know it's also one of the most pet-friendly cities in the U.S.? In fact, there are more dogs living within city limits than children! Seattleites take their dogs everywhere – on leashes, in strollers or in backpacks. And that means visitors reap the pet friendly benefits.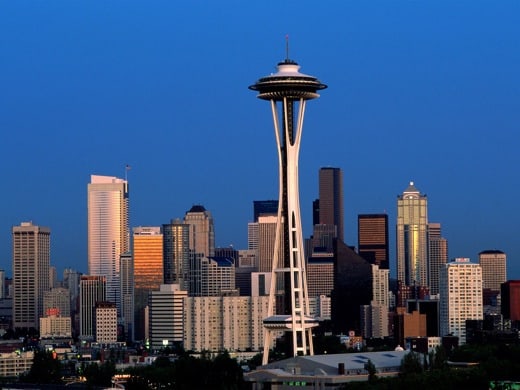 Where to Stay
There are about 40 pet friendly hotels in Seattle, many of which charge no additional fee for your pet. Both the Hotel Monaco Seattle and the Alexis Hotel offer a complimentary doggy bed, water bowl with distilled water and pet treats to every one of their canine guests. Hotels frequently offer pet-sitting services as well as personalized itineraries for your dog to make sure he stays entertained.
Getting Around
Once you venture out of your hotel room, getting around with your dog in Seattle is a breeze. When you get tired of walking, hop on one of the city buses. Dogs are also welcome on the city's many ferries, though you'll need to pay attention to related regulations while on board. For the most part, you simply need to keep your dog leashed and on the car deck, though details vary from ferry to ferry. You can even take your dog on the Fremont Sunday Ice Cream Cruise. And the ferry's not your only option for exploring outside the city with your pet. Seattle's Kenmore Air lets your dog sit right next to you on the plane as you travel to any of their Pacific Northwest destinations or on a seaplane sightseeing tour.
Things to Do
Seattle is home to an astounding number of dog-related businesses. Shops selling gourmet doggy treats are too numerous to count, and you'll never be at a loss to find a doggy daycare. Many of the city's attractions are dog-friendly. However, you may want to avoid Pike Place Market if your dog doesn't do well in crowded settings. Even if you've got the best behaved dog in the world, the crush of legs at this popular attraction might make it impossible for him to enjoy on a busy day.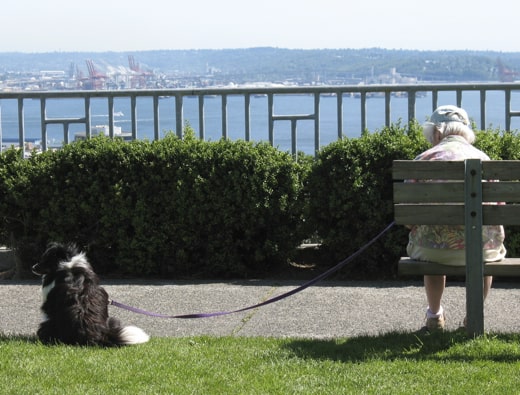 As you wander around Seattle, check out one of the city's 11 off-leash dog parks, the largest of which is in Warren G. Magnuson Park. Magnuson is located at Sand Point on Pontiac Bay and offers beautiful water views. The off-leash section of the park even has its own opening onto the water so that your dog can enjoy a swim. For views of Puget Sound itself, head over to the off-leash area of Golden Gardens Park.
Where to Eat
Dinner time? Head to one of Seattle's many dog-friendly restaurants. Many establishments offer pet friendly patio seating, and a few go further when catering to canine clientele. One of the most famous is Norm's Eatery & Ale House, where your dog is welcome to join you at your booth. They offer a nightly featured "Doggie Bowl"–a meal you can share with your pet. On Wednesday evenings in the spring, join other dogs and their owners for Yappier Hour at the Beach Cafe at the lakeside (and pet friendly) Woodmark Hotel. Dogs are also frequent fixtures at local coffee bars – just be sure to inquire about each location's pet policy before entering with your dog.
Author bio: Christopher Johnson is a dog lover and owner of BestFriendServices.com, a site specializing in pet memorials.
Amazon Affiliate Disclosure: GoPetFriendly.com LLC is a participant in the Amazon Services LLC Associates Program, an affiliate advertising program designed to provide a means for website owners to earn advertising fees by advertising and linking to amazon.com, audible.com, and any other website that may be affiliated with Amazon Service LLC Associates Program. As an Amazon Associate, the owner of this site earns a commission from qualifying purchases.
(Visited 2,912 times, 1 visits today)