About 20 miles west of St. Louis, on the west bank of the Missouri River, lies St. Charles. OK – this is the most charming pet friendly town we've been to since we started GoPetFriendly!
We parked at the entrance to Katy Trail State Park. Extending 225 miles from St. Charles to Clinton, MO, it is the longest rails-to trails project in the US. The trail follows along the Missouri River, winding through small towns that once thrived on the railroad corridor, and is open to hikers, bikers, and horses.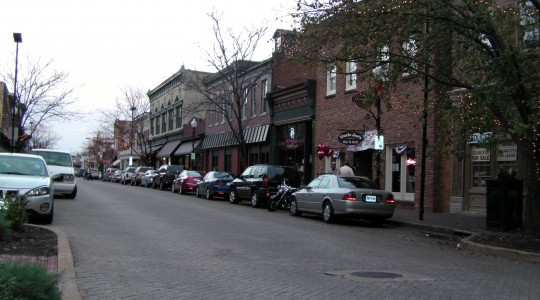 Walking into the town, we passed by Frontier Park, one of 19 city parks! Running along the Missouri River, the dog friendly park is home to summer concert series and annual festivals. For history buffs, a park trail leads to an educational facility that features exhibits relating to the Lewis & Clark expedition and old St. Charles.
Once named "Williamsburg of the West" by Southern Living magazine, the city's Main Street is Missouri's first and largest historic district. In an economy where many main streets have been ravaged, St. Charles' Main Street is thriving. We strolled along brick-paved streets and shopped in one-of-a-kind stores in restored buildings, some dating back to the 1850s. The shops were romantically decorated for Christmas, and the only thing missing was a dusting of snow to layer on the ambiance. Honestly, as I write this post a few days after our visit, the replay of the hours spent here gives me the warm-and-fuzzy feeling of It's A Wonderful Life.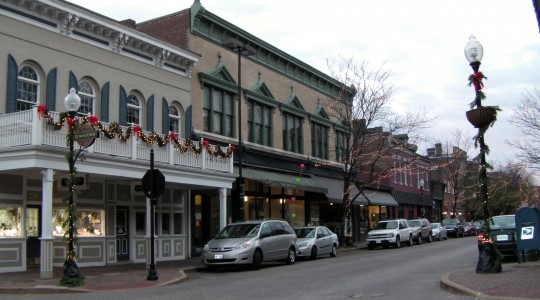 Many shops were pet friendly, including Canine Cookies N Cream Dog Bakery. For the stores that weren't, one of us stayed outside with Ty and Buster and people-watched. And can you say dog friendly restaurants?!  Along the 13 blocks of Main Street, we counted 14 eateries with doggie dining options – many of which had outdoor patios, rather than sidewalk seating. We had a pleasant meal at The Old Millstream Inn Restaurant & Beer Garden and recommend it for the food and service.
Just one block up from Main Street is Frenchtown, another nationally registered historic district. This neighborhood features 26 blocks of unique French Colonial architecture. Antiquers will love the mix of shops along Second Street. And, once again, for history enthusiasts the Frenchtown Heritage Museum features pictures, documents, maps, and memorabilia of 19th and 20th century life in St. Charles.
We did not have time to visit the neighboring Historic Missouri Wine Country. There are eight wineries – and we'll research the pet friendly ones to add to our list of attractions. If this area is anything like St. Charles, we'll be back!
We did make it back to St. Charles for another visit. Check out what we did the second time around.
Planning a pet friendly trip of your own? We'll make it easy:
Pet Friendly Hotels | Pet Friendly Destinations | Pet Friendly Activities
Amazon Affiliate Disclosure: GoPetFriendly.com LLC is a participant in the Amazon Services LLC Associates Program, an affiliate advertising program designed to provide a means for website owners to earn advertising fees by advertising and linking to amazon.com, audible.com, and any other website that may be affiliated with Amazon Service LLC Associates Program. As an Amazon Associate, the owner of this site earns a commission from qualifying purchases.
(Visited 1,602 times, 1 visits today)