They say there's nothing sweeter than the love of an old dog, and we're finding out just how true that is. With Buster turning 10 in May and Ty's 13th birthday just around the corner, we're doubly blessed. But when Ty started having mobility issues, we knew a pet stroller would be our answer.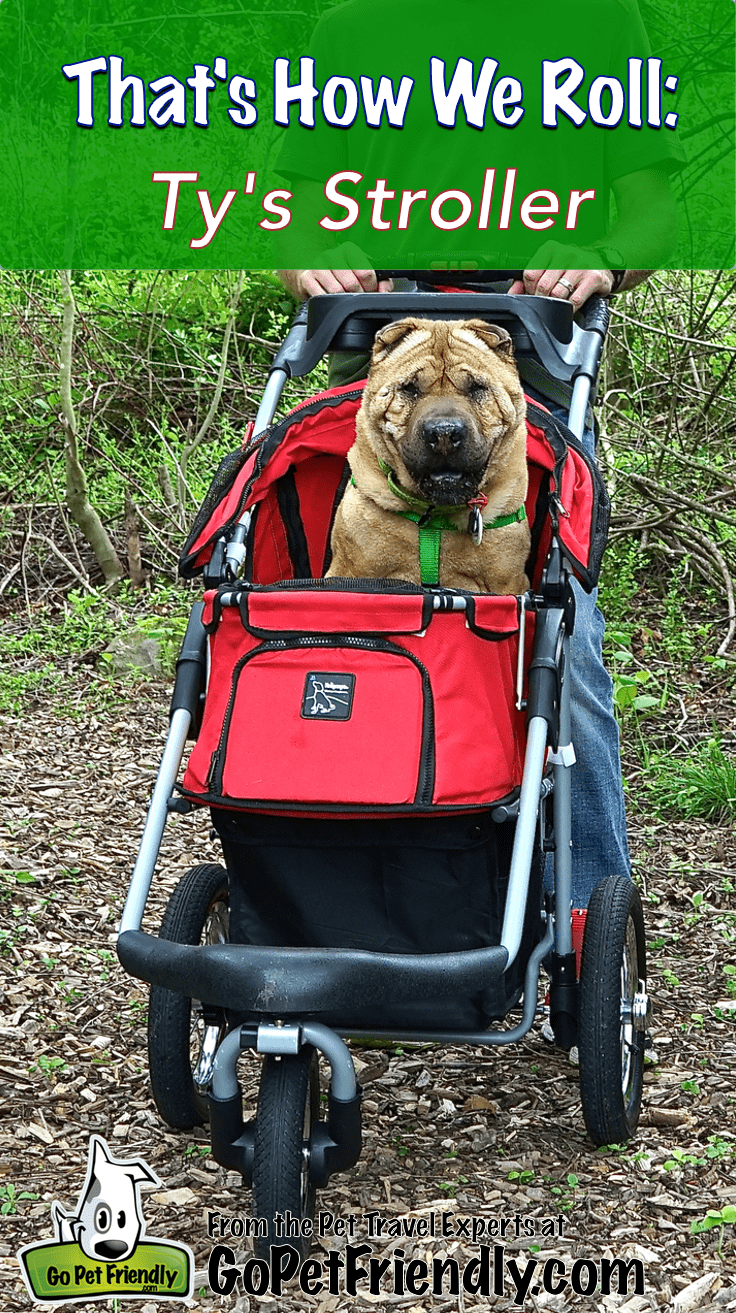 *This post contains affiliate links. Thanks for your support!*
Time Marches On
Traveling with senior dogs means adjusting for their changing needs. Planning shorter walks, choosing flatter hikes, and allowing more time to rest between outings are some of the small modifications we've made over the years to keep Ty and Buster comfortable and happy.
At some point, though, the small changes aren't enough. You're faced with a decision: make some major modifications to your active lifestyle, or invest in gear that will allow your dog to continue to enjoy your adventures. That moment arrived for us this spring when Ty wasn't able to match his brother's speed and endurance on walks.
At the time, we'd just started the Ultimate Pet Friendly Road Trip, and we had some big adventures lined up that none of us wanted to miss! And even with his mobility challenges, it was clear that Ty still enjoyed being out and about. So it was up to us to find a way to make that happen.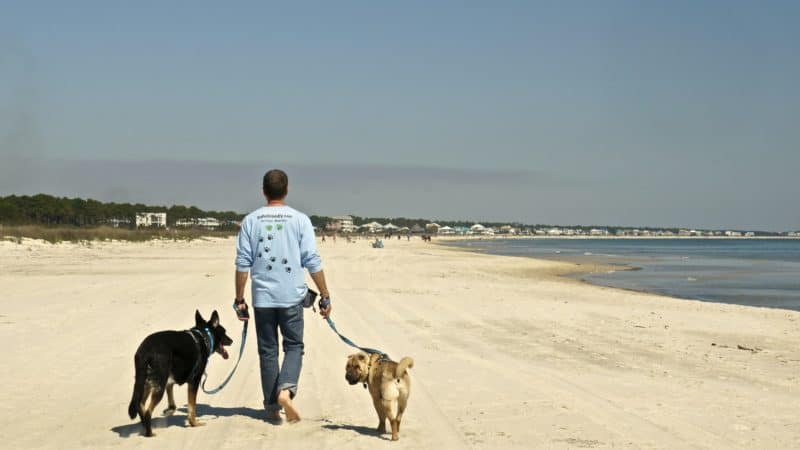 Researching the Options
We considered all the options … except leaving Ty behind. That was never an alternative. Comparing backpacks, a wagon, and several pet strollers, we decided that a pet stroller was the best solution for us.
After consulting family and friends for input on the ins-and-outs of strollers, we chose the ibiyaya Turbo Pet Jogger pet stroller for Ty. And he seems quite pleased with our selection.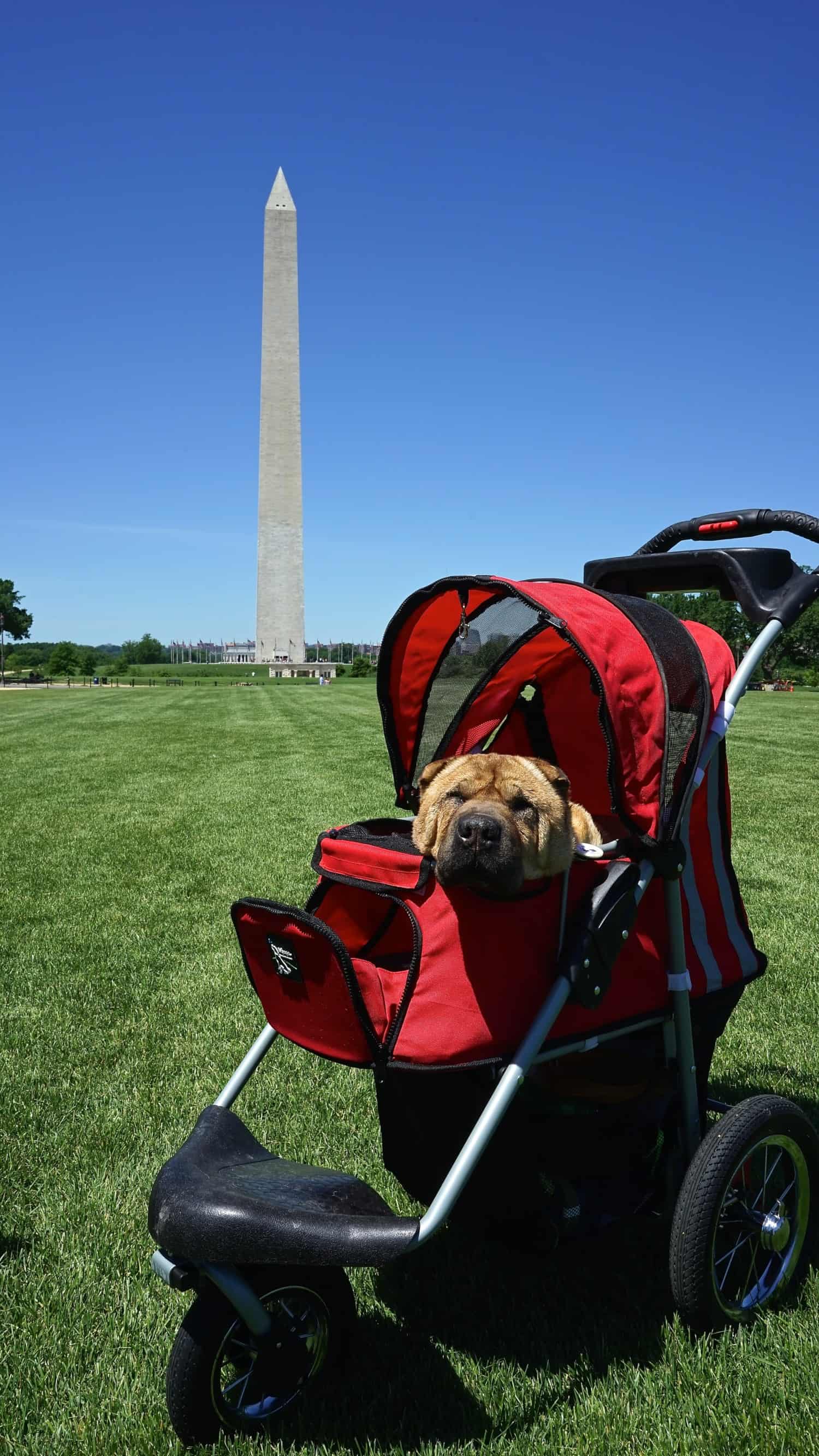 ibiyaya Pet Stroller
The long wheel base and rubber tires on this stroller allow it to go everywhere we want to take it. A few weeks ago we even pushed it to the top of Seneca Rocks in West Virginia's Monongahela National Forest! It's sturdy, but not too heavy for me to lift into our rooftop cargo carrier, and it has a basket underneath to carry the dogs' water bottles and collapsable bowl.
At about 35 pounds, Ty just fits in the bed, and the zippered panel on the front gives him a little more room to stretch his paws when he lays down. The design makes it comfortable for me (at 5 feet, 2 inches) to push. I'm not bending over putting stress on my lower back or hitting my shins on the bar that sets the brake. And the rubberized handlebar and beverage tray are added touches that we appreciate.
My only complaint is that when Ty is sitting at the back of the bed, the stroller feels like it might tip backwards. Fortunately, he prefers to lay down when he's riding, so it hasn't been much of an issue.
Assembly was easy, but we needed to fill the tires before we could use it and on occasion since then. Most people probably have a bicycle tire pump, but we didn't. Luckily, we found a mini bike pump that works well and stows in the cargo carrier with the stroller.
Ready to Roll
Getting Ty acclimated to his new wheels took no time at all! The stroller has two short straps with clips that attach perfectly to his No Pull Freedom Harness from 2 Hounds Design and keep him from jumping or falling out. With his well-earned reputation as a couch potato, Ty quickly came to the conclusion that having a stroller was the best thing that ever happened to him and settled down to enjoy the ride.
We've put a lot of miles on Ty's stroller since it arrived in mid-April. From the Florida beach, to Acadia National Park in Maine, it's made all the difference for us! We're no longer trying to guess how far Ty will be comfortable walking before we take off on a trail or set out to explore a city. Ty simply walks until he's tired, then we put him in the stroller and continue on.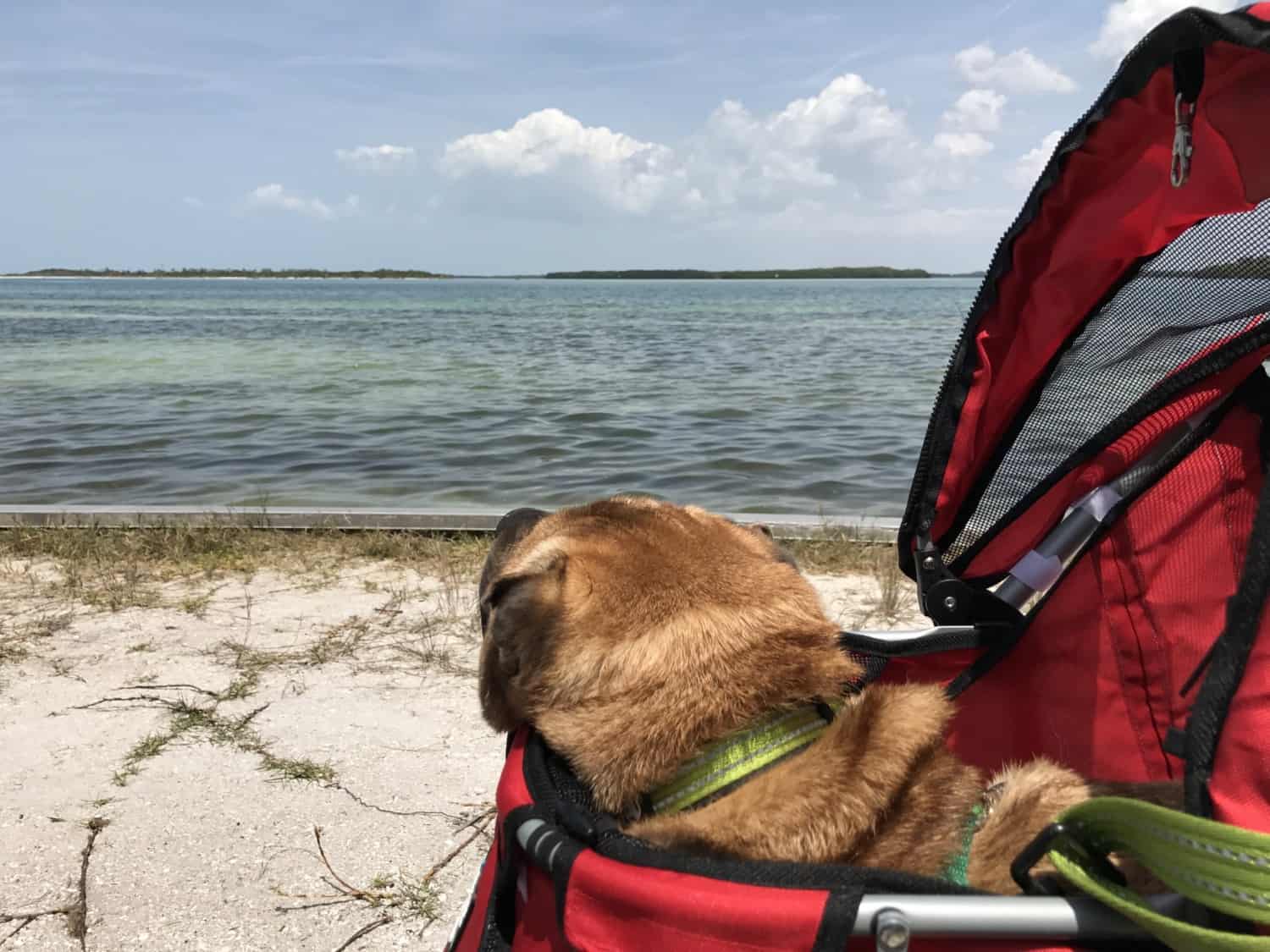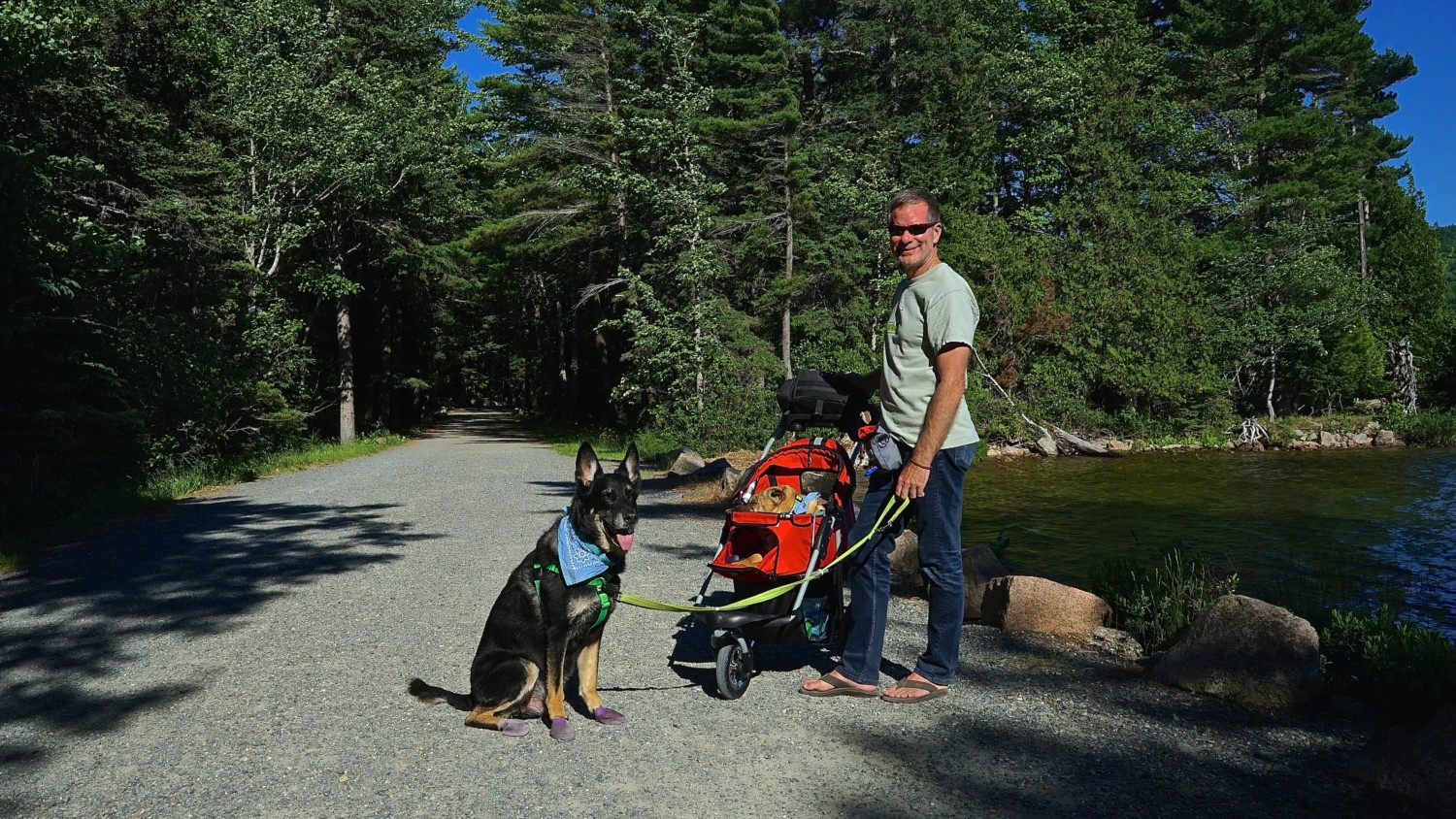 At first I felt a little ridiculous pushing our dog around in a stroller. But I've since realized that it's allowing us to continue enjoying the sights together.
And Ty's so happy! He loves going out for walks now. Probably more than he did when he was actually walking. And we're constantly getting comments about how cute he is in his stroller.
Given the distance his little legs have covered over the past 12+ years, he's earned the right to ride in style. Perhaps your pup or kitty would like an Ibiyaya pet stroller, too!
Visit our Amazon store to learn about more products we rely on to make traveling with pets easier, safer, and more fun!
Amazon Affiliate Disclosure: GoPetFriendly.com LLC is a participant in the Amazon Services LLC Associates Program, an affiliate advertising program designed to provide a means for website owners to earn advertising fees by advertising and linking to amazon.com, audible.com, and any other website that may be affiliated with Amazon Service LLC Associates Program. As an Amazon Associate, the owner of this site earns a commission from qualifying purchases.
(Visited 2,895 times, 1 visits today)