There are more perks to living in a motorhome than I can even begin to list, but one drawback is that they don't come with a mud room. We were lucky enough to be in Portland for their rainiest October on record … day after day of precipitation ranging from a steady, grey mist to heavy downpour … and it gave us the opportunity to perfect our "wet dog dance," which is how we survive rain-soaked dogs in a small living space.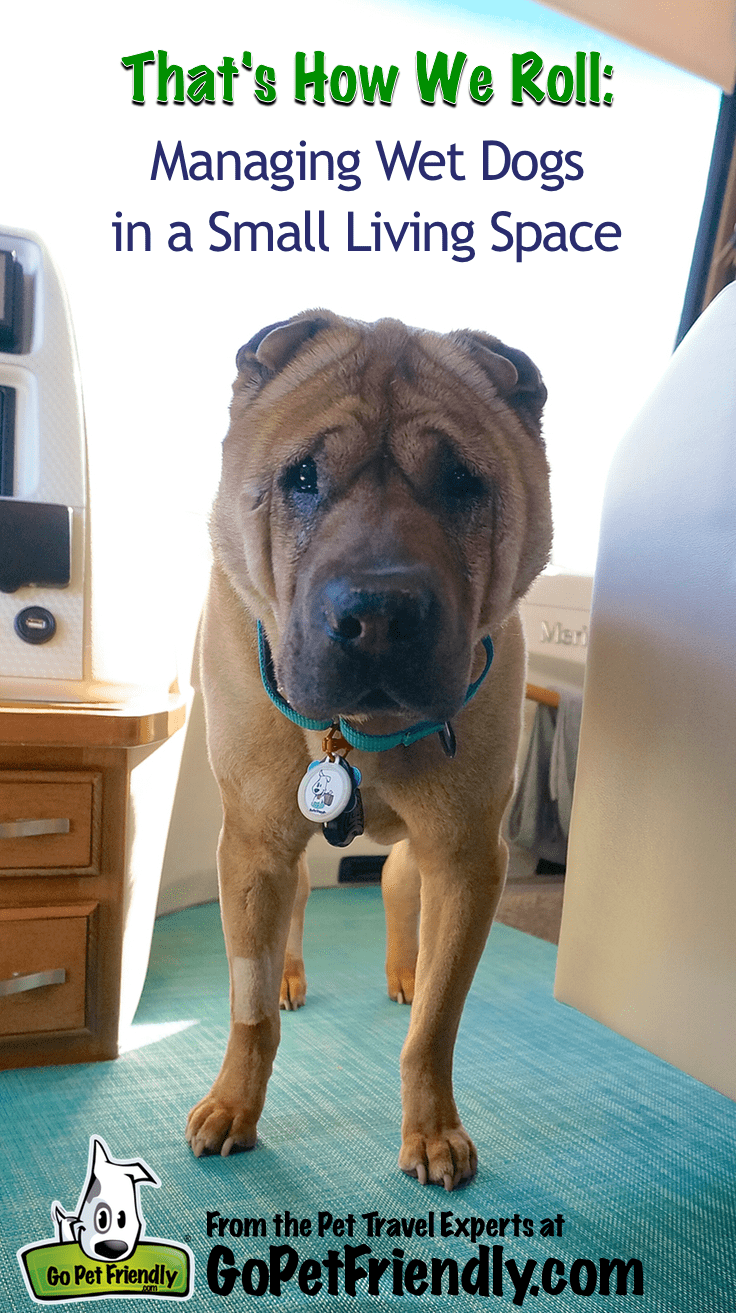 Doing the Wet Dog Dance in a Motorhome
Step 1: The dogs must go out … rain or shine. It doesn't matter the weather, when you have dogs the size of Ty and Buster (meaning too big to use puppy pads), they need to go for several walks a day. And when you live in an RV with no backyard, that means you're all going out together.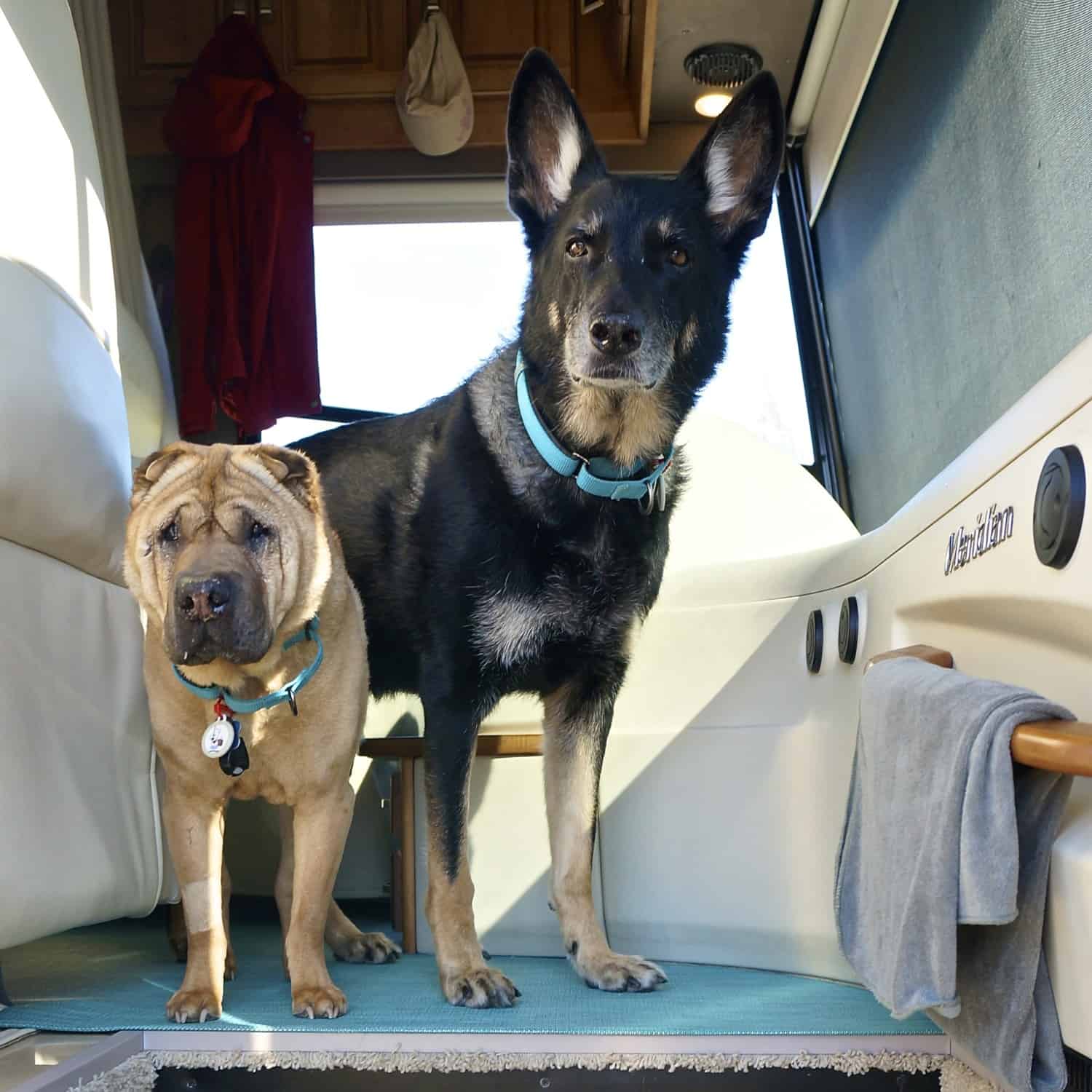 Our dogs make these soggy excursions extra-special by refusing to do their business once they discover it's raining. Then, ten minutes after coming back inside, they sit by the door with their big doe eyes, telepathically begging you to take them out again … only to find it's still raining, and rounding the corner back to square one.
Step 2: Tight confines require quick footwork. Our Winnebago is a bus-shaped motorhome with a diesel engine, commonly referred to as a "diesel pusher." The name makes sense because the motor is in the rear of the coach under our bed – it literally pushes the RV from the back as we travel down the road.
Almost all motorhomes with this configuration (and some gasoline-powered motorhomes, as well) have the entrance door next to the passenger seat in the front of the coach. Once you consider the space occupied by the seats and the dash, you're looking at about four square feet of area to preform your dance moves. Ty's being uber-helpful by demonstrating that the available space barely allows him enough room to turn around without running into the chair.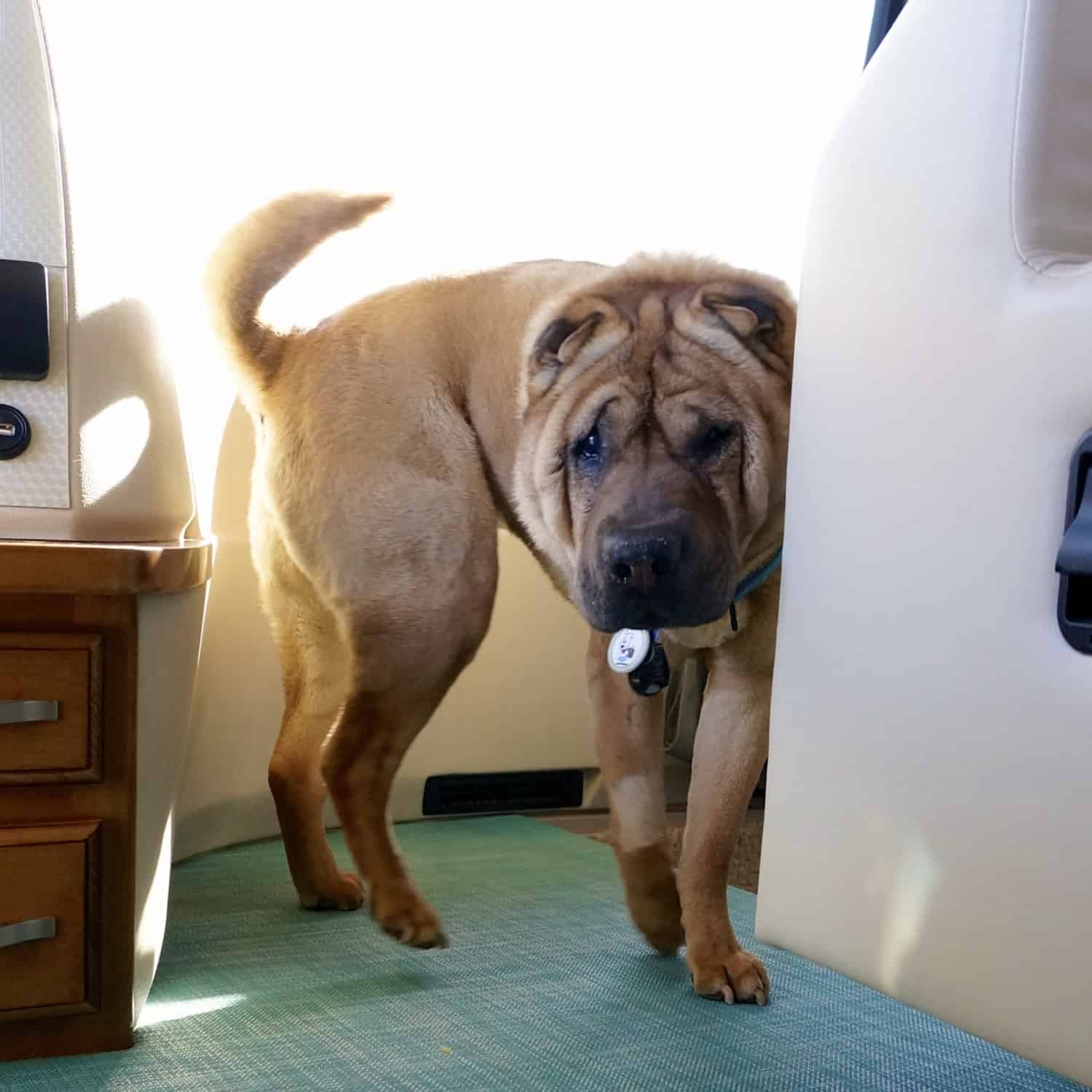 Step 3: If you're going to "cut a rug," you might need to cut an actual rug. Perfecting the "Wet Dog" starts with a good dance floor, and we've tried them all. We started with throw rugs that could be tossed in the washing machine – turns out having a dance floor that slips out from beneath your feet is not a good plan.
We then got a piece of carpet that we trimmed to fit into the space, and that worked pretty well … until the smell. You know what I'm talking about … that odor that emanates from carpet, no matter how many times you shampoo it. I can't explain the science behind it, but the only way to get rid of it is to burn it in a bonfire. (Just kidding, you should recycle it … but I can't guarantee that the smell won't survive.)
Instead of playing the rotating carpet game, we decided to invest in a Chilewich floor mat. Made from vinyl yarns woven into gorgeous plastic fabrics, these mats are super-durable, easy to clean, and can't be permeated by wet dog smell. They're not cheap, however. The 46″ x 72″ one we chose cost $340 – but given it's features and the fact that it will last for years, it's worth it. Plus, they come in a variety of beautiful colors and designs that look great with any decor.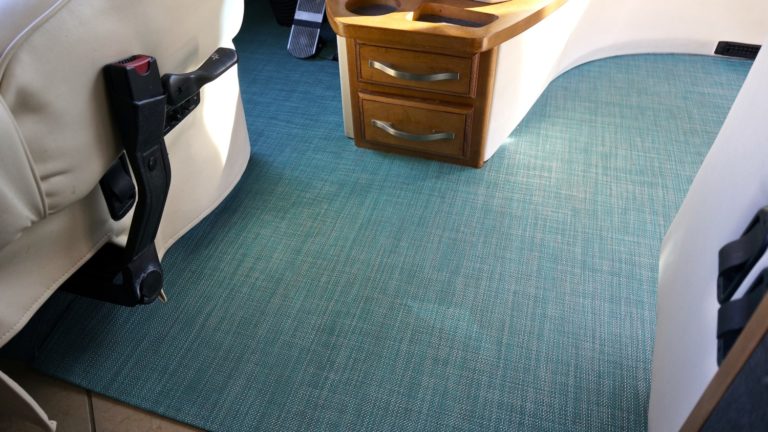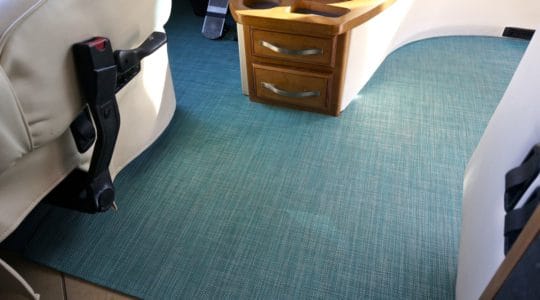 The Chilewich mats also have a rubber backing, so I was able to trim it to fit the contours of our RV entrance exactly. Full disclosure: their website says you should not cut your mat. I ignored their advice, and couldn't be more delighted with the way the it turned out. All the raw edges are against the dash moulding, so the fear of unraveling isn't keeping me up at night. And wet and muddy paw prints can now be wiped up in a matter of seconds!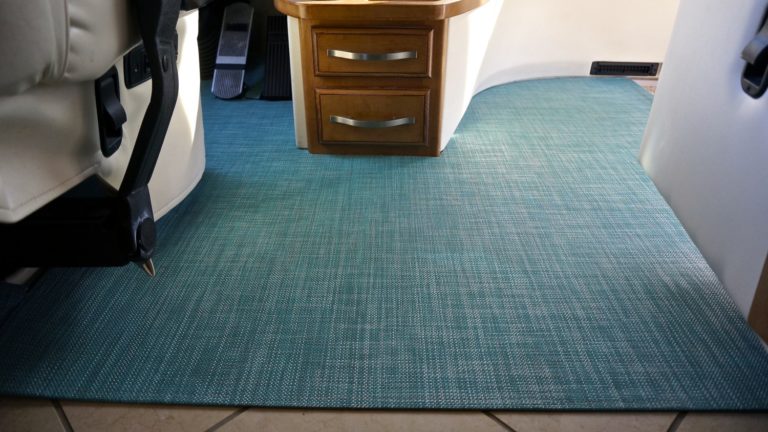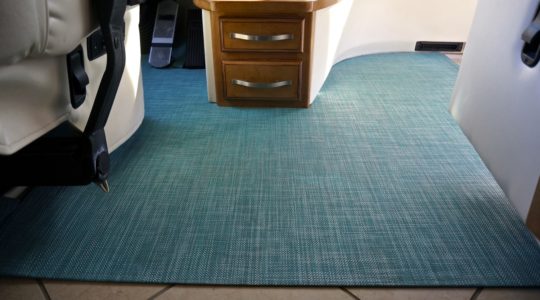 Step 4: Dress the part! When you're traipsing around in the rain multiple times a day, you need to keep your jacket handy, and in a place were it can dry between outings. We have cabinets above the driver's seat, and the nobs on the doors work perfectly for hanging our coats out of the way while they drip.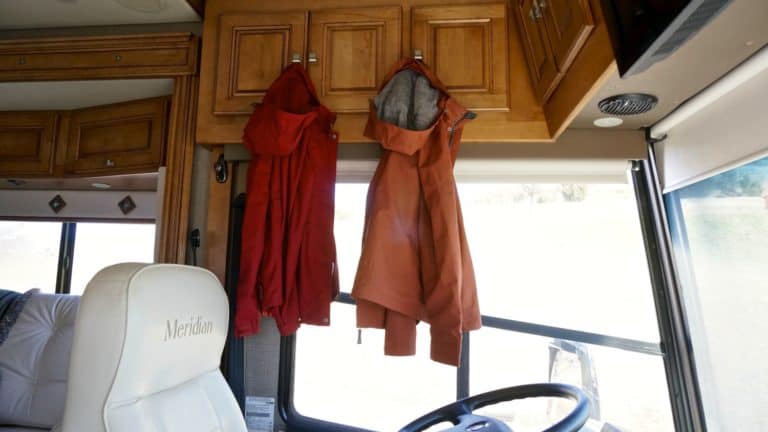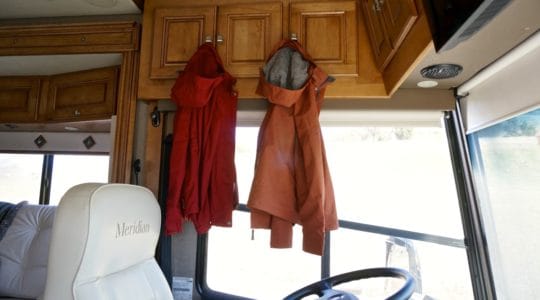 Step 5: Know when to throw in the towel. Our last fancy dance move in the "wet dog two-step" is using a super-absorbent, fast-drying Sea to Summit microfiber towel designed for campers and backpackers. This towel makes all the difference when you're drying your dogs and mopping up messes several times a day. We keep it hanging right beside the door, so it's always handy.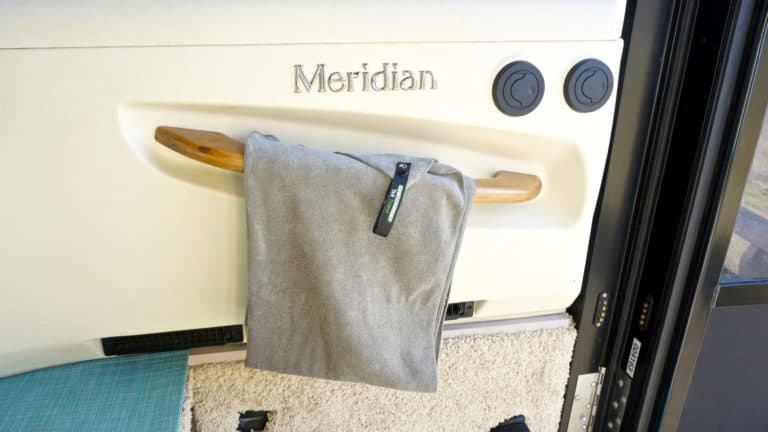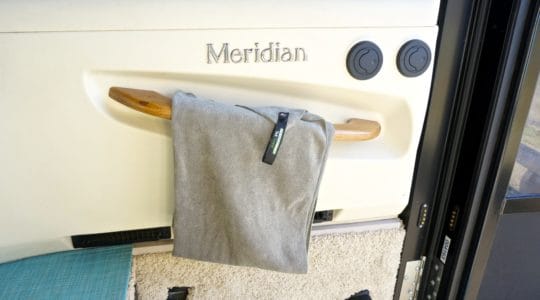 We hope these tips help you keep the mess to a minimum when dealing with wet dogs in your RV, motorhome, or other small living space. If you have advice that you'd like to share, please leave a comment below!
Disclosure: This post contains affiliate links. If you click the links and purchase the products I recommended, I'll earn a few cents on the sale.
Planning a pet friendly trip of your own? We'll make it easy:
Pet Friendly Hotels | Pet Friendly Destinations | Pet Friendly Activities
Amazon Affiliate Disclosure: GoPetFriendly.com LLC is a participant in the Amazon Services LLC Associates Program, an affiliate advertising program designed to provide a means for website owners to earn advertising fees by advertising and linking to amazon.com, audible.com, and any other website that may be affiliated with Amazon Service LLC Associates Program. As an Amazon Associate, the owner of this site earns a commission from qualifying purchases.
(Visited 1,643 times, 1 visits today)