I'm back! Last week's trip to SuperZoo was both exhilarating and exhausting. Like Global Pet Expo, the show is so big it's impossible to see it all … though I do my best. My pedometer said I walked 15.8 miles over the three days, and as I prowled the floor one thing quickly became clear – there is definitely a growing trend in pet travel gear! More and more companies are introducing products to make it easier to travel with our furry companions … and that's great news, wouldn't you agree?!
If you follow GoPetFriendly on Facebook, Twitter, and Instagram, you've already gotten some sneak peeks from SuperZoo. Now it's time to take a more thorough look at the show …
Scouting Pet Travel Gear
Alcott Products
One of the biggest introductions was the new line of Alcott Products coming out this fall. They've created four lines that run the gamut of things you need for your dog: Essentials with things like collars, leashes, beds, and toys – Explorer with a backpack, sleeping bag and a pup tent – Traveler with the car blanket, goggles, and handy travel bag – and Mariner for the life vest, beach blanket, and inflatable pool!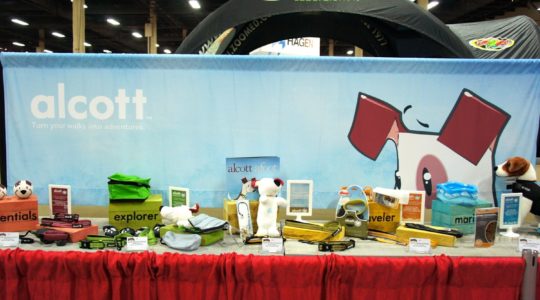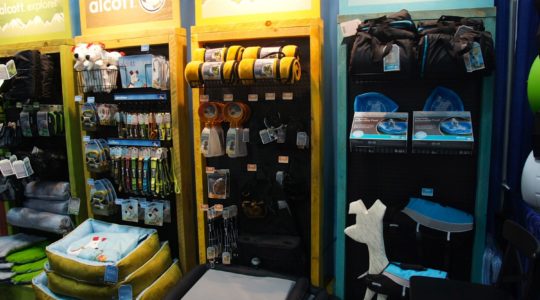 With a focus on making quality products affordable, we're looking forward to seeing this collection hit the shelves!
SleepyPod Clickit
We got a heads-up about the SleepyPod Clickit from Dog Jaunt and went looking for the new car safety harness for dogs that is based on the three-point seatbelt design required in all vehicles for humans. Watching the crash test video is both educational and a little frightening. I'm glad that SleepyPod is doing what it takes to make pets in cars safe.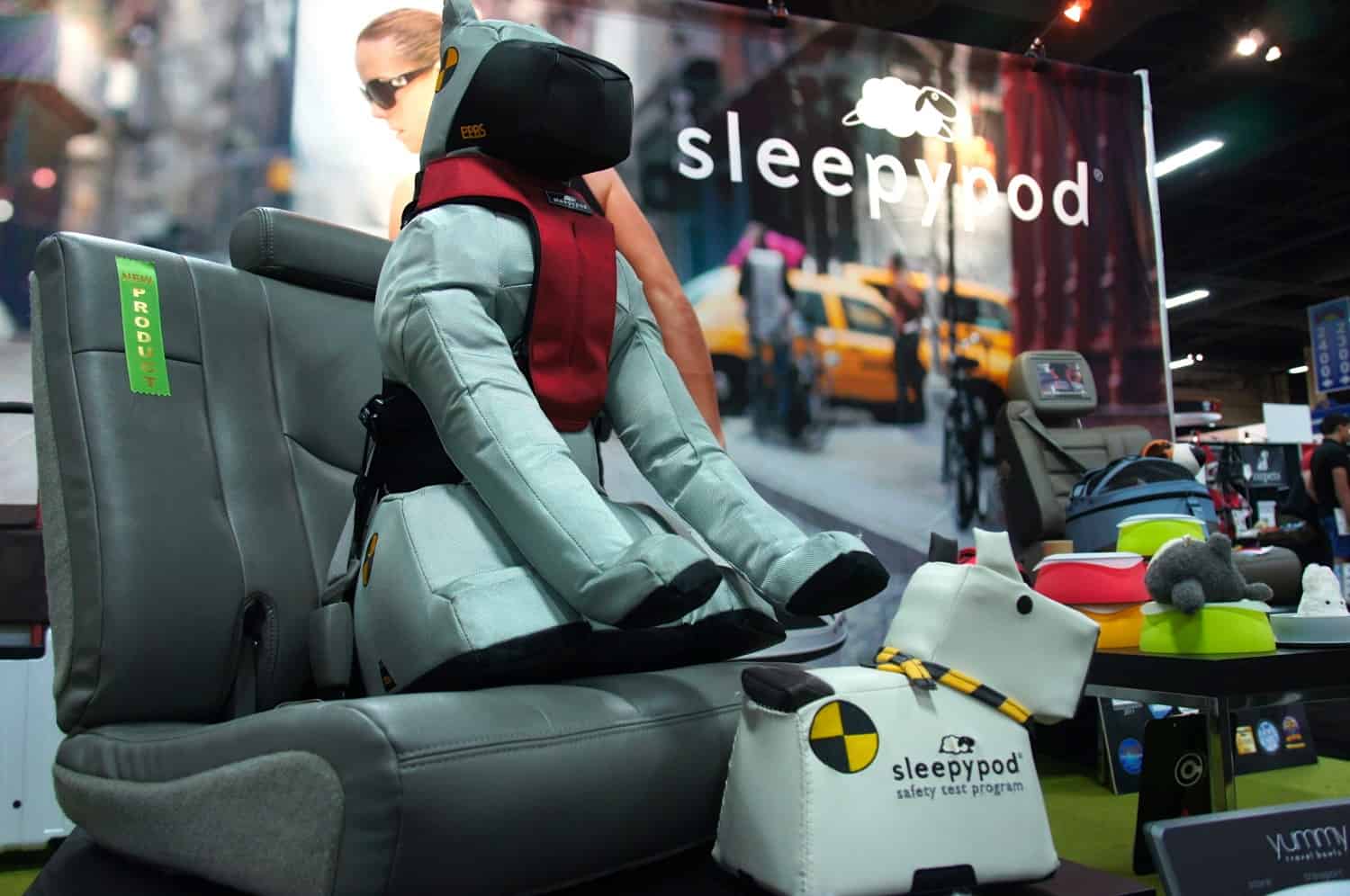 Sturdi Products Pet Walking Vest for Cats
Based on the results of our Summer Pet Travel Survey, we know that a fair number of you cater to a feline travel companion. Well, this new vest from Sturdi Products could be just the thing if your kitty enjoys a walk! Two years in the design process, they've come up with this stylish little number that uses baby snaps rather than Velcro, which can scare a cat when it's pulled open. The vest would also seem to solve the problem of cats squirming out of most walking harnesses on the market.
This little girl seemed quite comfy in her vest.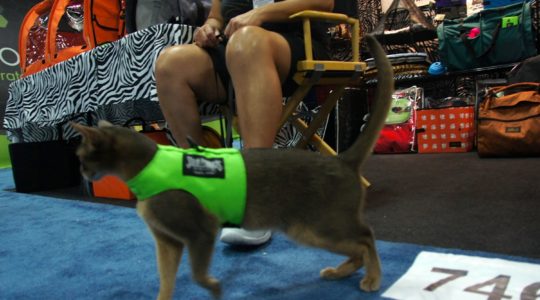 She even rolls over for treats!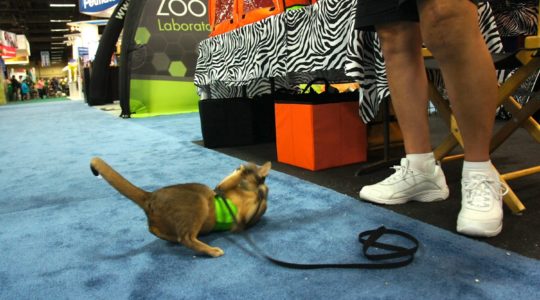 Kurgo Loft
Stopping by the Airstream trailer in the Kurgo booth always feels a little bit like home … and imagine my surprise when I discovered that their product development team has been reading my mind! Coming this fall, they'll be launching the "Loft" line of travel gear that coordinates with GoPetFriendly.com's colors – turquoise and bright green! I'm kidding, of course. My telepathic powers had no impact on their color selections … or did they? Either way, the boys will be looking snazzy in this new Go-Tech Adventure Harness!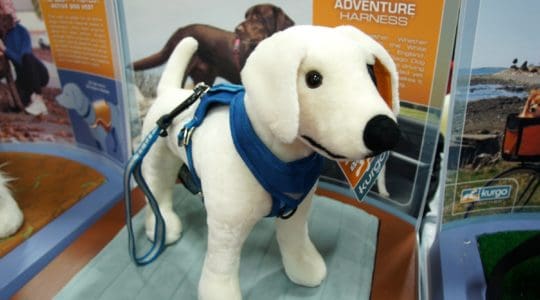 Sherpa Soother
For pets that find traveling a little stressful, Sherpa unveiled their new Sherpa Soother. This innovative sound module will clip to any type of carrier or kennel and provide either white noise or soothing melodies from award-winning composer Thomas Schoenberger. They've even built in a light that lets you check on your pet inside a dark carrier! Keep an eye out … it will be available soon.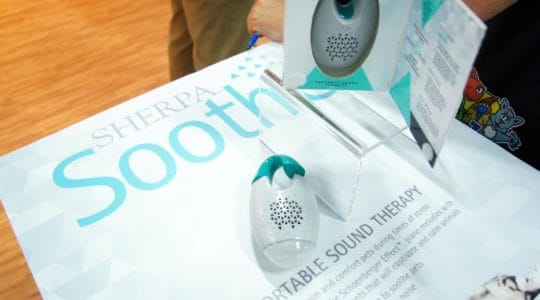 Ruffwear Summit Trex Boots
We were excited to see that Ruffwear is adding a light-weight dog boot to their line … the Summit Trex Boots are coming next month. And, a special note for Facebook fan Erin Altman … yes, the return of the Ruffwear rain jacket is in the works! Check out that fantastic new color!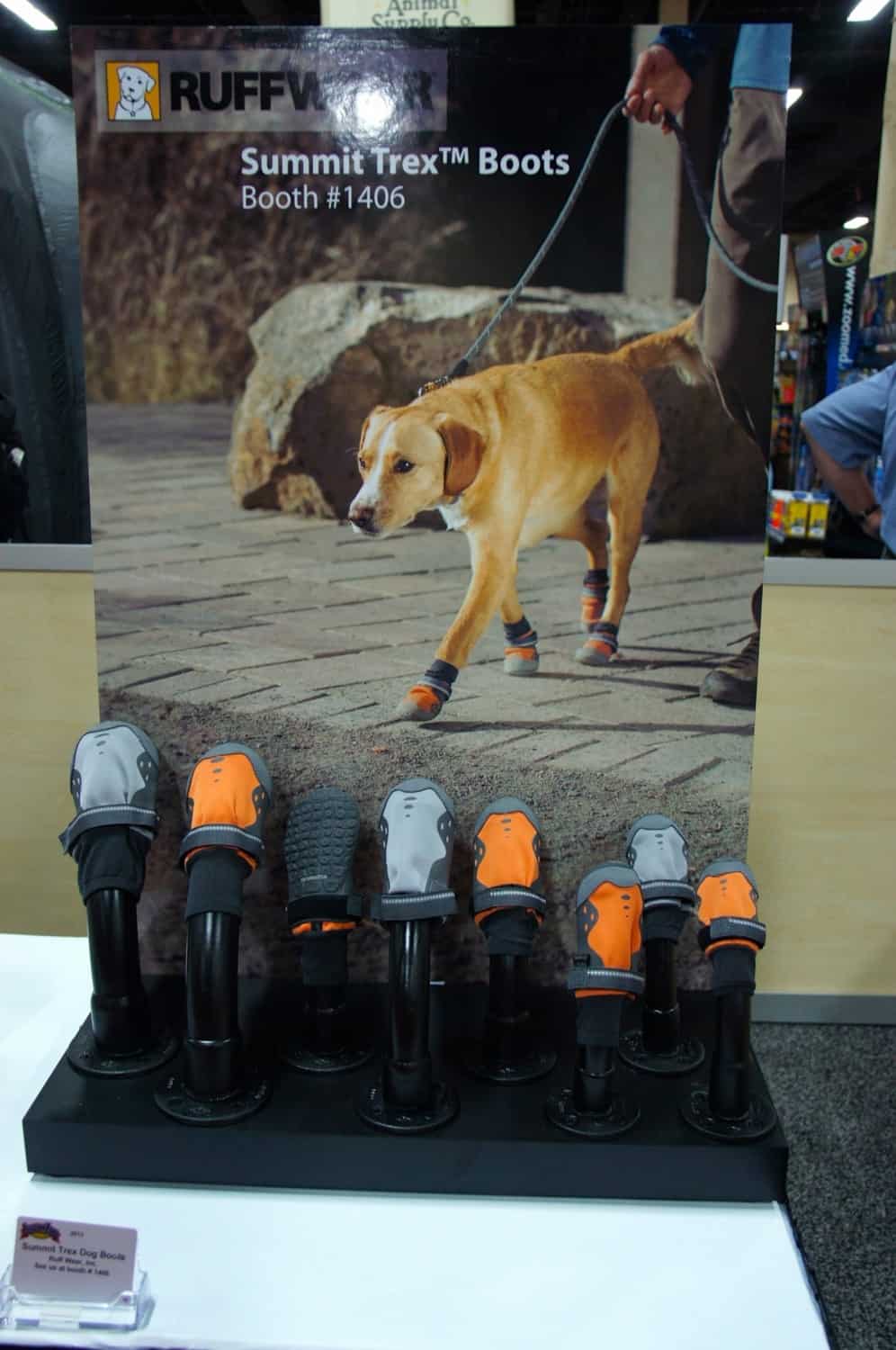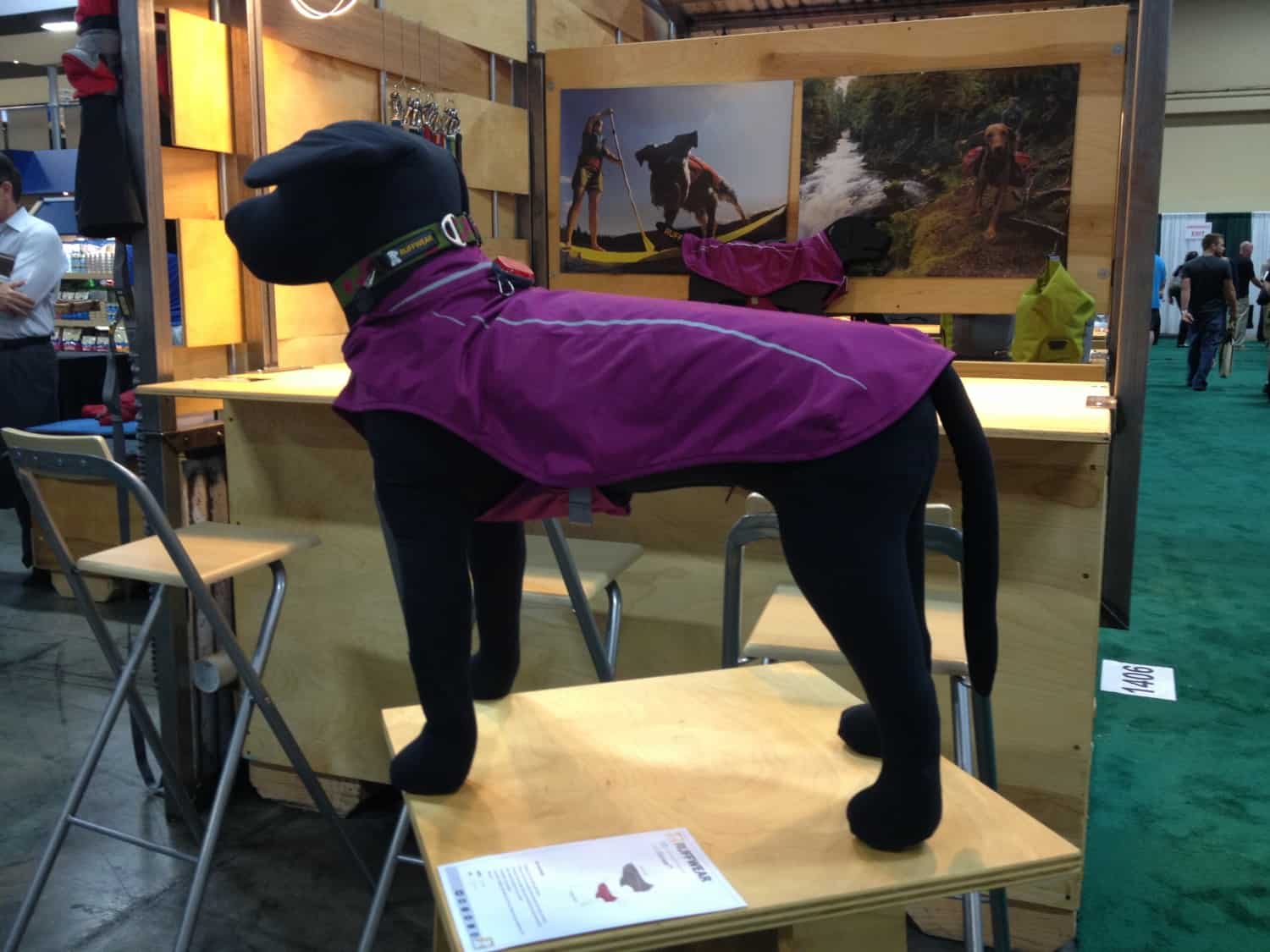 Yappy Hour Vineyards
I've often said that life in our small Winnebago is lubricated by good wine. Now Yappy Hour Vineyards has seen to it that Buster and Ty can join us for a drink at the end of the day. With clever names like Bark-deaux, Pinot Tail-io, and Char-dog-nay, the boys will never guess that this non-alcoholic gravy/au-jus isn't the real thing!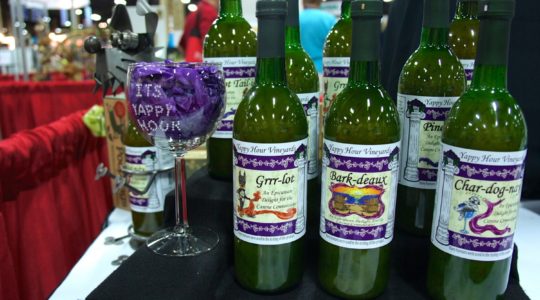 Wild Dogz Insect Repellent Dogwear
All the way from Australia we have the brand new insect repelling dogwear from Wild Dogz. The technology has been available for humans for a while, but this is the first time we've seen it extended to the canine market. Imagine being able to put a t-shirt, harness or bandanna on your dog and have it repel mosquitoes, fleas and ticks! We can't wait for them to get the online store up and running.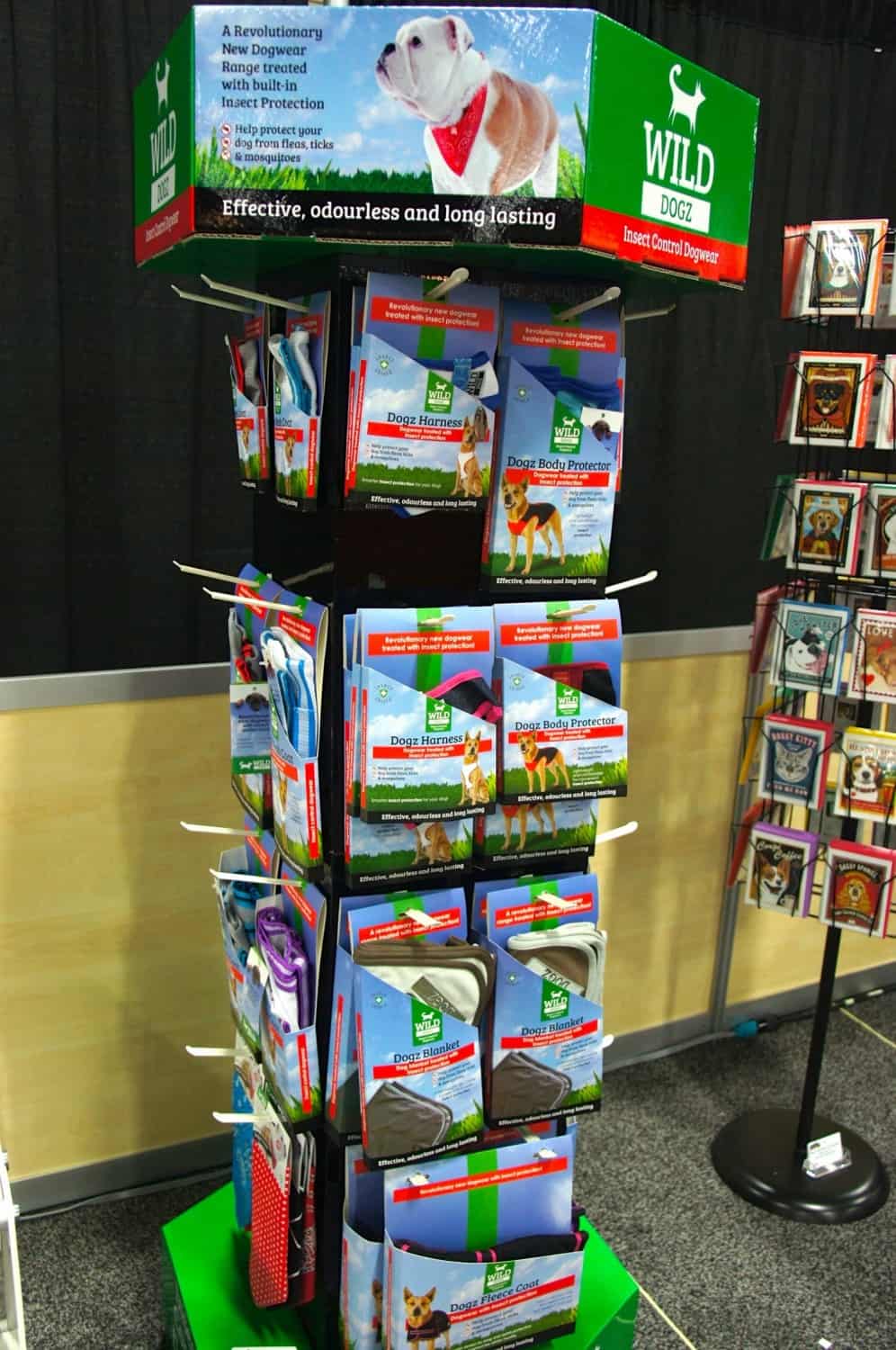 PetHub Digital ID Tags
One of the biggest concerns of traveling with pets is what happens if you get separated. Animals sometimes get spooked in unfamiliar surroundings, so having up-to-date identification on them is supremely important. These new ID tags from PetHub come in a variety of great designs and allow the person who finds your pet to tap the tag with a newer smart phone to immediately see your pet's profile. They can also scan the QR code, visit the website, or call number for the 24-hour "Found Pet Hotline" provided on the tag. You create and update your pet's online profile and choose from a free or paid subscription based on the features you prefer.
Links-It Pet Tag Holder
How many of you have mangled your nails, stabbed yourself, or been reduced to tears trying to change your pet's tags? Those little split-rings that connect to your dog's collar have finally met their match, and it's called the Links-It! Made from an extremely tough resin, these connectors come in a variety of colors and just may save your sanity.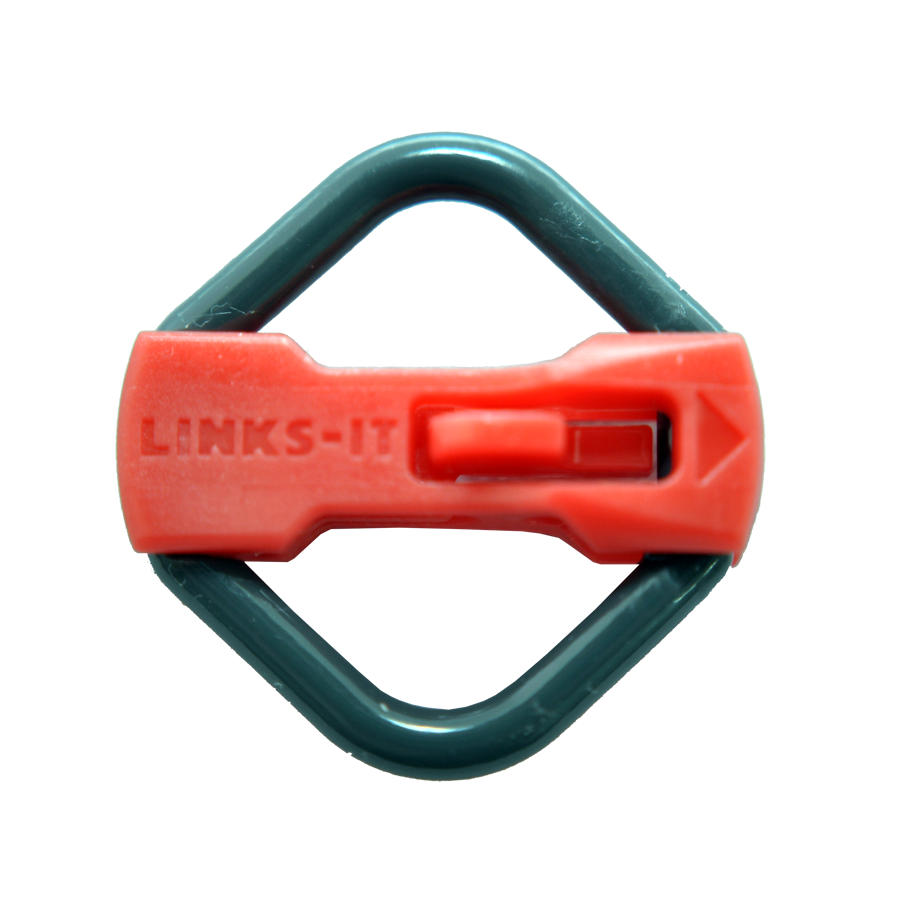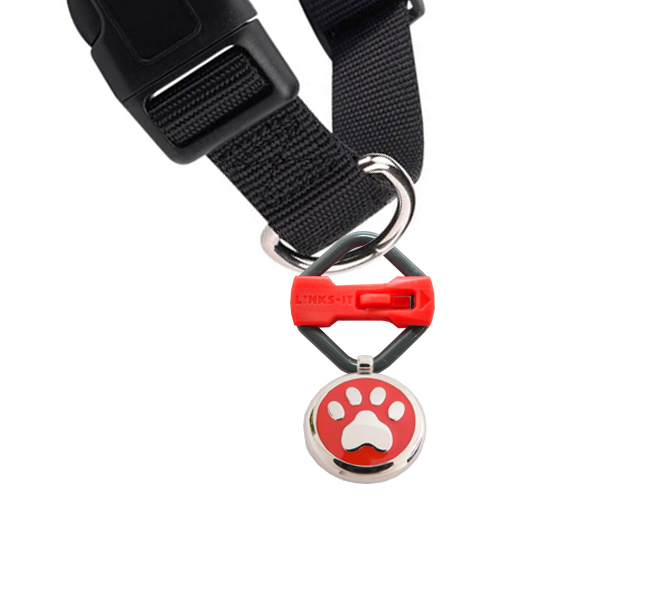 Pawz Dog Boots
Ever since Buster saw Sugar sporting her bright purple Pawz, he's been wanting to try them out. It seems our sweet boy has sensitive digits and walking on hot sidewalks or sand is uncomfortable for him. The dilemma was that the large sized boots, which Buster would need, only came in the same bright purple that Sugar wears. Buster can be so immature sometimes, and he thinks purple is a "girl's color." Well, great news my big boy – the natural rubber, reusable boots now come in black in all sizes! We'll be giving them a try soon, so stay tuned for what should be a hilarious video as Buster gets used to them!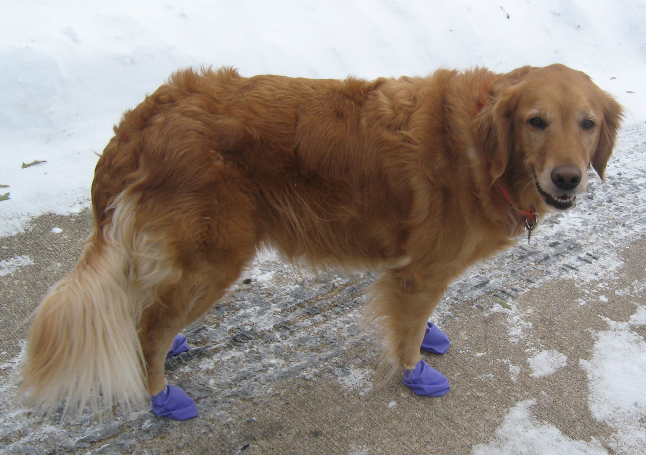 Whew! That's the overview of some of the coolest new pet travel gear we found at SuperZoo. Which product do you think is most exciting? And what's the one thing your pet never leaves home without?
Amazon Affiliate Disclosure: GoPetFriendly.com LLC is a participant in the Amazon Services LLC Associates Program, an affiliate advertising program designed to provide a means for website owners to earn advertising fees by advertising and linking to amazon.com, audible.com, and any other website that may be affiliated with Amazon Service LLC Associates Program. As an Amazon Associate, the owner of this site earns a commission from qualifying purchases.
(Visited 407 times, 1 visits today)