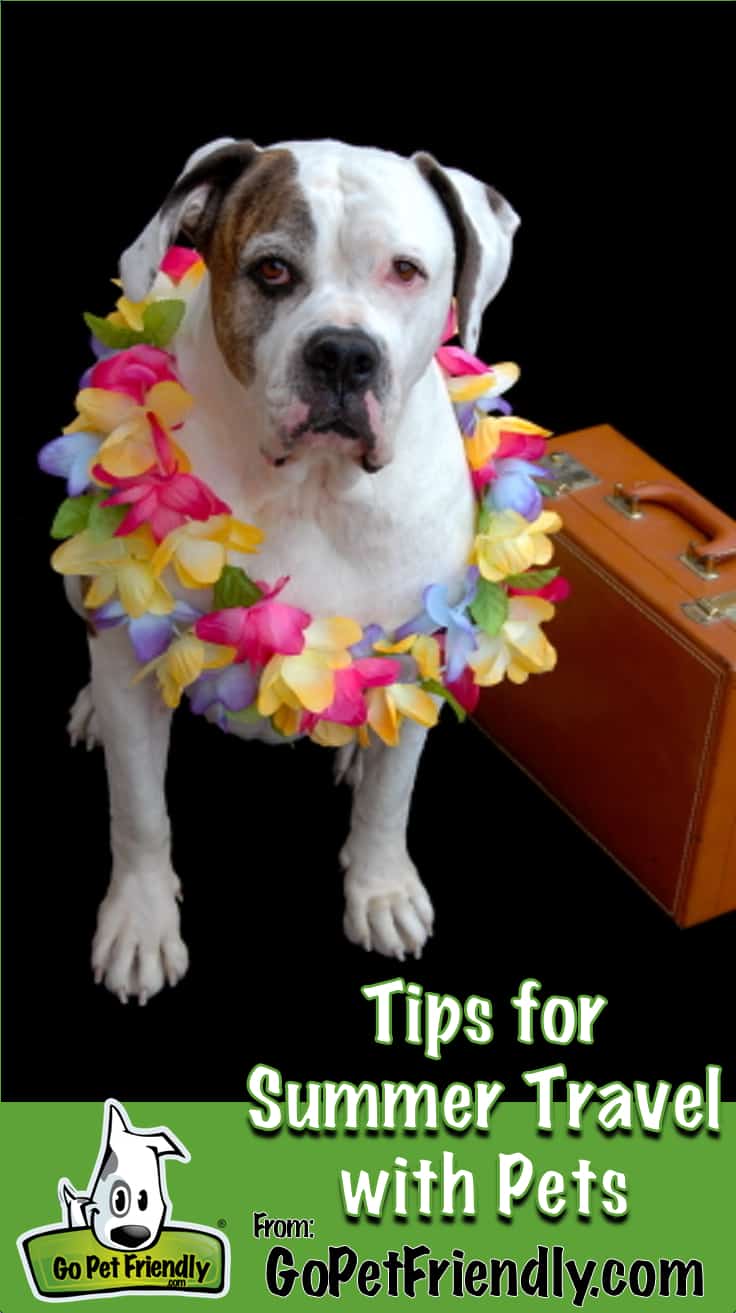 Summer is in the air! It's that wonderful time of year when we pack up the car and head out on vacation to visit new places. This year, more than ever before, families are planning to take their pets along for the ride – and while it takes a little more preparation to include the furry members of your family in the plans, there is no questions that it's worth the effort! Here are a few tips to get your trip off on the right paw …
Under-Estimate What You Can Accomplish When you travel with a pet, everything takes a little longer than when you're traveling alone. And that's a good thing! It reminds you to slow down and "sniff the roses." But, when figuring the distance you can travel or the activities you can accomplish in a day, be conservative in your estimates. A good rule is to make the plan … and then divide by two. If you achieve more than that, it's a bonus.
Buckle 'em up! Our pets are family, so it's essential to keep them safe by buckling them up. Whether you prefer a seat belt harness or a secured pet carrier, protect yourself and your pet from serious injuries every time you get in the car.
Related topic: Is it Illegal to Leave Your Pet Alone in the Car?
Patronize Pet Friendly Businesses Pet friendly establishments go out on a limb to open their doors to our pets, and it's important to repay that kindness by spending our dollars with them. Whether it's a hotel, restaurant, or other business, choose the pet friendly option when your pet is with you — and even when he's not.
Sniff Out Fun GoPetFriendly.com has listings for all kinds of pet friendly activities … from dog parks and beaches, to restaurants and wineries … and even some golf courses and baseball games! You can also check with the visitors bureau or fetch the locals' perspective by reaching out on social media. With a little digging, there'll be no shortage of entertaining options that you all can enjoy together.
Scoop the Poop We've all experienced it, and nothing spoils a day faster than stepping in something unpleasant. Abandoning your pet's waste reflects poorly on all pet owners and is the primary reason that parks and other locations choose not to allow dogs. Always carry plastic bags with you and find an appropriate receptacle to dispose of it.
Obey Leash Laws Just as we deserve to include our pets in our lives, there are people (and other pets) who prefer not to have our loved ones foisted upon them. Whether your dog has the perfect recall is irrelevant, if the sign says leash him – do it. It shows that you're a responsible and considerate pet owner.
Be Prepared Having your pet's veterinary records with you could be critical in the event of a sudden illness or emergency. Rather than lugging around a large file, take a paper copy of their current vaccination records and scan the rest of the information to an easy-to-pack USB drive.
Flexibility Saves the Day When you're traveling, unexpected things will happen. Weather is often the culprit, but other obstacles pop up as well. Anticipating speed bumps allows you to maneuver around them with ease – either by rearranging your schedule or recognizing that some activities might have to wait for another day or your next visit.
Waggin' trails!
Planning a pet friendly trip of your own? We'll make it easy:
Pet Friendly Hotels | Pet Friendly Destinations | Pet Friendly Activities
Amazon Affiliate Disclosure: GoPetFriendly.com LLC is a participant in the Amazon Services LLC Associates Program, an affiliate advertising program designed to provide a means for website owners to earn advertising fees by advertising and linking to amazon.com, audible.com, and any other website that may be affiliated with Amazon Service LLC Associates Program. As an Amazon Associate, the owner of this site earns a commission from qualifying purchases.
(Visited 1,010 times, 1 visits today)