We couldn't let September – otherwise known at Senior Pet Health Month – slip away without a contribution on our favorite subject … pet travel! So today we're happy to bring you a guest post by Amelia Wood – proud pet owner and blogger who has some experience traveling with her dog and cat.
* * *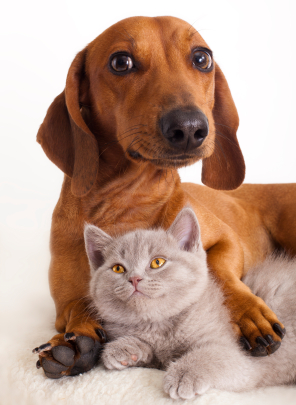 I have two elderly pets, a cat, Sadie, who's 16-years-old and has epilepsy, and a dachshund, Nugget, who's 10-years-old and has hypothyroidism. Both of my pets take medication on a daily basis to keep their conditions under control, and when I travel their health and safety is my first priority. Since my cat's condition makes it risky to travel with her, she usually camps out at the veterinarian's office while my dog tags along with me. But, a few years ago I got a new job that required me to relocate across the country and I had no choice but to take them both on the road. I learned a few things across the miles, and luckily, we all made it safely to our new home.
If you're planning to travel with elderly pets or pets with health conditions, here are a few things that will make the trip simpler and more enjoyable for everyone:
Consult with your veterinarian
My vet suggested we adjust Sadie's medicine dosage while she was traveling and gave me some some additional medication for her. He also urged me to put both of my pets in kennels for the car ride. Ordinarily I let Nugget roam free, but I it was much safer for all of us with him in the carrier! He can be a distraction when I'm driving, and he's prone to back problems and could have injured himself jumping around in the car. Your veterinarian will be able to give you specific instructions and tips for traveling with your pets, given their age, health conditions, and breed.
Avoid marathon driving
I think the biggest thing that made my trip successful was that I gave Sadie and Nugget plenty of chances to take breaks and stretch their legs. Stopping every two hours or so is a good rule of thumb and gives your pets plenty of chances to get out of their kennels for a little bit and go to the bathroom. I used disposable litter boxes for my cat on our trip and they worked great. Each day I put a new one on the floorboard of my car, and Sadie didn't have a single "accident." If you can, you should also try to spend every night in a pet friendly hotel. This will give your pets a chance to relax in your company and take a much-needed break from bouncing around in their kennels in the car.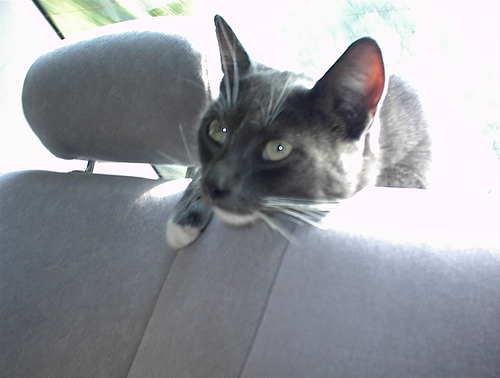 Set pet-related reminders on your smartphone
It can definitely be difficult to keep track of all your pets' needs while you're busy driving and making travel arrangements – especially if your pets have health conditions. I found it useful to set reminders for myself on my smartphone to help me remember to give my pets their medication on time, feed them on time, and let them go to the bathroom regularly. I had a lot of phone alarms going off throughout my trip, which was a little strange at first, but it really helped me out.
Bring something familiar
All pets – but especially those whose eyesight and hearing may be diminished – feel more secure when they have familiar things around them. Along with all the other things you'll need to pack for your pet, be sure to take his favorite bed or blanket so he'll have a comfortable place to curl up at the end of the day.
This guest post was written by Amelia Wood, a blogger and pet lover.
Planning a pet friendly trip of your own? We'll make it easy:
Pet Friendly Hotels | Pet Friendly Destinations | Pet Friendly Activities
Amazon Affiliate Disclosure: GoPetFriendly.com LLC is a participant in the Amazon Services LLC Associates Program, an affiliate advertising program designed to provide a means for website owners to earn advertising fees by advertising and linking to amazon.com, audible.com, and any other website that may be affiliated with Amazon Service LLC Associates Program. As an Amazon Associate, the owner of this site earns a commission from qualifying purchases.
(Visited 3,134 times, 1 visits today)