If you're looking for the best traveling dog names, you've come to the right place!
As a leading pet travel website, we at GoPetFriendly know that choosing just the right name for your new travel buddy can be tricky. It needs to fit your pup's personality, should roll off your tongue, and be meaningful to you. Finding a name that meets all of those criteria – and appeals to your whole family – can be a challenge.
Fortunately, you've narrowed down the list of potential names by deciding on a traveling dog theme. Still, the number of options can feel overwhelming. My advice? Make a short list of your favorites – maybe three or four – and try each of them for a couple of days. One will start to feel right.
Read on to discover the best traveling dog names! Have a sailing dog? Check out these boat-themed dog names!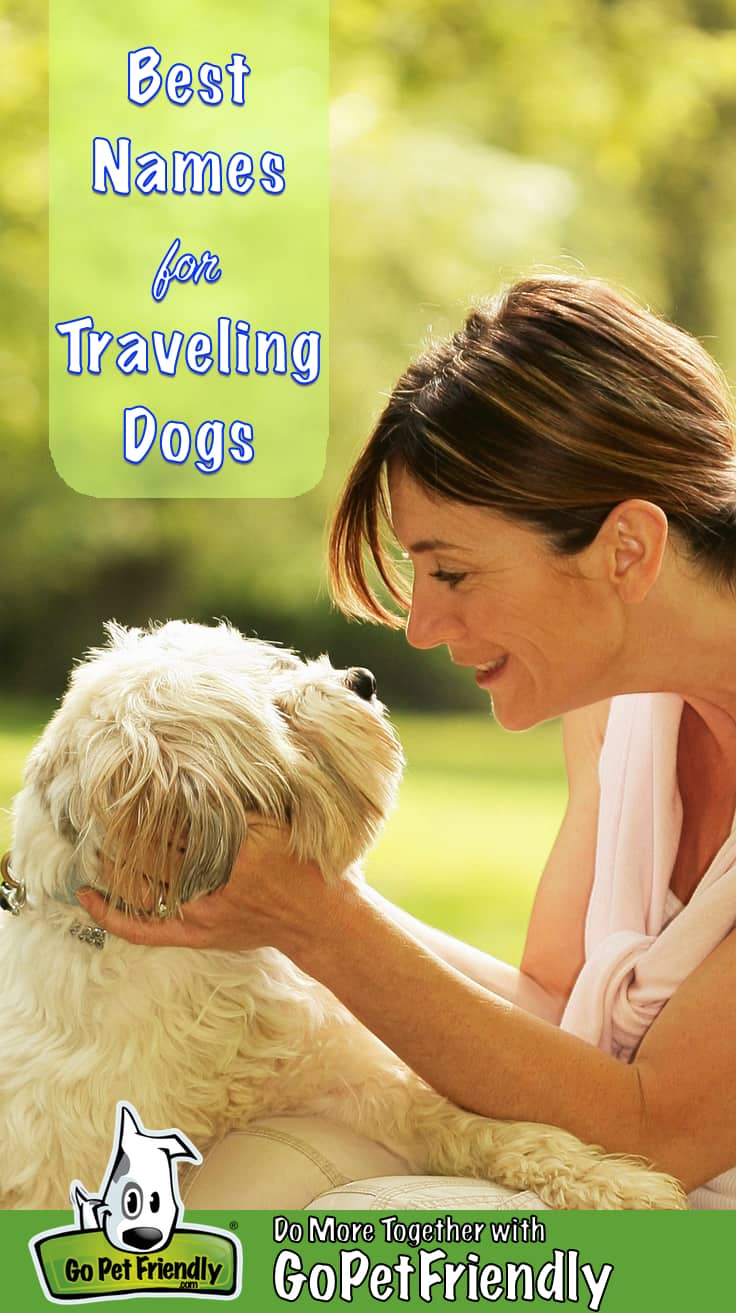 Best Traveling Dog Names
Aloha
Amelia (Earhart)
Argos (Odysseus' faithful dog)
Arvee (RV)
Atlas
Blaze (or Blazer)
Buddy
Captain
Charlie (Travels with Charlie by John Steinbeck)
Clark (Lewis and Clark)
Cruise (or Cruiser)
Dash
Diesel
Dora (the Explorer)
Drifter
Flyer
Gulliver
Gypsy
Hermes (Greek god of trade, wealth, luck, fertility, animal husbandry, sleep, language, thieves, and travel)
Huck (Finn)
Jett
Journey
Kirk (Captain Kirk)
Lane or Lanie
Lewis (Lewis and Clark)
Magellan
Marco (Polo)
Myles
Navi
Nomad
Packer
Pilgrim
Rambler
Ranger
Rebel
River
Roadie
Roman
Rover
Ryder
Sailor
Scout
Seaman (Dog who accompanied Lewis and Clark)
Seymour
Skipper
Skye
Speedy
Spock
Tramp
Trax
Trekker
Tripp
Visa
Walker
Wander
Wheeler
Winnie (Winnebago)
Or name your pup after one of your favorite places!
READ MORE ⇒ Beginners Guide to Camping With Dogs
How We Choose Puppy Names
According to a survey conducted by Rover, pet parents nationwide consider these factors when choosing their puppy or dog's name:
12% have named their dog after an animal, plant or nature
4% have named their dog after a brand
5% have named their dog after a city or geographic location
12% have named their dog after a food or beverage
10% have named their dog after someone they know
12% have named their dog after a famous or historical person
33% have named their dog after a character from a TV show, video game, movie or book
READ MORE ⇒  Tips for Traveling Alone With A Pet
We hope this information has helped you settle on a name for your new travel buddy. Don't forget to leave a comment below to let us know what you've decided!
Amazon Affiliate Disclosure: GoPetFriendly.com LLC is a participant in the Amazon Services LLC Associates Program, an affiliate advertising program designed to provide a means for website owners to earn advertising fees by advertising and linking to amazon.com, audible.com, and any other website that may be affiliated with Amazon Service LLC Associates Program. As an Amazon Associate, the owner of this site earns a commission from qualifying purchases.
(Visited 19,642 times, 2 visits today)