It's been almost two months since I shared the news that 228 of my blog posts had been stolen, and the company that took them was suing me for $5 million. The support you've sent in the form of notes, cards, and contributions to our legal fund, was truly humbling. I can't thank you enough – it's because of you that we're now a step closer to justice.
Here's quick recap of the events:
On November 17, 2016 I discovered that a publicly-traded company had copied and re-published 228 of my blog posts on their website without my permission.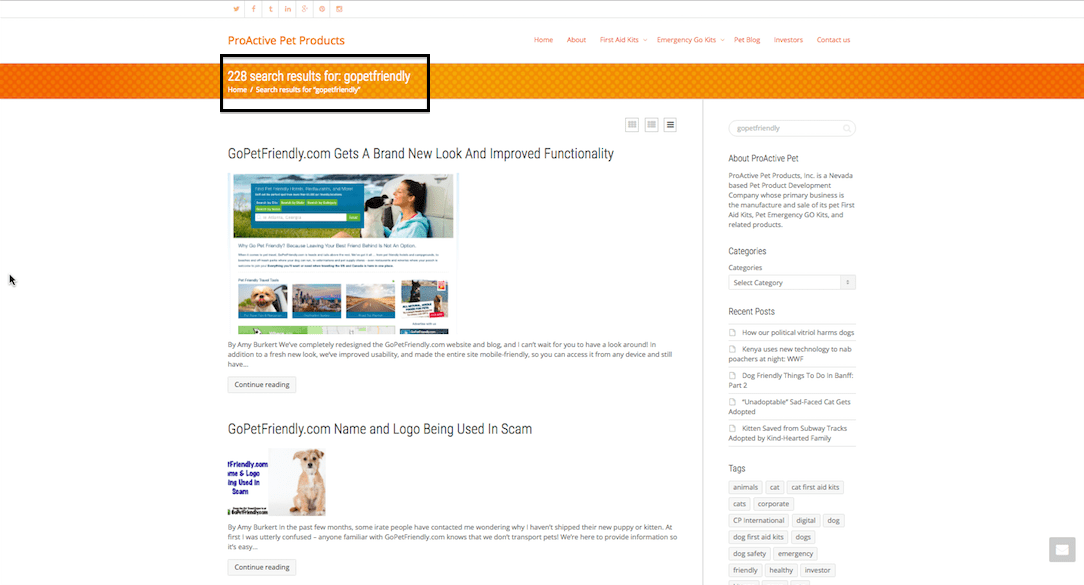 On that same day I sent a cease and desist letter and a demand for compensation for the unauthorized use of my work to the email addresses provided on the company's website.
My posts continued to be re-published on the ProActivePetProducts.com website, and on November 21, 2016, I sent a second cease and desist letter and demand for compensation.
On November 22, 2016, the company's entire website was removed from the Internet, and the company's management issued a press release announcing that they'd acquired GVCL Marketing, Corp., "… a specialty network marketing company that provides its clients access to a unique and extensive audience that they would not normally have access to." The press release went on to state, "In order for the Company to focus on its new business direction, it will no longer engage in the business of Proactive Pet Products."
On November 22, 2016, I also received an email from the owner of the company denying any infringement, though I had evidence that every post I'd published over an 18-month period was almost immediately copied and re-published on the ProActivePetProducts.com website.
On December 14, 2016, the company filed a lawsuit against GoPetFriendly.com demanding $5 million and a declaratory judgement that would prevent me from suing them for infringement.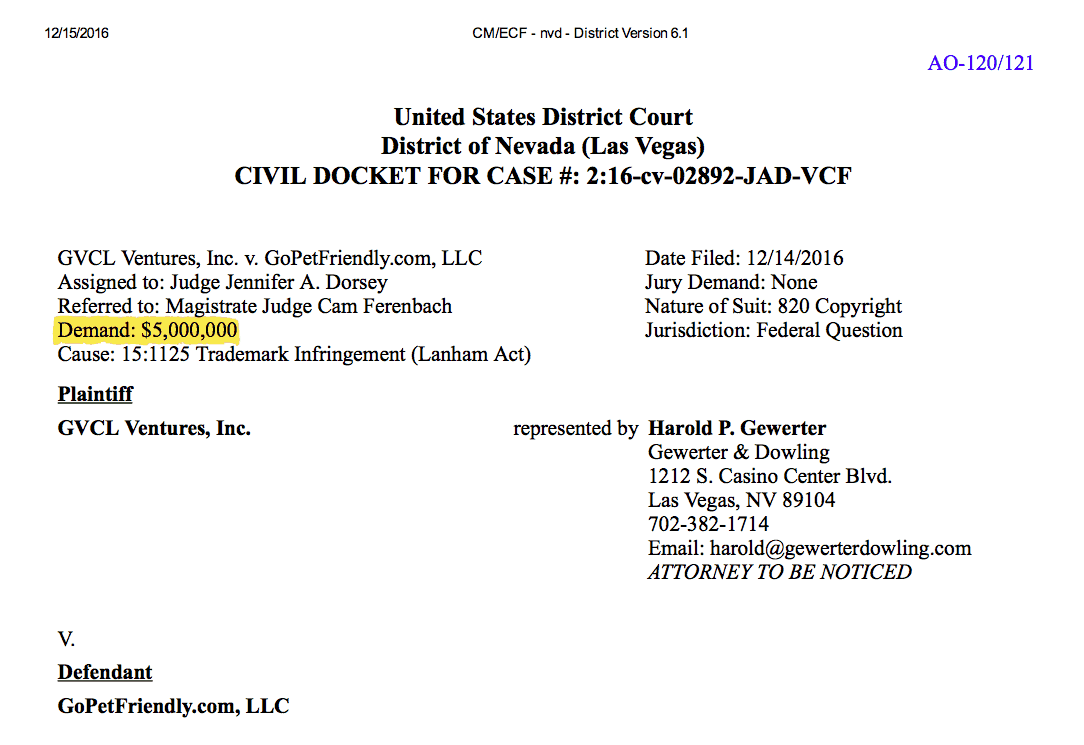 Being on the receiving end of a $5 million lawsuit will get your attention, so I started doing my research. Clearly, the law was on my side, but there are some nuances that apply to litigation that I needed to understand. Here are the highlights:
Protection for Blogs Under Copyright Law
There is absolutely no question that blog posts, and the photos contained in them, are protected under federal copyright law. If fact, whether or not you mark your work or state your ownership, copyright protection attaches to "original works of authorship" the moment it is "fixed in any tangible medium of expression." For us bloggers, that means as soon as our text is saved on a hard drive or server, and the moment our photos are stored on our camera's memory card, they're protected.
But, if your work is infringed upon and you're considering suing for damages, whether or not your work is registered with the U.S. Copyright office makes a big difference.
For unregistered works, you may only sue for actual damages, and they can be hard to prove. I'm fortunate in that I'm paid to write guest posts on a regular basis for other websites, and the court will likely consider the compensation I receive per post as a meaningful approximation of the actual damages I sustained for each of the posts that were stolen.
Where the dollars really start to add up, though, is when registered works are infringed upon. You can register a work for copyright protection before an infringement occurs, or within three months of its publication, and if you win a judgement against an infringer, you can recover attorney fees and opt to collect statutory damages rather than actual damages.
Statutory damages are the court's "big stick." Penalties imposed for infringement can range from several hundred dollars up to $30,000 per work. In cases where the court determines the infringement was "willful," the damages awarded can be even higher – up to $150,000 per infringed work.
Registering for Copyright Protection
When I discovered the infringement, thirty-three of my posts were still within the 90-day window allowing me to register them for copyright protection and seek statutory damages, but because the lawsuit had already been filed against GoPetFriendly.com, we needed an expedited copyright determination, and that costs an extra $800 each.
We made a strategic decision to register only one of my posts with the U.S. Copyright office – it's the last post the company stole – titled Dog Friendly Things To Do In Banff: Part 2. And I received the certificate of Certificate of Copyright Registration last week!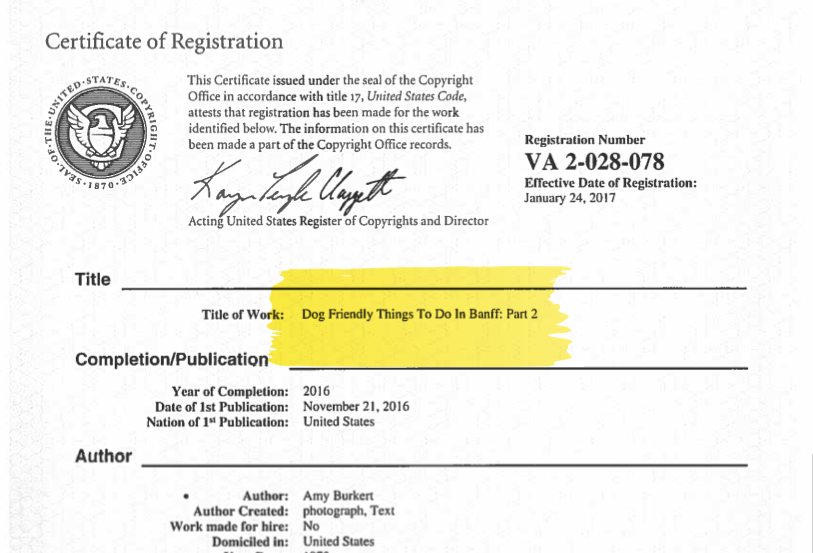 The reasons we chose to register this post are that it was re-published by ProActive Pet Products AFTER they'd received my first cease and desist notification, so it appears their actions were willful. Plus, I have indisputable evidence that it was published on the ProActivePetProducts.com website without my permission. Here is a screen shot of it on their website: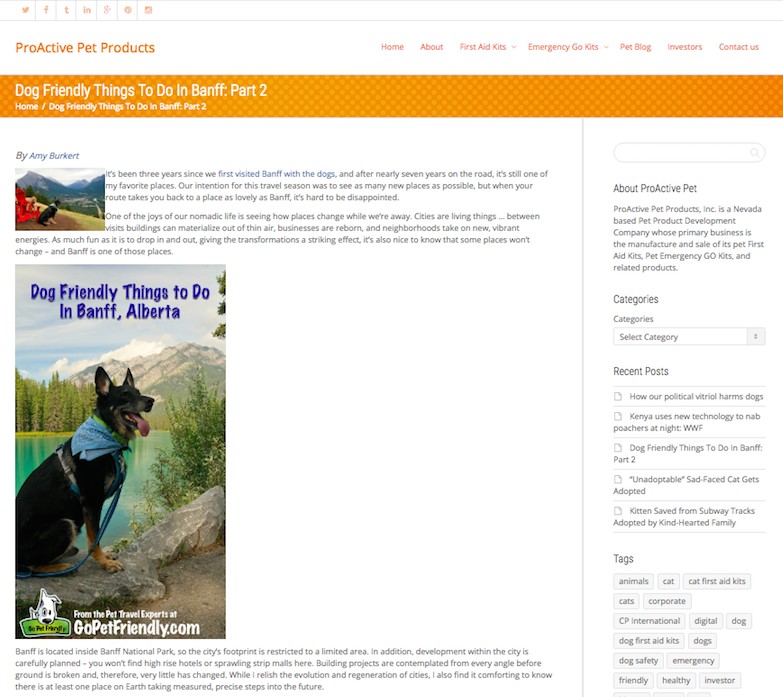 And here is a tweet published from the the ProActivePet Twitter account with one of my photos and a link to my post on their site: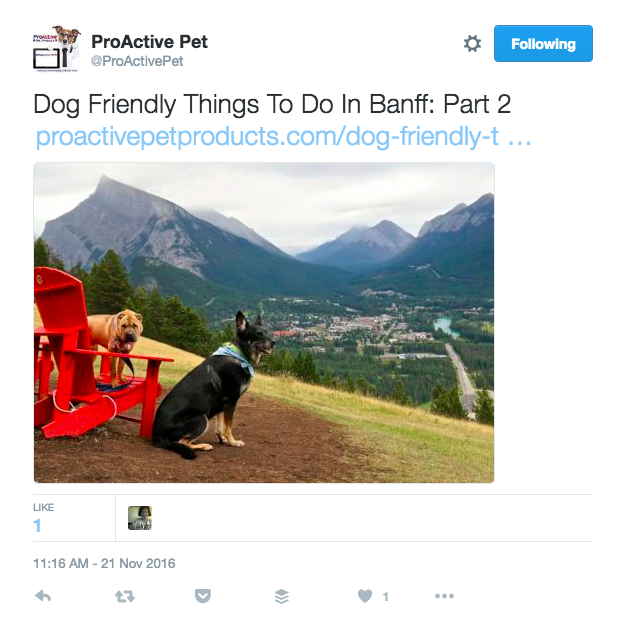 We can now pursue the infringement case and seek statutory damages for this post and actual damages for the 227 other that were stolen by ProActive Pet Products.
Next Steps
Now we're ready to retain an intellectual property attorney licensed to practice in Nevada (where the suit against GoPetFriendly.com was filed) and file a motion to dismiss their case and issue a counter claim against the company for the infringement of my work.
I hope you will help me defend GoPetFriendly.com and stand up for all bloggers, sending a message to content thieves that stealing has consequences! If you're able to support our fight by contributing to our legal fund, I'd be very grateful your help. We are one step closer, but there's still a way to go. Thank you.
Planning a pet friendly trip of your own? We'll make it easy:
Pet Friendly Hotels | Pet Friendly Destinations | Pet Friendly Activities
Amazon Affiliate Disclosure: GoPetFriendly.com LLC is a participant in the Amazon Services LLC Associates Program, an affiliate advertising program designed to provide a means for website owners to earn advertising fees by advertising and linking to amazon.com, audible.com, and any other website that may be affiliated with Amazon Service LLC Associates Program. As an Amazon Associate, the owner of this site earns a commission from qualifying purchases.
(Visited 8,201 times, 1 visits today)