Albuquerque is an oasis in the high desert, full of rich history and diverse cultures. No matter your interests, the city offers much for your and your pets to explore.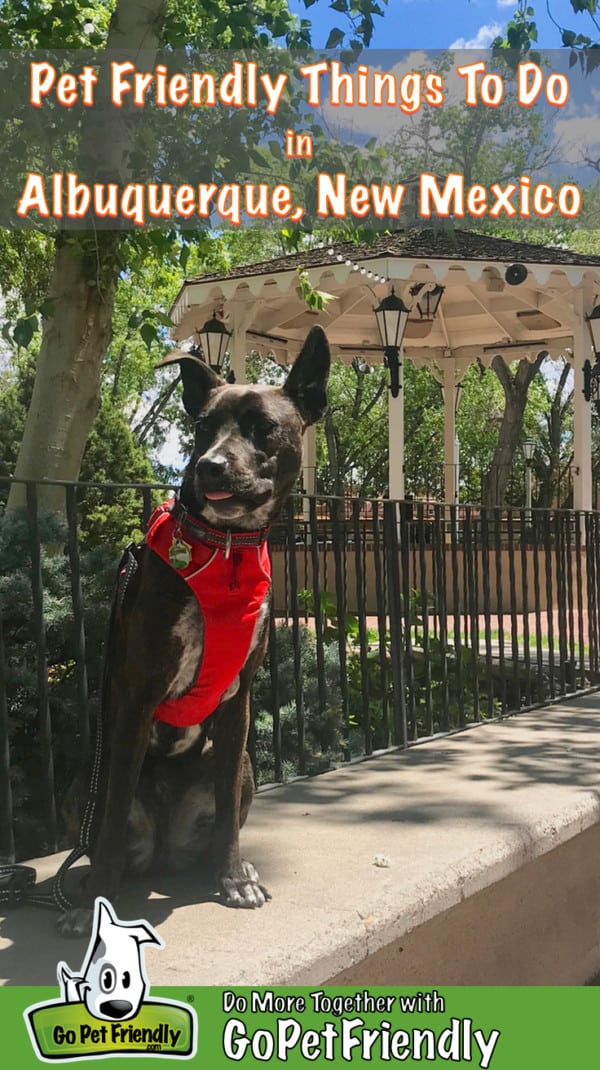 Albuquerque is nestled up against the Sandia Mountains, where the Rio Grande moseys through the high desert of central New Mexico. Not only is it scenic, but the weather is nearly perfect with 310 days of sunshine a year. And the plethora of dog friendly things to do make Albuquerque an absolute jackpot for pet travelers.
Dog Friendly Things To Do In Albuquerque
Old Town Albuquerque
Historic Old Town has been the heart of Albuquerque since the city was founded in 1706. Today, it's the city's cultural center, with museums and more than 100 shops, galleries, and restaurants.
Many of the shops around the plaza are happy to have your pooch join you as you browse. But if shopping isn't your dog's thing, he'll definitely enjoy sniffing around the park!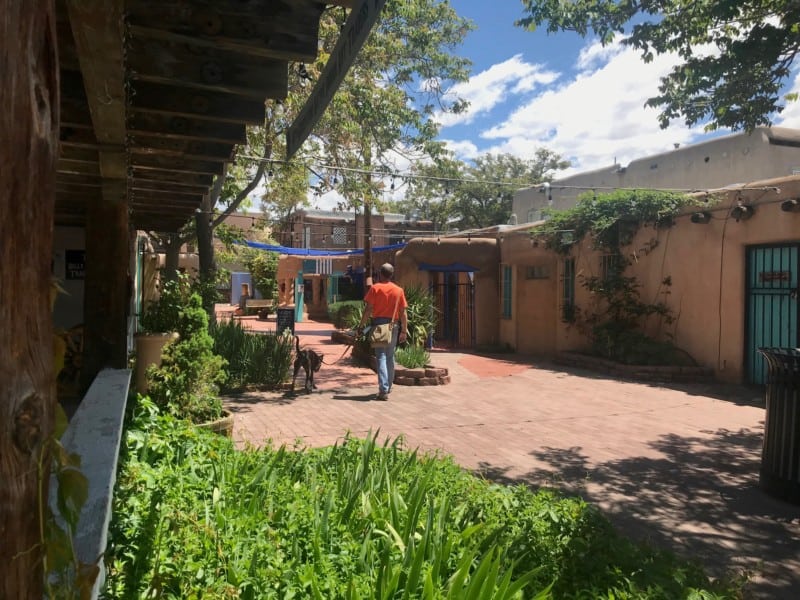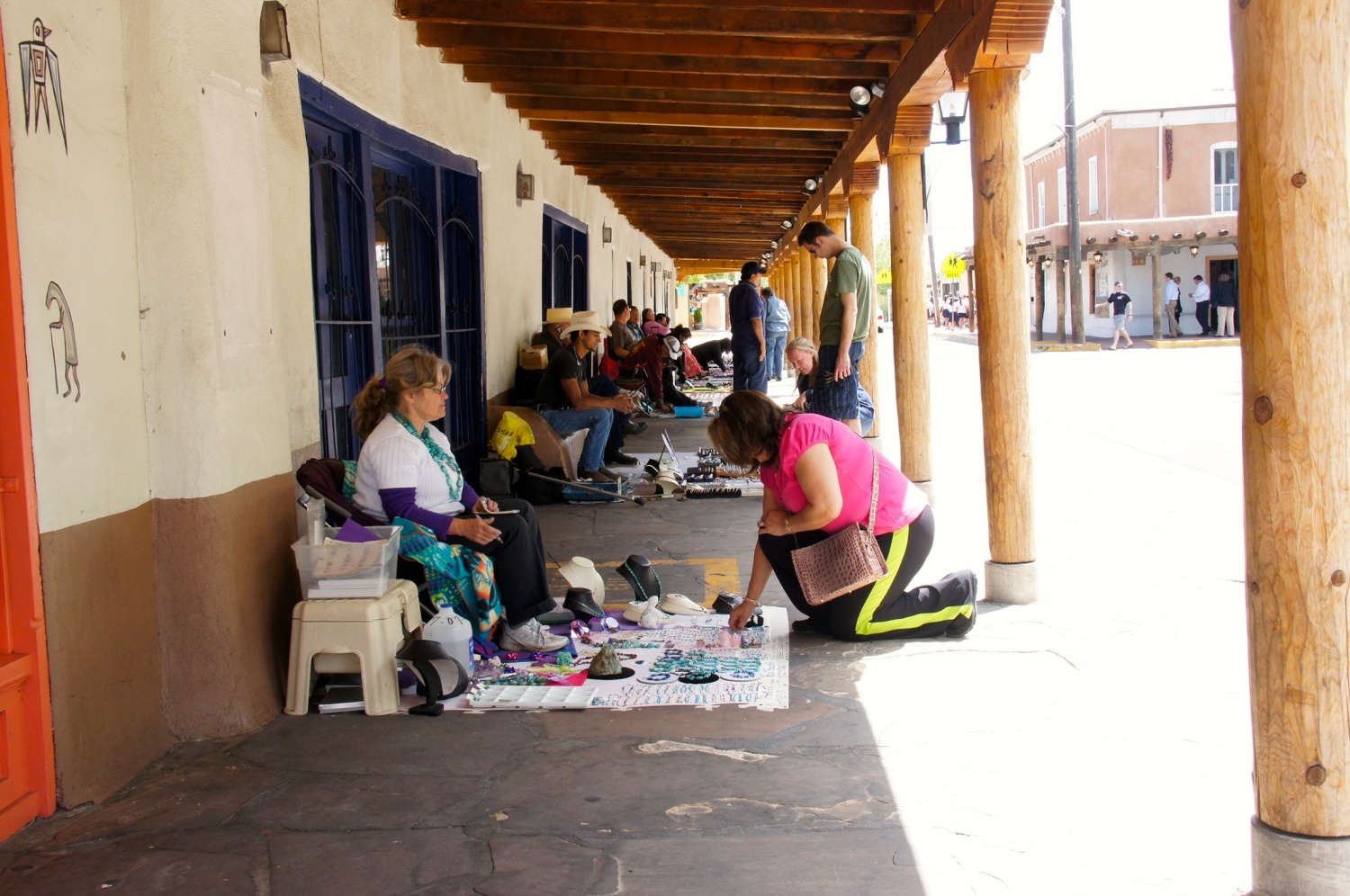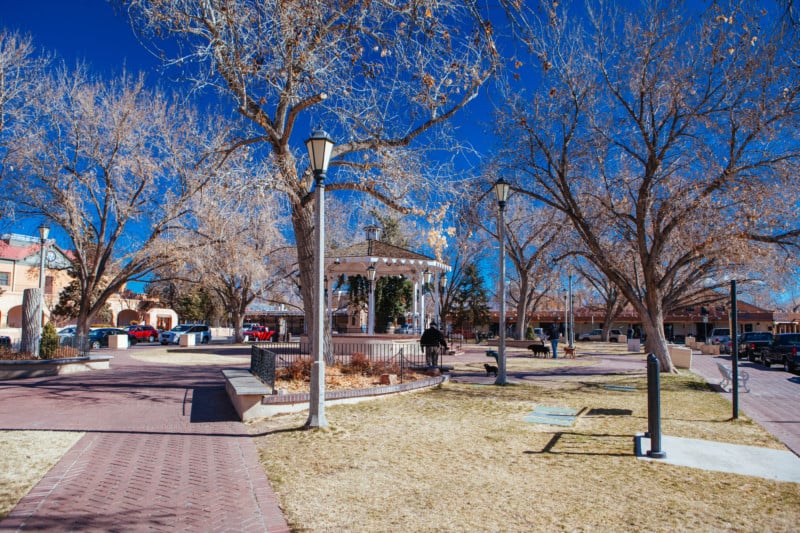 For a fun way to see more of the city, take your pooch on the pet friendly open-air ABQ Trolley. Running from April through October, this fully-narrated, 90-minute tour provides an overview of the best Albuquerque has to offer.
Tours leave from Hotel Albuquerque (which is also pet friendly!) at 800 Rio Grande Blvd NW, and parking at the hotel is free.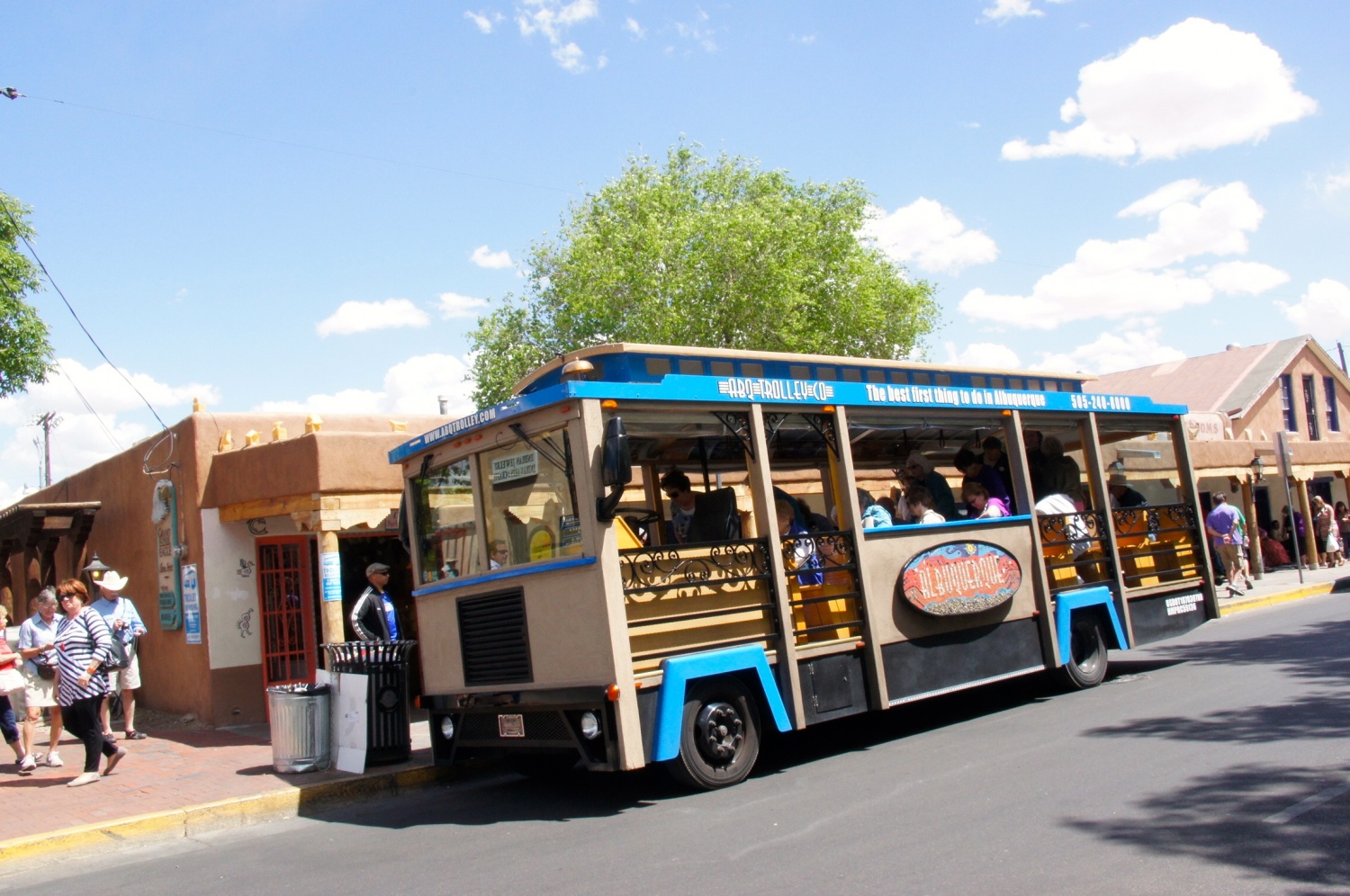 Petroglyph National Monument
To learn more about the native history around Albuquerque, take a dog friendly hike at Petroglyph National Monument. The Visitors Center has maps for the pet friendly trails, but no trails originate there.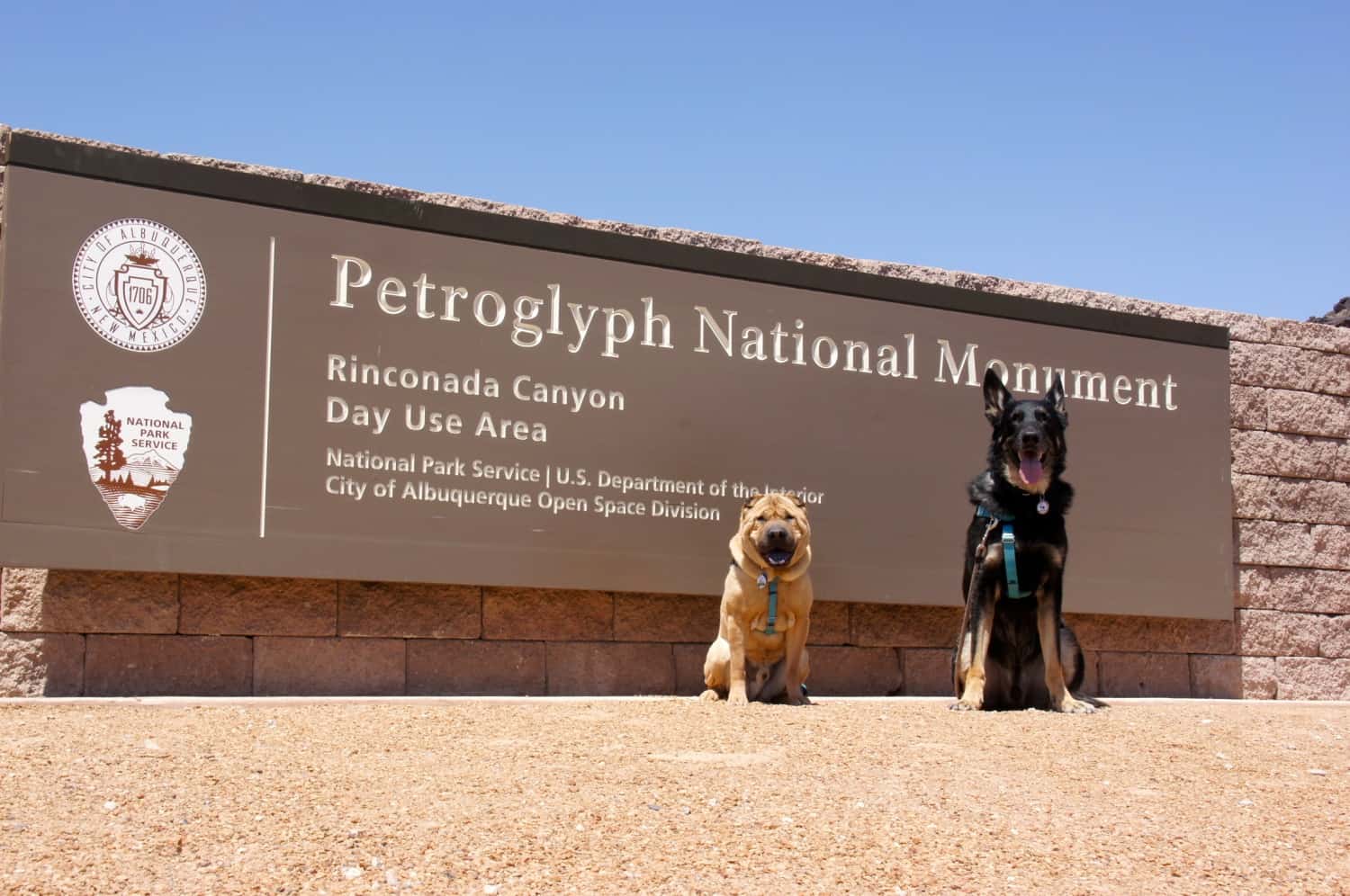 If you want to see petroglyphs with your dog, drive to Piedras Marcadas Canyon. Leashed pets can join you for this 1.5-mile round-trip hike on a unpaved trail, and you'll pass up to 400 petroglyphs!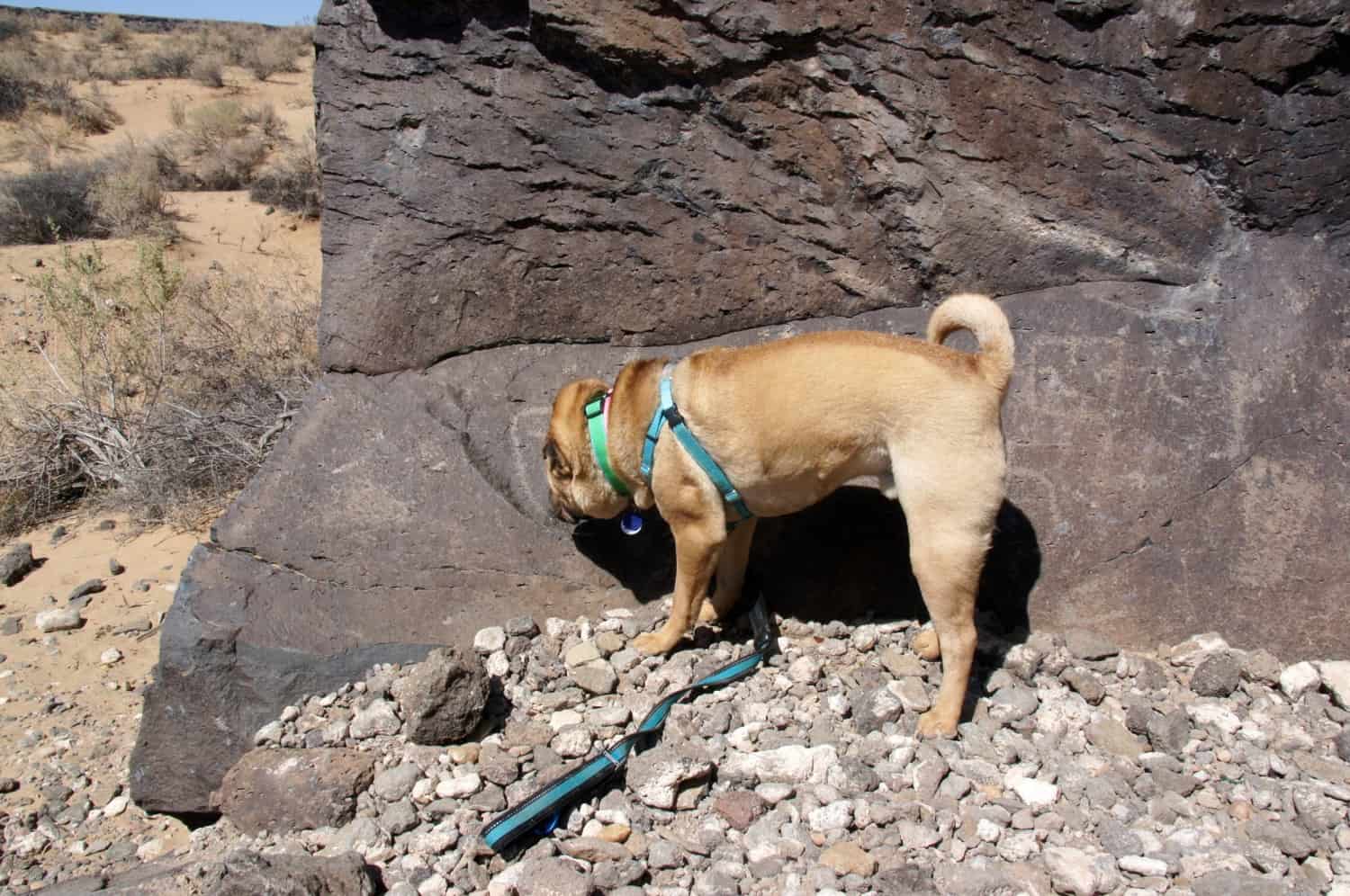 Archaeologists have estimated there may be over 25,000 petroglyph images along the 17 miles of escarpment within the monument boundary. Walking through this unique landscape it's easy to imagine the artists laboring over their creations for hours, with only stone tools to implement their vision.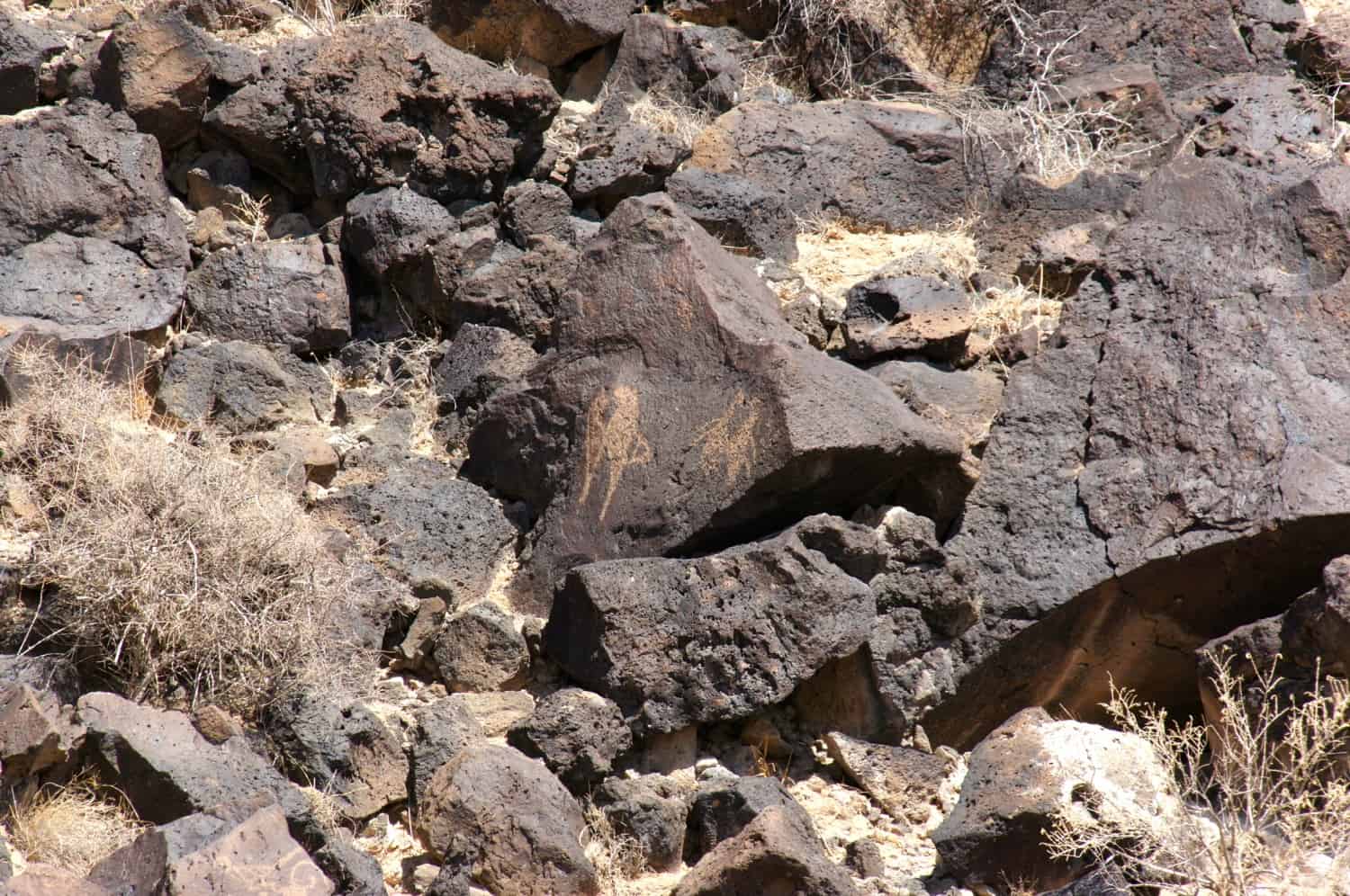 Pets are also welcome on the 2.2-mile trail at Rinconada Canyon, but must remain in the non-petroglyph section (canyon floor).
As you'd expect, pets cannot go inside the buildings at Petroglyph National Monument, and pets are not allowed on the trails at Boca Negra Canyon.
Dog Friendly Trails in Albuquerque
Albuquerque has a wonderful selection of dog friendly trails to explore! Parking at Central Avenue and Tingley Drive gives you access to several nice options.
Paseo del Bosque Trail
The Paseo del Bosque Trail is paved and runs for 16 miles through the Rio Grande's cottonwood bosque (forest). The trail is highlighted by public art installations along the way.
Rio del Norte Bosque Trail
For a peaceful stroll through the bosque, walk toward the river from the parking area at Central and Tingley. This puts you on a web of dirt trails in the Rio Grande Valley State Park. Here the pace is slower and views the river appear through the trees.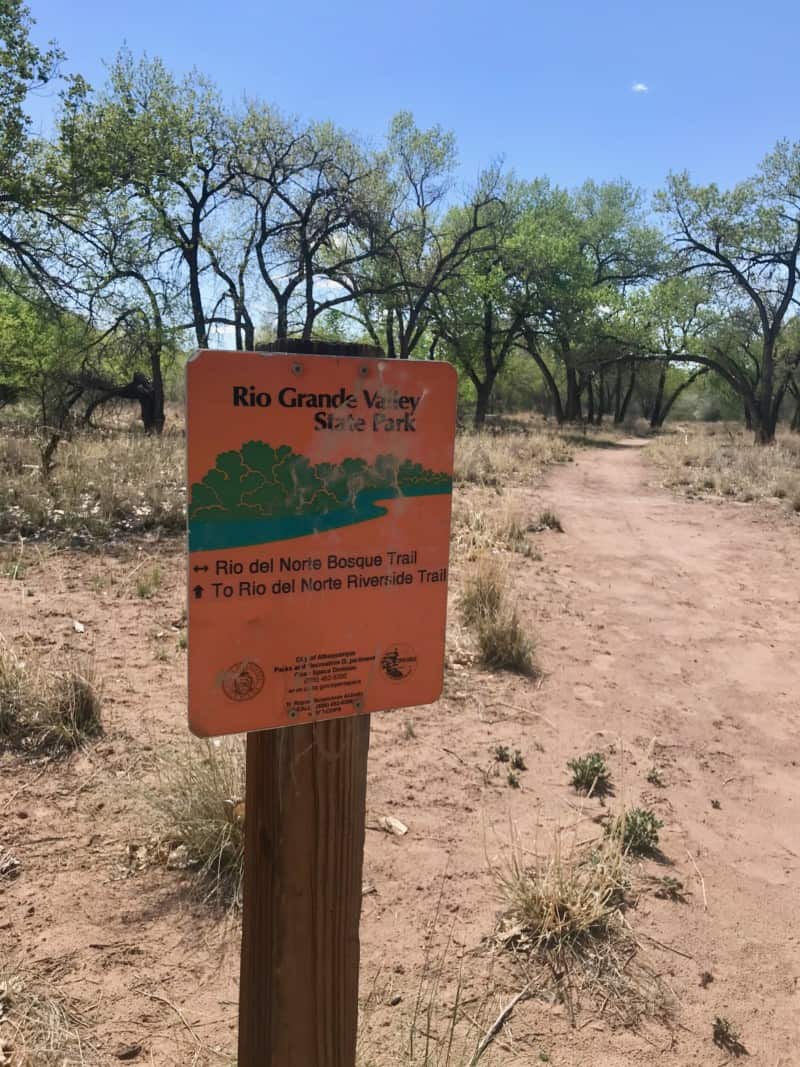 Tingley Beach
Walking south from the parking area at Central Avenue and Tingley Drive will bring you to Tingley Beach. This park runs along the Rio Grande and will have you questioning whether you're actually in the desert! The area is a haven for wildlife, including all kinds of birds.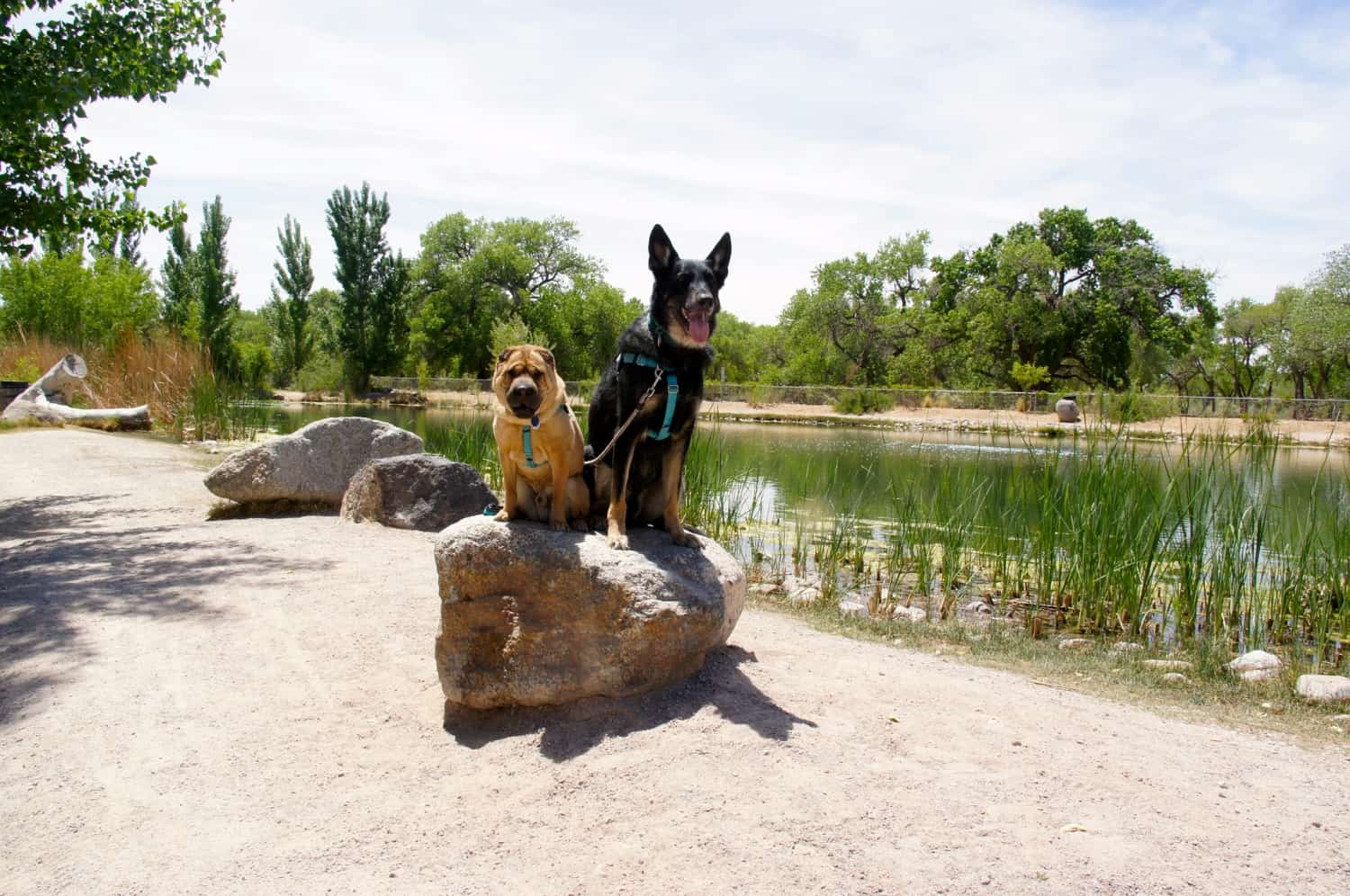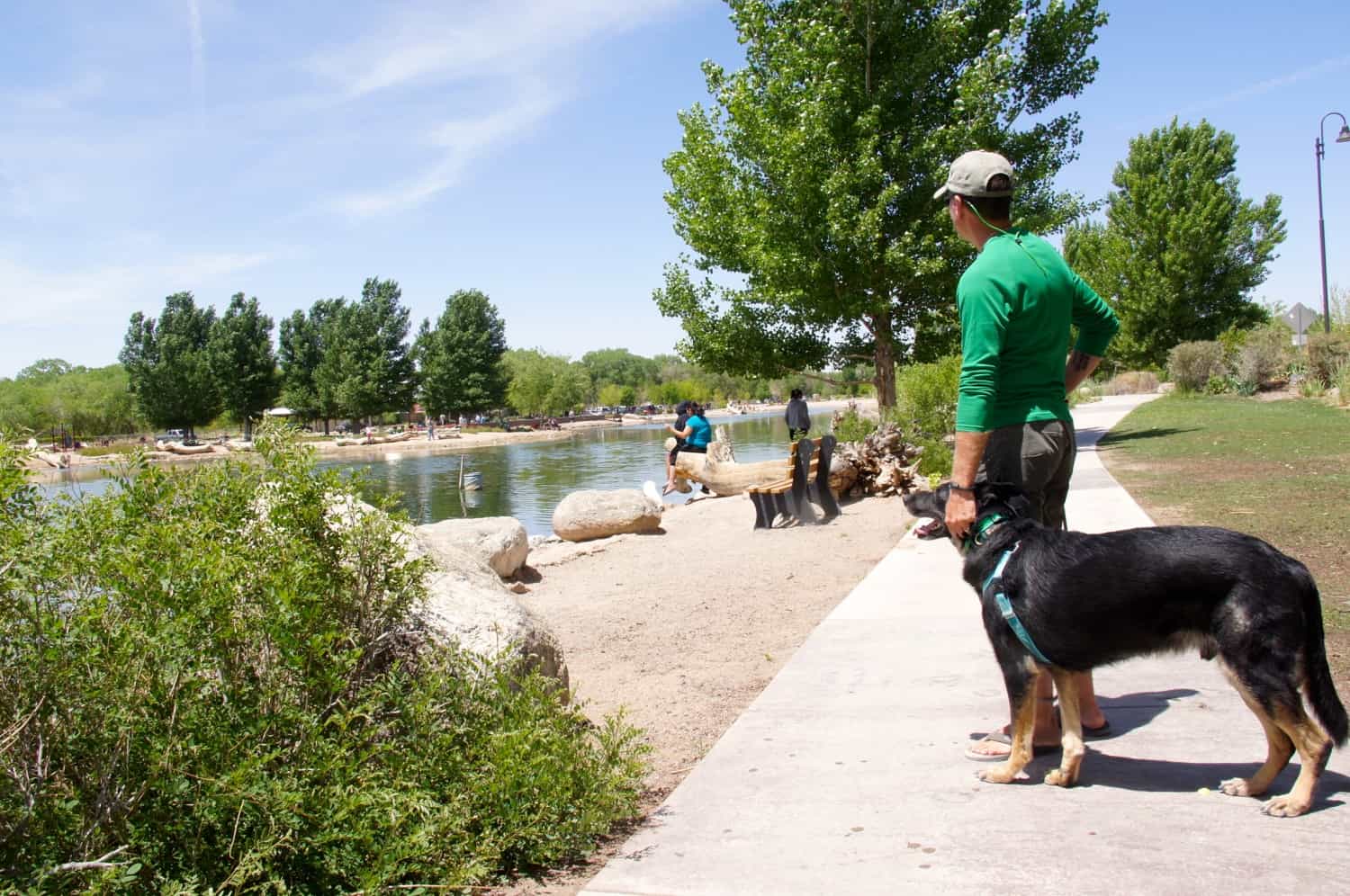 Albuquerque Dog Parks
Albuquerque has 15 off-leash dog parks, and Rio Grande Triangle Park is a stone's throw from Tingley Beach. This is a comfortable, shady place to relax while your dog romps around and has some fun.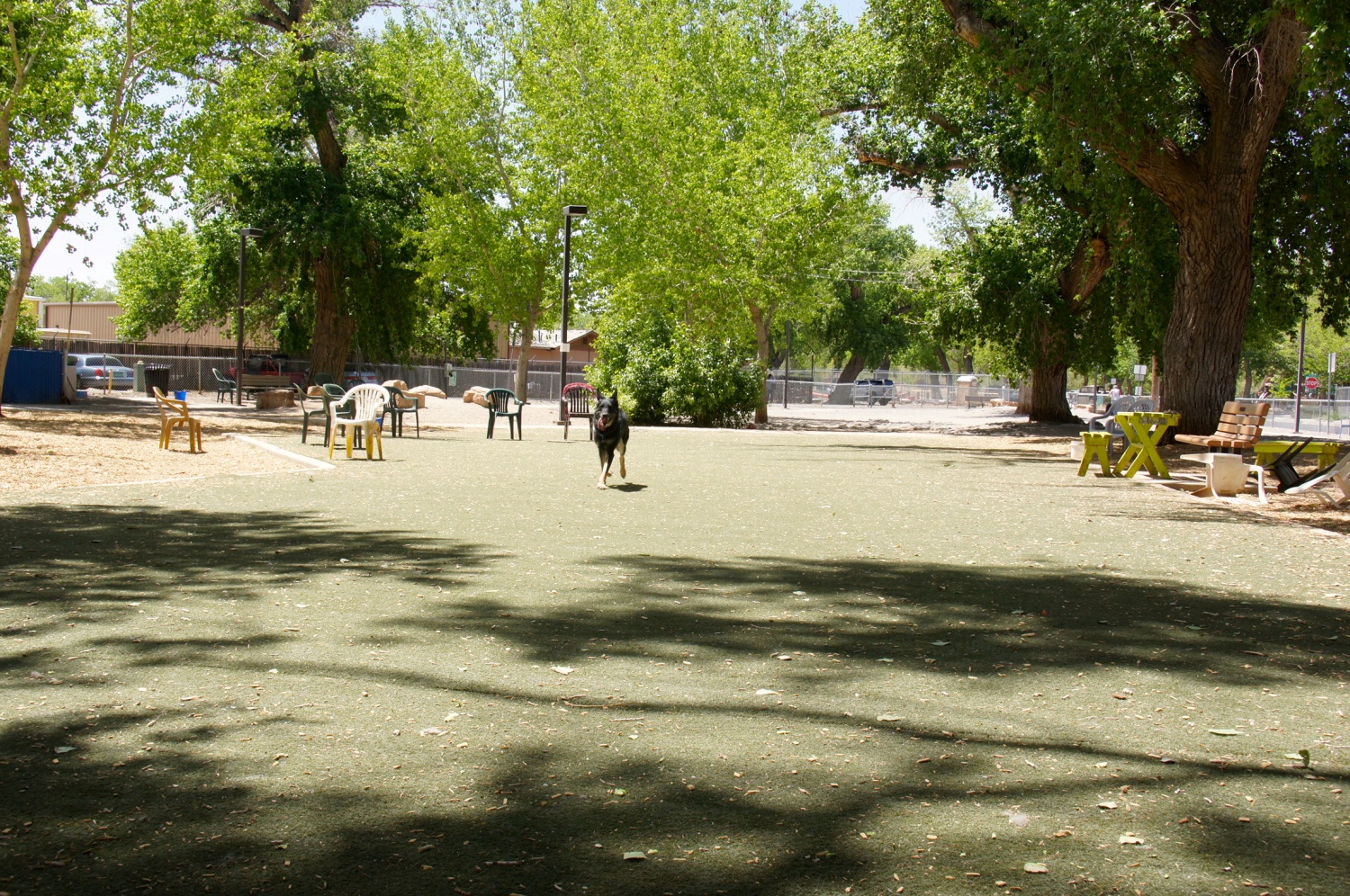 Pet Friendly Eats
Finding pet friendly restaurants in Albuquerque was no problem. The Flying Star Cafe on Rio Grande Blvd is one of our favorites. They have a shaded, pet friendly patio with handy "canine hitches" to attach your pup!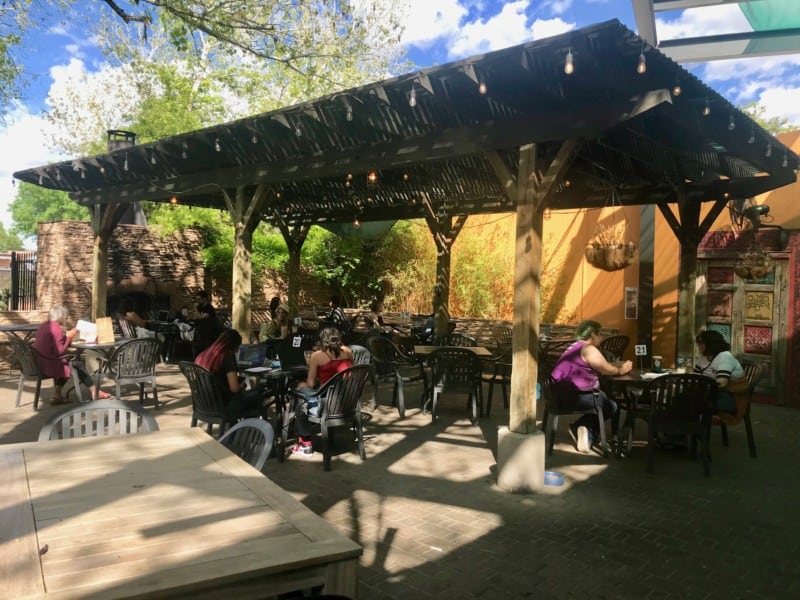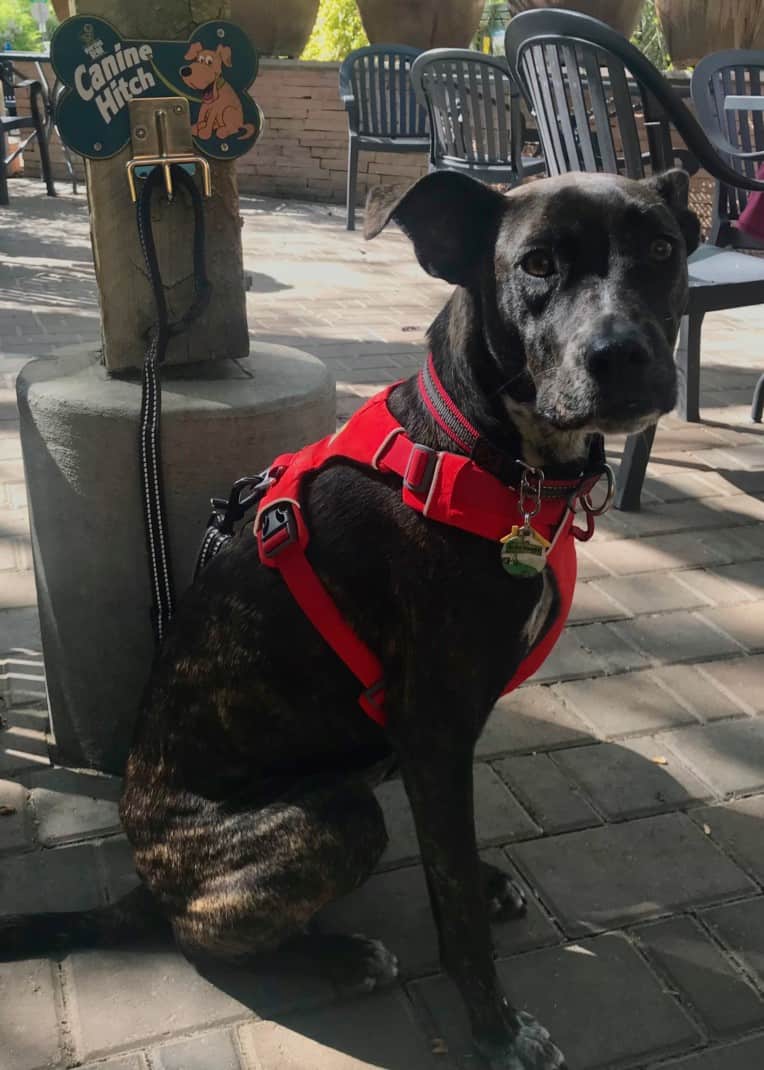 Marble Brewery is also popular for a quick snack and thirst-quenching beverage.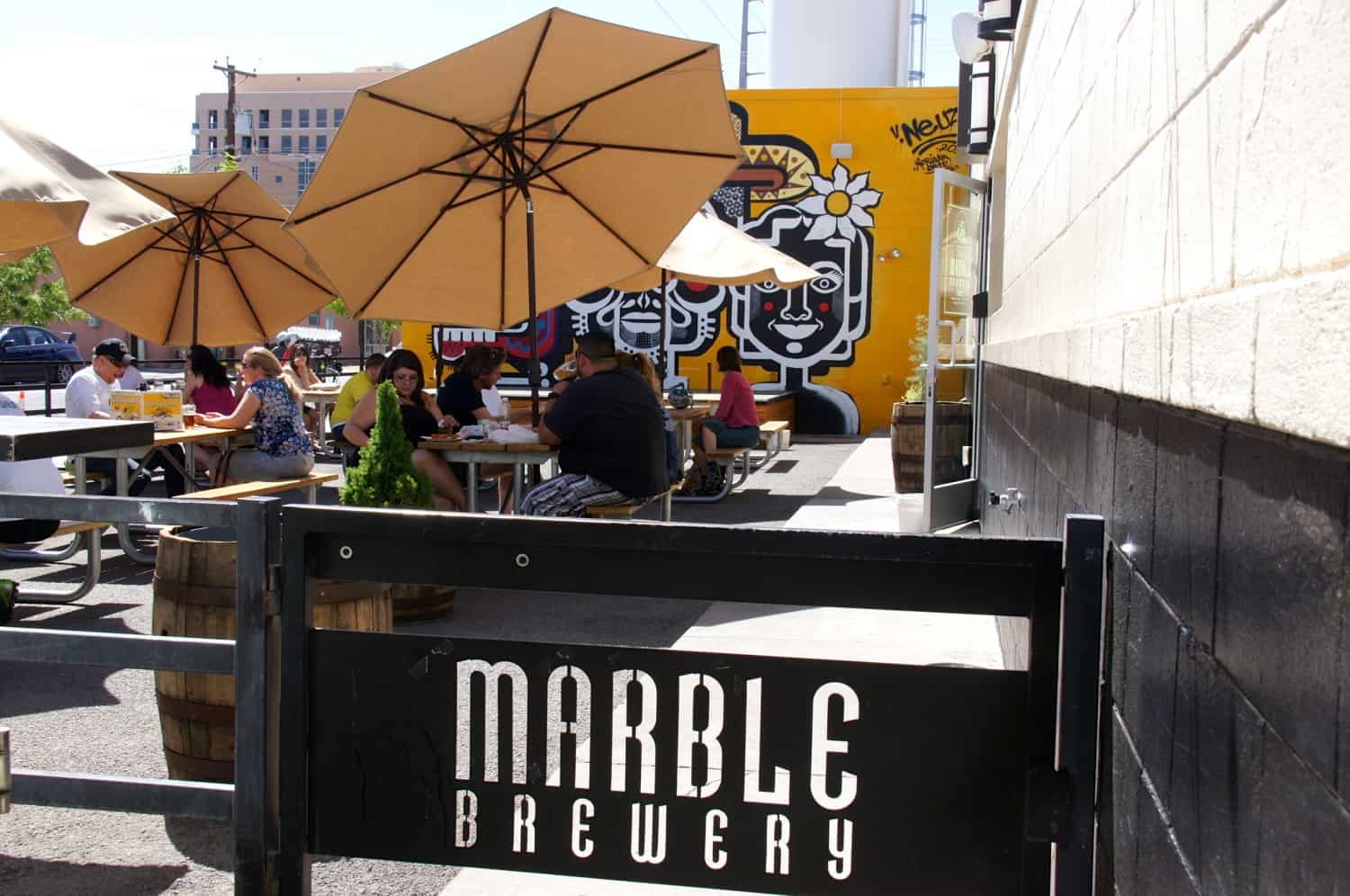 For more options, head up Central Avenue (formerly Route 66) to the Nob Hill neighborhood. Park the car and take your pick from one of the many pet friendly patio seating areas!
Pet Friendly Day Trips From Albuquerque
If you have time to explore more of the area, there are some fun pet friendly day trips your can do from Albuquerque!
Turquoise Trail National Scenic Byway
The Turquoise Trail National Scenic Byway follows Highway 14 and connects Albuquerque and Santa Fe. The 50-mile drive makes a perfect day trip with lots to do along the way!
Sandia Crest
Highway 14 skirts the edge of the Cibola National Forest, where you could easily spend a whole day exploring – and it's completely pet friendly!
If you only have time for a quick stop, take Hwy 536 to Sandia Crest for a spectacular view of the Albuquerque and the Rio Grande Valley. If your pup wants to stretch his legs, the hike out to Kiwanis Cabin is won't take long, and the cabin built in the 1930s is well worth the effort.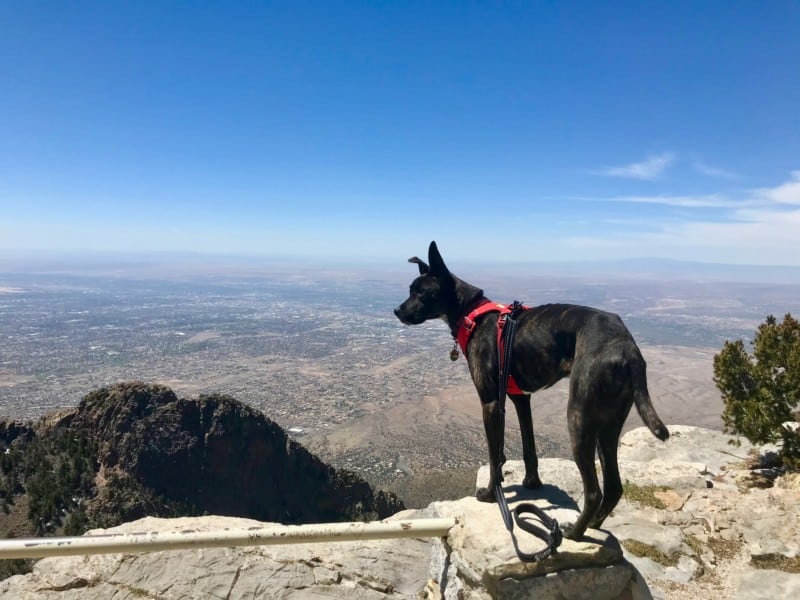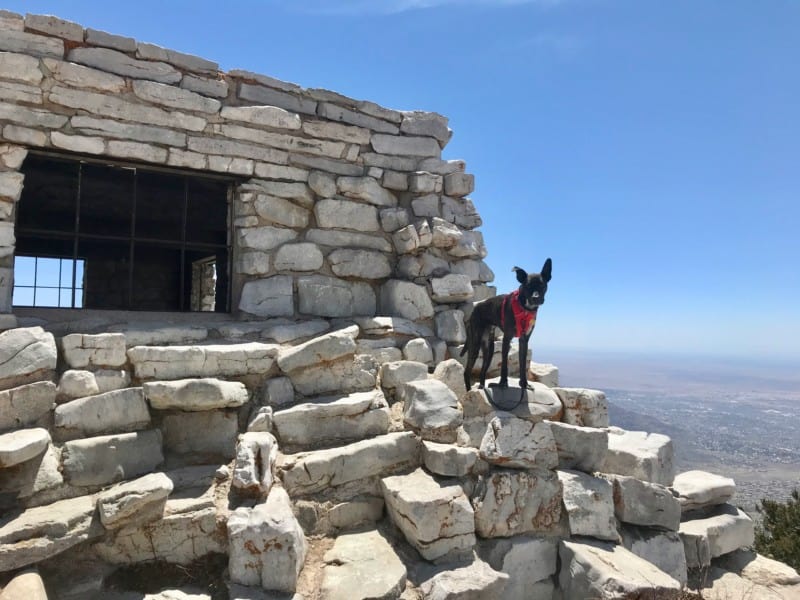 Madrid, New Mexico
From Sandia Crest head back to Hwy 14 and continue north to Madrid. This funky little artist community was once a mining town. And then a ghost town. And now it's found new life with over 40 shops and galleries, as well as restaurants and lodging.
Distinctly less structured that it's metropolitan neighbors, in Madrid people and dogs walk in the streets. If you're hungry or thirsty, the courtyard at The Hollar is pet friendly — and if you're lucky, they'll have live music during your visit.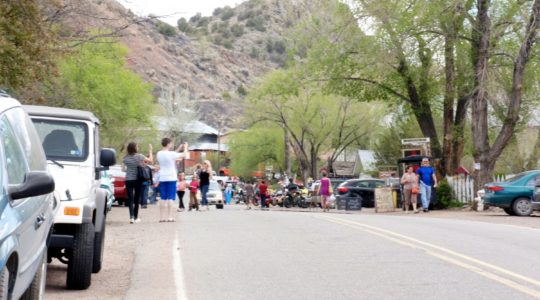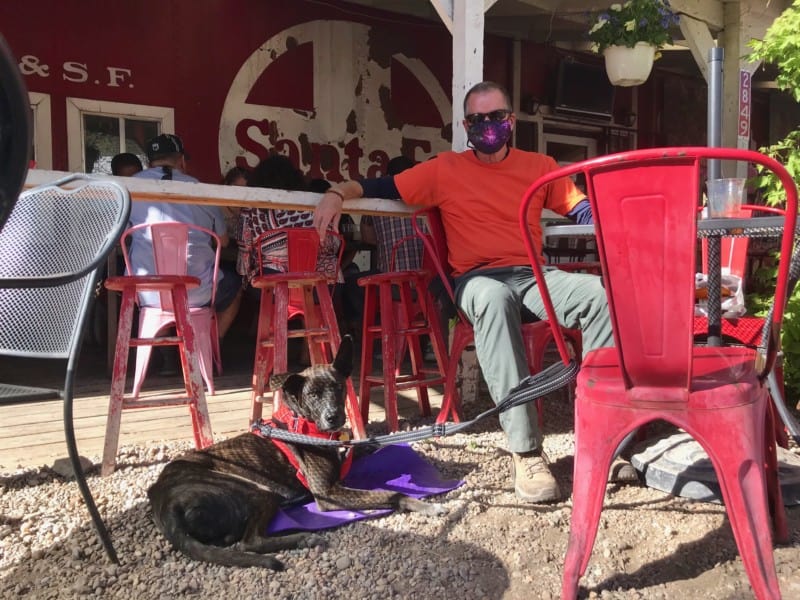 Continuing north from Madrid, don't miss Beer Creek Brewing Company at 3810 Hwy 14, Santa Fe. The patio is pet friendly, the beverages are tasty, and the food is fantastic!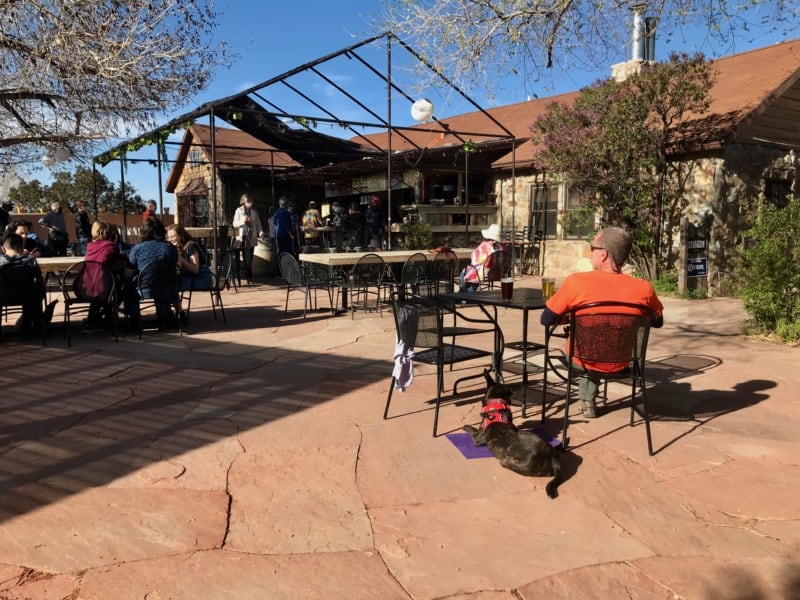 Truth or Consequences
Truth or Consequences is another fun dog friendly day trip from Albuquerque. Formerly known as Hot Springs, the town changed it's name in 1950 as part of a publicity stunt. Hot Springs was a much more accurate moniker, because a visit to TorC is all about the naturally occurring hot springs that surface here!
Several resorts and bath houses – ranging from delightful to ramshackle – provide access to their pools. We found Riverbend Hot Springs Resort and Spa was just what the doctor ordered.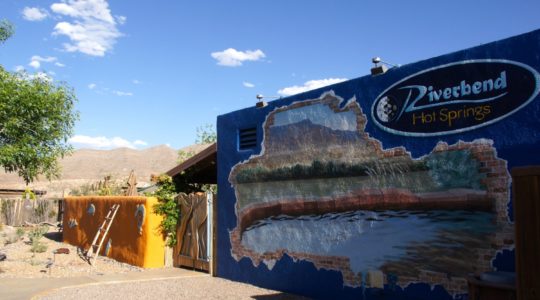 The resort welcomes small dogs (20 pounds or less) in their eclectic hotel rooms, but we opted for one of their RV spots across the street.
If you're just coming in for the day, you can get a pass for you and up to two small dogs. The dogs must stay in the canine cabanas only, and barking, whining, or disturbing other guests is forbidden.
Larger, more active, or vocal dogs will probably prefer spending a few hours at doggy daycare while you enjoy pools.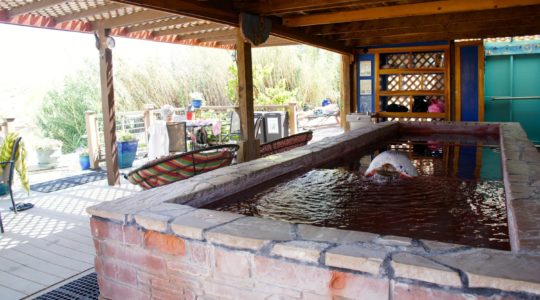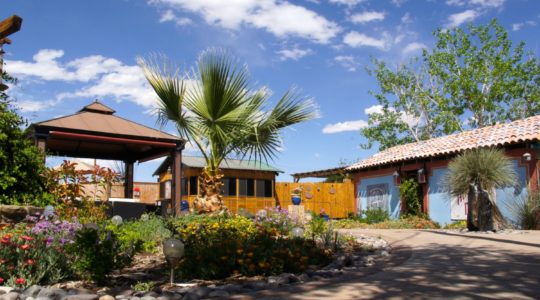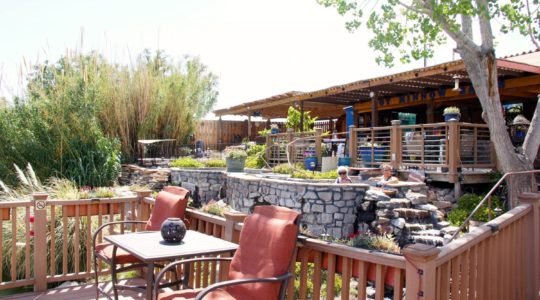 The resort sits right on a bend in the Rio Grande and watching the river flow by while you're soaking is a great way to spend a couple of hours. We were lucky to be there during a full moon and watching the moonrise from behind the mountain was one of the highlights of our stay.
Dog Park in Truth or Consequences
The town has a very nice off-leash dog park within easy walking distance of the resort. We made our way over there several times for some romping around.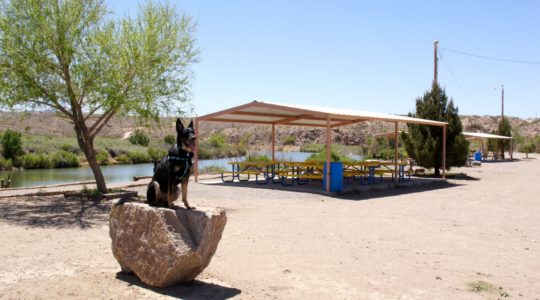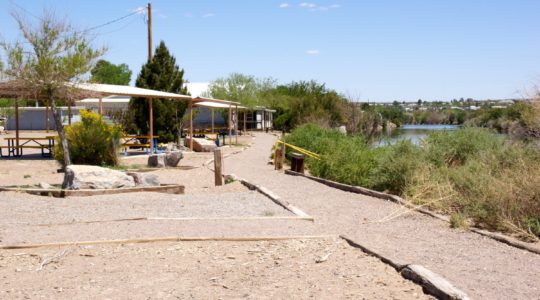 While you could explore it in a day, there's definitely enough here to keep you entertained for a couple of days.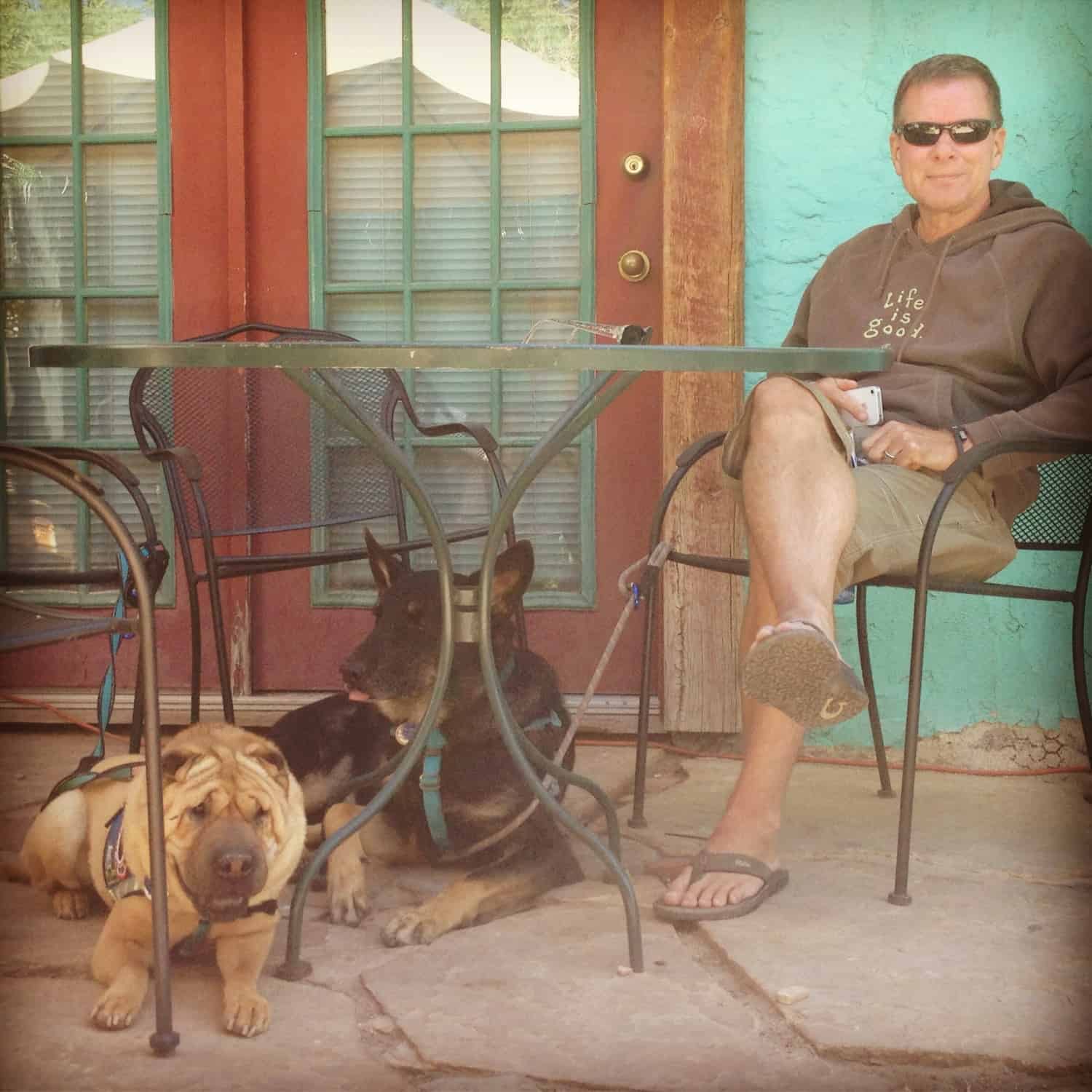 Albuquerque continues to delight us. With every visit we find more things to enjoy. It's one of those pet friendly destinations you can visit again and again!
Amazon Affiliate Disclosure: GoPetFriendly.com LLC is a participant in the Amazon Services LLC Associates Program, an affiliate advertising program designed to provide a means for website owners to earn advertising fees by advertising and linking to amazon.com, audible.com, and any other website that may be affiliated with Amazon Service LLC Associates Program. As an Amazon Associate, the owner of this site earns a commission from qualifying purchases.
(Visited 17,364 times, 3 visits today)