Albuquerque is nestled up against the Sandia Mountains where the Rio Grande moseys through the high desert of central New Mexico. Not only is it a scenic location, but the nearly perfect weather combined with the plethora of outdoor activities make it an absolute jackpot for pet travelers. This was our second visit to ABQ – and the first time we really had a chance to explore. We were impressed … and you will be, too!
Mauger Estate Bed and Breakfast
Where you choose to stay has a big impact on your trip and you'll find a huge selection of pet friendly hotels in Albuquerque. Taking an occasional break from the Winnebago is good for our sanity (the visit also coincided with our wedding anniversary), so we took this opportunity stretch out  … and if you're looking for a truly pet friendly and unique experience, you won't find better accommodations than the Mauger Estate Bed & Breakfast.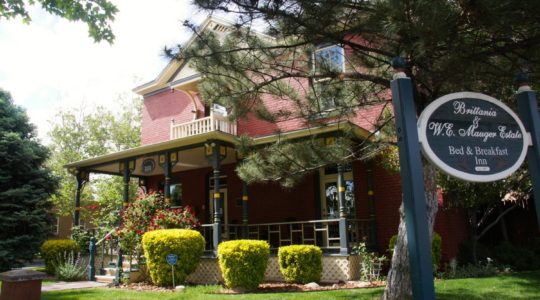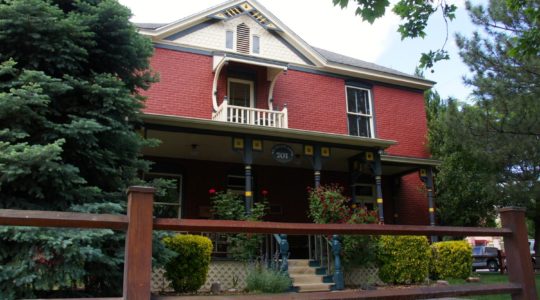 Located in a lovely residential area of downtown, the B&B is walking distance from Old Town, pet friendly restaurants, a dog park, and several city parks for your sniffing pleasure. The proprietor, Tammy, set out a delectable spread each morning – including homemade granola that will nock your socks off – and a lovely glass of wine and snack in the evening. But, what tickled Buster and Ty beyond belief was that our room had it's own private yard … complete with doggy door!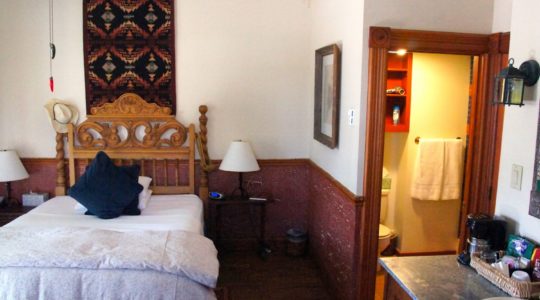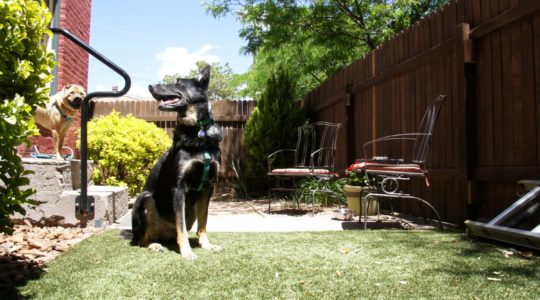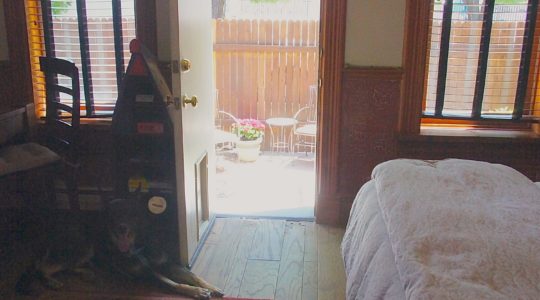 All the boys' needs were attended to, with dog beds, treats, bowls and designated dog towels awaiting us when we arrived. One of my favorite features of a pet friendly room is having a private entrance to easily shuttle Ty and Buster in and out – and The Mauger Estate checked that box as well. The locking gate from the yard provided security for the dogs to play and made it a cinch to come and go. All of this for just an additional $20 per stay – a reasonable pet fee if I've ever seen one!
Old Town Albuquerque
From the B&B, follow the sidewalk medallions about a mile and you'll find yourself in the heart of Albuquerque's Old Town. Many of the shops around the plaza are happy to have your pooch join you as you browse – but, if shopping isn't their thing, you can take turns hanging out in the park for a little people watching.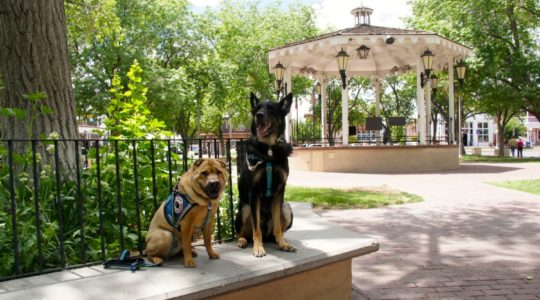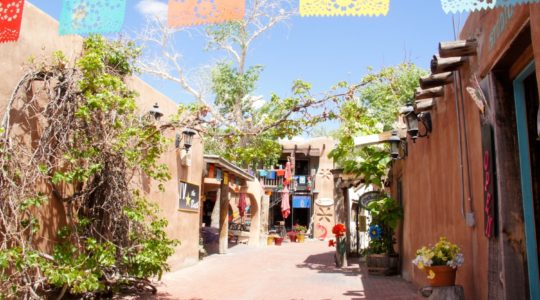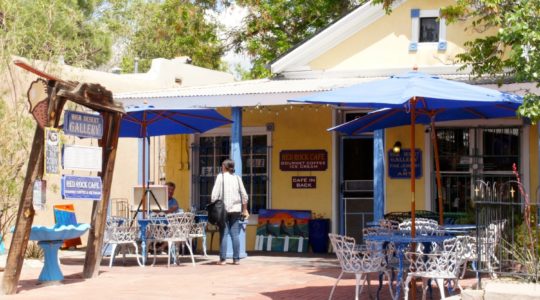 If you're looking for a fun way to see more of the city, take your pooch and grab the pet friendly ABQ Trolley from the plaza. This 90-minute tour will provide a peek at the best that Albuquerque has to offer with guides that make the experience one to remember.
Petroglyph National Monument
When it's time to get out for a hike, ABQ offers a lot of options. We took a quick drive west of town to the Petroglyph National Monument Visitors Center and picked up maps for their three pet friendly trails. Rinconada Canyon Trail was the closest, and Ty and Buster were anxious to get going, so we set out on the 2.5 mile walk in search of the ancient figures carved into the rocks.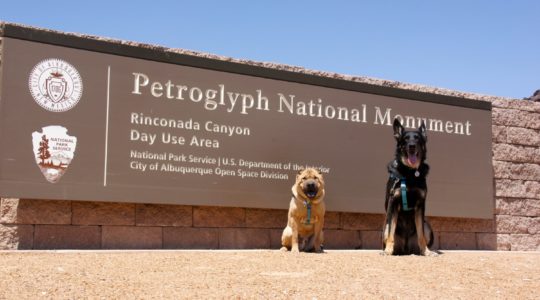 Look, I think Ty found one! ;-)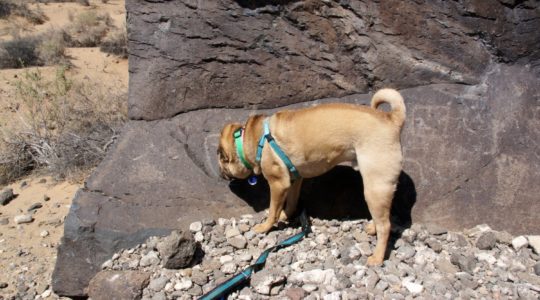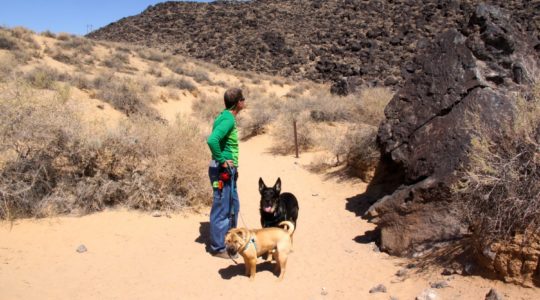 Buster thinks this one looks like a turtle.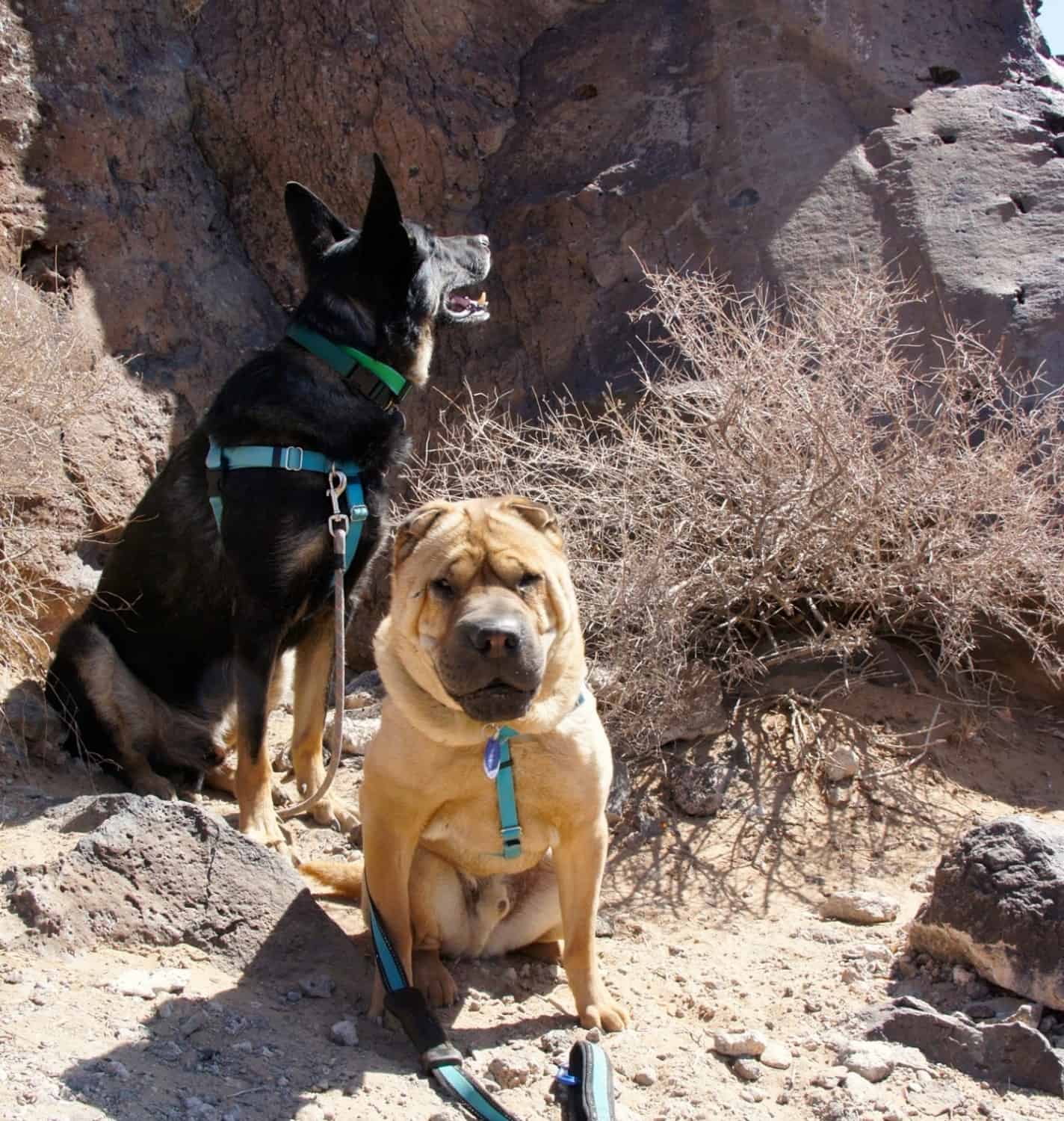 The Native Americans believe the images carved into the lava rocks are as old as time. Walking through this unique landscape it's easy to imagine the artists laboring over their creations for hours, with only stone tools to implement their vision.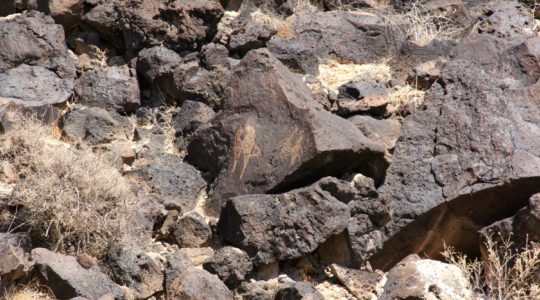 Tingley Beach
For another nice walk, make your way to Tingley Beach. About a mile and a half from Mauger Estate B&B, this park runs along the Rio Grande and has a completely different feel from the Petroglyph trails. The area is a haven for wildlife, and the geese and ducks were hovering over their new hatchlings during our visit.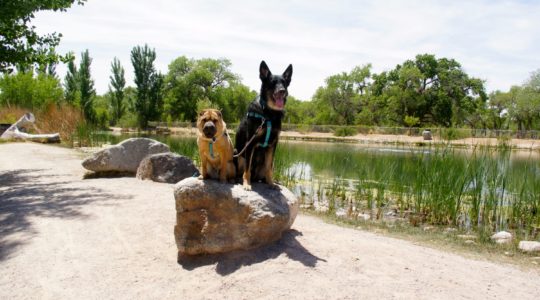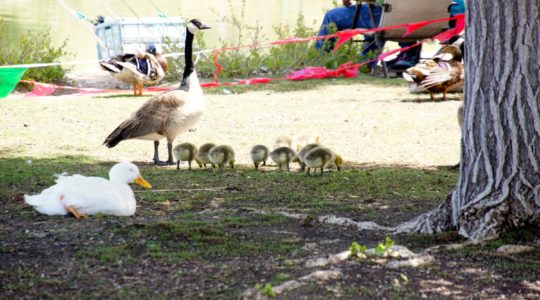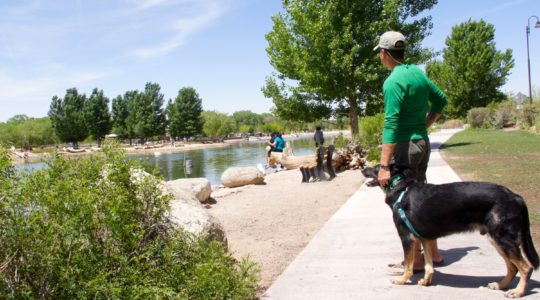 Be sure to check out the Blue Tree Project – a stunning temporary installation raising awareness for tree conservation.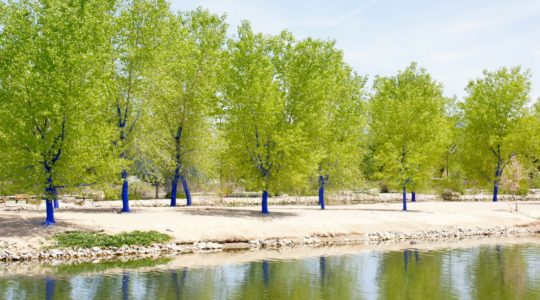 Let 'Em Run!
Albuquerque has 13 off-leash dog parks and Rio Grande Park is a stone's throw from Tingley Beach – right next to the zoo. It's a comfortable place to relax, with shade, artificial grass and wood chip ground cover, lots of space to run … and, as you can see, Buster had the whole place to himself.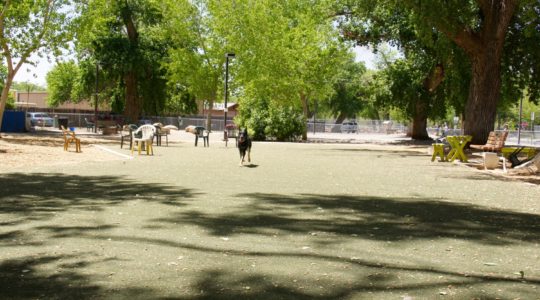 Fill 'Er Up!
Finding pet friendly restaurants within walking distance of the B&B was no problem. The Flying Star Cafe at 8th and Silver was one of our favorites, and Marble Brewery was popular for a quick snack and thirst-quenching beverage. For more options, head up Central Avenue (formerly the historic Route 66) to the Nob Hill neighborhood. Park the car and take your pick from one of the many pet friendly patio seating areas.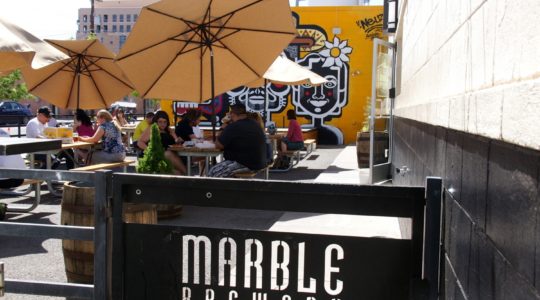 Check the View
One of Albuquerque's most popular tourist attractions, the Sandia Peak Tramway, isn't pet friendly. Still, it's worth a drive up to the base for the view of the city. What's better is that you can grab a map and hit the trails in the Cibola National Forest – which is completely pet friendly!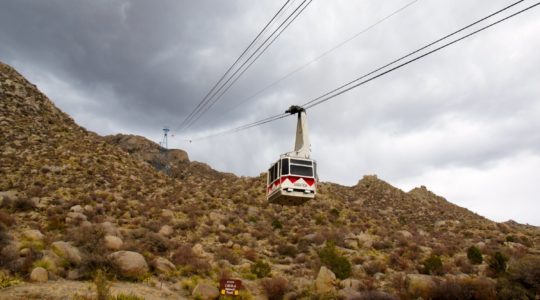 Albuquerque surprised me. We spent two weeks sniffing around the city and the surrounding area – and there's still a lot we haven't seen. It's definitely a pet friendly destination we'll visit again!
Disclosure: We received a discounted rate at The Mauger Estate Bed and Breakfast in Albuquerque, NM. The opinions expressed here are my honest assessment of the hotel based on our experience. We were not paid for this post.
Planning a pet friendly trip of your own? We'll make it easy:
Pet Friendly Hotels | Pet Friendly Destinations | Pet Friendly Activities
Amazon Affiliate Disclosure: GoPetFriendly.com LLC is a participant in the Amazon Services LLC Associates Program, an affiliate advertising program designed to provide a means for website owners to earn advertising fees by advertising and linking to amazon.com, audible.com, and any other website that may be affiliated with Amazon Service LLC Associates Program. As an Amazon Associate, the owner of this site earns a commission from qualifying purchases.
(Visited 3,545 times, 1 visits today)