Santa Fe is one of America's most historic, artistic, and fascinating cities. With a history spanning 400 years, cultural influences are evident in everything from the architecture to the food to the art.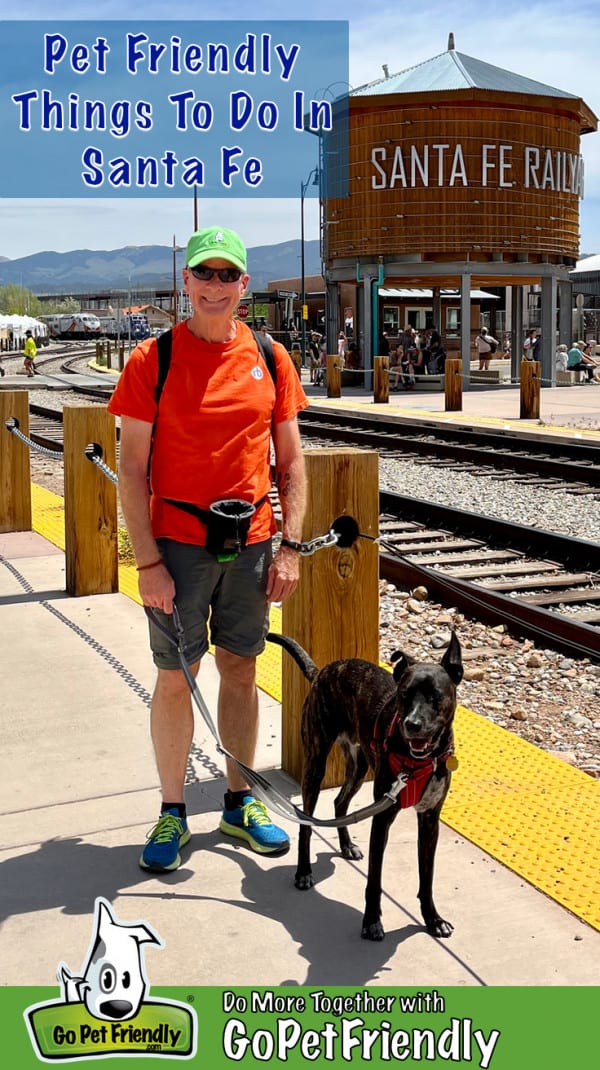 Santa Fe has been around for more than four hundred years, making it America's oldest state capital. As a result, the city has a long and colorful history. But more importantly for our purposes — Santa Fe is extremely pet friendly!
When planning your trip, keep in mind that the city sits at an elevation of 7,000 feet. The weather in the spring and fall can be unpredictable, and you and your pets might need time to adjust to the altitude. However, with 320 sunny days per year, there's no need to be in a rush. It would be easy to spend a several days exploring the city, and then four or five more taking day trips around the area.
Downtown Santa Fe
During our visit, we started by getting reacquainted with Santa Fe's gorgeous downtown. The "Walk Santa Fe" map from the visitors center helped us gather our bearings and highlighted some of the up-and-coming neighborhoods in the city.
The Plaza
Take some time to enjoy Santa Fe's lively and pet friendly Plaza Park. If you're lucky, there will be a street fair, performer, or farmer's market going on!
This is the heart of the city, and there are a number of restaurants, shops, and galleries in the area. Take your time and enjoy a bit of window shopping.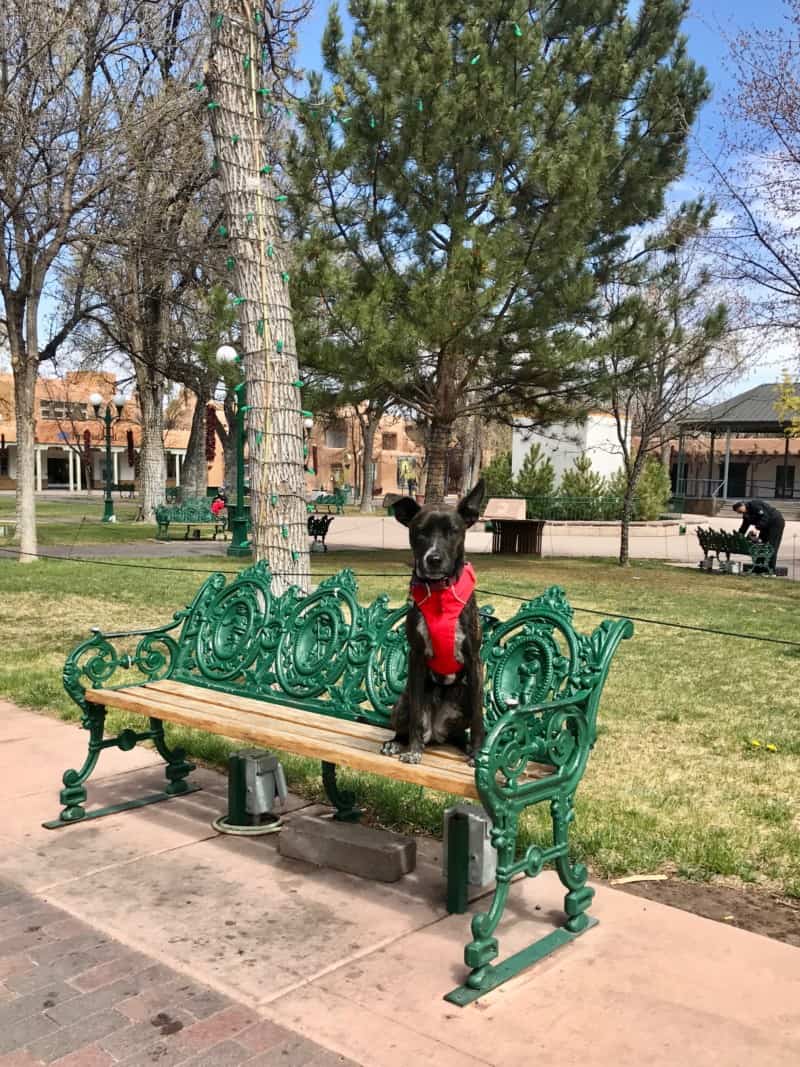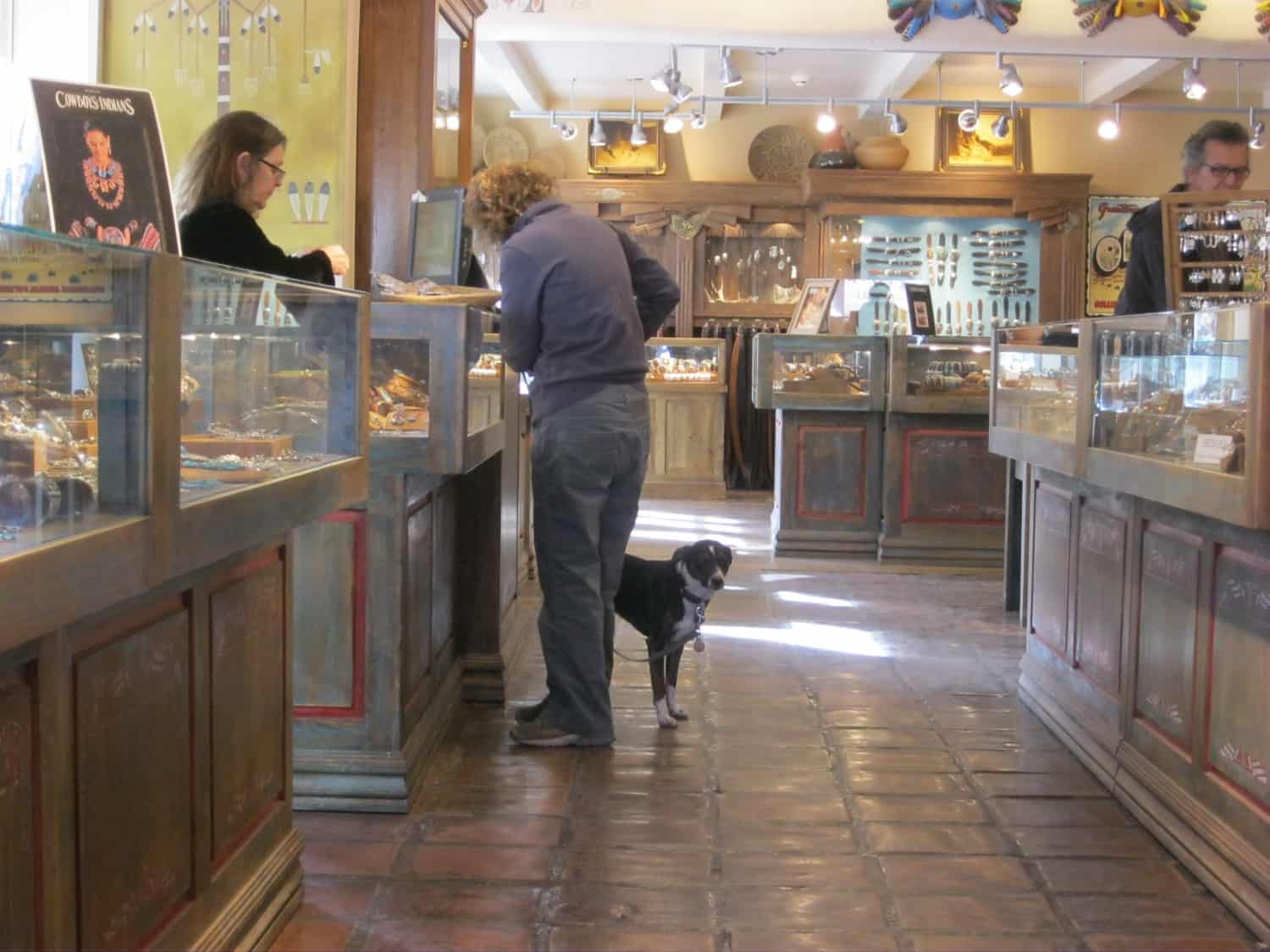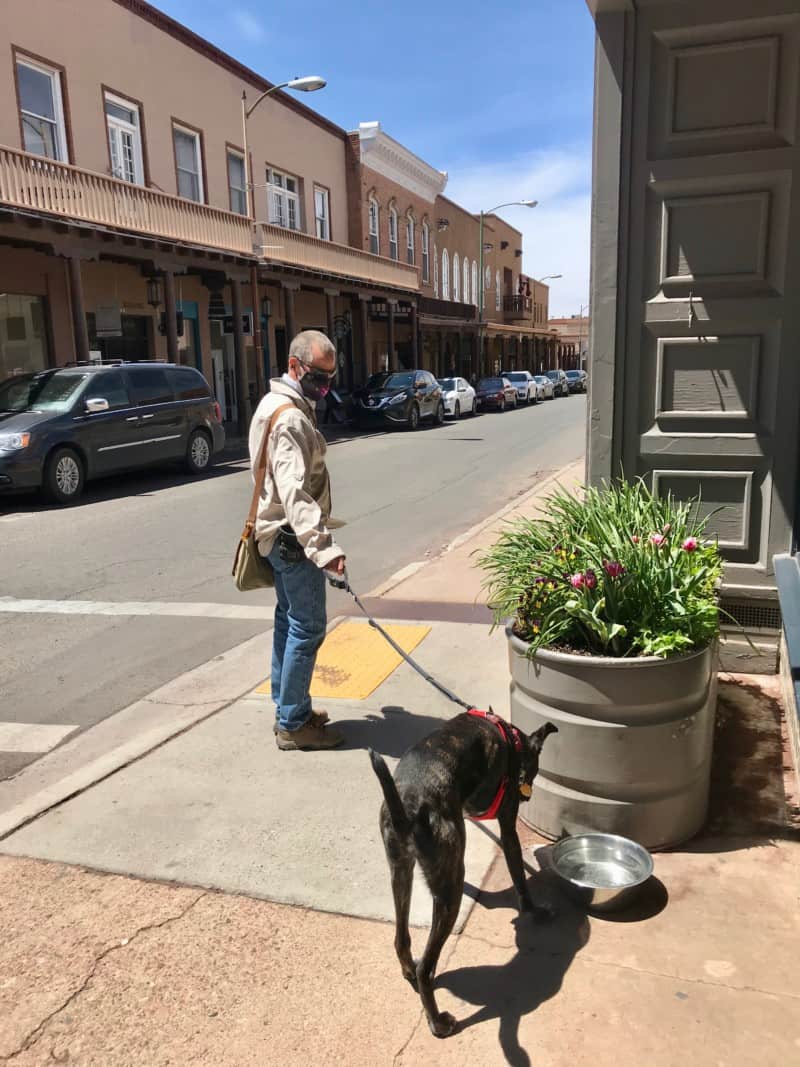 Just off the Plaza, don't miss the Cathedral Basilica of St. Francis of Assisi – the patron saint of animals. Though pets aren't allowed inside the building, take turns stepping in to admire the stained glass windows that were shipped from France during the Cathedral's construction.
A fictionalized account of the cathedral's origins is included in Willa Cather's Death Comes for the Archbishop. And, due to its proximity to the plaza, many artists have captured its image in their work.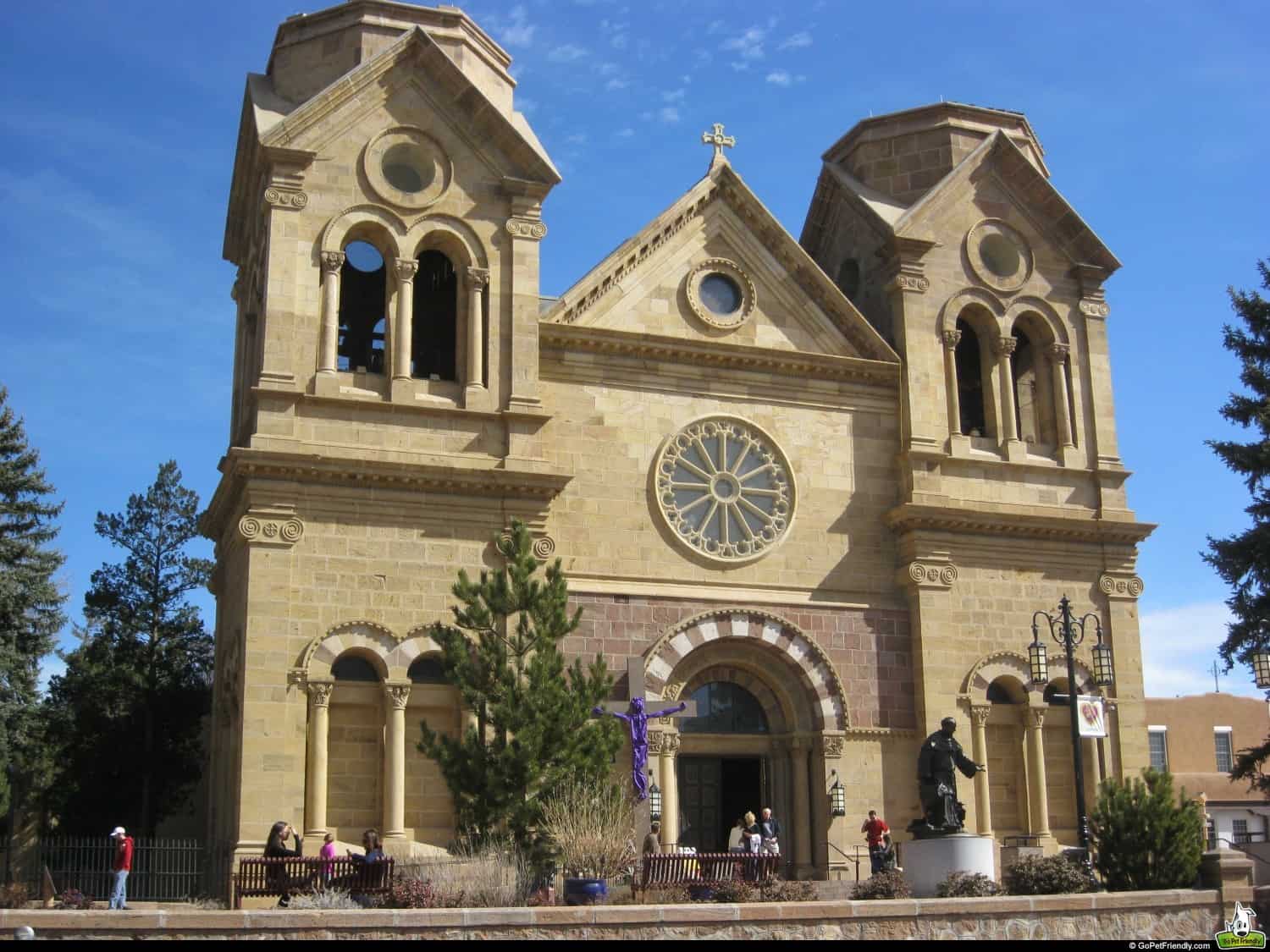 La Fonda on the Plaza
Santa Fe's premier pet friendly hotel, La Fonda on the Plaza, sits on the site of Santa Fe's first inn, which was established when the city was founded by Spaniards in 1607. A member of Historic Hotels of America®, the hotel that greets guest today was constructed in 1922 with the influence of architects Mary Elizabeth Jane Colter and John Gaw Meem.
The design of the hotel, including hand carved beams, stained glass skylights, and a 25 foot cathedral ceiling reflect Santa Fe's unique history.
Even if you're not staying with them, visiting La Fonda is an experience you won't want to miss. Have a drink at La Fiesta, or enjoy a meal with your pup at La Plazuela — both offer a few dog friendly tables.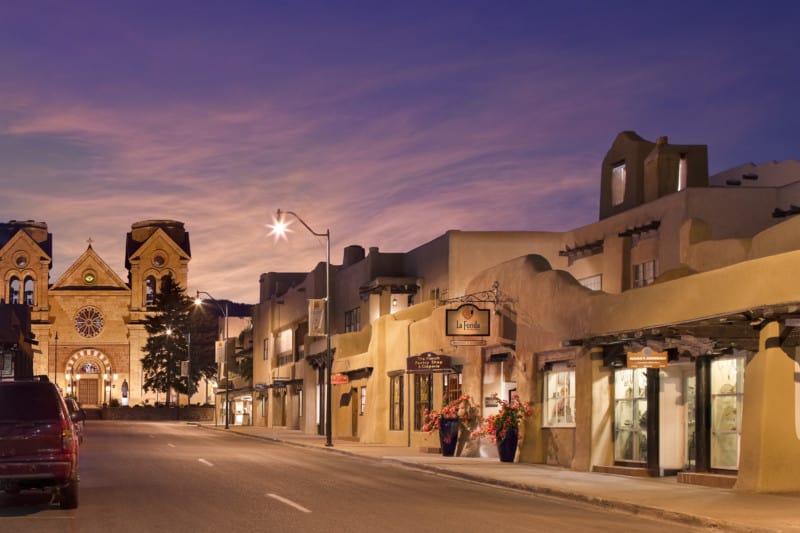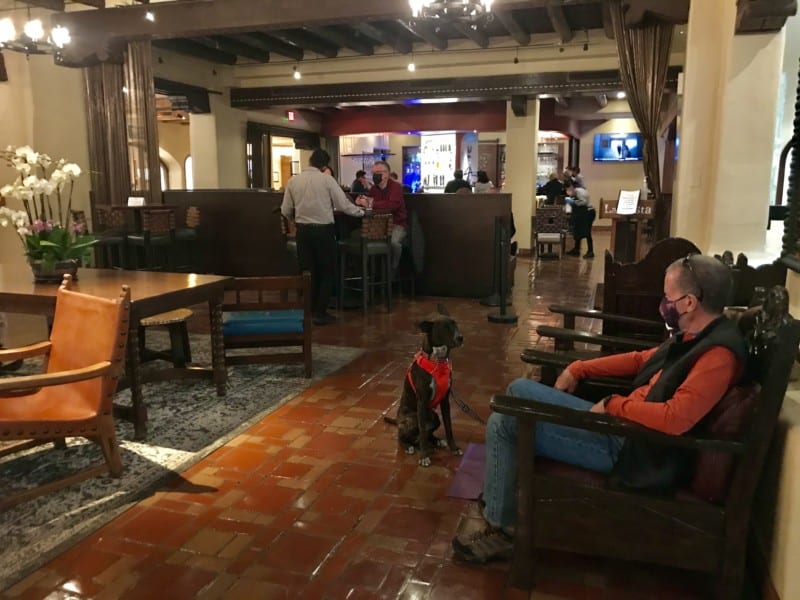 Downtown Trails
Santa Fe has a fantastic — and pet friendly! — trail system. Maps are available at the visitor center, and the paved River Trail is just a couple of blocks from the Plaza. This trail runs follows the Santa Fe river, with benches and picnic tables scattered along the way.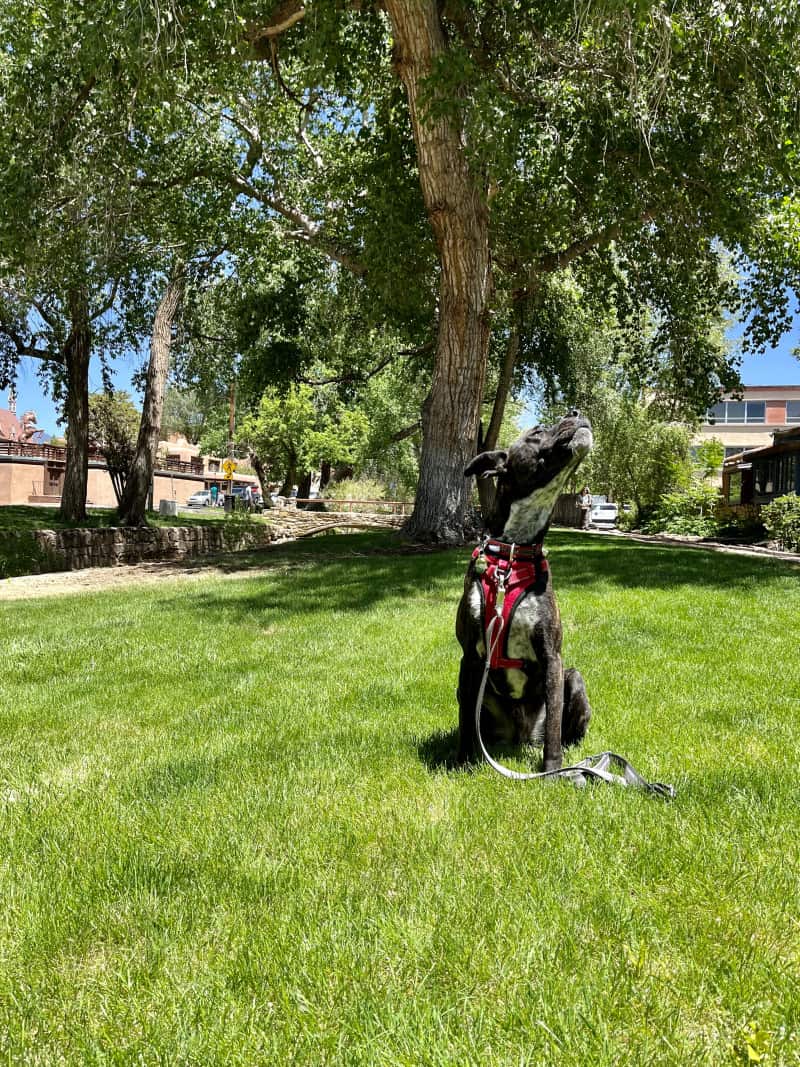 For sweeping views of the city, take the trail off Paseo de Peralta to Cross of the Martyrs. You can learn a bit about Santa Fe's history from the plaques along the trail and then enjoy spectacular views of the area.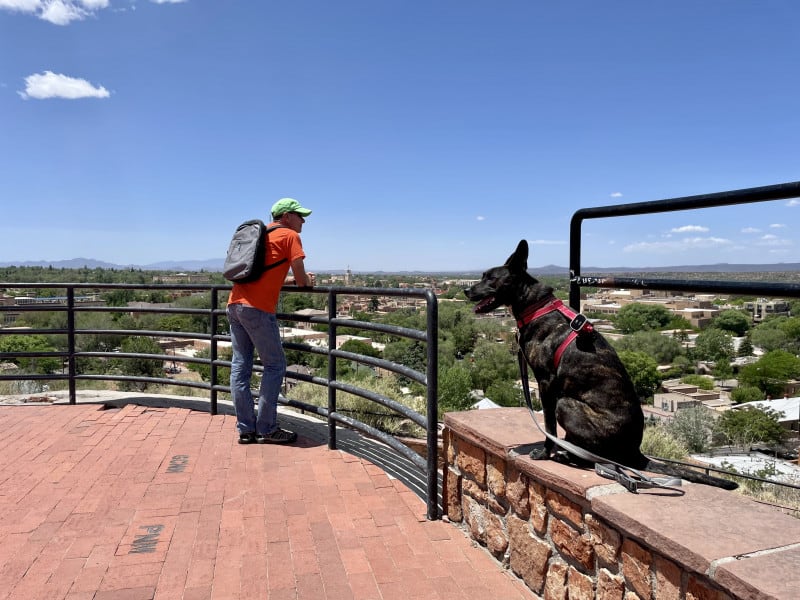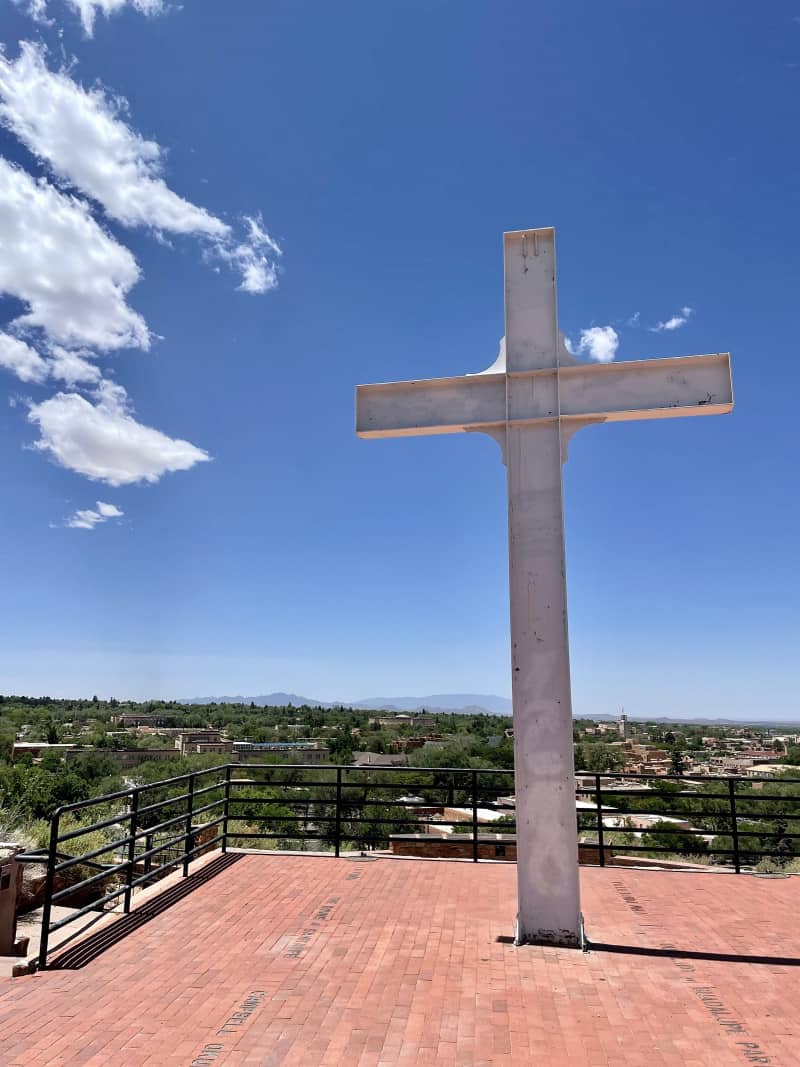 We also enjoyed sections of the 17-mile Santa Fe Rail-Trail, which begins in The Railyard downtown and continues along the train tracks through El Dorado to Lamy.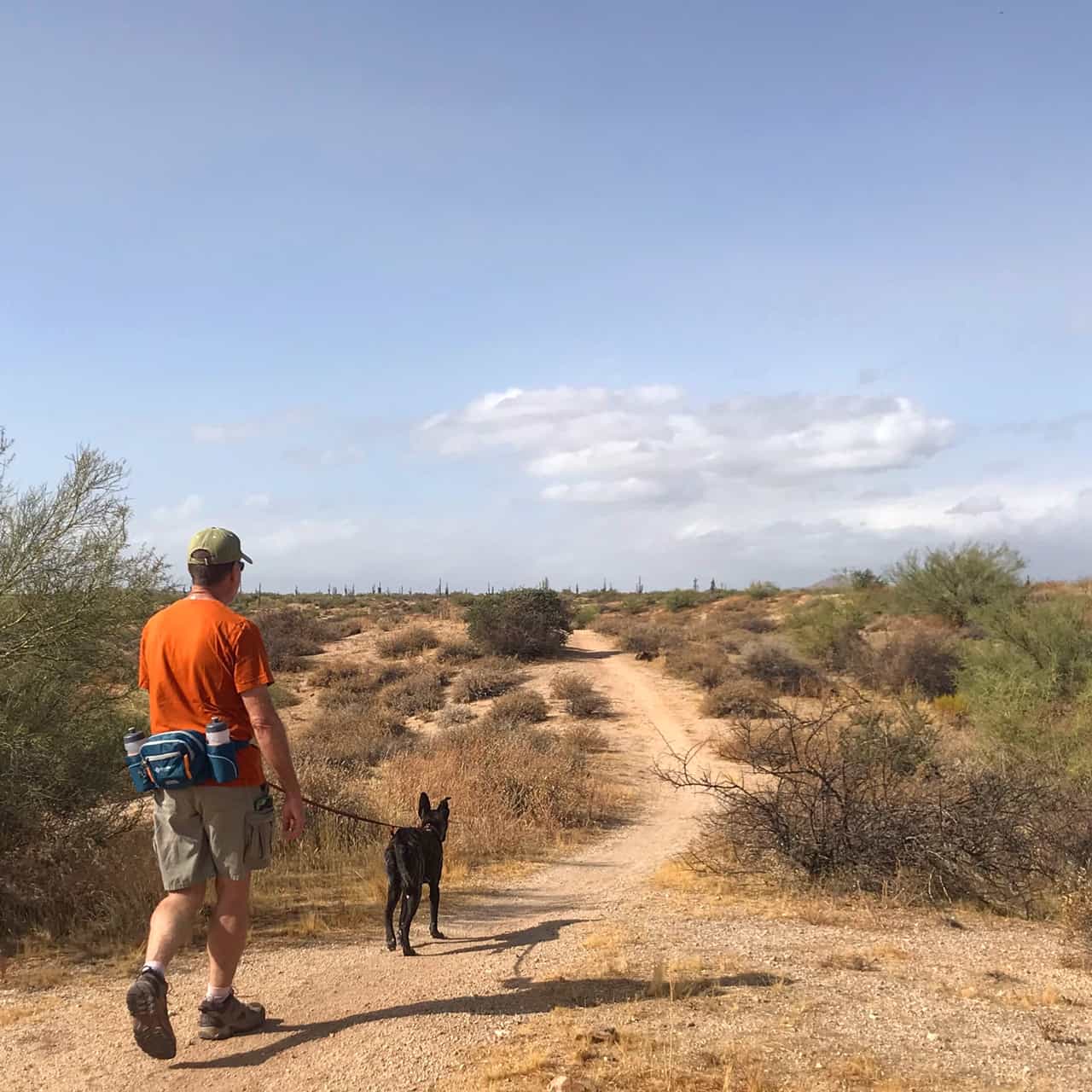 Canyon Road Galleries
No trip to pet friendly Santa Fe would be complete without a visit to Canyon Road — home to 80 galleries, studios, and designers. Strolling the pleasant half-mile, you will see fine art from artists throughout the United States and the world. Many of the galleries have outdoor exhibits, and some even allow pets inside … just be sure to ask first.
If you need a snack, stop in at The Teahouse when you get to the top of Canyon Road. Their outside seating area is pet friendly!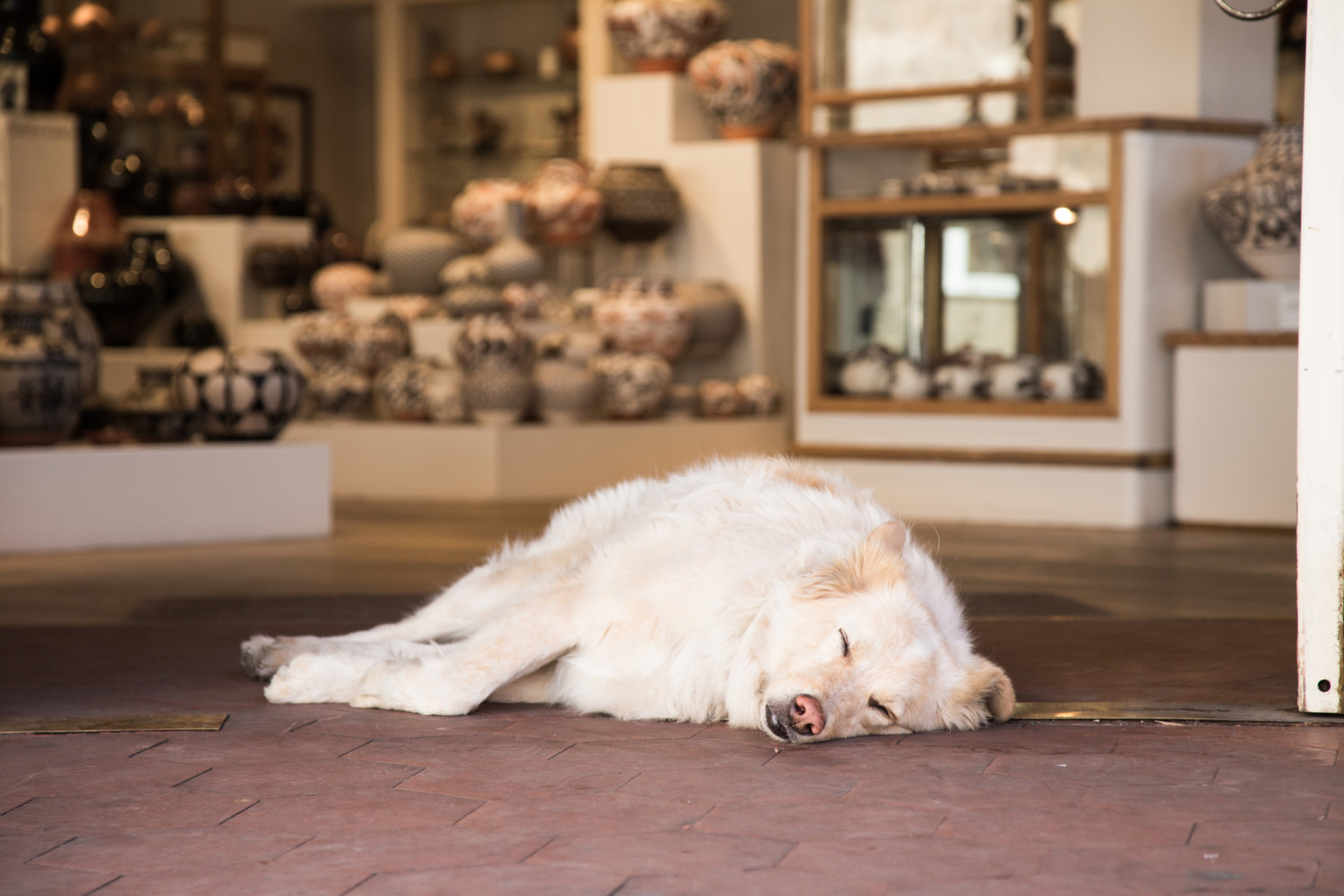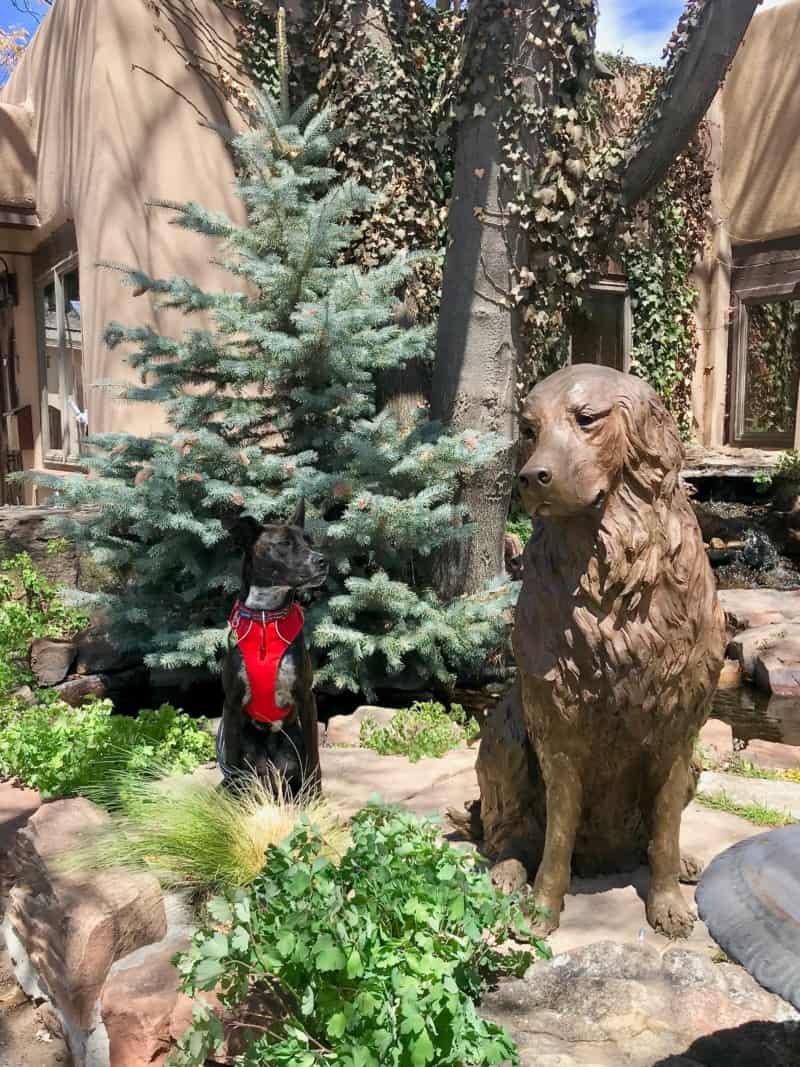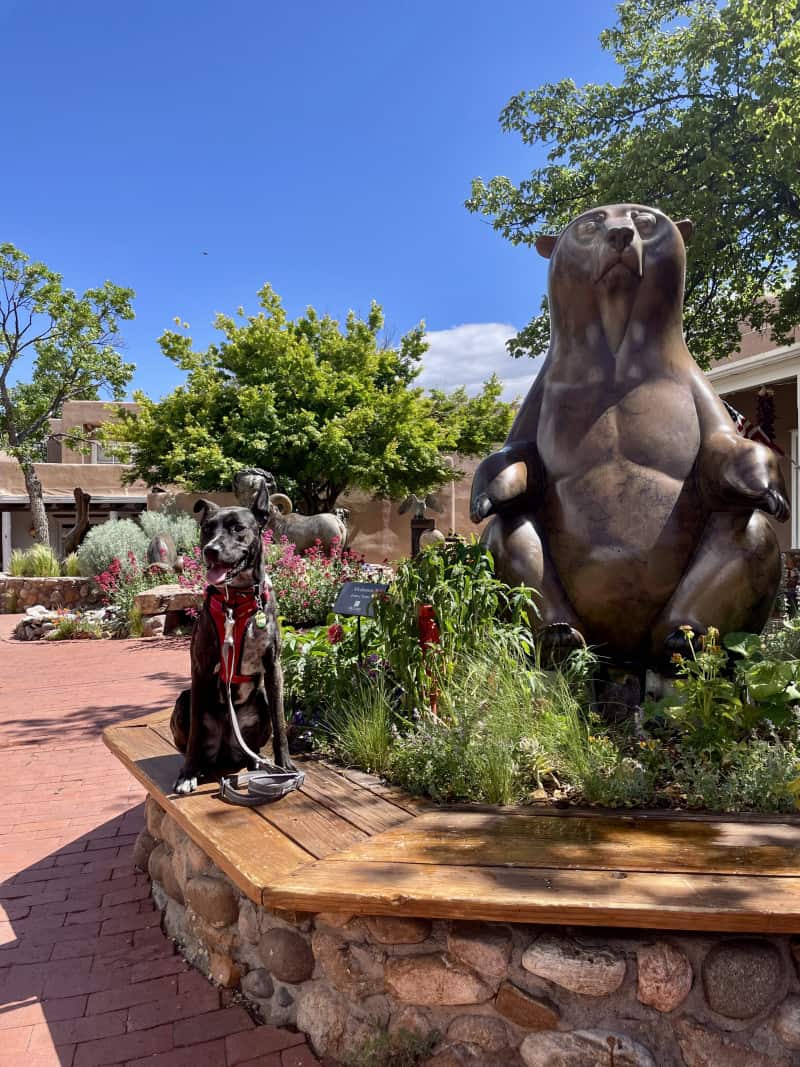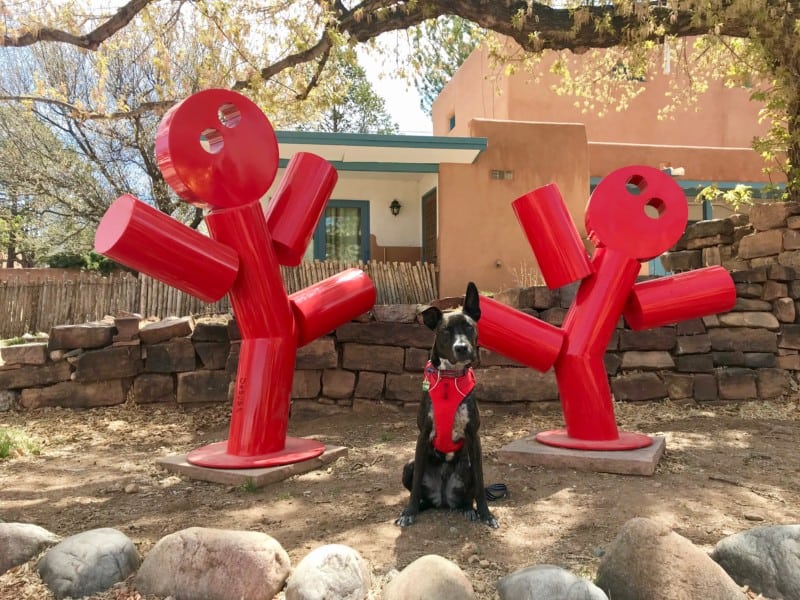 Dog Friendly Restaurants In Santa Fe
Santa Fe has a fantastic selection of restaurants with outdoor seating. And, while it's always best to ask first, we found that most eateries that offer patios or sidewalk seating are dog friendly!
Some of our favorite dog friendly restaurants in Santa Fe include:
Nath's Inspired Khmer Cuisine at the COMP! Food Hall – 505 Cerrillos Road
La Boca – 72 W Marcy Street
Upper Crust Pizza – 329 Old Santa Fe Trail
Cafecito – 922 Shoofly Stree
Shake Foundation – 631 Cerrillos Road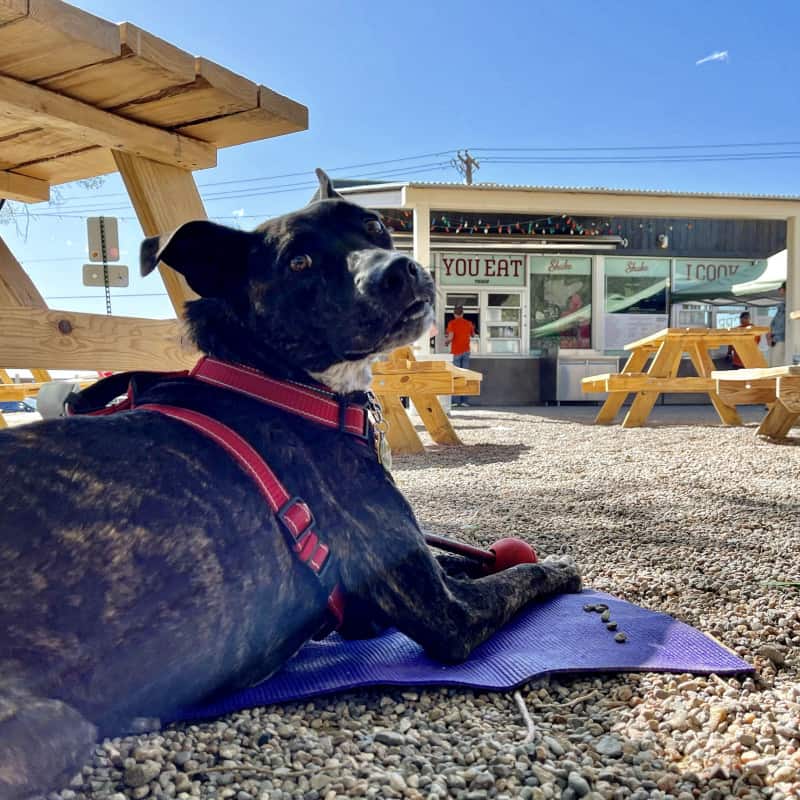 DeVargas Center Shopping
If you're in need of some retail therapy and want to get out of the sun or enjoy some air conditioning, consider the DeVargas Shopping Center. Dogs are welcome inside the mall, and some of the stores allow pets do join you while you shop.
Don't miss Teca Tu – A Pawsworthy Pet Emporium where your pet will find a wonderful selection of food, treats, apparel, toys, and gift items to explore!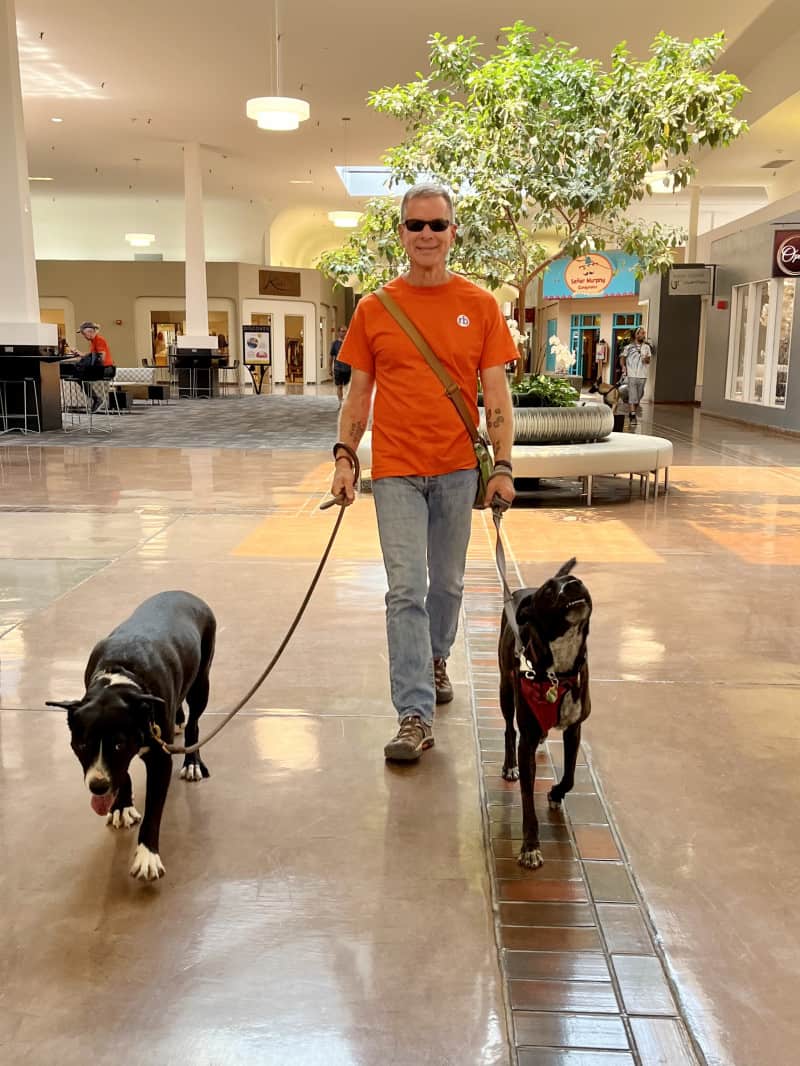 Frank Ortiz Dog Park
The Frank Ortiz Dog Park is one of the largest parks of its kind in the United States! Covering 138 acres, you and your pooch can explore miles of trails while enjoying spectacular views of Santa Fe.
Most of the park is unfenced, though there is a fenced area for dogs less than 25 pounds. If your dog has a solid recall, this is a great place to play.
Unfortunately for our puppy, Myles, we still have some work to do on his training. To be on the safe side, we decided it was better to stick to fenced dog parks for the time being. But the other dogs there were having ball!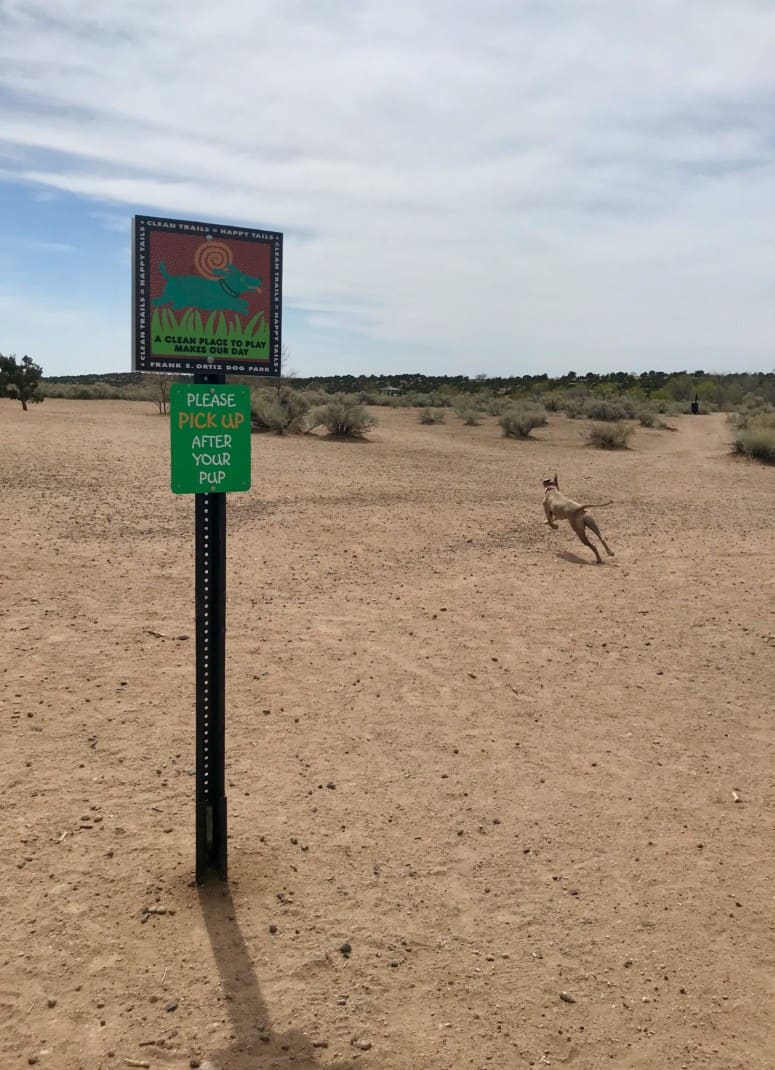 Pet Friendly Hiking Around Santa Fe
La Tierra Trails
Just up the road from Frank Ortiz Dog Park, and only three miles northwest of the Plaza, you'll find the La Tierra Trails. This trail system offers 25+ miles of easy to moderate hiking, biking, and equestrian trails and maps are available at the Santa Fe Visitor Center.
Dale Ball Trails
For more hiking options, head west of the city to the Dale Ball Trails. With nearly 25 miles of trails, this system gives you the quick access to the foothills of the Sangre de Cristo Mountains.
Note: The trails on the north side of Upper Canyon Road are pet friendly, and those on the south side are not. We chose to head up Picacho Peak for a great view of the surrounding area.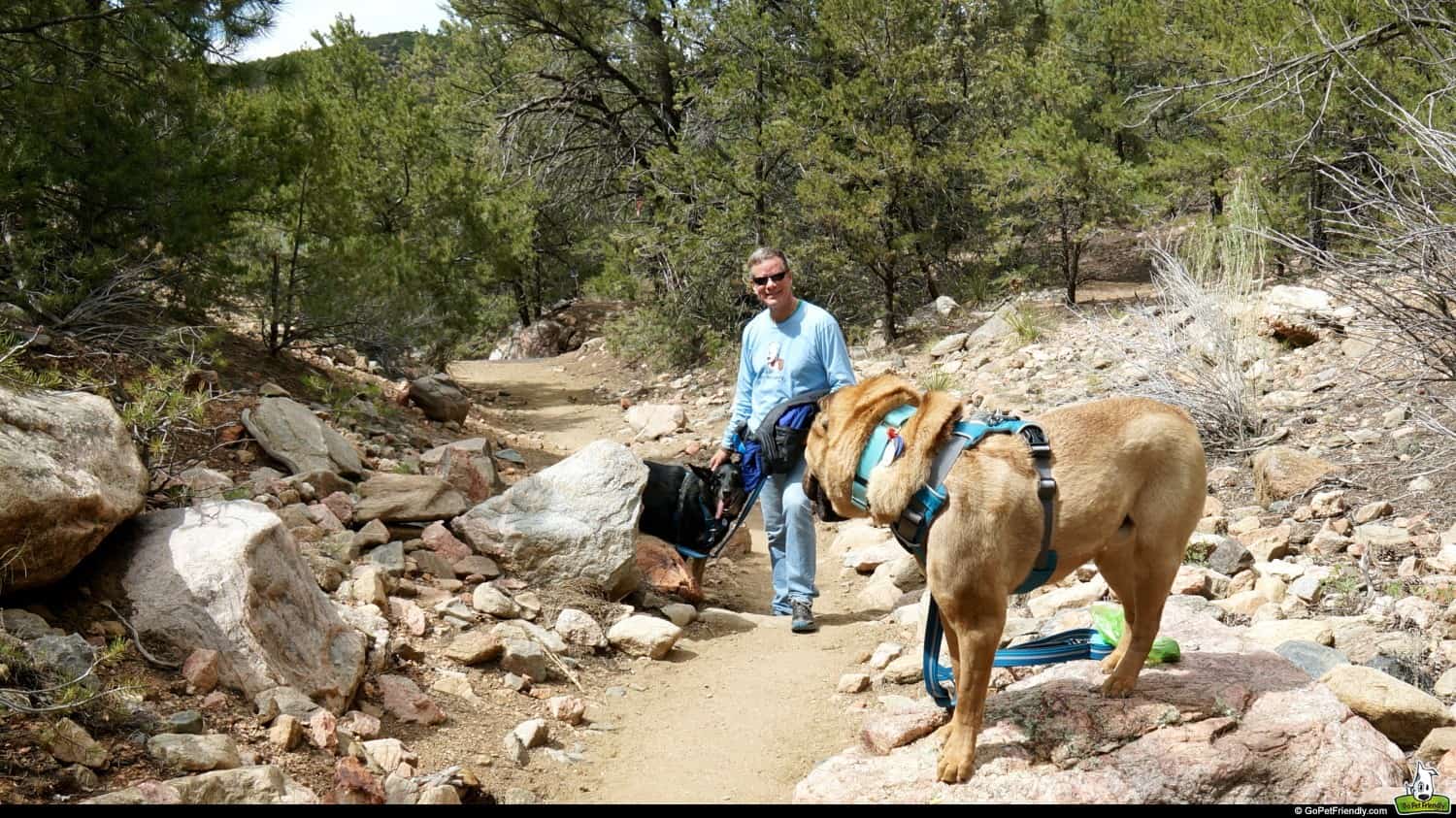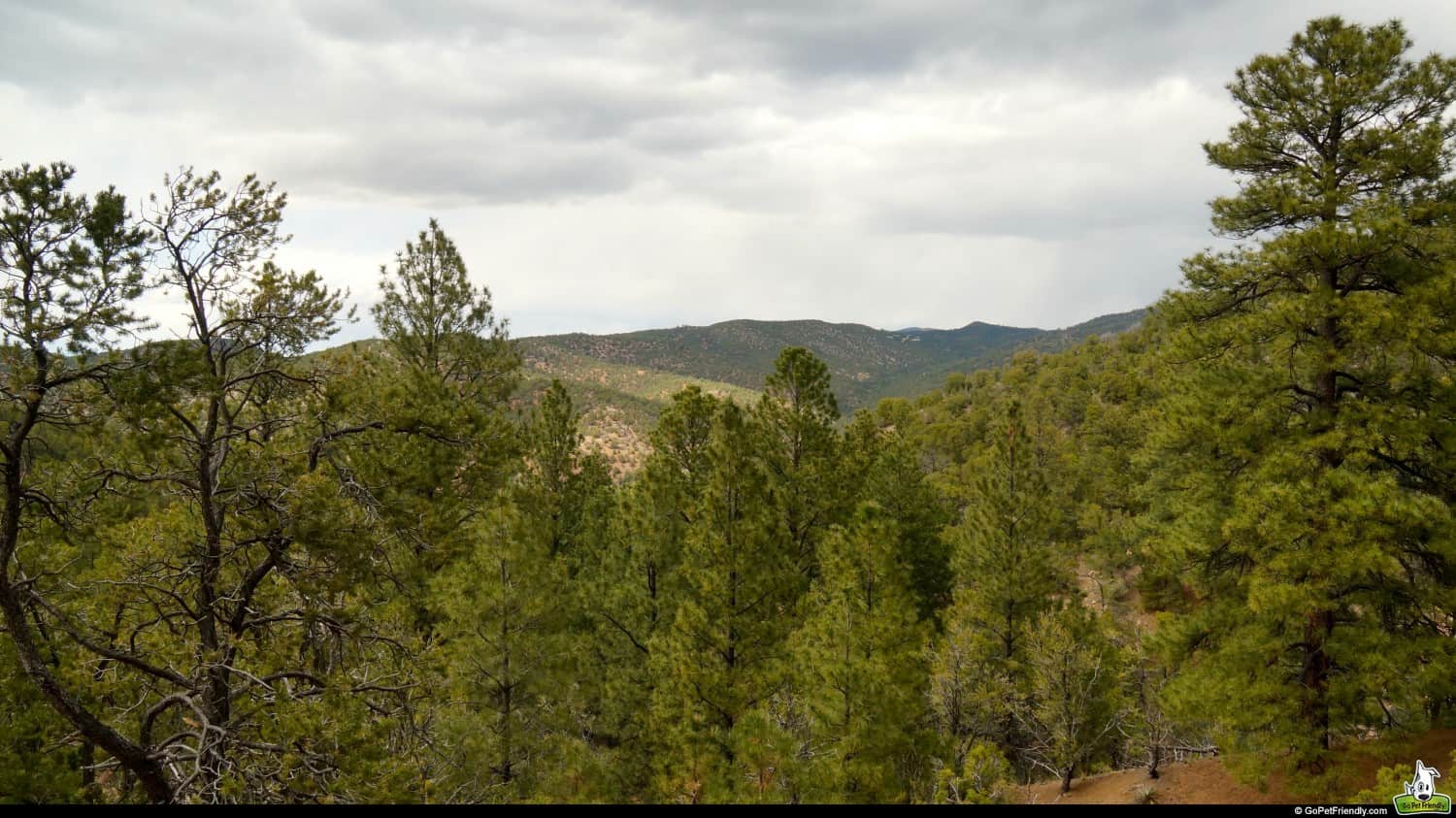 Santa Fe National Forest
For even more trails, drive up to the ski basin in the Santa Fe National Forest. Years ago, we made this trip on Buster's eighth birthday because there was still snow on the ground in May. And Buster's two favorite things in the world were snow and squeaky balls.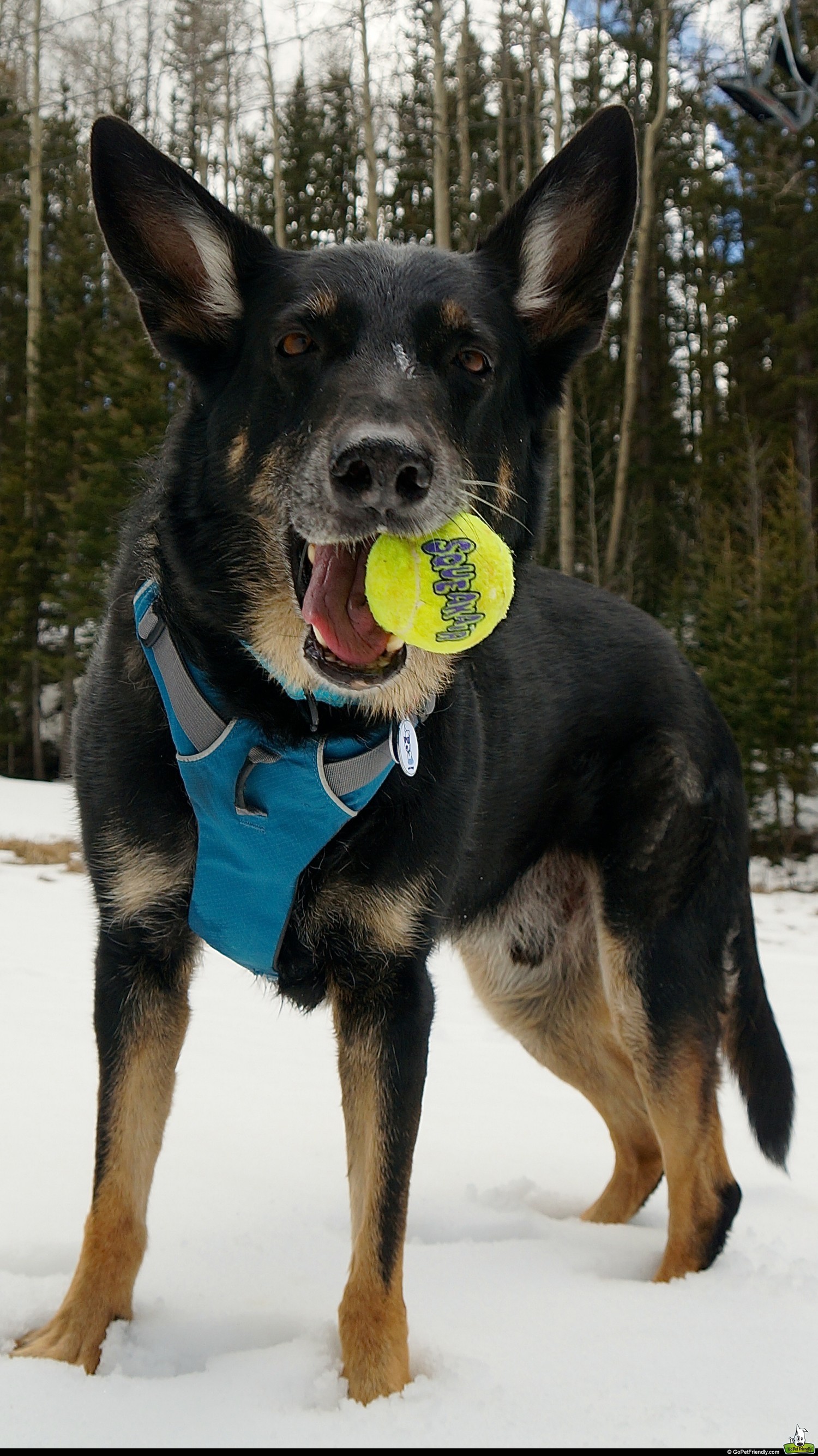 No matter what time of year you go, the drive to Santa Fe Ski is well worth your time. You'll pass though Hyde Memorial State Park into the national forest, and both have great pet friendly hiking trails. Of course, the piece de resistance is the view from the top!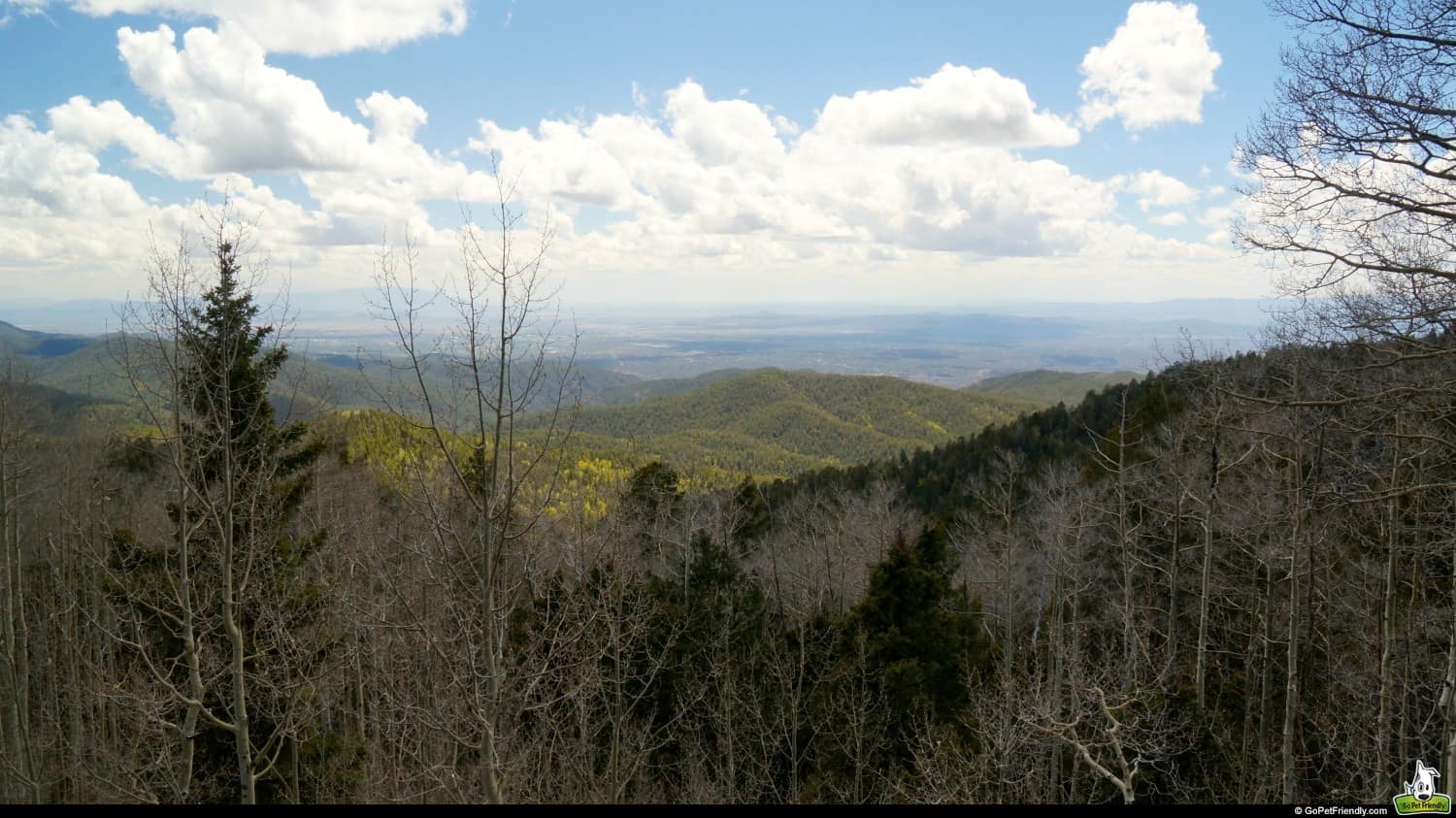 Pet Friendly Day Trips From Santa Fe
There are a lot of popular pet friendly day trips from Santa Fe. We chose three and had a great time with the dogs: Bandelier National Monument, Valles Caldera National Preserve and Santa Fe National Forest – Jemez District.
Bandelier National Monument
Truthfully, this stop was mostly for me. I was dying to see the ruins of Tyuonyi Pueblo and the cliff and cave dwellings at Bandelier. Though dogs can't go on the 1.25-mile Main Loop Trail, they can enjoy the picnic area and the trails in the surrounding Department of Energy land with you.
I'd suggest packing a book and your lunch and taking turns relaxing in the shady picnic area while the other person walks back to see the ruins. Honestly, they are mesmerizing!
Then ask for a "Hiking with Dog" map at the visitors center, and get out for a little pet friendly exercise.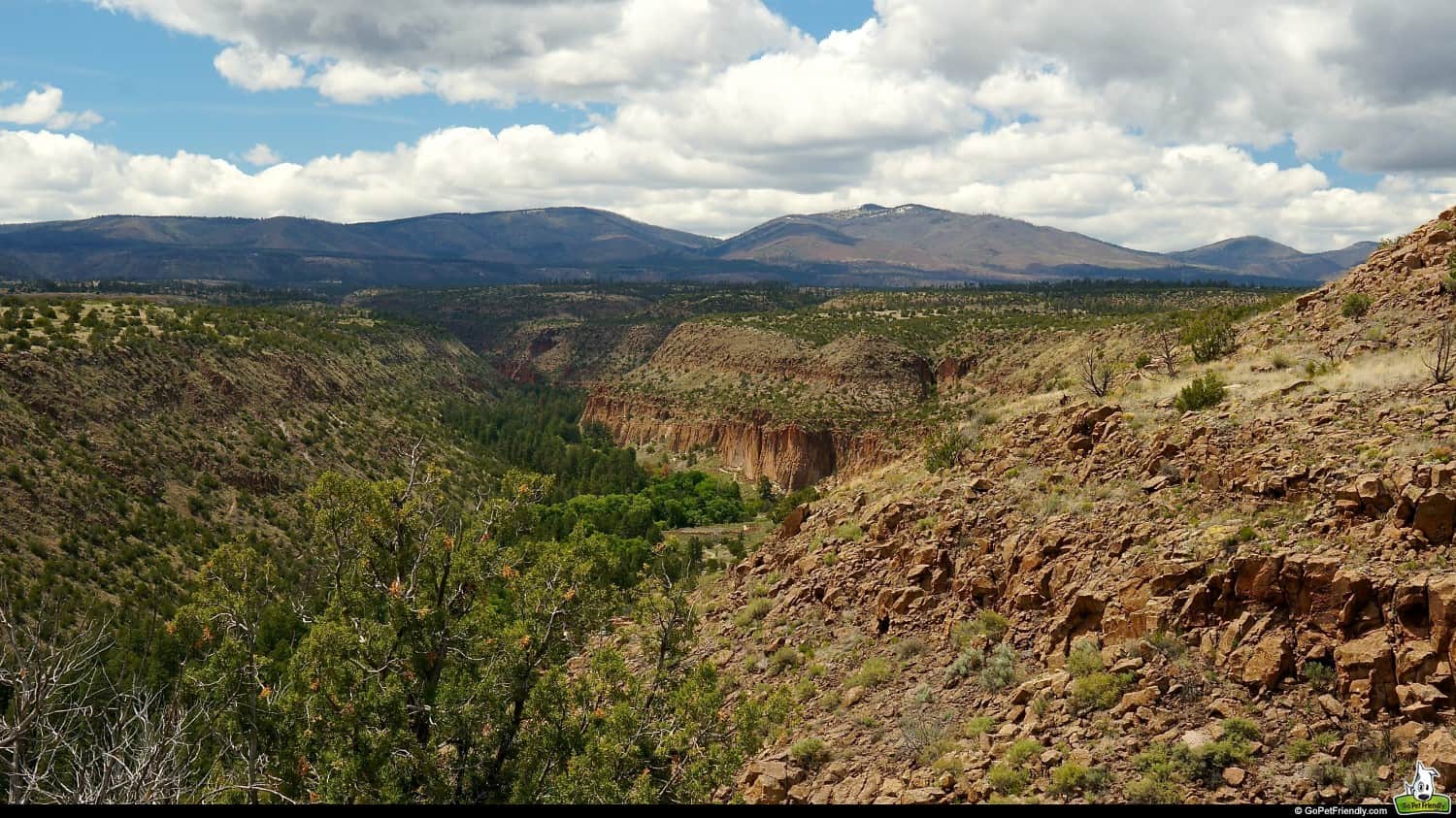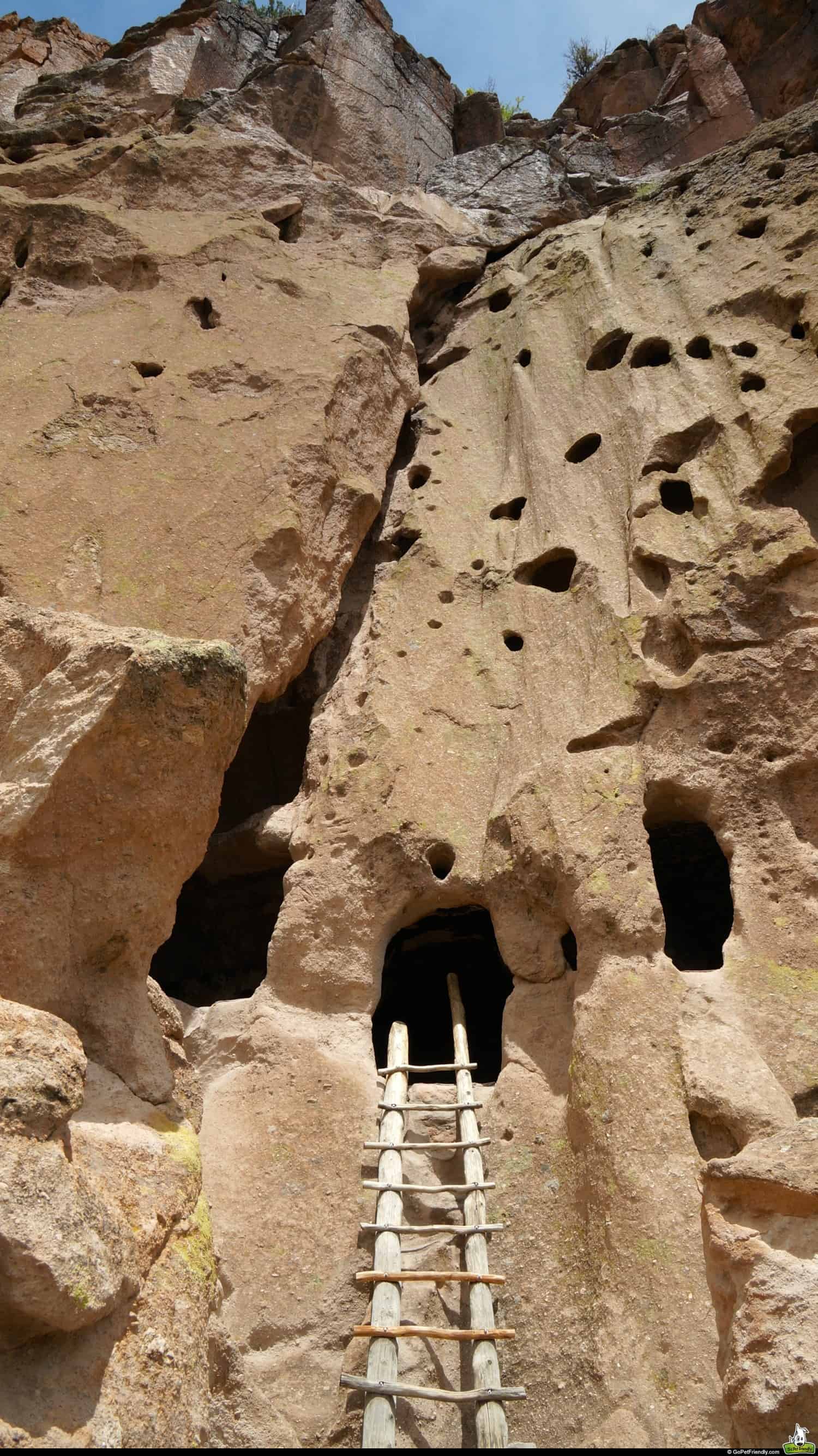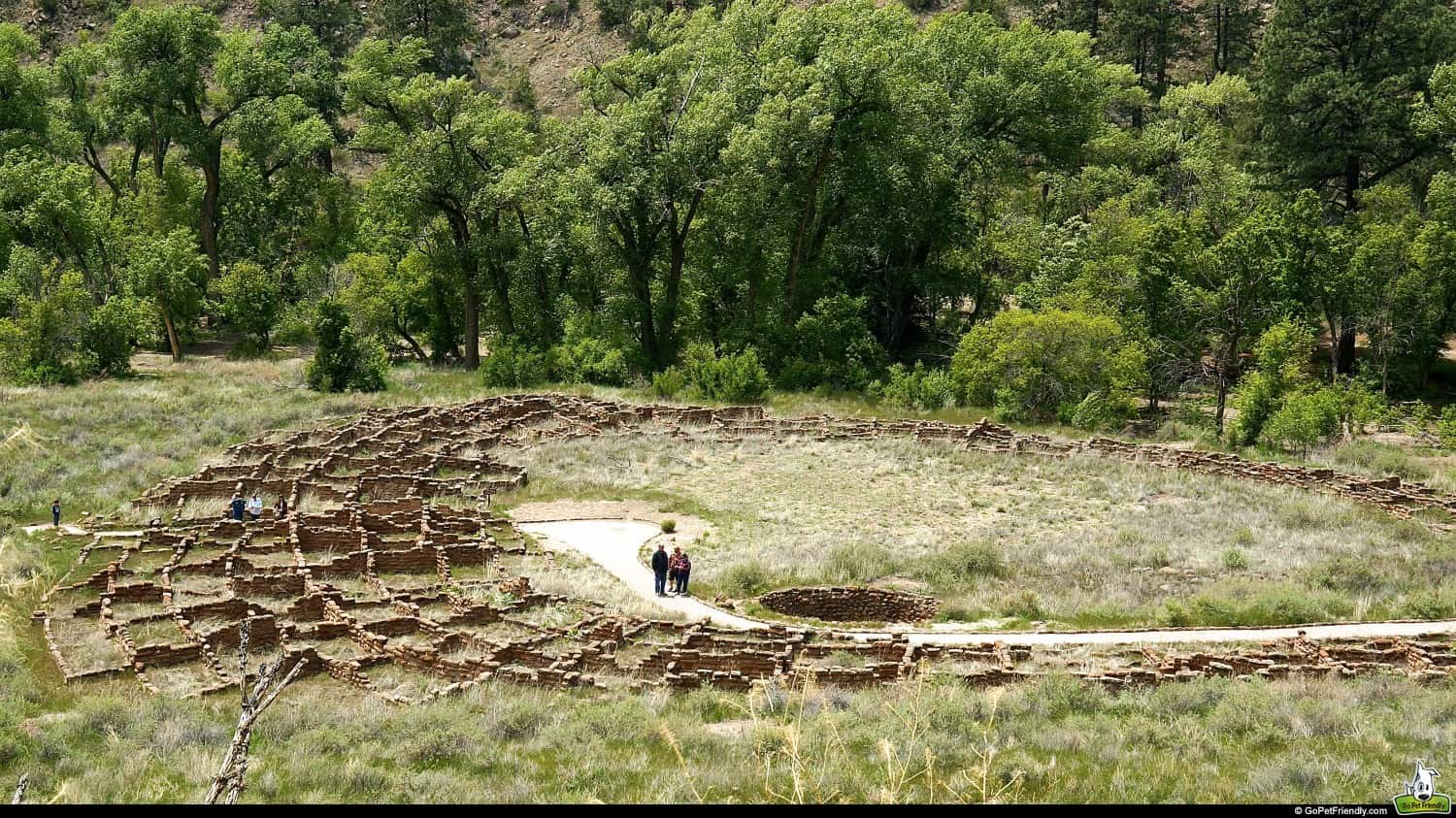 Valles Caldera National Preserve
Continuing along Hwy 4, you'll come to Valles Caldera. This 13-mile wide valley is actually a collapsed volcano. Volcanic activity is still evident in this area with hot springs, streams, fumaroles, natural gas seeps, and volcanic domes dotting the caldera floor.
Leashed pets are welcome in the campgrounds and on the La Jara, Valle Grande, and Coyote Call trails at Valles Caldera. You can pick up trail maps at the visitors center. Keep in mind that dogs are not allowed in the back county.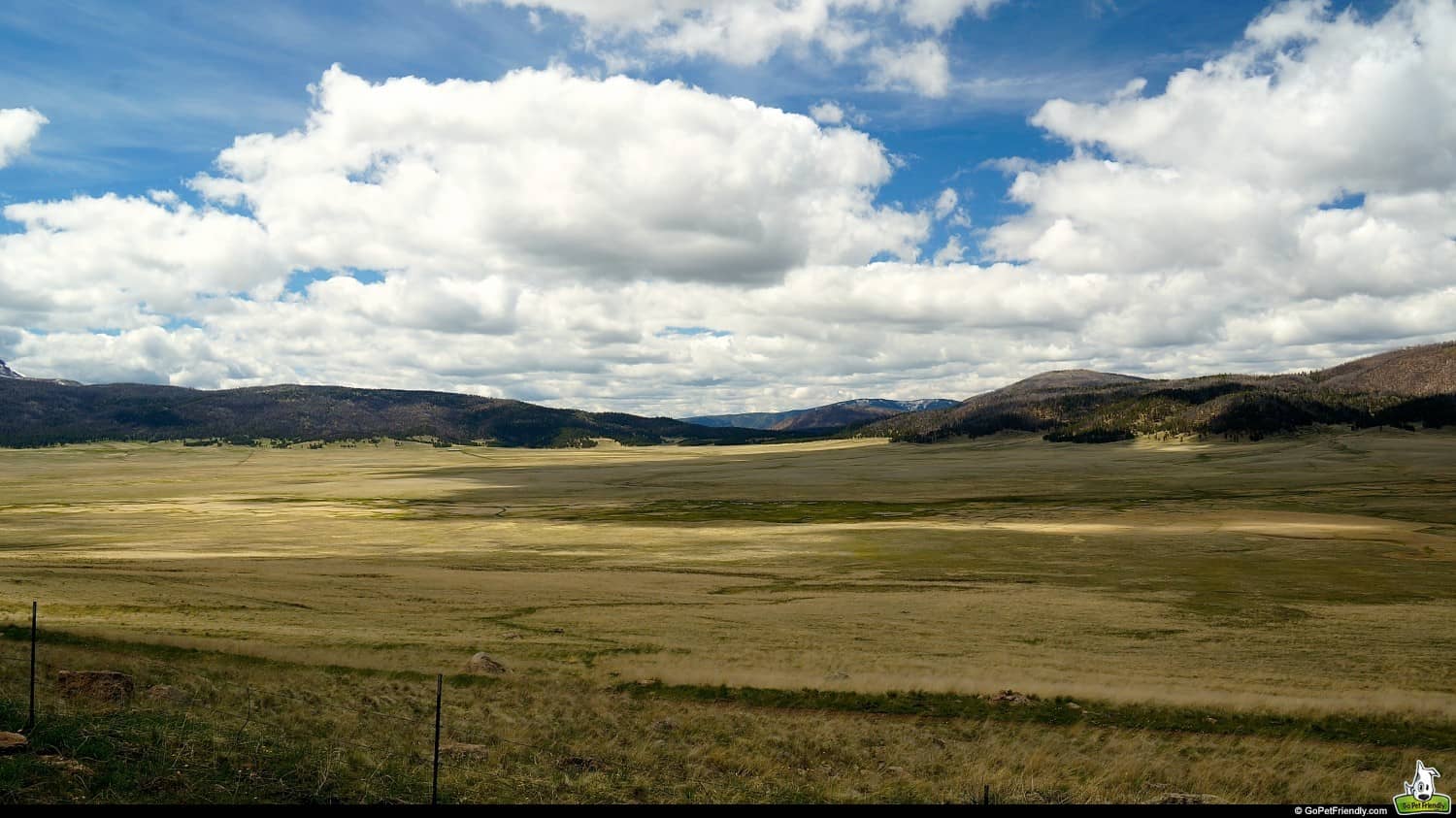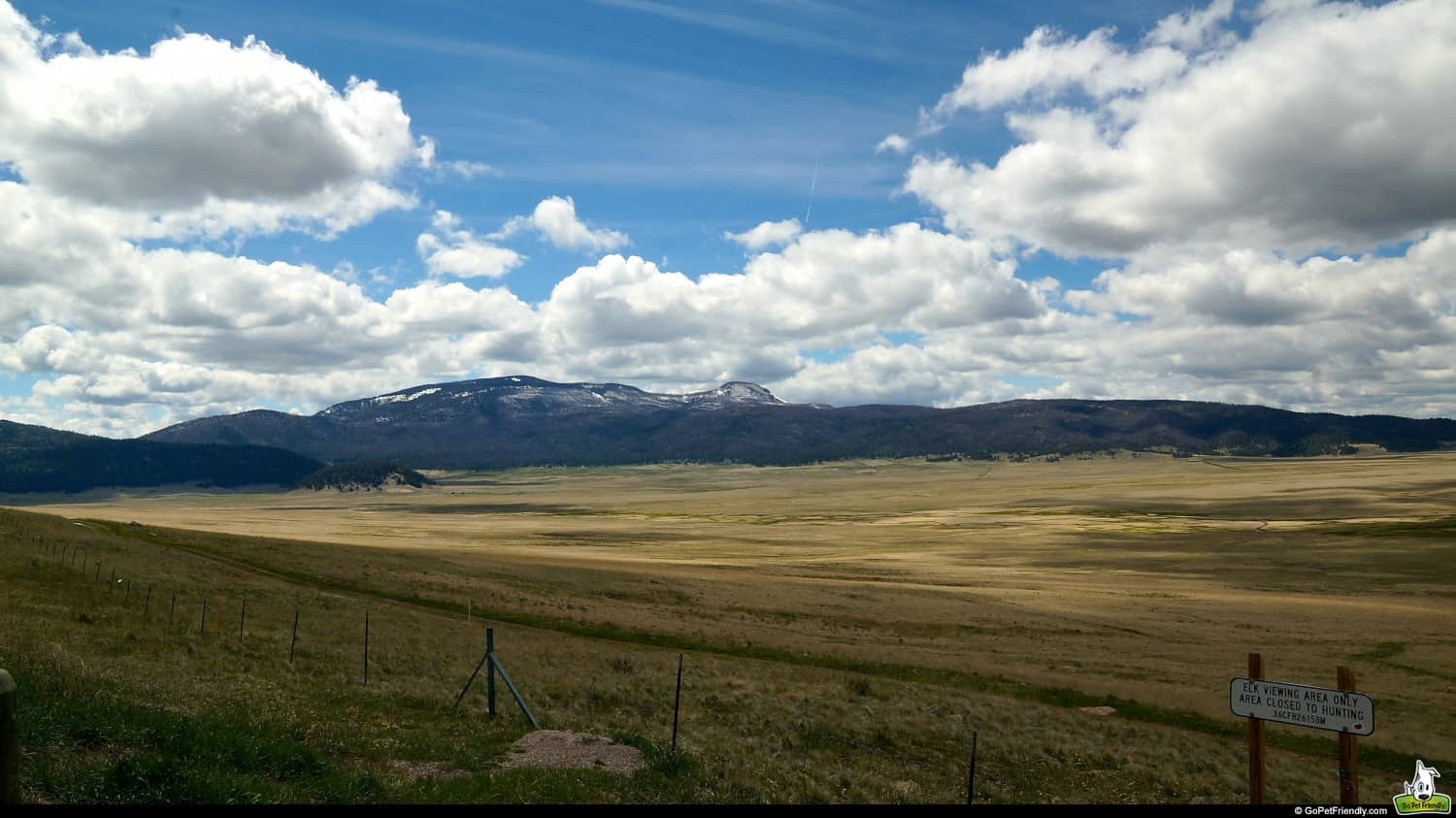 Santa Fe National Forest – Jemez District
After exploring Bandelier and Valles, we continued a bit further down Hwy 4 and came to the Las Conchas Trailhead in the Santa Fe National Forest. Unfortunately, it was too late in the day for us to squeeze in another hike. But this one is definitely on our list for next time!
From the Las Conchas Trail website: "The trail follows the East Fork of the Jemez River, and is an easy relaxing hike through a rocky canyon in a deep conifer forest, and a series of open meadows. After about 2 miles, the trail climbs out of the canyon in a series of switchbacks. This would make a good point to retrace your route back to the trailhead."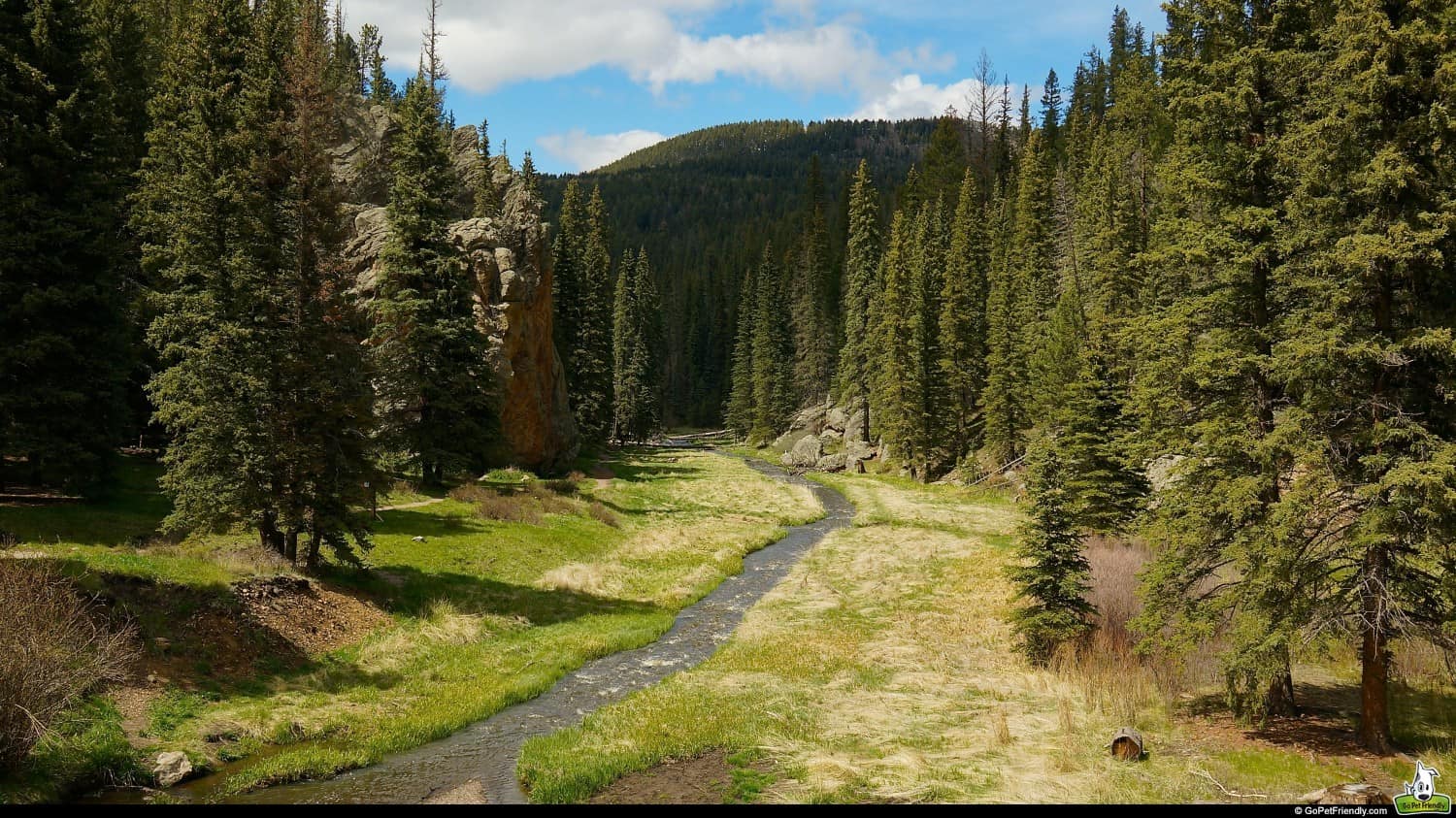 When you're ready to move on from Santa Fe, consider a stop in pet friendly Albuquerque!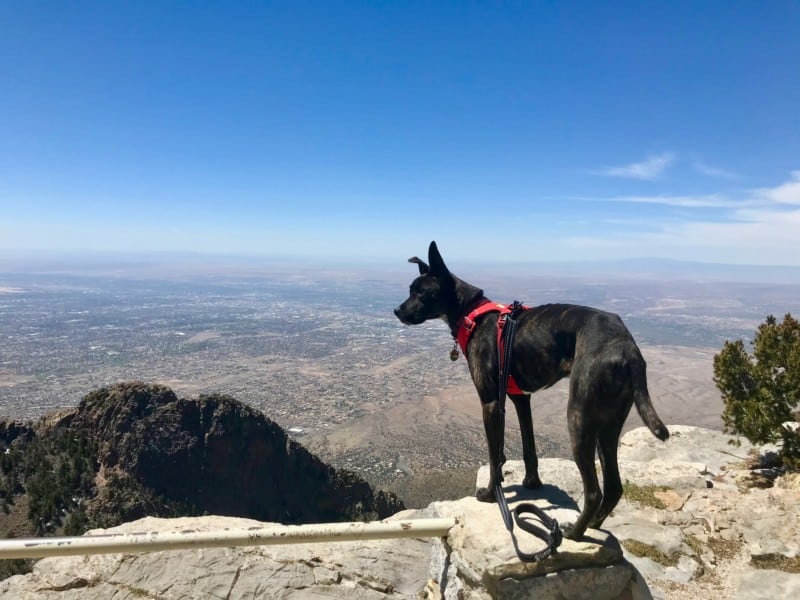 As a pet friendly destination, Santa Fe is a fantastic choice! With all the opportunities to be outdoors, we hope pet friendly Santa Fe exceeds all your expectations.
(Visited 26,562 times, 4 visits today)