Why, why, why do so many hotels find it difficult to to set a reasonable pet policy and clearly communicate it? We've stayed in six hotel chains over the past two weeks, and being ambushed by outrageous pet fees has me ready to scream! By far, our worst experience came in Nashville. Let me tell you what happened …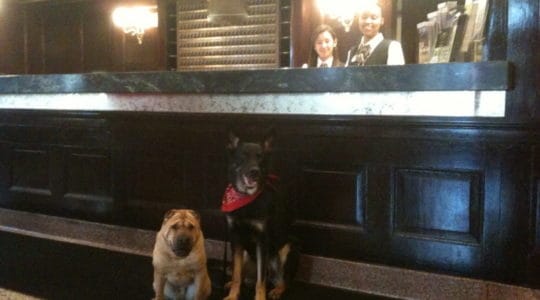 My family met in Nashville over the weekend to celebrate my sister's wedding and Thanksgiving. We all booked rooms in the same pet friendly hotel (The Sheraton Nashville Downtown) several weeks ago, and before making the reservation I phoned them to confirm their pet policy. After waiting on hold twice during the call while the agent tracked down answers to my questions, this is what she told me: Pets less than 40 pounds were free, but since we have two dogs and one is over 40 pounds I should expect to pay an additional $50 for our stay. Fine.
Upon check-in we were asked to fill out a waiver with each dog's name, breed, and weight … which we did. We then went on to discuss the possibilities of getting a room on a lower floor, upgrading to a larger room, and other logistics. No mention was made of the pet fee.
During a visit to the front desk the following day I was informed of the hotel's pet policy: Pets under 40 pounds were free. For pets over 40 pounds, there was an additional $50 per night cleaning fee. And for guests with more than one pet, there was an additional $100 per night cleaning fee. 
WHAT!?!?
If we were simply traveling with Ty, we would not have been charged ANY pet fees. But, because Buster was also with us, we would be charged an ADDITIONAL $150 per night for cleaning fees. During our four-night stay, the hotel's policy was to collect $600 in cleaning fees! How many times could you have your entire home cleaned for $600?
I was then told that, though the staff the previous day had not mentioned it, the policy was clearly published on the website. (I finally did locate their policy, but only after clicking a small link on the hotel group's website to get to the actual hotel's website, and then burrowing down three layers.) But, the point is not that the policy appears in print. The point is that I was standing at the front desk, being notified of an unreasonable pet policy, with no alternate reservations … basically, I was trapped.
Why is this so hard?!
Pet friendly hotel chains from Motel 6 to Kimpton allow pets to stay with no additional charges. If they've found a way to do it successfully – why haven't others followed their lead? Pet fees seem to be the latest scheme for increasing hotel revenues – and insulting me by calling this a "cleaning fee" is ridiculous. I'd love to meet the member of the housekeeping staff and find out how much more time they spend cleaning rooms where pets stay!
If you must charge a cleaning fee, how about establishing something fair and applying it to all pets? We all know that pet friendly rooms are not "deep cleaned" every day during a stay, so don't charge people per night. And the size of the dog doesn't materially impact the required amount of vacuuming, so get rid of the large dog charges. They leave people with larger pets feeing like they've been gouged. The Loews Hotel chain imposes no weight restrictions, limits pet guests to two per room, and charges a pet fee of $25 per stay – that seems reasonable to me.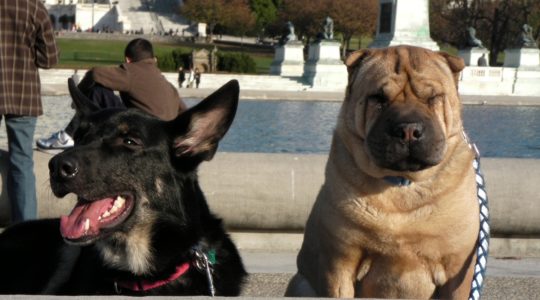 Implementing these policies would not only make it easy to train your staff and avoid the miscommunications that leave your guests feeling violated, it would also make it easy for pet travelers to compare total room cost and make informed decisions about their accommodations.
Finally, why not publish "pet room rates" on your website? You provide different rates for suites, club level rooms, and upgraded views – it can't be that difficult to add a pet friendly category. No more ambushing us at the front desk!
Disclosure: Due to the inconsistent communication of their pet policy, this hotel did waive the pet fees for us – but the experience still resulted in this rant.
Amazon Affiliate Disclosure: GoPetFriendly.com LLC is a participant in the Amazon Services LLC Associates Program, an affiliate advertising program designed to provide a means for website owners to earn advertising fees by advertising and linking to amazon.com, audible.com, and any other website that may be affiliated with Amazon Service LLC Associates Program. As an Amazon Associate, the owner of this site earns a commission from qualifying purchases.
(Visited 4,393 times, 1 visits today)