Every once in a while, I jump on a plane and take a trip without the dogs. On those occasions, I'm reminded of the "benefits" of traveling without the furry members of the family: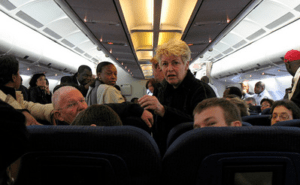 1. You Can Fly. Because our boys are too big to fly in the cabin, air travel is not an option we consider with them … oh, the fun we miss! Flight delays, planes crammed with irritable people, more fees than you can shake a stick at, and overhead luggage space that disappears faster than popsicles on the 4th of July. It may be slower, but I'll take traveling in a pet friendly motorhome any day.
2. You Don't Get Stuck in Second-Rate Hotels. When you leave your pets behind, you don't have to compromise on your choice of hotel to find one that accommodates your pets – even the nicest hotels are a possibility. Only, when I walked into the lobby of the beautiful hotel where I'm staying, there was a gorgeous German Shepherd checking in! Obviously, traveling with the dogs doesn't hampered hotel selections, either.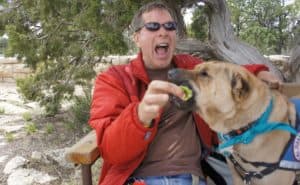 3. You Can Eat Inside at Restaurants. For me, food is a big part of the travel experience, and finding places that the locals enjoy is part of the fun. The icing on the cake is when I can sit at a table on the patio or sidewalk and combine a good meal with a little people watching! When the weather's nice, I'd choose to sit outside every time … and having the dogs along actually makes it more fun.
4. You Don't Have to Walk. When you travel sans dogs, you can jump in a cab, take the train, or rent a car to get around. But my preferred method of seeing new places is to walk. Walking allows me to savor a place, take spontaneous detours, and the feel like I'm actually exploring rather than zipping by. Plus, my aforementioned affinity for eating out means I usually need the exercise! Combine a stroll with the enthusiasm on the two furry faces that greet me each morning, and I've found that I see more and enjoy more when they're with me.
5. You Can Go to Museums or Shopping. It's true that most museums don't allow dogs, and trying to shop with my boys is ruff. And I suppose that I could spend time doing both those things while I'm away, but museums aren't really my thing, and after a while all shopping malls begin to look the same. I'd rather visit the parks, enjoy the architecture, and meet the people that make each city unique. And all of those things are better with the Ty and Buster at my side.
And, most importantly, when I travel with the dogs, I never have to face this look when I get home …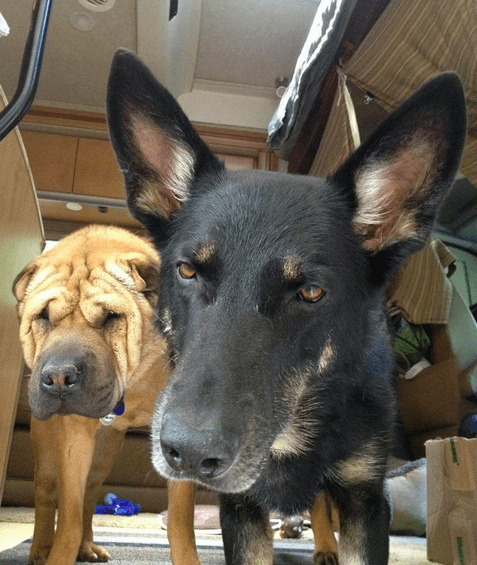 Given the choice, I'd rather travel with my dogs every time!
Planning a pet friendly trip of your own? We'll make it easy:
Pet Friendly Hotels | Pet Friendly Destinations | Pet Friendly Activities
Amazon Affiliate Disclosure: GoPetFriendly.com LLC is a participant in the Amazon Services LLC Associates Program, an affiliate advertising program designed to provide a means for website owners to earn advertising fees by advertising and linking to amazon.com, audible.com, and any other website that may be affiliated with Amazon Service LLC Associates Program. As an Amazon Associate, the owner of this site earns a commission from qualifying purchases.
(Visited 524 times, 1 visits today)