Our stay in pet friendly Kingston, New York was just the beginning of our dog friendly adventures in the Hudson Valley! Kingston was fun, but it was a bit far from the rest of the sites we wanted to see – so our first move was to relocate base camp further south, near Newburgh. That put us in better striking distance of the dog friendly attractions on our list – and we had a lot to choose from! Too many, in fact, to stuff into one blog post … so here's a look at the things we did in the middle Hudson Valley, and next time we'll give you the highlights of the southern Hudson Valley!
Walkway Over the Hudson
No trip to the Hudson Valley would be complete without a stop at the Walkway over the Hudson. Soaring 212 feet above the river, this 1.28 mile elevated pedestrian bridge is the longest in the world – and the perfect place to admire the plodding river that carved this stunning valley! Since it opened in 2009, nearly 2 million people have strolled, cycled, walked, jogged and roller bladed over this former railroad bridge. If you're up for a longer trek, grab a map from a kiosk and you can venture along one of the marked walking tours through downtown Poughkeepsie and cross back over the Mid-Hudson bridge.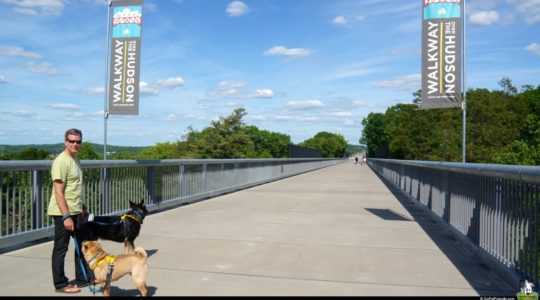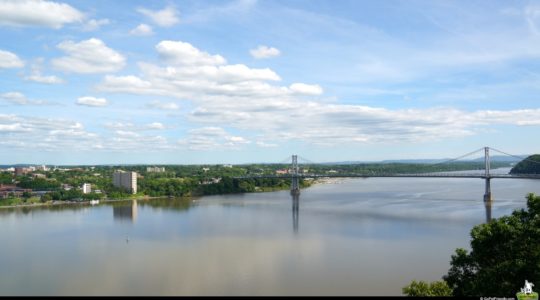 Pet travelers will appreciate the dog waste stations and water bowls on each end of the walkway, leaving no question that this is a truly pet friendly activity. Even the reminder about hot pavement and taking care not to burn your pups' paws was nicely done – and the benches along the way were perfect for taking a break to soak up the view.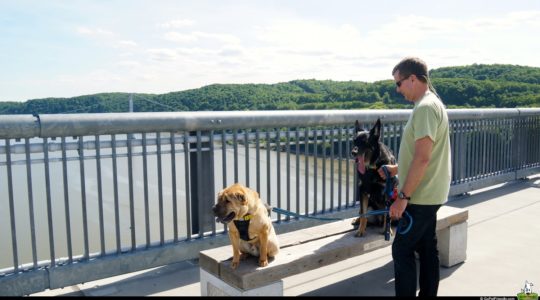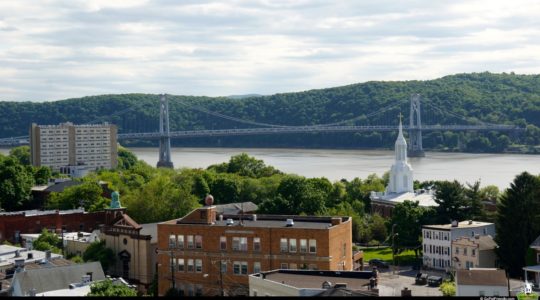 Ty was pretty jealous when he saw this little pup that has the "going for a walk" thing figured out! But he was still in a good enough mood to do a little clowning around on our way back to the car, pretending to be a Jack Russell.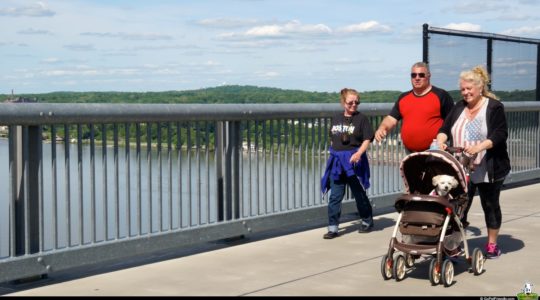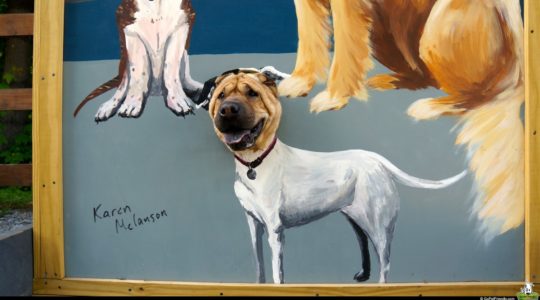 Brotherhood Winery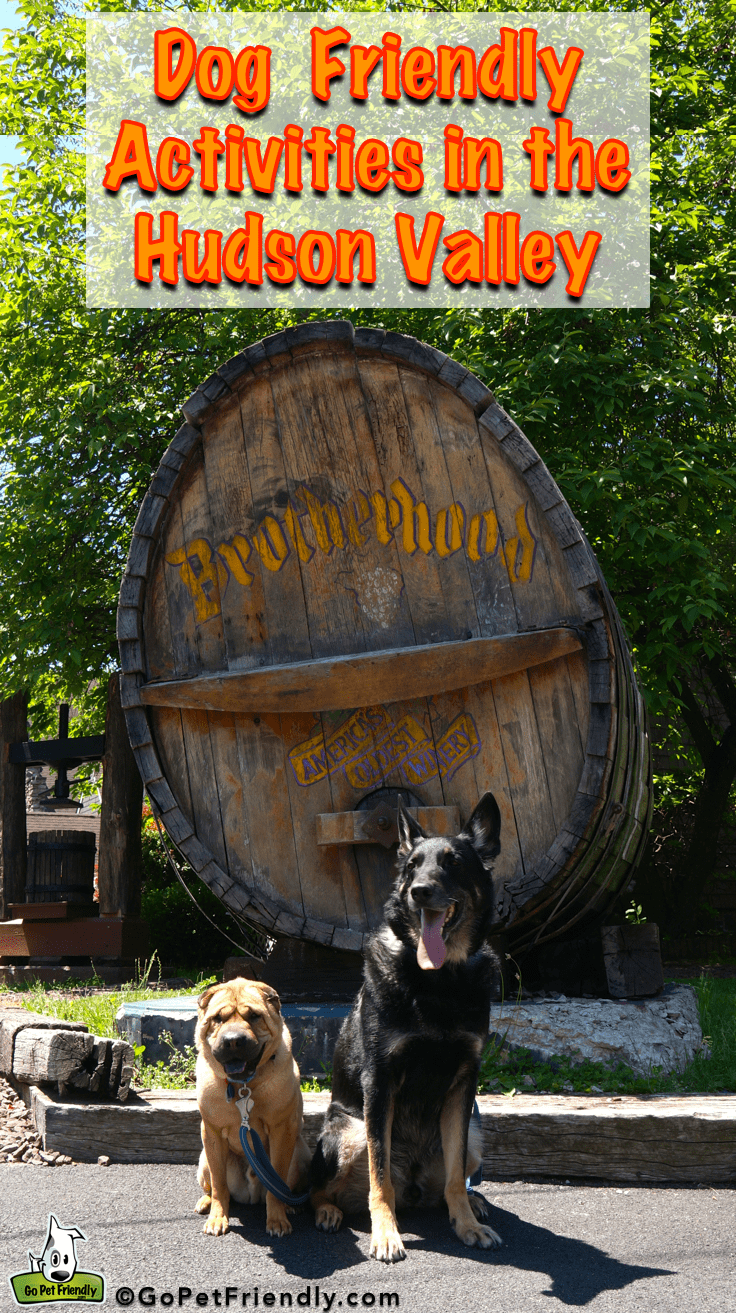 After working up an appetite on the walkway, we were ready to hit a different kind of trail … a wine trail! There are several wine and beverage trails to choose from in the Hudson Valley, and the Shawangunk Trail covers the middle valley. We printed a map with the best of intentions, but only made it to one stop – though, it was a good one, being America's Oldest Winery!
Brotherhood Winery was established in 1839, when the underground cellars were excavated by hand! Those cellars are still in use to day, aging the 200 oak barrels of wine created here. Tours and tasting are available, though be sure to schedule your visit around the winery's special events when pets are not allowed.
While the tours and tasting room are not pet friendly, dogs are welcome on the grounds and they have a lovely courtyard where you can sample the wine and, if your lucky, enjoy a little live music.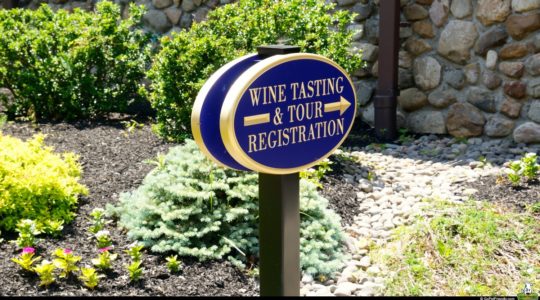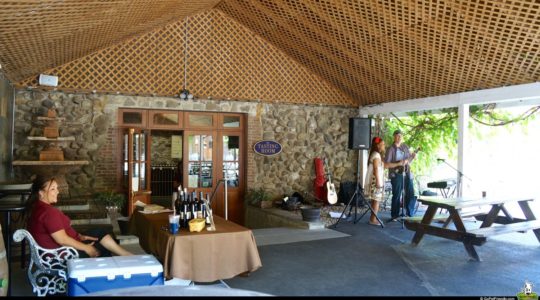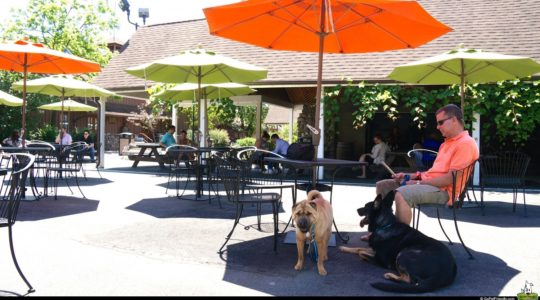 Be sure to come hungry, because you're not going to want to miss Vinum Café! I originally went inside to order food to go, so that we could sit in the courtyard with the dogs, but Chef/Owner Christian Pierrel overhead me and insisted we bring the boys out to his lovely patio. I'd never known it was there if he hadn't said something – and it would have been an absolute shame to miss it! The entrance to the patio is around back …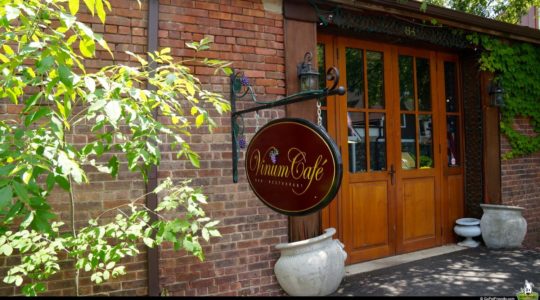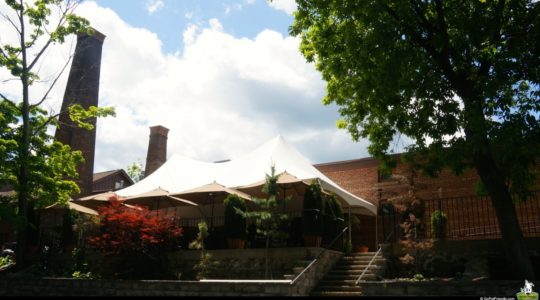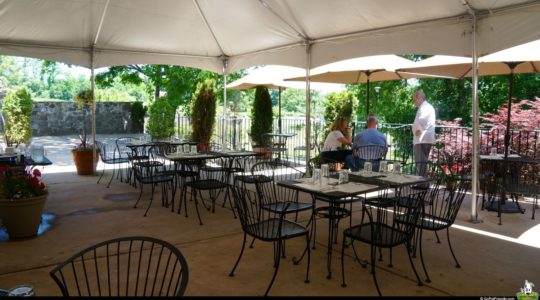 It was quiet, shaded, and absolutely lovely – and we were in luck, because Ty and Buster were on their best doggy dining behavior. Chef even stopped by to admire them and brought out a tub of water to make sure they weren't thirsty. Lunch was elegant and delicious, and just as we were finishing up, the boys got their own special delivery from the kitchen – the trimmings from the prime rib that was being prepared for that evening's dinner service! I think it's safe to say that Chef Christian is now the boys' favorite person on Earth!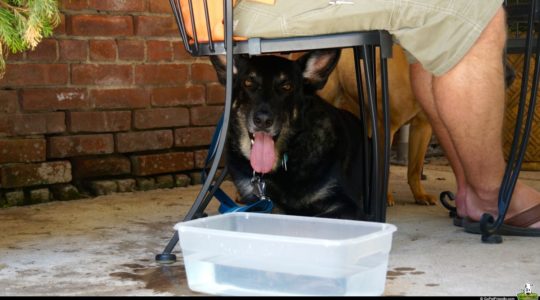 Newburgh's Riverfront
After the mouthwatering lunch we had, we were all ready for another walk, so we stopped for a stroll on the riverfront in Newburgh. It's not a long walk – just a few blocks, really – but there's a nice little park and some fun-looking eateries – though, we didn't find any that welcomed dogs on the patios. Of course, you could always get your order to go and settle on a bench for a little people watching while you dine.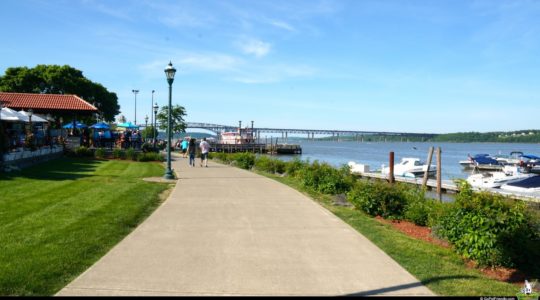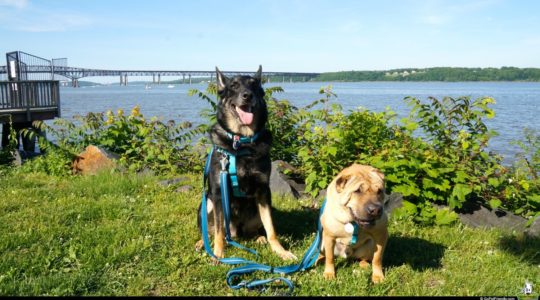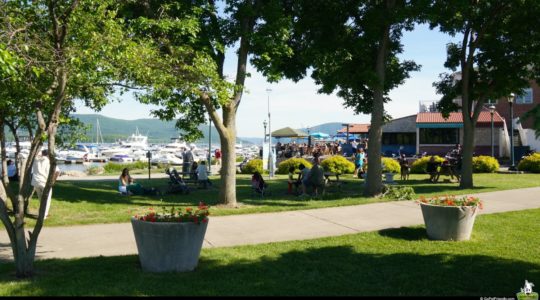 We had such a great time, and this is only half of the fun things we got to do on our visit to the Hudson Valley! Next week we'll show you more of the dog friendly activities we found in this gorgeous part of New York.
Planning a pet friendly trip of your own? We'll make it easy:
Pet Friendly Hotels | Pet Friendly Destinations | Pet Friendly Activities
Amazon Affiliate Disclosure: GoPetFriendly.com LLC is a participant in the Amazon Services LLC Associates Program, an affiliate advertising program designed to provide a means for website owners to earn advertising fees by advertising and linking to amazon.com, audible.com, and any other website that may be affiliated with Amazon Service LLC Associates Program. As an Amazon Associate, the owner of this site earns a commission from qualifying purchases.
(Visited 11,717 times, 1 visits today)