Florence, my grandmother on my mom's side, never visited this funky little fishing town. But if she had, she would have like it! The dog friendly vibe in Florence, Oregon was immediately obvious. We'd only planned to stay two nights. But two turned into four, and four quickly became six.
Camping at the port, right on the river and within easy walking distance of Old Town, was just too appealing!  It was the perfect base for exploring streets and alleys and enjoy some day trips along the Oregon Coast.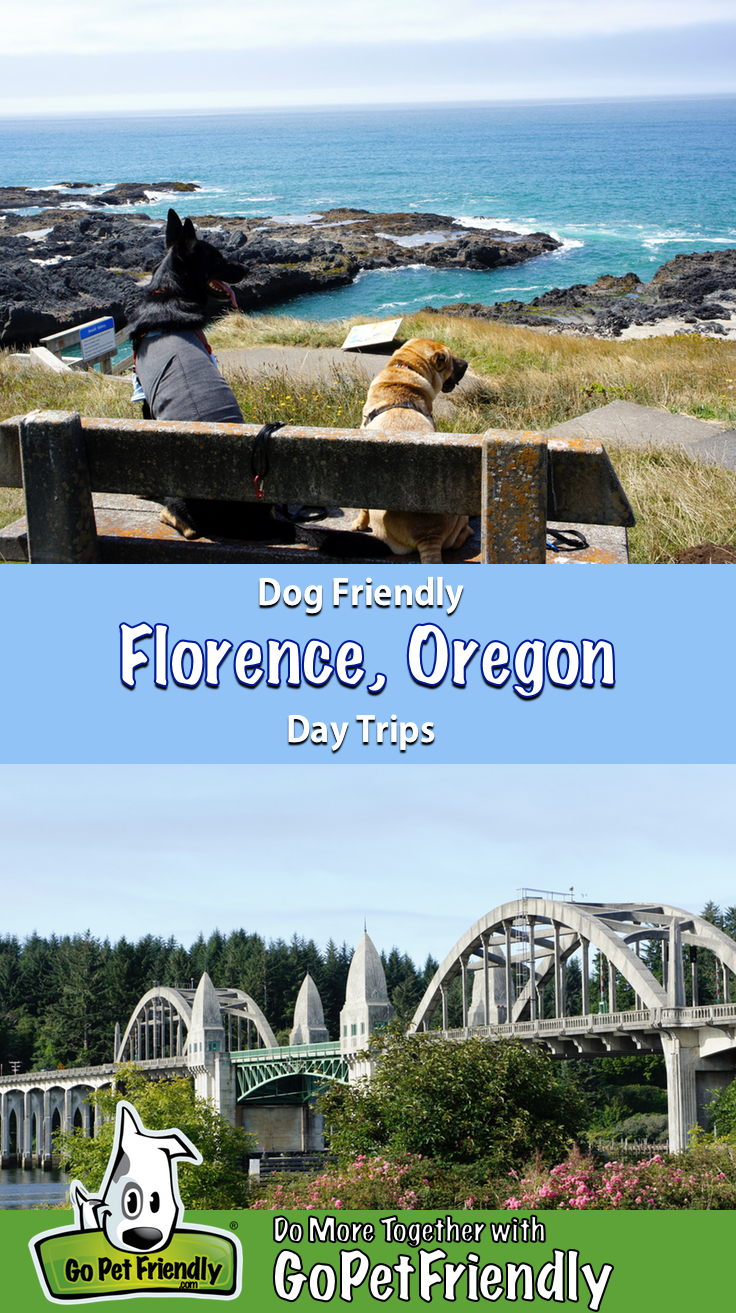 Exploring Dog Friendly Florence, Oregon
The most distinctive architectural structure in dog friendly Florence, Oregon is the Art Deco bridge across the Siuslaw River. Conceived by Conde McCullough, who is known for designing many of Oregon's coastal bridges, it was built in 1926. McCullough believed bridges should be built economically, efficiently, and with beauty. Driving Oregon's Highway 101 takes you over 14 bridges designed by him. If you want a closer look at this masterpiece, climb the stairs at the end of Bay Street and walk across the bridge. There's a great view of the dunes leading out to the ocean.
READ MORE ⇒  3 Pet Friendly Days On The Oregon Coast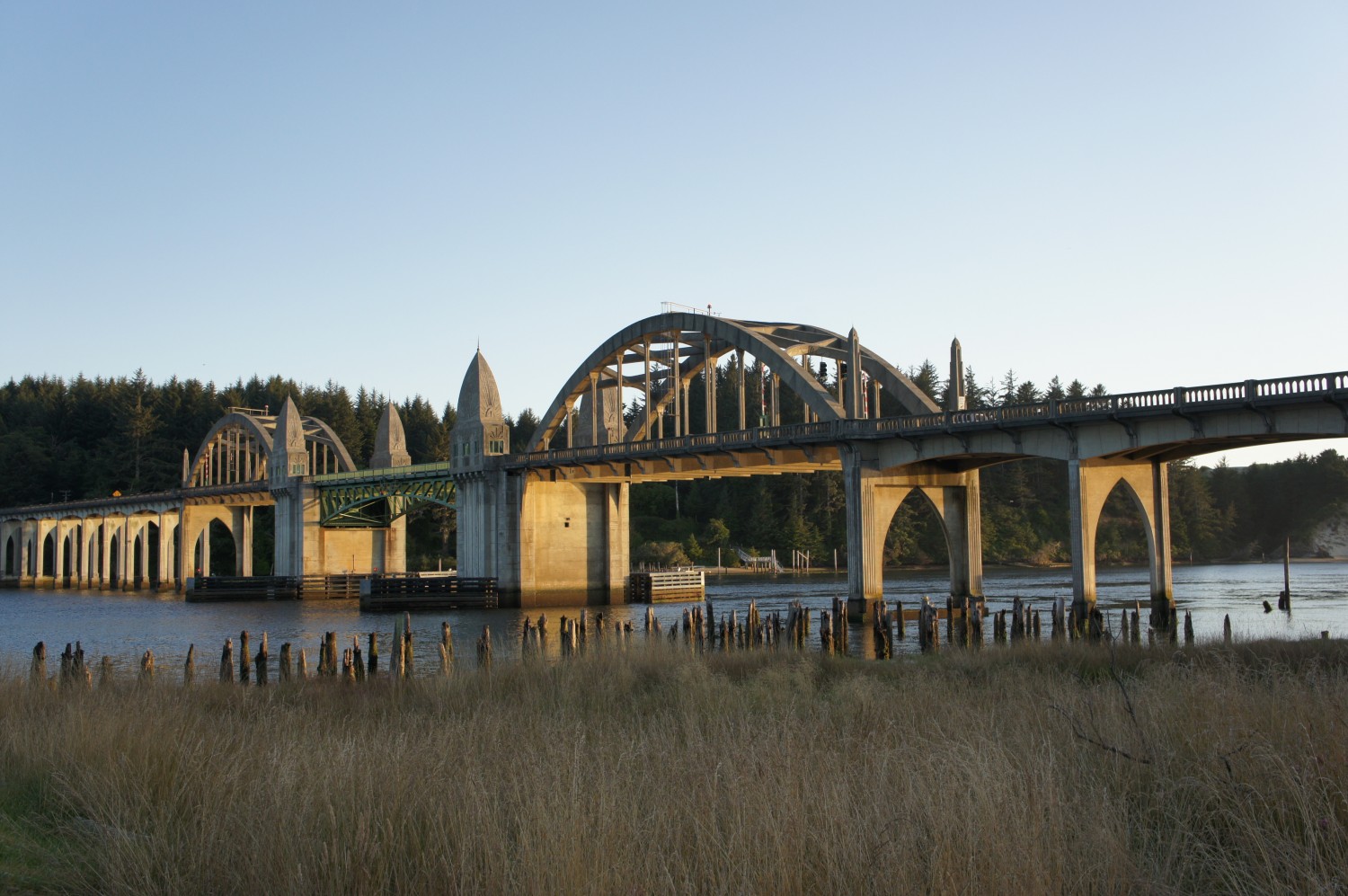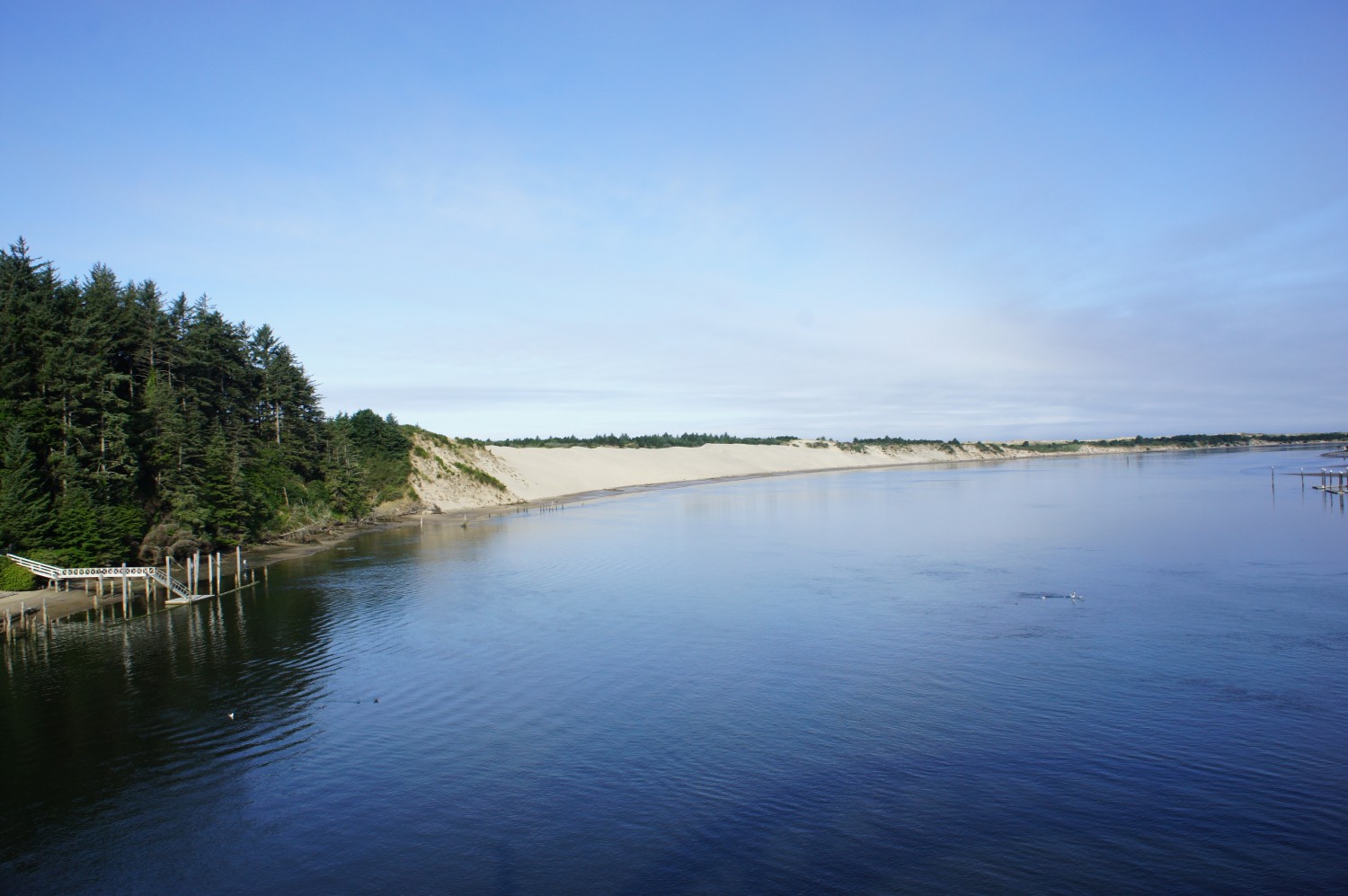 Downtown Florence, Oregon
Florence seems to have a foot in two worlds. It comes with the amenities that make a shore town fun, but without the inflated price tag and touristy atmosphere. Restaurant patrons are welcome to linger at sidewalk tables, then stroll along the boardwalk to watch the seals and chat with the fishermen about what's biting. It's a lovely way to spend the evening.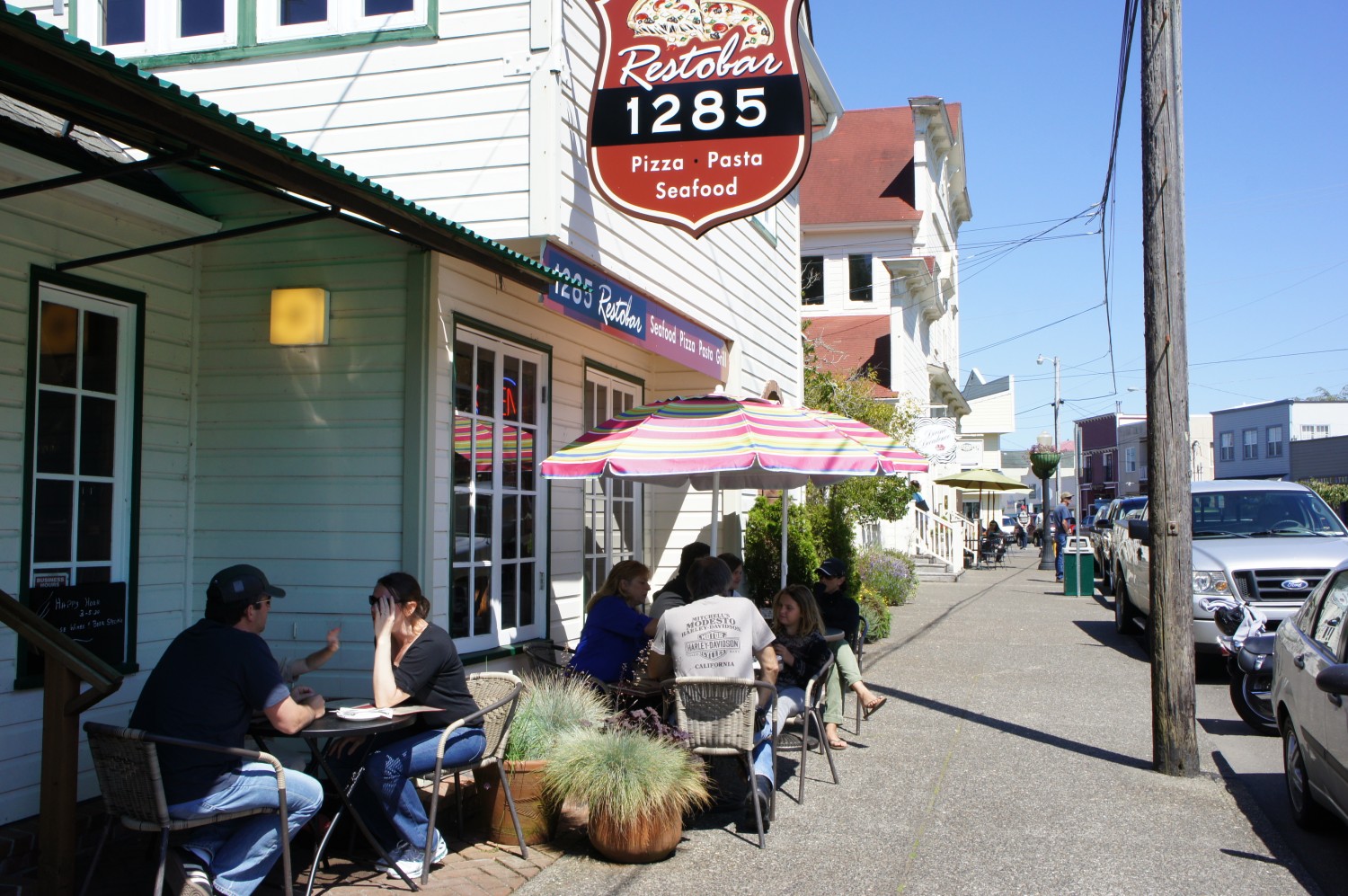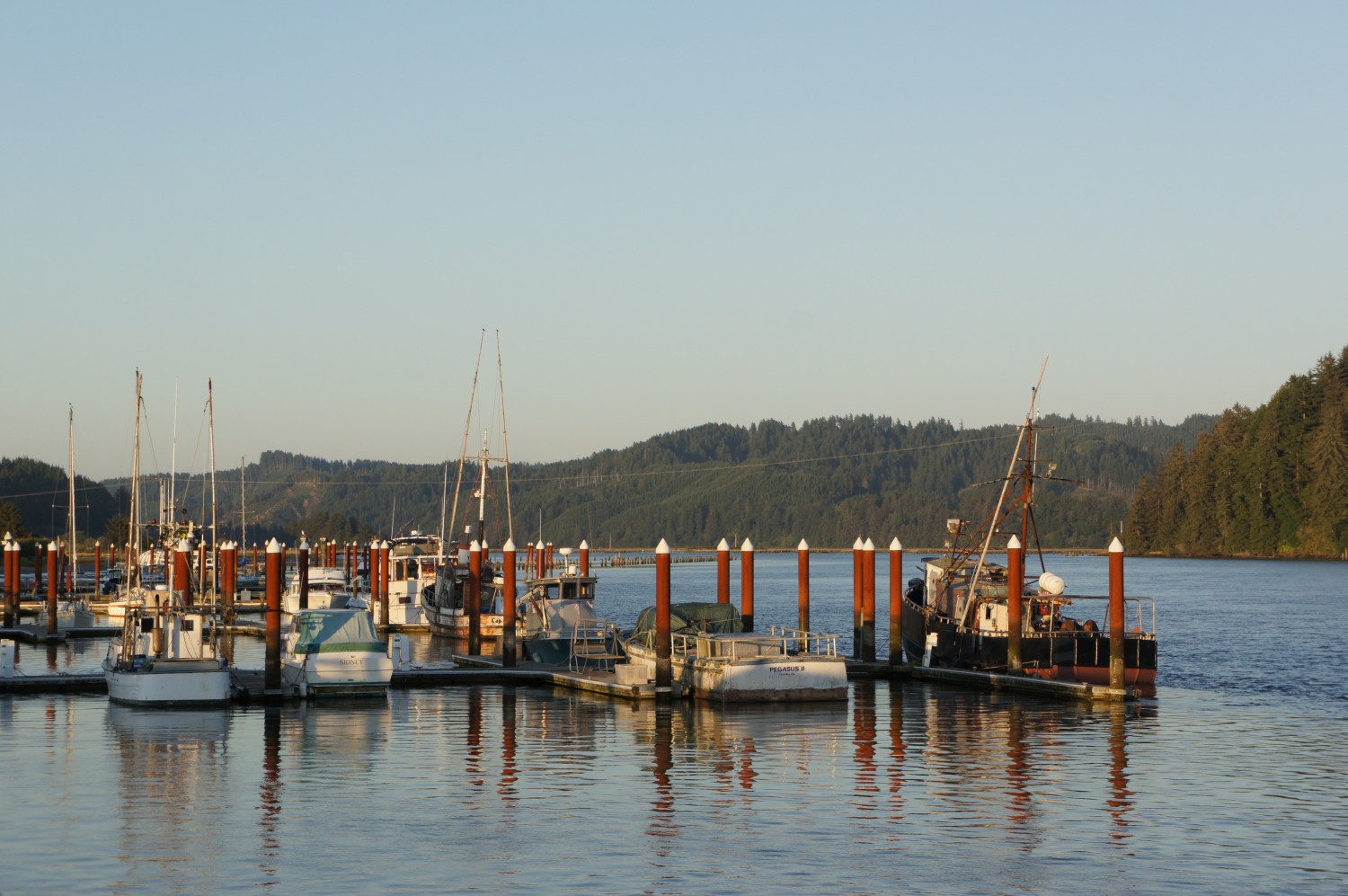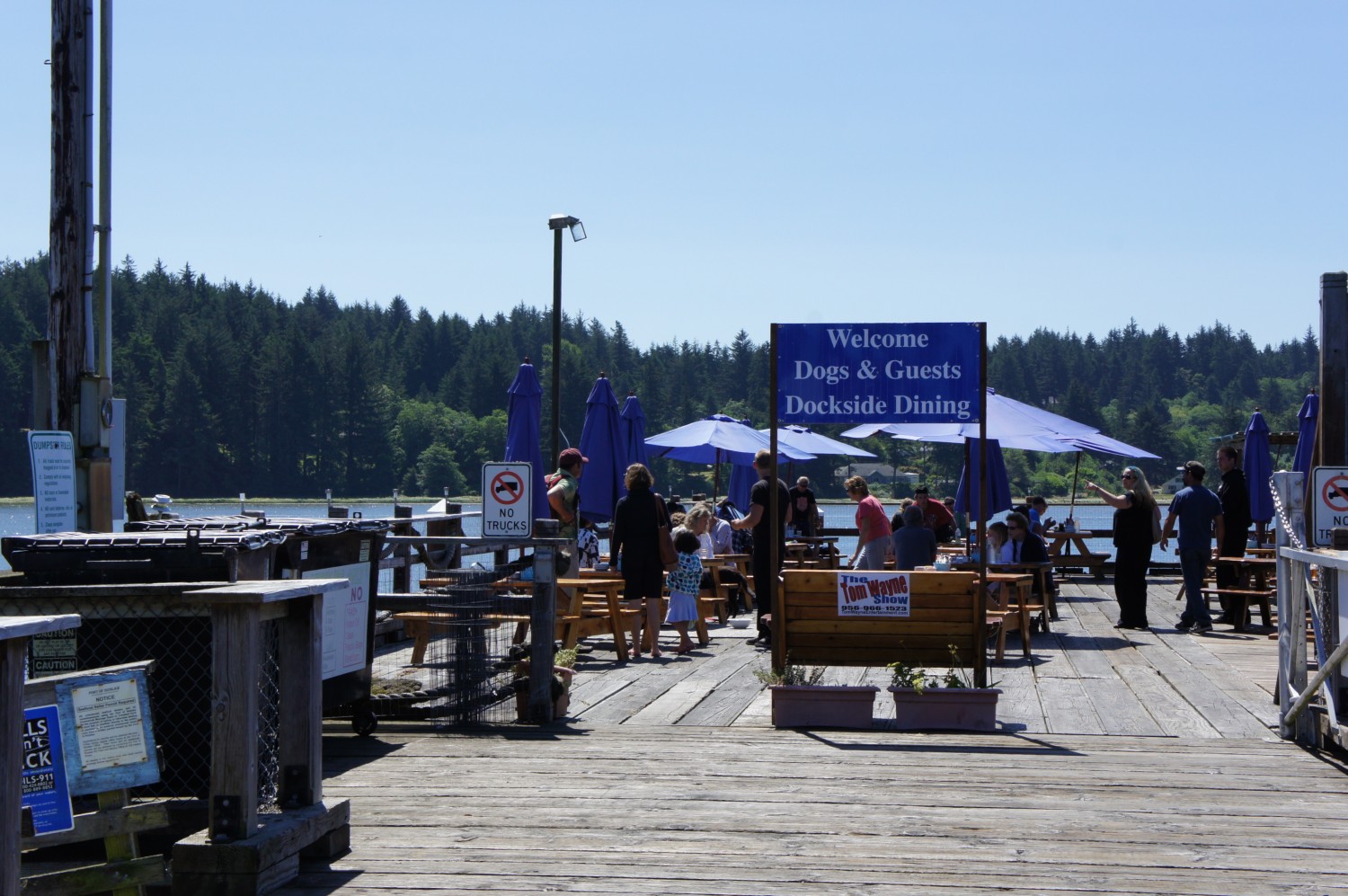 Florence also boasts a surprising number of pet friendly restaurants for a town this size. And the Best Western welcomes two pets per room, including cats, and dogs up to 80 pounds!
READ MORE ⇒  9 Ways Cities Can Be More Pet Friendly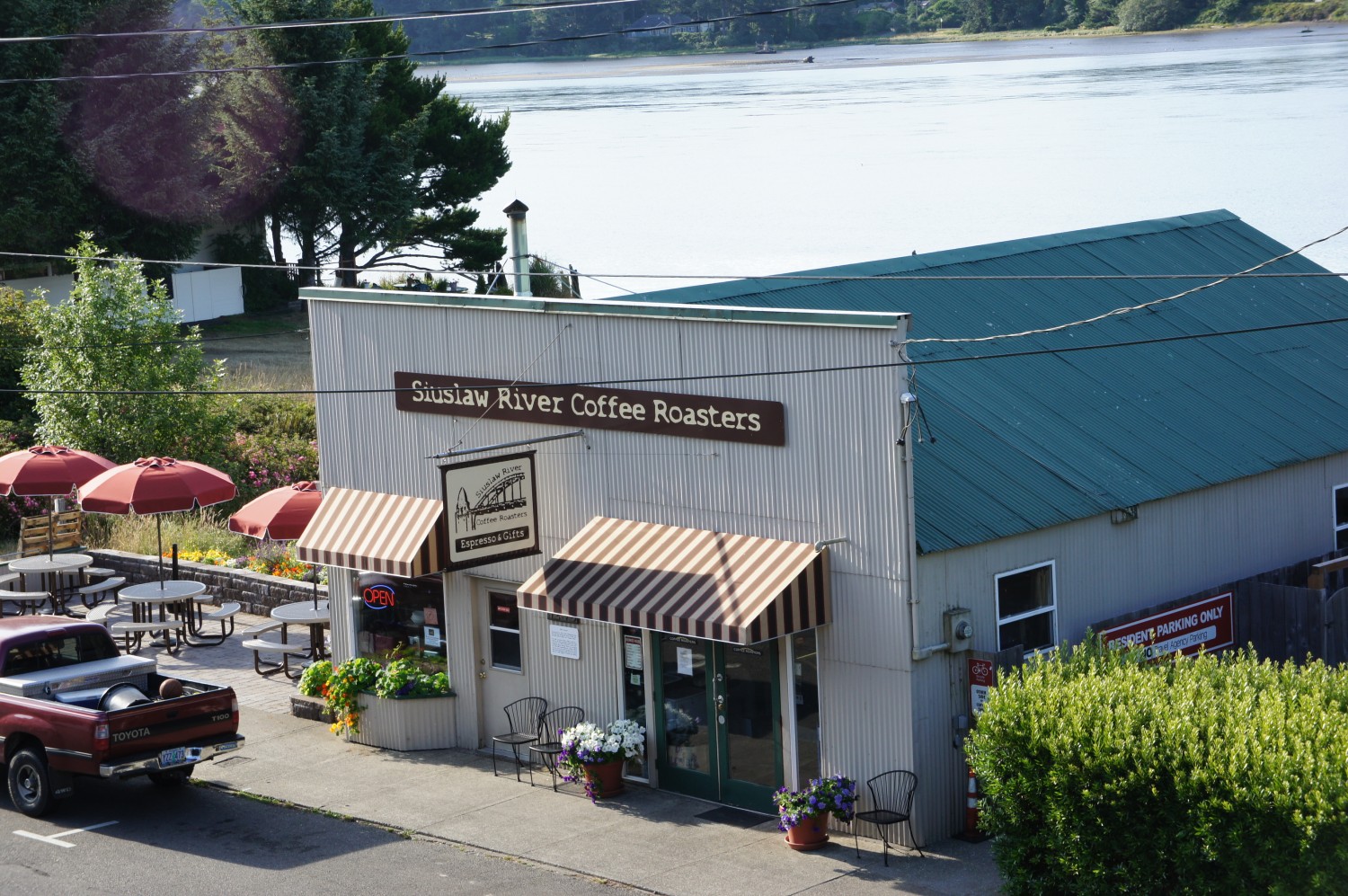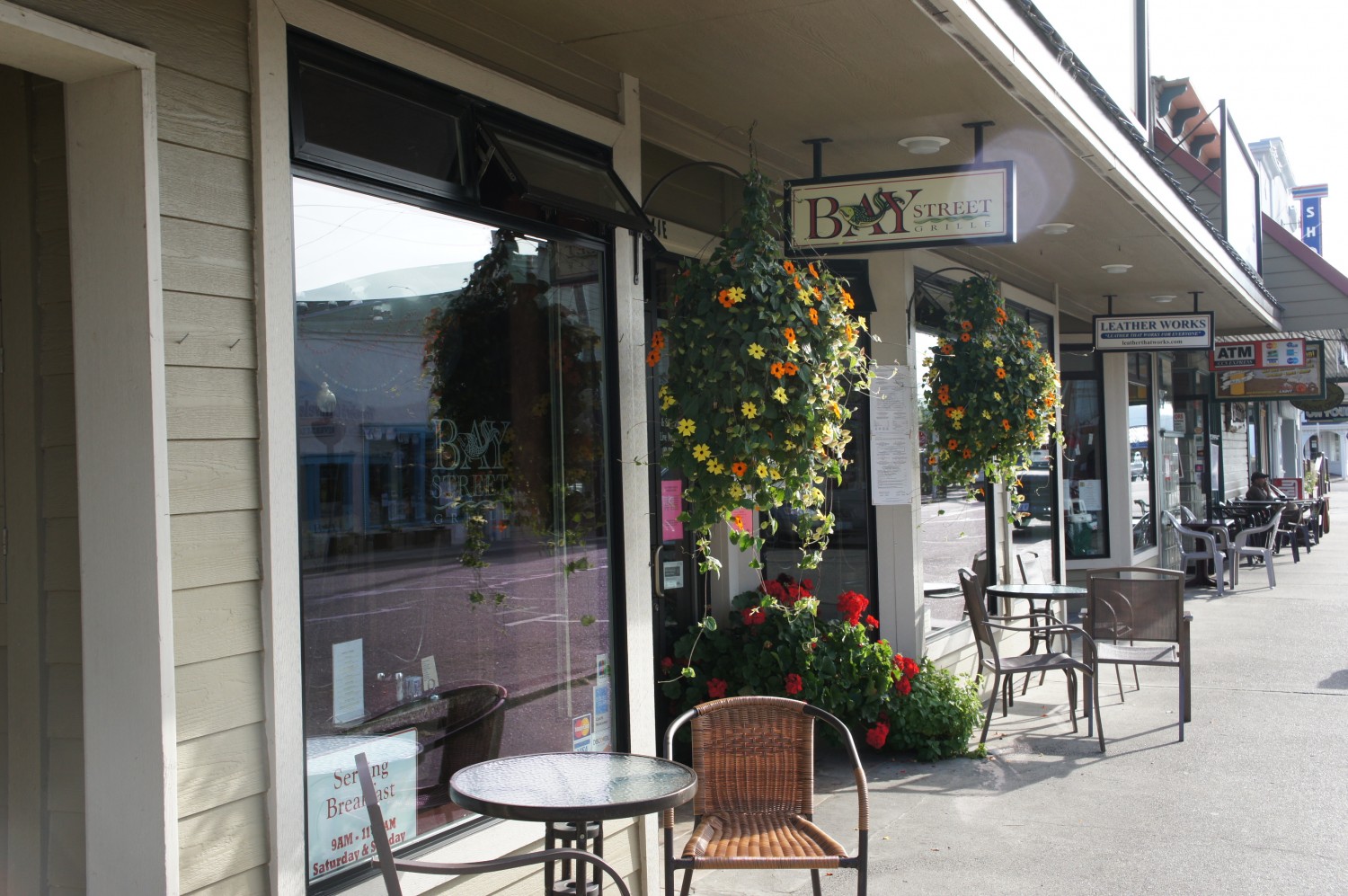 Paddling from Florence
Watching the boats come and go from the dock near the campground inspired us to give kayaking a try. Facebook fans warned us against a tandem kayak, suggesting our marriage might not survive the afternoon. But living in the Winnebago has fire-hardened our relationship, so we felt certain we'd come out unscathed. Brimming with confidence, we called a local rental company and within an hour we were off in a bright orange, open-top tandem kayak.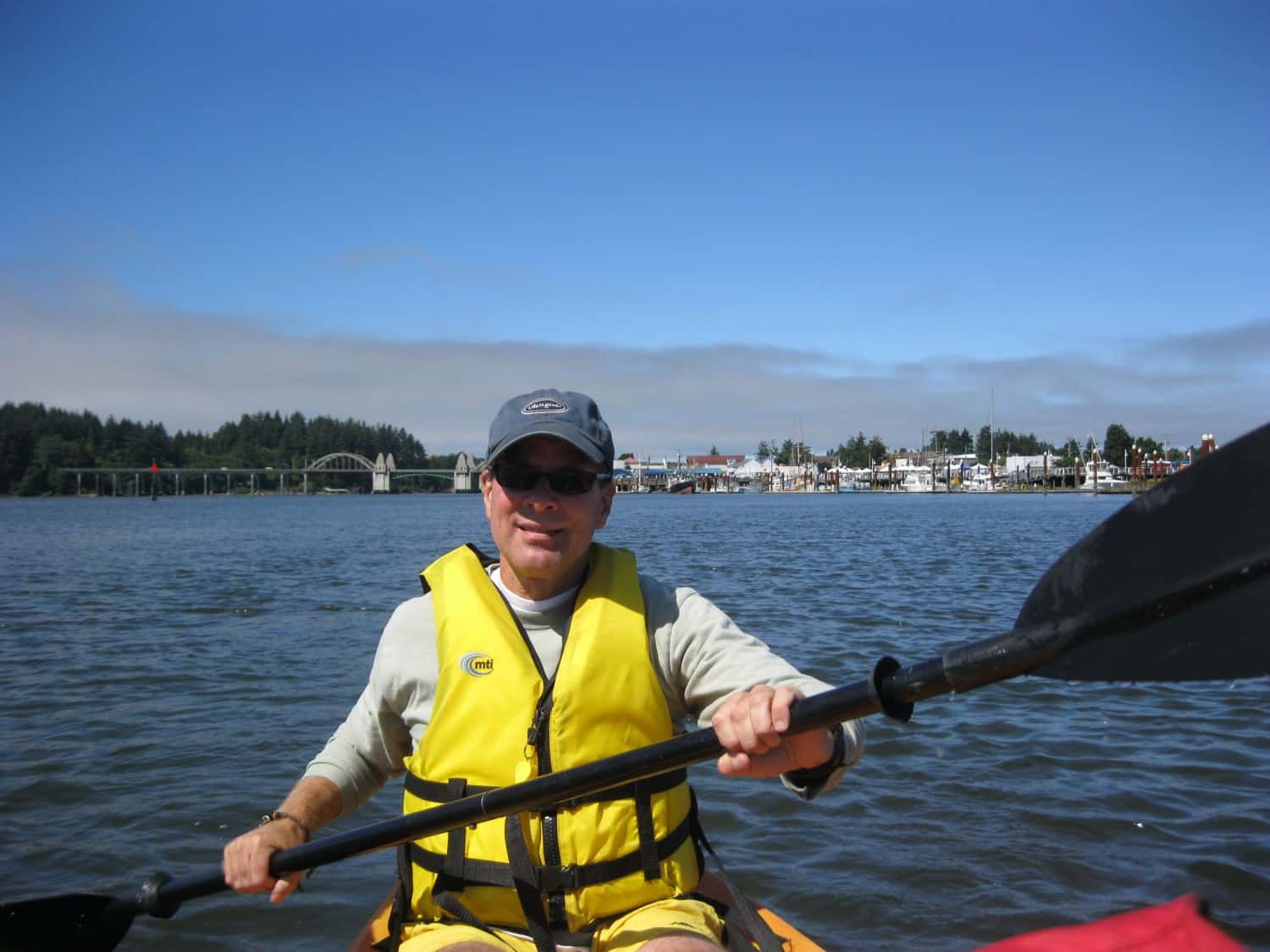 Rather than heading for the wide open ocean, we paddled upstream on the north fork of the Siuslaw (sigh oos law) River. It took a bit of effort to get around the corner and out of the main channel, but then the water flattened out and we had the whole river to ourselves. Except for the otters peeking out beneath the bank's overhang, an osprey fishing overhead, and the seals checking out our rowing technique.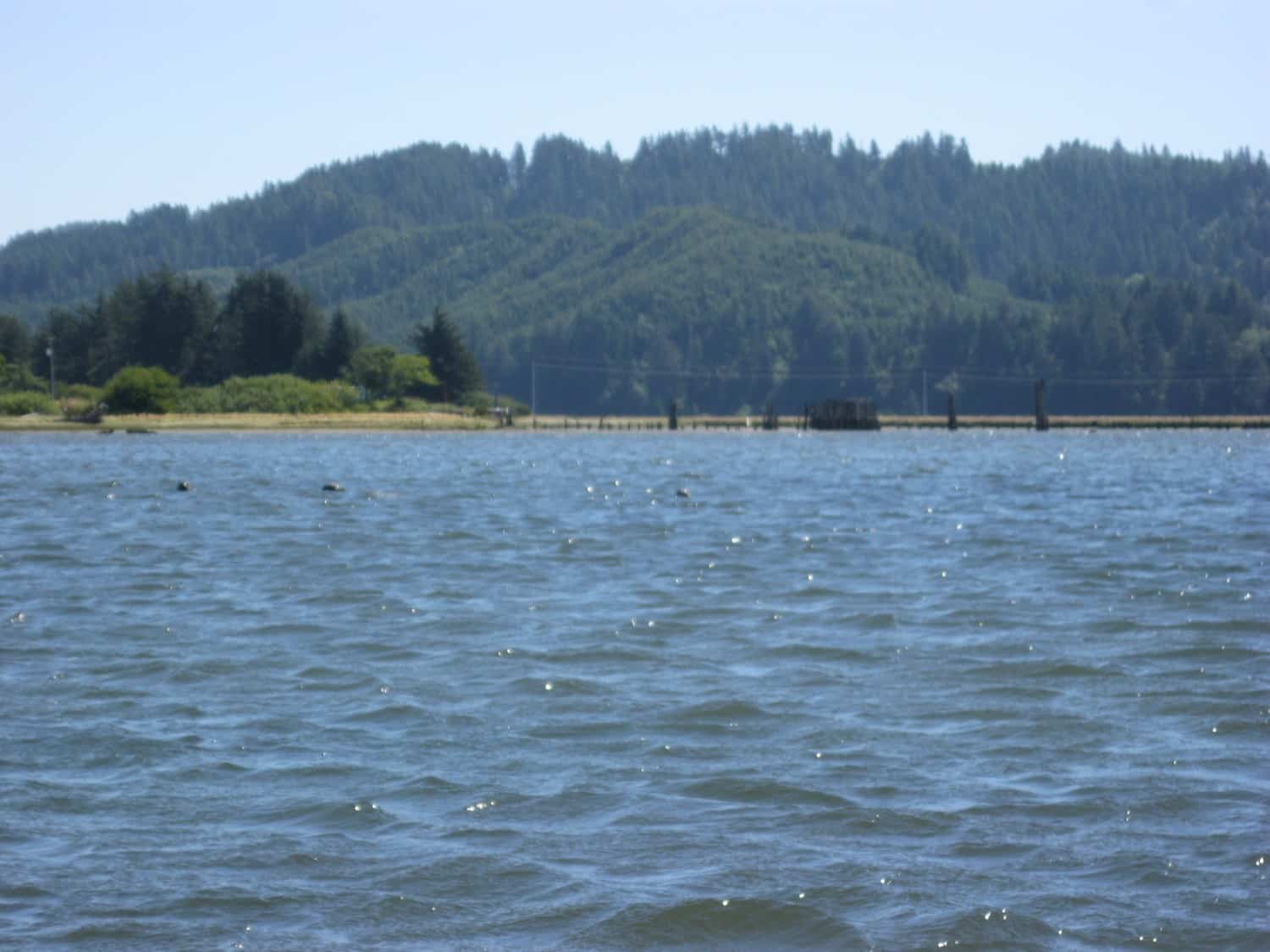 Three miles north is Bender Landing – a great place to pull out, stretch your legs, and enjoy a picnic lunch while you watch the water flow by.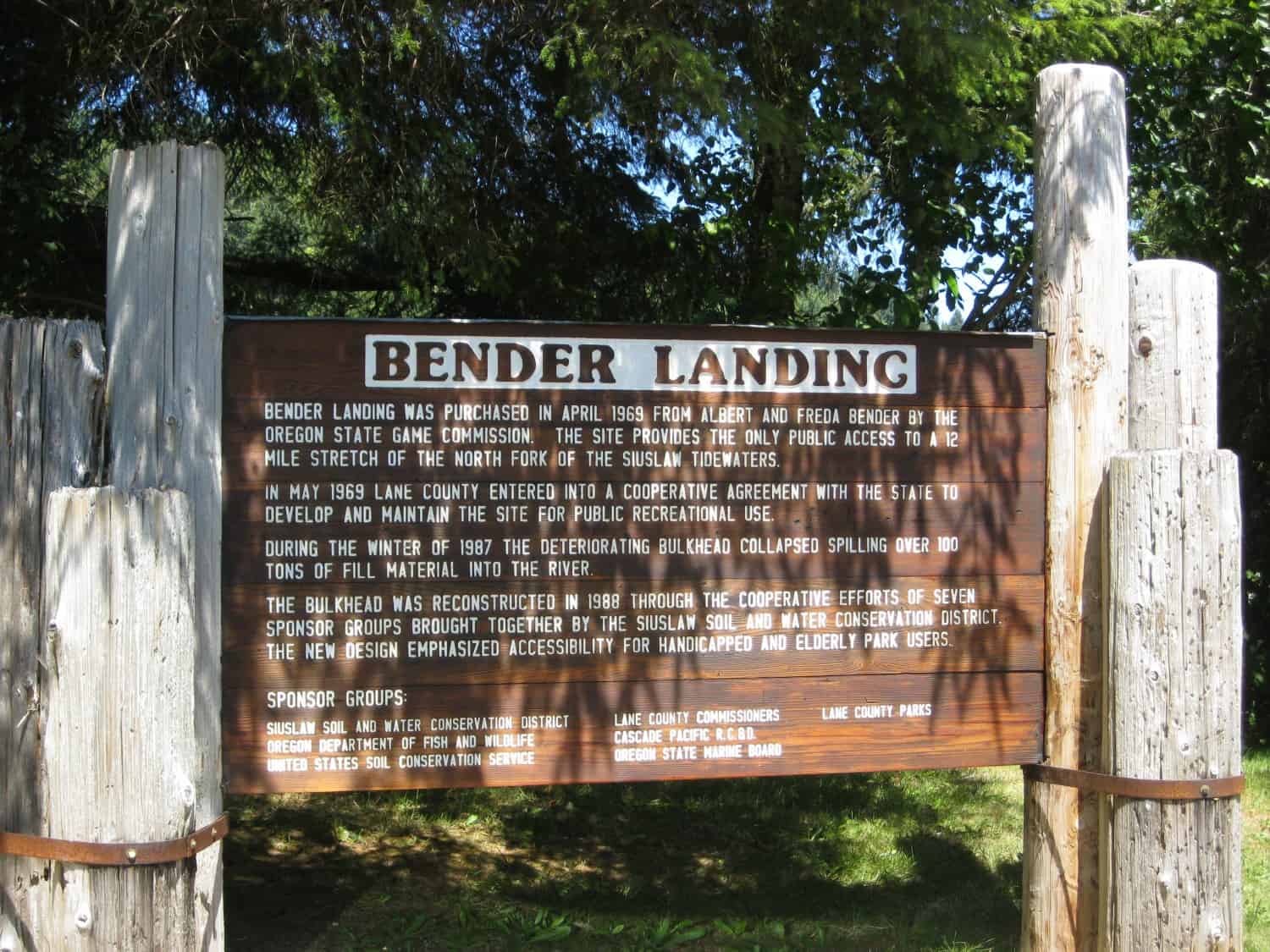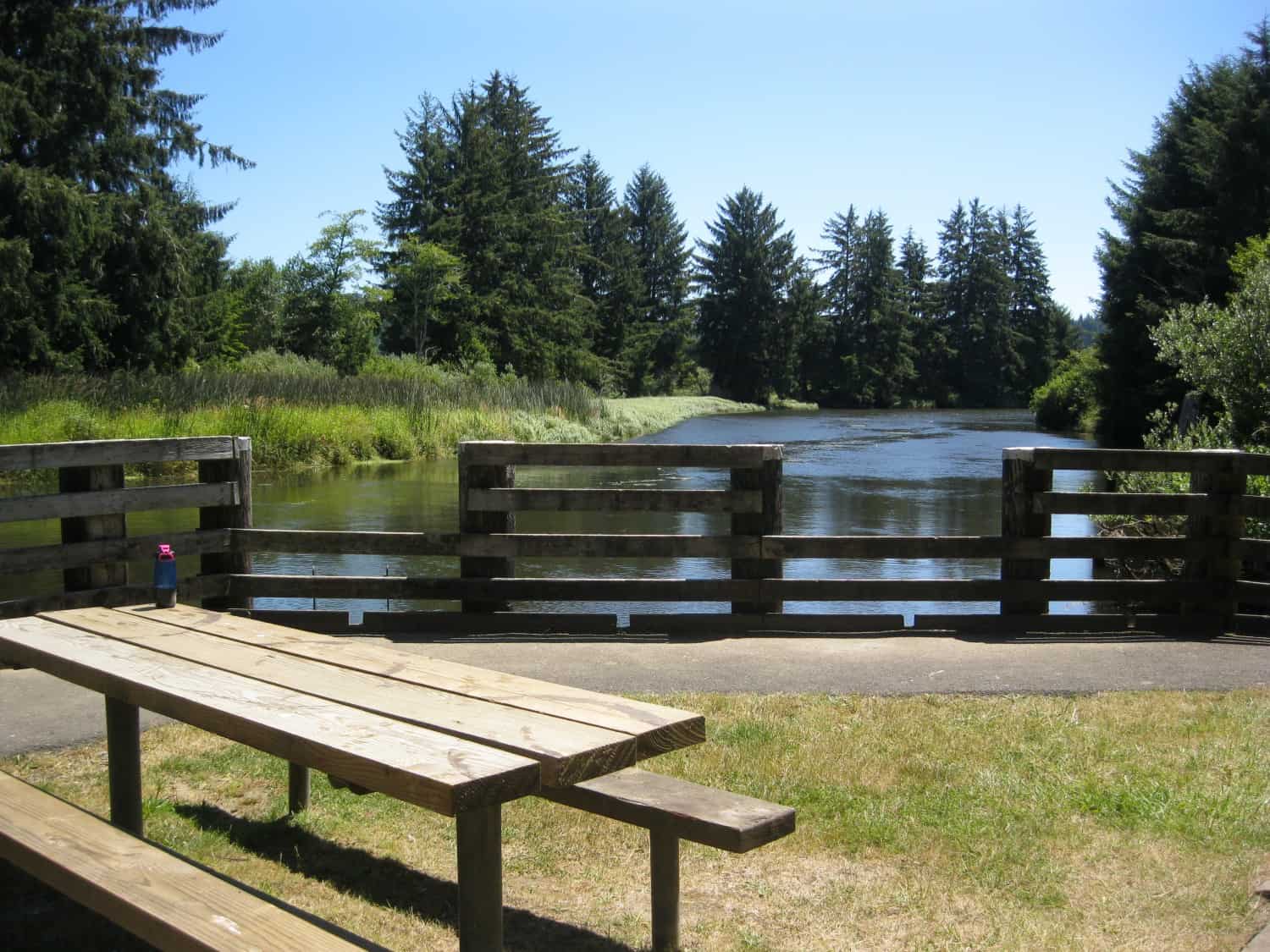 On the way back we met a dog with more courage than our lily-livered travel companions who declined to join us on our maiden kayak voyage!
READ MORE ⇒ 5 Questions To Ask Before Taking Your Dog On A Boat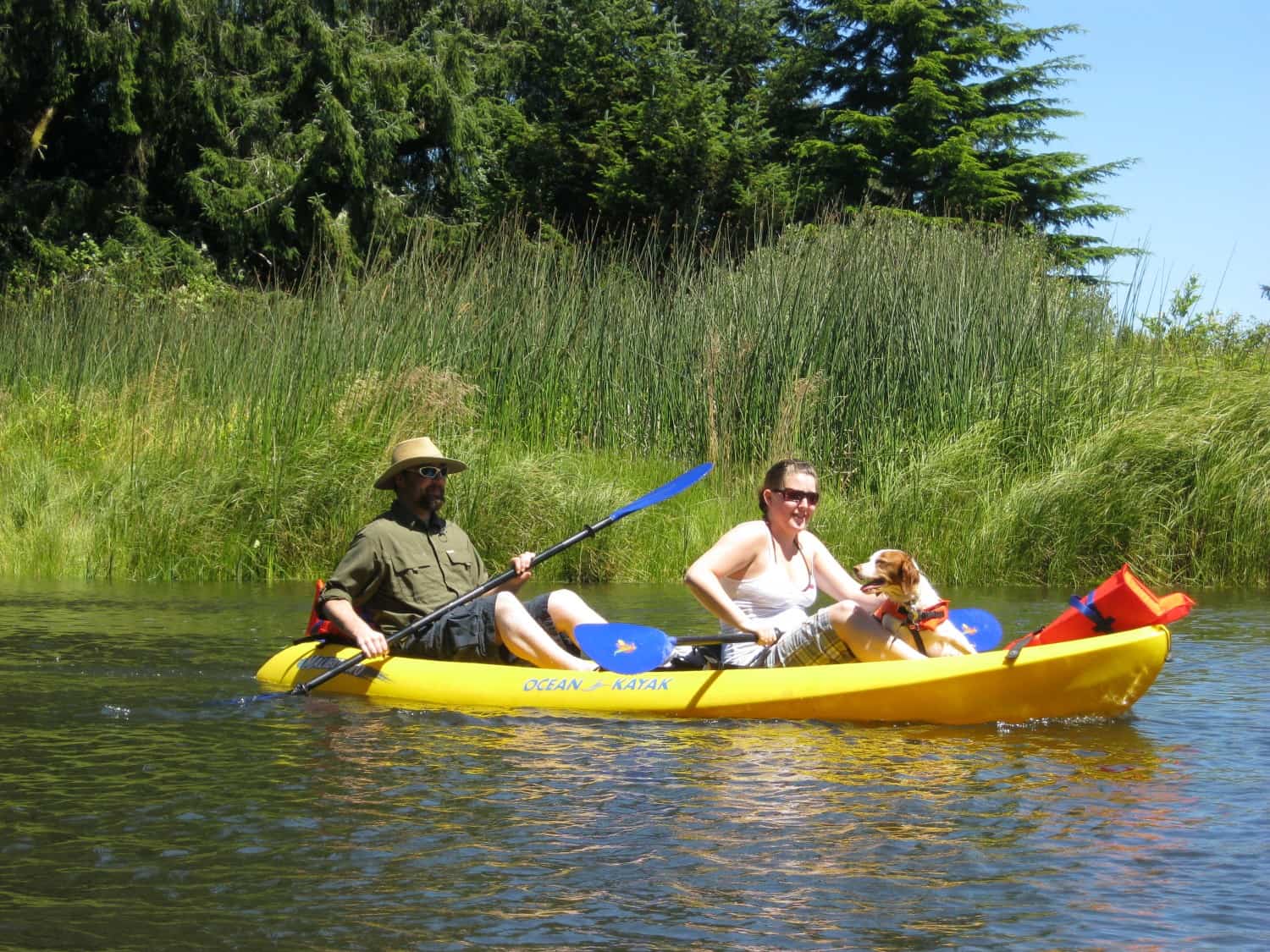 Actually, I was glad the boys were warm and dry in the Winnebago. The wind picked up and we were fighting the current on the way back to the dock. Things got a little bumpy and my biceps had all they could handle!
Just as we came back into the main channel, a group of seals slid off a sandbar to watch us go by.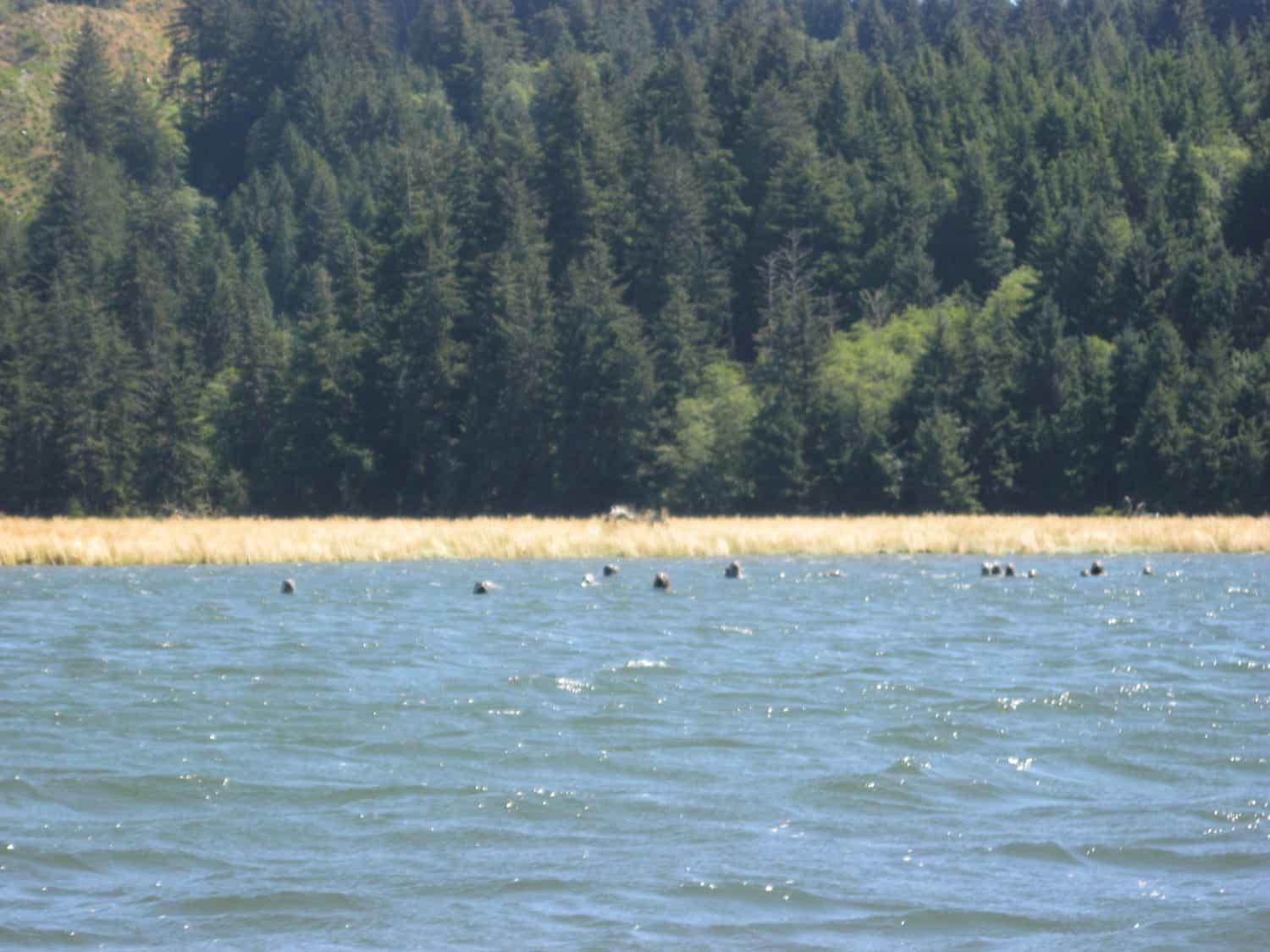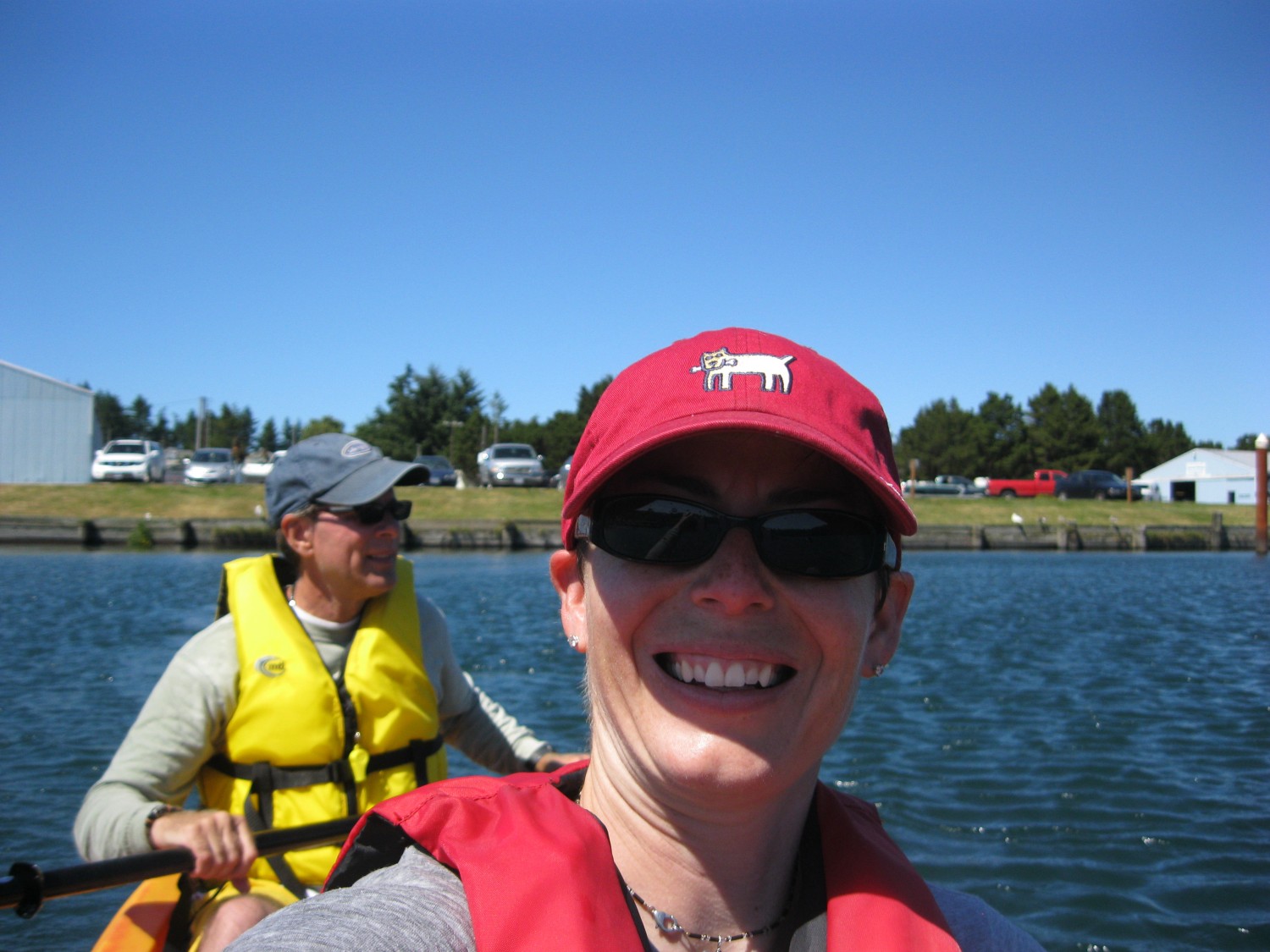 The good news is that we enjoyed our first kayak trip. Our marriage survived, and though we came back tired and wet … we were still smiling.
Day Trips from Florence, Oregon
Rustic margarita pizza. Crab-encrusted halibut. Homemade ice cream. You name it – during our stay in Florence – we ate it! So, getting some exercise was as necessary. Fortunately, we found three interesting dog friendly day trips to enjoy with the boys.
Day Trip 1: The Oregon Dunes
Thirty-two miles south of Florence is the town of Lakeside and the Eel Creek Campground. It's a great place to appreciate the Oregon Dunes. Winds from the ocean created this unique landscape where the rocky cliffs give way to a 40 mile stretch of lowland.
Purchase a day pass at the kiosk for $5 and park your car at the John Dellenback Dunes trailhead. Three miles of tough hiking will put you at the ocean, or just go a half-mile down the path where the dunes stretch hundreds of feet high. It's hard to believe you're in Oregon!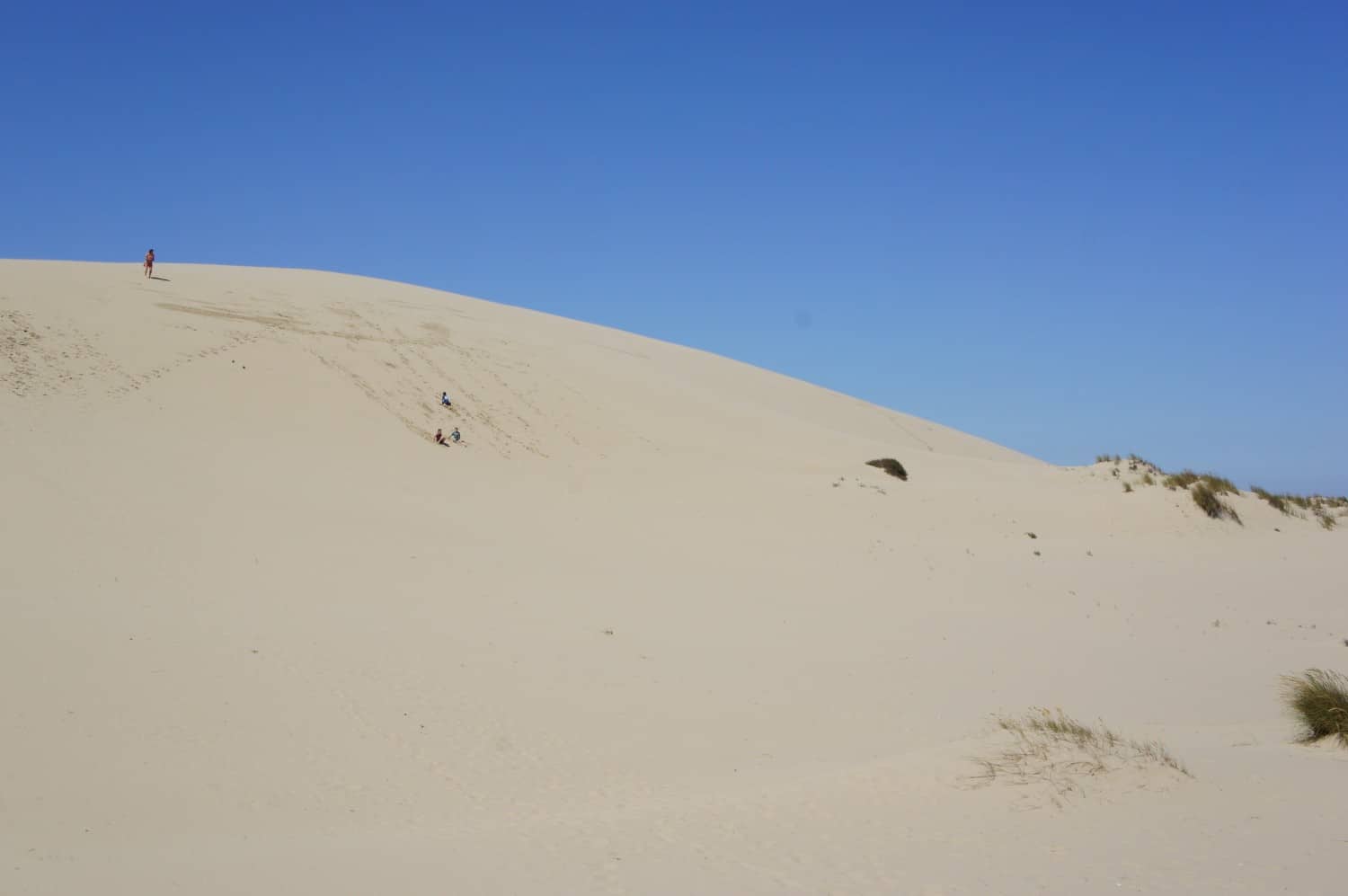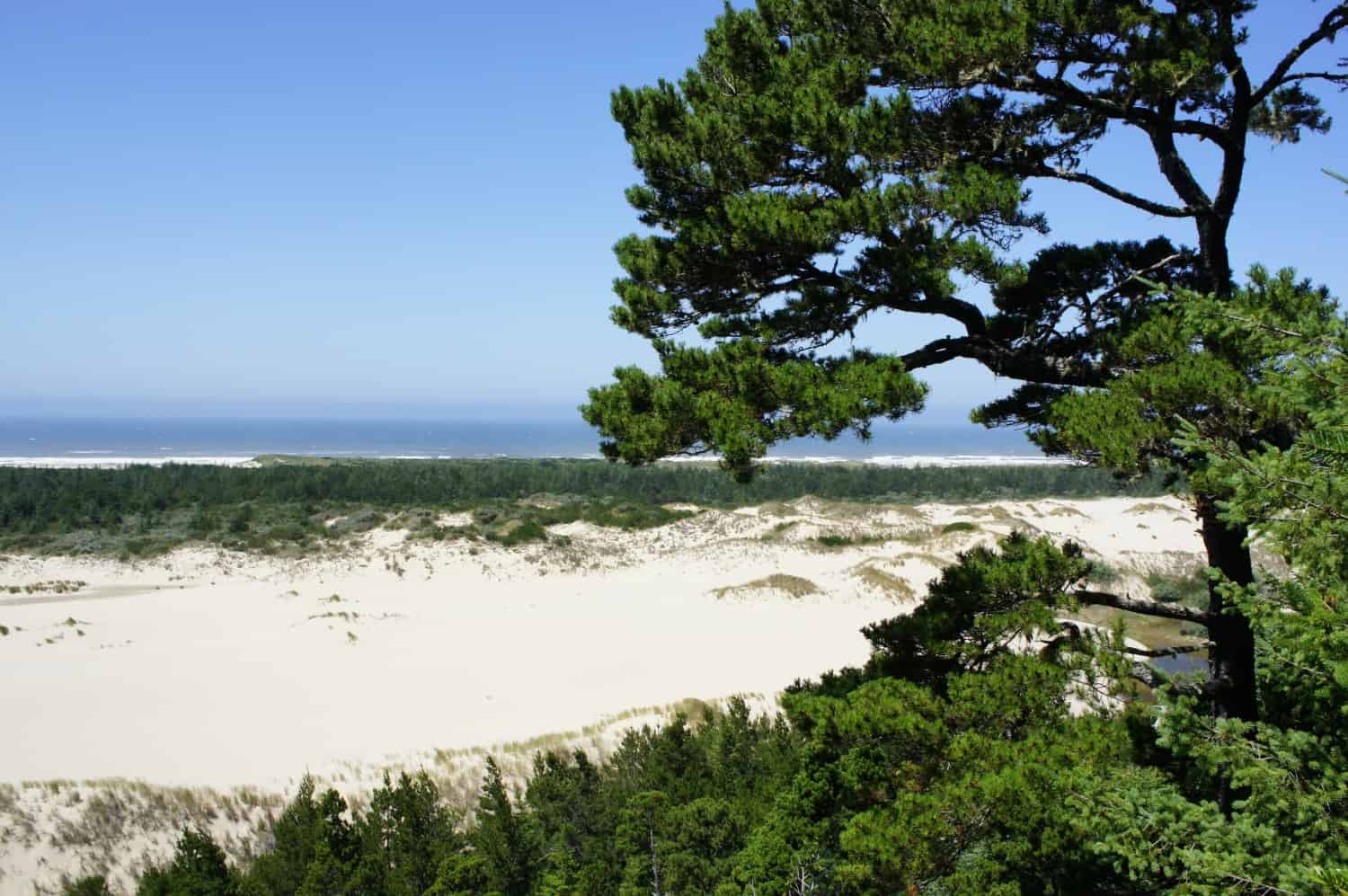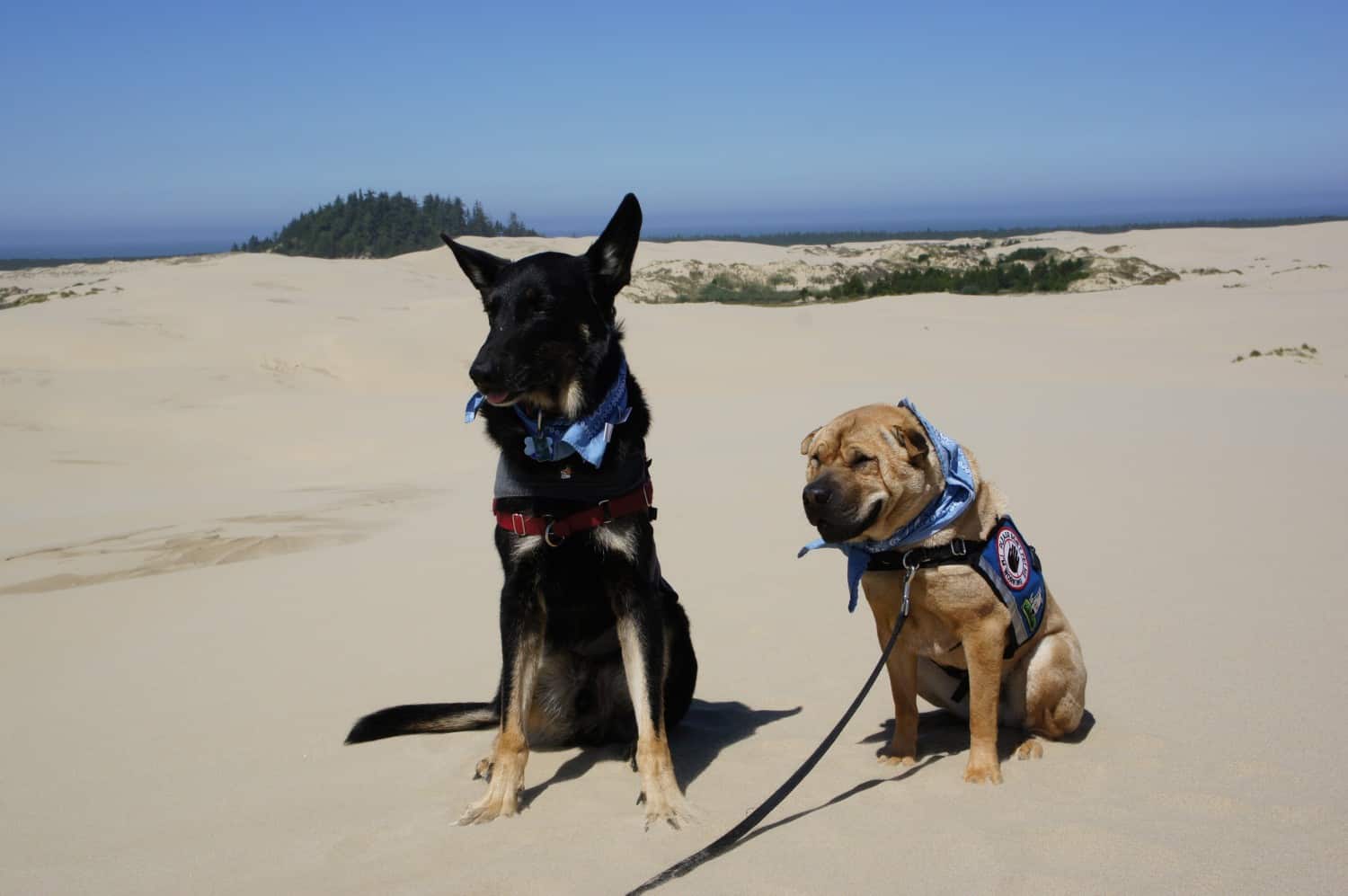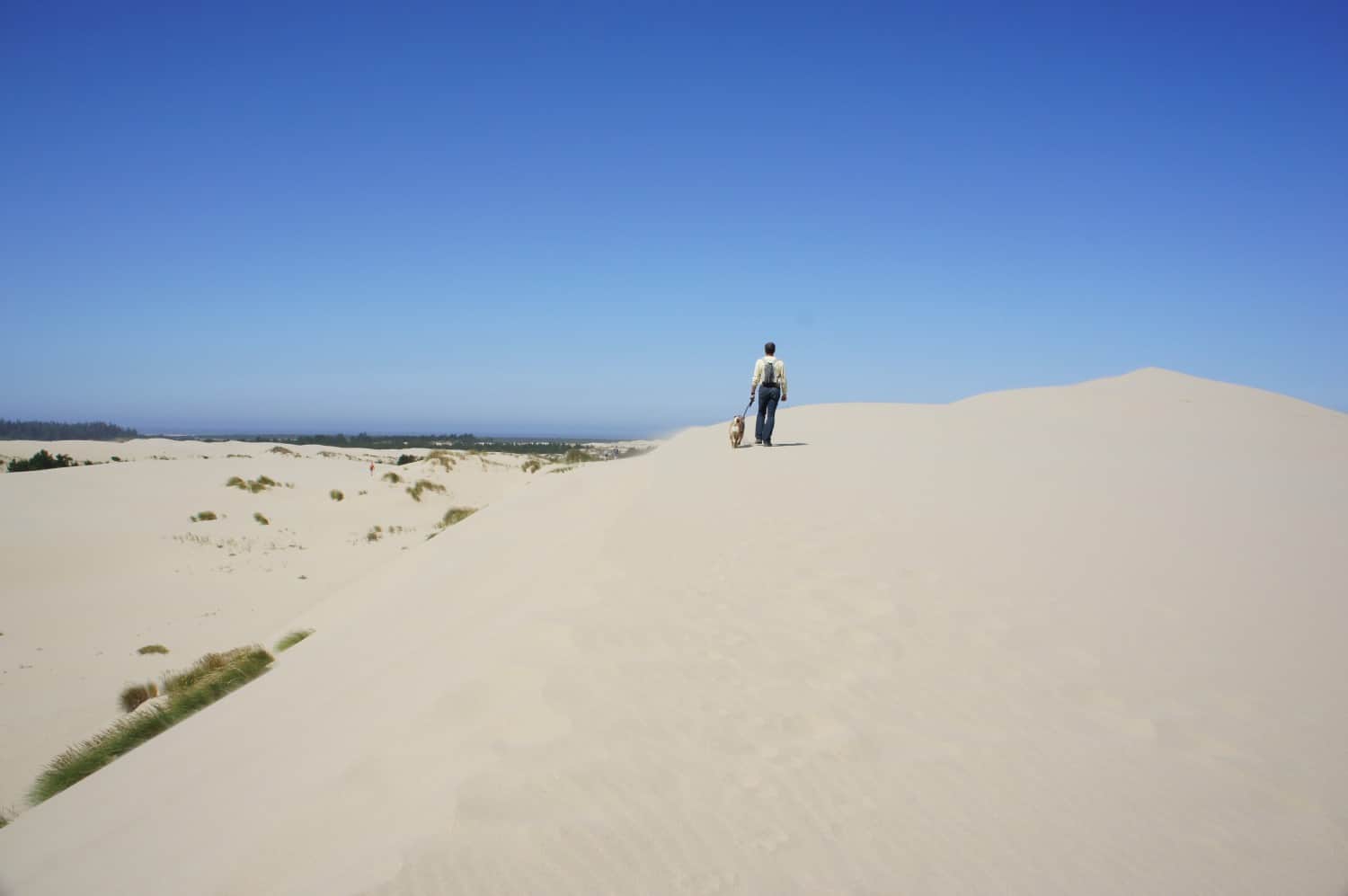 Day Trip 2: Sweet Creek Trail
The coast certainly has a draw, but it would be criminal to miss the Sweet Creek Trail while you're in the area! It's just 25 miles inland from Florence, in the Siuslaw National Forest. This easy 2.2 mile round-trip winds though moss-covered Douglas-fir and Big Leaf Maple trees, over catwalks, and past eleven waterfalls.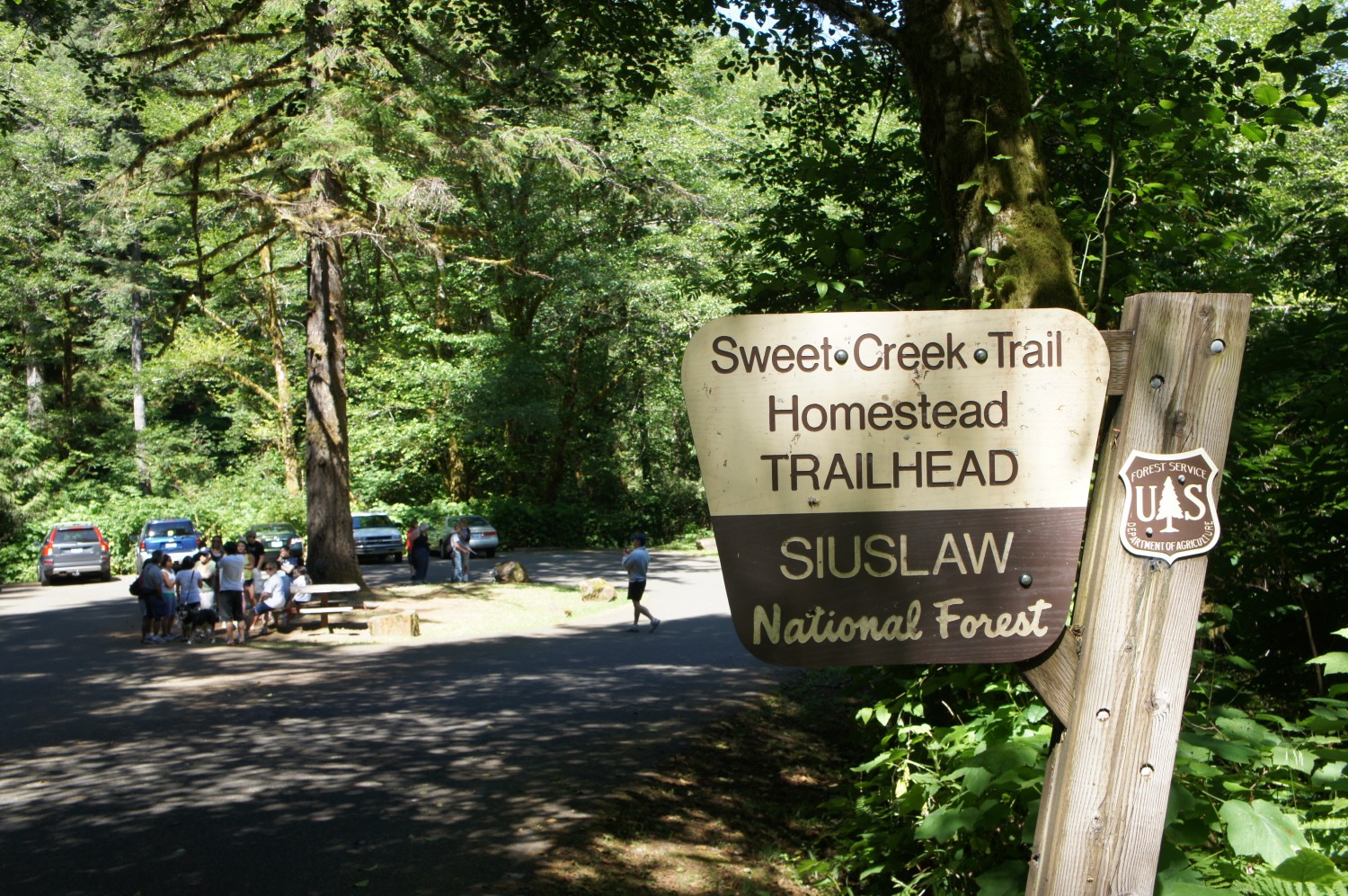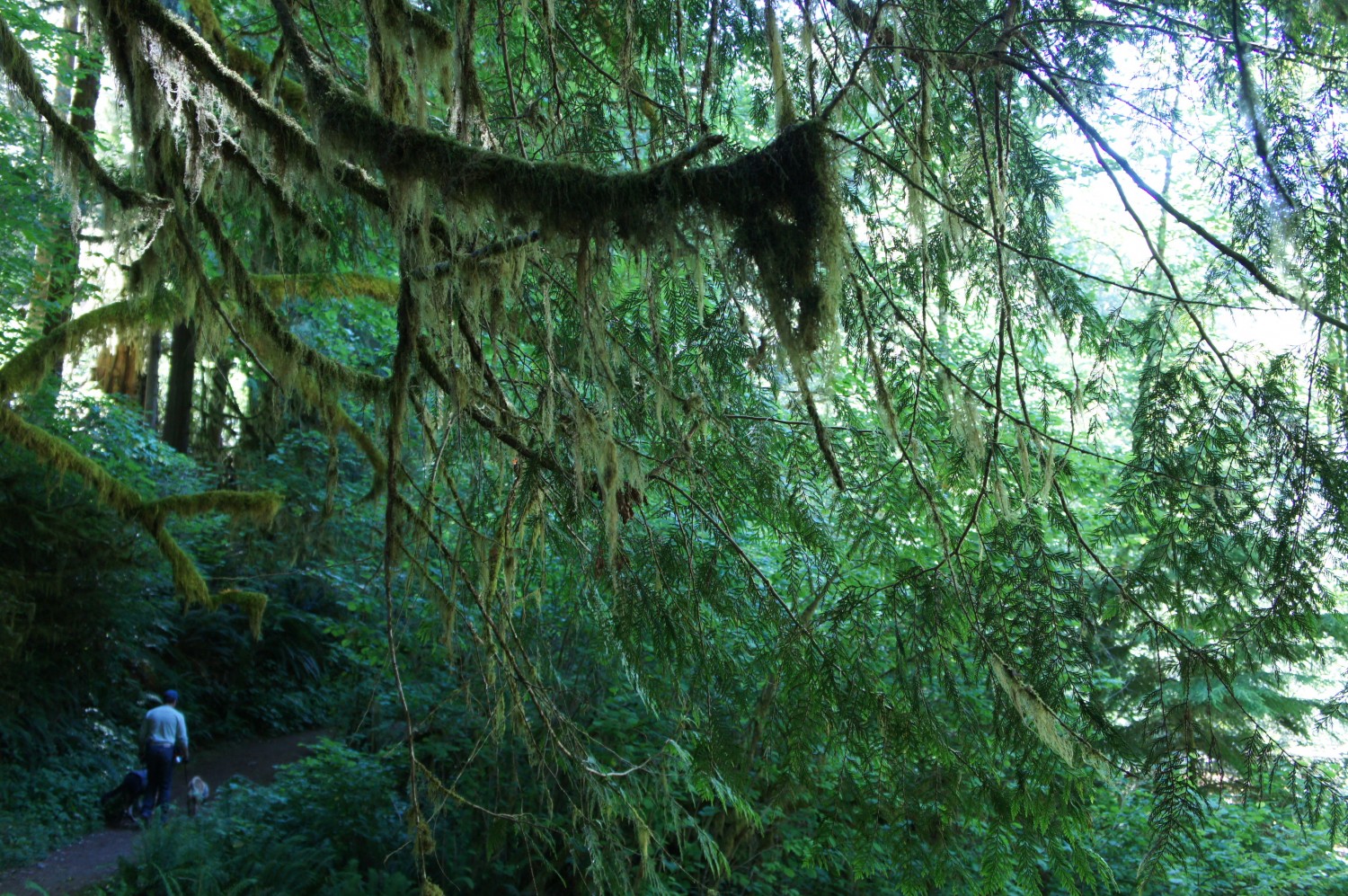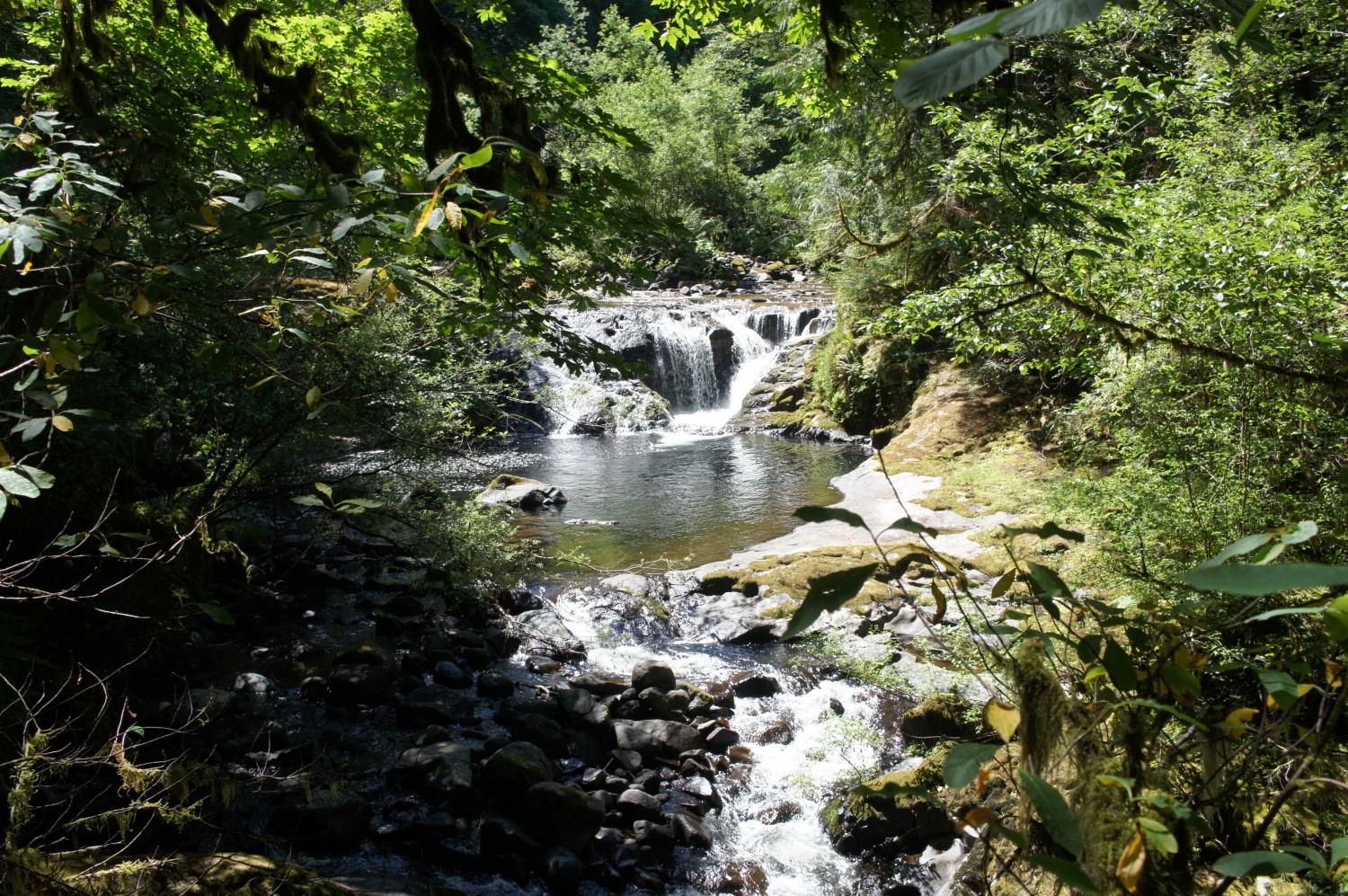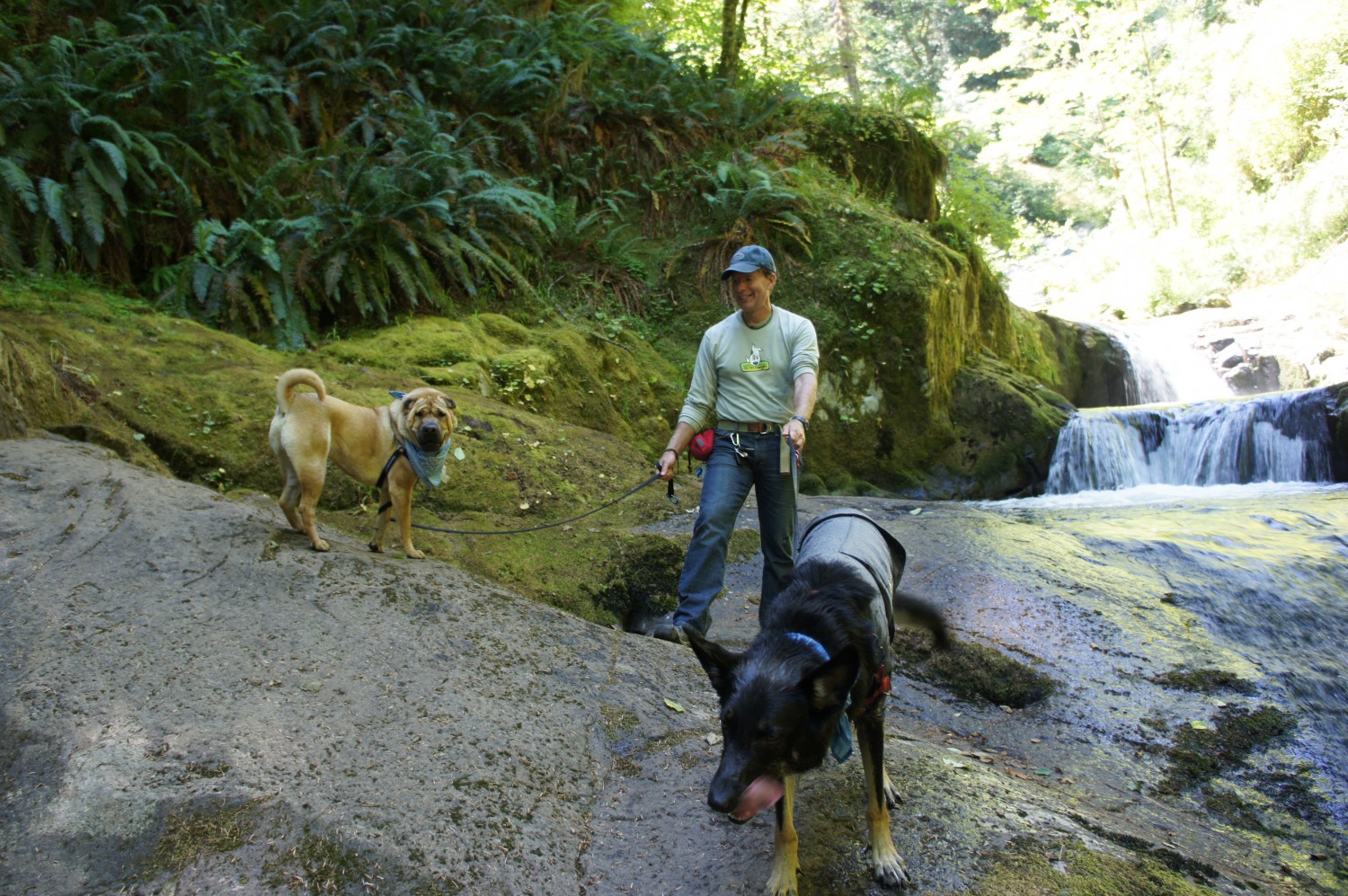 Day Trip #3: Cape Perpetua
Back on the coast, and 23 miles north of Florence, is Cape Perpetua, where you can still see the ancient lava flows that formed this area. With 26 miles of trails, you're sure to find something that suits you. Depending on the tides, watching the waves crash into a long crack in the rock known as Devil's Churn is spectacular. The 600-year old Giant Sitka Spruce and Spouting Horn, a kind of natural fountain driven by the the sea, are also a popular.
If you're looking for the best view, climb nearly 800 feet to the overlook, where on a clear day you can see 70 miles of Oregon coastline!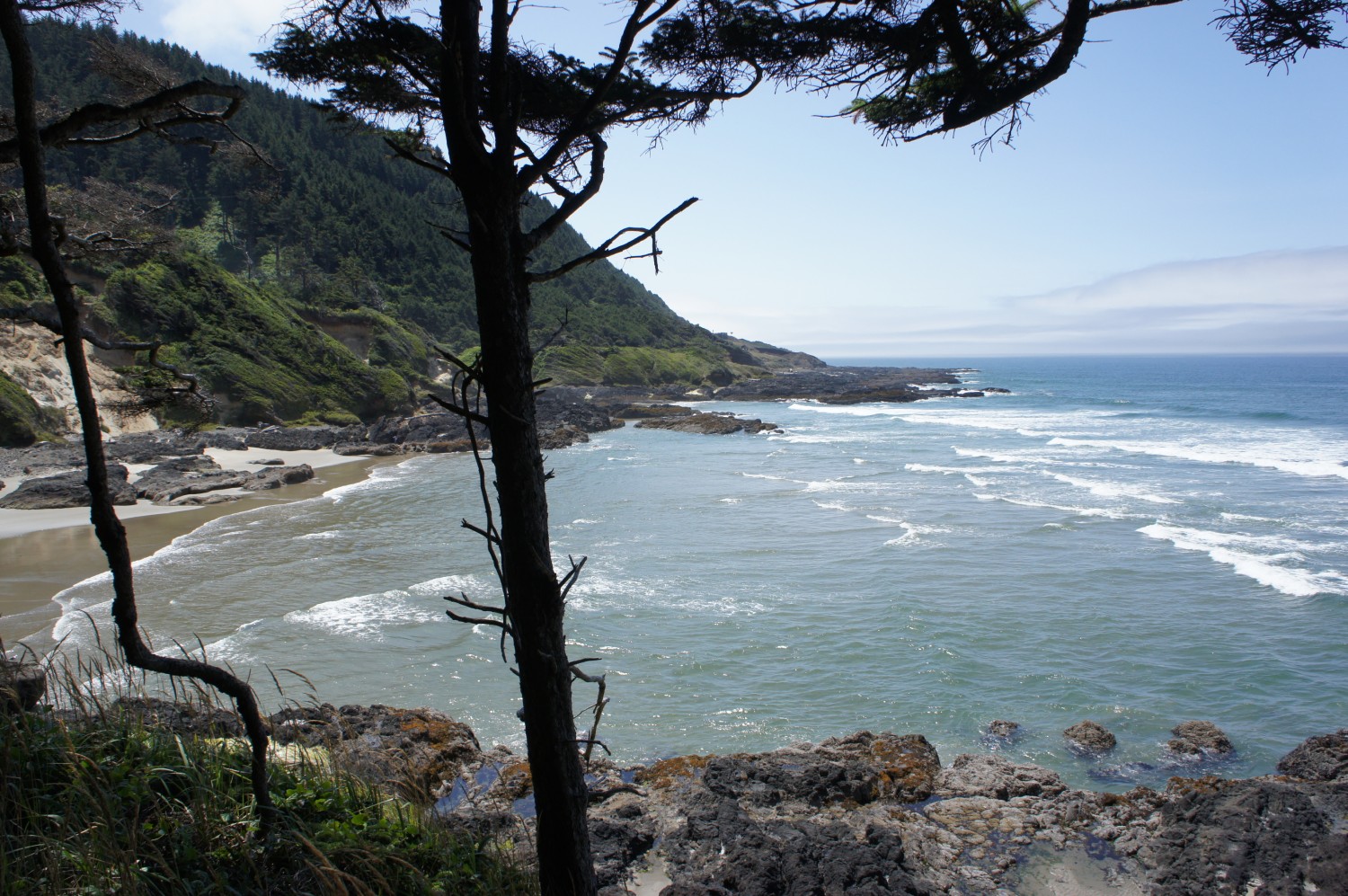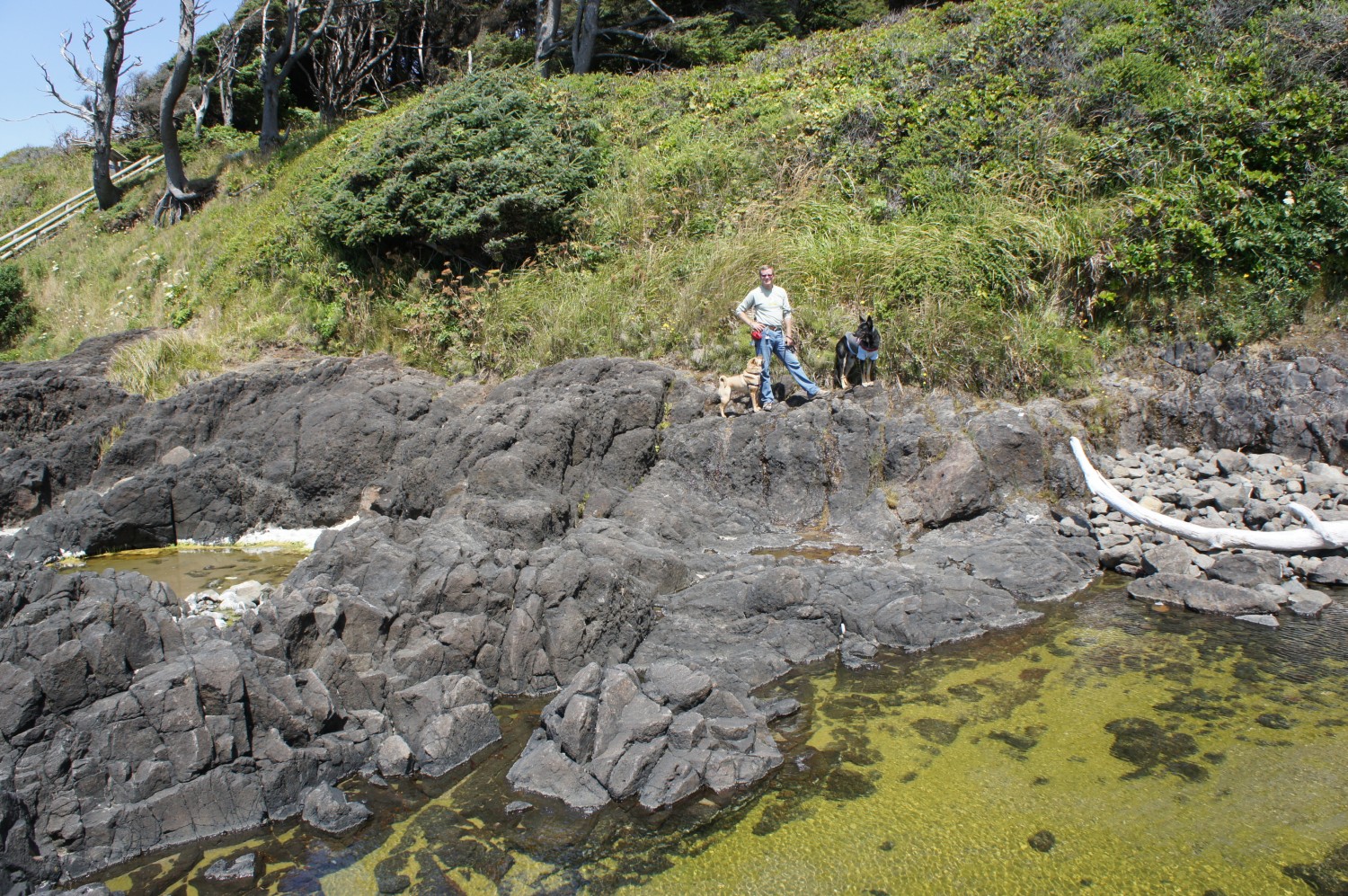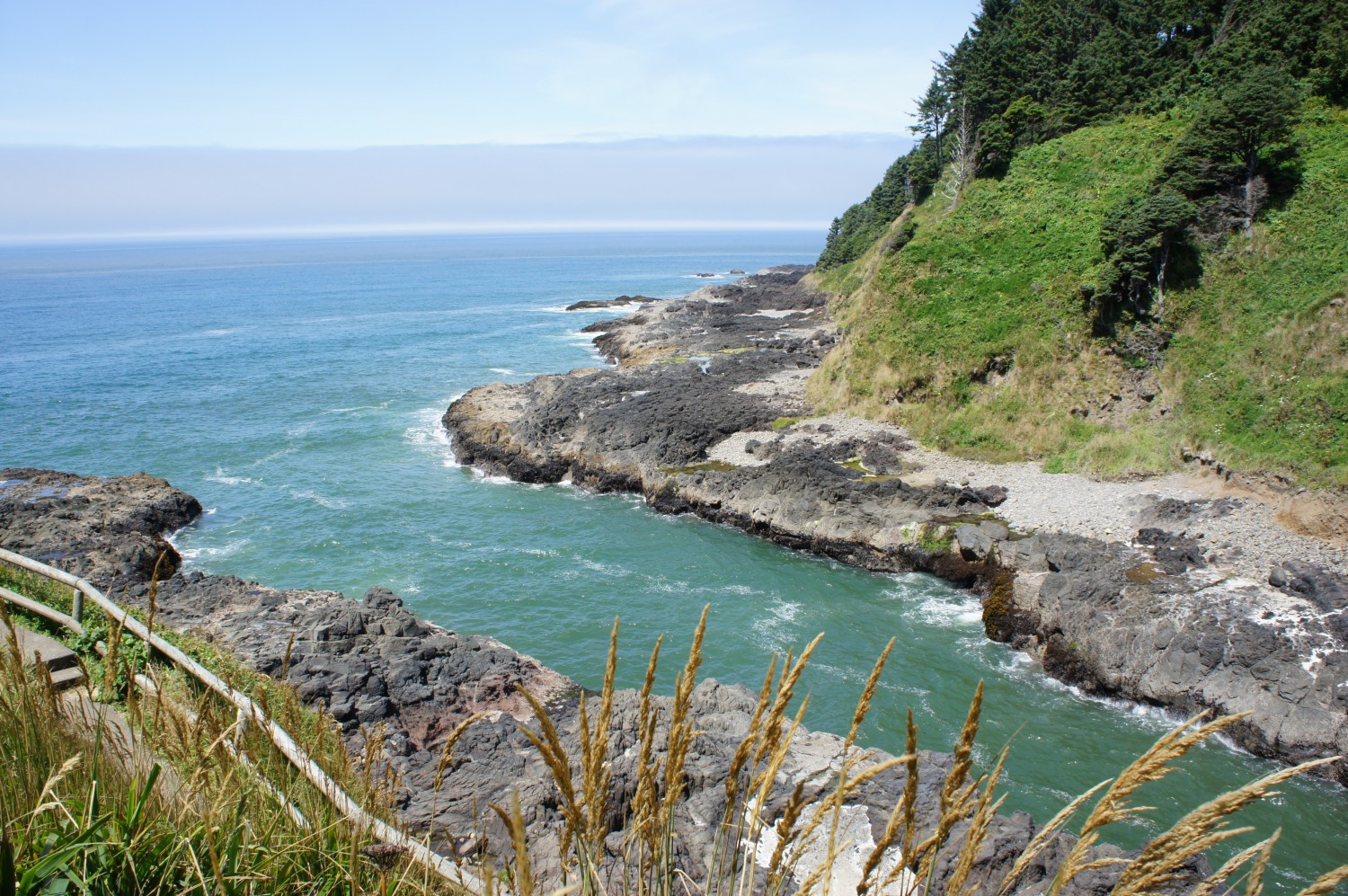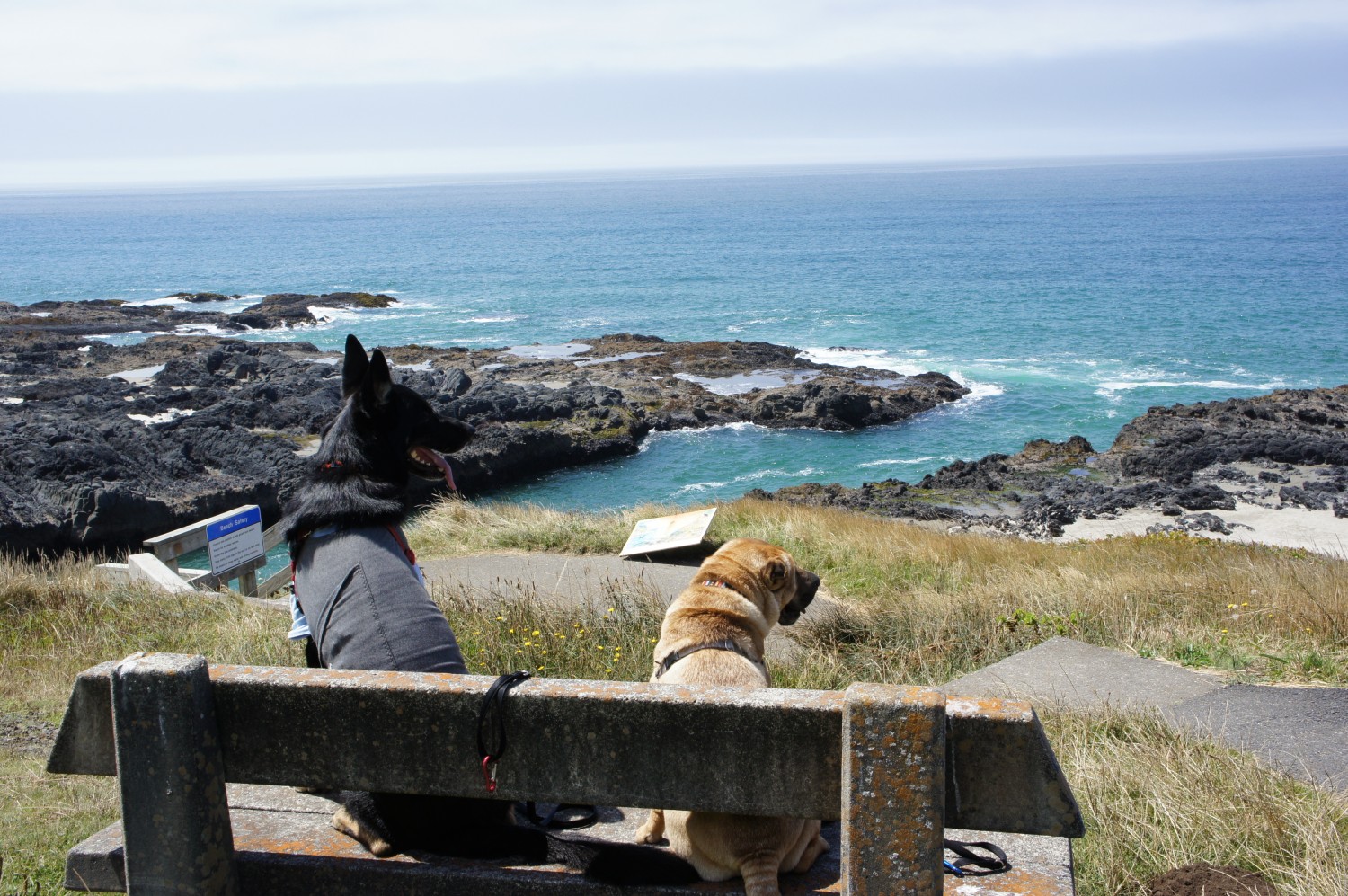 We hope our visit to dog friendly Florence, Oregon inspires you to enjoy more of the fantastic Oregon Coast with your pets!
In memory of my Grandma, Florence Friederick (1928-2020)
Amazon Affiliate Disclosure: GoPetFriendly.com LLC is a participant in the Amazon Services LLC Associates Program, an affiliate advertising program designed to provide a means for website owners to earn advertising fees by advertising and linking to amazon.com, audible.com, and any other website that may be affiliated with Amazon Service LLC Associates Program. As an Amazon Associate, the owner of this site earns a commission from qualifying purchases.
(Visited 5,294 times, 1 visits today)